Healthy Starbucks Drinks & Orders
It is true. There is such thing as a healthy Starbucks Orders. While some like to go to their favorite coffee house and order those heavy drinks covered in mass amounts of whipped cream and loaded with sugar, it isn't necessary to enjoy some yummy refreshments.
The next time you decide to stop into your favorite coffee place, make sure to ask your barista for these delicious and healthy Starbucks drinks and orders.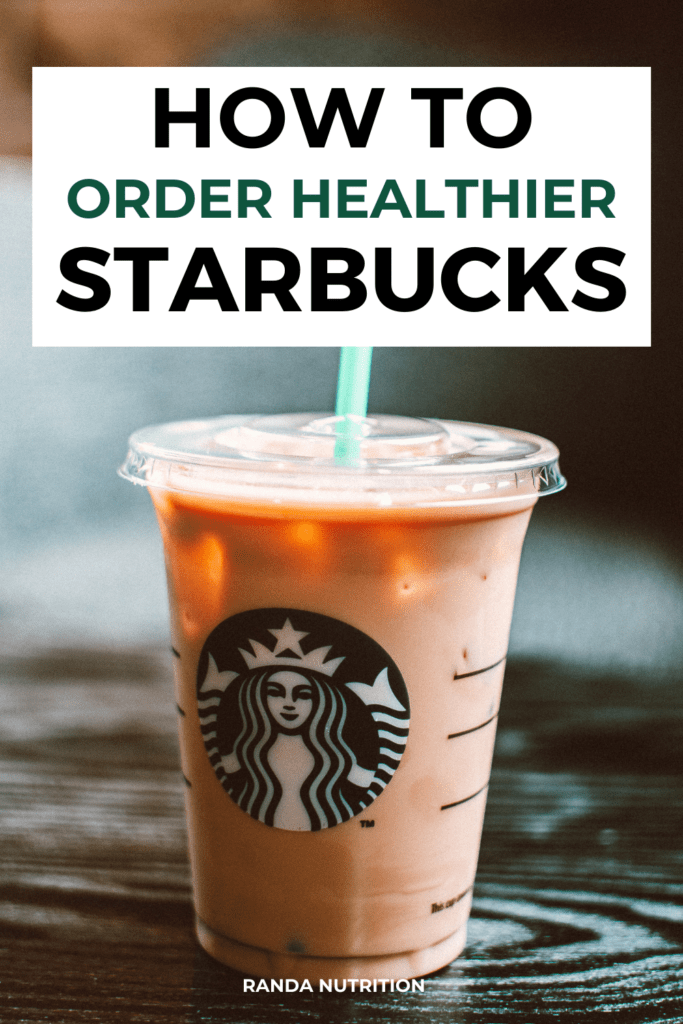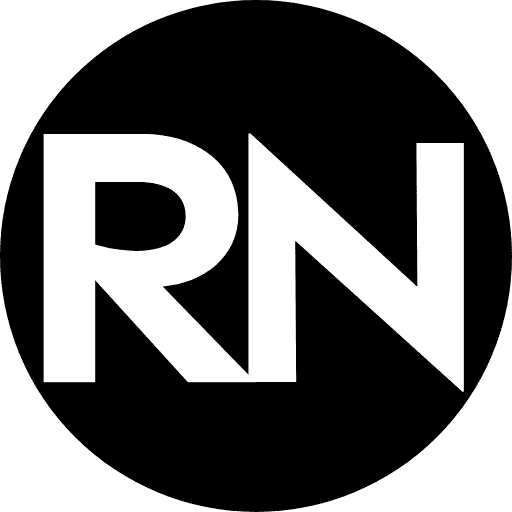 Save This Recipe!
Enter your email below & I'll send it straight to your inbox. Plus you'll get great new recipes every week!

This was originally posted in September 2020 but I'm updating it in May 2021 to give a little more information and include an amazing Instagram account I found.
This has appeared on The Realistic Nutrition Podcast. Make sure to subscribe to never miss an episode.
What to Consider Before Heading to Starbucks
There are a few things you should keep in mind when you plan to head out for a coffee or quick breakfast in the morning or lunch in the afternoon. You will want to make sure that you keep these things in mind if you are looking to make a healthy order.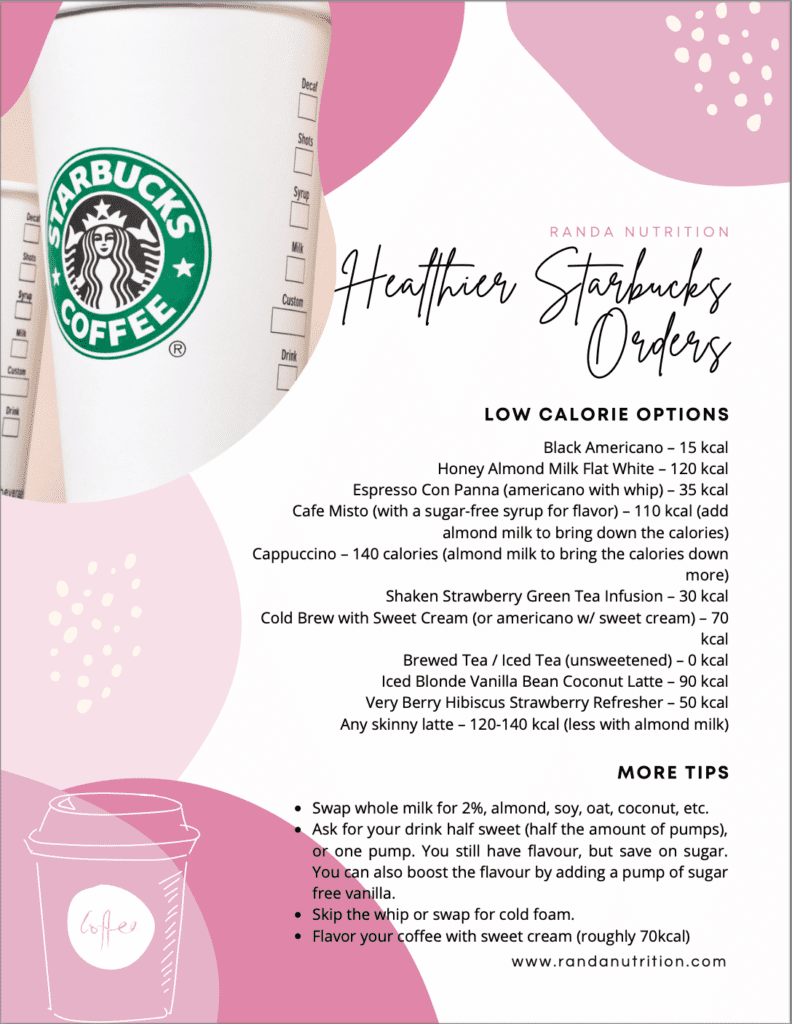 Get My Healthy Starbucks Orders Cheat Sheet
Try to stay between 200-300 calories for your drinks – If you want to choose healthy items that won't entirely derail your diet. Stick to the beverages that stay within that limit.
Nutrition is key – With all the tempting desserts and pastries to choose from, you may find it difficult to know what the healthy snacks are. Commit to choosing something that will balance out your diet.
Before you head to Starbucks for breakfast or lunch, make sure you commit to choosing something that will fuel your day in a positive way.
Dairy free options at Starbucks – Thankfully there are plenty of options for you if you're dairy-free.
Starbucks has soy, almond (my personal favorite), and coconut beverages to add instead of cow's milk. I've also heard that they're using oat milk in some test locations as well.
How Do You Order Healthy Drinks at Starbucks?
A common question I get from clients is, does Starbucks have healthy drinks? The answer is yes, but you have to ask for them. Here's how.
If you're going off the menu and creating your own options, just be kind to your barista. If you're not sure how you can lighten up your Starbucks order, then ask them for suggestions. They know the menu and the Starbucks hacks better than you do, and they're usually pretty awesome and will help you out.
If you use the mobile app, you can select a latte and add or remove pumps of syrup, change the kind of milk (like to a nonfat milk), and customize your order to how you would like.
You can always try to make Starbucks dupes at home too, like this Healthy Pumpkin Spice Latte with Oat Milk.
Healthy Starbucks Drinks
Cold Beverages
When choosing a beverage for breakfast or even throughout the day, you want to ensure that you are focusing on health. Keep in mind the sugar content, the calorie content, and the size of the drink you are consuming.
Iced Coffee – An iced coffee is a delicious and refreshing beverage, especially in the summer months. The best way to ensure that this stays healthy is to avoid all the sugary add-ins. Rather than milk go for soy, almond or coconut milk to add a little flavor.
My order: although there is sugar added into this order I've been enjoying a tall iced americano with a splash of vanilla sweet cream. I believe that the order is around 110 calories. It's a sweet treat that doesn't overload me in sugar.
Orange Mango Smoothie – This is actually better to consume as an entire snack rather than just a beverage, so bear in mind the size and amount you consume. All in all though, it is a healthier choice than some of the heavy beverages on the menu.

Teavana Shaken Ice Passion Tango Tea – Starbucks may have an unsweetened version of this deliciously refreshing drink. There is no need for syrups or sugars as it is already packed with a lot of flavour. This tip also goes for most of their iced teas.
Very Berry Hibiscus Refreshers – The green coffee extract will provide you the caffeine boost you seek and the berries add enough sweetness to the drink without the need for a bunch of added sugar.
Hot Beverages
Fresh Brewed Coffee – There are so many health benefits to drinking your daily cup of coffee. The blonde roast is a higher source of caffeine and will give you that boost you want in the morning. Just remember to drink it black or use almond milk to add flavor. This is one of the healthiest Starbucks drinks.

Skinny Vanilla Latte– This can be served either hot or cold, just make sure that you avoid the added sweeteners.

Non-Fat Cappuccino – With a cloud of delicious and creamy milk, this drink seems to break the health barriers without actually doing it. While it seems indulgent, it is lower in calories than most.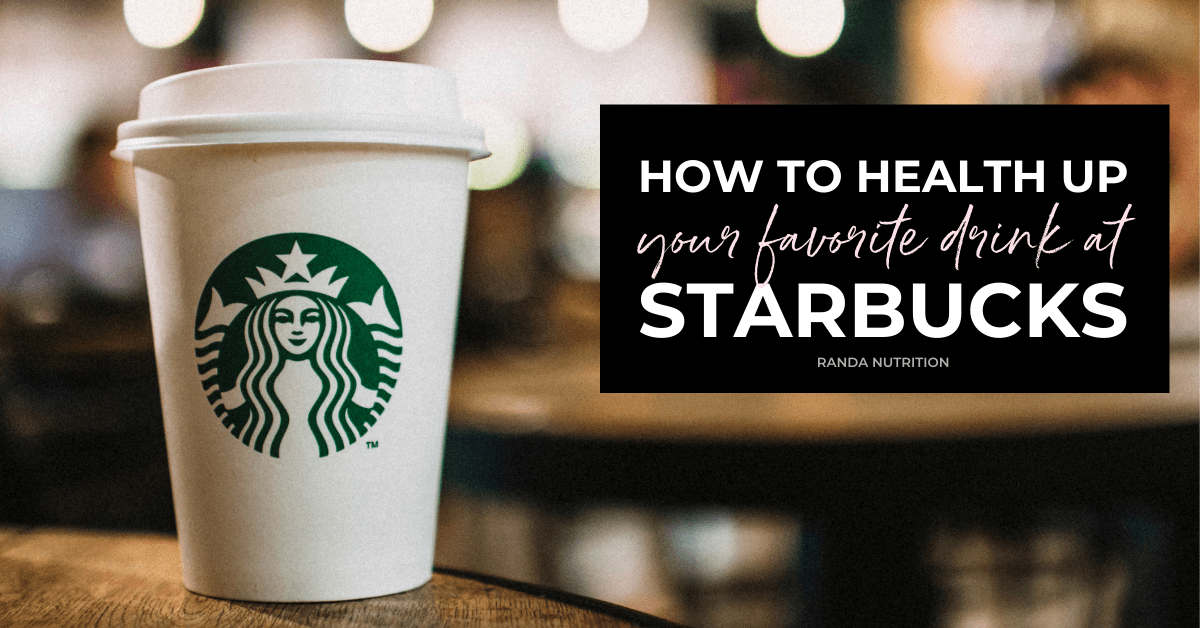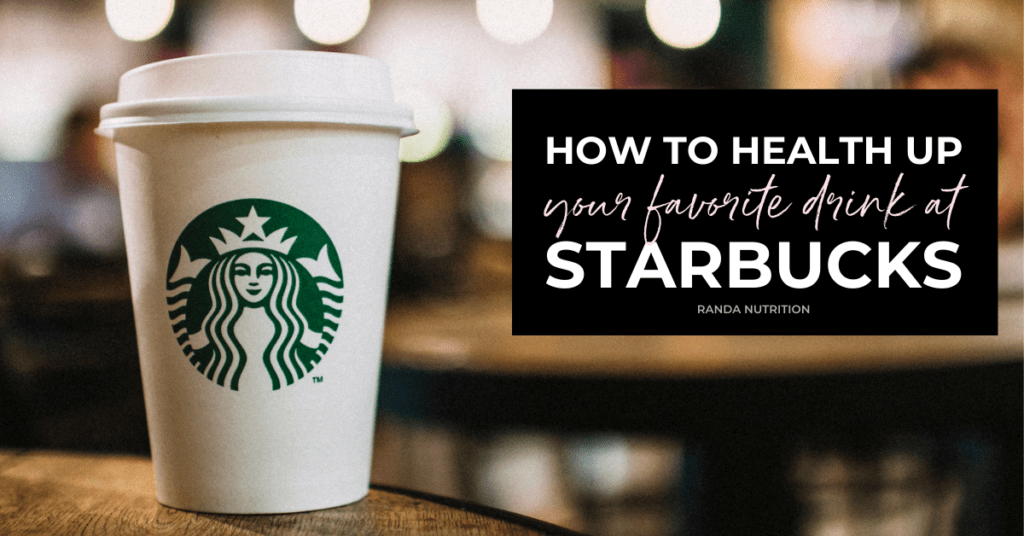 How to Make Fall and Winter Starbucks Drinks Healthier
Let's face it, when the colder weather starts to come around, many of us start craving the delicious fall and winter Starbucks drinks.
When the first leaves start to fall from the trees many of us are already on our way to grab ourselves the first Pumpkin Spice Latte of the season but can we make our fall and winter favorites healthier?
The short answer? Yes.
I love a PSL and how I make it "healthier" is this:
I ask for it half sweet, or at least reduce it by 1 pump. A grande pumpkin spice latte has 4 pumps of pumpkin syrup, so I do 2-3 instead.
Small changes while still enjoying a seasonable favorite helps me feel satisfied and not deprived. By cutting the pumps of syrup in half you're reducing the extra grams of sugar that adds no benefit to your coffee drink.
One pump of pumpkin syrup has 7.5 grams of sugar and 30 calories. The vanilla syrup has 5 grams of sugar and 20 calories, as does the cinnamon dolce syrup.
There are also a few more ways to make your favorite fall and holiday drinks from Starbucks healthier so you can enjoy them without all the guilt (or extra calories.)
When it comes to ordering your favorite fall or holiday drinks, start by asking for no whipped cream. This will help to reduce the fat and sugar the drinks contains. Try asking for non-fat milk and half the syrup pumps that are used in the recipe.
Be wary of the holiday drinks that you are ordering. Many of them contain two different flavors like the salted caramel mocha and the peppermint mocha. This means that these drinks can have about 8 pumps of syrup in them. That's a lot of sugar. Asking for fewer pumps can greatly reduce the sugar content, and still allow you to enjoy your favorite drinks.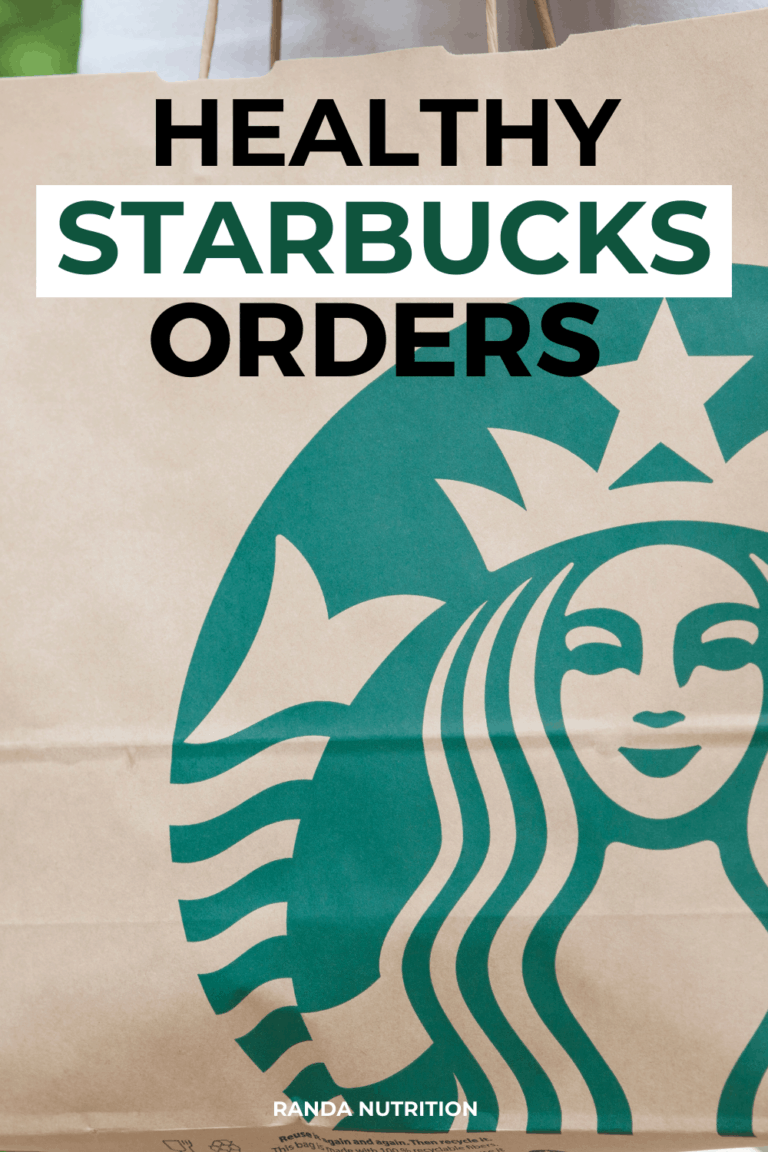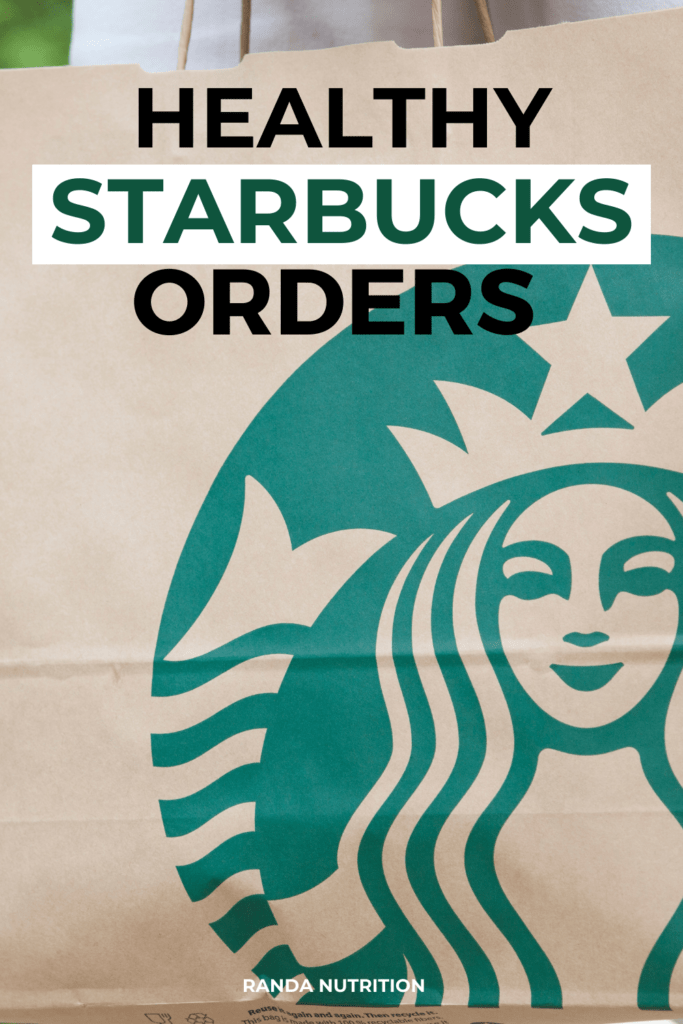 What's the Healthiest Drink at Starbucks?
The healthiest drink would be the one that gives you the satisfaction without loading on the calories, sugar, and fat.
If you're used to a 600 calorie coffee but opted for one that was, say, 120 calories (like the skinny vanilla latte) then that's a huge win and probably the healthiest Starbucks coffee for you.
There are 0 calorie options and that could be considered "healthy" as well (like the unsweetened green tea) but if you leave feeling unsatisfied and have FOMO then you may want to reconsider your choice for next time.
Here are a few of my favorite healthy Starbucks drink orders:
Skinny Vanilla Latte (there are 100 calories in a tall order)
Unsweetened Iced Green Tea Lemonade
Unsweetened Passion Tango Tea with Coconut Milk
Grande Iced Coffee with Coconut or Almond Milk
Americano (just black coffee)
Iced Skinny Caramel Macchiato
Low Calorie Drinks at Starbucks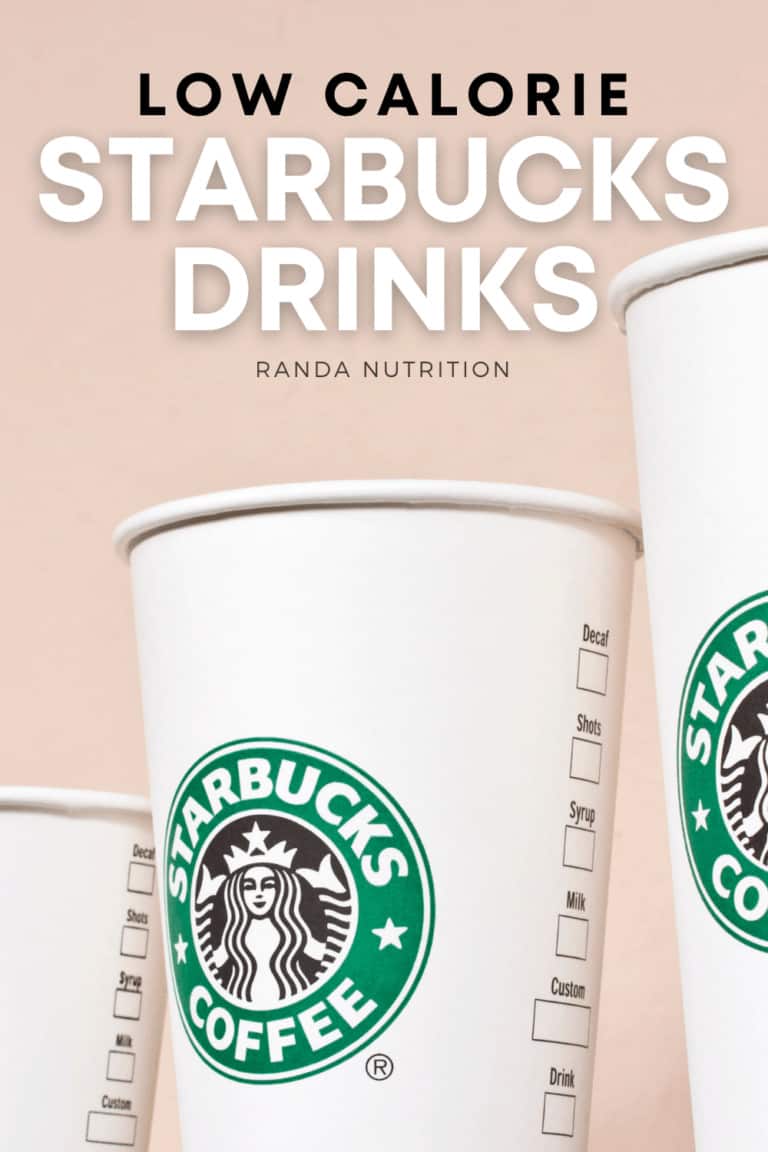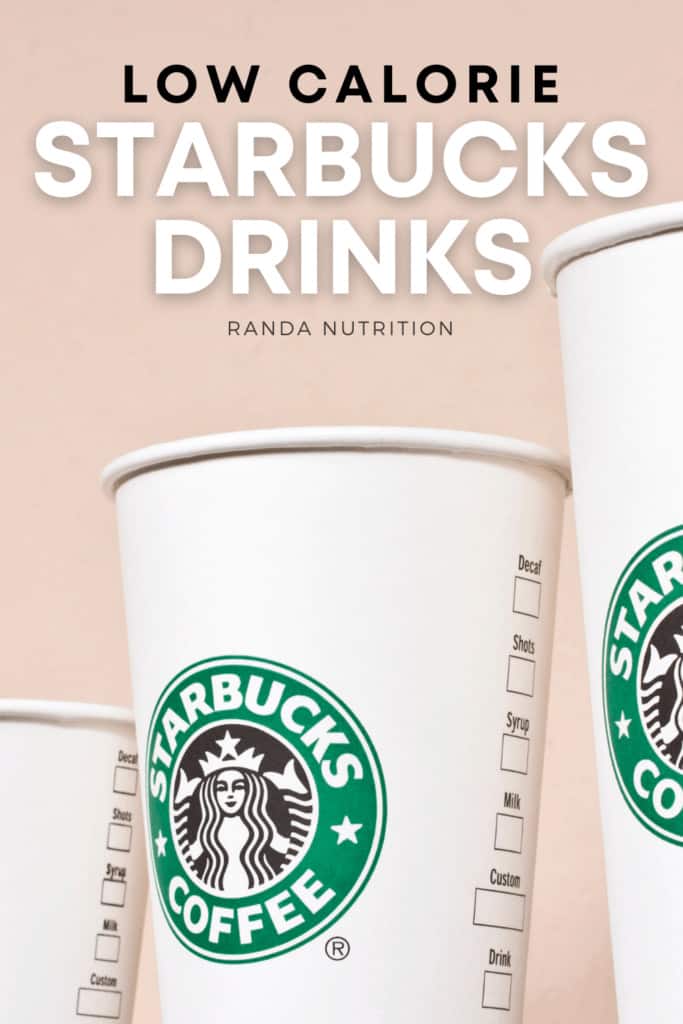 If you're judging healthy based on calories, that's a whole different discussion but since coffee is "empty" calories I tend to agree with you if this is your solution.
Just remember that the skinny options contain a sugar free syrup which can cause some GI issues, especially with those who have sensitive tummies.
Low calories Starbucks drinks:
Black Americano – 15 calories
Honey Almond Milk Flat White – 120 calories
Espresso Con Panna (americano with whip) – 35 calories (this is a delicious under 50 calories option)
Cafe Misto (with a sugar-free syrup for flavor) – 110 calories (add almond milk to bring down the calories)
Cappuccino – 140 calories (swap for almond milk to bring the calories down even further)
Shaken Strawberry Green Tea Infusion – 30 calories
Cold Brew with Sweet Cream (or americano with sweet cream) – 70 calories
Brewed Tea / Iced Tea (unsweetened) – 0 calories
Iced Blonde Vanilla Bean Coconut Latte – 90 calories
Very Berry Hibiscus Strawberry Refresher – 50 calories
Any skinny latte – 120-140 calories (less with almond milk)
Starbucks Orders with Macro Counts
I'm not going to get into this as it's a lot, but go follow @themacrobarista on Instagram if you're looking for macro counts, his page is amazing.
Healthy Starbucks Food Orders
Feeling hungry when you visit your favorite coffee shop? These delicious and healthy choices will not only fill you up but keep your healthy throughout the day.
Classic Oatmeal – Their classic oatmeal offers a great selection of whole grains. When ordering this, avoid the dried fruit that comes with it. This is because it is high in sugar for the little amount you get. Opt to substitute one tablespoon of nuts, a splash of milk, cinnamon, and some fresh fruit.

Veggie and Brown Rice Salad Bowl – Made with natural ingredients, this delicious salad bowl is sure to fill you up. Perfect for lunch, this healthy Starbucks menu item is sure to please.

Salads – The salads at Starbucks can be a delicious and healthy alternative to their sugary confections. Just make sure to remove any dried fruits or croutons included to keep them a healthy and/or gluten-free choice.

Reduced-Fat Turkey Bacon, Cheddar, and Cage-Free Egg White Breakfast Sandwich – Wow, that was a mouthful and so is this delicious sandwich. If you are looking for a delicious breakfast option, these sandwiches are a fantastic idea.

Egg and Cheese Protein Box – This delicious protein box comes with a full cup of fruit, eggs, and a delicious honey peanut butter spread. While this one is a bit higher in calories than the other options, it's also high in protein for those looking to up their energy reserves.

Sous Vide Egg Bites – These come in a variety of flavors and are fantastic for when you need a hit of protein to start your day on the go.
There are so many delicious and healthy options to choose from at Starbucks. Just make sure that you pay attention to what each item contains and avoid sugary drinks whenever possible.
If you like this post, check these out:
What's your favorite Starbucks order?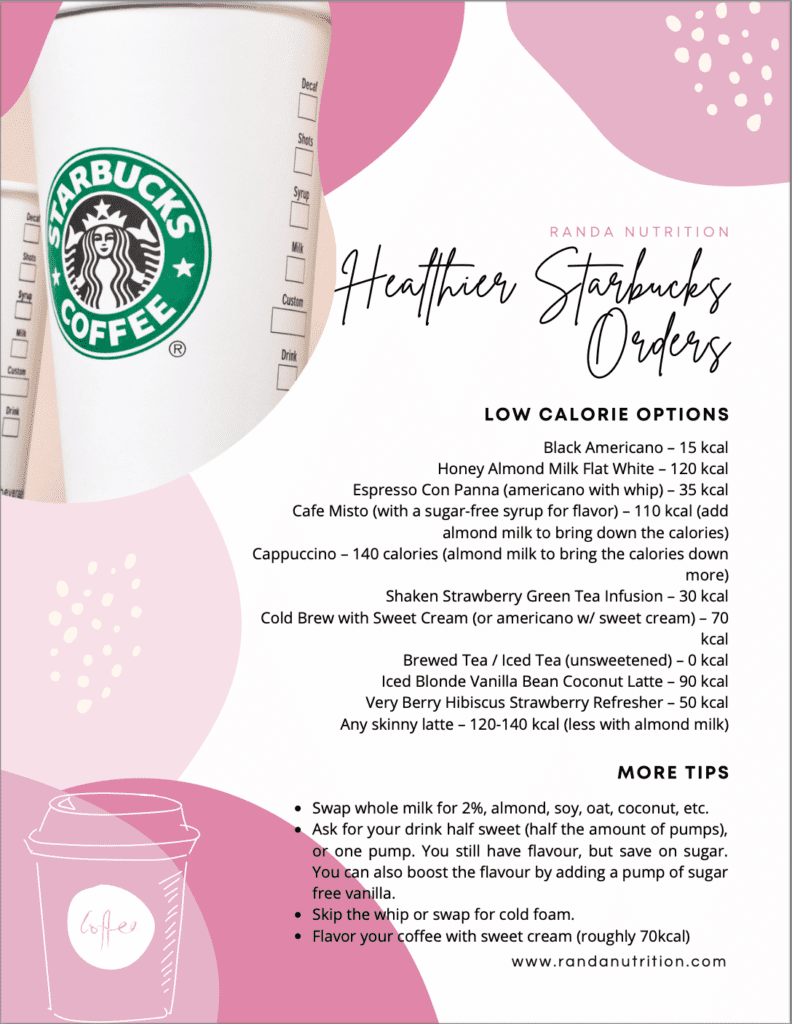 Get My Healthy Starbucks Orders Cheat Sheet