You're going to love this healthy strawberry chicken salad, topped with a homemade honey dijon dressing. It's the ultimate summer salad recipe that takes moments to prepare (especially when you have pre-cooked chicken). Make it for your meal prep lunches this week.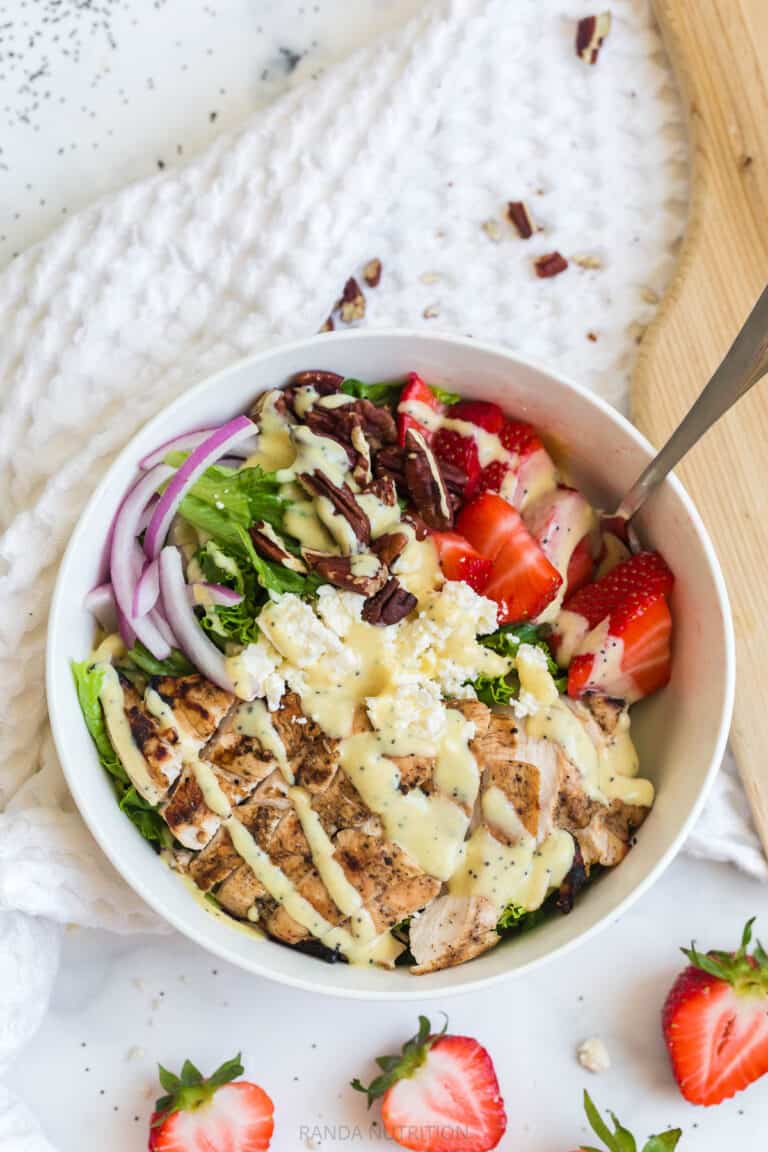 This healthy summer salad recipe has been sponsored by the Dairy Processors Association of Canada.
Strawberry Chicken Salad
I often have salads or stir-fries for lunch. They're a great way to load your veggies in at lunch, plus they're easy.
Not only does it provide you an opportunity to eat a balanced meal with a high protein option, but it also provides you with nutrients that you don't think about (I'll get more into that below).
Ingredients Needed
Strawberry Chicken Salad Ingredients
green lettuce (romaine lettuce will also work)
cooked grilled chicken (either meal prep your chicken or buy an oven-roasted chicken from the deli)

sliced fresh strawberries

red onion
feta cheese (I used light feta cheese)
pecans (if you don't like pecans, you can use almonds)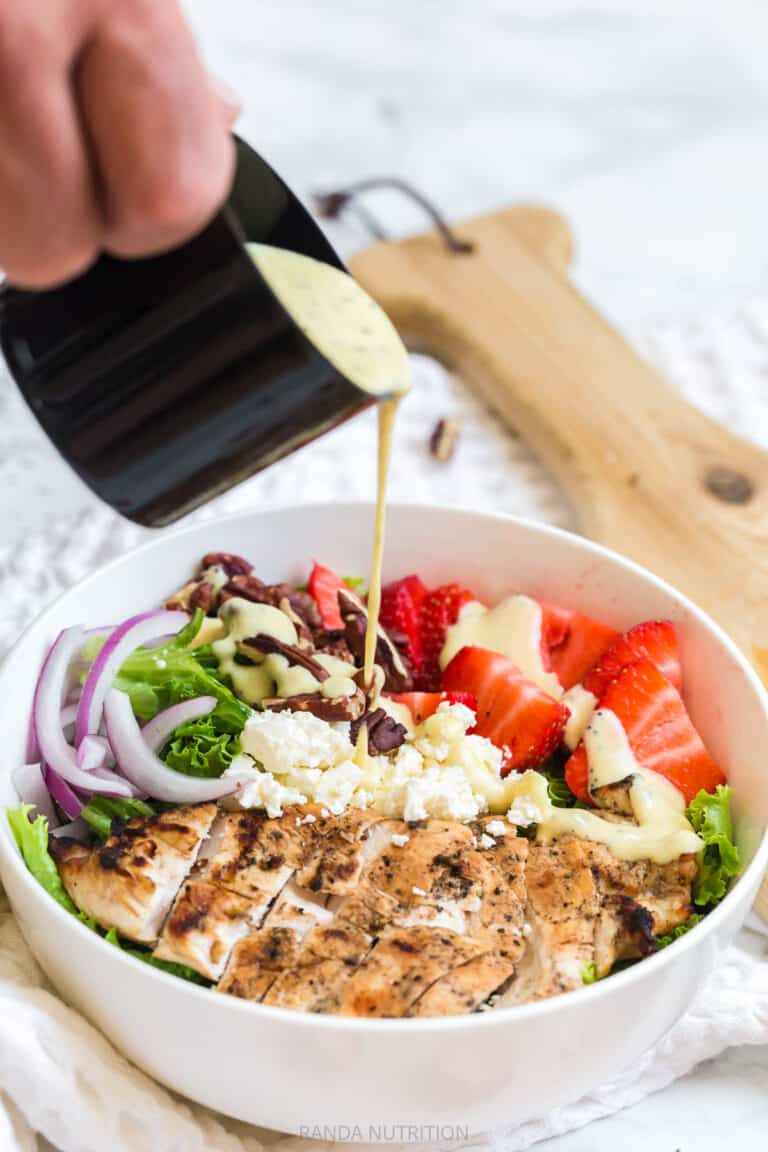 Honey Dijon Dressing Ingredients
dijon mustard
0% plain greek yogurt
honey
apple cider vinegar
extra virgin olive oil
poppyseeds
sea

salt

black pepper
All of these ingredients supply a variety of micronutrients (vitamins and minerals) to help support your health.
Since the Dairy Processors Association of Canada is sponsoring this post (and inspired me to add more dairy to this dish), I wanted to point out a couple of health benefits of the dairy products used: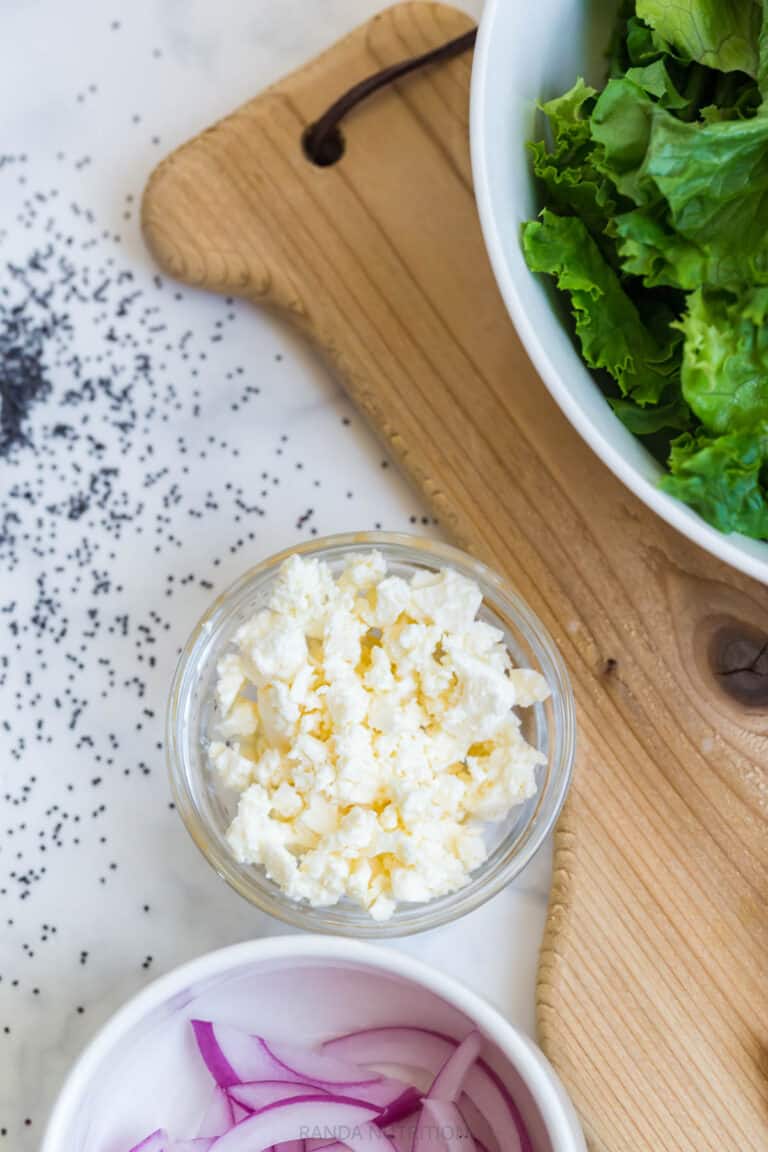 Feta
Feta makes it betta. It's one of my favorite cheeses and a go-to for my salads. Not only does it make a ton of salty flavor that is a source of fat and protein, but it also provides your body with calcium and magnesium.
Sprinkle some feta cheese in your next salad recipe.
Greek Yogurt
In addition to being a great source of protein, Greek Yogurt is also a fantastic dairy source that supplies Canadians with the vitamins and minerals that many of us do not get enough of like magnesium, calcium, vitamin A, and vitamin D.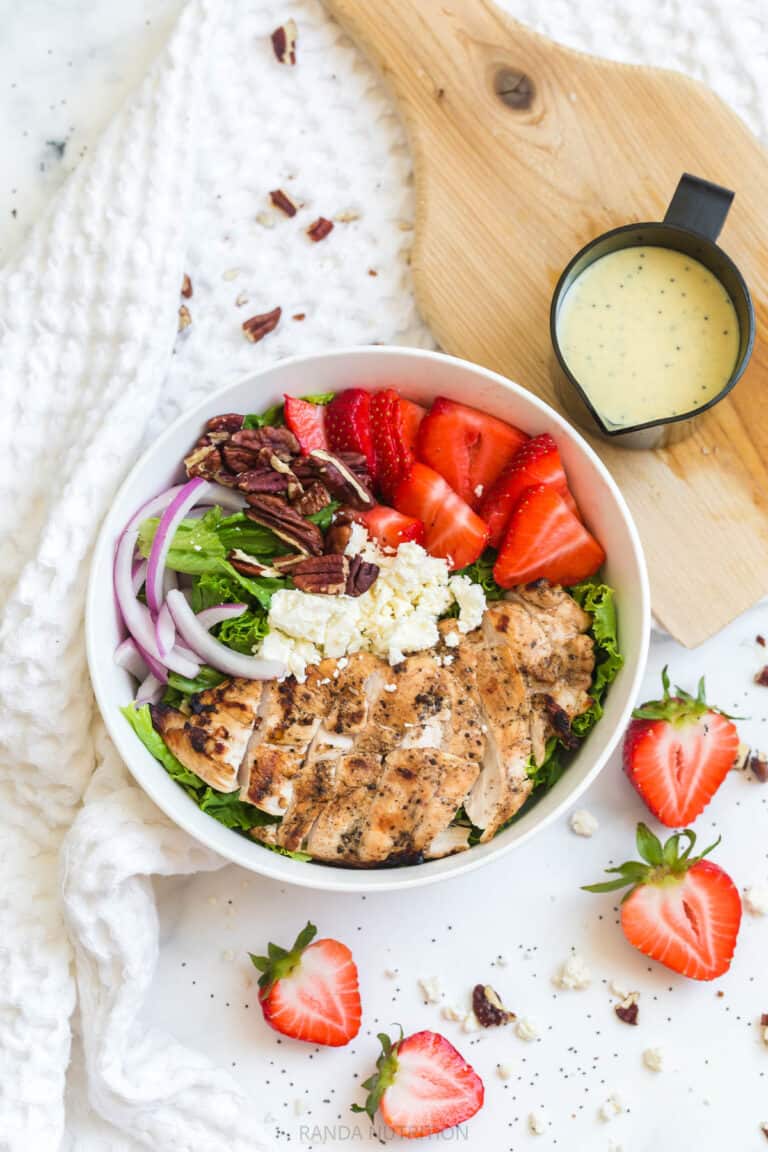 Meal Prep Measurements (Single Servings of Strawberry Chicken Salad)
If you would rather prep the recipe for your lunches, here are the individual ingredients.
1 cup ripped lettuce (you can use whatever greens you want, like fresh baby spinach)
1 cup sliced grilled chicken
1/2 cup strawberries, sliced
1/4 cup sliced red onion
2 tablespoons feta cheese
1 tablespoons pecan
Whip up the salad dressing in a mason jar and store it (this saves on prep time).
Since everything else will be ready to go, you can assemble the salad for each day in under a minute and then drizzle a tablespoon or two of the salad dressing over top (or in a separate container if you are taking it to work with you.
Marinating the Chicken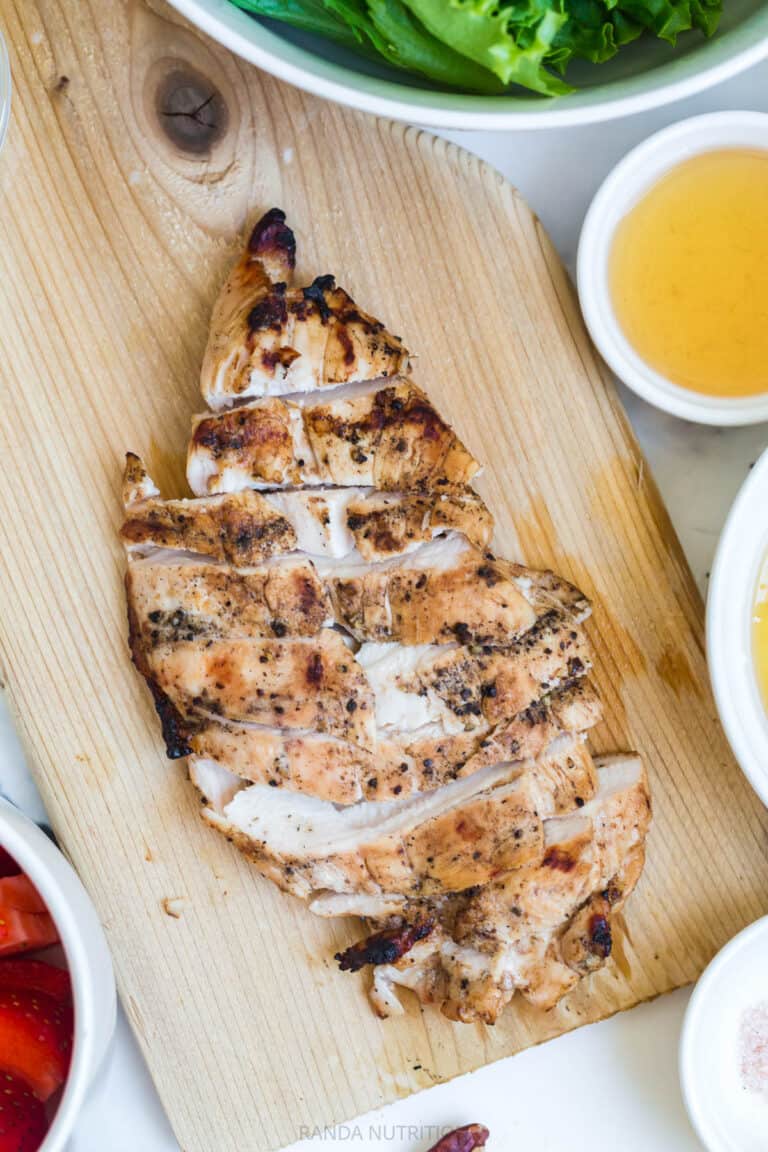 To add more flavor to this dish, I recommend marinating your chicken beforehand.
I rubbed the chicken breasts for my meal prep with salt, pepper, and garlic powder. Then I drizzled balsamic vinegar over them and let them sit for 20 minutes before grilling.
It will be cooked when the internal temperature is 165F.
Another option is to try these Mexican Grilled Chicken.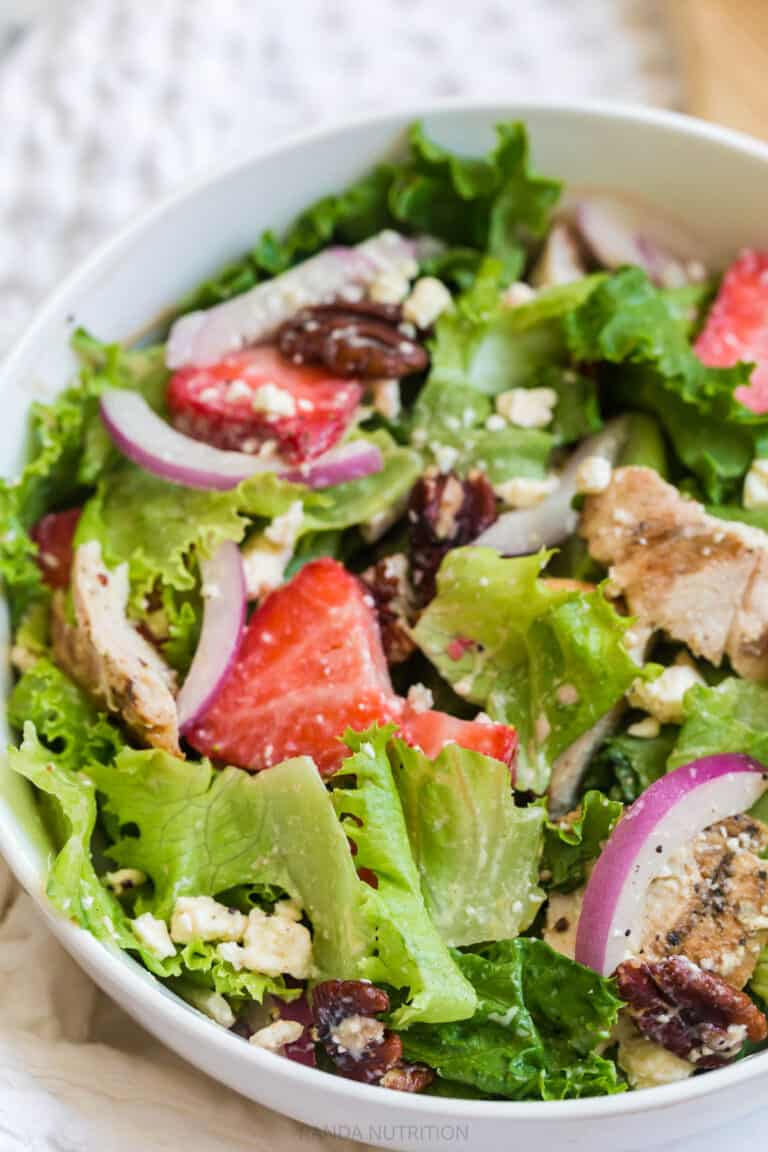 Nutrition Information
Caloric and Macro Information
The nutritional information in the recipe will be off as it takes the whole recipe into consideration (even the extra salad dressing).
When I calculated the macros in MyFitnessPal here is the information I got for the nutrition facts:
Without Salad Dressing:
Calories: 331
Carbs: 10.8g
Protein: 41g
Fat: 13.8g
Fiber: 2.9g
Sugar: 6g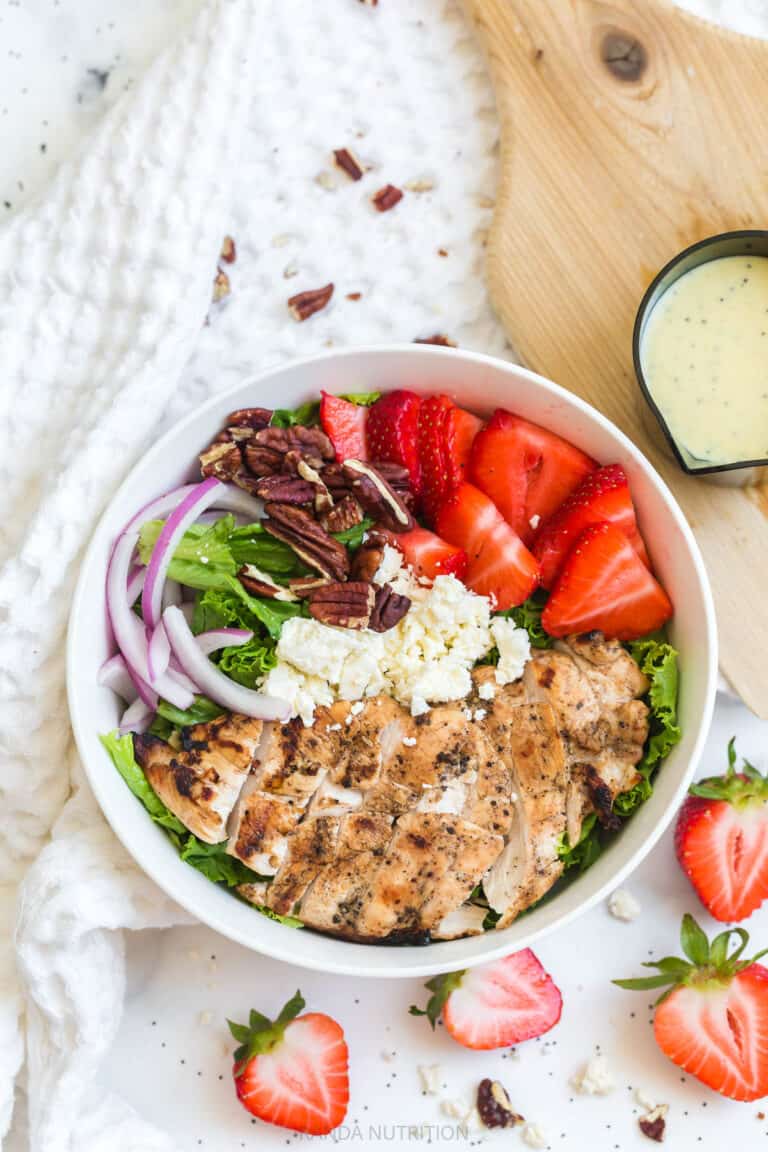 Salad Dressing on its own (1/6th the recipe, roughly 2 tablespoons):
Calories: 114
Carbs: 9.4g
Protein: 1.1g
Fat: 7.1g
Sugar: 8.9g
How to Make Strawberry Chicken Salad
Whether you decide to whip it together in a large bowl to serve a crowd or divide the servings up into four for your weekly meal prep: you're going to love this strawberry and chicken feta salad.
Lunch or dinner, this is a sure-fire hit.
More delicious salad recipes:
Strawberry Chicken Salad with Honey Dijon Dressing
This healthy strawberry chicken salad recipe is a summer salad favorite that's easy to make. The honey dijon dressing puts it over the edge!
Ingredients
Chicken Strawberry Salad
4

cups

ripped lettuce

packed

4

cups

grilled chicken

sliced

2

cups

sliced strawberries

1

cup

sliced red onion

1/2

cup

feta cheese

1/4 cup

tablespoons

pecans
Instructions
Add all the salad ingredients into a bowl, toss with the honey dijon dressing (adding a little at a time). I recommend adding 1/3 cup and then adding a bit more a tablespoon at a time. Refrigerate the leftover dressing.
For the dressing
Add all the ingredients into a bowl and whisk together. This makes a lot of salad dressing and there will be leftovers.
Notes
I recommend marinating the chicken breast before grilling. I rubbed the chicken with salt, pepper, and garlic powder and then drizzle some balsamic vinegar over them. Let it sit for 20 minutes, then grilled.
Nutritional Info
The nutritional information in the recipe will be off as it takes the whole recipe into consideration (even the extra salad dressing).
When I calculated the macros in MyFitnessPal here is the information I got:
Without Salad Dressing:
Calories: 331
Carbs: 10.8g
Protein: 41g
Fat: 13.8g
Fiber: 2.9g
Sugar: 6g
Salad Dressing on it's own (1/6th the recipe, roughly 2 tablespoons):
Calories: 114
Carbs: 9.4g
Protein: 1.1g
Fat: 7.1g
Sugar: 8.9g
Nutrition
Serving:
1
serving
|
Calories:
509
kcal
|
Carbohydrates:
27
g
|
Protein:
42
g
|
Fat:
26
g
|
Saturated Fat:
7
g
|
Polyunsaturated Fat:
4
g
|
Monounsaturated Fat:
13
g
|
Trans Fat:
0.003
g
|
Cholesterol:
122
mg
|
Sodium:
651
mg
|
Potassium:
680
mg
|
Fiber:
4
g
|
Sugar:
20
g
|
Vitamin A:
520
IU
|
Vitamin C:
47
mg
|
Calcium:
202
mg
|
Iron:
3
mg