Easy Cheeseburger Salad Recipe
This twist on a summer barbecue favorite is now one of my go to lunches. Not only is this cheeseburger salad recipe easy to throw together, but it's also simple to adapt to your favorite veggies and make your own.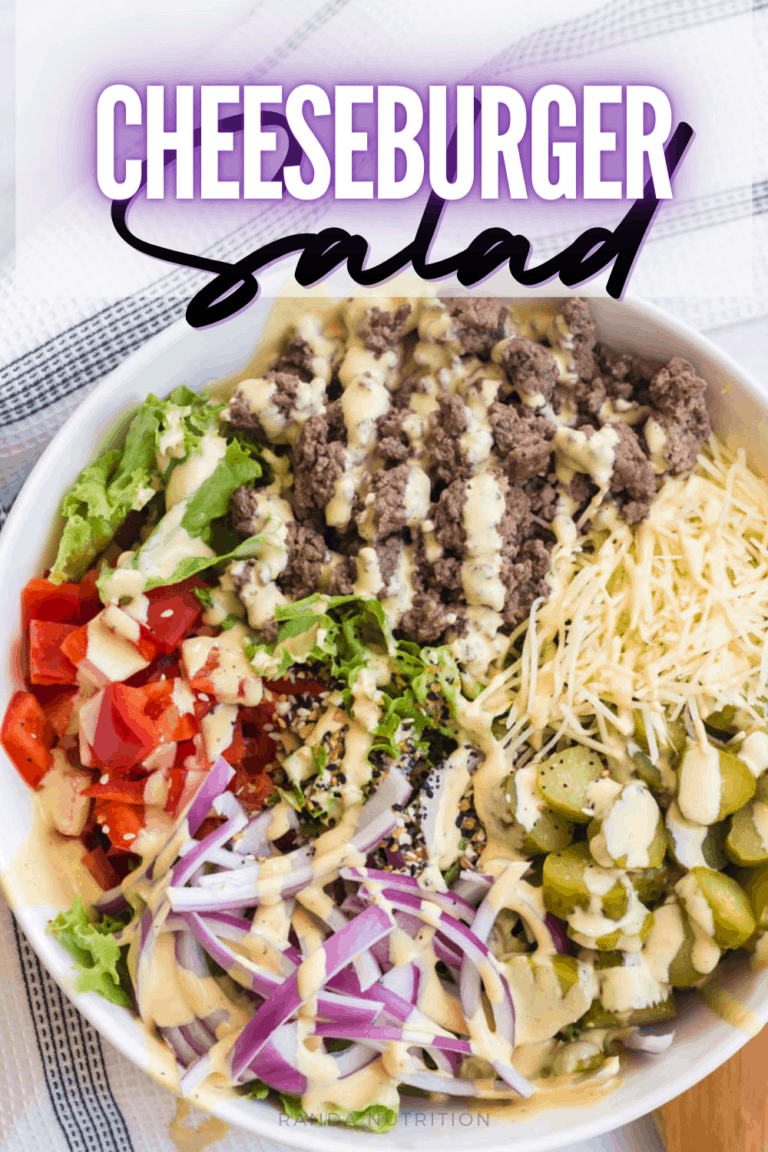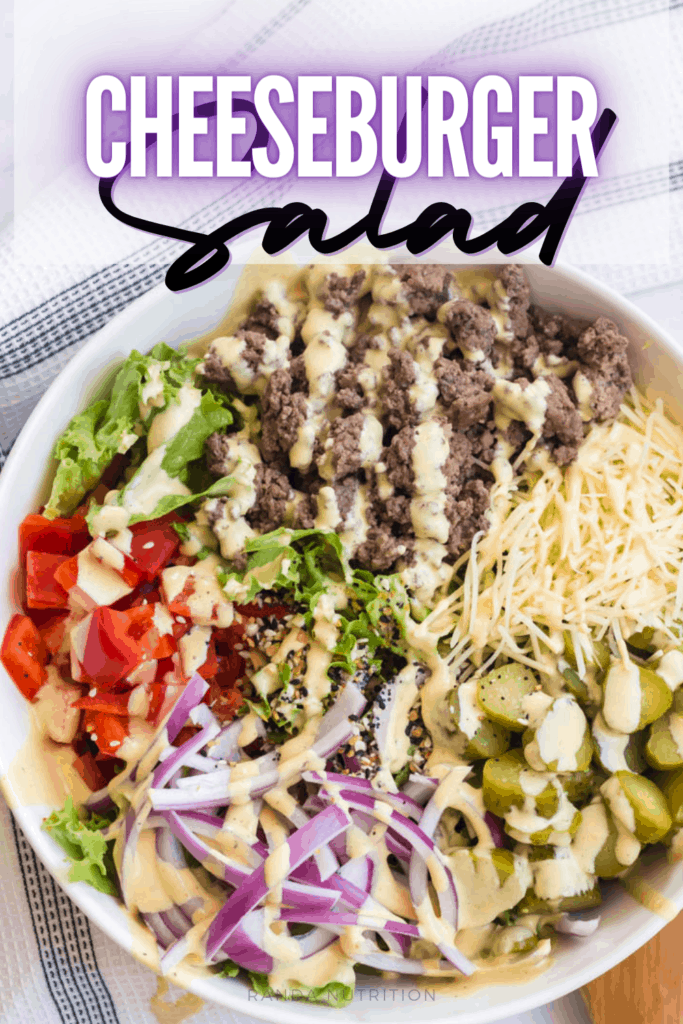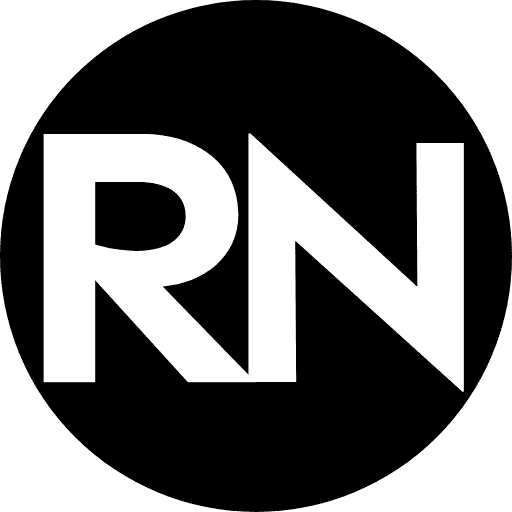 Save This Recipe!
Enter your email below & I'll send it straight to your inbox. Plus you'll get great new recipes every week!

Disclosure: This post contains affiliate links for your convenience. As an Amazon Associate, I earn from qualifying purchases.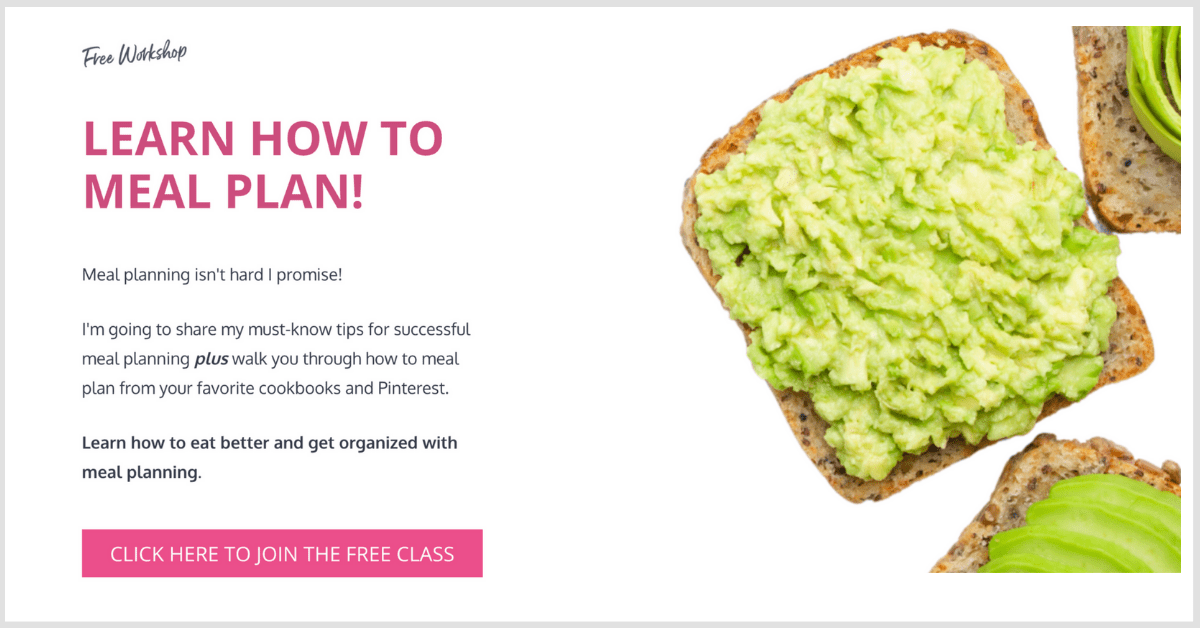 Cheeseburger Salad
My unpopular opinion of the day is that I don't like cheese on my burgers.
Yeah…I know.
However, I do enjoy shredded cheese on my salad so this recipe works for not only my husbands cheeseburger loving self, but my odd tastes as well.
So when I had a request to created a cheeseburger salad, I knew I had it.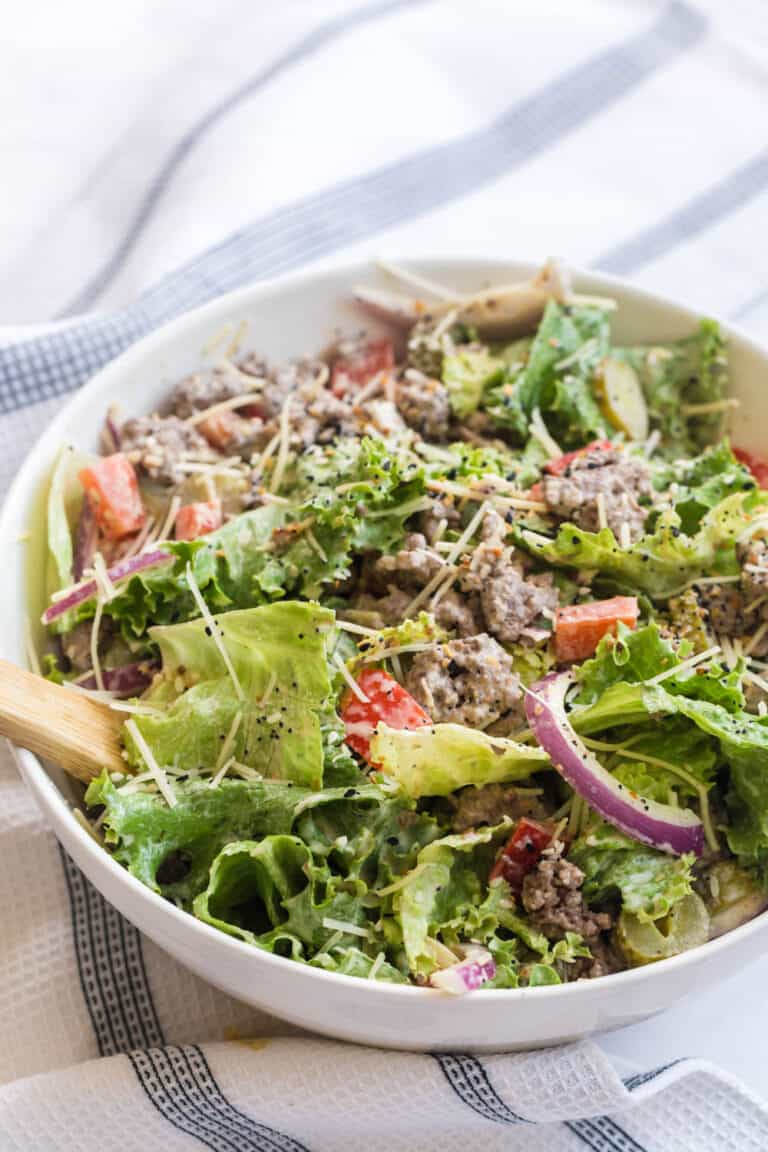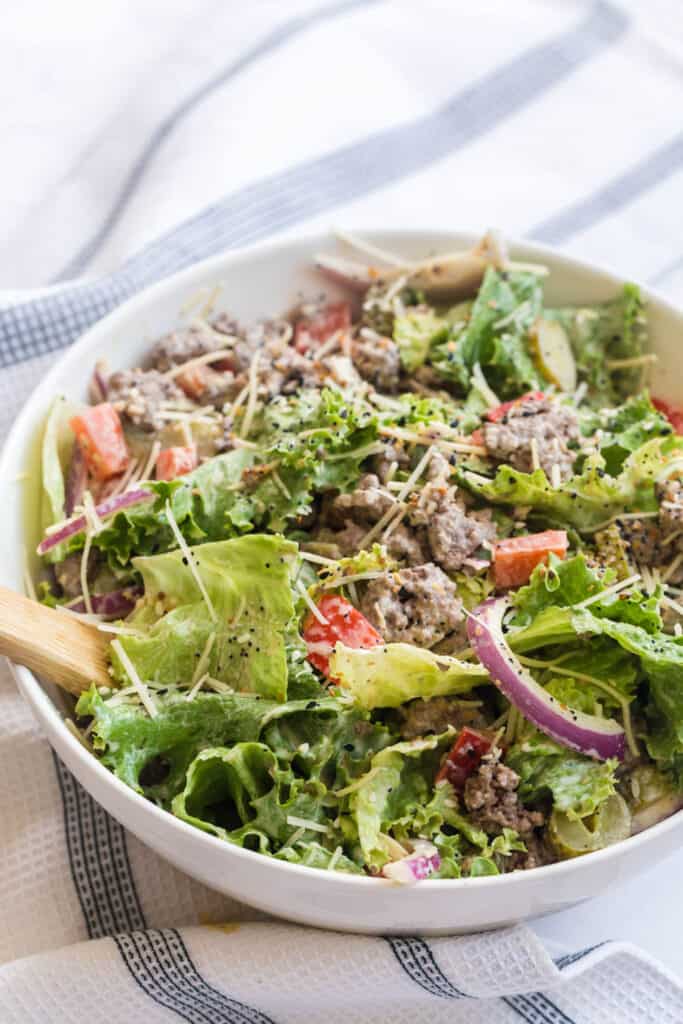 Additional Toppings
Here are some additional toppings you can add to your burger bowl:
tomatoes
mushrooms
green peppers
poblano peppers
toasted hamburger buns as croutons
fried onions
experiment with different cheeses: cheddar, mozzarella, swiss, etc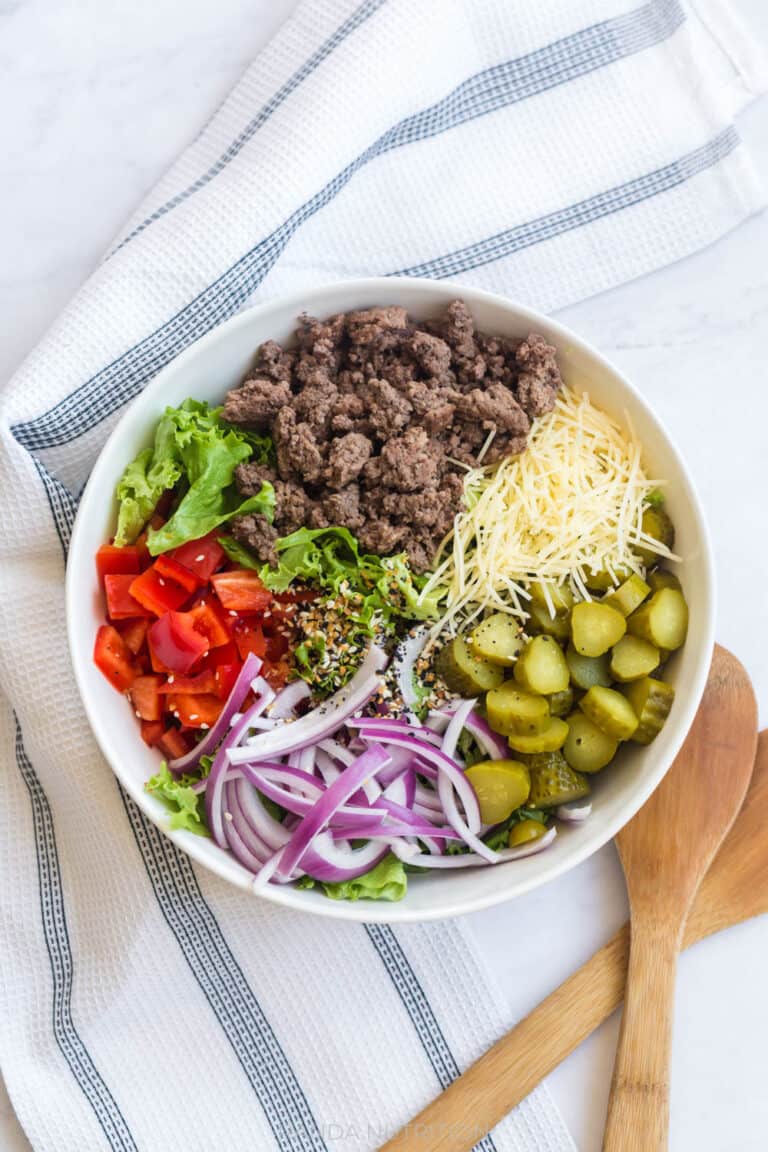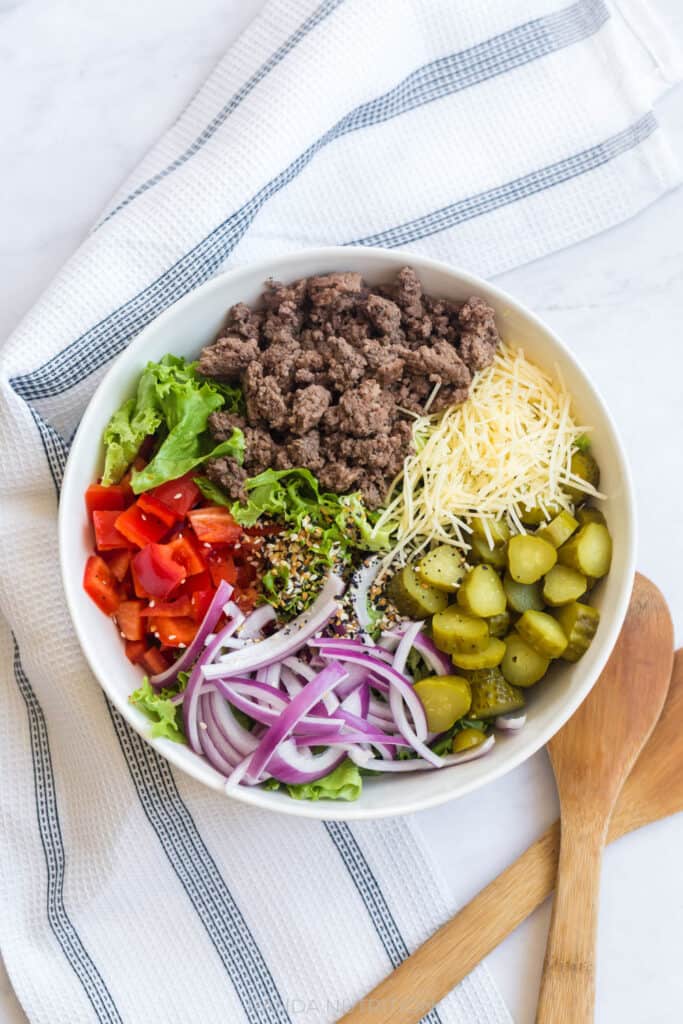 For this recipe I used:
lean ground beef
lettuce
red bell peppers
red onion
pickles
parmesan cheese
homemade burger sauce dressing
sesame seeds (or everything but the bagel seasoning)
sea salt
pepper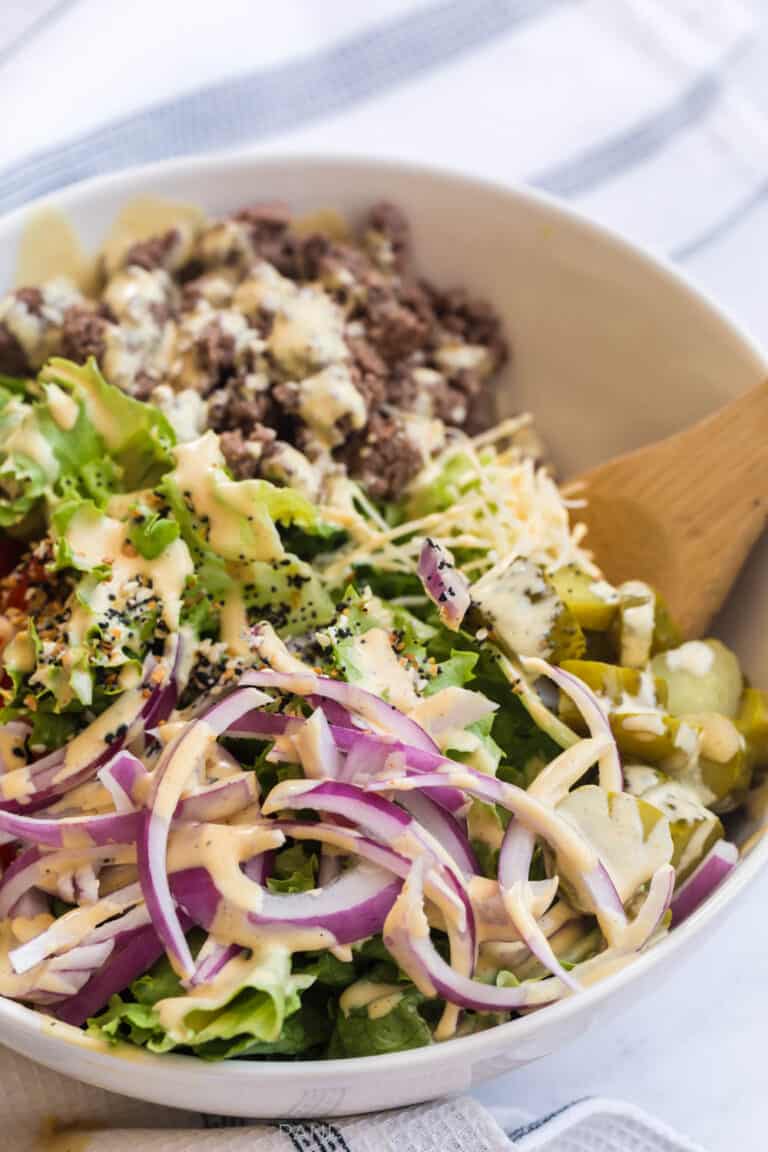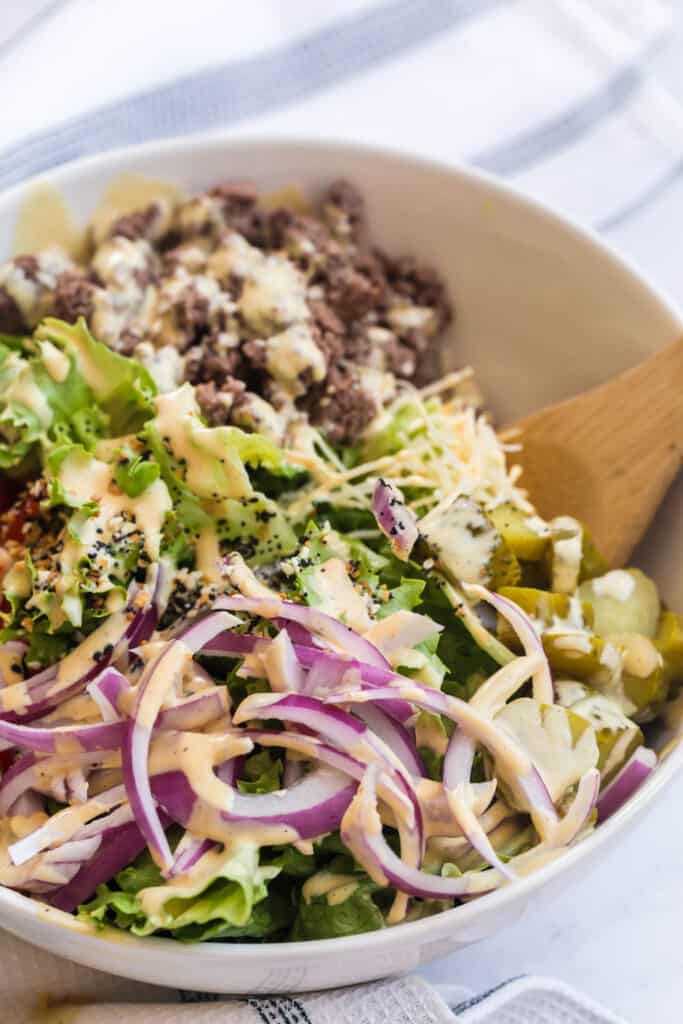 Burger Bowl Dressing
I prefer a zesty tasty, I love vinegars so I tend to make my dressings and vinaigrettes "sharper".
If you like it more mellow, you can add more honey to the recipe or only use 1 tablespoon of apple cider vinegar.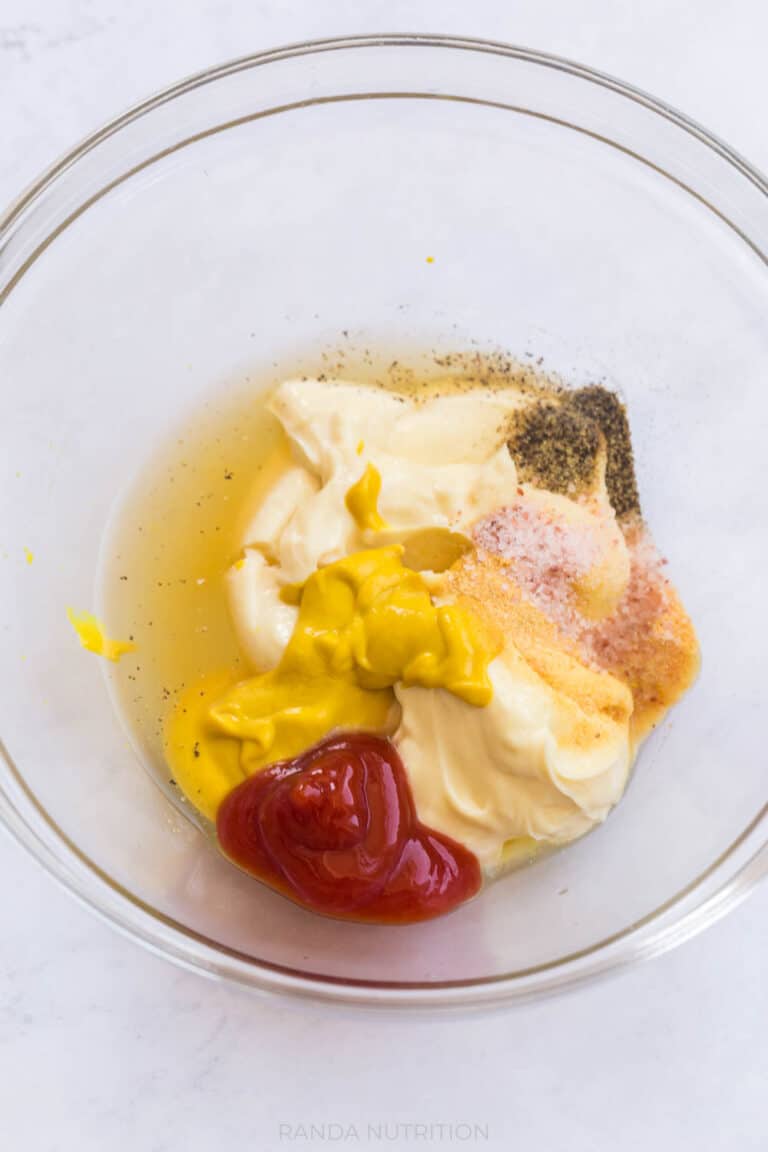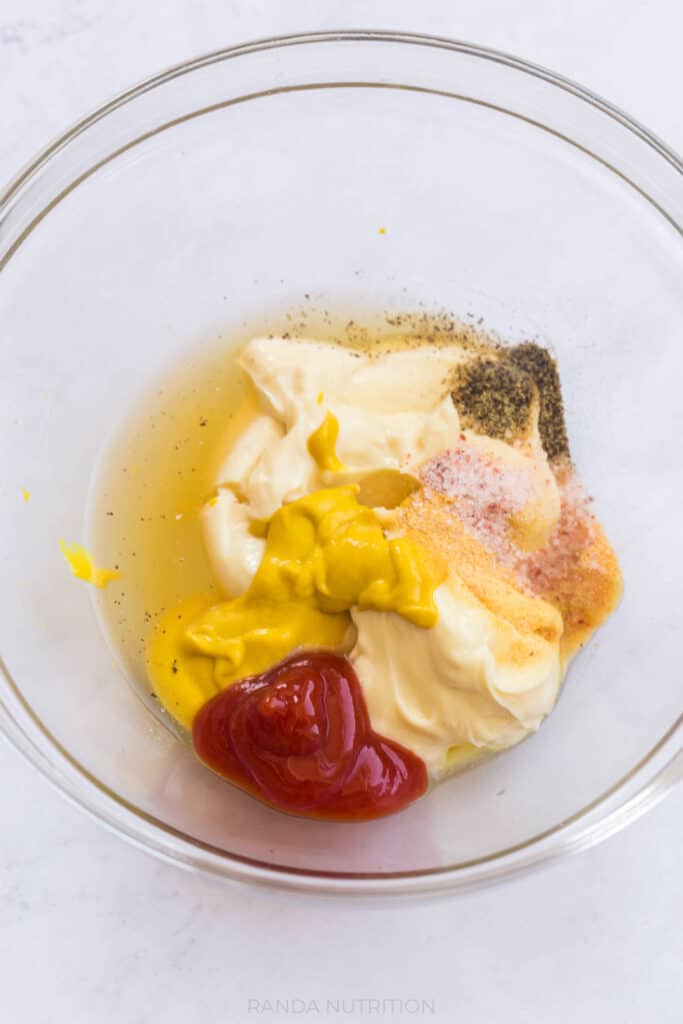 If you are trying to keep the sugars down, you could try a teaspoon of monk fruit sweetener at a time as well.
I used Primal Kitchen's Avocado Mayo but you don't have to, regular mayonnaise works just as well.
F.A.Q's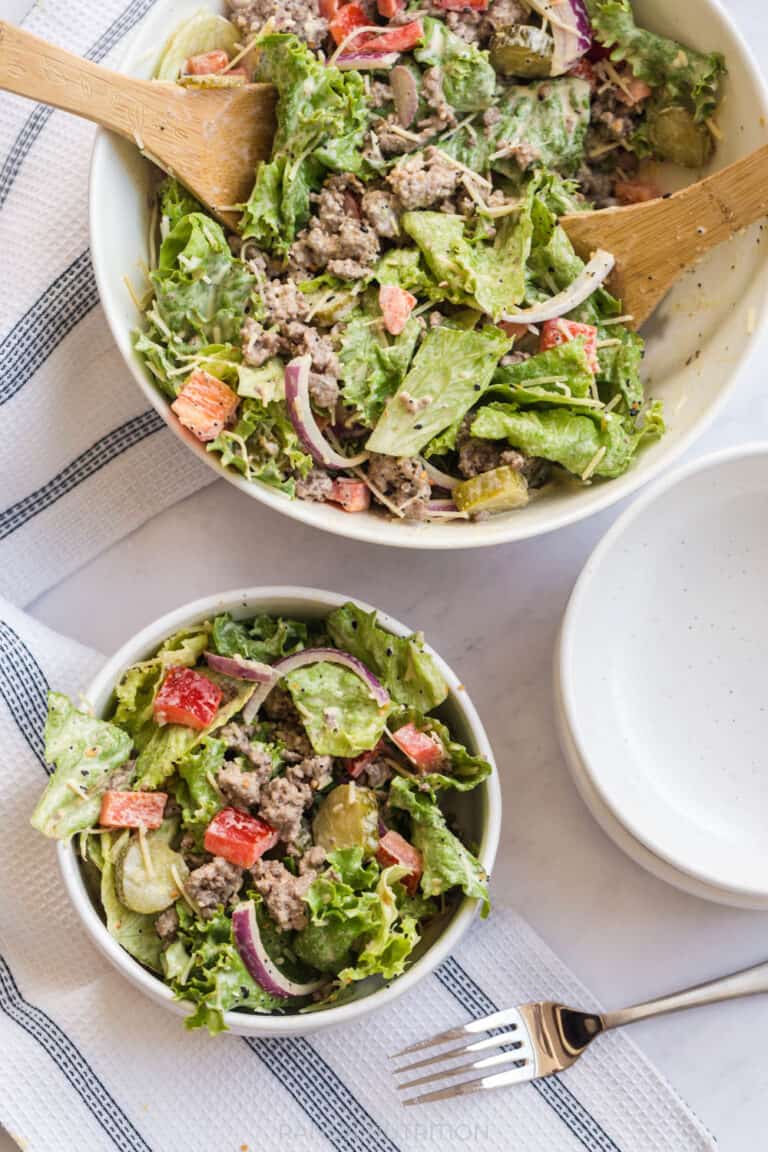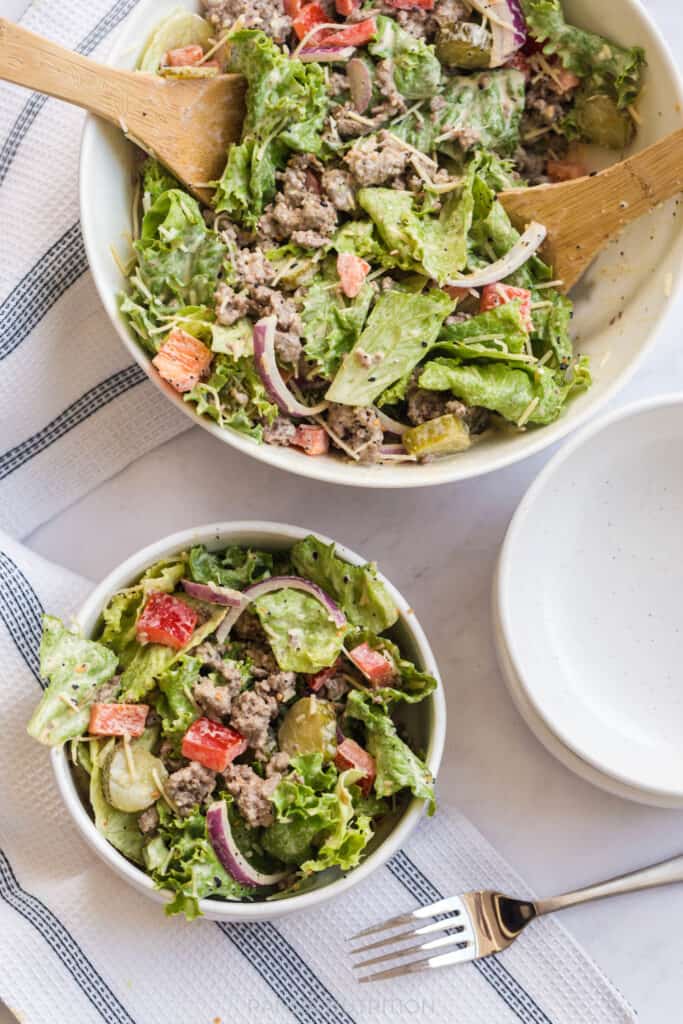 How long can I store it in the fridge?
You can store the cheeseburger salad in the fridge for 3-4 days, but do so undressed. Keep the salad dressing in another container. I like to keep all the ingredients separate, so I can arrange them daily.
What meal prep containers do you use?
I don't have sesame seeds, are they necessary?
No, they're not. For a substitute for sesame seeds try using the Everything But the Bagel Seasoning but if you do that, use less salt in the recipe. Otherwise, it will be too salty (I know this from experience).
How to Make Cheeseburger Salad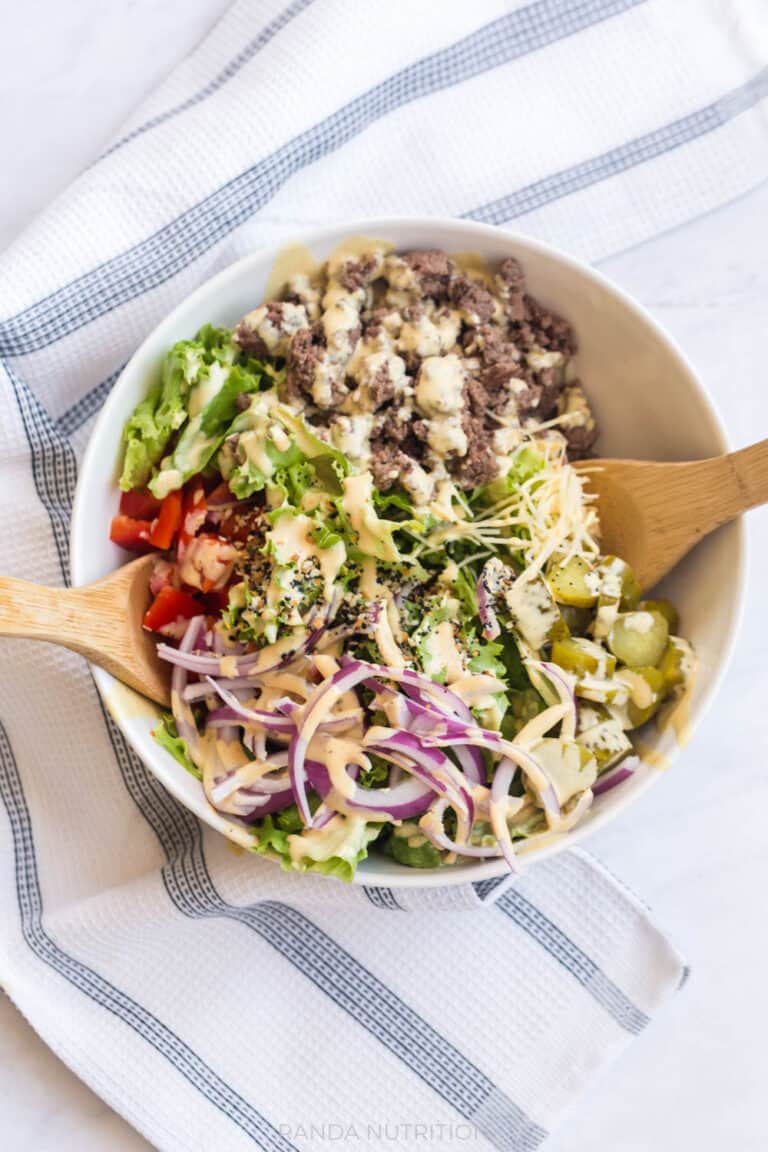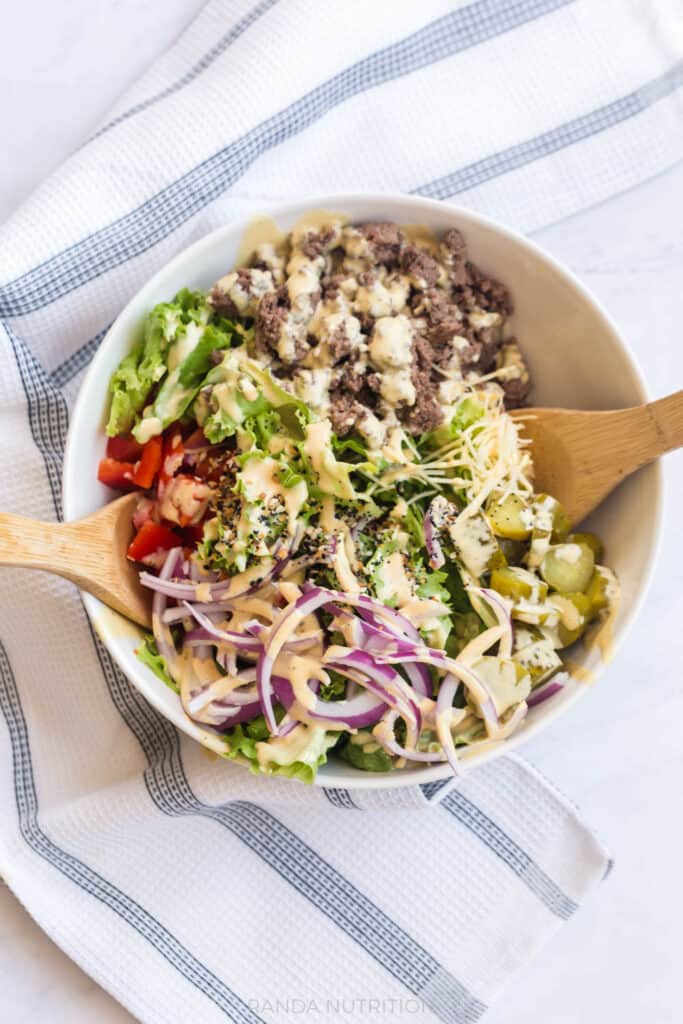 Whipping up this burger salad is simple, and a great idea for meal prep. If you are using this recipe for meal prep, don't dress the salad until you're ready to eat it.
Otherwise, it will be soggy.
You don't want that, it won't even last a full day then. I personally like to store homemade salad dressings in mason jars. They're vertical, so they take up less space in your fridge and fit on the doors.
Related: Want to make a full-on gourmet burger? This Banh Mi Burger is it.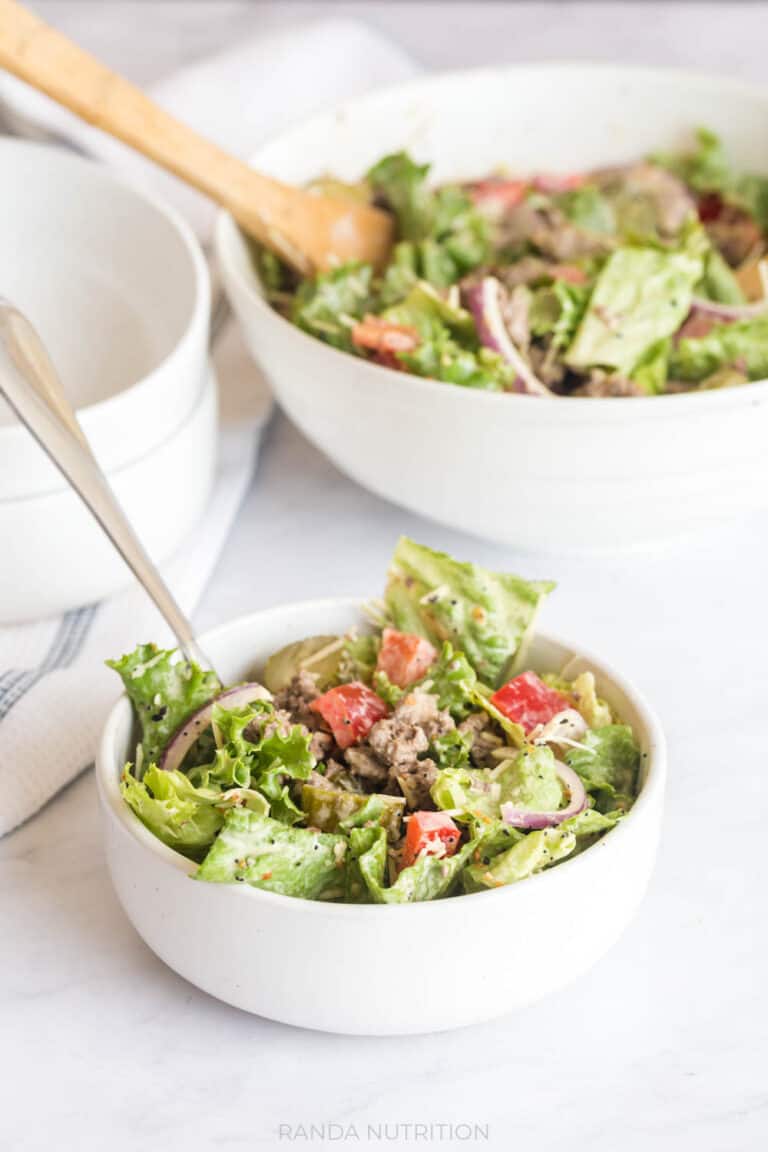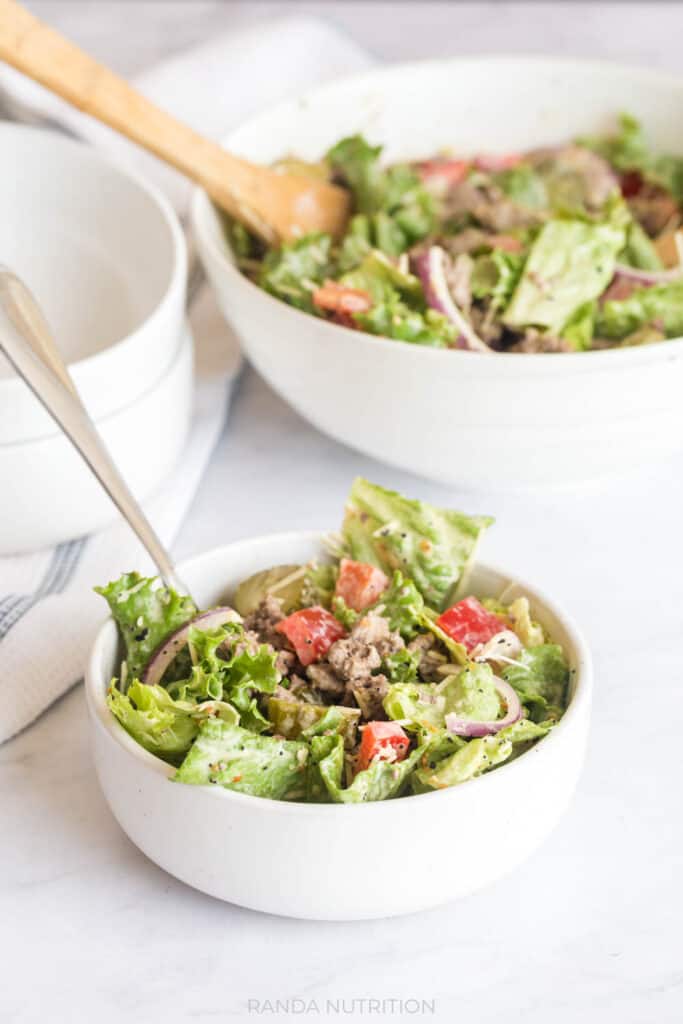 Meal Prep Salads and Bowls You'll Love
Here are a few more recipes here on Randa Nutrition that I know you'll love.
This recipe is added to the Dinner Done Daily Vault, where you can meal plan for the whole week in less than 5 minutes. You can find out more here.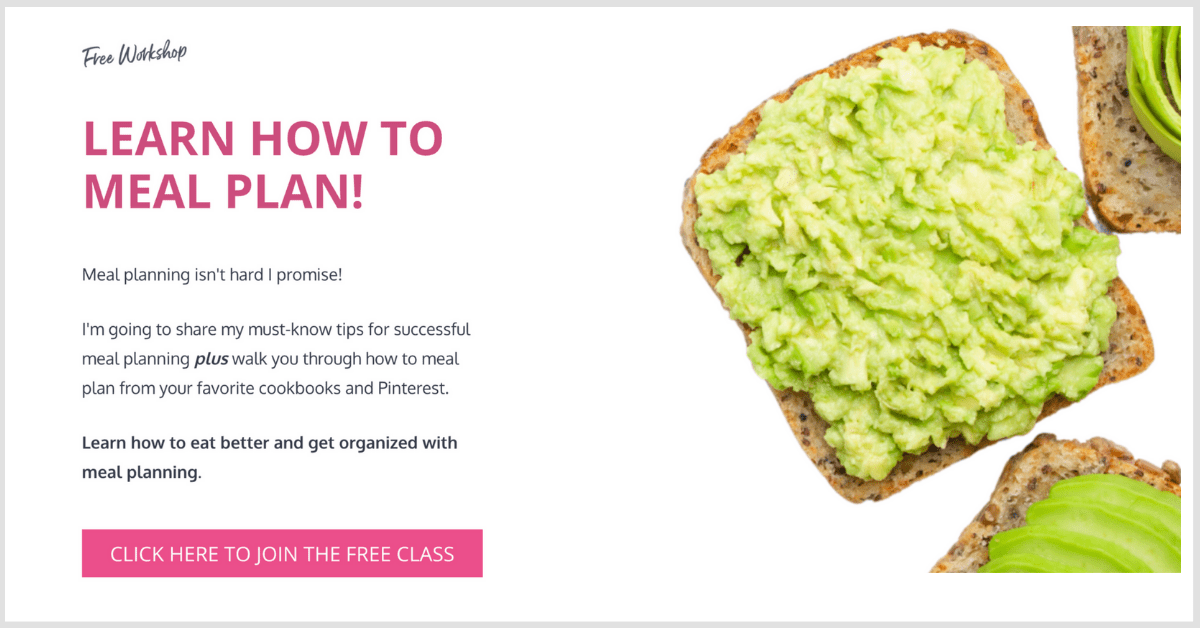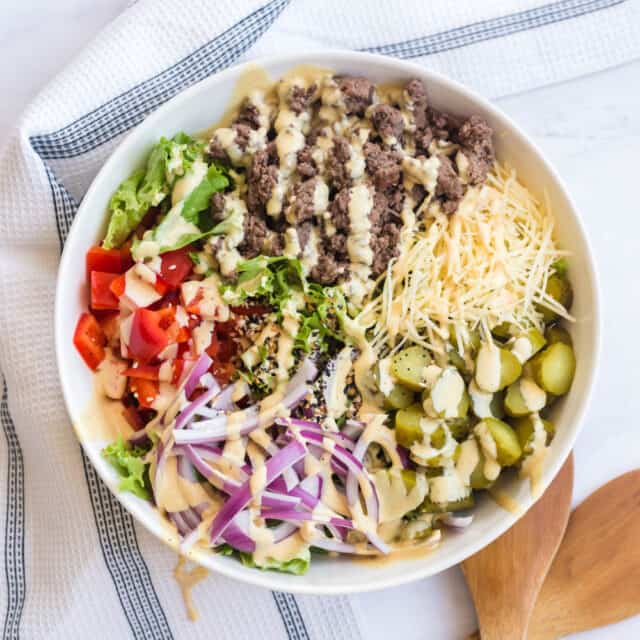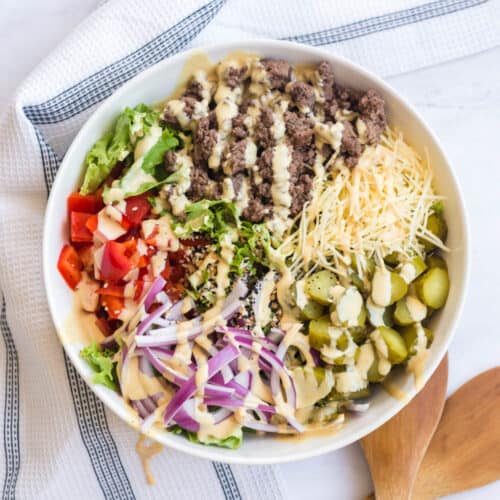 This easy easy and delicious cheeseburger salad recipe is a great way to get in extra veggies but still enjoy a summer BBQ favorite.
Instructions
In a skillet, cook the ground beef on medium-high heat with salt and pepper.
Burger Bowl Dressing
Whisk together all the ingredients while the beef is cooking. Start with 1 tablespoon of apple cider vinegar. Taste and adjust the seasonings, if you want it sweeter add more honey. Want more zest? Add the other tablespoon of vinegar. Set aside.
Assemble
Assemble all the ingredients together, top with dressing and toss.
Notes
Taste and adjust the dressing. I prefer a zesty dressing but if you want it sweeter, add more honey.
Nutrition
Serving:
1
serving
Calories:
435
kcal
Carbohydrates:
11
g
Protein:
29
g
Fat:
30
g
Saturated Fat:
8
g
Trans Fat:
1
g
Cholesterol:
89
mg
Sodium:
1533
mg
Potassium:
696
mg
Fiber:
3
g
Sugar:
7
g
Vitamin A:
1525
IU
Vitamin C:
42
mg
Calcium:
134
mg
Iron:
4
mg