Ground Chicken Stuffed Peppers (Healthy and Easy)
If you need a quick and easy dinner, then this healthy ground chicken stuffed peppers recipe is it! Stuffed with brown rice, sugar-free marinara, ground chicken, and a simple Italian herb blend, you're going to love how simple, healthy, and delicious this dish is. It's the best stuffed peppers recipe I've made. (And the easiest, too!)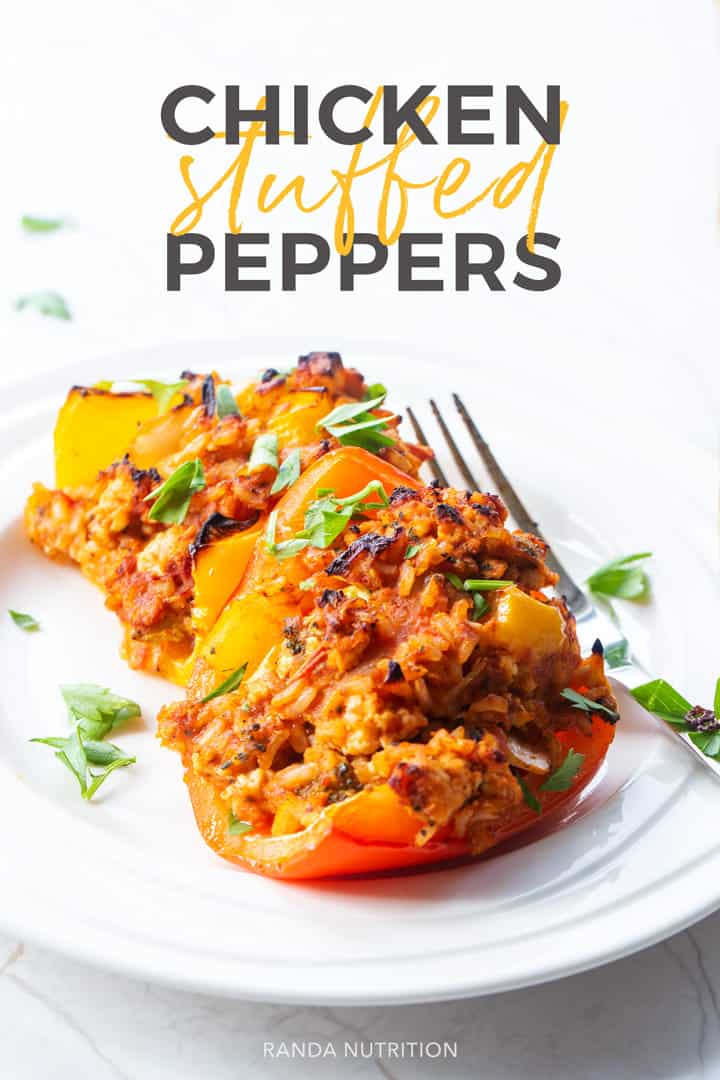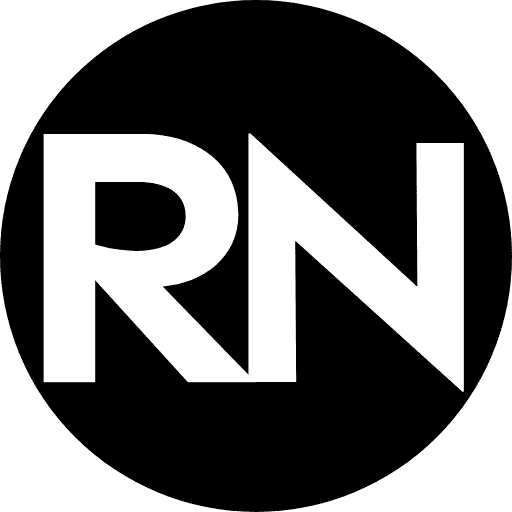 Save This Recipe!
Enter your email below & I'll send it straight to your inbox. Plus you'll get great new recipes every week!

Disclosure: This post contains affiliate links for your convenience. As an Amazon Associate, I earn from qualifying purchases.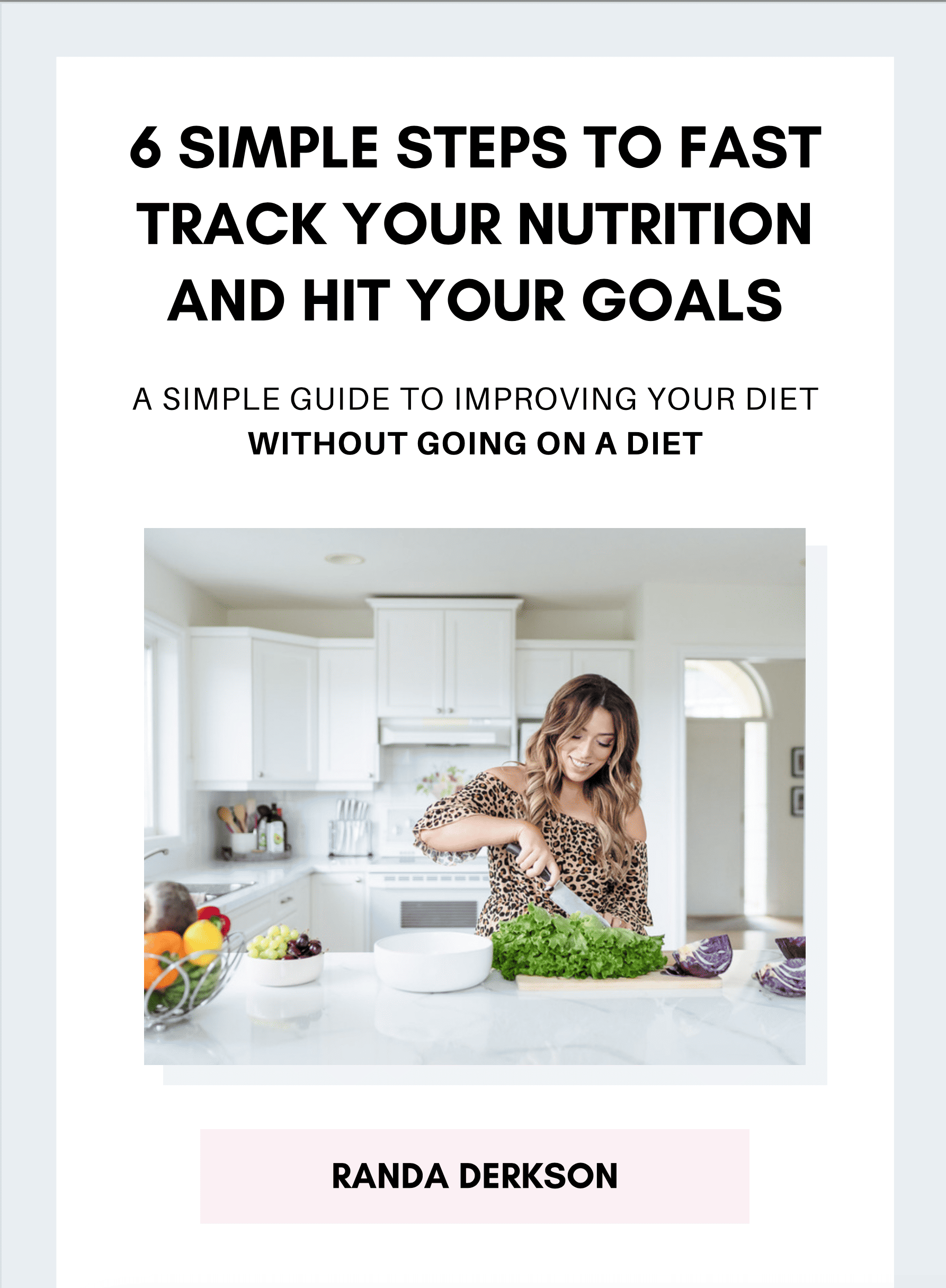 Grab your Free copy
Fast Track Your Nutrition with Macros
Learn the simple steps to improve your diet without diets and deprivation. 
Why This Recipe Is So Good
Recently, I put up an Instagram story poll asking if you preferred stuffed peppers with chicken and rice or stuffed peppers without rice.
I was so surprised. Over 90% of you liked it with rice!
Personally, I have only had it with the vegetables and meat (sometimes quinoa), so I knew I had to whip up a batch made with rice pronto.
And I'm so glad all of you convinced me to try it because they turned out so well! My own family agreed and said they preferred stuffed peppers with rice.
I have picky eaters (and a toddler who changes her mind on what she likes on the daily), so to have a delicious and healthy meal that we all can agree on was heaven sent.
I also made this into a soup: Chicken Stuffed Pepper Soup Recipe.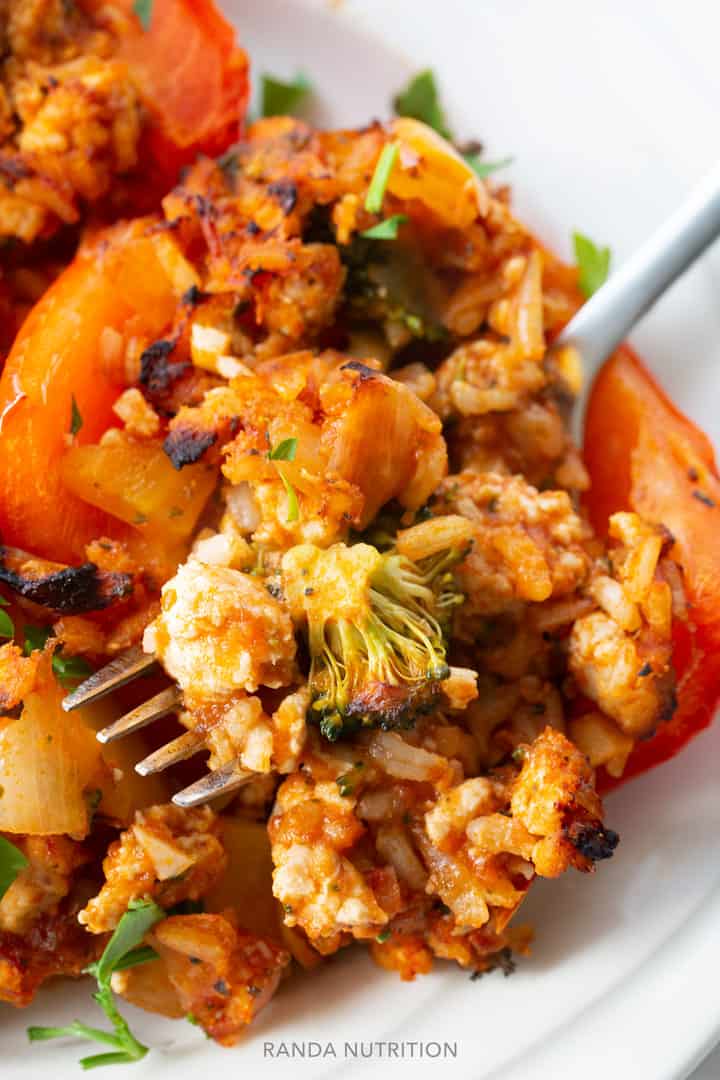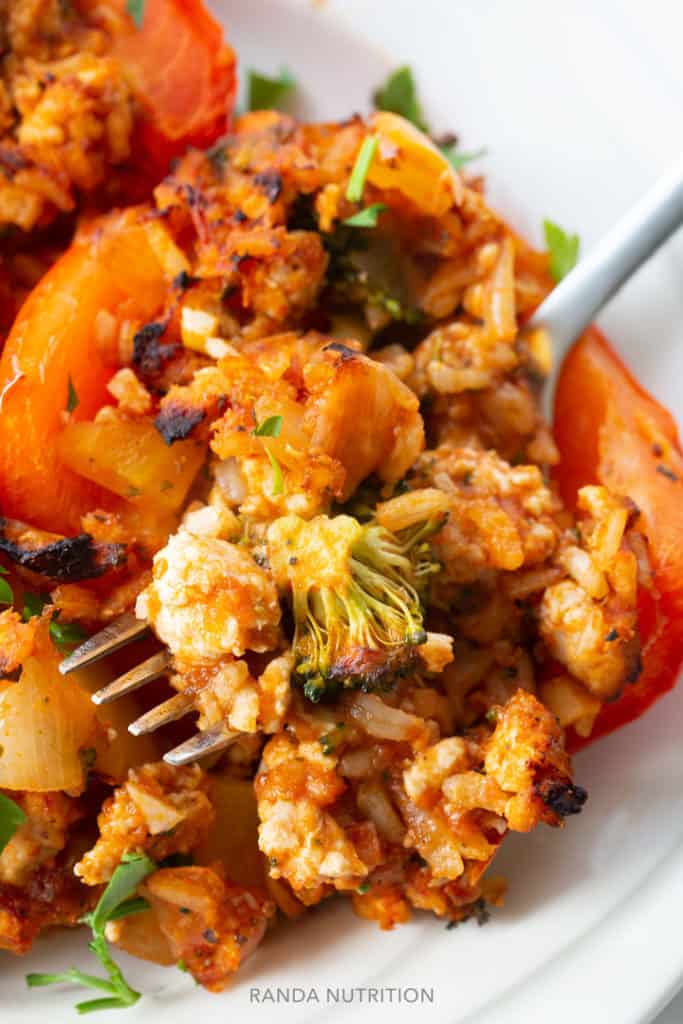 Key Ingredients
Bell Peppers: I like buying a multipack of different colored bell peppers so we can hav a variety of colors and flavors. Slice them in half and knock out the seeds before stuffing with the chicken and rice stuffed peppers filling.
Ground Chicken: This is the protein I went with for this stuffed peppers recipe, but you could use any ground meat like beef, turkey, or pork.
Jarred Marinara Sauce: Being that I'm a busy working mom, I'm not above finding healthy shortcuts to make preparing meals a little easier. And using jarred marinara sauce is one of my tricks! Just opt for tomato sauce that contains no sugar. This means you have to read the label! Sugar can be sneaky.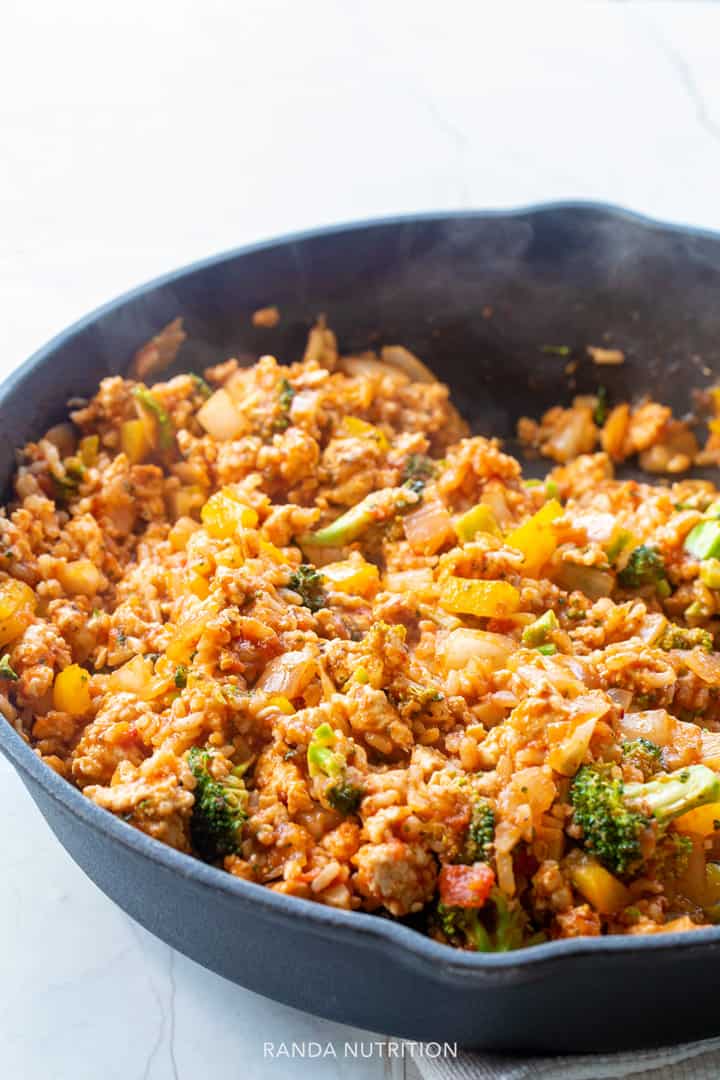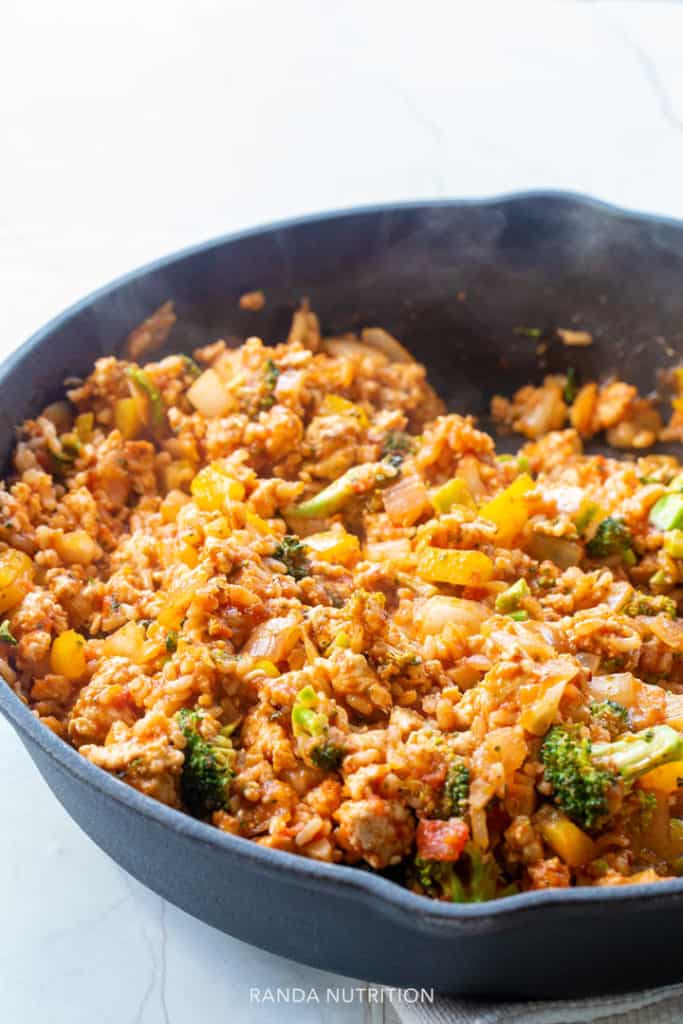 How To Make Stuffed Peppers with Ground Chicken
To make the healthy stuffed peppers with chicken easy to throw together I used pre-cooked brown rice.
I typically cook up a pot of rice or quinoa on a Sunday when I meal prep to have an as side that's ready to go throughout the week. I also like to add it to salads, stir fries, soups, and now these peppers.
In addition to the rice, I also added cheese.
This is completely optional, so if you're unable to eat dairy, it's an easy ingredient to leave out.
The nutritional information at the bottom of the recipe card counts the calories and macros without the cheese. In the notes section, I have how much more the cheese would add for 1/4th of the recipe so you can add it to your trackers if needed.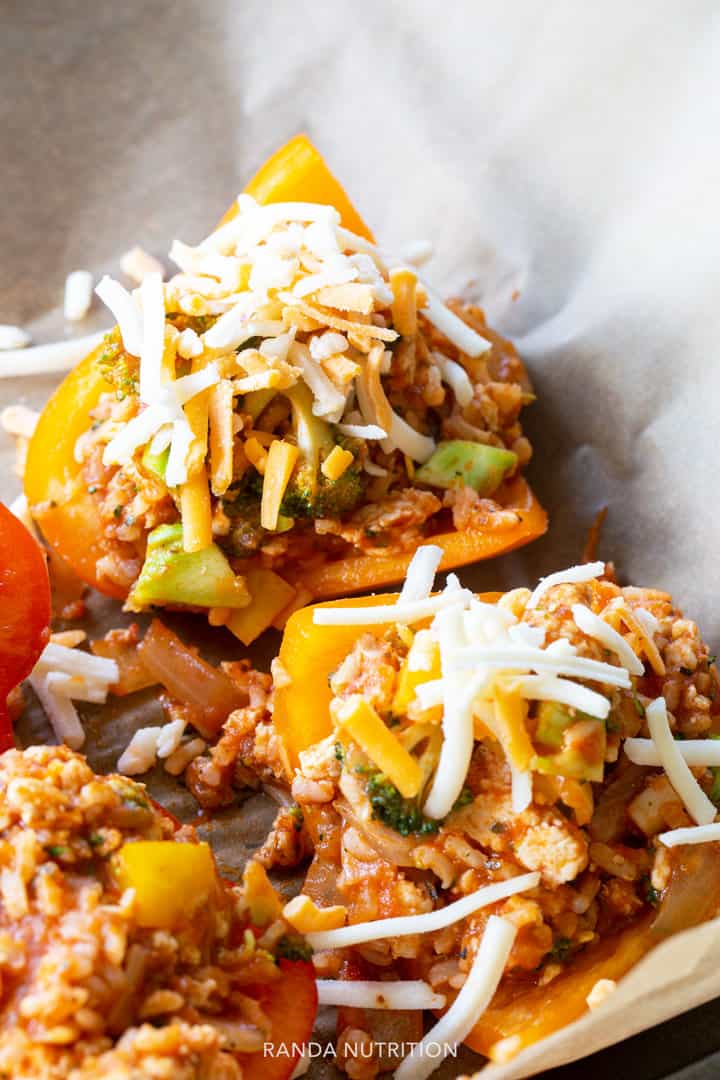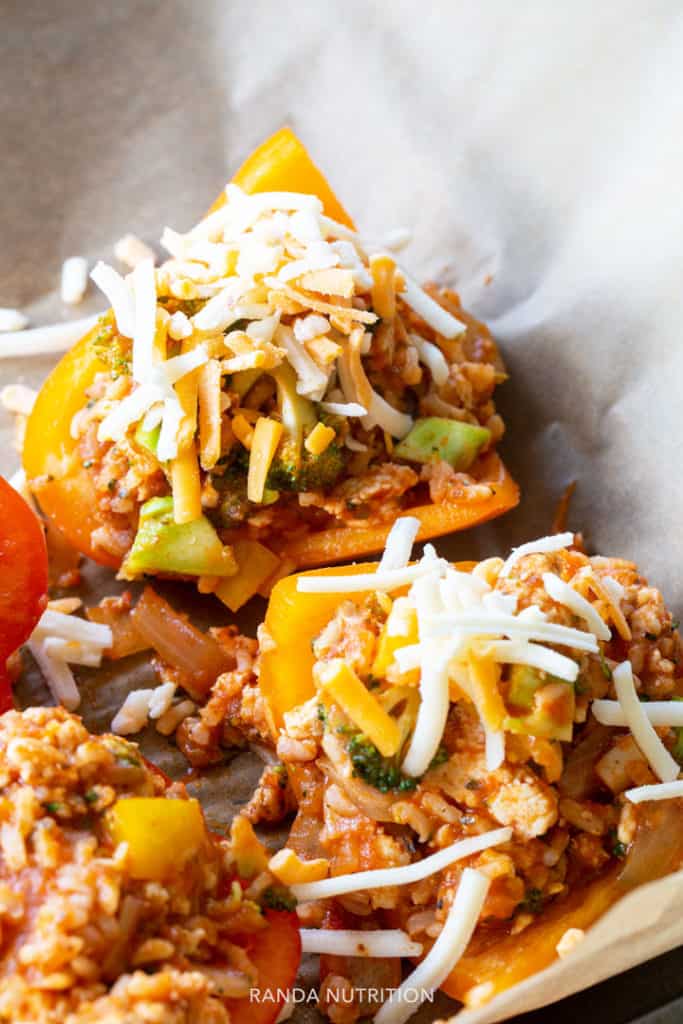 Serving Suggestions
If you're looking to stretch the recipe even further I recommend these simple side dishes:
A simple side salad
Raw veggies and dip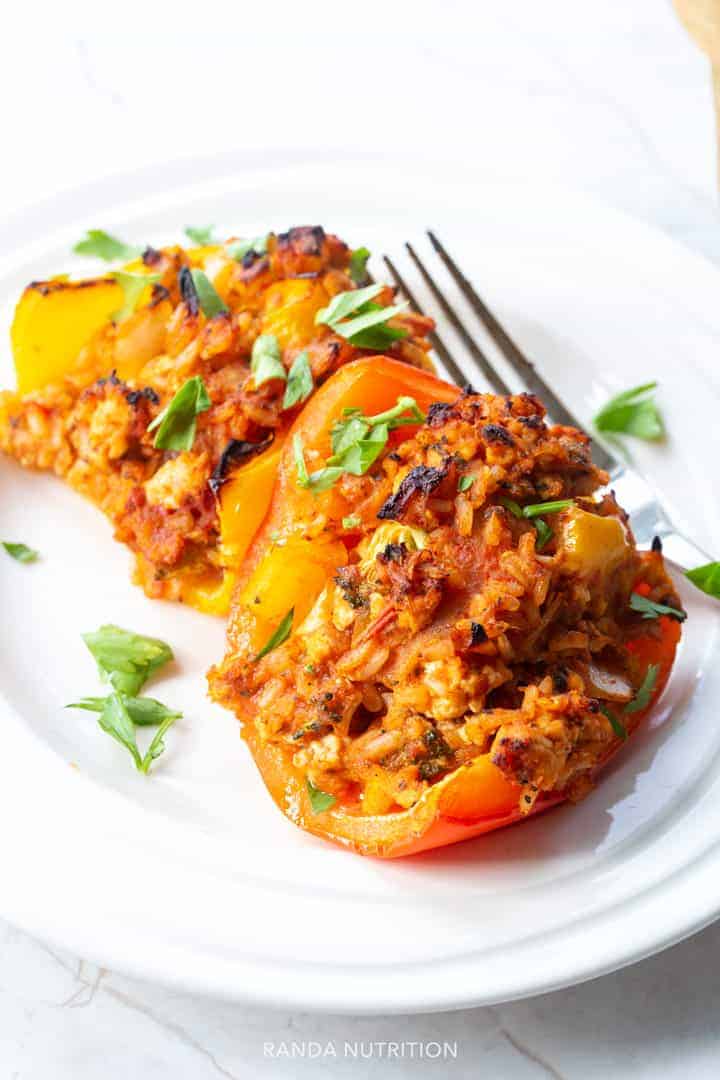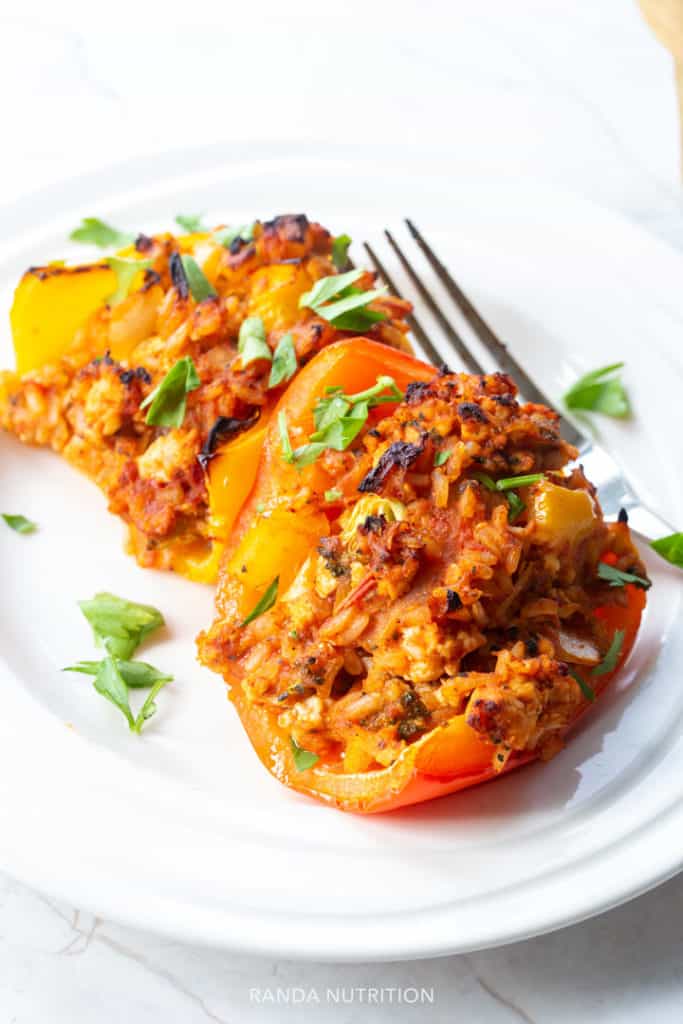 Ground Chicken Stuffed Peppers Tips and Variations
It's important that you use a marinara sauce with no added sugar for these chicken stuffed bell peppers. You would think this is easy to find, but sugar is very common in store bought sauce. My favorite store bought marinara is the Kirkland Organics brand from Costco. At the time of writing this, there is no added sugar, which is fantastic. That being said, do remember to keep reading labels as brands change their ingredients list often (which can be such a bummer).
Make these vegetarian stuffed peppers by omitting the meat and using protein-packed veggies like black bean, lentils or chickpeas!
Spice it up with some sautéed diced jalapeno peppers, crushed red pepper flakes, or cayenne pepper.
If you don't have ground chicken, you can also use ground turkey. I found that these two ingredients are interchangable without affecting the flavor.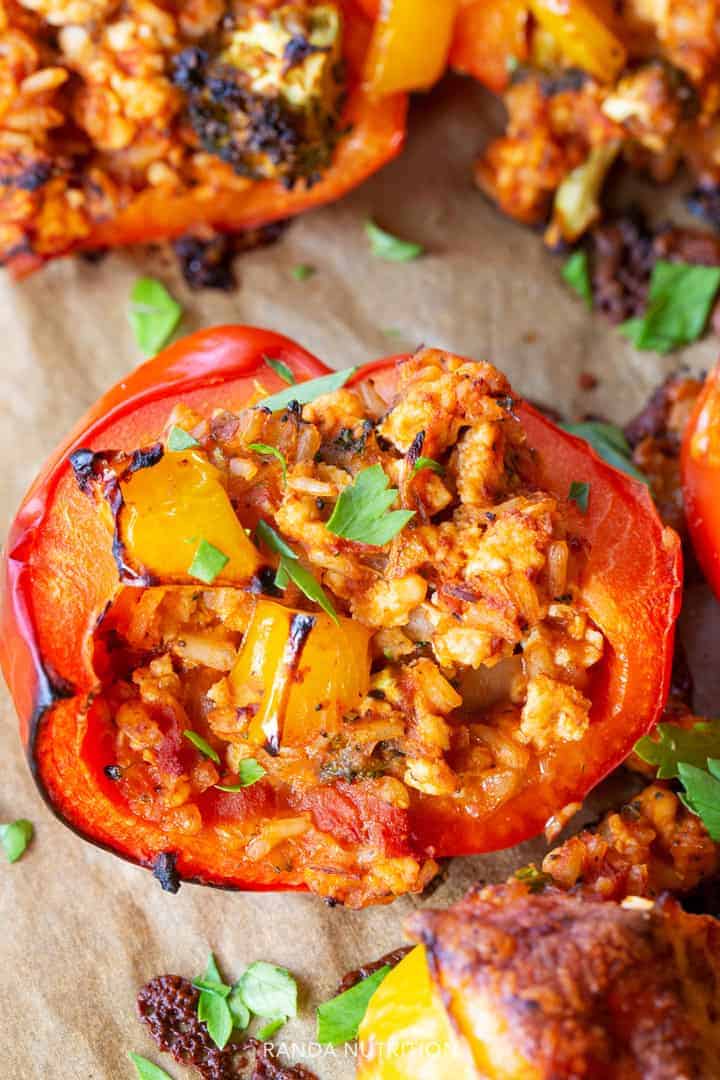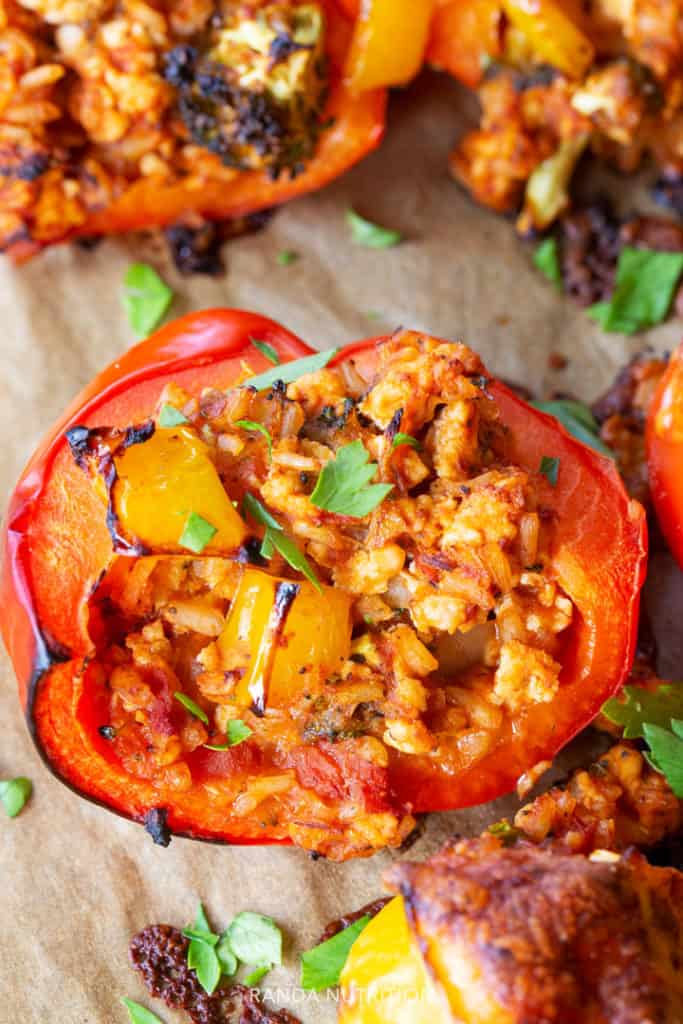 Meal-Prep Tips
The best part about these easy stuffed peppers? They're so simple to throw together, which makes them perfect for meal prep.
Here are some meal-prep tips:
Follow the instructions below on the recipe card.
Let the peppers cool completely to room temperature.
Package them away in a clear resealable container (like these ones).
Refrigerate for up to 4 days for an easy week of healthy dinners or lunch.
Another option is to cook up the filling ahead of time during your meal prep, stuff them, and then a day or two later bake them.
There is no right or wrong way to meal prep. Do what works best for you and your family!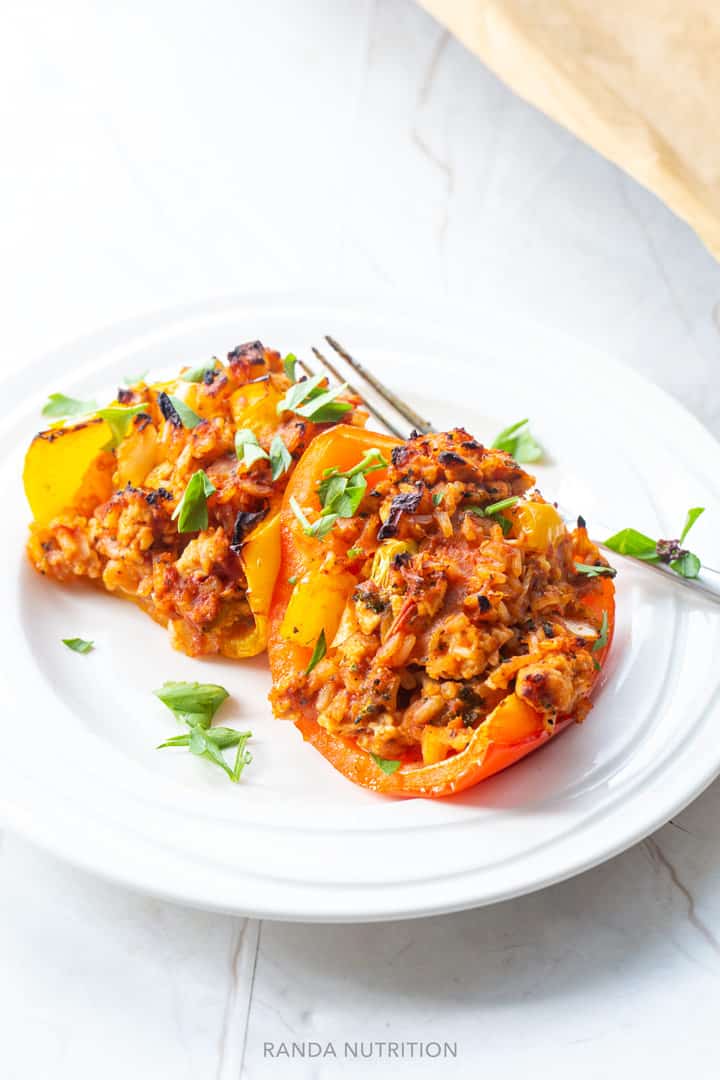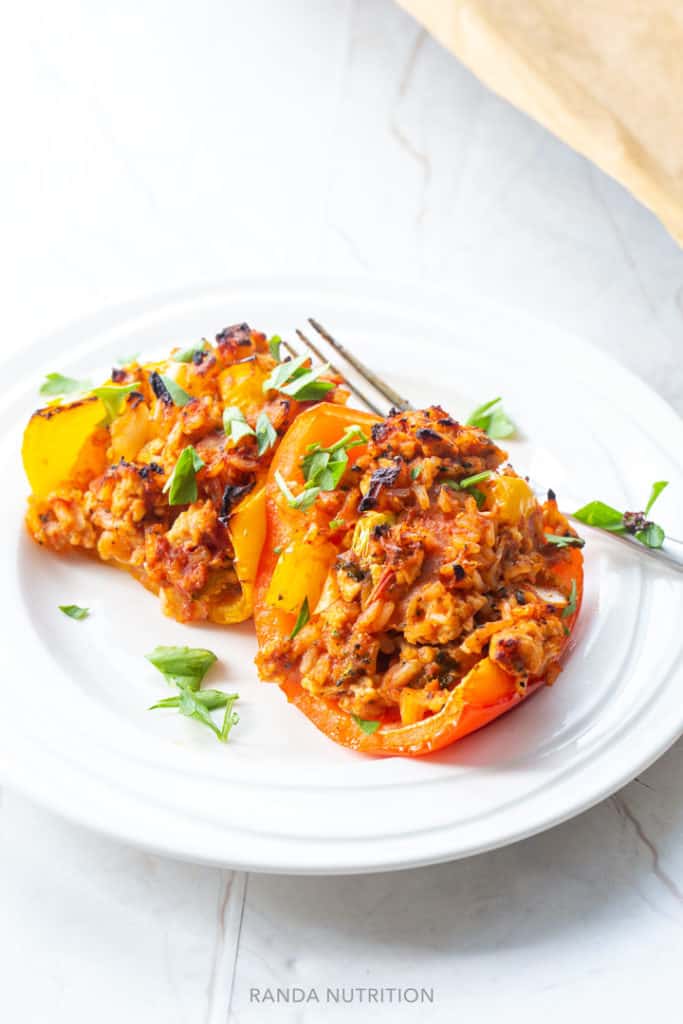 FAQs
Do you cook the meat first for stuffed peppers?
For this recipe for chicken stuffed peppers, I cooked the ground chicken first in a cast iron skillet. This ensures that the chicken is cooked to temperature and cuts down on the amount of time being baked in the oven. I recommend cooking the ground meat first, it saves you time in the long run.
Do I have to use jarred marinara sauce?
If you're gasping because I'm saving a step (busy mom here) and using a jarred sauce for these ground chicken stuffed peppers, you can totally make your own. You can use crushed tomatoes, garlic, and seasoning or try this hidden veggie tomato sauce.
How to make stuffed peppers vegetarian?
It's easy to make this recipe plant based. Simply omit the meat and proceed as directed, or swap it out for vegetarian-friendly protein options like tofu, black beans, pinto beans, or chickpeas.
Are stuffed peppers gluten free?
This recipe for chicken and rice peppers is gluten free. You can also make them dairy free by omitting the cheese.
Do you have to pre cook the peppers?
You don't have to pre cook peppers to make this dish. Especially since I slice them in half, I find it's not necessary.
What kind of ground chicken should I use?
Use whatever ground chicken you have access to. Ground chicken breast is what was used but if you only have access to ground chicken thigh, try it. There will be a difference in fat percentage but it will be fine in the recipe.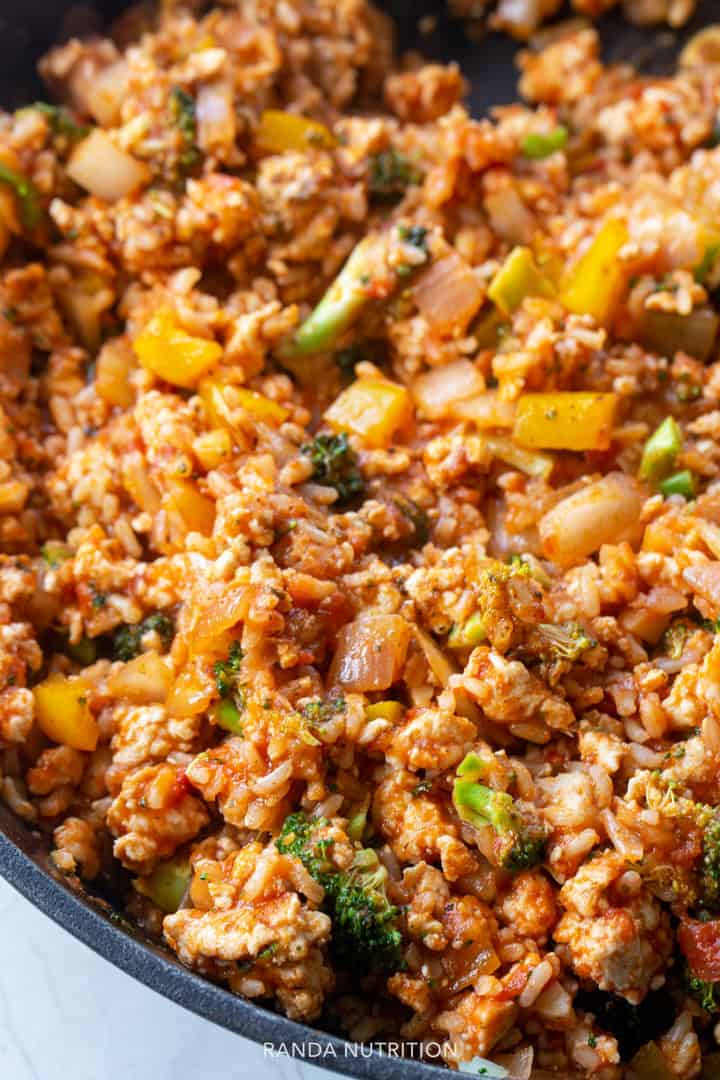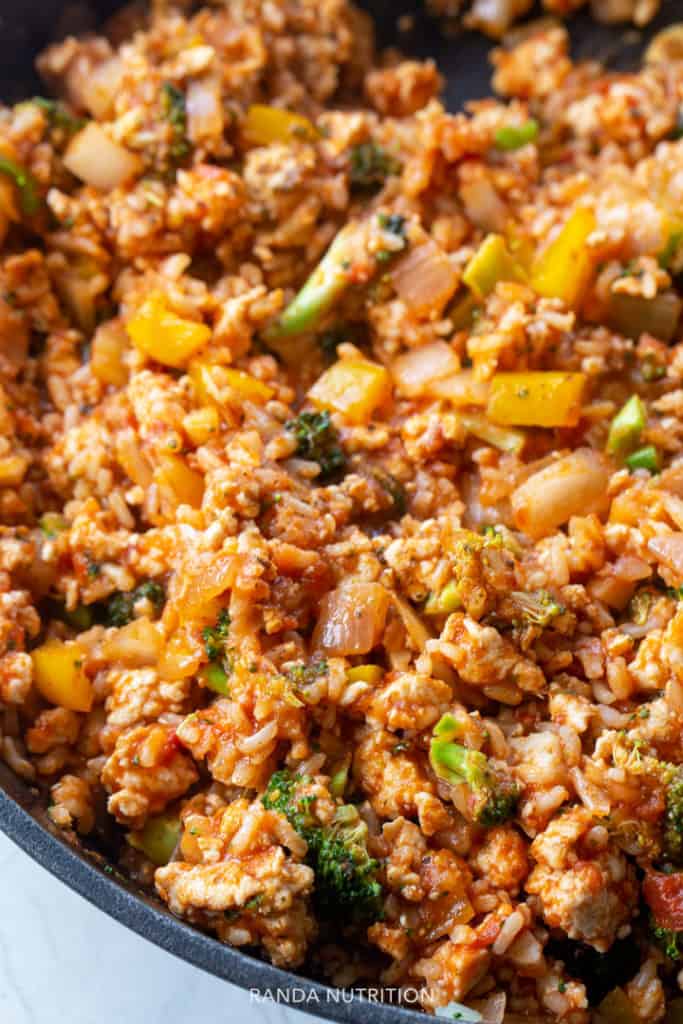 More Healthy Chicken Recipes
Curious about a side dish? Here's what to serve with stuffed peppers.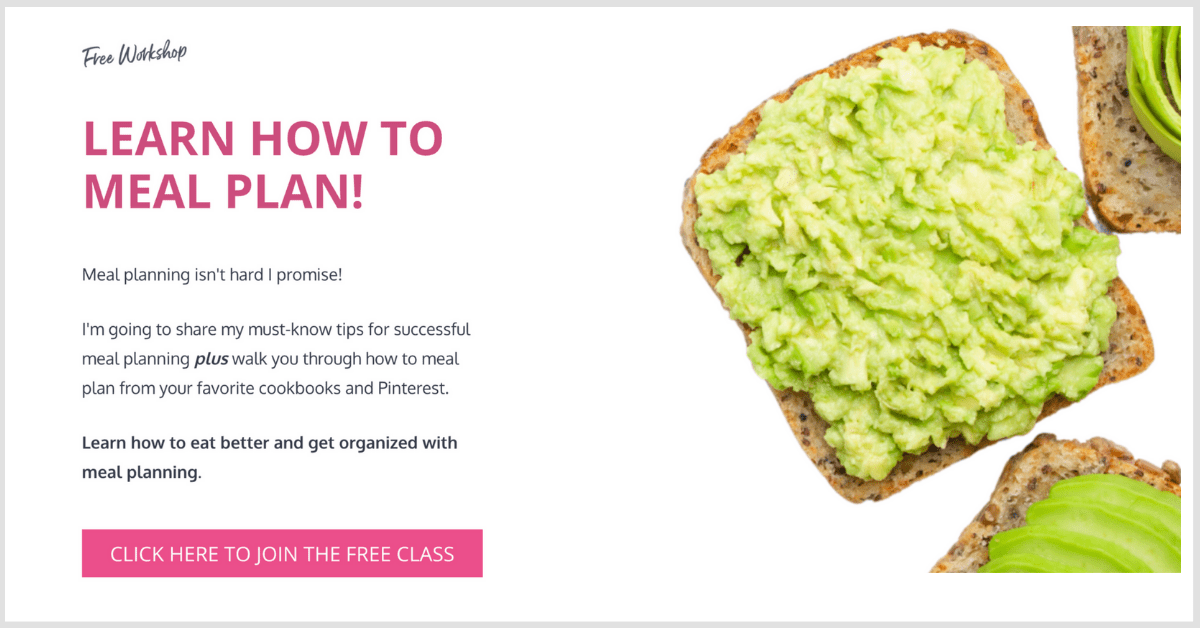 Healthy Ground Chicken Stuffed Peppers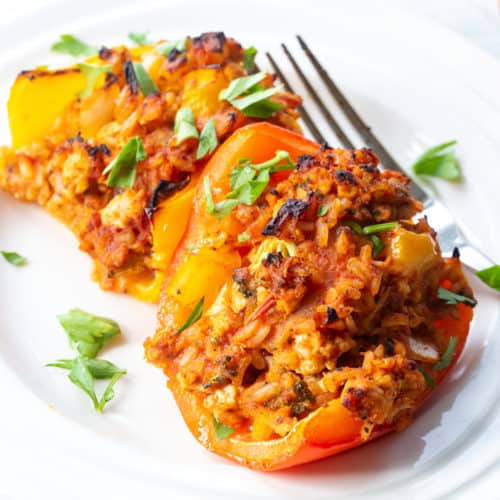 This recipe for healthy ground chicken stuffed peppers is such a simple and easy dinner idea. Made with brown rice, veggies, ground chicken, and marinara these stuffed bell peppers are easy to make keto or low carb (make without the rice).
Ingredients
6

bell peppers

sliced in half and seeded

1

tablespoon

avocado oil

1

lb

ground chicken

1

onion

diced

1

green pepper

diced

2

cloves

garlic

minced

2

cups

broccoli

chopped

2

cups

cooked brown rice

2

cups

marinara sauce

with no added sugar

1

tablespoon

Italian seasoning

3/4

cup

part skim mozzarella
Instructions
Preheat the oven to 425F. Line a sheet pan with parchment paper. Arrange the sliced bell peppers.

Heat 1 tablespoon of avocado oil in a large pan over medium heat. Add the ground chicken and cook. Remove from pan and set aside.

Add another tablespoon of oil and then add the onion and green pepper. Saute until translucent, about 4 minutes. Add the additional veggies and stir for two minutes.

Transfer the chicken and the cooked rice to the pan. Combine and add the marinara and Italian seasoning.

Spoon the mixture into each pepper. Top with optional cheese.

Bake at 425 for 20-25 minutes or until cheese is bubbly.
Notes
 Calories: 213kcal | Carbohydrates: 2g | Fat: 13g | Protein: 20g
Nutrition
Serving:
1
serving
Calories:
425
kcal
Carbohydrates:
49
g
Protein:
27
g
Fat:
15
g
Saturated Fat:
3
g
Cholesterol:
98
mg
Sodium:
736
mg
Potassium:
1703
mg
Fiber:
10
g
Sugar:
15
g
Vitamin A:
6534
IU
Vitamin C:
304
mg
Calcium:
98
mg
Iron:
4
mg
CALCULATE YOUR MACROS IN SECONDS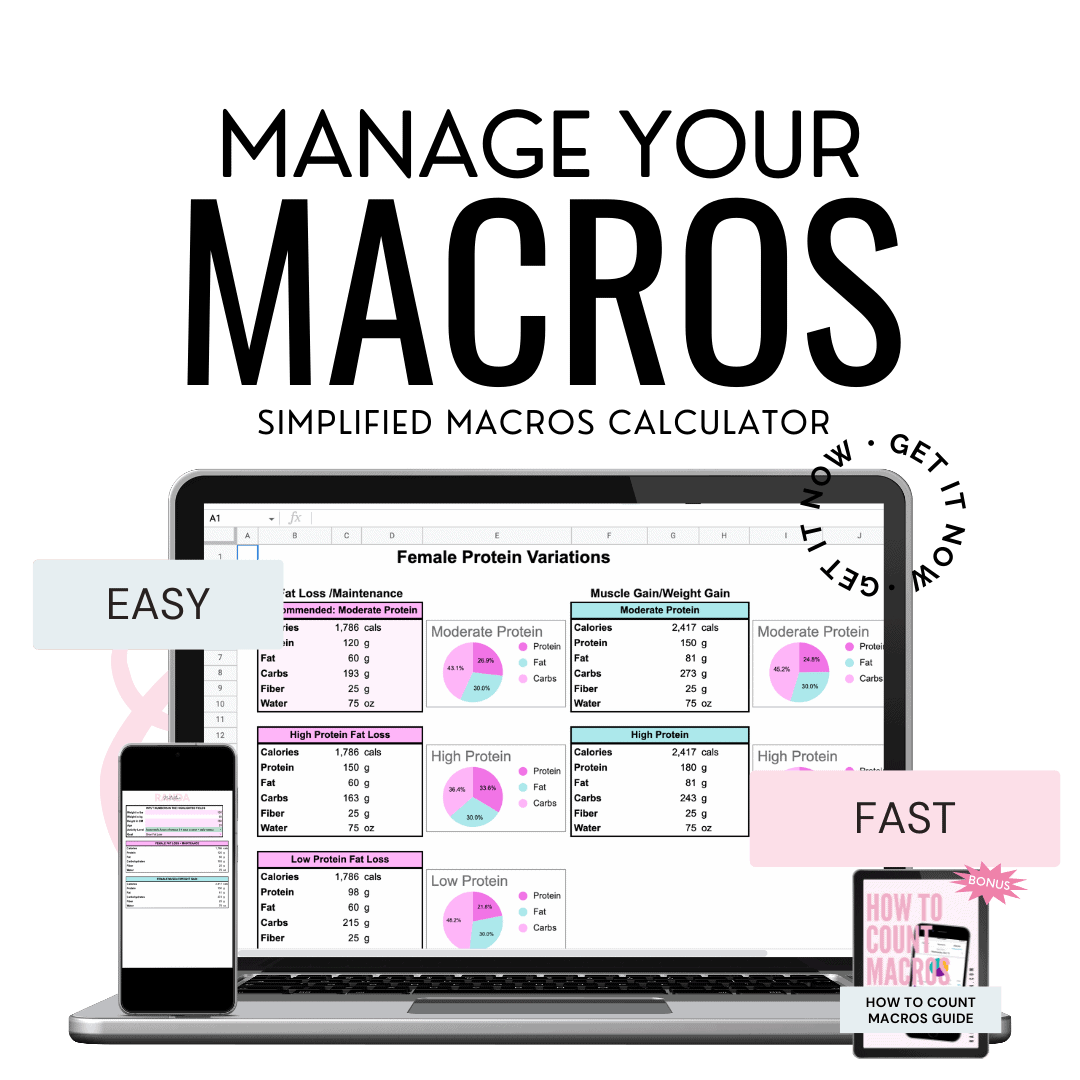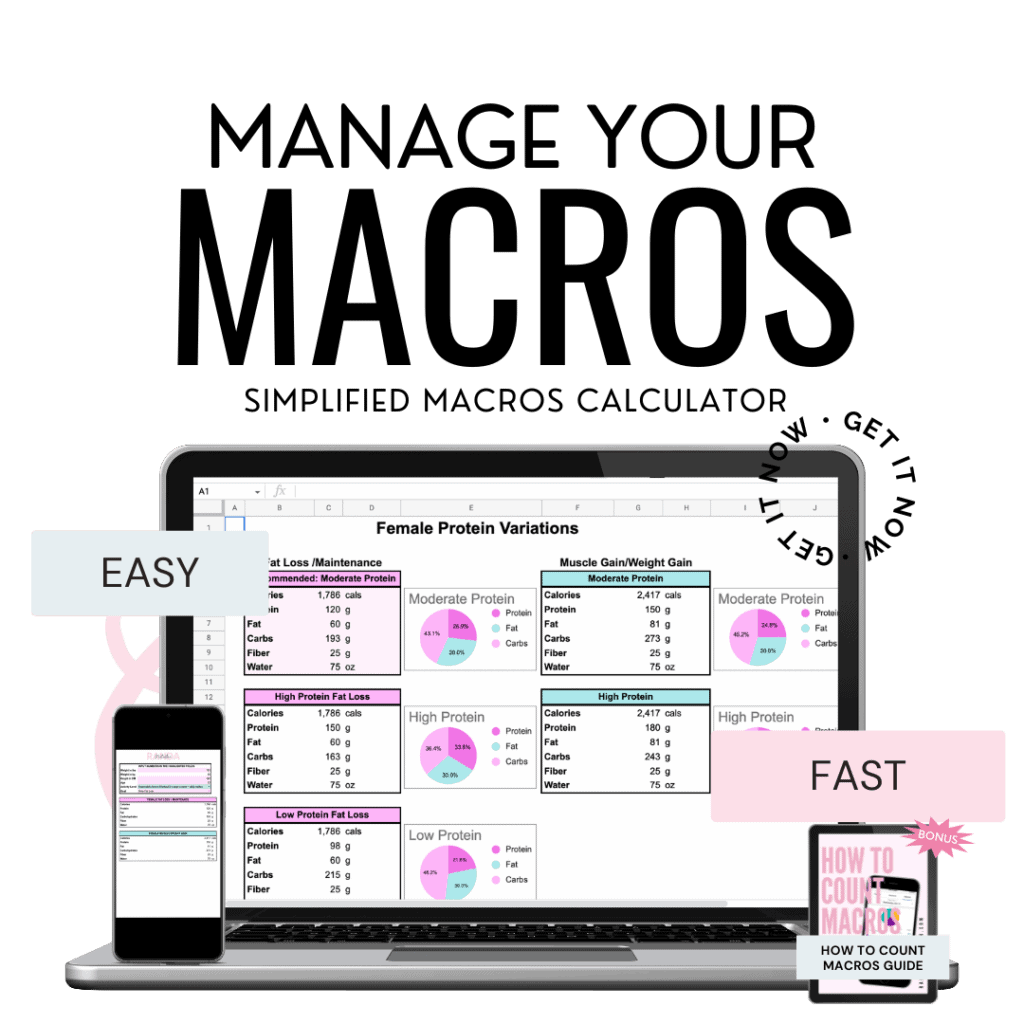 Ready to calculate your macros in seconds?
Stop guessing and flip-flopping between diets. Finally have a roadmap with this proven method!
This spreadsheet makes figuring out your macros, a piece of cake.
This post originally appeared July 2020, it's been updated since.