This chicken fajita casserole is an easy, one pan meal that's one and done. Topped with a dairy free cashew cream sauce, this simple dinner is packed with a ton of flavour.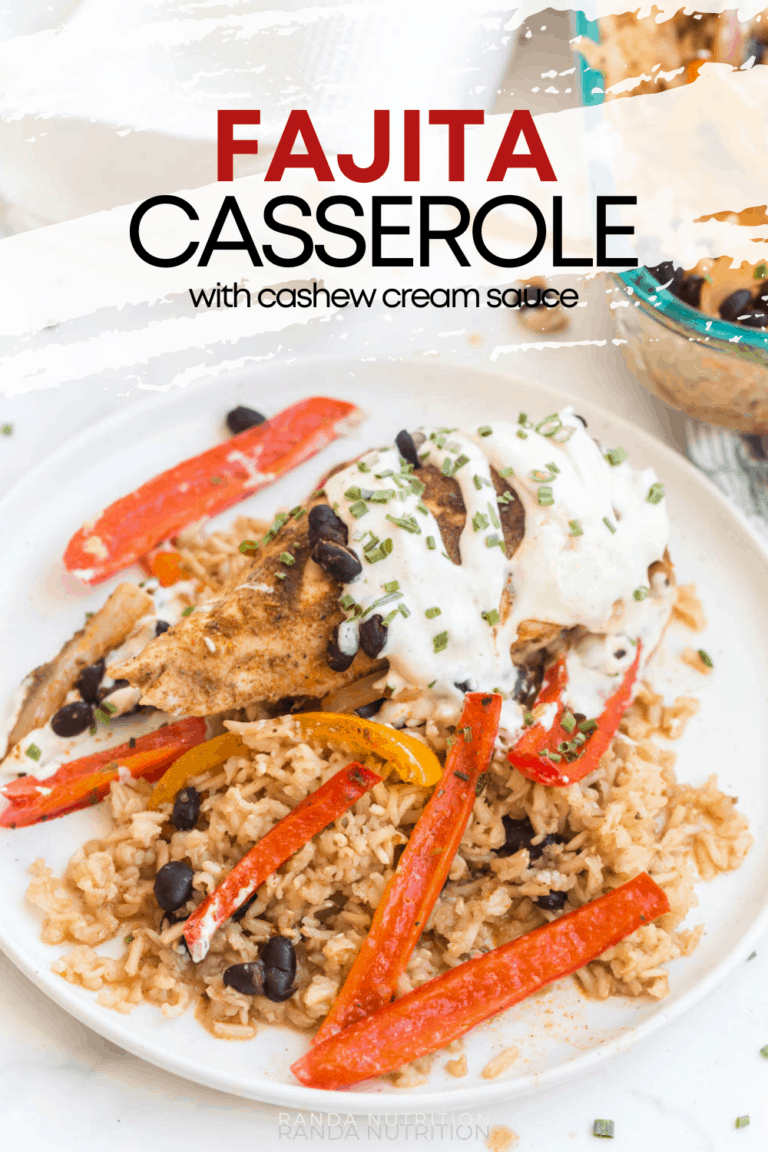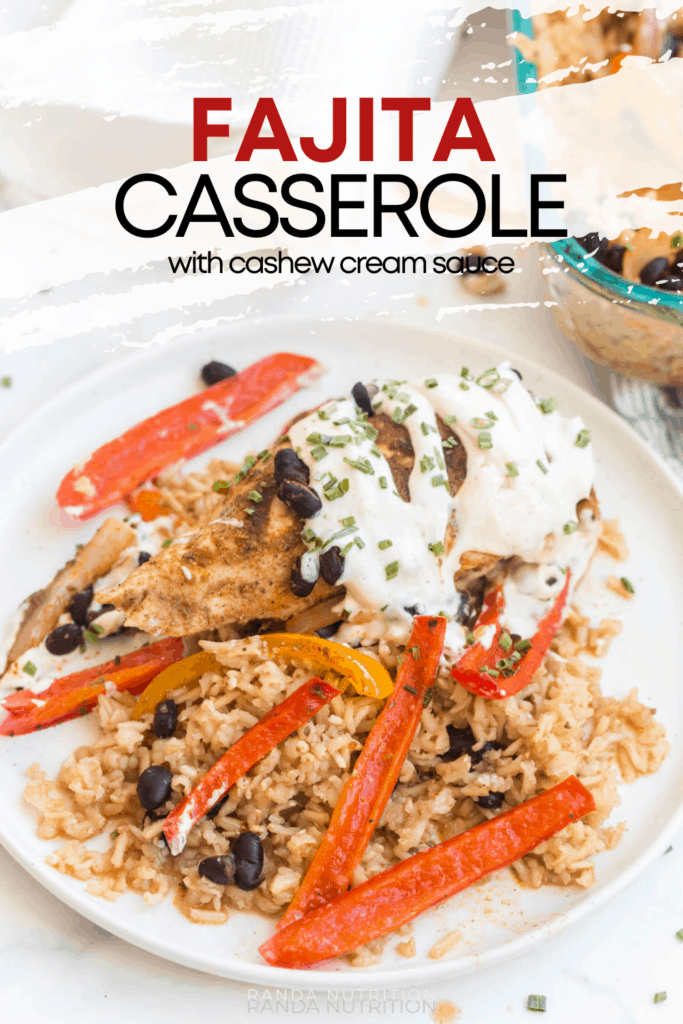 Disclosure: This post contains affiliate links for your convenience. As an Amazon Associate, I earn from qualifying purchases.
Chicken Fajita Casserole
I love a good one pan meal, it makes clean up a breeze and on busy nights I don't want a million dishes going at once.
A favorite flavour in our household is the southwest/Mexican variety. There is something about chili powder, cumin, garlic, and paprika that tickles my tastebuds.
Tacos and a common occurrence but I wanted something hearty that would be easy to make into a meal prep bowl if need be (for lunches or dinners throughout the week) and this makes fantastic leftovers.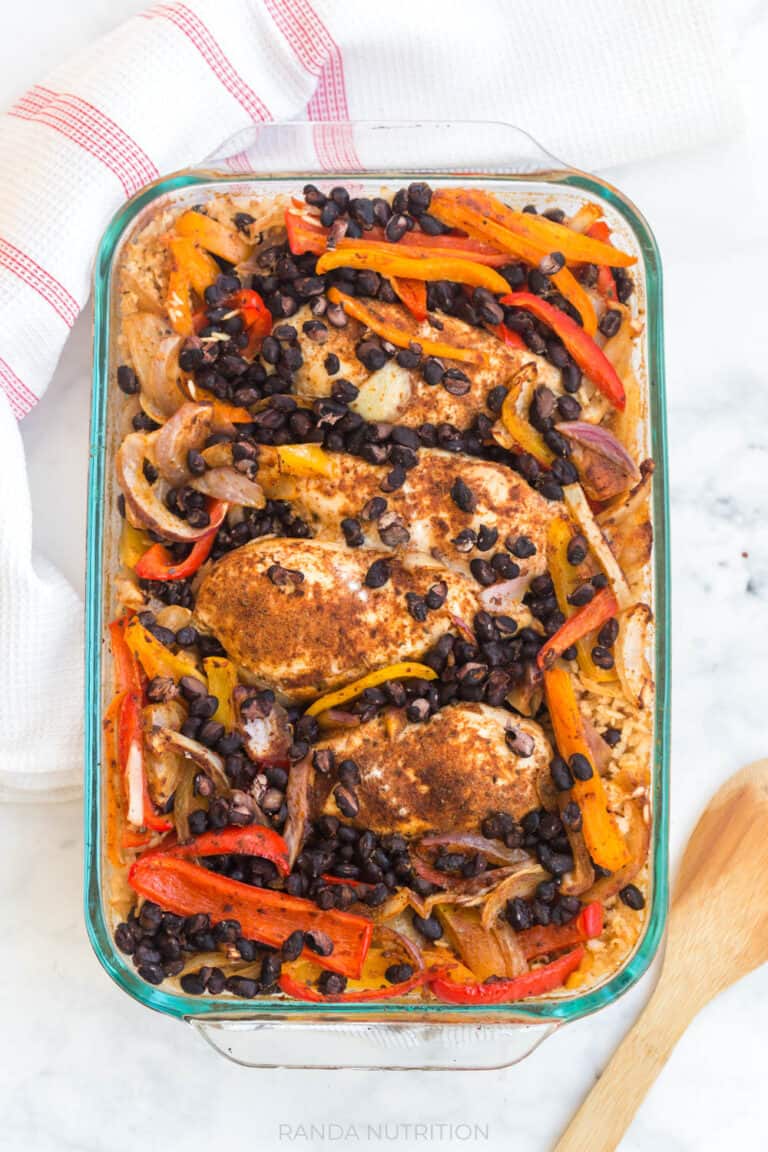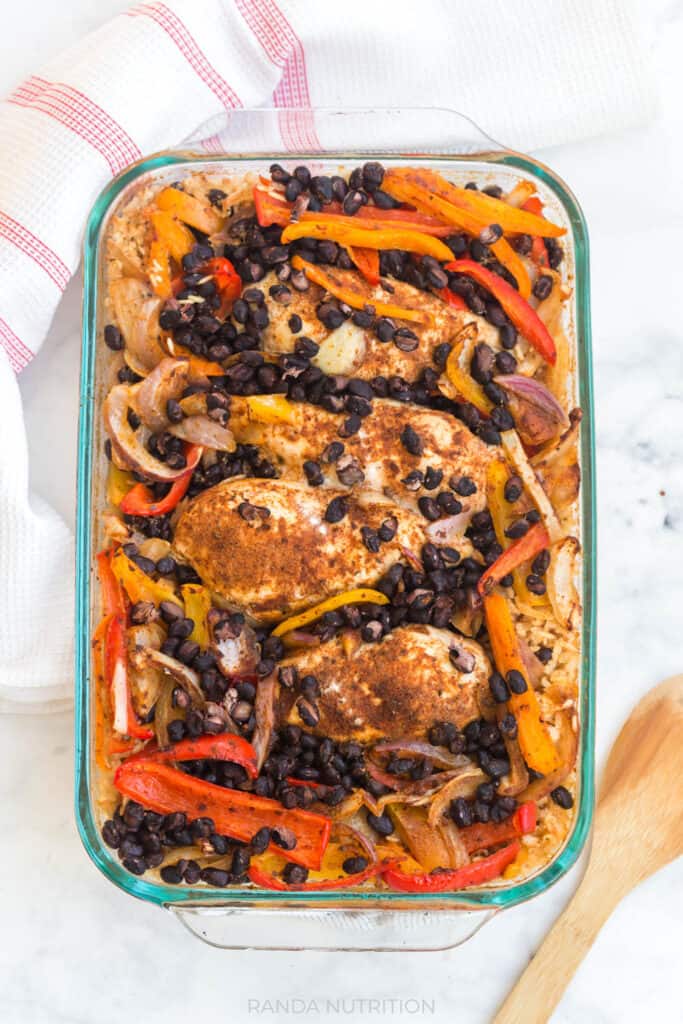 Chicken Fajitas Marinade
You have two options with this recipe. You can either toss the veggies together with the seasonings and sprinkle it on the chicken and bake, or you can let it marinade.
If you do the latter, just let the veggies and fajita seasonings chill for at least 30 minutes to infuse the flavor.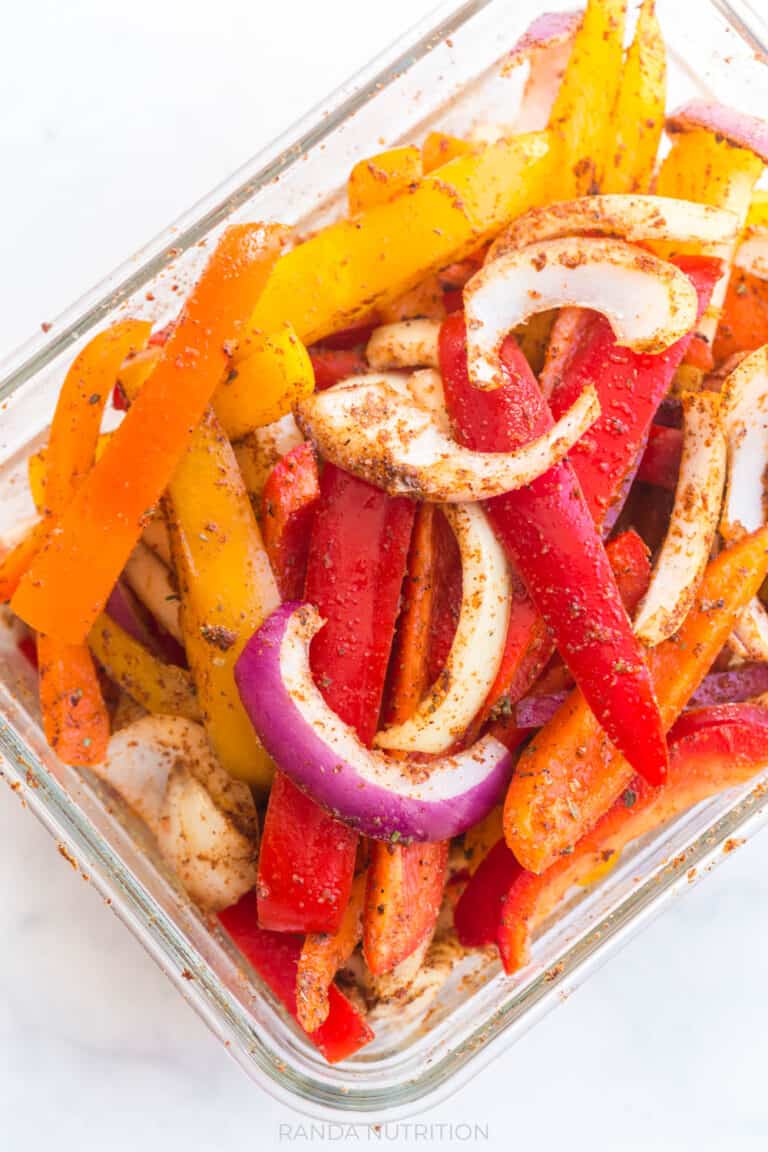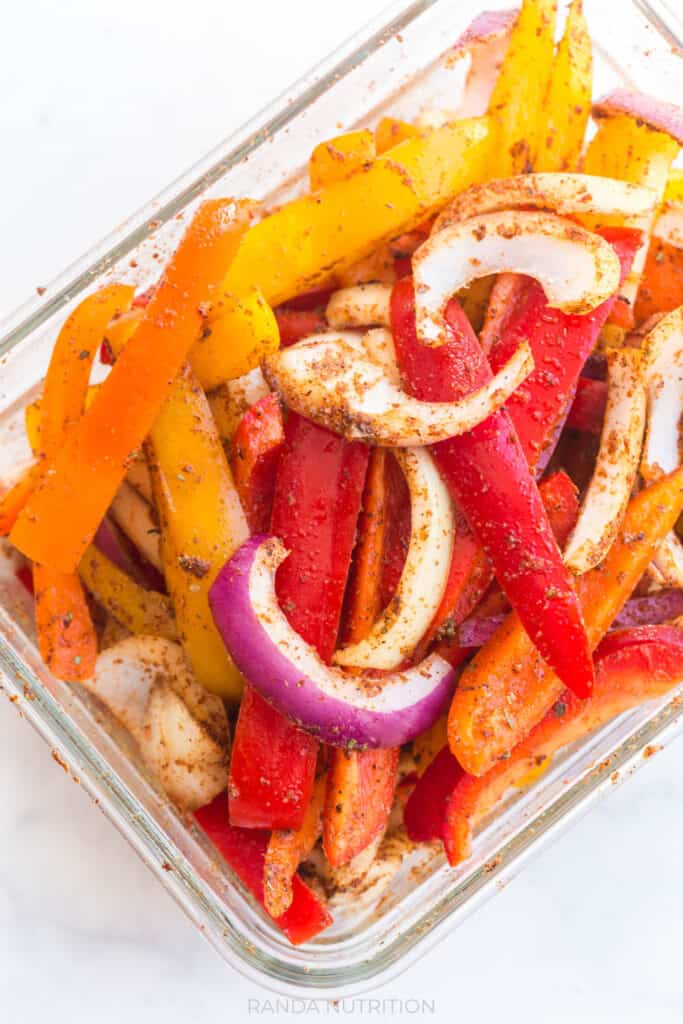 Same goes for the chicken breasts, rub it with the seasoning and let it sit for thirty minutes (if you go over thirty, cover and put it in the fridge to keep it food safe).
Ingredients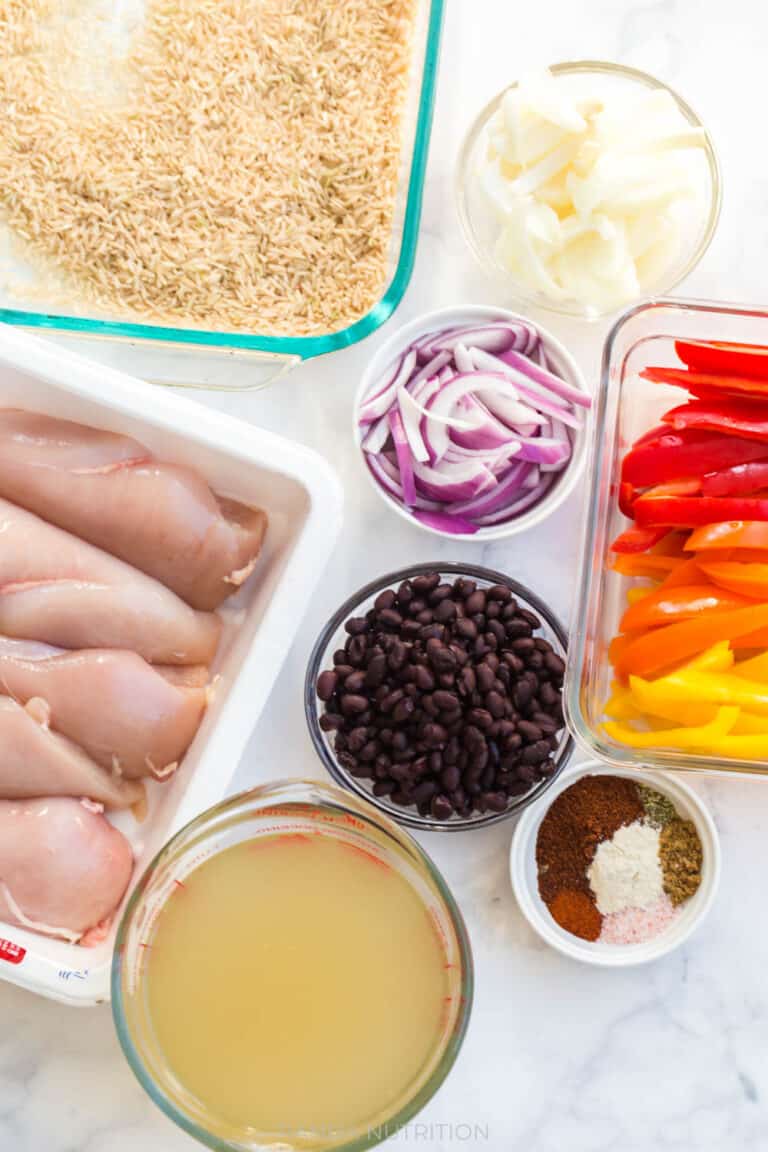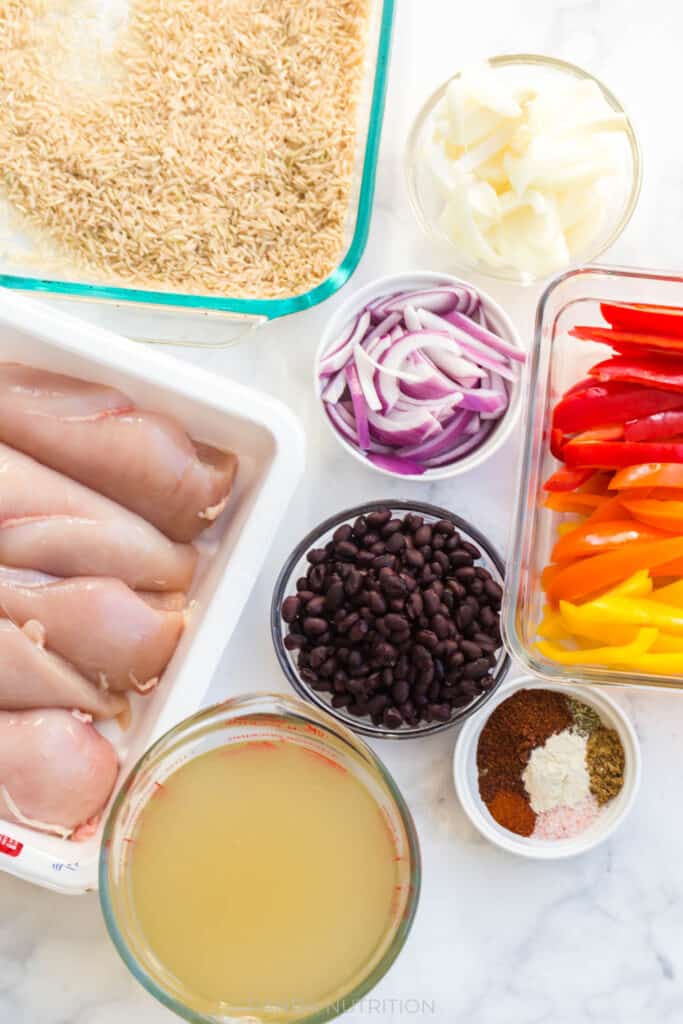 Homemade Fajita Seasoning
Cashew Cream Sauce
I love the cashew cream sauce that goes with this fajita casserole, it's so good!
The recipe given makes a lot for leftovers, so you can half it or store the leftovers in a mason jar or resealable container.
Use the leftovers as a dip for veggies, a salad dressing, or just as a sauce for the rest of the week's meals.
Want to spice it up? Try this Jalapeno Lime Cashew Sauce.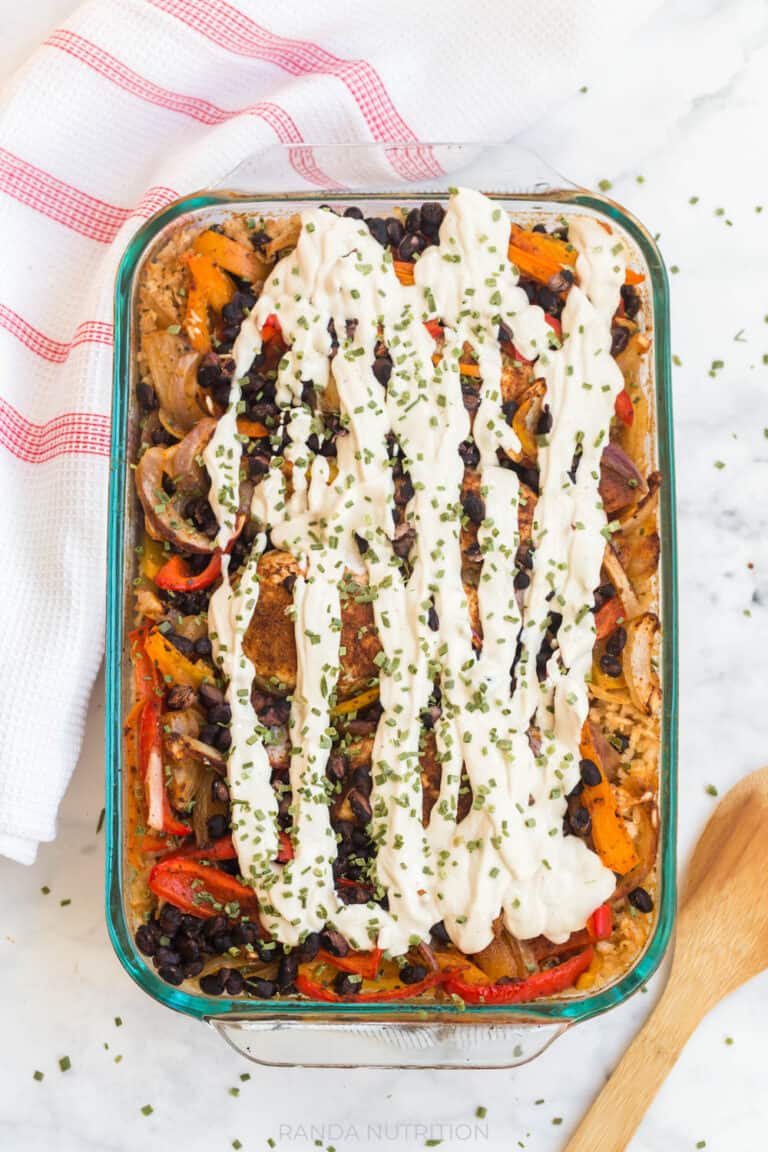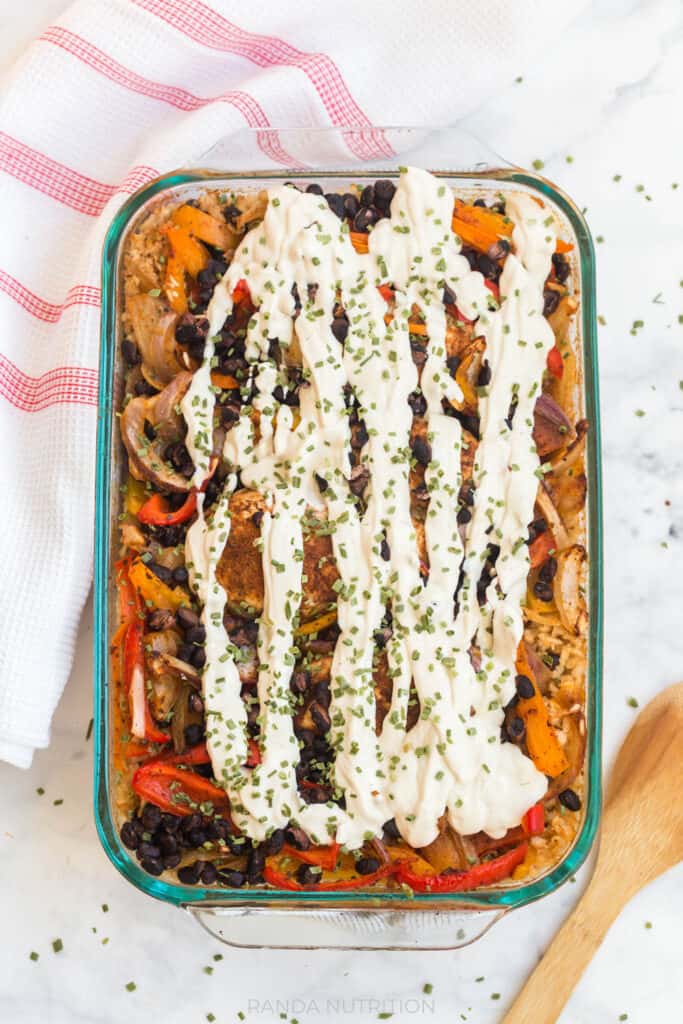 Easy Cashew Sauce Ingredients:
The ingredients I used for this recipe are super simple. I love how you can add different herbs and seasonings to completely transform it.
Common Questions
My rice isn't done/is mushy.
It depends on the rice you use. If you use instant "minute" rice, it may be mushy. Reduce the cooking time, but make sure the chicken still reaches 165F. If your rice isn't done after 45 minutes, remove the foil and cook for another 10 minutes and let sit for an additional 5. My rice had a little extra liquid at the bottom, but it still worked out. I used long grain rice (which is why it took a little longer).
I didn't soak the cashews overnight, now what.
If you don't soak the cashews overnight, there is a shortcut you can use. Boil water and pour over the cashews (to cover them) and let them sit for at least 30 minutes.
Is this dairy free?
This chicken fajita casserole recipe is dairy free. I don't top it with cheese (most fajitas don't actually have cheese) and the cashew sauce gives you a creamy dip without a cream base. Which is perfect if you have a dairy or lactose intolerance.
Can you freeze fajita casserole?
Yes, you can but to prevent freezer burn you will want to place wax paper or saran wrap over top first. Then cover and freeze. I wouldn't want this to be frozen for longer than three months. Rice does freeze a little funny and the texture may change slightly, but it will still taste good.
How to Make Chicken Fajita Casserole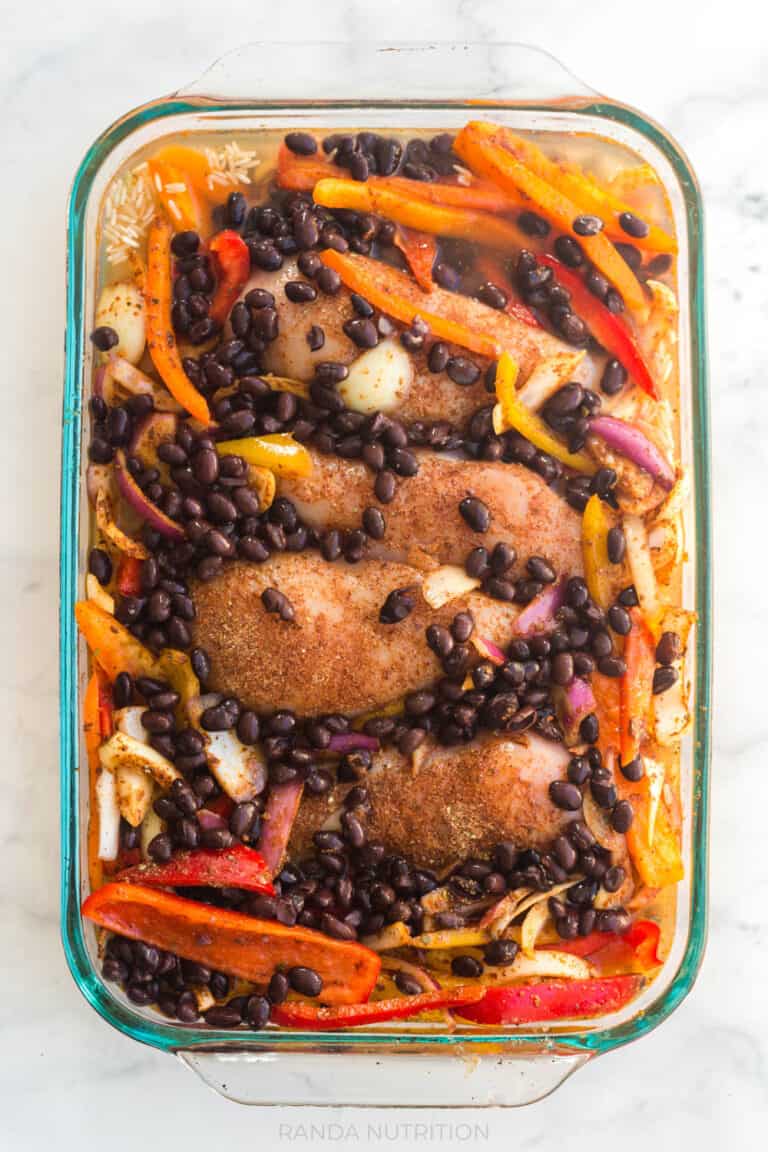 You're going to love how simple it is to make this chicken fajita dish. Like most of my recipes, it's easy because who has time for work and effort.
Please read the common questions above for some tips for the recipe.
More recipes I think you'll love:
Chicken Fajita Casserole with Cashew Cream Sauce
This easy and healthy chicken fajita casserole is the perfect meal for a busy day. Made in one pan, so it has less cleanup!
Ingredients
1.5

cups

brown rice

3

cups

chicken broth

1

tablespoon

avocado oil

1

red pepper

sliced

1

yellow pepper

sliced

1

orange pepper

sliced

1/2

red onion

sliced

1

small

yellow onion

sliced

4

chicken breasts

15

oz

black beans

rinsed and drained
Cashew Lime Sauce
1

cup

cashews

soaked over night or for 30 minutes in hot water, drain water.

1/2

cup

water

1

tablespoons

lime juice

1/2

tablespoon

apple cider vinegar

1/2

teaspoon

garlic powder

1/2

teaspoon

salt
Instructions
Prepare the fajita mix first. Add all the spices into a bowl, stir.

In a bowl add the peppers, onions, avocado oil, and 3/4 of the fajita mix. Stir to evenly coat. Set aside.

In a 9×13 casserole dish add the rice, chicken broth, and 1/2 the fajita veggies.

Place the chicken breasts on top and sprinkle the rest of the fajita mix over. Top with the remaining veggies and the black beans.

Cover with aluminum foil and bake for 45 minutes or until rice is done. If rice is not done, take off aluminum foil and bake for another 10 minutes.

Let stand for 5 minutes before serving.
Cashew Cream Sauce
Add all the ingredients to a blender and blend until smooth.

Pour desired amount over the fajita casserole.

Serve the leftover sauce over salads or as dips for vegetables.
Nutrition
Serving:
1
serving
|
Calories:
663
kcal
|
Carbohydrates:
88
g
|
Protein:
41
g
|
Fat:
17
g
|
Saturated Fat:
3
g
|
Trans Fat:
1
g
|
Cholesterol:
72
mg
|
Sodium:
2085
mg
|
Potassium:
1476
mg
|
Fiber:
13
g
|
Sugar:
5
g
|
Vitamin A:
2336
IU
|
Vitamin C:
151
mg
|
Calcium:
114
mg
|
Iron:
6
mg