Jalapeno Lime Cashew Sauce Recipe
This jalapeno lime cashew sauce is a quick and easy recipe that serves as a dressing, sauce, and a dip.
Making cashew cream sauces are so easy and they're incredibly versatile. If you like a little spice, you're going to love this.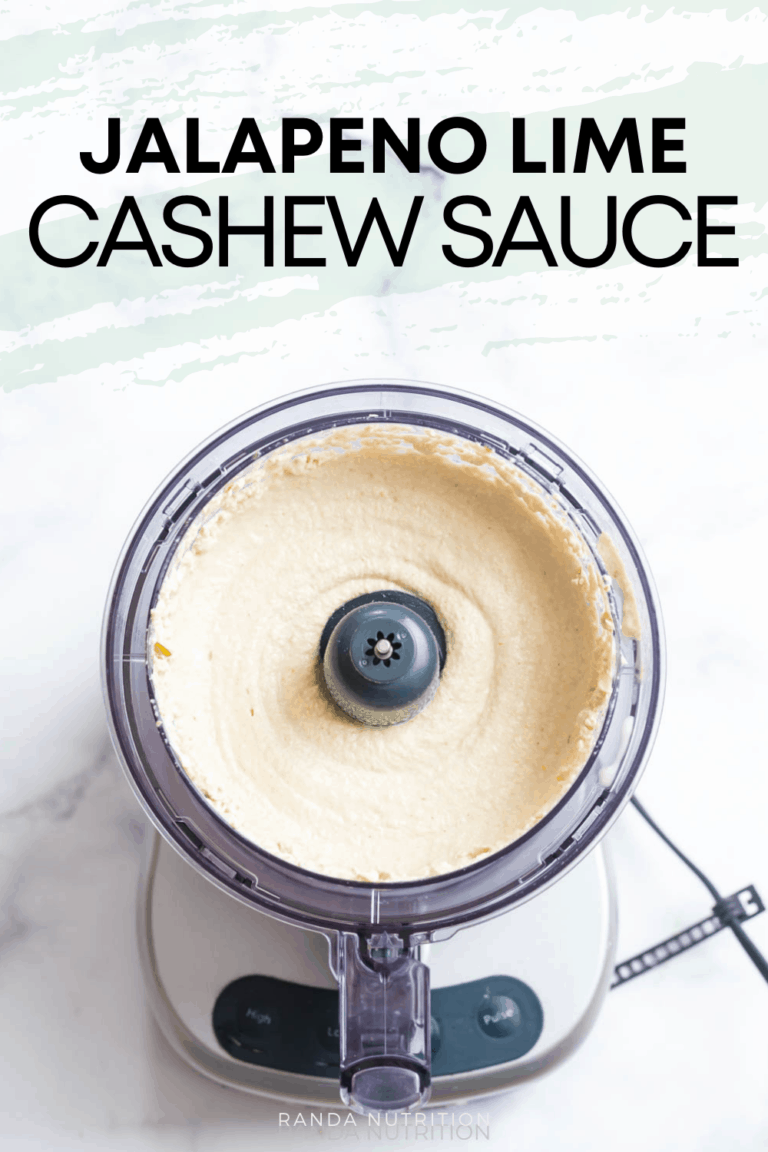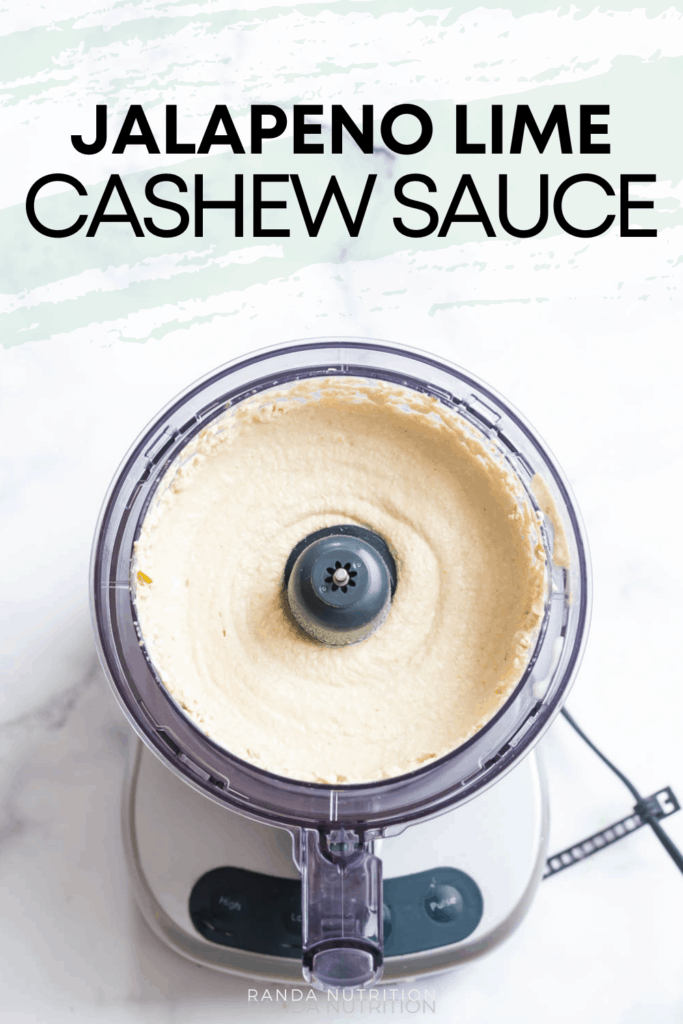 Disclosure: This post contains affiliate links for your convenience. As an Amazon Associate, I earn from qualifying purchases.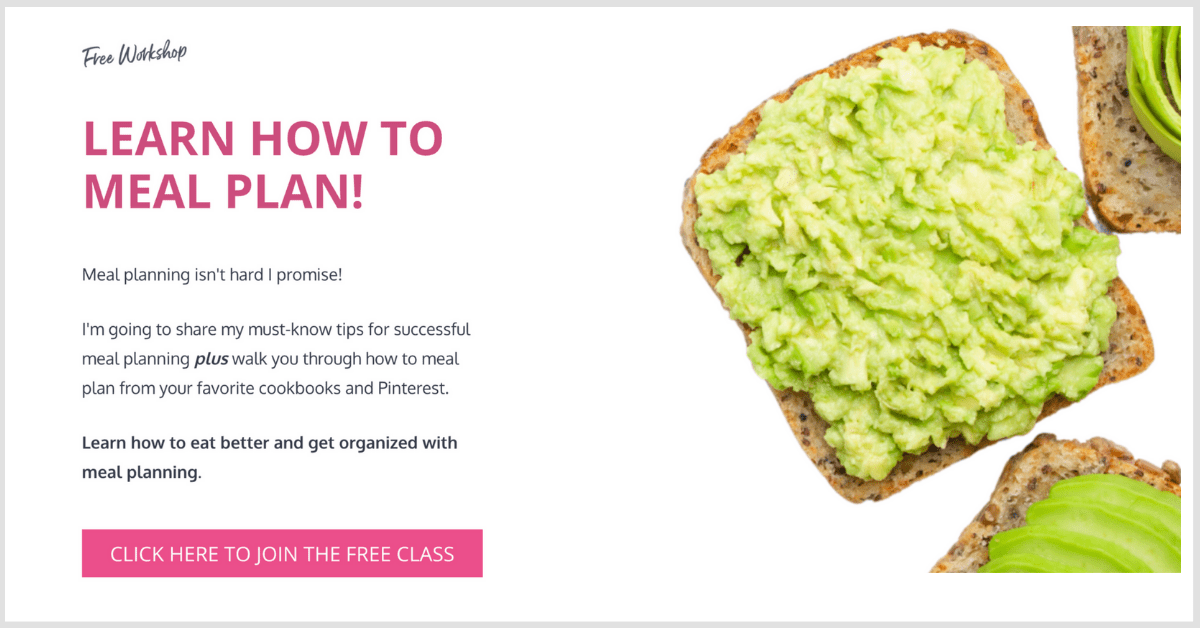 Jalapeno Lime Cashew Sauce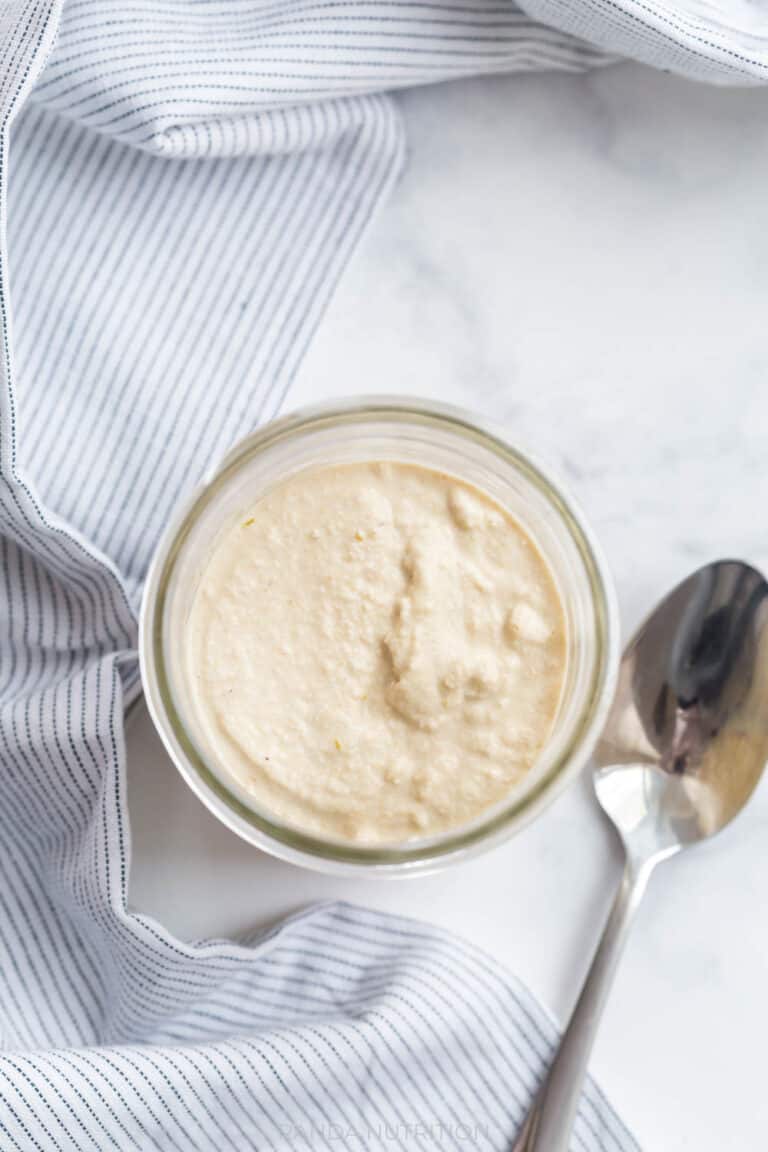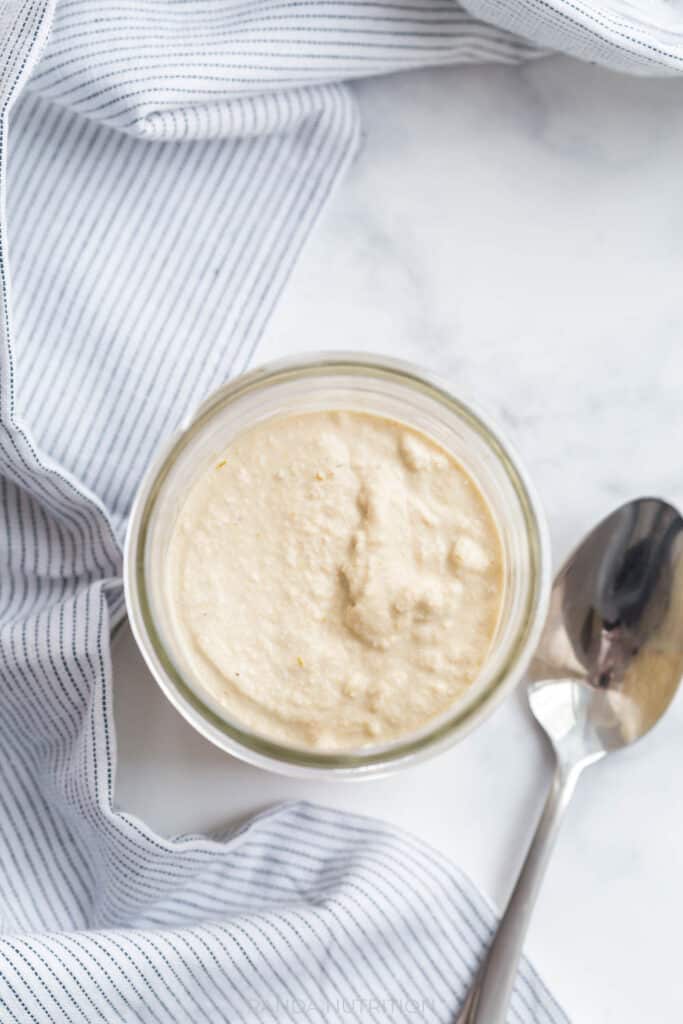 I wanted to kick my salads up a notch and as much as I love a regular cashew sour cream, I needed a little pizzaz.
I love the jalapeno and lime combination when it comes to homemade guacamole, so I figured why not make a jalapeno lime cashew sauce.
Cashew Sauce Uses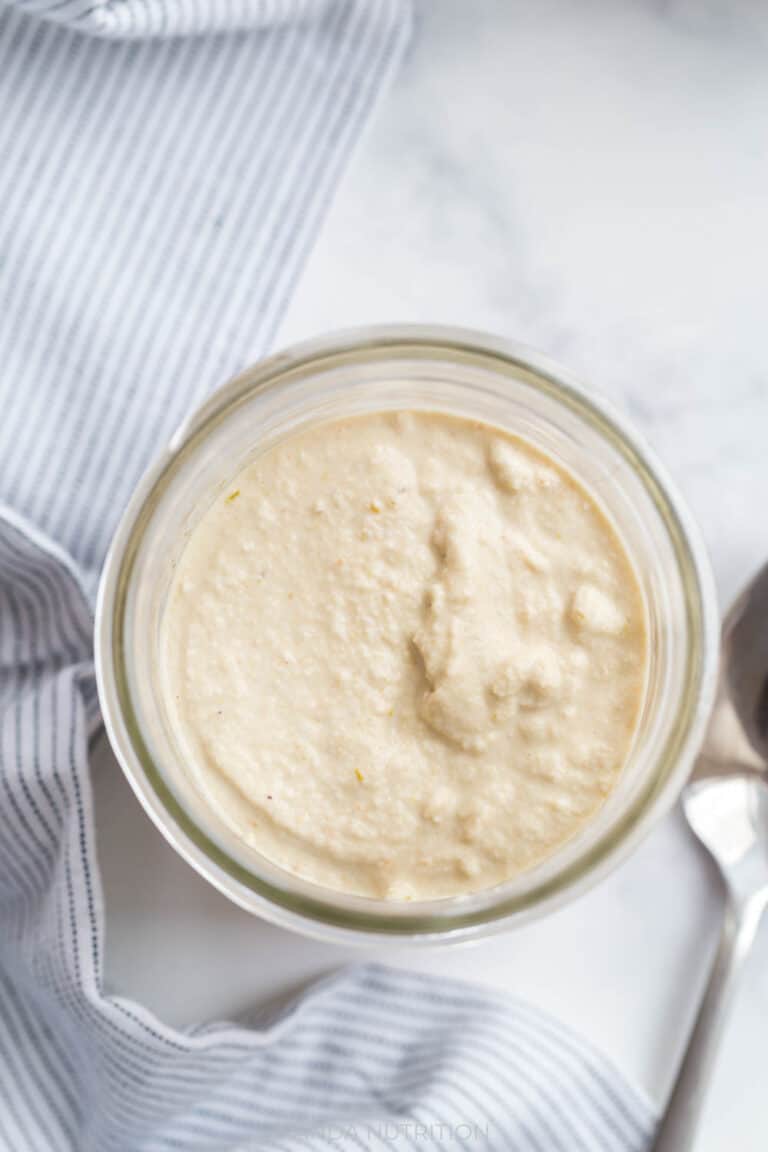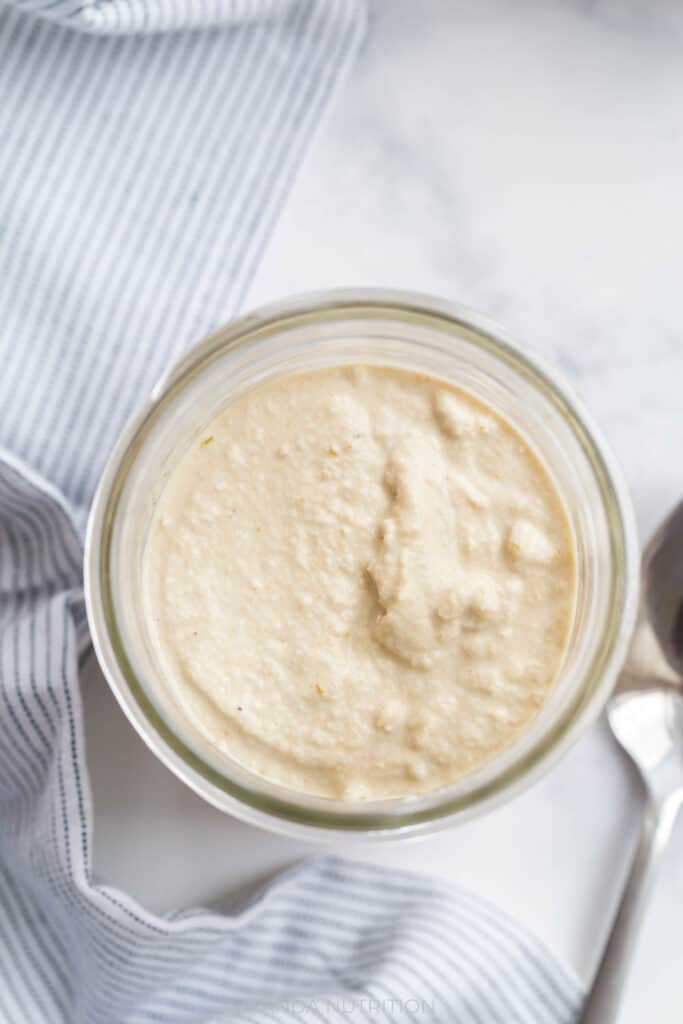 There are so many ways you can use this vegan cheese cashew sauce recipe. Here are a few ideas:
As a salad dressing for salads, bowls, etc.
Topping for casseroles.
Serve with veggies for a vegan vegetable dip.
You can make this cashew sauce for chicken.
Use as a vegan sandwich spread (just use a little less water so it's thicker).
You can even try pasta with cashew sauce.
Pickled jalapenos vs fresh jalapenos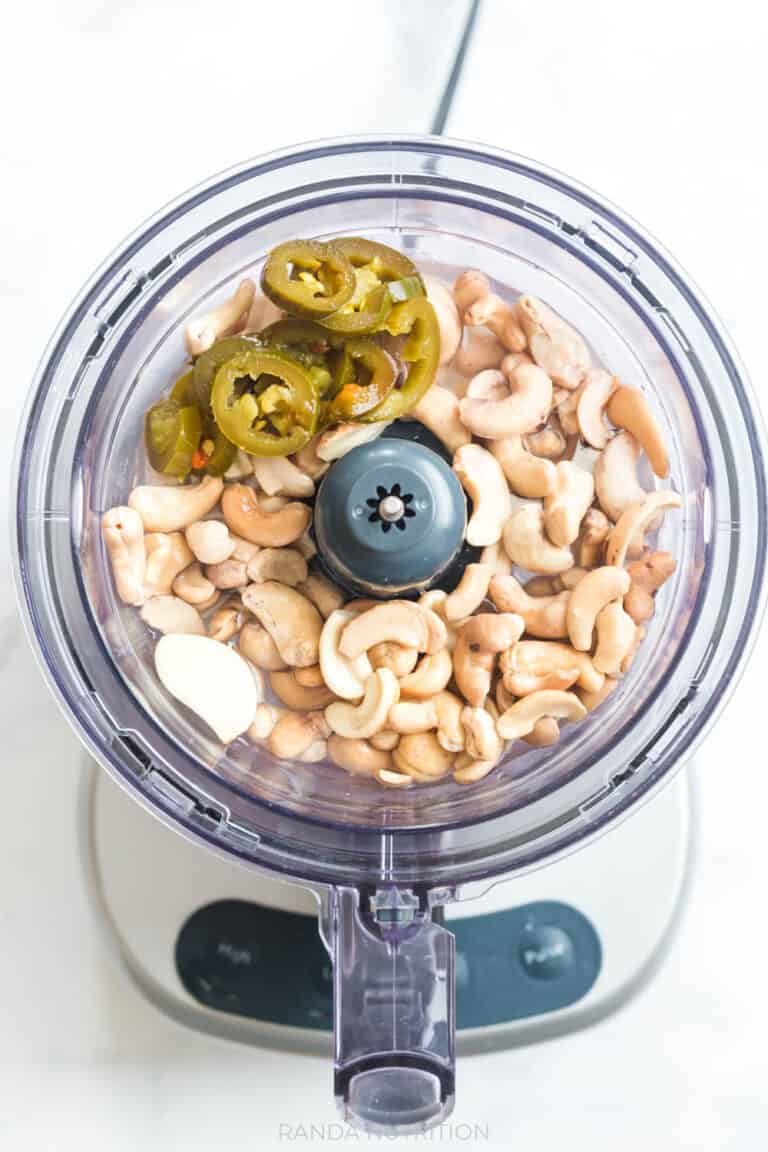 I used pickled jalapeños for this recipe. You can find these in your local grocery store, usually in the Mexican food aisle. Old El Paso has some, and Canadians Presidents Choice has them as well.
You can find pickled jalapenos here on Amazon.
Note: In order for it to be Whole30, you will have to read the ingredients for the pickled jalapenos. If you're following a Whole30 elimination diet, you cannot have added sugar or preservatives. If you're not Whole30, then disregard this.
Sensitive to Spice? Read This
If you're sensitive to overly spicy foods, or you're serving this to littles I recommend adding only one tablespoon of the pickled jalapenos and one teaspoon of apple cider vinegar.
Give it a taste and judge from there.
Soaking Cashews for Blending
You will have to soak the cashews first. This helps them blend to a buttery smooth finish for the cashew cheese sauce.
Overnight Soak
This prefered way to soak cashews is overnight. All you have to do is place the cashews in a bowl, cover with water. Drain in the morning and make the sauce.
Quick Soak
If you're reading this and want to make this ASAP here is how to do a cashew quick soak.
Boil a kettle or pot of water, pour over the cashews (completely covering them) and let soak for at least 30 minutes. Drain and use.
How to Store the Jalapeno Lime Cashew Sauce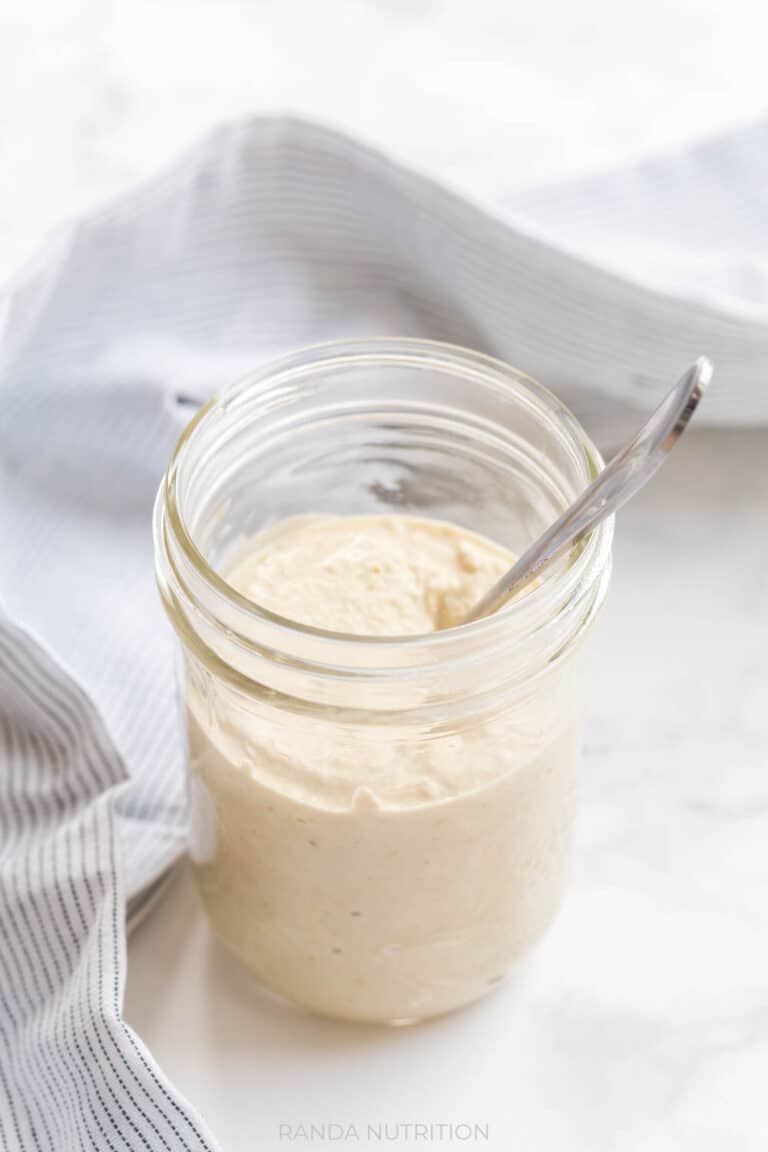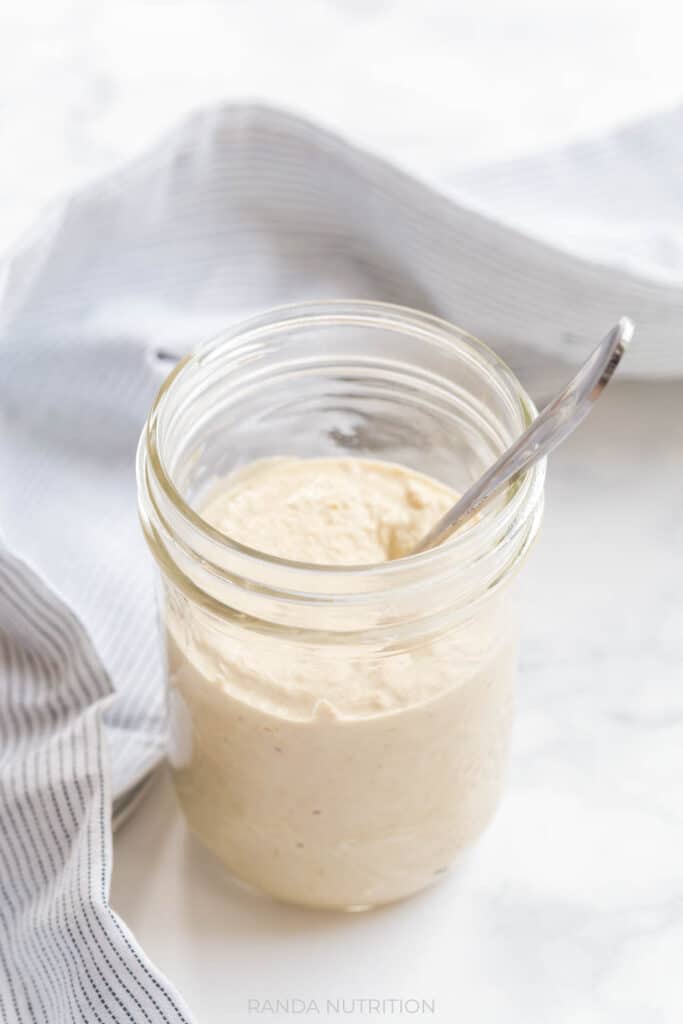 I store the sauce in a mason jar, as these take up less room in my fridge.
You can also store it in an airtight container (I have these pink ones from Amazon).
How to Make Cashew Sauce
It takes less than five minutes to make this spicy cashew sauce recipe.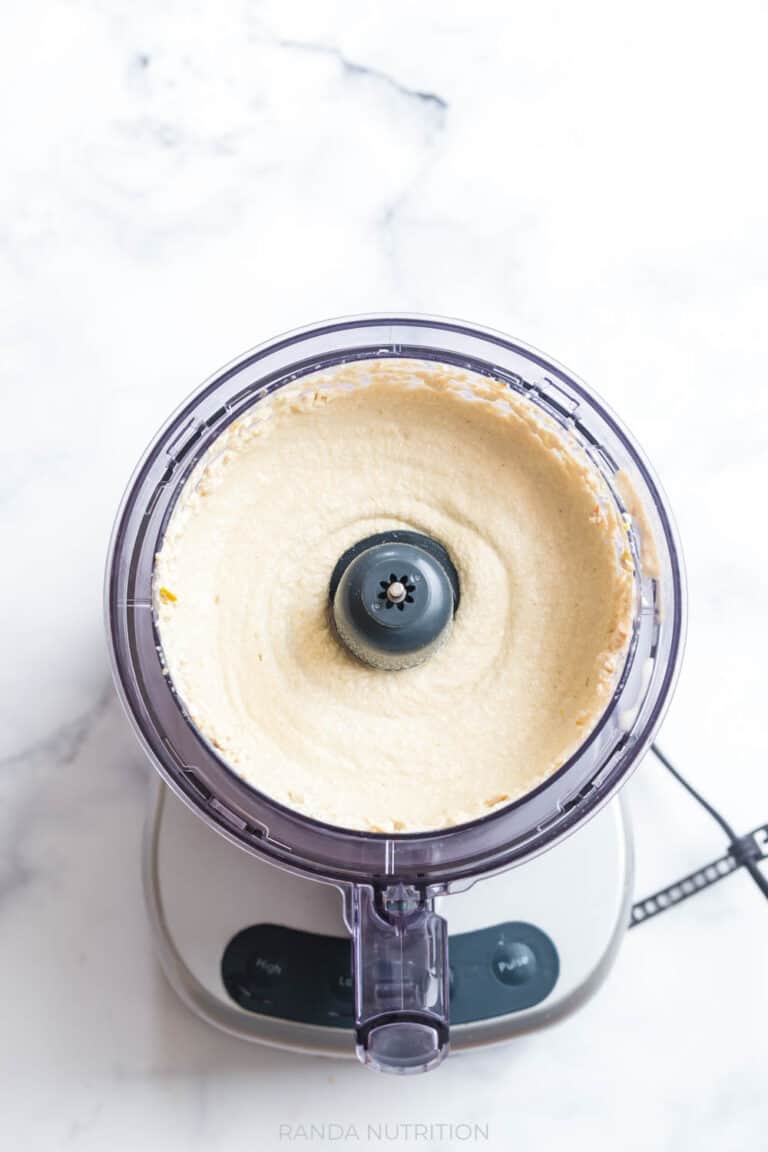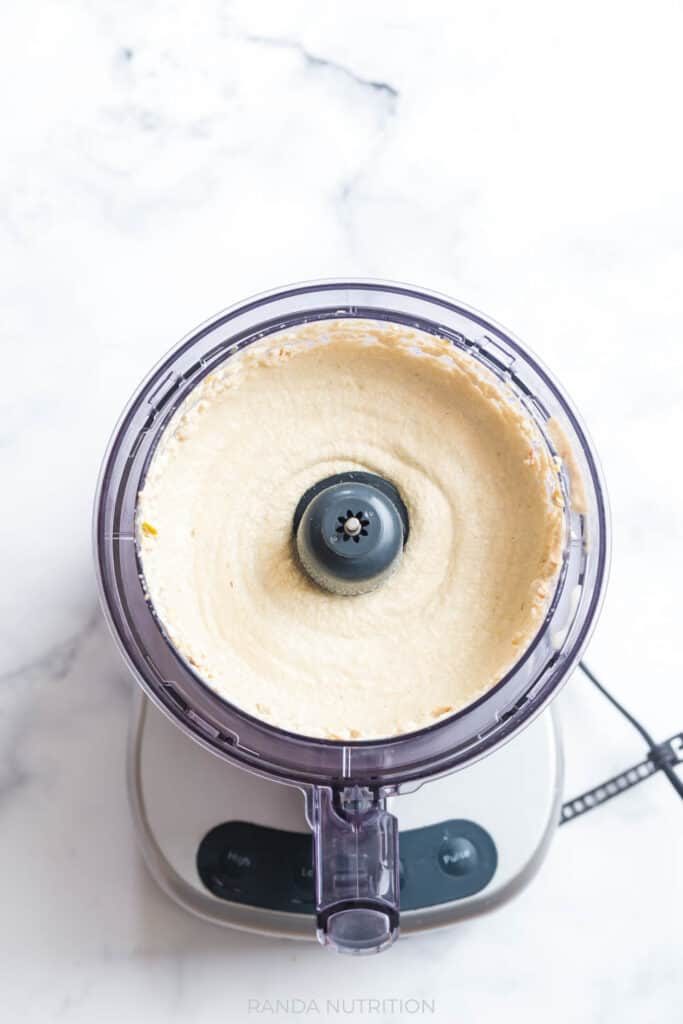 Simply add everything to a food processor (or a high-powered blender like the Ninja or Vitamix) and blend until smooth.
I personally use this food processor because it was a fair price and I like that it comes with an insert to make the bowl smaller (I used the insert for this recipe).
To make sure it's not too spicy, I recommend that you add the jalapenos a tablespoon at a time, and the apple cider vinegar a teaspoon at a time.
The original intention behind the jalapeno lime cashew sour cream sauce was to make it as a salad dressing, so I added two teaspoons of apple cider vinegar to give it that zesty bite. If you're not a vinegar lover, you can cut that in half.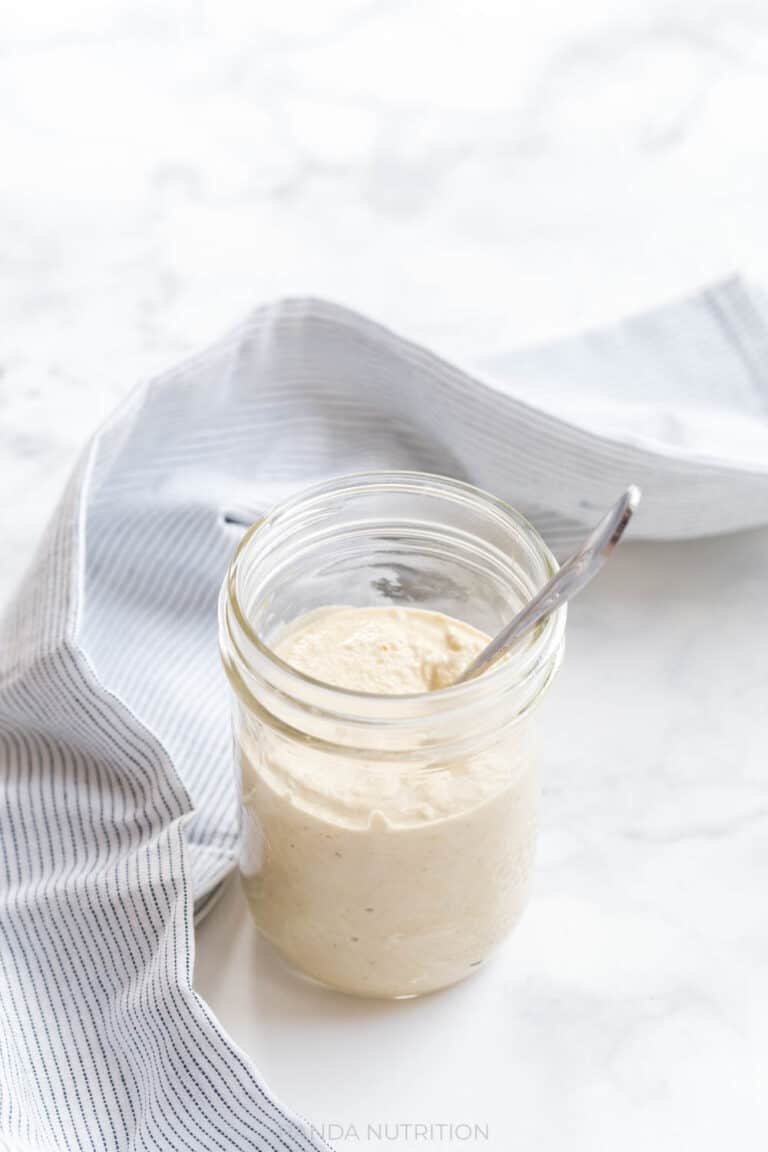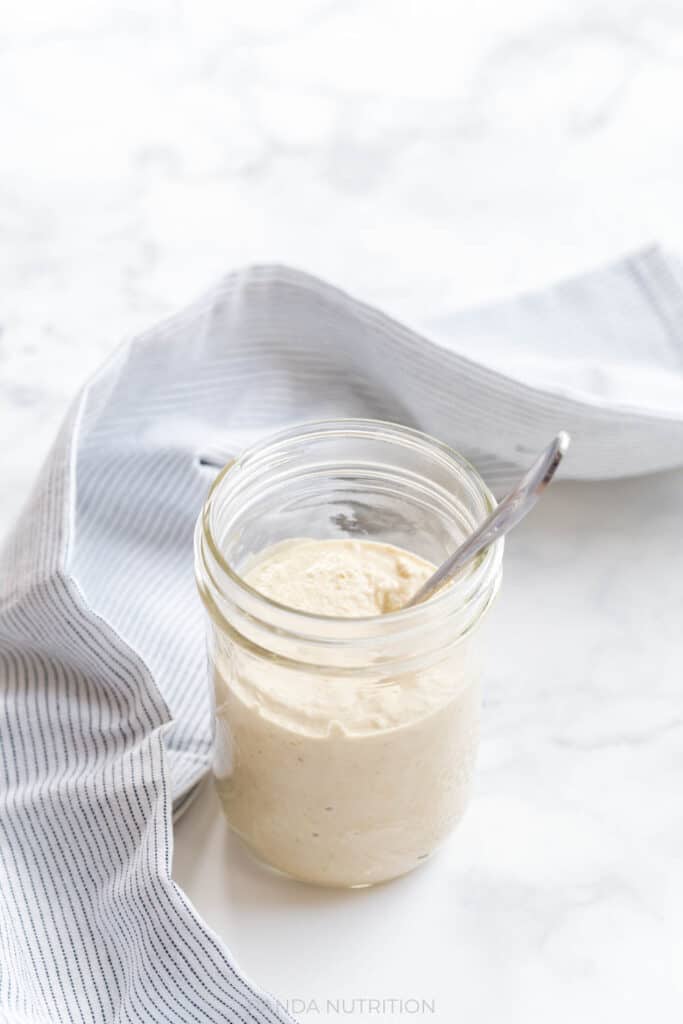 Healthy Sauces and Dips:
I'm a sauce girl, always has been. Here are a few sauce recipes to try out from the blog: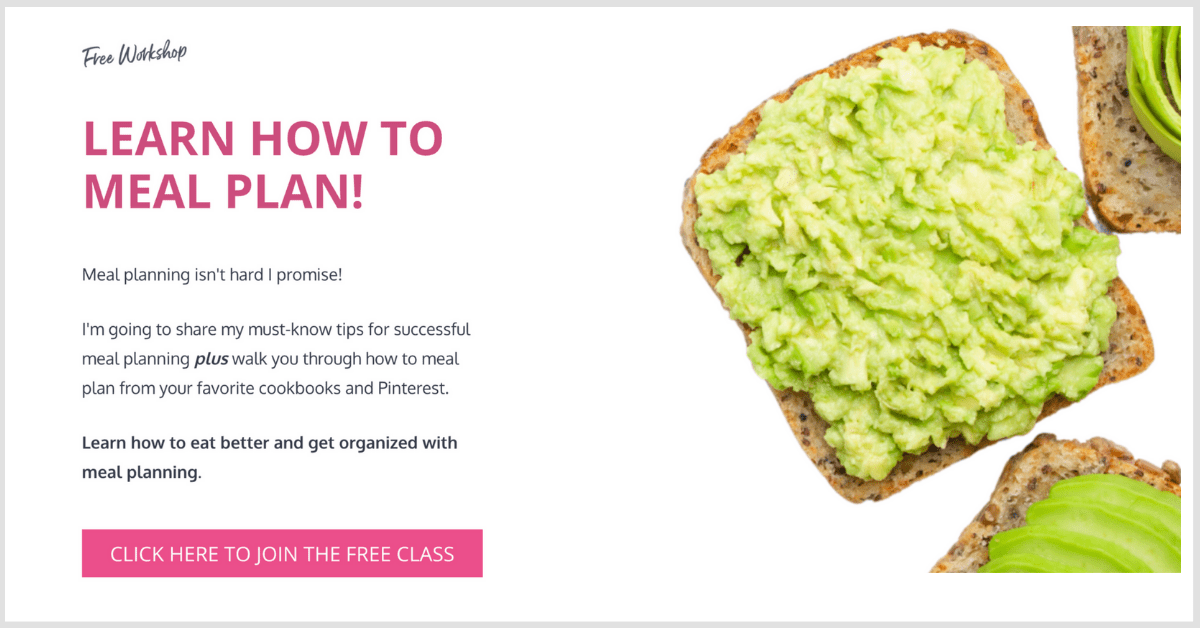 Jalapeno Lime Cashew Sauce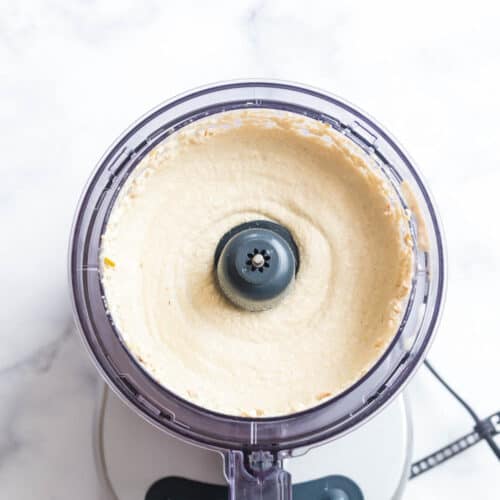 This quick 5 minute recipe for jalapeno lime cashew sauce makes a delicious vegan salad dressing, Whole30 dip, or a cashew sauce for chicken.
Instructions
The night before
Soak the cashews overnight by putting the cashews in a bowl and covering them with water. Drain the next morning.
Making the sauce
If you forgot to soak the cashews, you can boil water and pour of the nuts to soak for 30 minutes. Drain.

Add all of the ingredients into the food processor or high speed blender. Start with 1/2 teaspoon of apple cider vinegar and taste and adjust from there depending on how vinegary you want it to taste.

Blend until smooth, about 2-3 minutes. Store in a mason jar or a container with an air tight lid.
Nutrition
Serving:
1
tablespoon
Calories:
46
kcal
Carbohydrates:
3
g
Protein:
2
g
Fat:
4
g
Saturated Fat:
1
g
Sodium:
147
mg
Potassium:
61
mg
Fiber:
1
g
Sugar:
1
g
Vitamin A:
21
IU
Vitamin C:
3
mg
Calcium:
4
mg
Iron:
1
mg
If you made this recipe for cashew sauce, I'd love to hear from you! Leave me a comment letting me know how you served it. Was it for a salad? A cashew dipping sauce for veggies?