Sun Dried Tomato Hummus Recipe
I love a good homemade hummus recipe and this sundried tomato hummus is my new go to for snacks, dips, and to top my salads.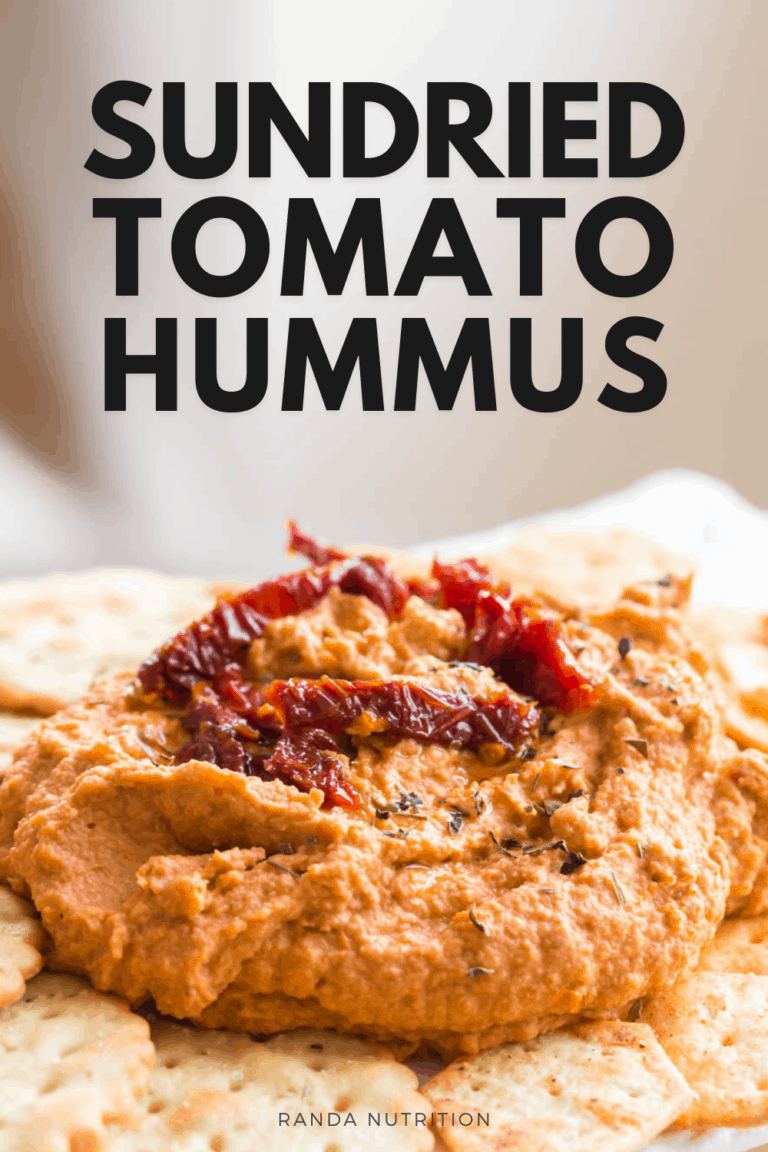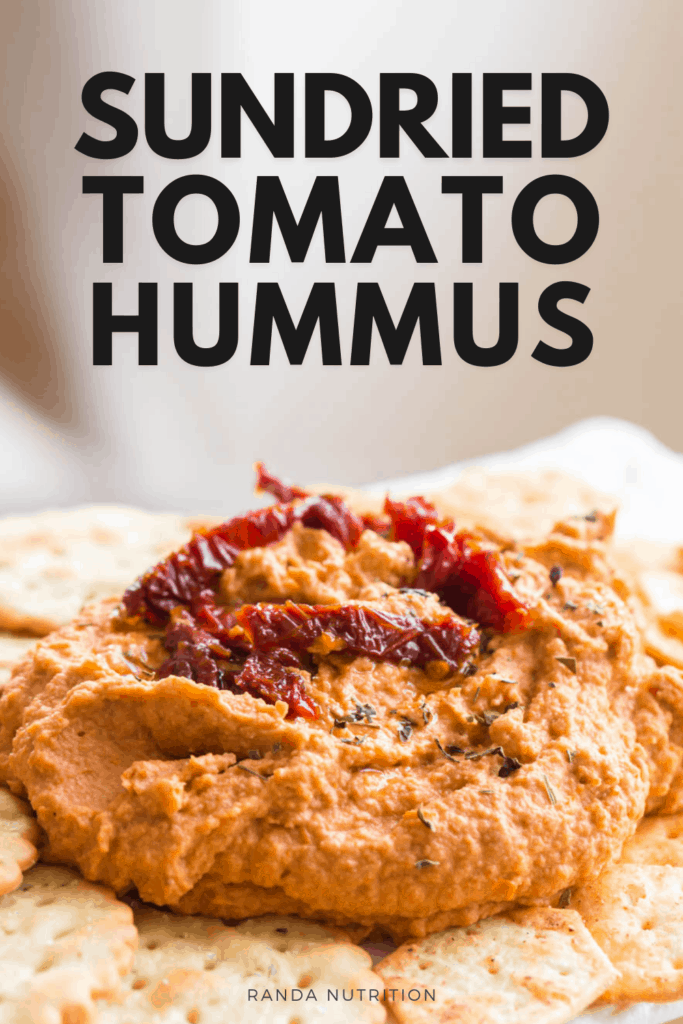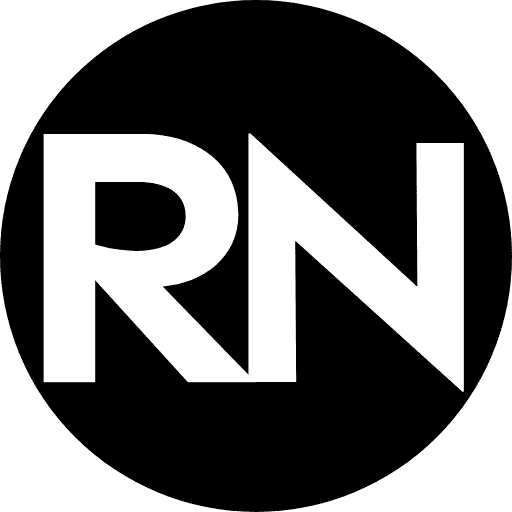 Save This Recipe!
Enter your email below & I'll send it straight to your inbox. Plus you'll get great new recipes every week!

Disclosure: This post contains affiliate links for your convenience. As an Amazon Associate, I earn from qualifying purchases.
Sun Dried Tomato Hummus
This is the best sun dried tomato hummus recipe I have had and I love how versatile it is. I'm personally not a tomato fan (I hate them) but I love sundried tomatoes in my salads, pasta, sauces, and now hummus!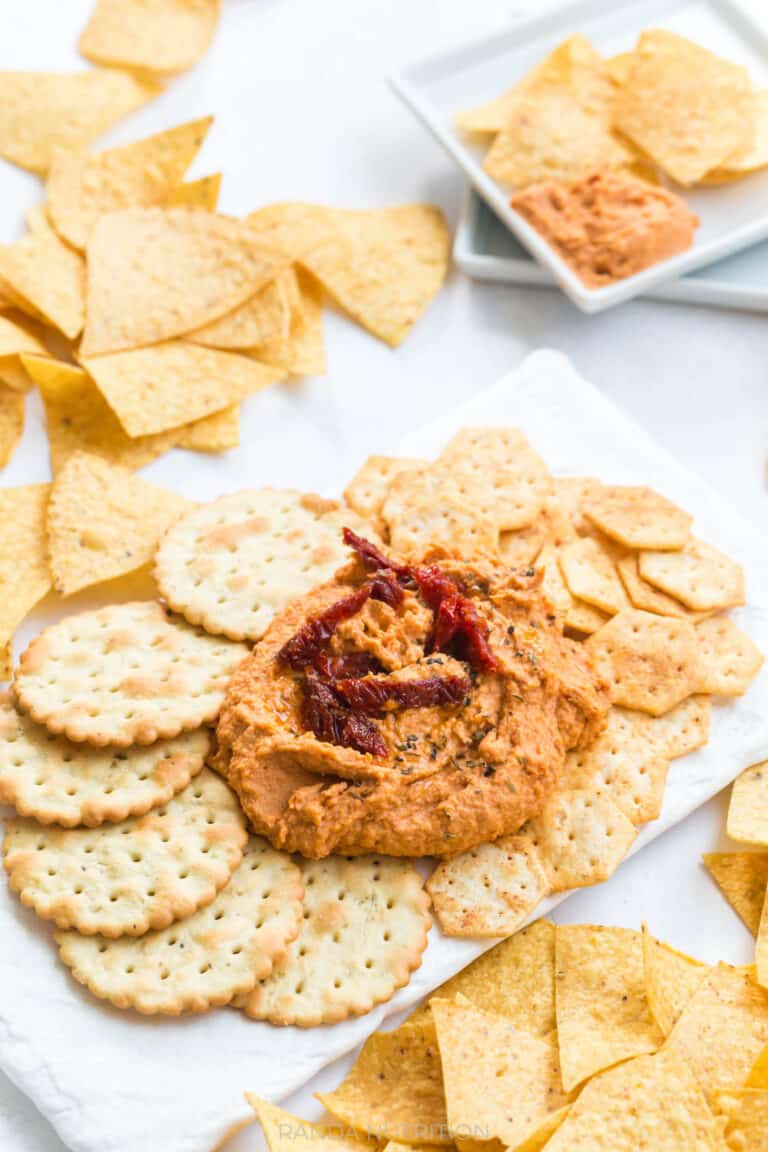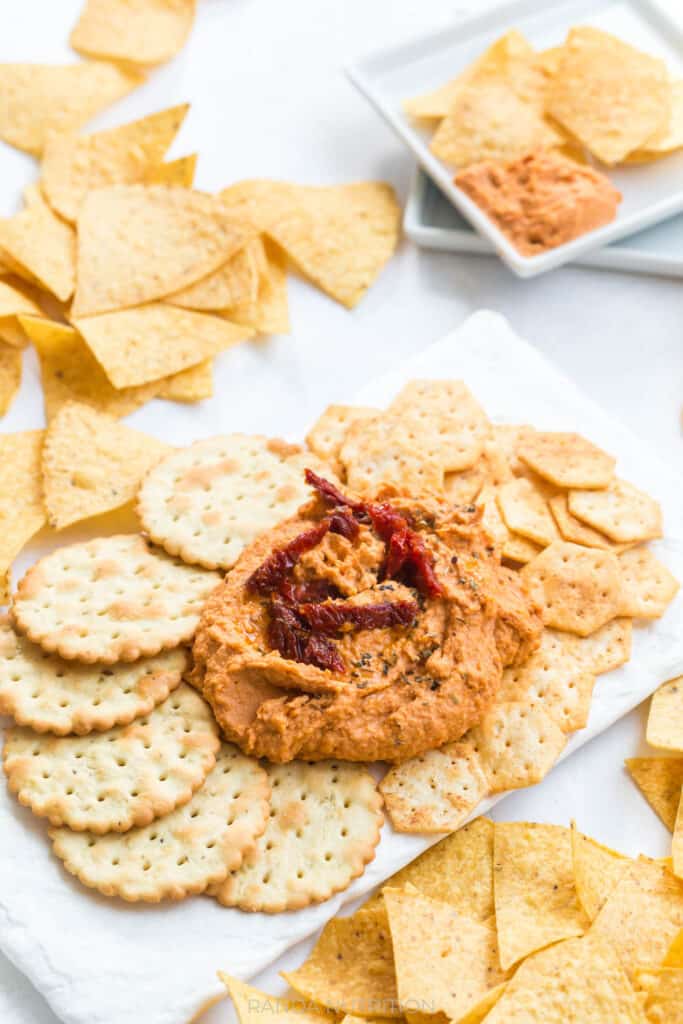 What to use hummus for:
Hummus can be used more than to dip your carrots and/or pitas in. Try these delicious pairings.
Dips for vegetables and crackers.
Thin it out with oil or water for sauces for chicken.
Top your salads with it for an extra boost of protein, healthy fats, and fiber.
Use as a sandwich spread.
This particular recipe for sun-dried tomato hummus would be excellent on a burger or chicken burger.
Add to pasta.
Ingredients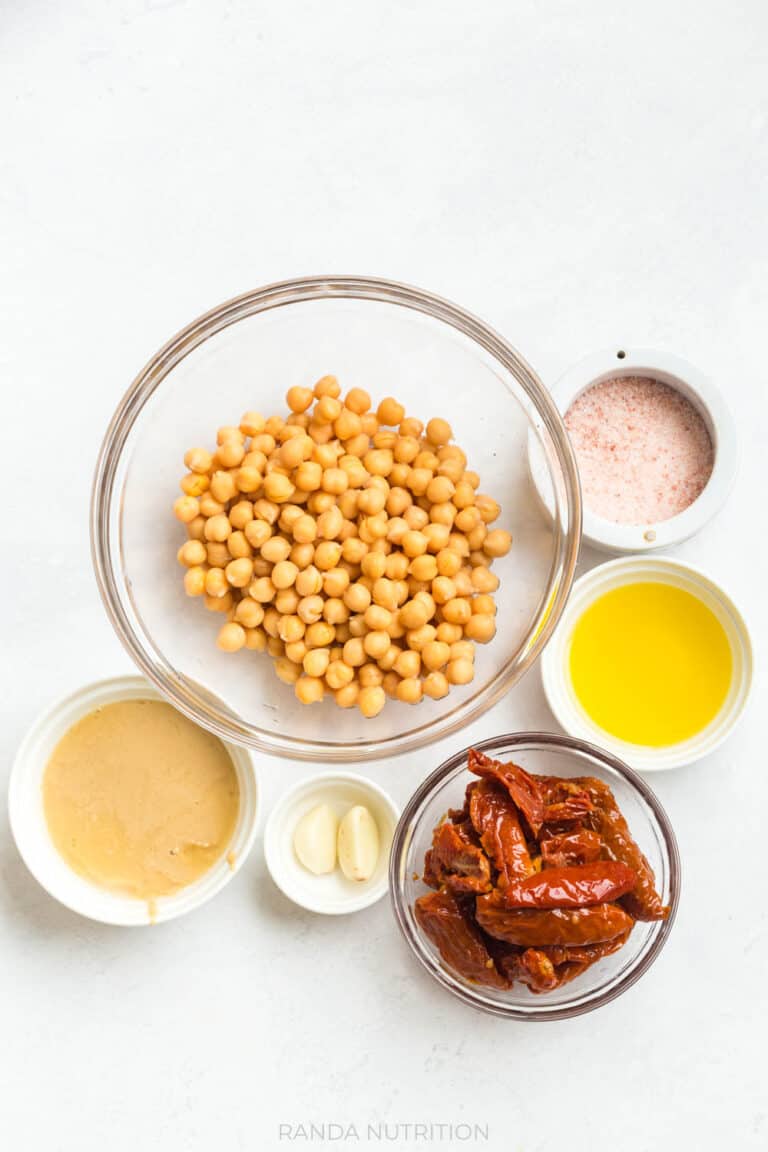 The ingredients for this healthy dip are pretty minimal and full of whole foods that will help fuel your body and keep you feeling amazing.
lemons
garlic cloves
sea salt
Supplies Needed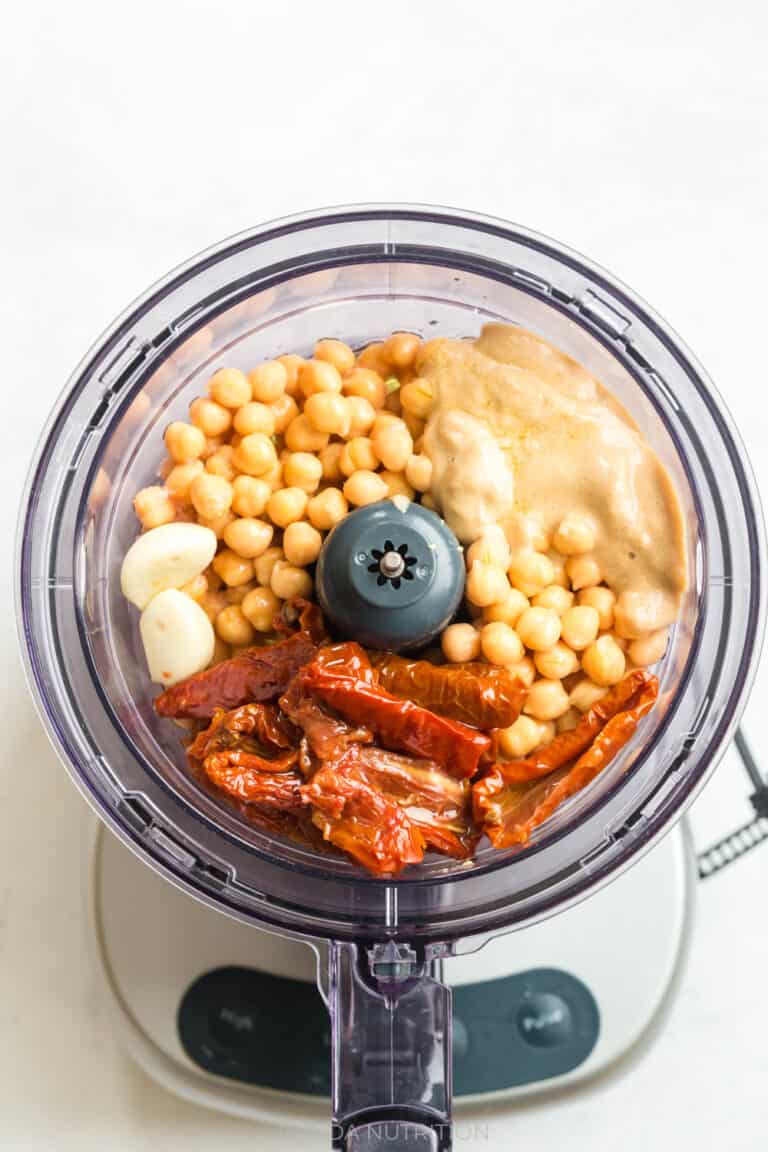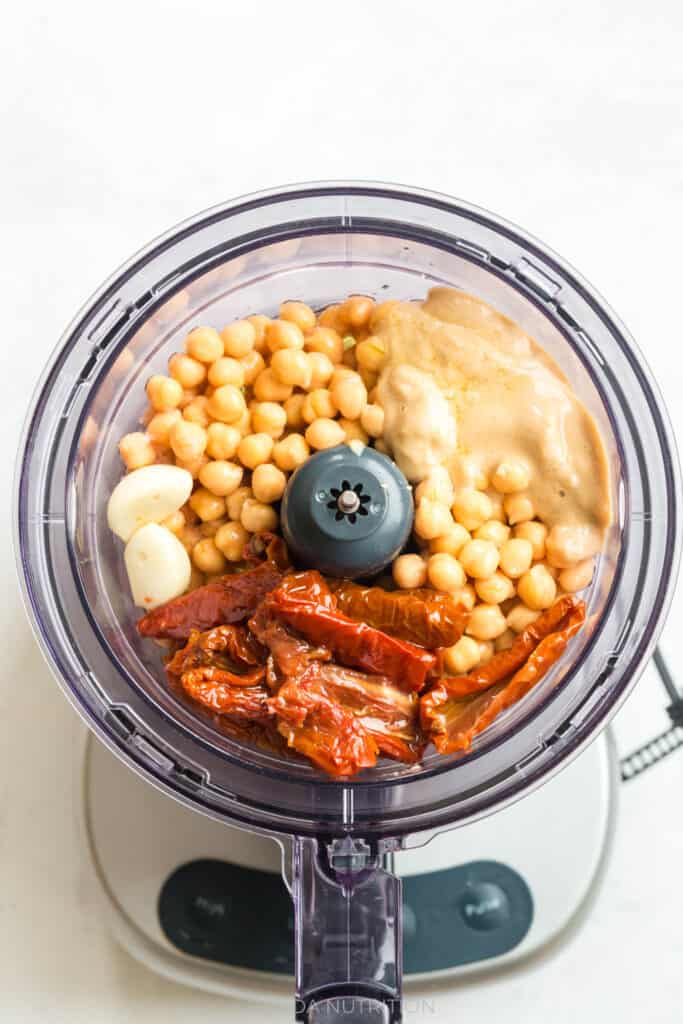 Food Processor (I have the Cuisinart 13 cup Elemental). I like it because it has an insert to make the bowl smaller, which I used for this recipe.
If you want to make homemade hummus without a food processor, it will be tricky but not impossible.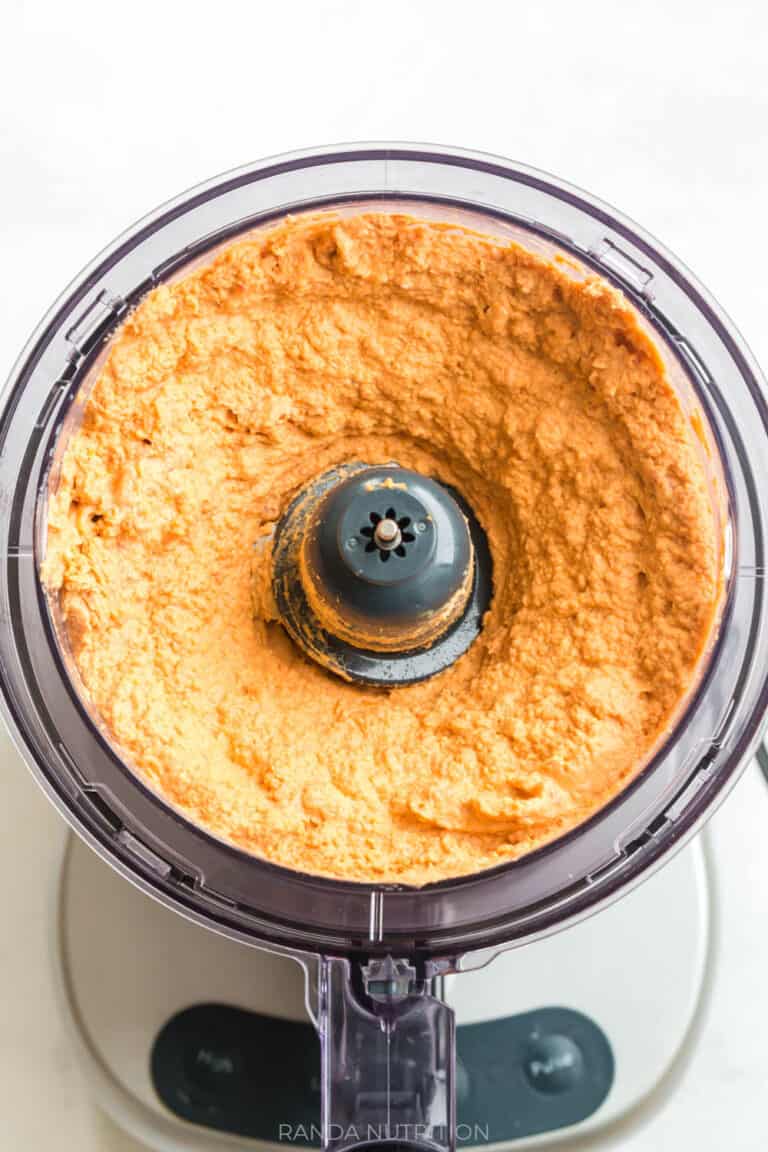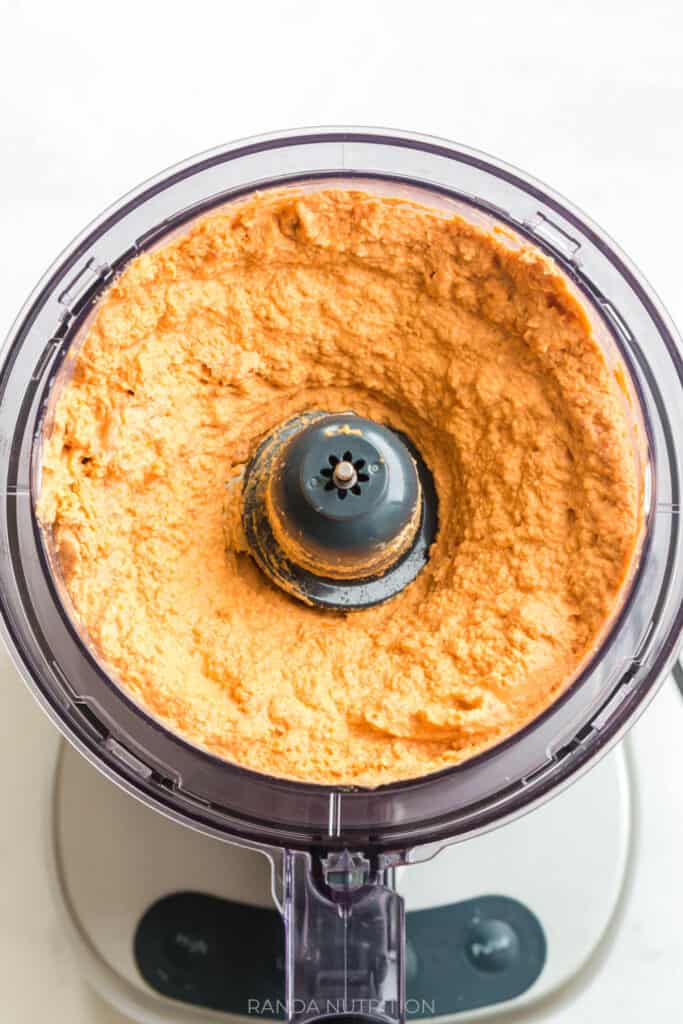 How to make hummus without a food processor:
You could use a high-powered blender, but you will have to stop a lot more and stir it. It will take longer, but the taste will be the same. Be careful with a low-powered blender as it could burn out the motor.

Another option is a mortar and pestle, this will take a lot longer but it will be effective in squishing the chickpeas enough to give it the hummus texture.

Fork.

Potato masher and a large bowl.
How long does homemade hummus last?
If you store the hummus in an air tight container, you can expect the hummus to last about 5 days.
Can You Freeze Hummus?
Yes! You can freeze hummus, it will keep in the freezer for about 6 months.
I recommend placing saran wrap over the hummus to prevent ice crystals from forming.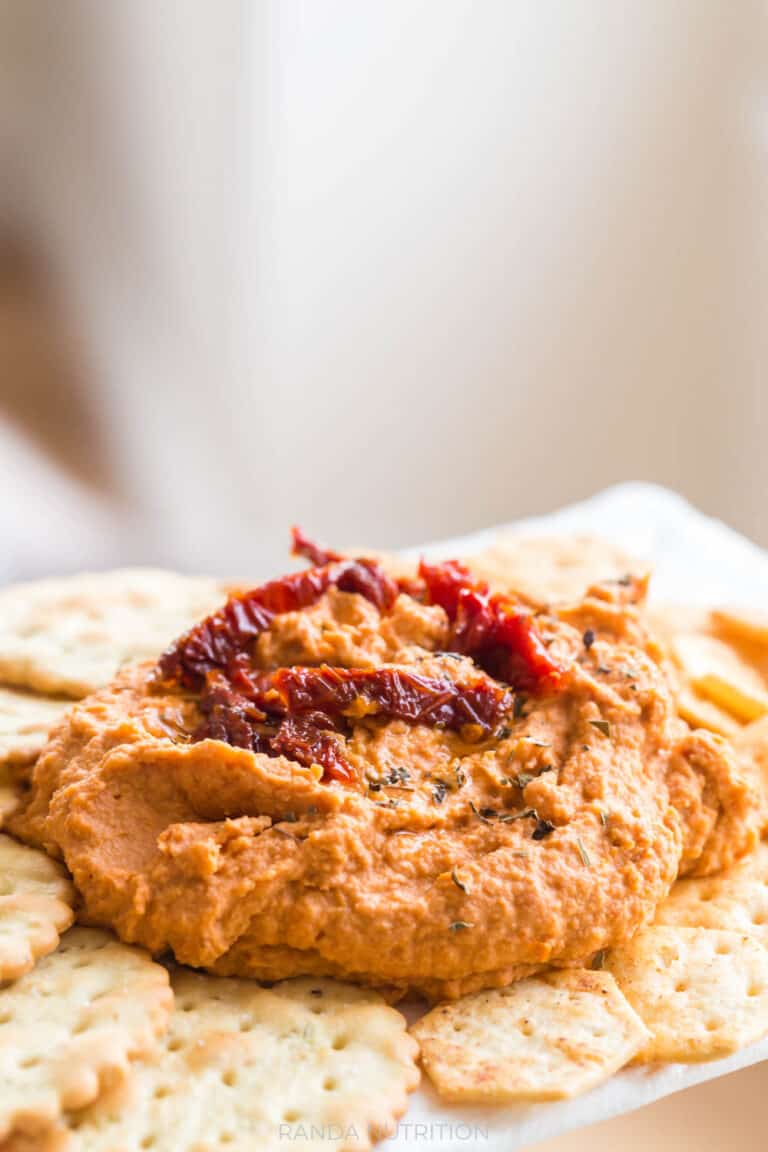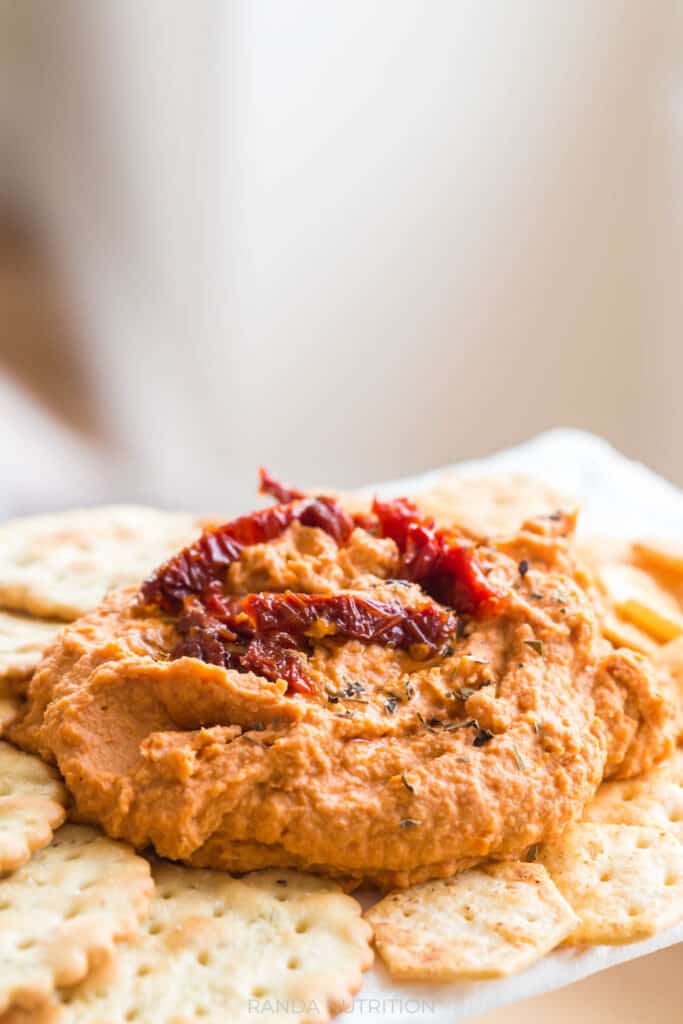 How to Make Homemade Sun Dried Tomato Hummus
It couldn't get any easier, just add all the ingredients to a food process and process until smooth.
Serve with veggies, crackers, over your salads, or as a sandwich spread.
Is sun dried tomato hummus healthy?
Yes! This homemade hummus recipe makes a lot and 1/8th of it is only 176 calories with 6 grams of protein and 4 grams of fiber!
Add a tablespoon or two of this to your salads to keep you full and satisfied until your next meal.
This is defiantly a recipe I recommend to clients to bring with them to gatherings and appetizer nights with their friends.
More healthy appetizer recipes: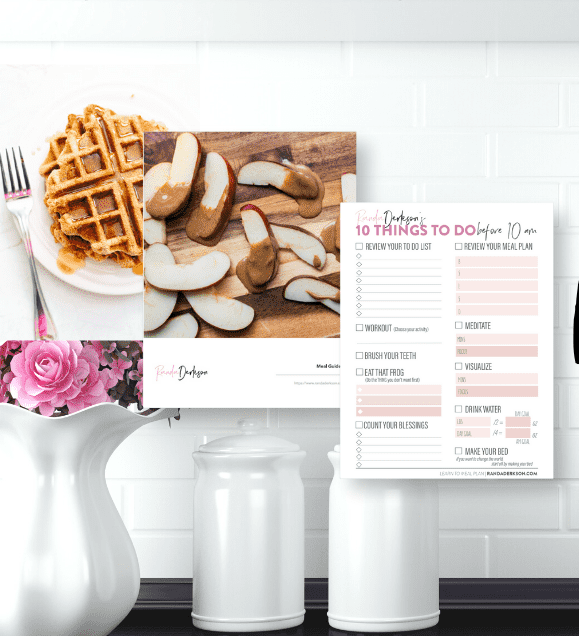 Get Access Free
Exclusive Nutrition and Healthy Living Library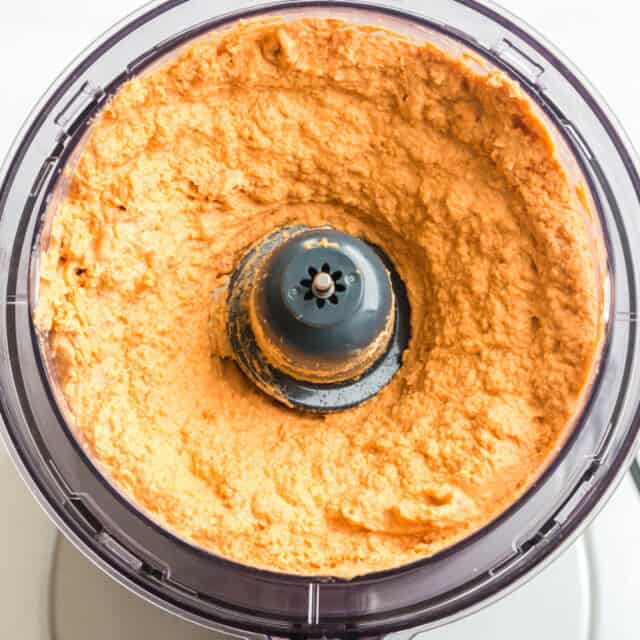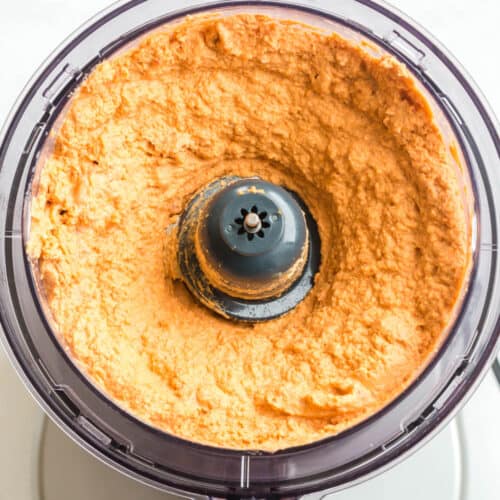 This healthy homemade sundried tomato hummus recipe is one of the easiest recipes on Randa Nutrition. It's ready in 5 minutes!
Instructions
Add everything to a food processor and process until smooth. You may have to take a spatula and scrape the sides every minute or two.

This takes about 3-5 minutes.

Top with a splash of olive oil and any additional sundried tomatoes and basil.
Nutrition
Serving:
1
serving
Calories:
176
kcal
Carbohydrates:
17
g
Protein:
6
g
Fat:
11
g
Saturated Fat:
1
g
Sodium:
330
mg
Potassium:
593
mg
Fiber:
4
g
Sugar:
5
g
Vitamin A:
134
IU
Vitamin C:
9
mg
Calcium:
46
mg
Iron:
2
mg