Do you eat chia seeds? If not, you should so I put together a delicious dessert-inspired mocha chia seed pudding. Not only is it a super simple no-bake dessert, but it's also a perfect snack for meal prep!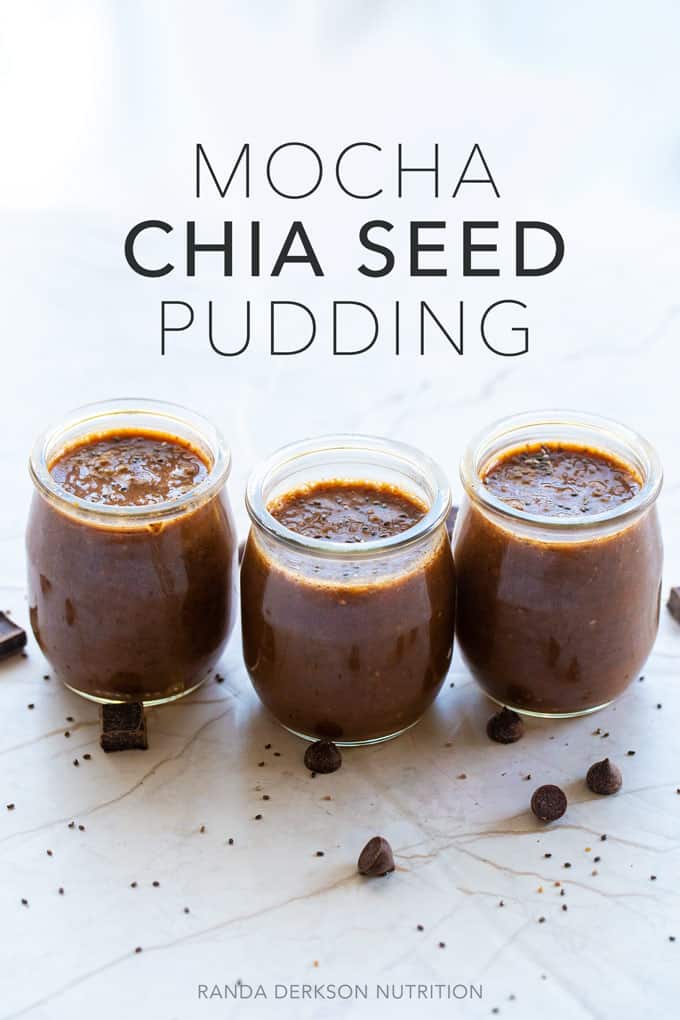 Are Chia Seeds Healthy?
Disclosure: This post contains affiliate links for your convenience. As an Amazon Associate, I earn from qualifying purchases.
You may have seen a few chia seed recipes floating around Pinterest (maybe that's how you found me), so I wanted to answer a few questions that are commonly asked about chia seeds.
Chia seeds are high in fiber, thus leading you to stay fuller, longer and that can lead to weight loss, increased energy, etc.
Chia seeds have antioxidants. source
Chia seeds help with bloating (this is anecdotal but in my experience and with clients I find when I add 2-3 teaspoons of chia seeds to my morning smoothie I am less bloated).
Chia seeds are a source of omega 3 fatty acids. Gram for gram, chia seeds contain more omega-3s than salmon (but to be fair you won't be eating a ton of chia seeds). Also important to note is this doesn't include the marine omegas (EPA and DHA which are important for brain health – so stick with fish or oil supplements). source
So yes, they are healthy and I recommend sprinkling a teaspoon or two into your day. They go great in salads or in chia seed puddings like this mocha inspired one.
How to reduce sugar
Since this recipe has no refined sugar added, I wanted to share a few tricks with you on how to adjust your tastebuds to cut back on sugar. (Especially if you're in the beginning stages.)
I added two dates to the coffee to bring up some natural sweetness, along with some maple syrup. If you're just starting to cut out sugar, this may still be bitter. Give it a taste and add another teaspoon of maple syrup.
Adding cinnamon.
Did you know that adding cinnamon helps to trick your tastebuds when you're lowering your sugar intake? It's true. That's why I added it to this recipe. Try it in your coffee tomorrow morning!
Want more tips? Click the image below and I'll send you a checklist to help reduce your sugar intake.
21 Day Fix Counts
By popular request, I am slowly adding container counts for those of you following the Ultimate Portion Fix. This way you can see if it works for your plan for Beachbody programs like 21 Day Fix, LIIFT4, 80 Day Obsession, and 10 Rounds.
Full serving: 2 purple, 1/3 red, 2 orange, 1 1/2 tsp.
Per serving: 1/2 purple, trace red, 1/2 orange, 1/3 tsp.
Can I add protein powder to chia seed pudding?
If you want to boost the protein in this recipe to help meet your macronutrient goals, you can totally do that.
I added collagen to give it a flavorless boost but you can add protein powder in a vanilla or chocolate flavor. Just keep in mind it could affect the texture and flavor, so try a bit with and without.
Keep in mind to try half a scoop first as it could make the chia seed pudding chalky. If you like it, then add a bit more at a time.
I switch the protein powder I use often but at the time of writing this, I'm currently using this plant-based protein powder from Garden of Life.
How to make mocha chia seed pudding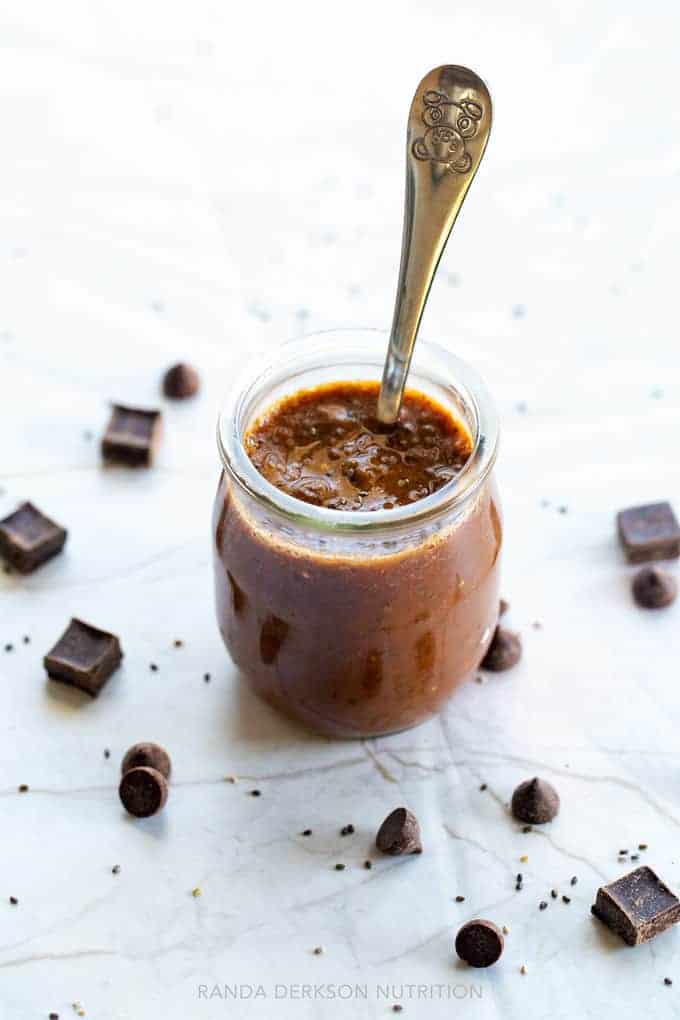 Throwing together a chia seed pudding recipe is so easy. All you have to do is add the ingredients, stir, and refrigerate.
That's it.
There's no whisking over a stove-top. There's no work!
That's my kind of recipe.
Other chia seed pudding ideas
Coconut chia seed pudding
Banana chia seed pudding
Don't forget to check out my Banana Chocolate Chip Oatmeal Bars too!
Mocha Chia Seed Pudding
This chia seed pudding has the lovely blend of coffee and chocolate for a healthy dessert, simple breakfast, or a tasty dessert that's easy to put together with meal prep.
Instructions
In blender combine the strong coffee, dates, and cocoa. Let sit for five minutes to soften the dates. Blend until dates are smooth in the coffee.

Add the coffee mixture to a mixing bowl, then add the rest of the ingredients. Whisk until combined (or until the collagen no long clumps together).

Cover and place in the fridge for 30 minutes, or until set.

Enjoy. This can sit in the fridge for 3-4 days for an easy and healthy snack or quick breakfast.
Notes
21 Day Fix Counts
Full serving: 2 purple, 1/3 red, 2 orange, 1 1/2 tsp.
Per serving: 1/2 purple, trace red, 1/2 orange, 1/3 tsp.
Nutrition
Serving:
1
cup
|
Calories:
114.58
kcal
|
Carbohydrates:
15.47
g
|
Protein:
4.01
g
|
Fat:
4.59
g
|
Saturated Fat:
0.46
g
|
Sodium:
130.63
mg
|
Potassium:
136.79
mg
|
Fiber:
4.9
g
|
Sugar:
8.46
g
|
Calcium:
195.46
mg
|
Iron:
0.99
mg
The nutrition information is calculated using a third party resource. The accuracy varies on the brands used, weight, portions, etc. This resource should be used as a guide. If you want more accurate information, weigh in grams and log in MFP.
If you like this recipe, then please share it with your friends and don't forget to pin in.