I'm always looking for ways to satisfy my sweet tooth in a healthy way. This Black Forest Chia Seed Protein Pudding not only does that but also ticks the nutritional checklist of protein, fiber, and carbohydrates.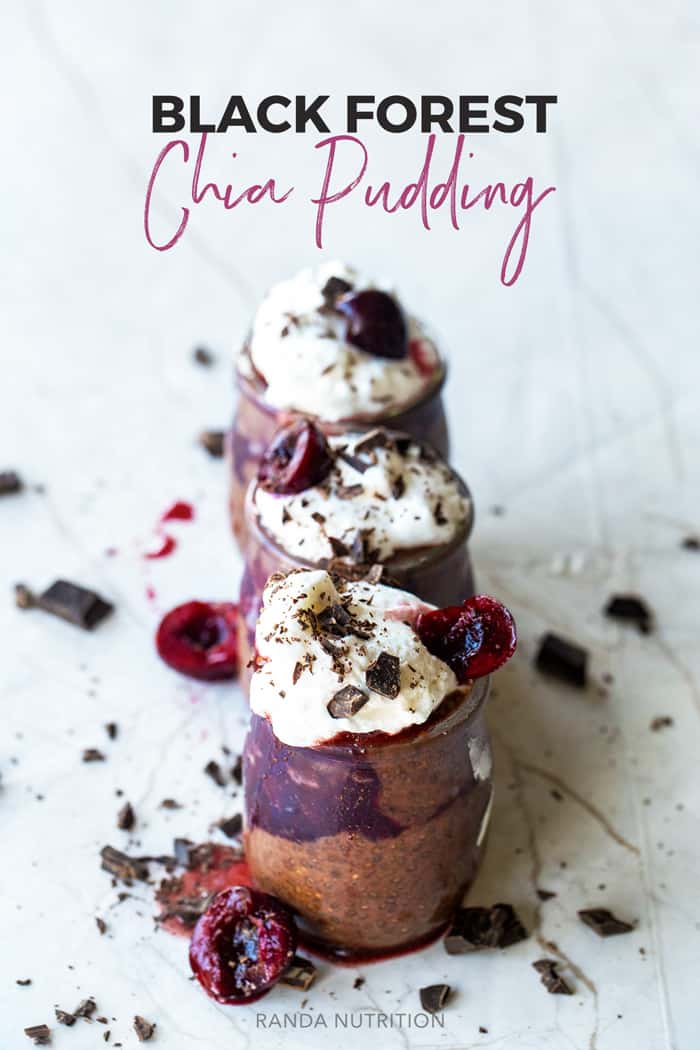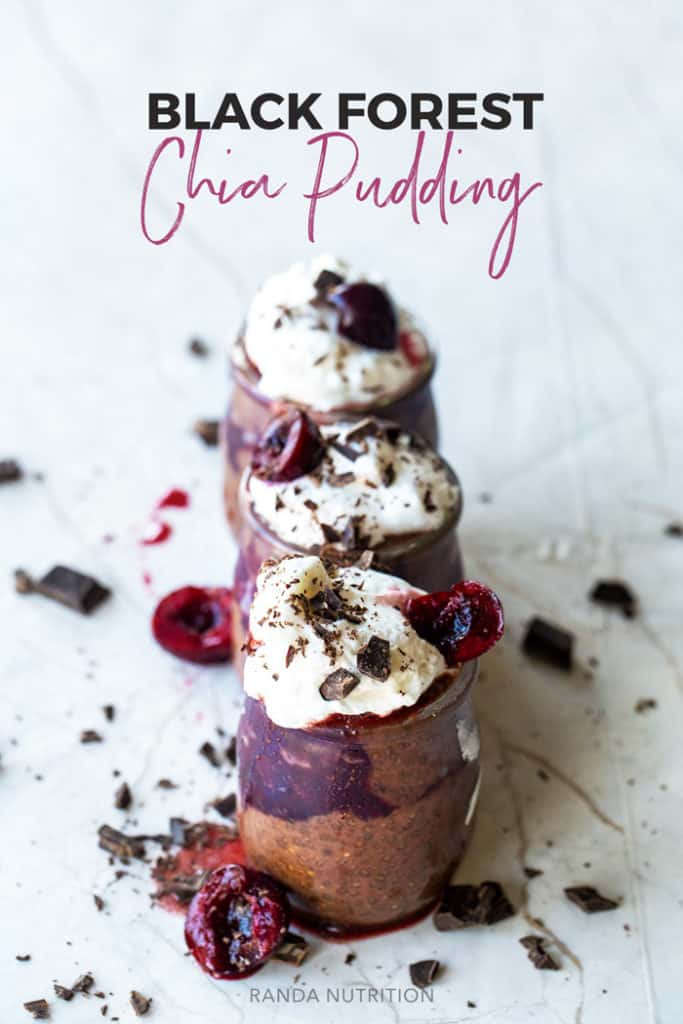 Disclosure: This post contains affiliate links for your convenience. As an Amazon Associate, I earn from qualifying purchases.
Black Forest Chia Seed Protein Pudding
I wanted to put together a delicious, yet healthy dessert/snack recipe for the nutrition guide I have coming out soon and I knew that a chia seed protein pudding would be perfect. It was going to be exclusive to the guide but after a huge request on Instagram when I shared a sneak peek, I decided to go ahead and share now.
I'm so excited to share this recipe with you and to hear your thoughts. So if you've made this, please leave me a comment and don't forget to share it with your friends.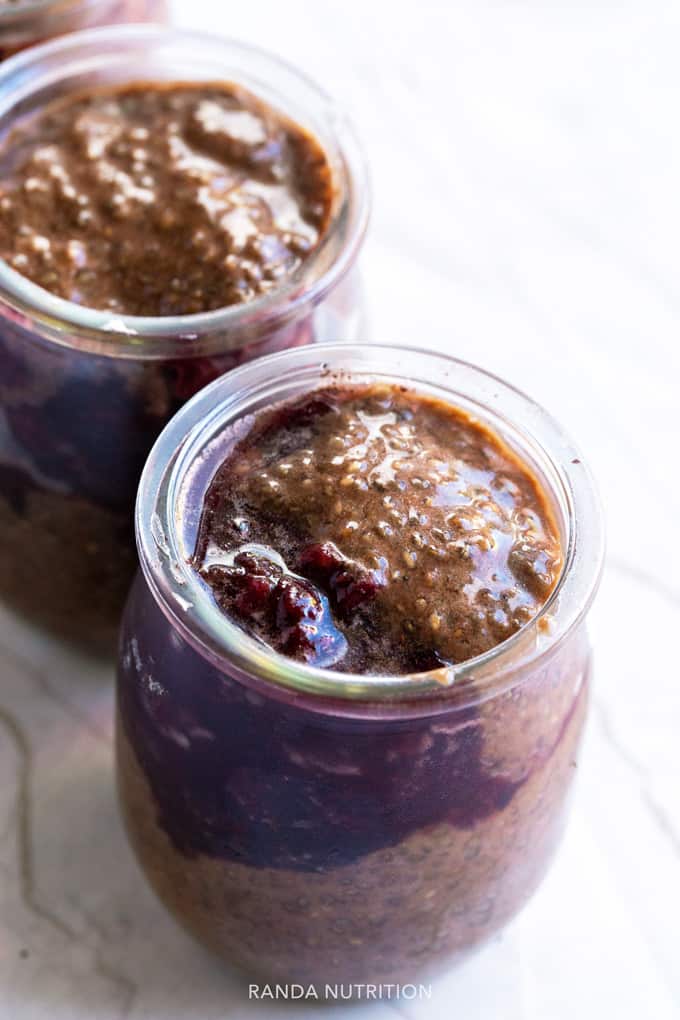 Don't forget, if you're looking to establish healthy habits (like adding more vegetables to your diet in fun and tasty ways) be sure to secure a spot in the 30 Days to a Healthy Habits Challenge.
What the heck is chia seed pudding?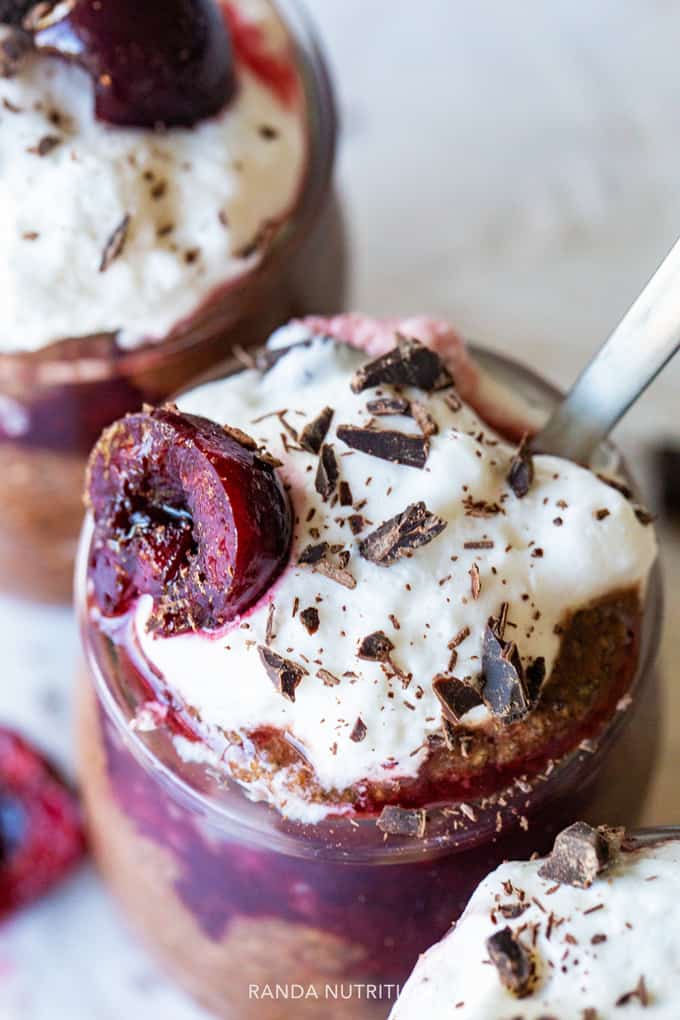 That was the question I asked when I first heard of chia seed pudding many years ago.
Chia seed pudding uses a milk base (in this case, unsweetened almond milk) and chia seeds.
The chia seeds absorb the liquid and expand, creating a thick pudding-like consistency. You get the health benefits of chia seeds in a dessert form.
I don't like textures, will I like chia seed pudding?
There is a texture to chia seed pudding that takes a minute to get used to your first time around.
However, another option is to blend it all together, breaking up the seeds. If you don't like textures give that option a try.
If that still bothers you, then this may not be the recipe for you.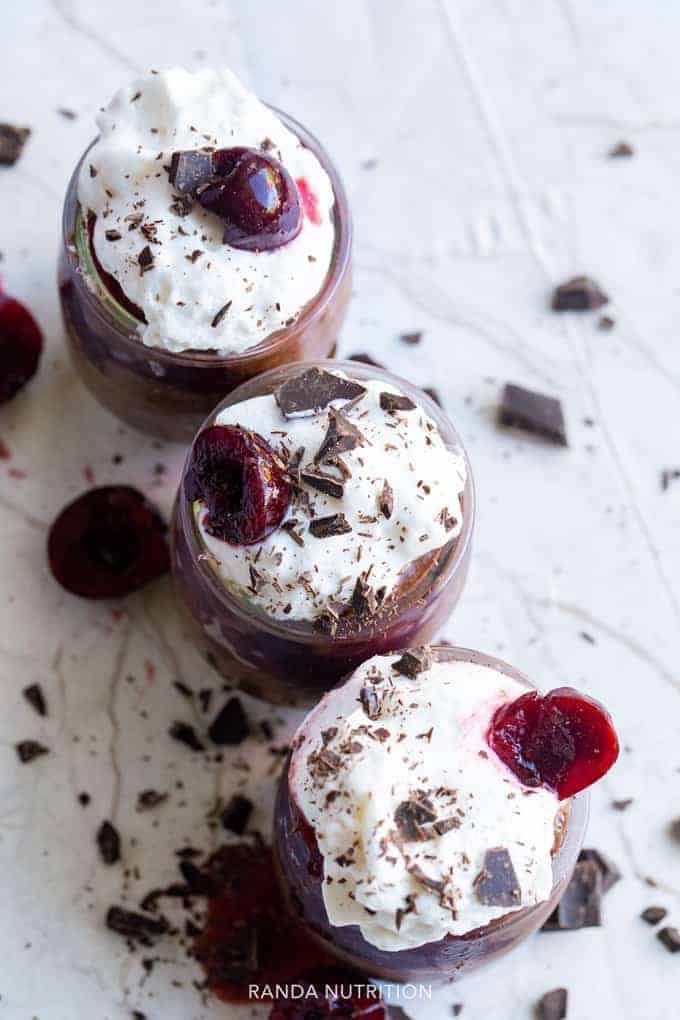 Are chia seeds good for meal prep?
Oh my goodness, yes! I LOVE chia seed pudding for meal prep. Not only does it fit my cravings for a sweet breakfast, a healthy snack, but it also helps with those late night cravings as well.
I like to make it ahead of time and have in the fridge for either planned snacks or those moments where you need something "indulgent".
This chia seed protein pudding keeps for about 5 days in the fridge (I honestly haven't tested it past that as it's usually gone by then).
In addition to the pudding, you can also add chia seeds in smoothies, to top salads, and more.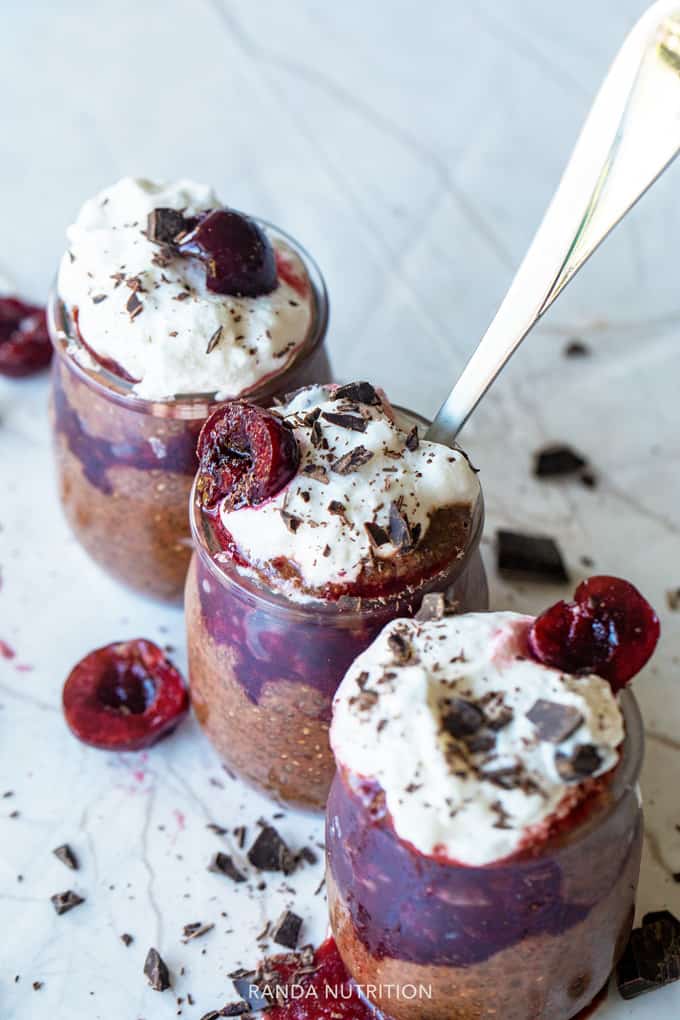 What's CocoWhip?
CocoWhip is coconut whipped "cream".
You can make your own or buy store bought. I personally buy store bought and buy the So Delicious brand. You can find it in the freezer section.
There are 15 calories, 1g fat, 2g carbohydrate (1g from sugar), and 0g protein per tablespoon of CocoWhip.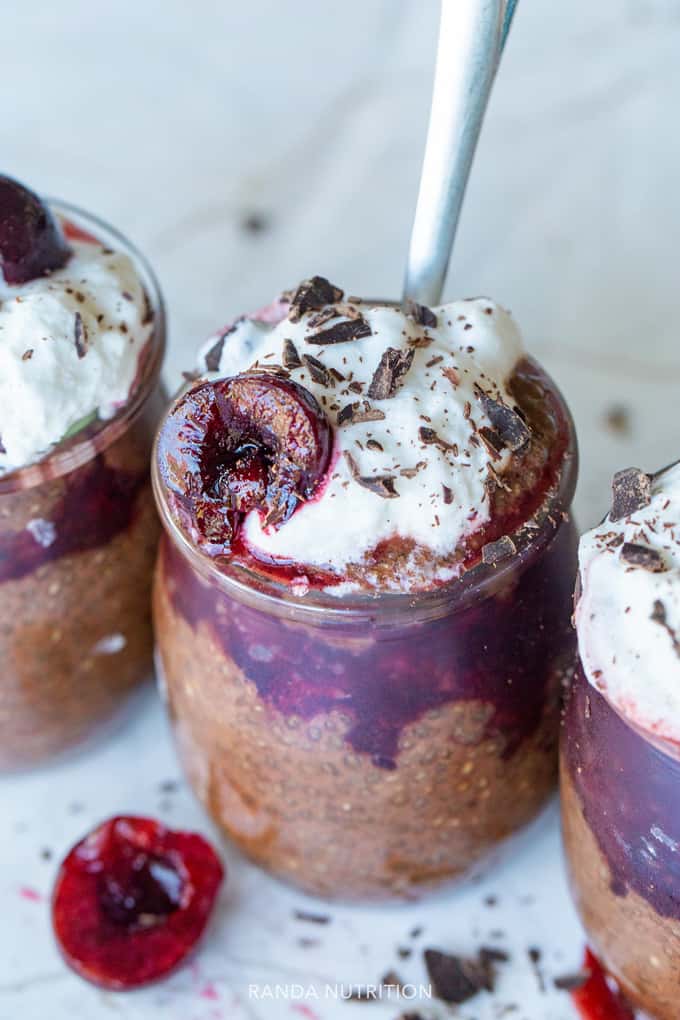 Chia Seed Protein Pudding
I added a scoop of protein powder to this recipe to give it a little extra protein boost, this will help you stay full and satisfied until your next meal.
You are free to skip the the protein powder and use cocoa powder instead, however the taste may be a little less sweet.
Keep in mind that every protein powder has different nutritional profiles and tastes so every time you make this recipe with a different brand of protein, it could be a totally new recipe.
Play around and find your favorite combination.
I used Ancient Nutrition Chocolate Protein Powder.
Don't forget to try this Mocha Chia Seed Pudding as well.
Strawberry Rhubarb Chia Pudding
Lemon Poppyseed Chia Seed Pudding
Black Forest Chia Seed Protein Pudding
I can't even begin to describe how delicious this black forest chia seed pudding is. It's an easy no cook recipe that's perfect for warm days! Plus the kids love it!
Ingredients
Optional Toppings
4

tbsps

Coconut Whip

I used So Delicious Brand

Chocolate shavings for garnish
Instructions
Chia Seed Pudding
Add all of the ingredients from the chia seed pudding list in a bowl and whisk together. Cover and refrigerate for two hours (or overnight) to thicken and get to a pudding consistancy.
Cherry Filling
In a blender or food processor add the cherries, vanilla, and a tablespoon of water. Blend until thick but smooth. If you need to add more water, add a tablespoon at a time.
Putting it Together
To put it together you can either divide the mixture between 4 small mason jars or bowls. I like to layer it chia seed pudding, cherry filling, more chia seed, then top with optional toppings. Or you can throw it in a bowl and mix it all together.
Notes
The caloric count doesn't include the CocoWhip. If using the So Delicious brand there is 15 calories, 1g fat, 2g carbohydrate (1g from sugar), and 0g protein per tablespoon.
Also note that the nutritional information changes with what protein powder you use.
Nutrition
Serving:
1
serving
|
Calories:
122
kcal
|
Carbohydrates:
15
g
|
Protein:
7
g
|
Fat:
4
g
|
Saturated Fat:
1
g
|
Polyunsaturated Fat:
0
g
|
Monounsaturated Fat:
0
g
|
Trans Fat:
0
g
|
Cholesterol:
0
mg
|
Sodium:
126
mg
|
Potassium:
179
mg
|
Fiber:
4
g
|
Sugar:
8
g
|
Vitamin C:
1
mg
|
Calcium:
153
mg
|
Iron:
1
mg
The nutrition information is calculated using a third party resource. The accuracy varies on the brands used, weight, portions, etc. This resource should be used as a guide. If you want more accurate information, weigh in grams and log in MFP.