Disney Hollywood Studios is one of the most exciting places on Earth to visit, but you may not know that it has some great healthy options to help keep your goals in check during your visit. Disney chefs are always coming up with new and innovative dishes. They offer a variety of food choices to accommodate all types of diets and preferences.
If you're looking for something quick and easy, there's a grilled chicken sandwich or salad with plenty of protein and veggies. In this blog post, we're sharing the best choices we've found at the best food at Disney's Hollywood Studios so you can feel good about your fuel during long park days.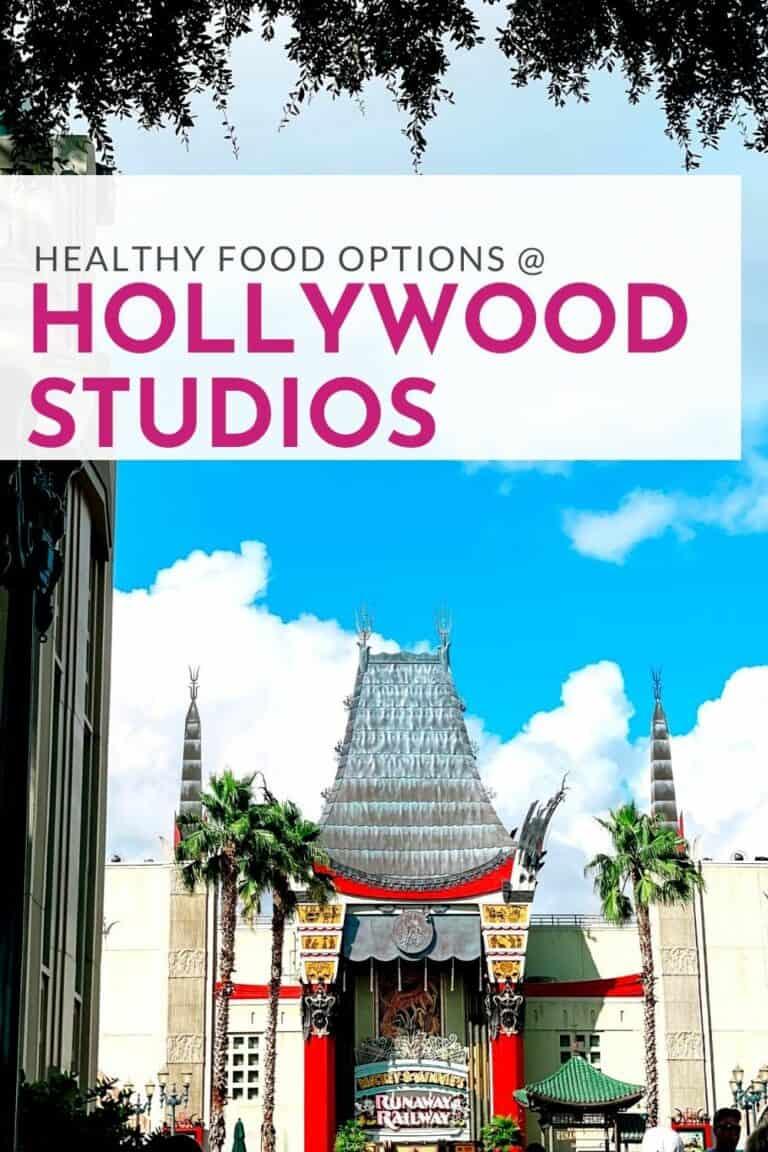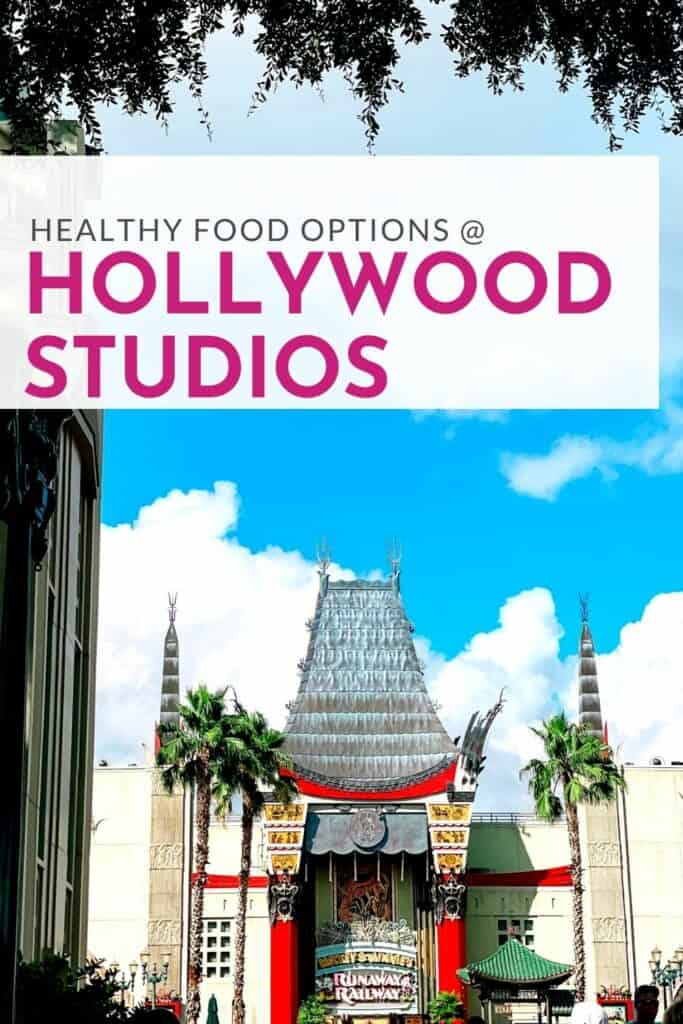 Dietary needs at Disney
I wrote a healthy guide to Disneyland but same rules apply to WDW. Click the button above to grab your copy!
Disney has always been known for catering to families, and that includes those with different dietary needs. If you're dining at a table service restaurant and you're having a hard time finding healthy food options, you can be sure that the chef will be more than happy to help you by making something special that works for you.
Don't forget to check out these healthy Walt Disney World tips:
Healthy Options at Hollywood Studios
So what are the best healthy options at Hollywood Studios? We have several choices I think you'll be able to enjoy while staying on track.
There are so many restaurants and quick service options at Hollywood Studios, I can't get them all in a single blog post so I chose my favorites. Be on the lookout for the Walt Disney World Nutrition Guide Bundle this fall where I'll have it laid out park by park and restaurant by restaurant with my top choices.
First of all, look for produce carts. There are a few of them around the area where you can pick up a healthy snack like fruit, veggies, and dip, plus a few other options. Use the map on your app to locate them.
Docking Bay 7 at Galaxy's Edge used to have overnight oats (Rising Moon Overnight Oats) which had oats, dragonfruit, and yogurt. It's now known as Tugg's Overnight Oats and has overnight oats, mango smoothie, and mixed fruit. The above photo from Dawn is the Rising Moon Oats but it's very similar.
Healthy Options at ABC Commissary
The ABC Commissary has a number of healthy meals to choose from for breakfast, lunch, and dinner. It's my number one restaurant choice.
It's not just because of the great variety of food they offer, but also the many healthy menu options.
One great breakfast choice is their smashed avocado toast and egg that comes with seasonal dressed greens. Another option is the plant-based chilaquiles and eggs. It does have tortilla chips in the dish, but those are easy to pick out to limit your carbs.
If you're looking for both protein and a serving of vegetables, the grilled chicken club sandwich with arugula-farro salad is the perfect combo. You can also order a side of fruit or an apple to round out this meal.
I had the Mediterranean Salad with Chicken last time I went and it was delicious.
The Mediterranean salad with seared chicken breast is filled with mixed greens, tomatoes, cucumbers, pepperoncini, Kalamata olives, and feta cheese tossed in a Mediterranean vinaigrette served with hummus and grilled flatbread, making it a healthy option.
If you're interested in a lighter meal, the shrimp tacos are just the dish. Ditch the flour tortillas if you're gluten-free, and focus on the sautéed shrimp, cabbage slaw, and mango salsa with black beans. The dish usually has queso fresco on top of the beans and comes with a side of Mexican rice, but you should be able to make minor changes like that at a counter service restaurant if that doesn't work for you.
Backlot Express
Visiting the Galaxy's Edge? Make sure to stop by the Backlot Express for the Galaxy's Edge special- two suns of Tatooine hummus. It's a red pepper hummus topped with fried chickpeas, and spicy plant-based meat crumbles and plain hummus topped with cucumber, tomato, onions, and cilantro served with pita chips and greens.
Their Southwest Salad with Chicken is also delicious.
For those looking to snack on healthier fare such as fresh fruit and celery sticks, choices are a bit limited. Fresh fruit and healthy options can be found at Anaheim Produce and at various carts throughout Hollywood Studios.
Toy Story Land Healthier Options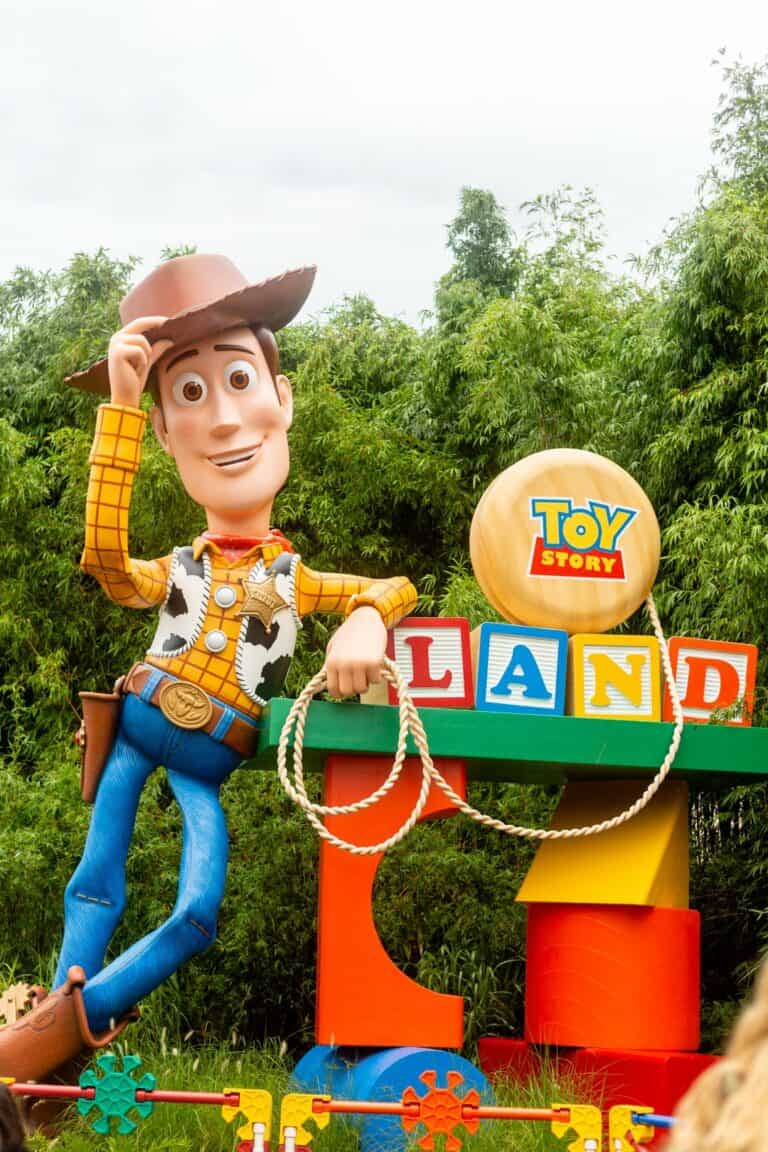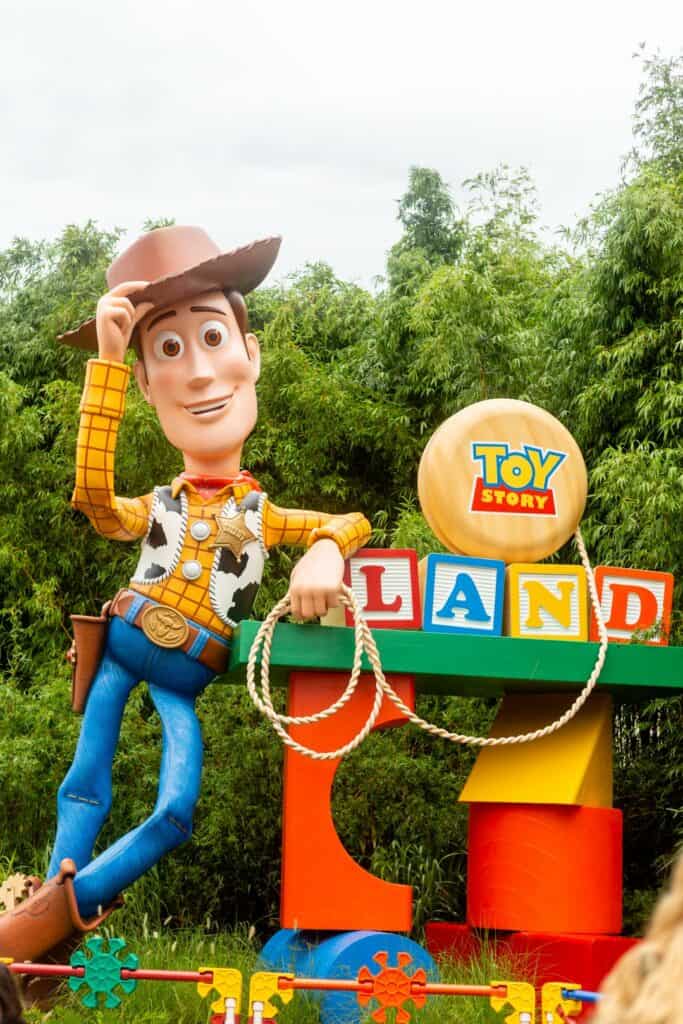 I'm going to assume that the kids are going to want to eat the picky eater-friendly foods at Toy Story Land. I don't blame them, they all look like so much fun!
Woody's Lunch Box has a Breakfast Bowl option that sounds delicious.
Hearty portion of Potato Barrels smothered in Smoked Brisket Country Gravy, Scrambled Eggs and a sprinkling of Green Onions

Woody's Lunch Box Menu
I order it without the gravy and flavor it with a little ketchup or hot sauce if available (I'm certain ketchup is, but not sure about the latter).
You can get sides and snacks too like mandarin oranges, mini Babybells, and tomato-basil soup.
As for lunch, I suggest the smoked turkey sandwich.
Hot tip: Order the kid's turkey sandwich and you will receive a half order of the sandwich plus sides like carrots, apples, yogurt (depending on what they're offering at the time). You get more for less! Note: You can only order a kid's meal as an adult at quick service restaurants.
PS: Want to learn more about Toy Story Land? Check our Dawn's Toy Story Land Review to see what to do, what to eat, and how to feel like a kid again.
This is a small list of options, I know, but I am working on a detailed list of restaurant by restaurant for the Hollywood Studios Nutrition Guide. So please, be patient and I'll post it when it's done.
I hope you've enjoyed this list of healthy options at Disney's Hollywood Studios. Make sure you save the list so you can refer to it when you're planning ways to eat healthy at Disney World.