8 Ways to Drink More Water
One of the most common questions I am asked is "how can I drink more water?". I get it, I struggle sometimes too, so here are 8 ways to drink more water.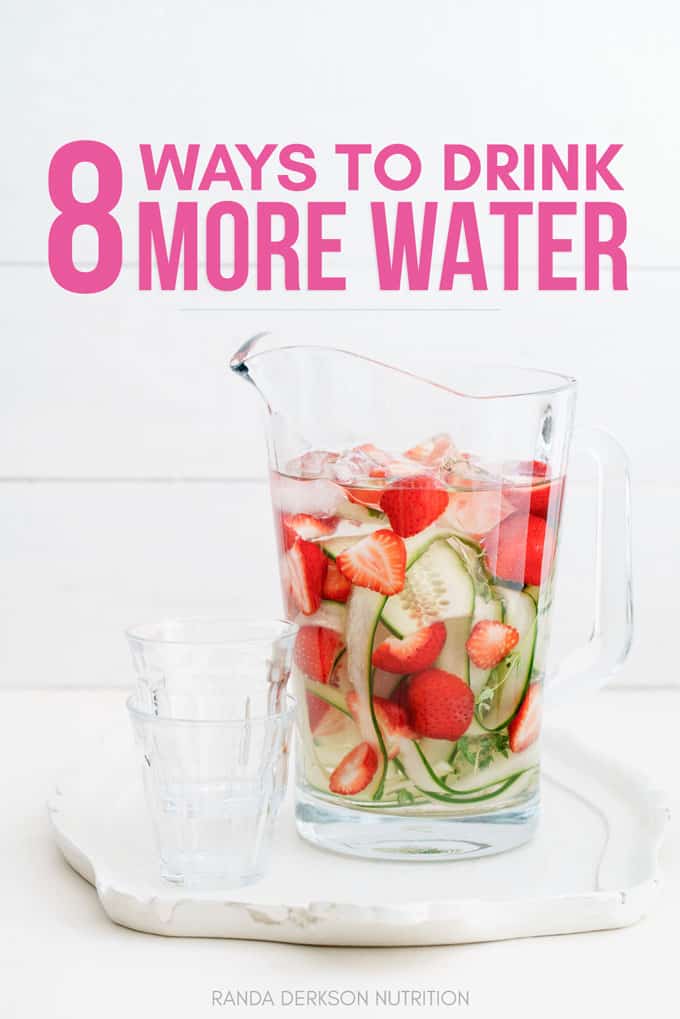 8 Ways to Drink More Water
Listen to The Realistic Nutrition Podcast episode on 8 Ways to Drink More Water above!
Disclosure: This post contains affiliate links for your convenience. As an Amazon Associate, I earn from qualifying purchases.
1. Spice it up.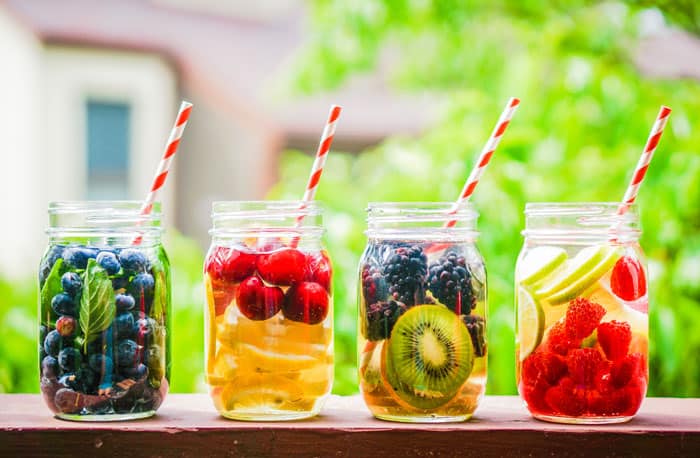 There are tons of ways to spice your water up! Some great additions to water (that won't add tons of calories) include:
fruit like strawberries, lemon, lime, grapefruit, and cucumber
veggies like celery
herbs like mint and basil
spices like cayenne pepper, black pepper, and ginger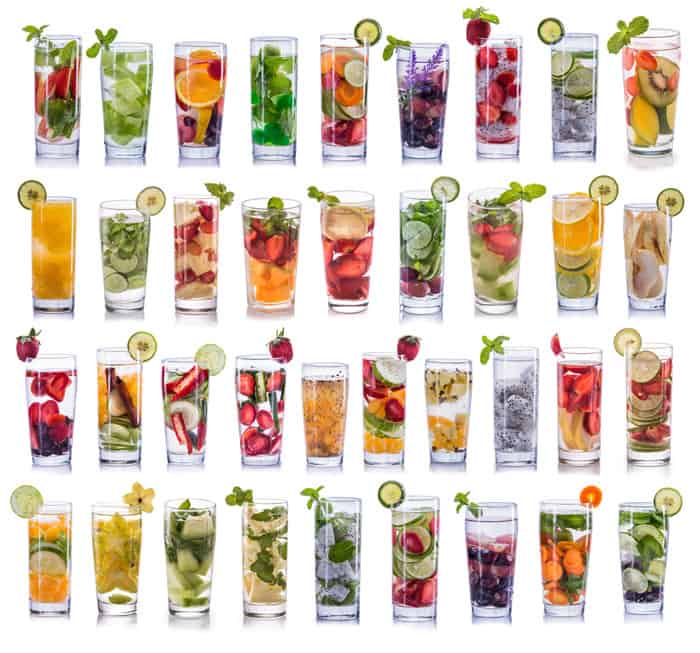 Tasty combinations:
raspberries + cucumbers
lemon + cayenne pepper
lavender + lemon
grapefruit + mint
ginger + cayenne pepper
lime + mint
2. Get a Favourite Cup
I don't know if I just trick myself into enjoying water more when it is in my favourite cup or what, but this trick works.
Lined cups like (these) remind you to take a drink every hour or so. I love this option for myself because I work from home and it's easy to forget to drink.
Rubber bands remind some people to drink a certain number of cups each day.
Hydroflasks are wonderful options if you're on the go. They keep your water cold for long periods of time.
Gallons of water are a popular choice in the fitness community because of their ease of use, but it's difficult to keep the water cold for long periods of time so keep this in mind when making a decision on which route you're going to take. This is easy enough, use an empty gallon (or 4L) bottle (like a milk or water bottle from the store).
Pro tip: Buy two when you find an amazing cup, just in case one is left in the car, or gets lost or damaged.
Here are the water bottles that I personally use:
3. Get Your Fizz Fix
Some people swear by sparkling water. If it's something you've never tried, I recommend trying some low/no calorie flavored options like (insert your favourites). The fizz gives you the "fix" you may be used to with soda, without all the calories and bad stuff that comes along with drinking soda. If you use the unflavored kind, you can add any of the ideas from above to make your drink most enjoyable.
Note: Not everyone will love this suggestion, but it's worth a shot to help increase your hydration.
We go through sparkling water like crazy in our house, if you drink it as often as my family does you may want to look into buying a SodaStream.
4. Use a Water Drinking App
Believe it or not, there are actually several free apps that are designed to help you increase your daily water intake.
Plant Nanny is one of the most popular water-drinking apps. It's cute, because you have a flower and it gets "watered" every time you drink a glass of water. You can choose your own water goals, so you aren't stuck with the typical 8 glasses a day if that's not what you want. You can level up and get different plants when you reach your water goals consistently. Drink up, or your plants will die!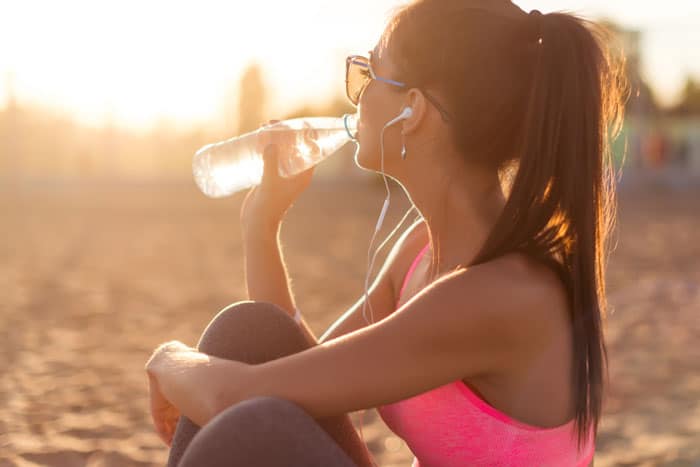 Aloe Bud isn't just a water-drinking app. Aloe Bud will give you "gentle" reminders for wellness tasks such as drinking more water, getting to sleep on time, or even remembering to eat. Aloe Bud doesn't automatically keep track of the amount of water you drink each day, so you'll have to look back on your day and do that manually… but I like the idea of the app and it's free.
Drink Water Reminder is an advanced water tracking app. You can get reminders and track your water intake on your fitness watch. If you don't like the notifications, you can turn them off – the amount of nudges you get is totally up to you. Drink Water displays your daily water intake automatically, so there's no manual tallying like with Aloe Bud. You can also see your water intake at a glance over a period of time. This means you can pick up on habits you have: are you drinking less on the weekends? Time to step it up! I love this app and highly recommend it. P.S. It's free!
Aside from that, you can track water with MyFitnessPal, Fitbit, and I believe within the Apple Eco-System as well.
5. Fill 'Er Up
When you empty your water bottle, fill it back up right away.
I know if I take the last drink out of my water bottle, it can sit there for another hour before I think about taking another drink. I look over, and it's empty. I don't feel like getting up to refill it right now – or maybe I'm just buried in work – so I don't. Then, another hour goes by without drinking any more water! So as soon as you take that last drink, take a moment to go fill it back up… no ifs, ands, or buts about it.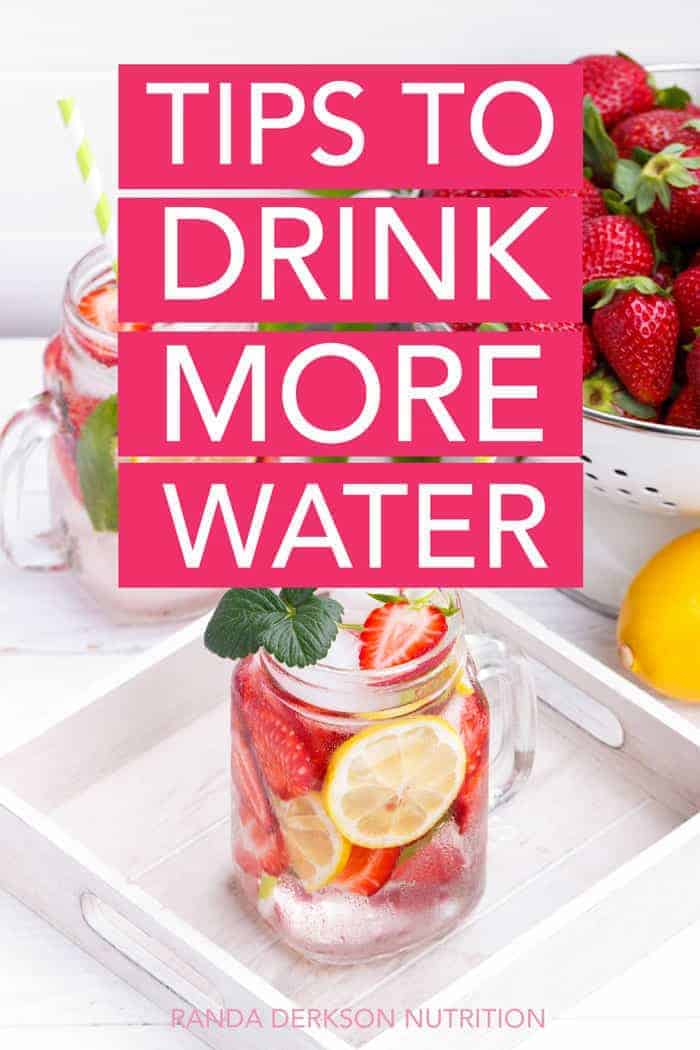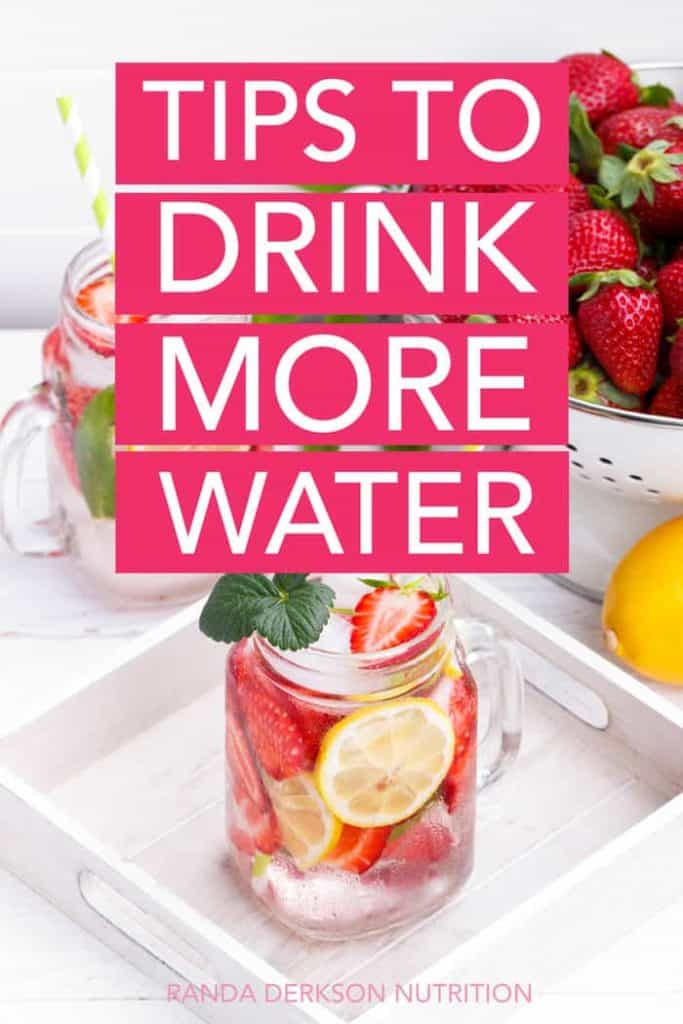 5. Use an Old School Method
Google Calendars might not be considered "old school" for everyone, but if you don't want to download an app, you can use Google Calendar to set daily reminders to drink water. For example, if you know you usually go the majority of the middle of the day without drinking, set an alarm for every day at 11AM and 1PM to drink up. Or, if you know you forget to drink water in the morning, set a morning alarm. Simply add a "reminder" or an "event" and make sure you set it to repeat every day. This could get annoying once you start remembering to drink on your own, but it's easy to delete reminders and events.
You can also ask Siri to remind you every hour to drink water on your iPhone.
If you use a planner like the Simplified Planner or Erin Condren you can also get fun water stickers on Etsy so you can manually check it off.
7. Sip, sip, sip.
If you feel like you get waterlogged from using tips like drinking after every trip to the bathroom, or drinking a glass of water before each meal, take sips instead.
Just like with any big goal, chopping it up into smaller, manageable chunks makes it easier to accomplish. You may be sipping on water all day long, but if that's what works, that's fine!
8. Dilution = Water
This is more of a last resort type idea, but I wanted to include it in case you're really struggling with hydration. If most of your drinks are juices or other sugary drinks, cut them 50:50 with water.
Diluting your drinks will save you 50% of the calories and provide you with 100% more water than you're getting by not drinking any at all.
It's not ideal by any means, but if you're already drinking sugary drinks, it's a wonderful way to cut back on the calories and sugar while "sneaking" water into your daily routine.
The week after, dilute your drinks even more. Eventually, you'll be able to wean off the sugary drinks.
More posts I think you'd like:
---
So what do you think of these ways to drink more water? I would love to hear what you think.
Share your tips to increase your water intake in the comments.