Strawberry Rhubarb Protein Overnight Oats
If you're looking for an overnight oats recipe that's perfect for summer, this strawberry rhubarb protein overnight oats will be right up your alley. Whether you have it for breakfast, lunch, or a snack you're going to love it!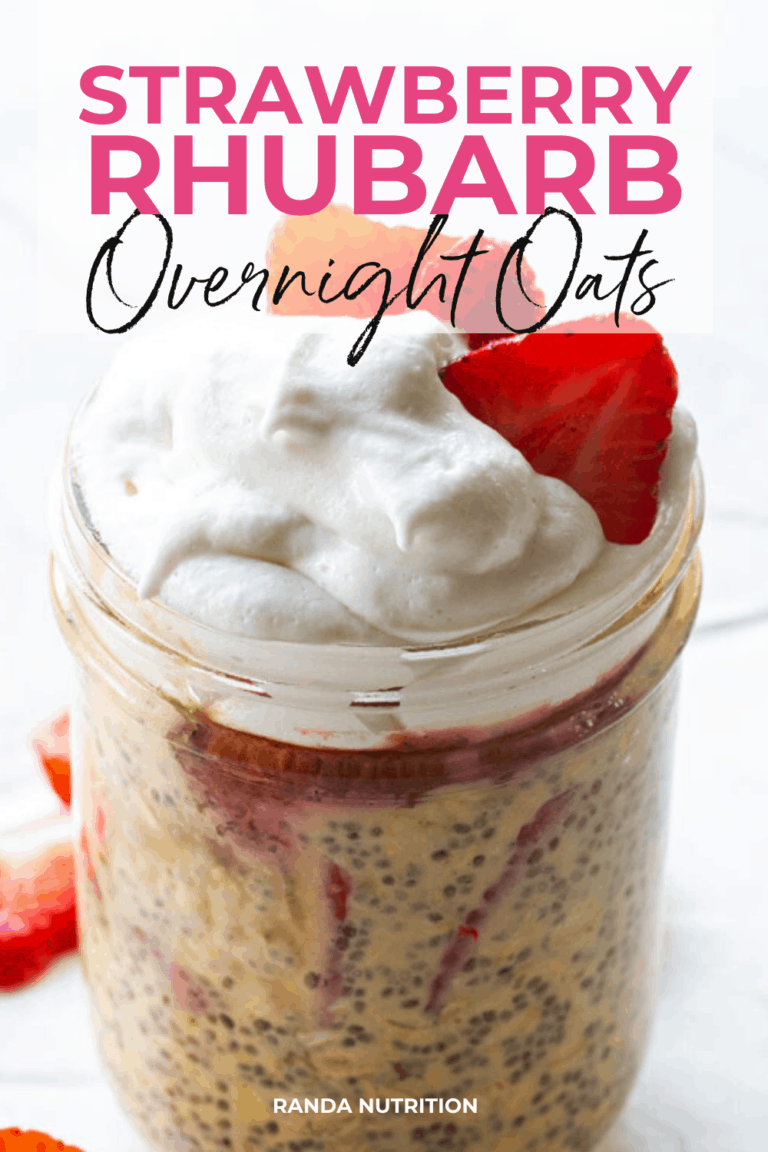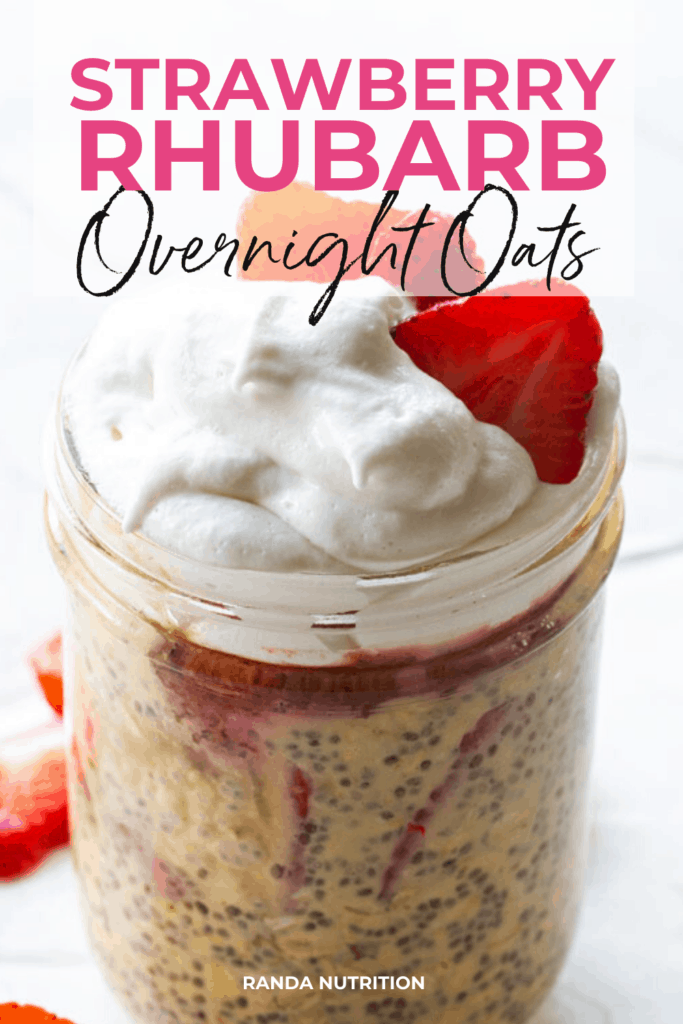 Disclosure: This post contains affiliate links for your convenience. As an Amazon Associate, I earn from qualifying purchases.
Protein Overnight Oats
Overnight oats are a popular oats recipe for meal prep. However, as delicious and easy as they are, they are often missing some protein for a one and done meal and you typically have to have some eggs or something else on the side.
Want another delicious overnight oats recipe? Try this lemon poppyseed overnight oats recipe or this Brownie Batter Overnight Oats.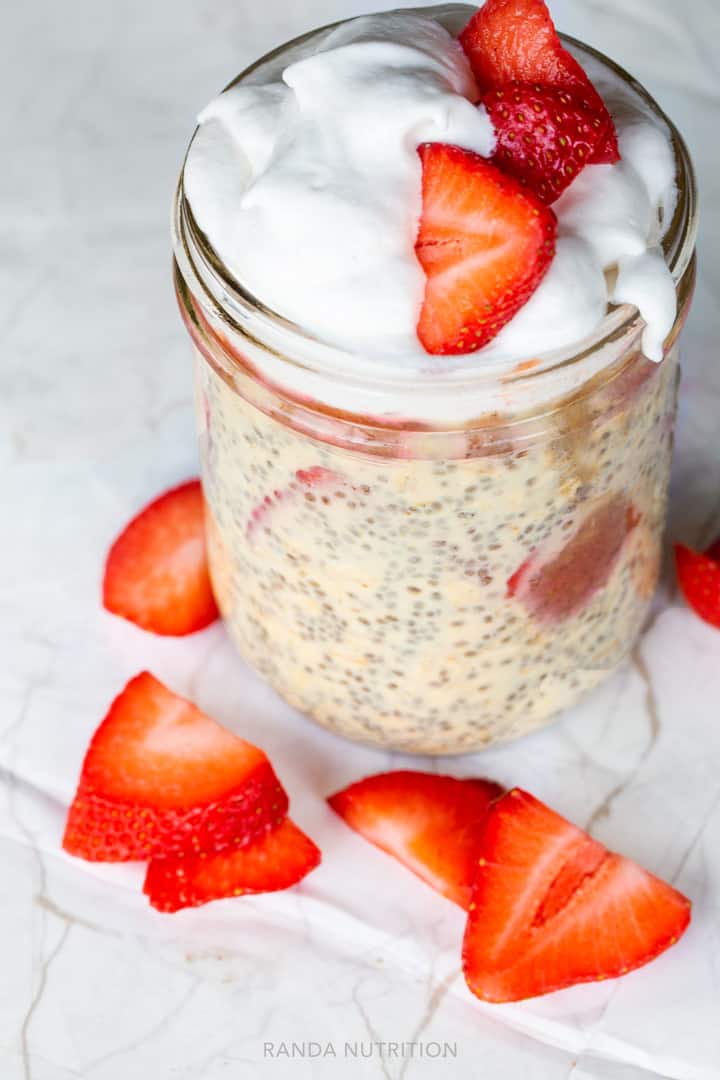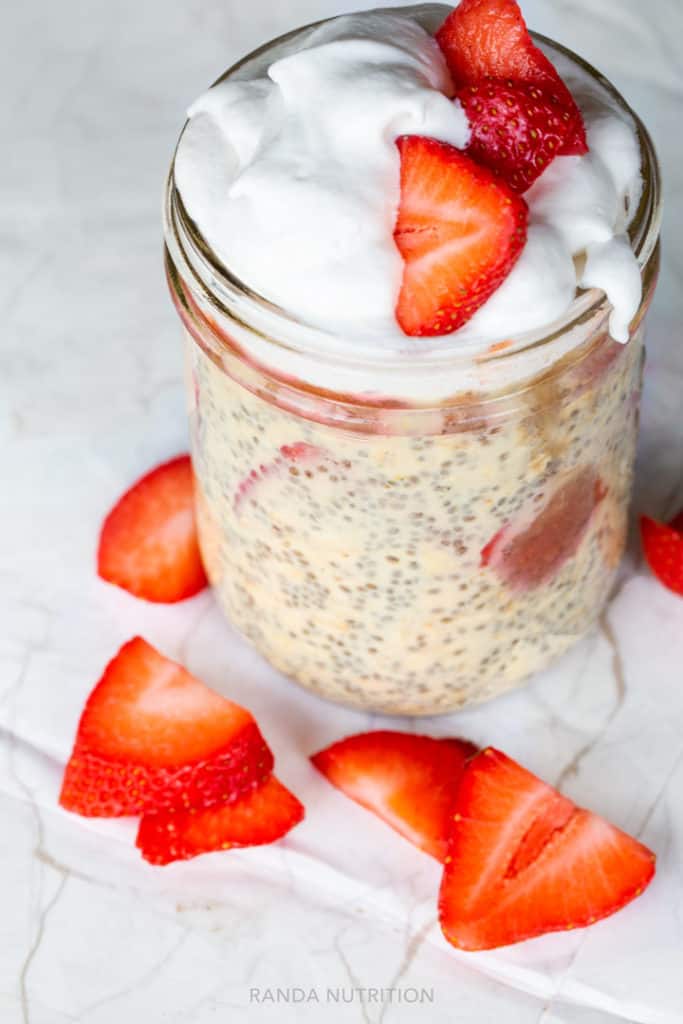 For this healthy overnight oats recipe, I used a scoop of plant-based vanilla protein powder (I used this one) but you can also mix in protein sources like plain greek yogurt, cottage cheese, or ricotta cheese.
What Kind of Oats to Use for Overnight Oats
To make overnight oatmeal, it's best to use rolled oats (also known as old fashioned oats).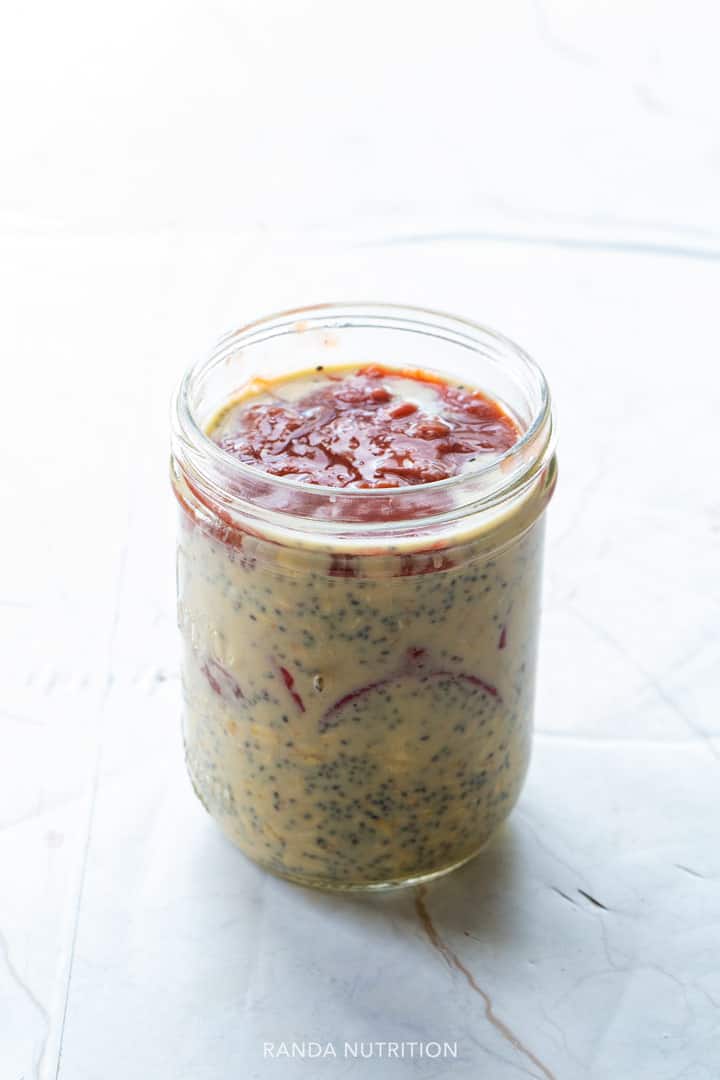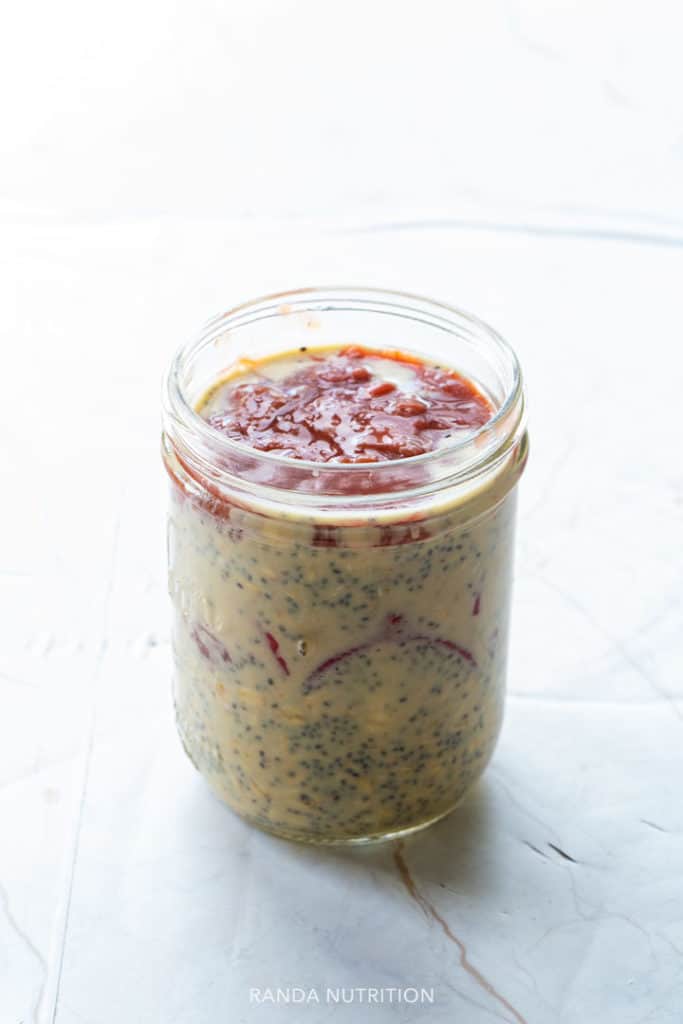 These oats absorb the liquid to the point where they're soft but not mushy (like quick oats). To add even more texture you can make overnight oats with chia seeds as well (like I did with this recipe).
What to Make Overnight Oats In
I prefer to make and store overnight oats in a jar, more specifically a mason jar.
They're easy to store and transport which makes them my favorite but you can also mix it up in a bowl or any reusable food container.
Do whatever works best for you. There is no right or wrong way of doing this.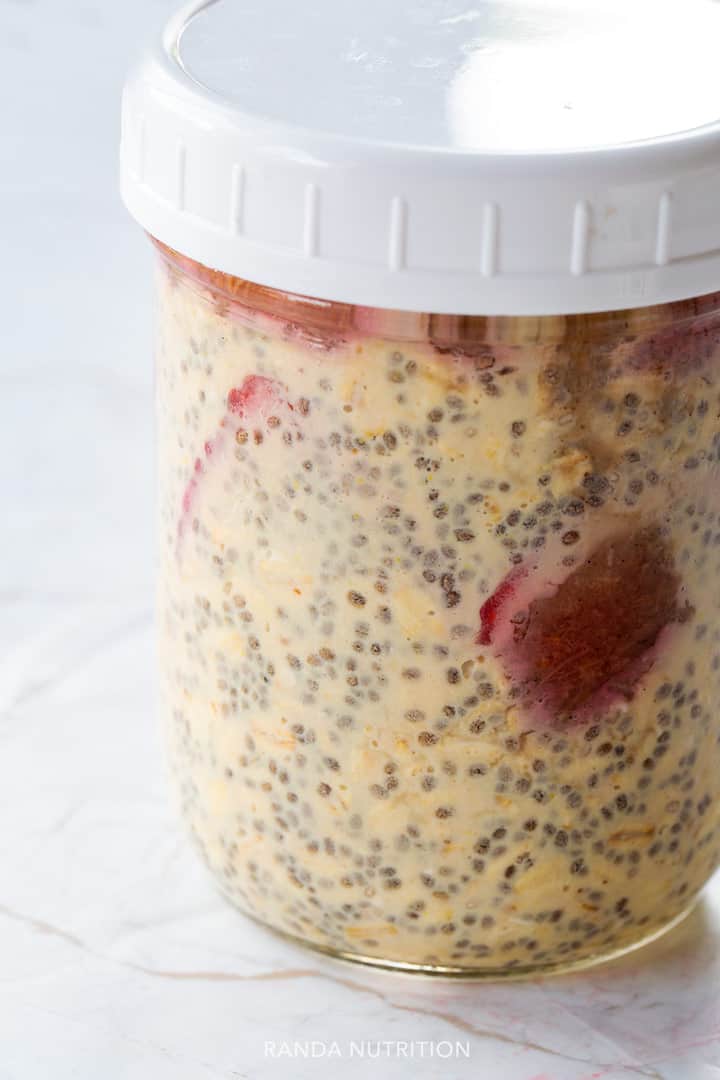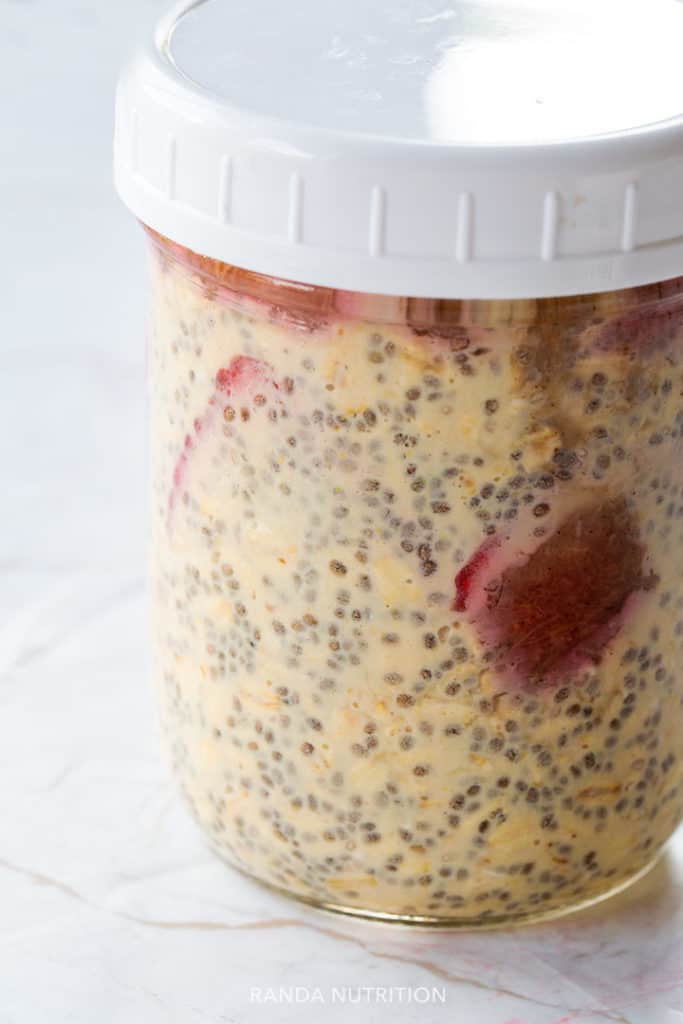 Hot or Cold?
I put a story on Instagram asking who prefers cold oatmeal vs hot oatmeal when it came to their favorite overnight oatmeal recipes.
The majority of the answers preferred warm.
You can serve it however you prefer. Either take it straight from the fridge and eat it or microwave it for a minute and serve it that way. This is why I love mason jars.
Don't forget to join the 30 Days to a Healthier You Challenge. Stop starting over when it comes to your health because you're overwhelmed with ALL THE THINGS. Instead, ease into it with this step-by-step challenge.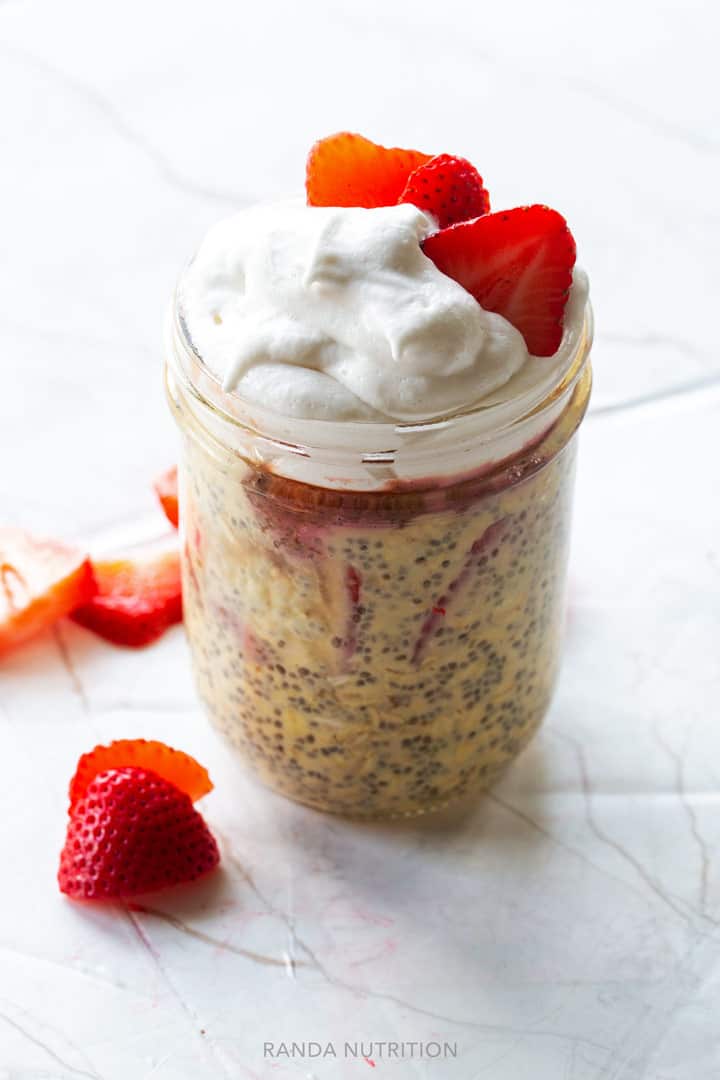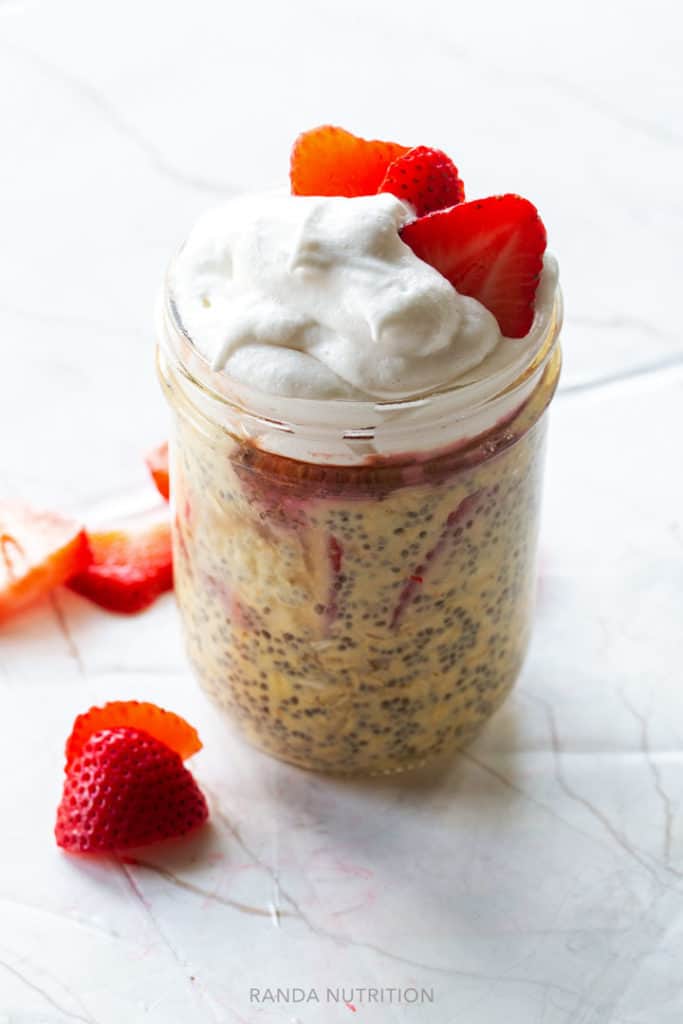 Are Overnight Oats Healthy?
As with most recipes, protein overnight oats being healthy depends on what you mix in. Whole foods like fruit, honey, etc … sure.
Mixing oats with chocolate syrup a ton of peanut butter, not so much. It's important to remember portion sizes (1 tablespoon vs 1/4 cup) and to be mindful of how much sugar is added.
Oats are also one of the foods that give you skin that glows.
Tip: Apple sauce is a great addition to help sweeten your oatmeal.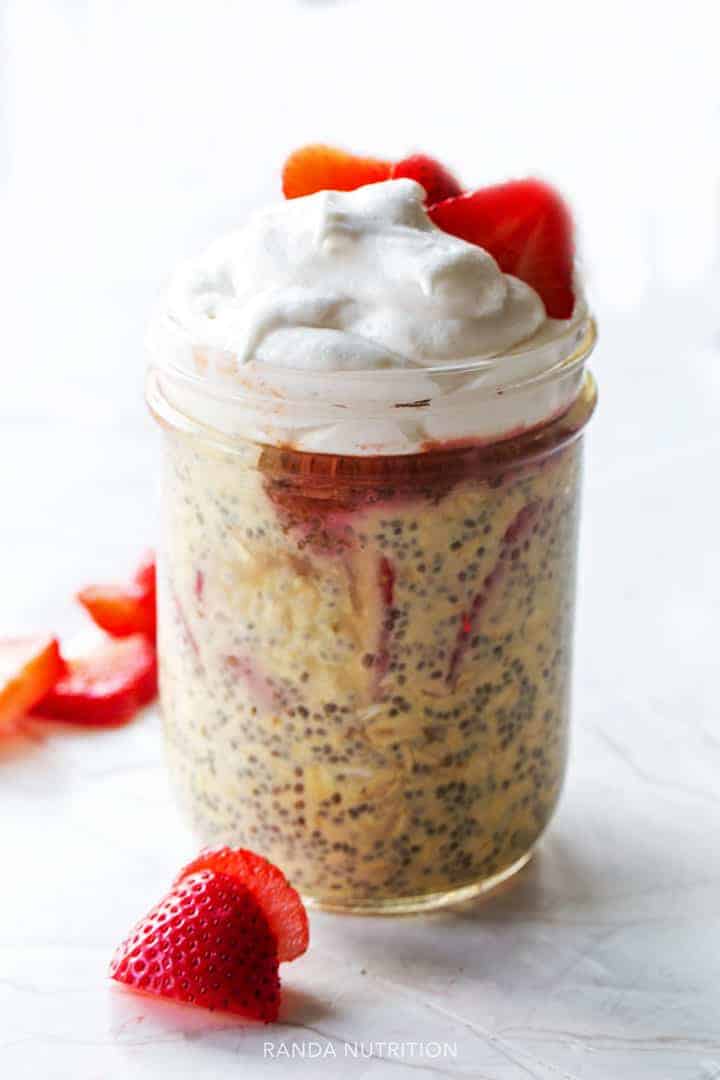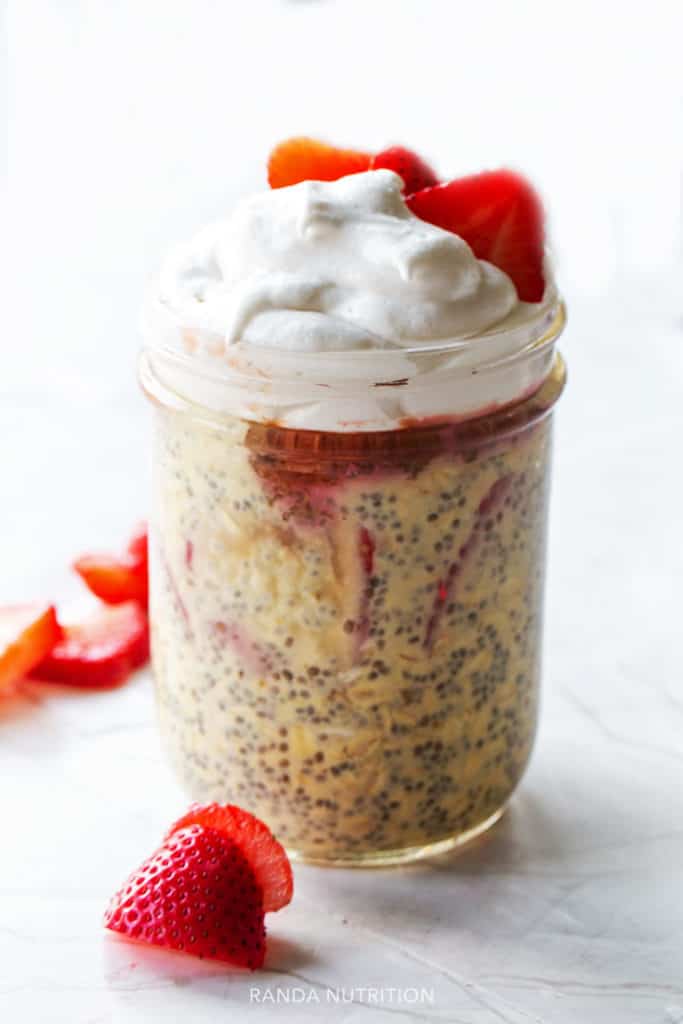 Here are some overnight oats benefits:
Oats are a source of soluble fiber.
They are satiating (helps you feel full).
Oats stabilize blood sugar levels (source).
They're gluten free (as long as they're in a GF facility).
Strawberry Rhubarb Recipes
I love a good strawberry rhubarb dessert or breakfast. I have a couple more strawberry rhubarb recipes here that I think you'll like: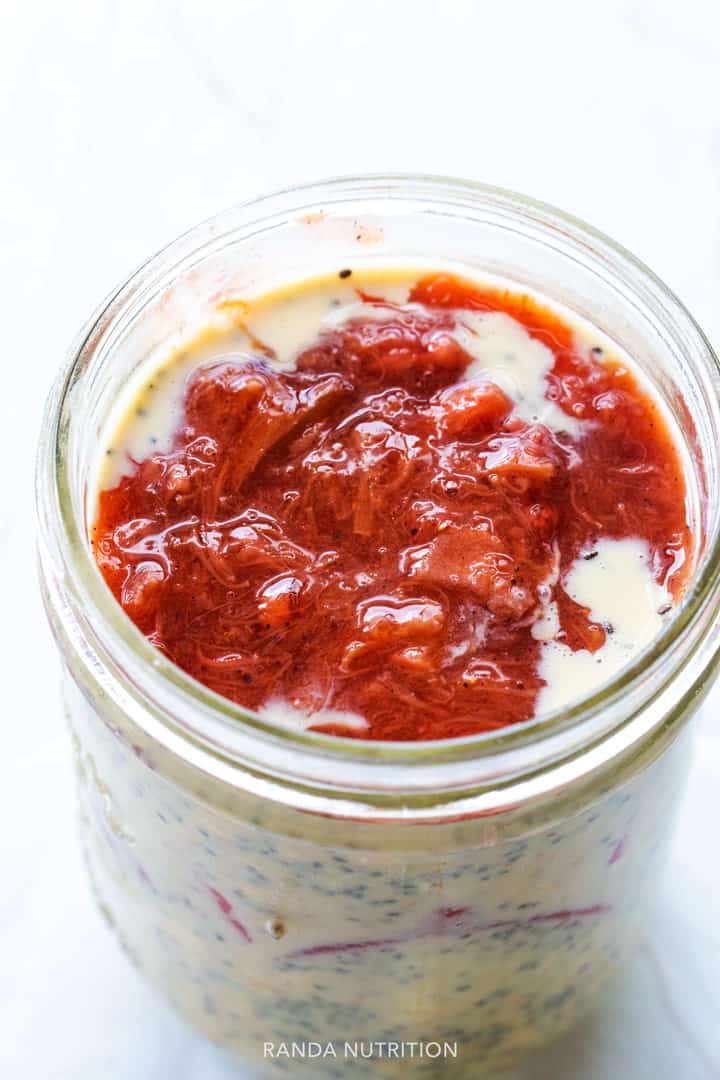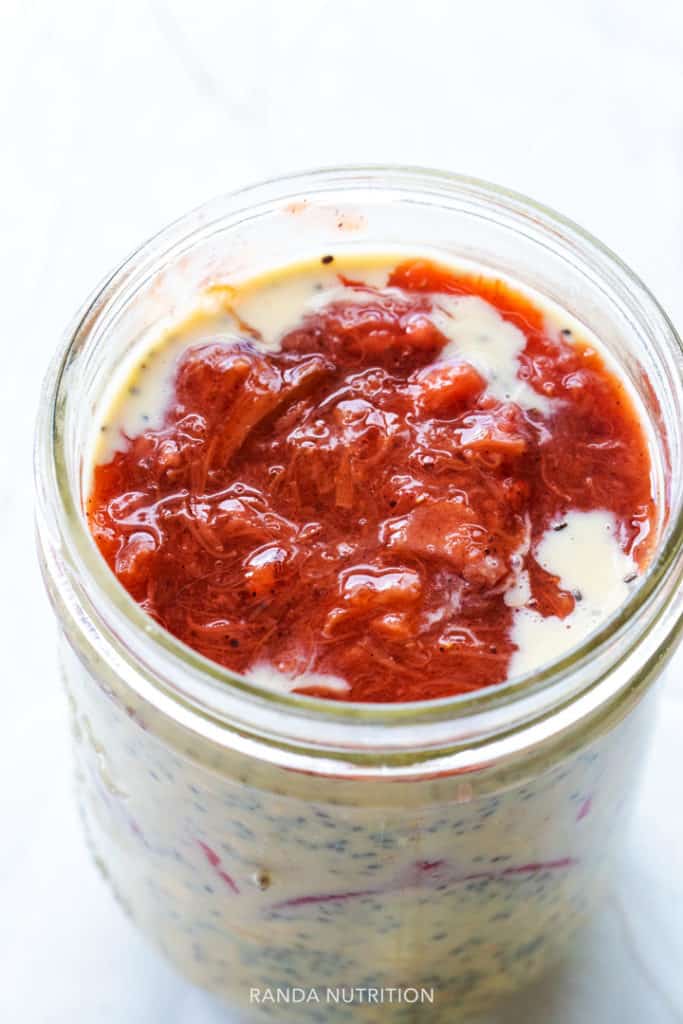 How to Make Overnight Oats with Protein Powder
This easy overnight oats recipe is easy to adapt to your tastes. I used my strawberry rhubarb sauce in it with vanilla protein powders for a strawberries and cream base but you can try chocolate protein powder and bananas for a chunky monkey oats or whatever flavors you like.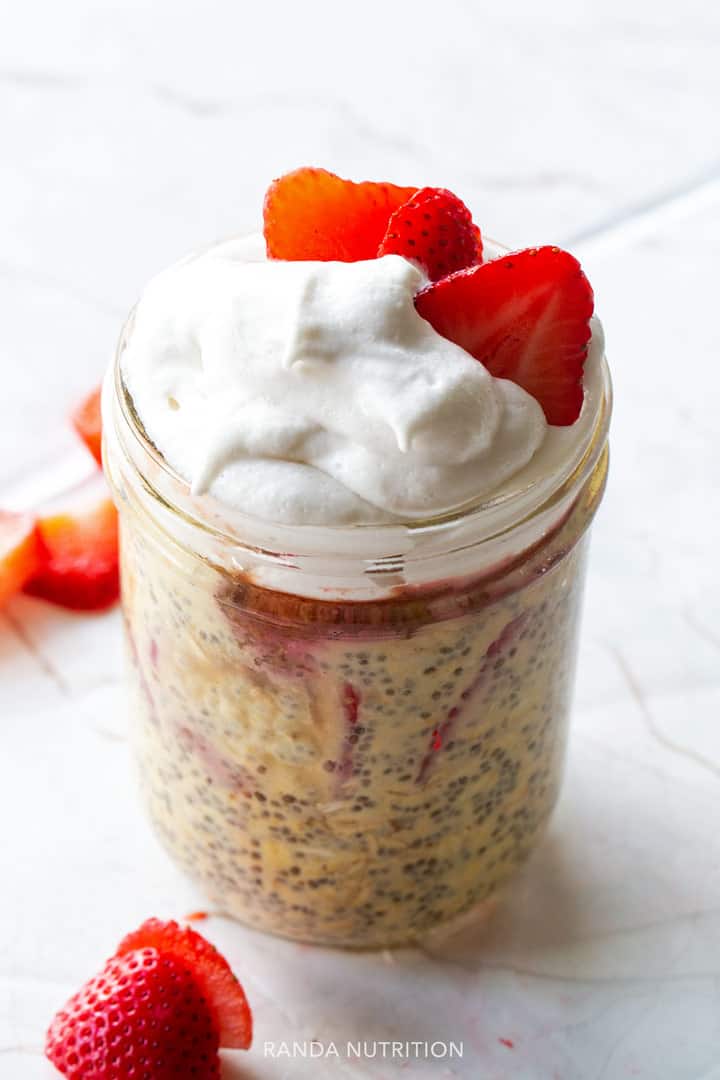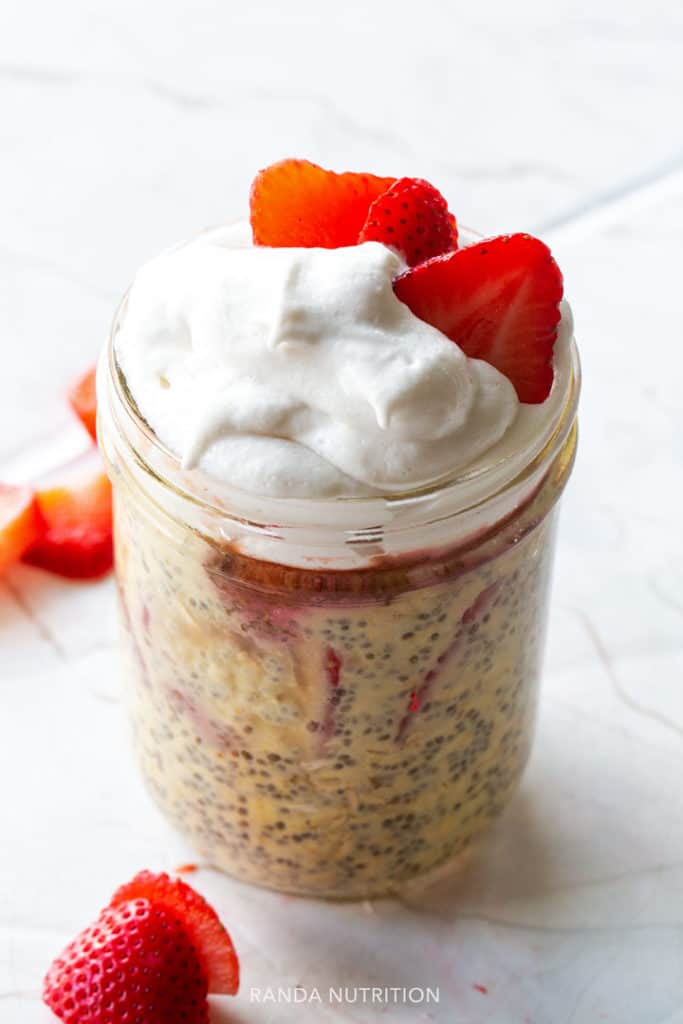 Protein powder is a great low-calorie overnight oats hack, you can add more protein for satiety but for less energy.
Strawberry Rhubarb Protein Overnight Oats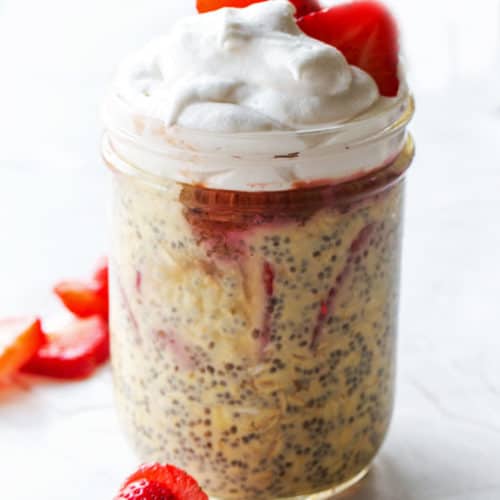 Need an easy overnight oats recipe? These healthy strawberry rhubarb overnight oats made with protein powder are a great way to start the day. Make them ahead of time in a jar for a meal prep breakfast and snack!
Instructions
Mix together the almond milk, oats, protein powder, and chia seeds in a bowl. Taste. If your protein powder isn't sweet enough, add a tablespoon of honey.

In a mason jar (or reusable container) pour half the oat mixture in, then spoon 1/4 cup of the strawberry rhubarb sauce over top, add the sliced strawberries, and layer the remainder of the oats on top. Let sit overnight, covered, in the fridge.

Top with additional sauce (if desired) and coconut whipped cream.
Nutrition
Serving:
1
serving
Calories:
257
kcal
Carbohydrates:
35
g
Protein:
15
g
Fat:
8
g
Saturated Fat:
2
g
Cholesterol:
31
mg
Sodium:
208
mg
Potassium:
291
mg
Fiber:
7
g
Sugar:
11
g
Vitamin A:
24
IU
Vitamin C:
17
mg
Calcium:
299
mg
Iron:
2
mg