Pina Colada Ice Cream Recipe (Dairy Free)
If you're looking to lower your added sugar intake and/or you're looking for a dairy free dessert then you will LOVE this pina colada ice cream recipe. It makes a delicious snack or a healthy dessert to have at the end of a long day.
The best part? It has only 4 ingredients.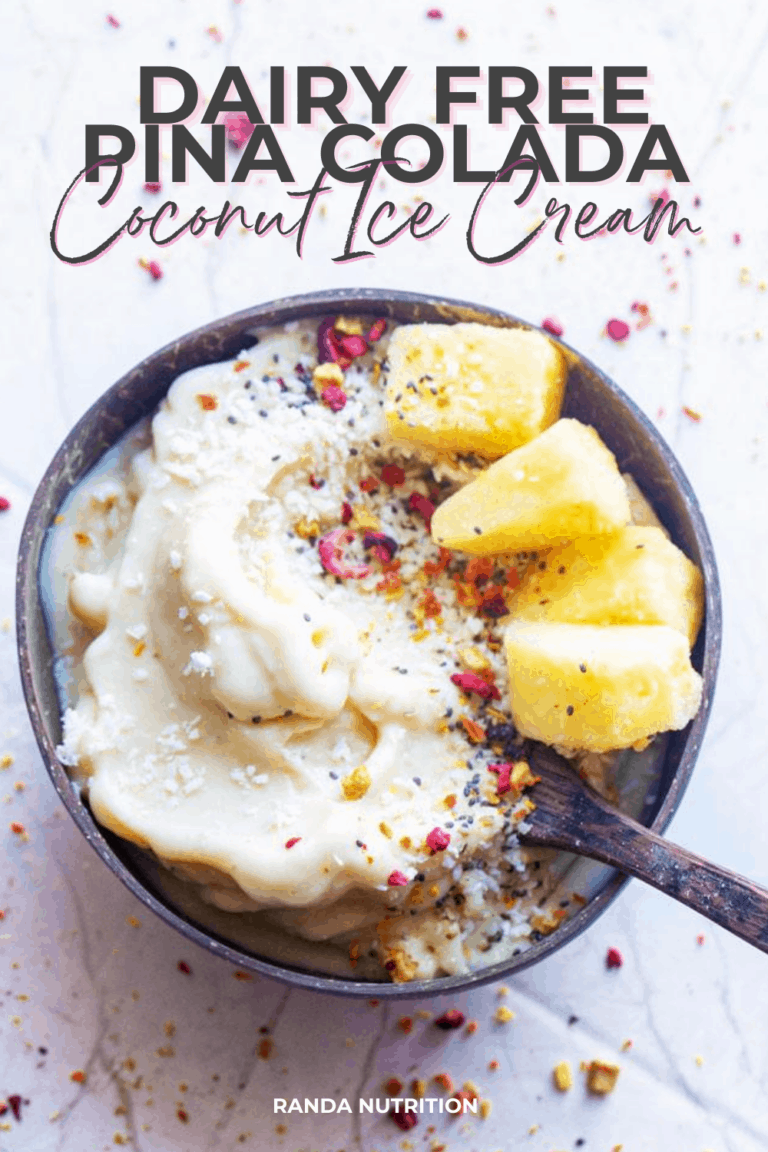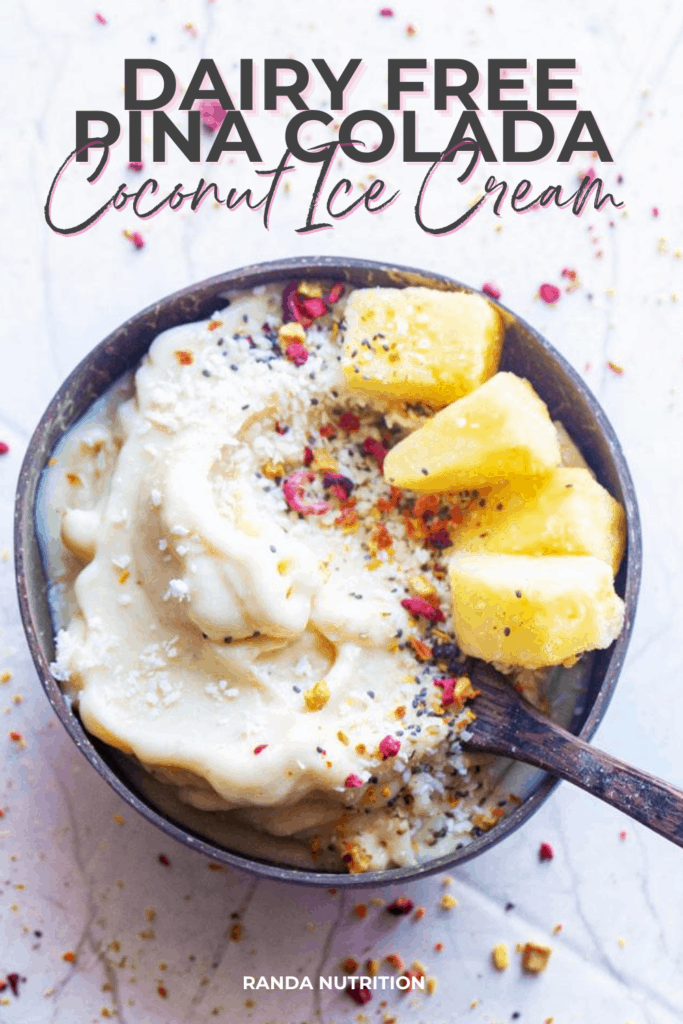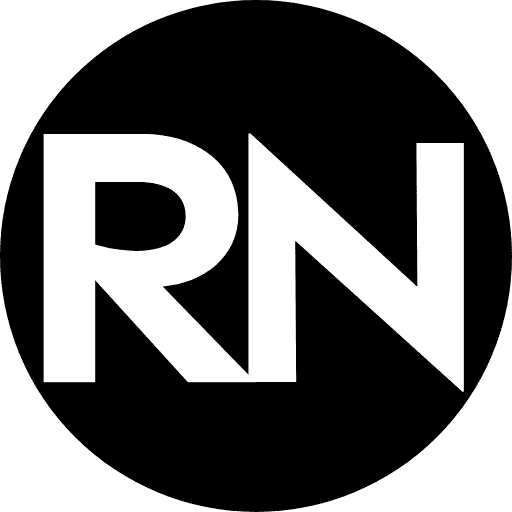 Save This Recipe!
Enter your email below & I'll send it straight to your inbox. Plus you'll get great new recipes every week!

Disclosure: This post contains affiliate links for your convenience. As an Amazon Associate, I earn from qualifying purchases.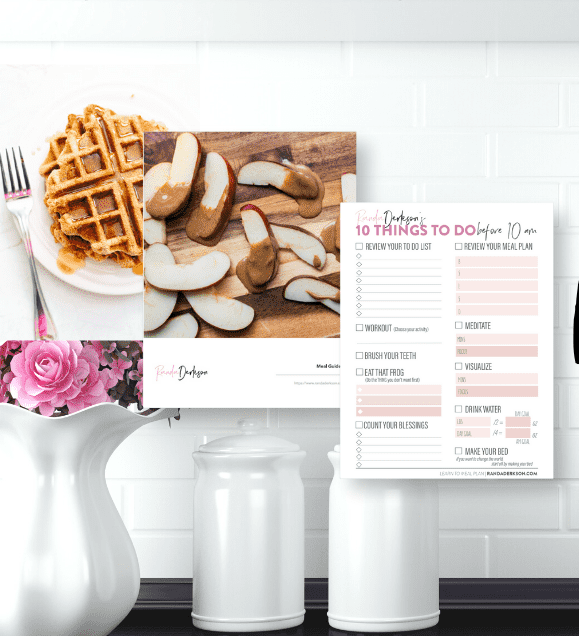 Get Access Free
Exclusive Nutrition and Healthy Living Library
Pina Colada Ice Cream
My favorite flavor is a tropical inspired pina colada. There is something about pineapple and coconuts together that is pure heaven.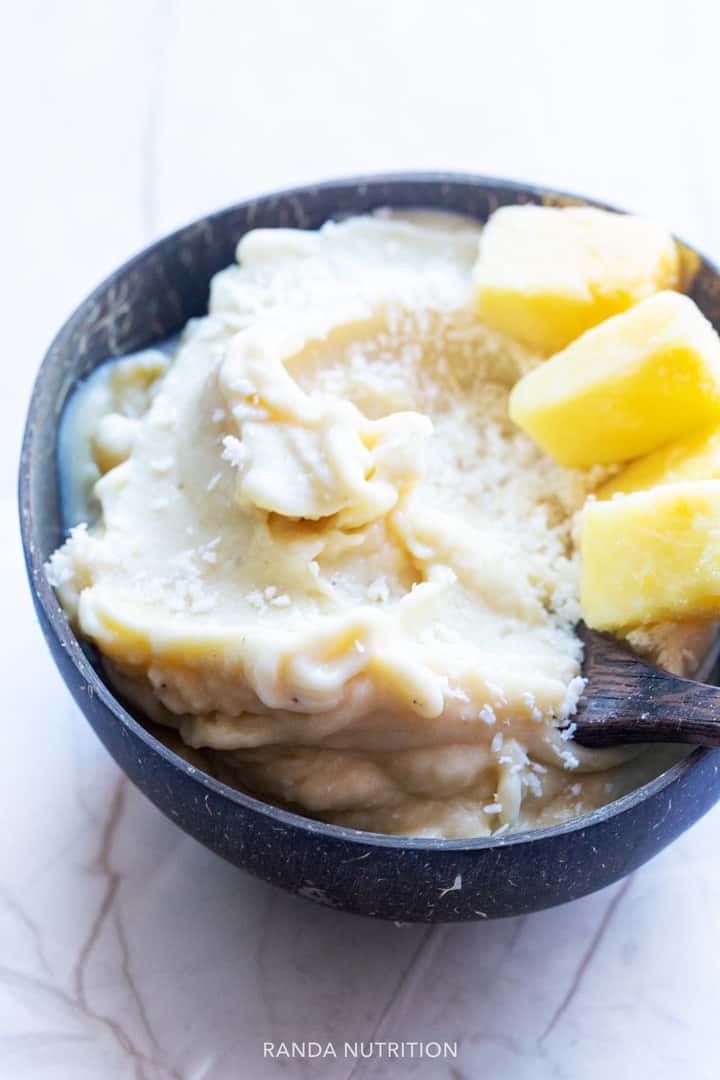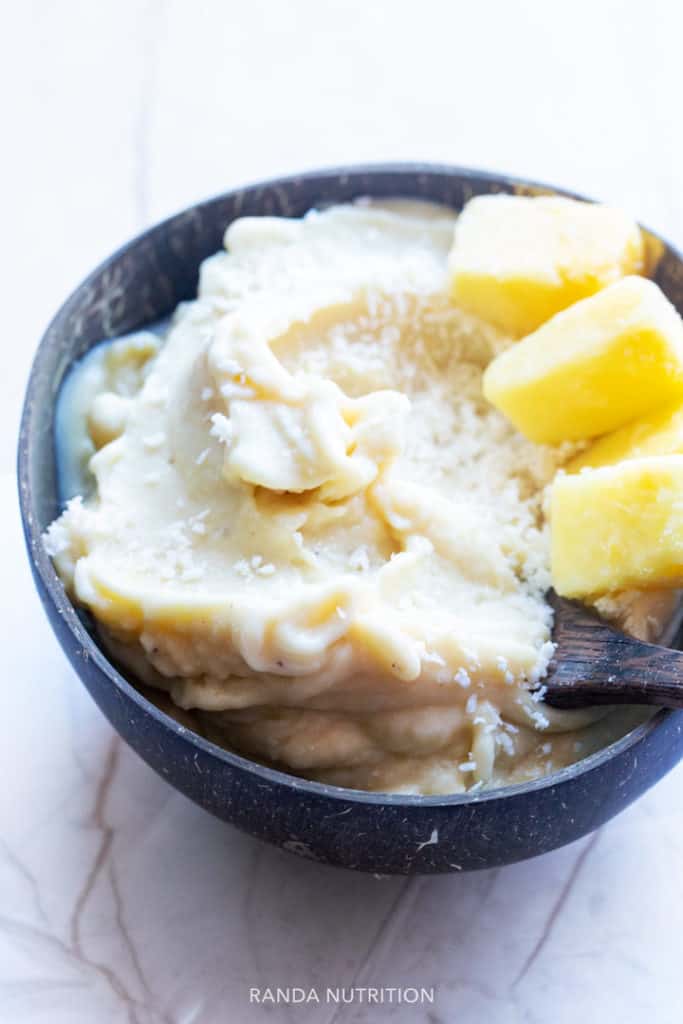 I've been working on my Nutrition Guide for months now and as I'm finishing it up, I am creating more healthy treats. I wanted to share a tropical ice cream recipe and this is how the pina colada nice cream was born.
This was meant for Nutrition Guide clients only, but it was too good to not share. You're welcome, trust me. You're going to love this!
What is "Nice Cream"?
Nice cream is made by blending frozen bananas. It typically has no added sugar but it's still sweet, thanks to the natural sugars of the bananas.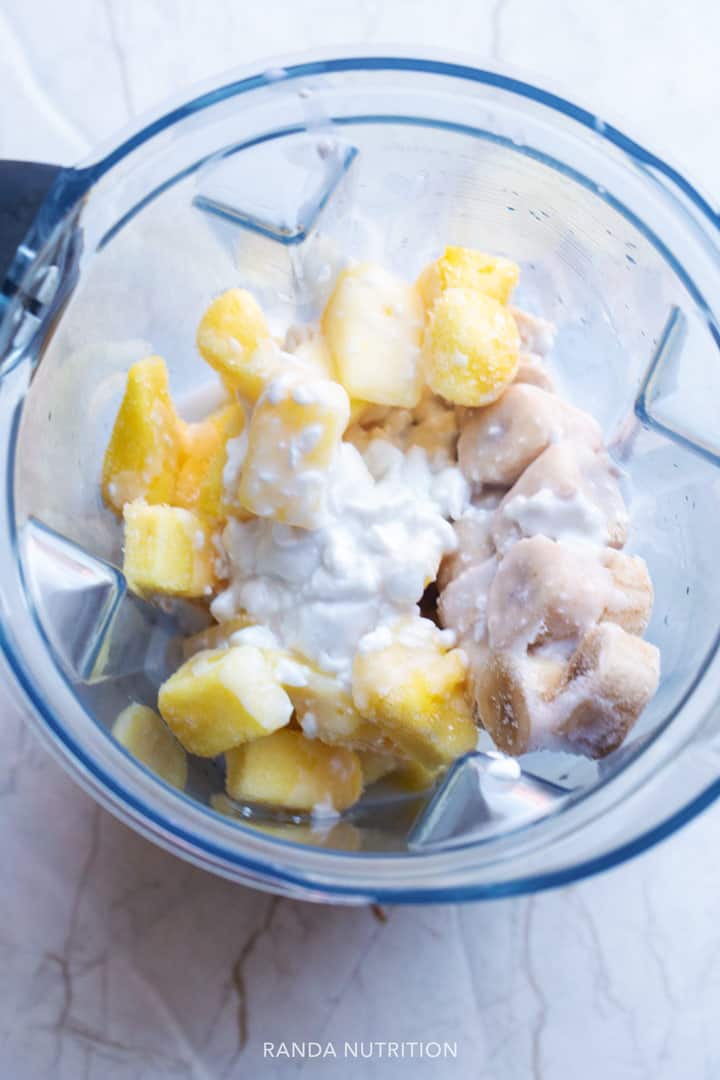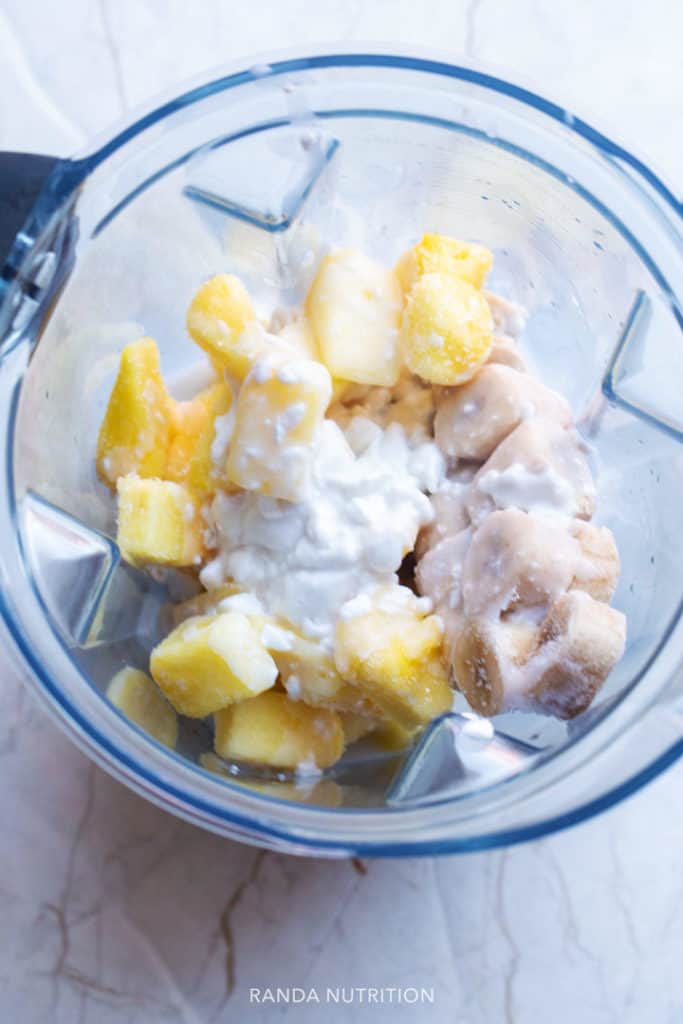 This recipe uses not only frozen bananas but also coconut milk (from the can, not the carton). It's a plant-based ice cream that's perfect for vegans and vegetarians.
You will want the full-fat canned coconut milk. Once you open the can, don't forget to stir it together to mix together the coconut cream and water.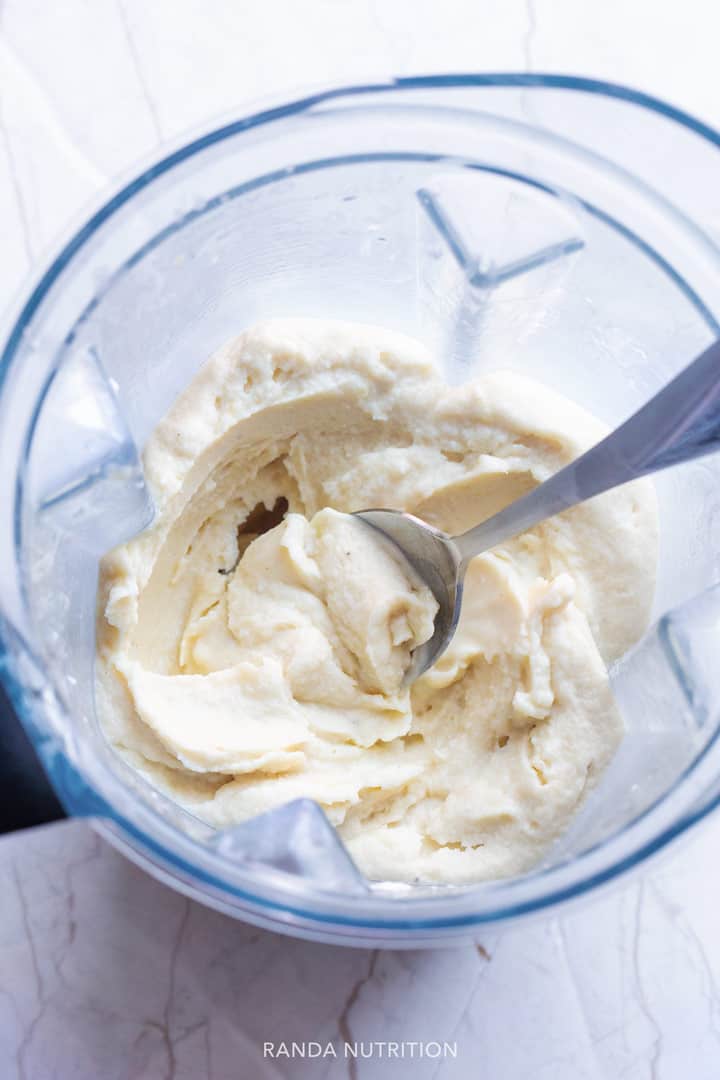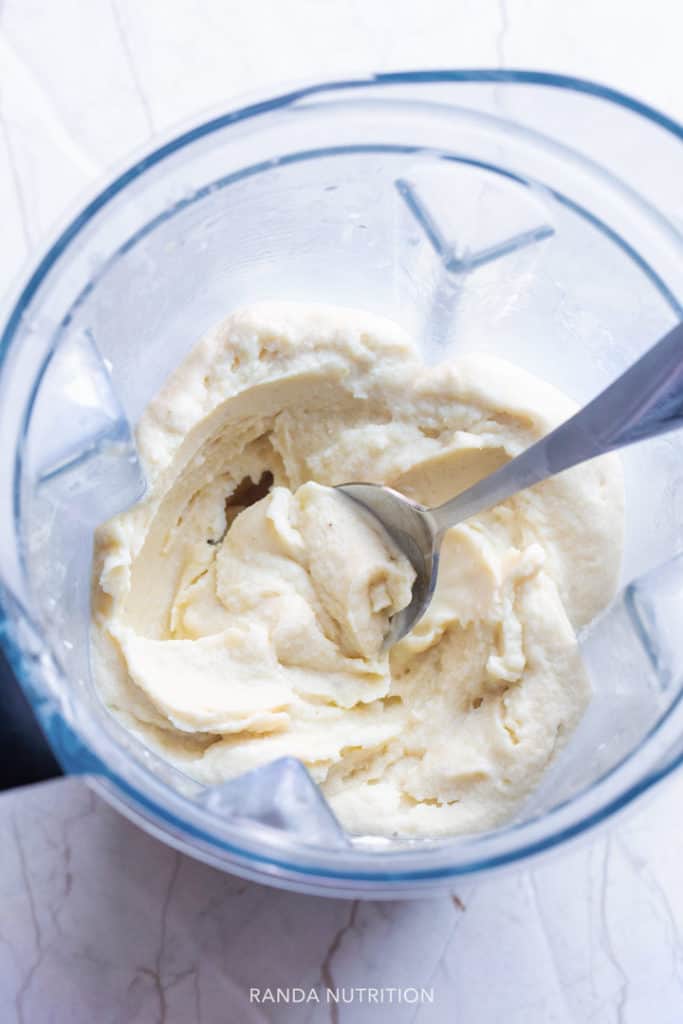 Do you taste the bananas?
When you make a dairy free ice cream out of bananas, you surprisingly don't notice a banana flavor (depending on your flavor combinations).
This pina colada nice cream recipe doesn't have an overpowering flavor of bananas, in fact it makes me thing of a tropical twist on one of my Disney favorites, Dole Whip.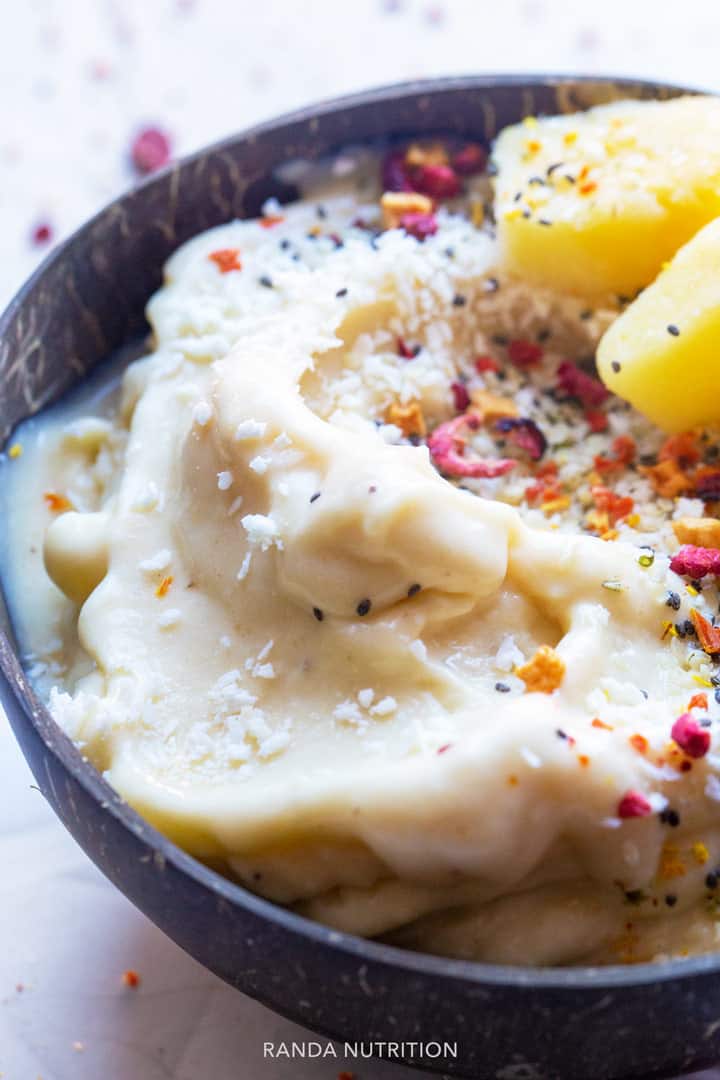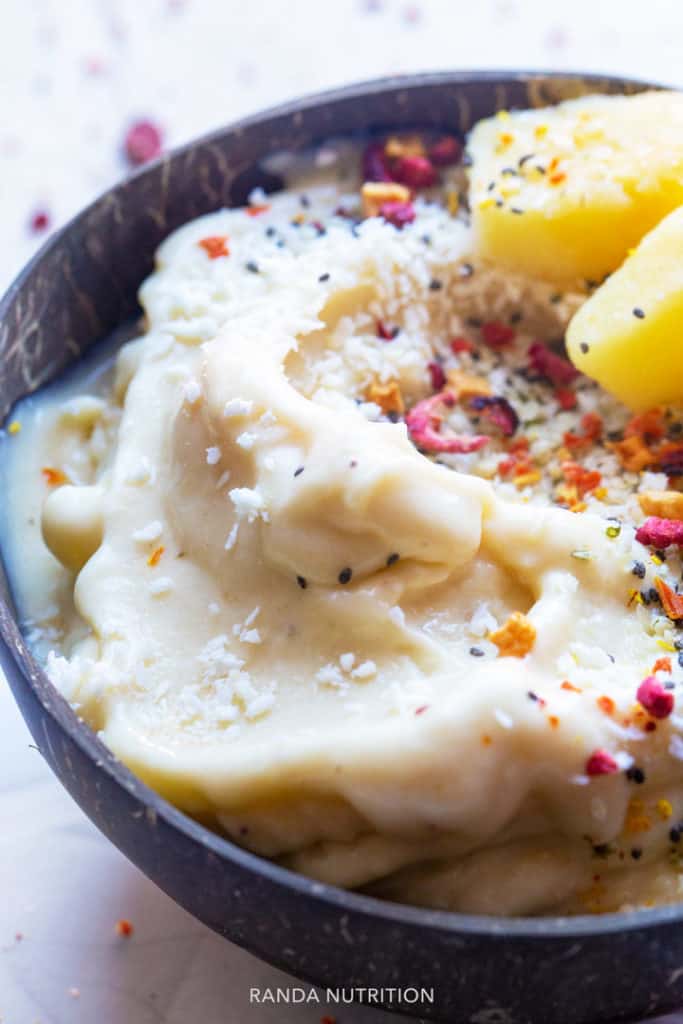 Fresh or Frozen Fruit for Nice Cream
I used frozen bananas and pineapples. This gave the nice cream, the ice cream consistancy.
If you don't have them frozen ahead of time, and you're reading this now. You can blend the fresh fruit together, pour it in a loaf pan or ice cream container and freeze. It will take a few hours to harden up.
It's easier to use the fruit already frozen if you ask me. That way you just blend it and eat it right away (which is a huge win when you want something sweet, right away).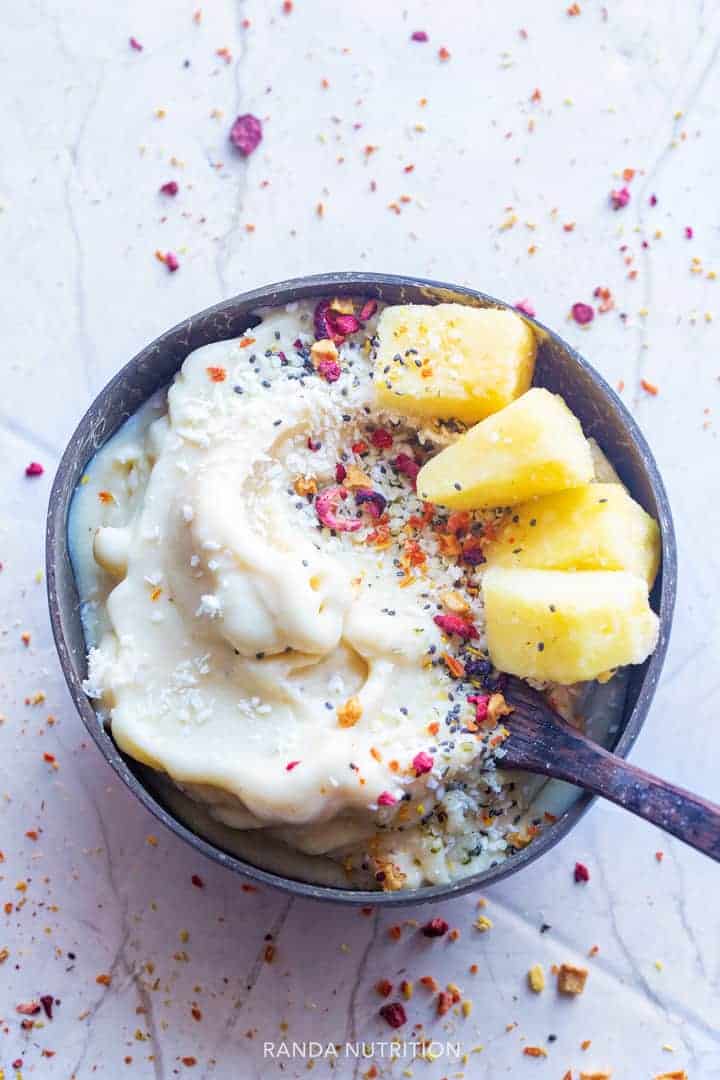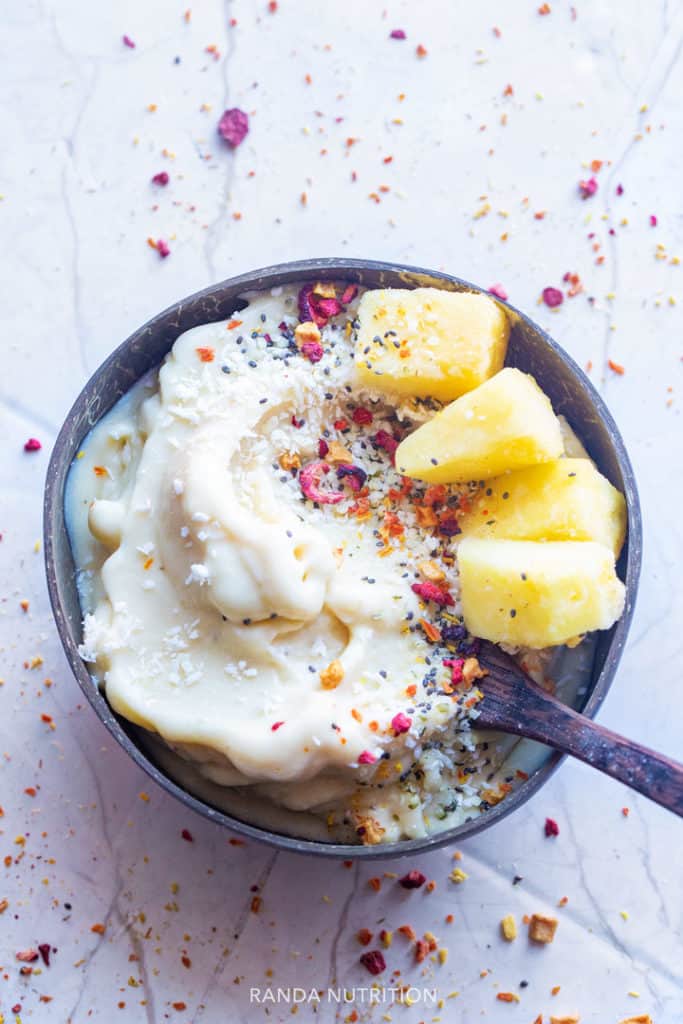 How to Freeze Bananas
The best way to freeze bananas is the following:
Peel the bananas (you can slice them if you want).
Flash freeze them by laying the bananas on a sheet pan and freeze them whole.
Once frozen, you pop them in a reusable bag and store them in freezer.
Topping Ideas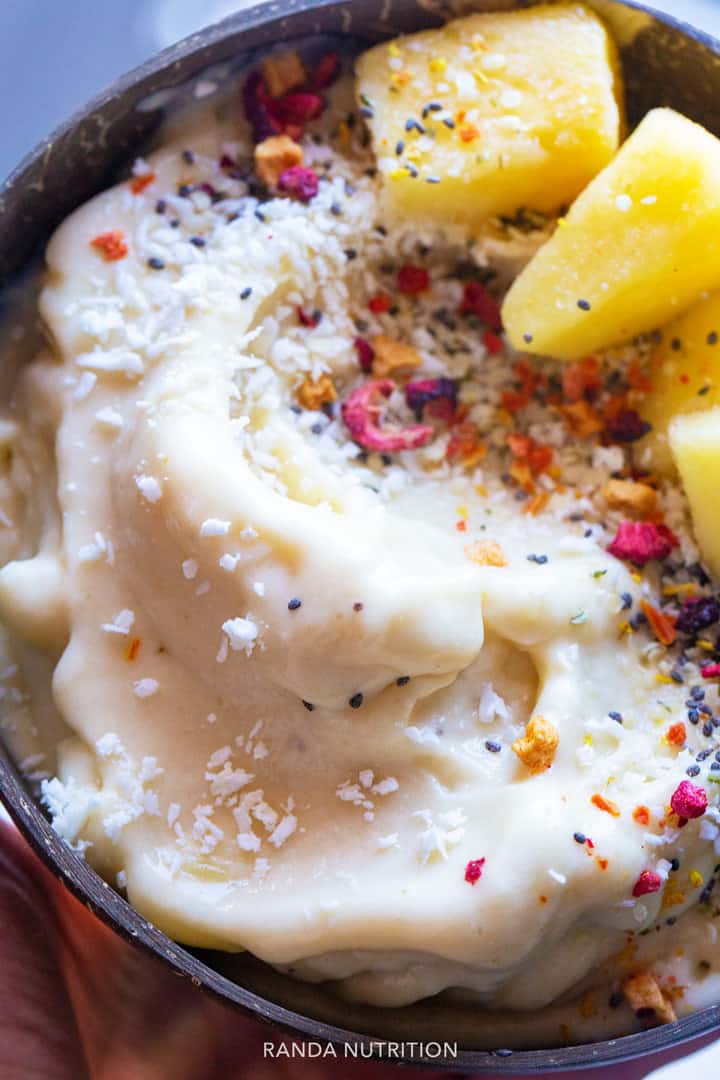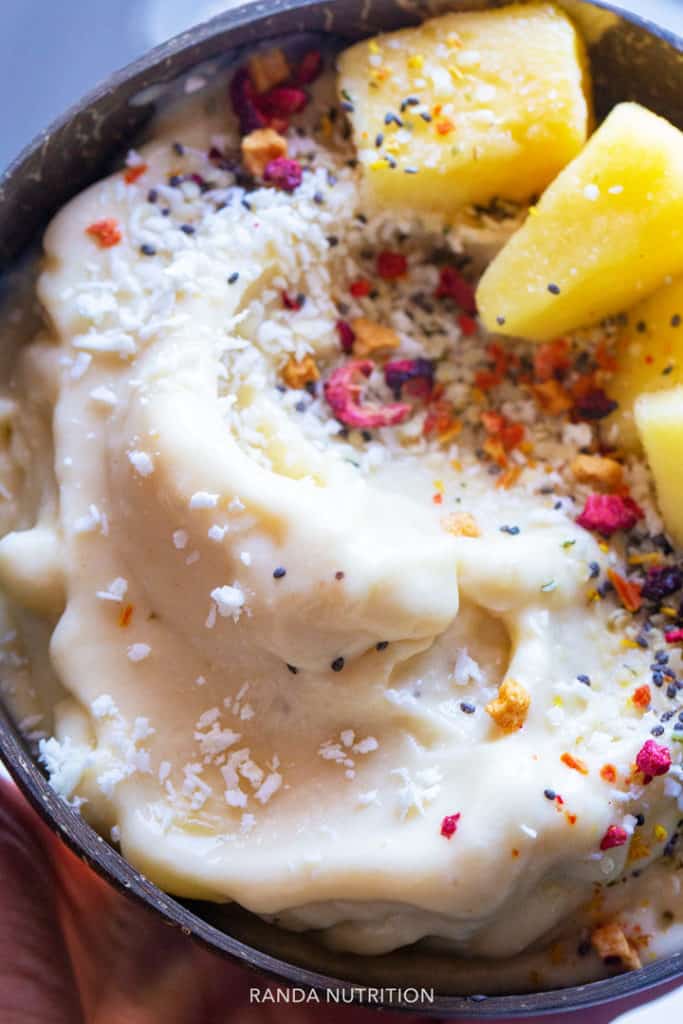 Don't forget to join the 30 Days to a Healthier You Challenge. Stop starting over when it comes to your health because you're overwhelmed with ALL THE THINGS. Instead, ease into it with this step-by-step challenge.
If you want to jazz up your tropical ice cream recipe here are a few toppings you can add:
Fresh fruit
Unsweetened shredded coconut (toasted** or untoasted)
Hemp seeds
Chia Seeds
Dehydrated fruit (I used Tutti Frutti from Epicure in the photos).
** To toast the coconut simply spread unsweetened coconut on a baking sheet and bake at 350 for 5-10 minutes, keep an eye on it. Or toast it in a dry pan for 3-5 minutes until golden brown.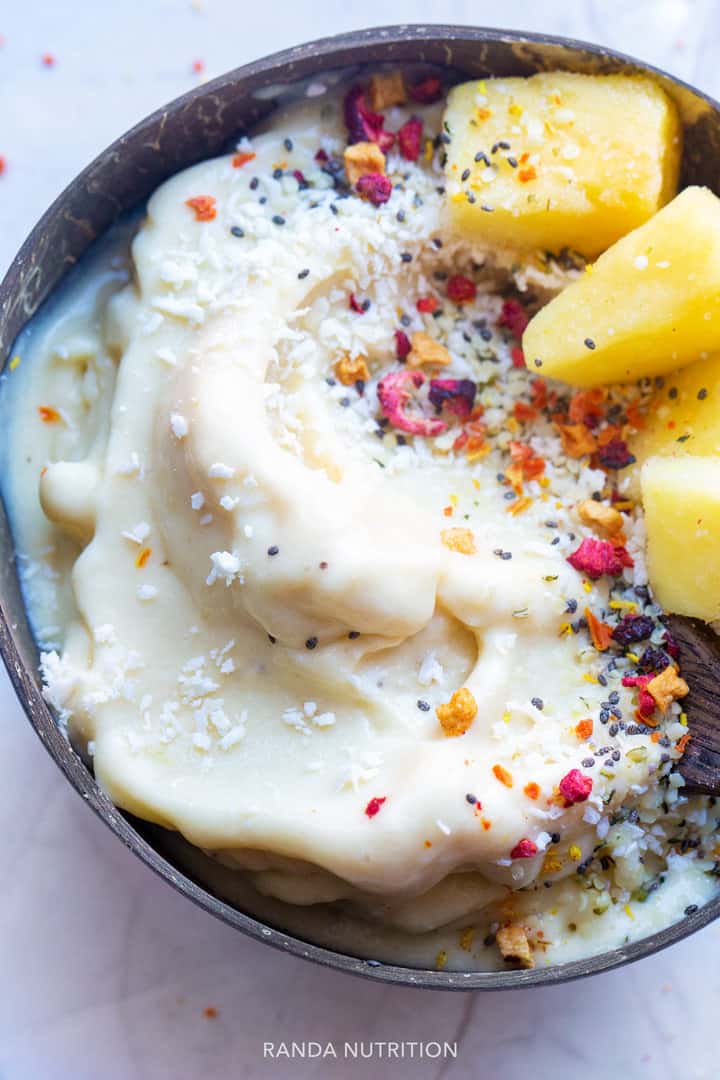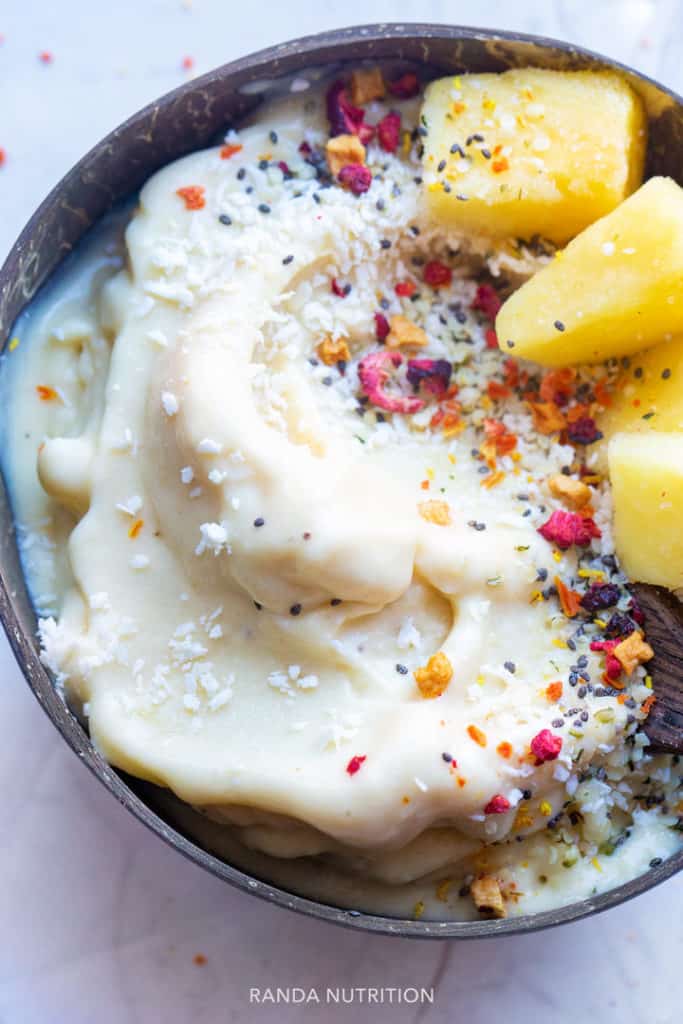 How to Make Dairy Free Ice Cream
To make a healthy ice cream you only need a few supplies:
A high powered blender (like a Vitamix or Ninja)
or
I served this coconut ice cream in a coconut shell bowl. These are the ones I have.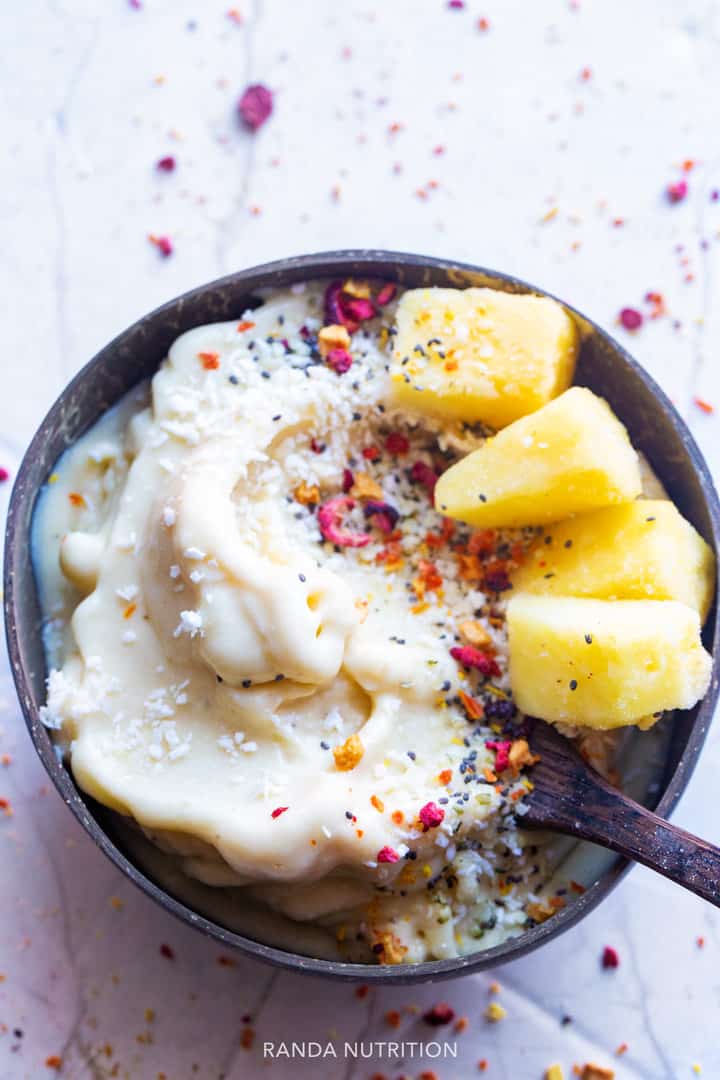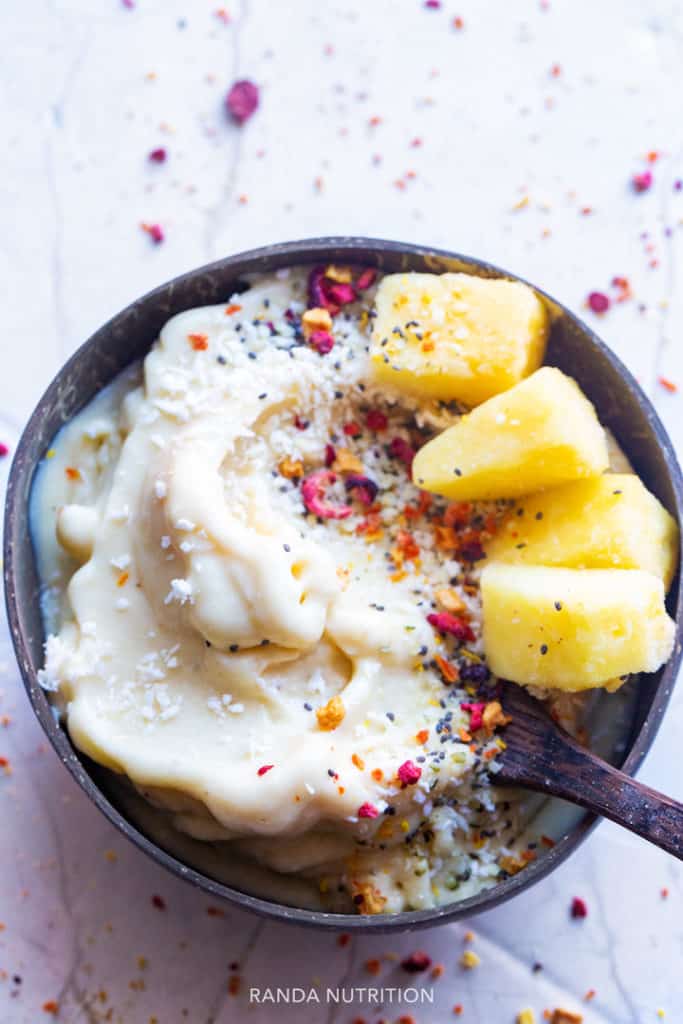 More healthy desserts to try: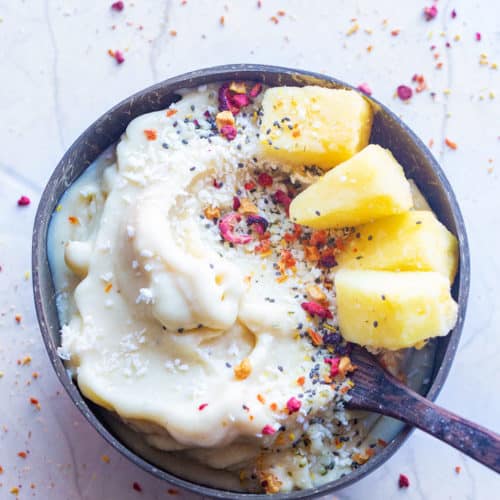 Looking for a healthy dessert or snack? You have to make this pina colada ice cream recipe! It's a tropical dairy free treat that you'll make over and over.
Ingredients
2

bananas

frozen

2

cups

pineapples

frozen

1/2

cup

canned coconut milk

stirred

1/4

teaspoon

coconut extract
Optional Toppings
1

teaspoon

unsweetened coconut flakes

1/2

teaspoon

hemp hearts

1/2

teaspoon

chia seeds

1/2

teaspoon

freeze dried fruit
Instructions
Add all of the ingredients into the blender. Make sure to gently stir the coconut milk so the coconut cream and water are blended.

Process/blend until smooth, about 3-5 minutes. Serve on it's own or with optional toppings.
Nutrition
Serving:
1
serving
Calories:
164
kcal
Carbohydrates:
26
g
Protein:
2
g
Fat:
7
g
Saturated Fat:
6
g
Sodium:
6
mg
Potassium:
380
mg
Fiber:
3
g
Sugar:
16
g
Vitamin A:
86
IU
Vitamin C:
45
mg
Calcium:
18
mg
Iron:
1
mg