There are so many easy ways to cook spaghetti squash, depending on your preference and how much time you have. I'm here to share with you how to cook spaghetti squash in the pressure cooker, slow cooker, roasted, steamed, and even in the microwave.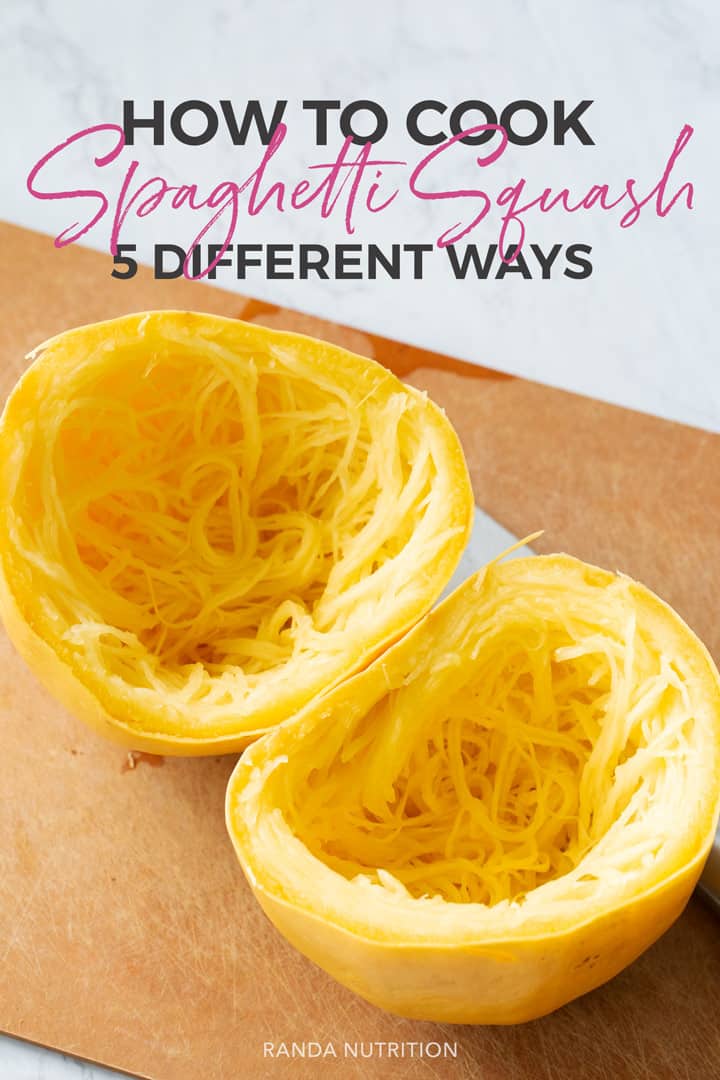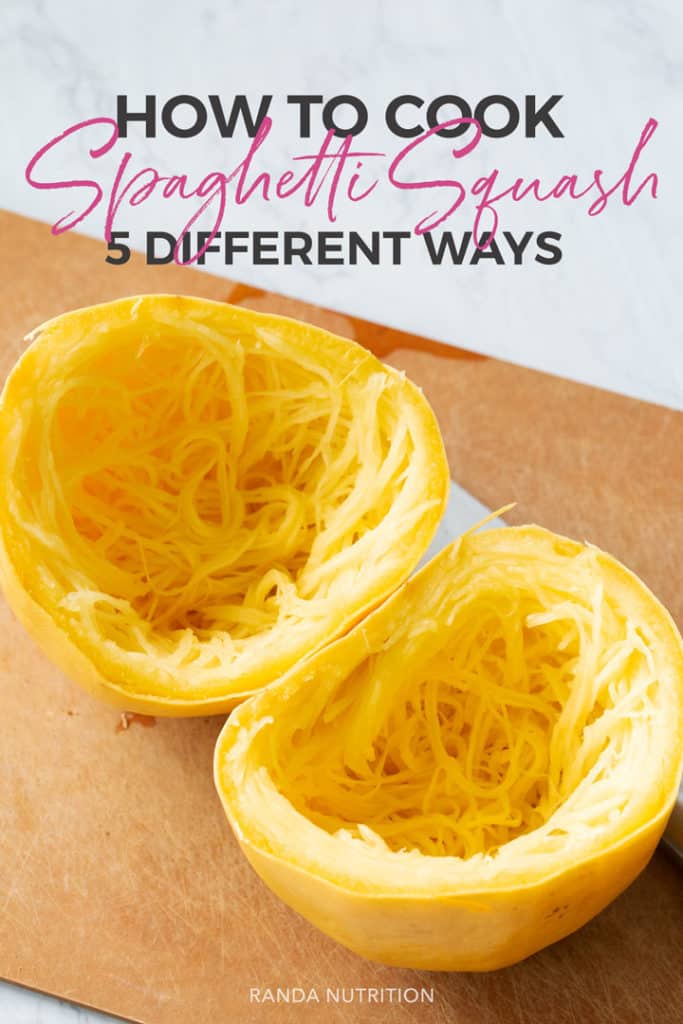 Disclosure: This post contains affiliate links for your convenience. As an Amazon Associate, I earn from qualifying purchases.
Easy Ways to Cook Spaghetti Squash
I wanted to share a few different ways to cook spaghetti squash regardless of how much time you have. I have included the following:
Roasted spaghetti squash
Steamed spaghetti squash
Slow Cooker spaghetti squash
Instant Pot spaghetti squash
Spaghetti squash cooked in the microwave
All of these options have a variety of cooking the spaghetti squash whole or cut in half.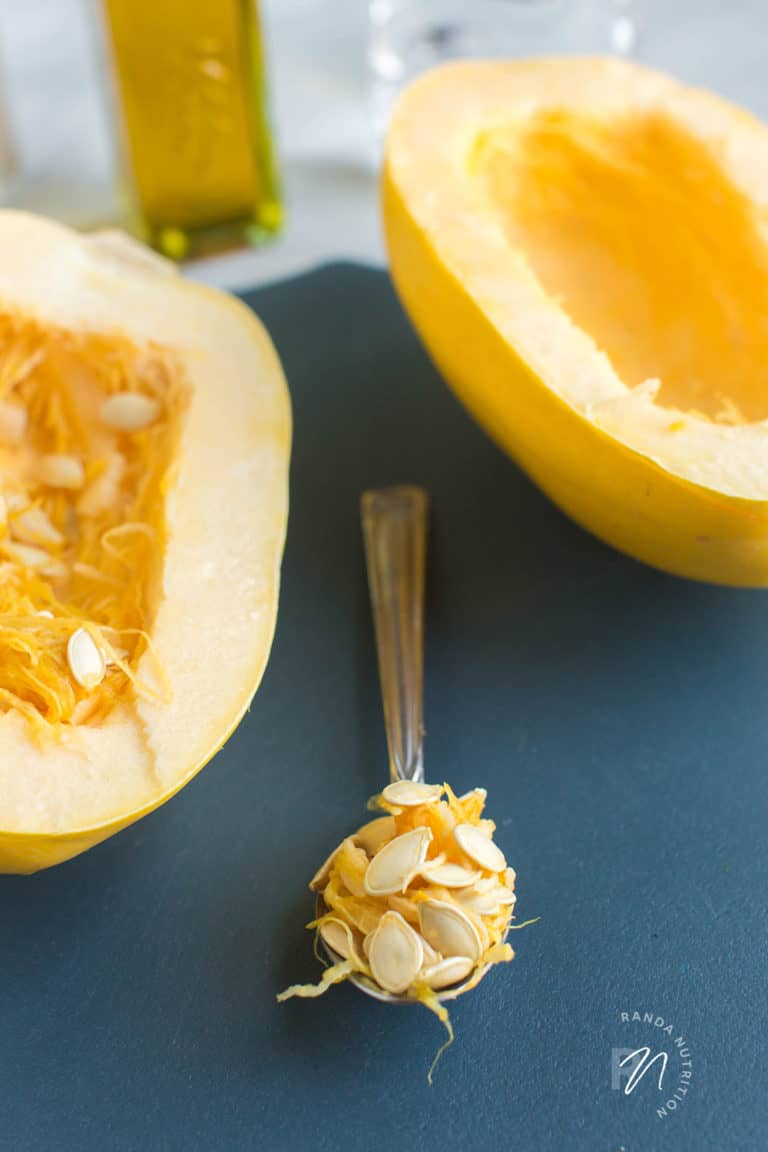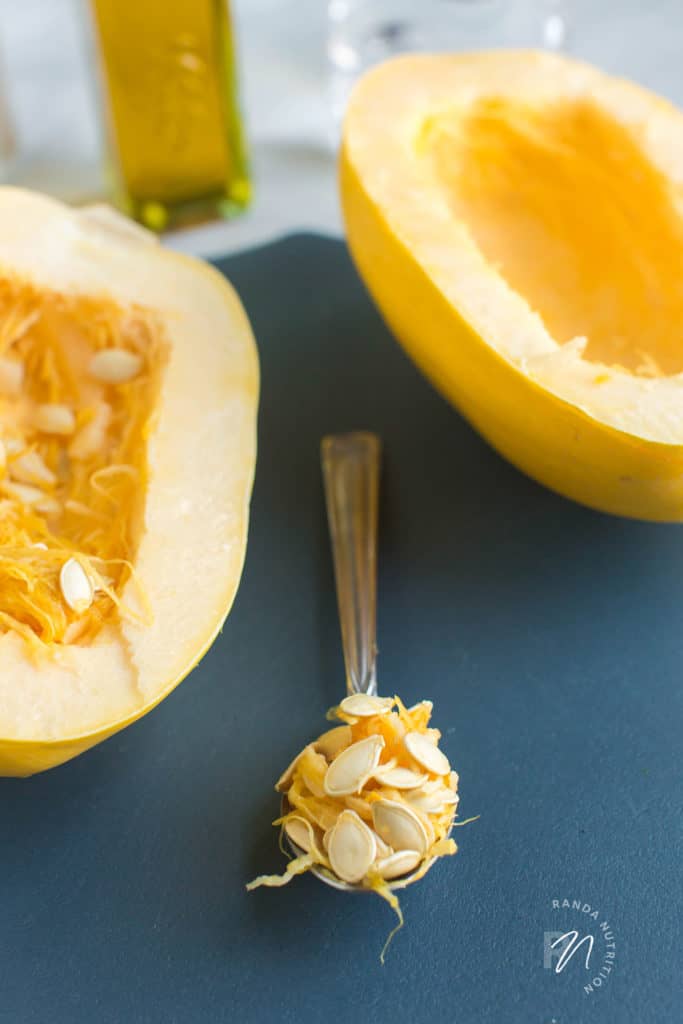 Healthy Spaghetti Squash Recipes
I don't have too many spaghetti squash recipes up on Randa Nutrition yet, but they're coming. Truth be told, I often forget about squash during my weekly meal planning and that's going to have to change because my toddler loves it.
Spaghetti Squash Lasagna
Chicken Pesto Stuffed Spaghetti Squash
Cutting the Spaghetti Squash Lengthwise vs Widthwise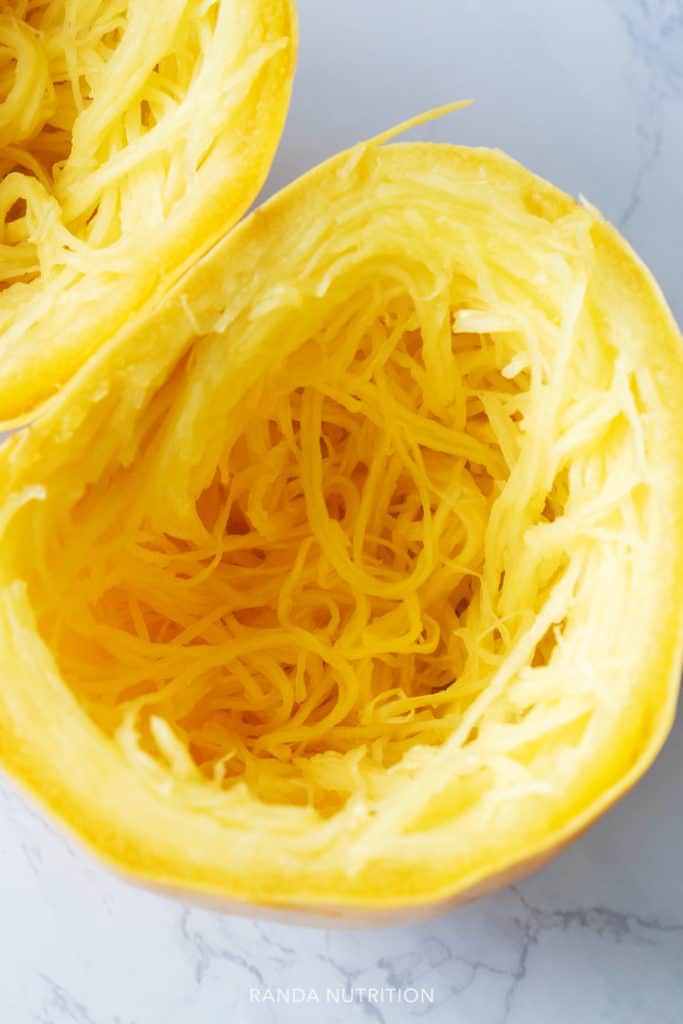 If you cut the squash widthwise instead of lengthwise you will get longer "spaghetti-like" strands.
Plus it also gives you more surface to salt (which helps prevent it from getting mushy).
This is a personal preference, so do what you prefer.
How to Roast Spaghetti Squash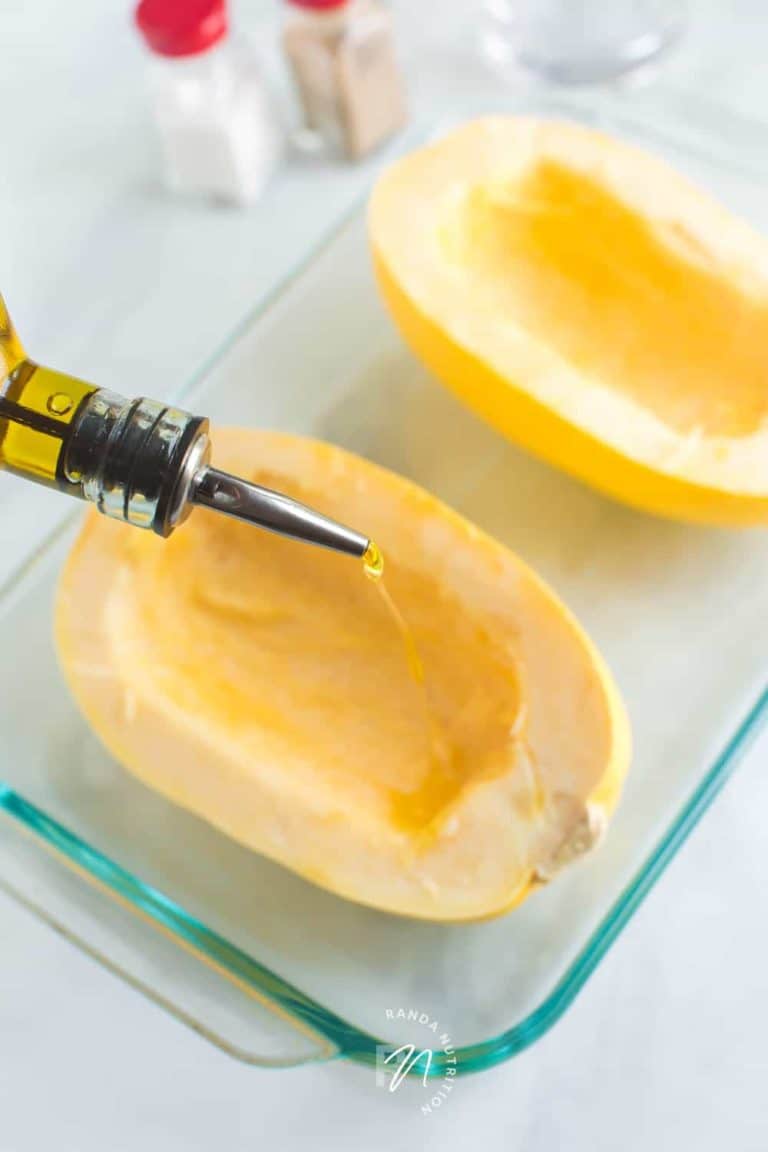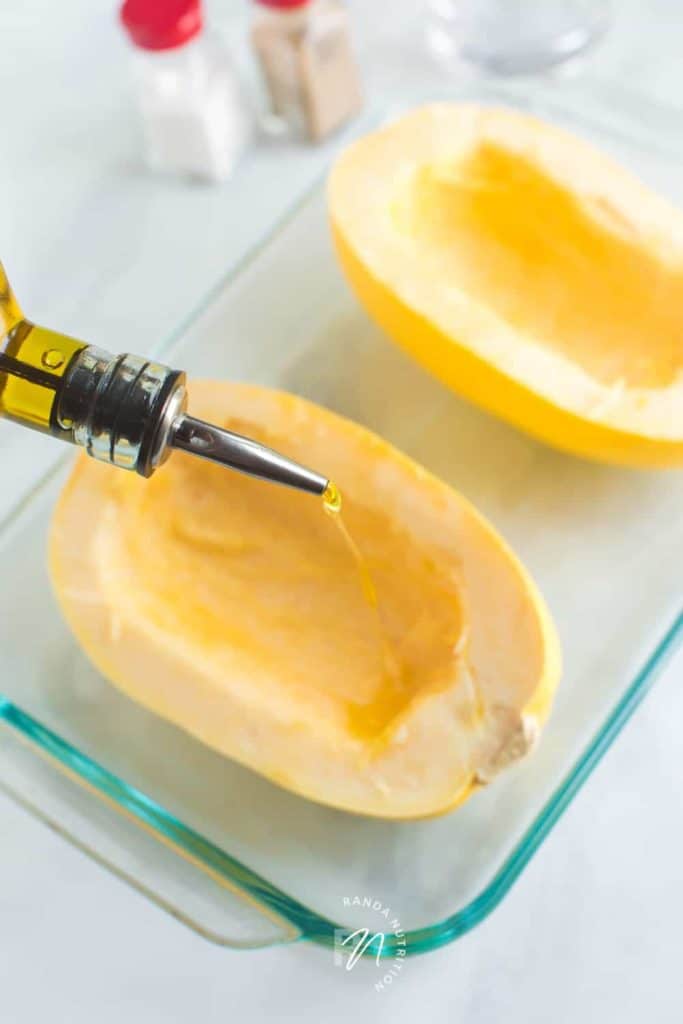 Slice the squash lengthwise, scoop out the seeds and discard.
Rub a little olive oil, sea salt, and pepper over the meat of the squash and lay meat side down on a parchment-covered baking sheet.
Roast at 400F for 45-50 minutes (or until a knife can pierce through the skin with ease).
How to Cook/Steam Spaghetti Squash
This is my favorite way to cook spaghetti squash, it comes out so tender and easy to shred with a fork.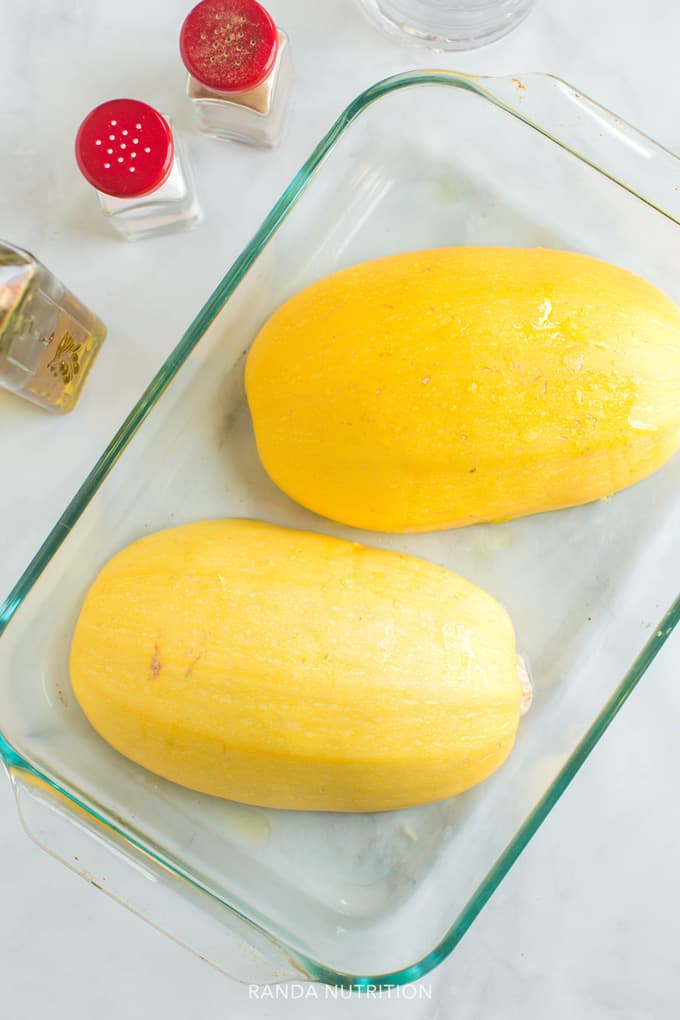 Slice your spaghetti squash lengthwise with a sharp knife. Scoop out the sides and discard. Rub the squash with a little olive oil, salt, and, pepper.
Place the squash on a 9×13 pan (or one that holds the size of your squash) cut side down. Add 1 cup of water.
Bake for 35-45 minutes at 400F.
It will be read when you can effortlessly pierce through the skin with a knife or a fork.
How to Cook Spaghetti Squash in the Slow Cooker
Take a sharp knife and stab the squash in multiple places to create little vents to allow steam to escape. This is important, don't skip this step.
Place the whole squash at the bottom of your slow cooker. Cover with a lid.
Cook on high for 3-4 hours or low for 6-7 hours (this will depend on the size of your squash).
Let the squash cool before you cut it open to remove the seeds. Be careful with your grip, as the squash skin will be soft.
How to Cook Spaghetti Squash in the Instant Pot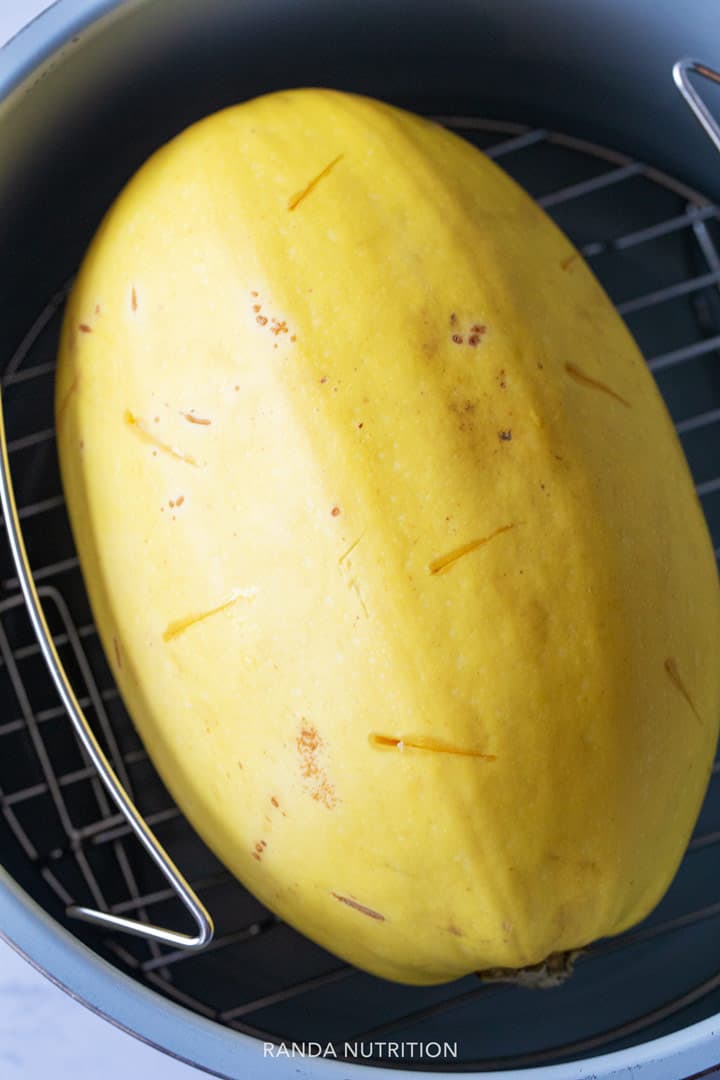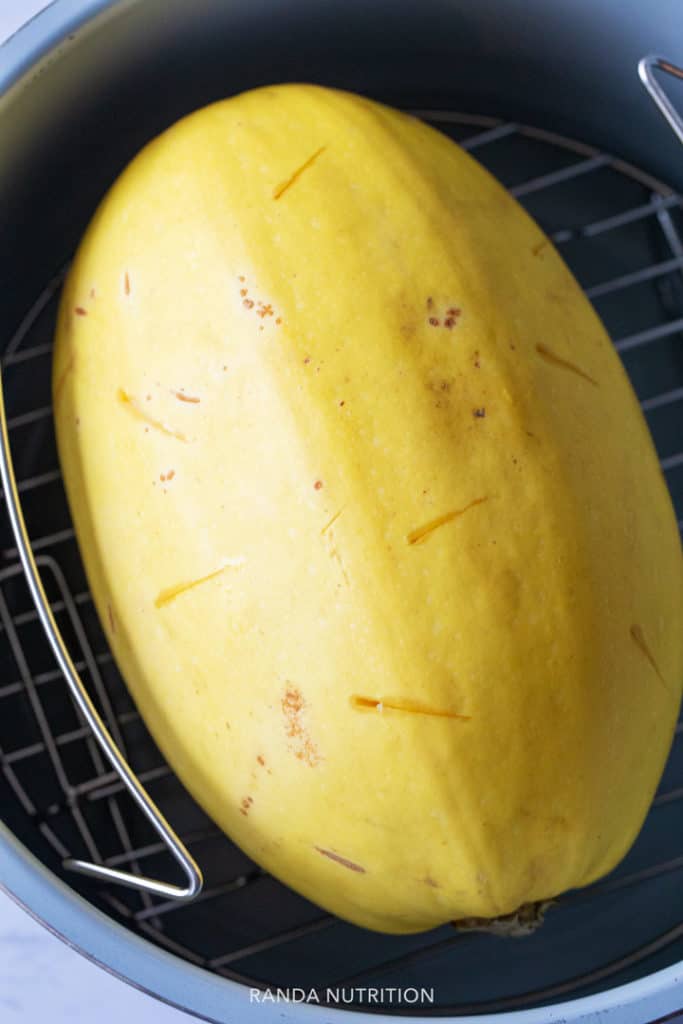 Prepare the pressure cooker by adding an Instant Pot trivet to the bottom and adding 1 cup of water (or chicken/vegetable broth for a little extra flavor).
Take a sharp paring knife and prick the squash multiple times to allow venting for steam to escape while it cooks.
Place the squash in the Instant Pot, on top of the trivet.
Seal the pressure cooker and cook on manual high pressure for 6-8 minutes (depending on the size of the squash).
Do a quick release to relieve the pressure.
Unseal the pressure cooker and let the spaghetti squash cool. Once it's cool to the touch, slice it open and scoop out the seeds.
I use a Ninja Foodi for my pressure cooking. The top of the spaghetti squash did touch the lid a bit but it cooked fine.
Since you're using your Instant Pot, try these Spaghetti Squash Taco Bowls from my friend Becca at My Crazy Good Life.
How to Microwave Spaghetti Squash
If you don't use the whole squash at dinner time you can store it in the refrigerator for up to 3-5 days.
I prefer to scrape the flesh out and store them in these sealed meal prep containers to prolong freshness.
You can also store the squash slices (whole and not touched) if you wrap them in plastic wrap or beeswax food wraps.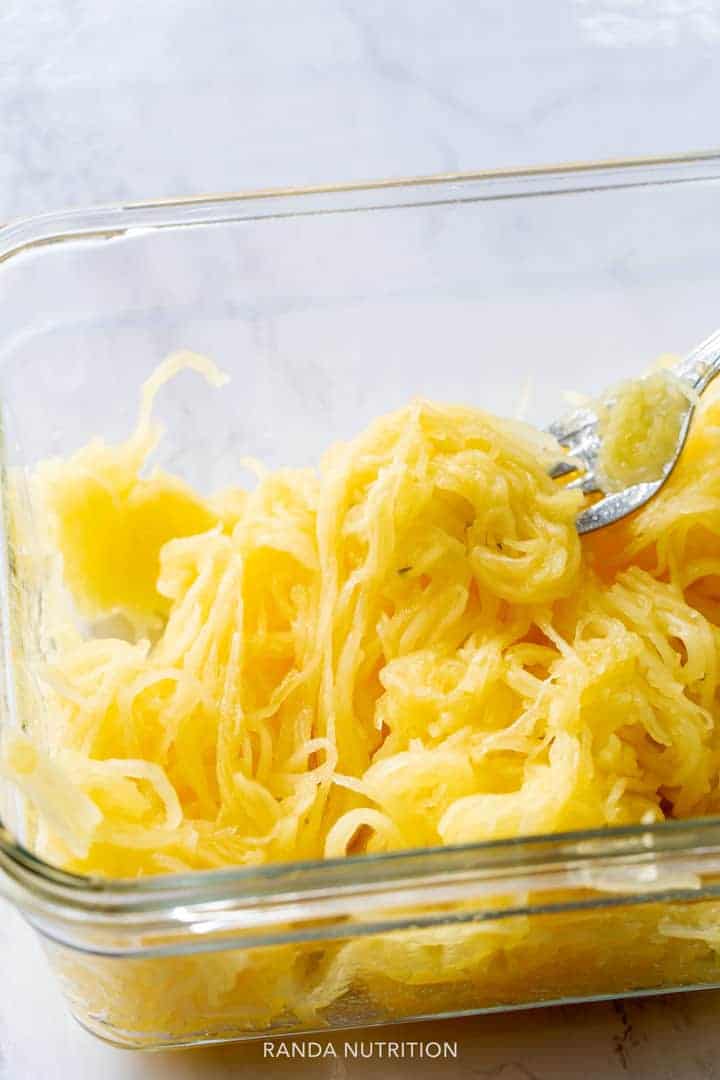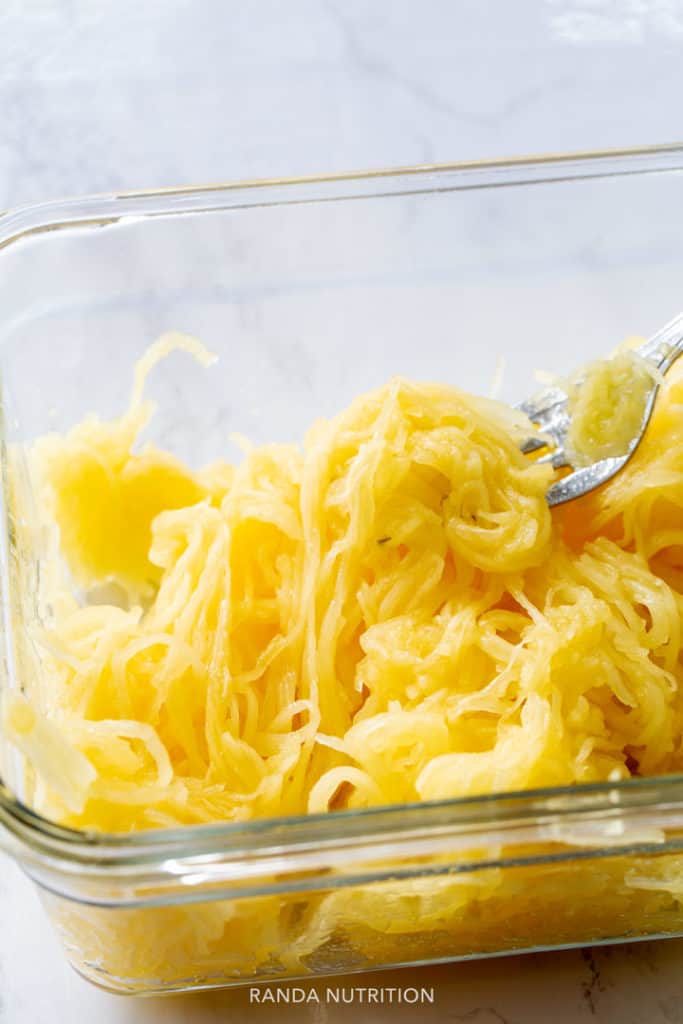 Can You Freeze Cooked Spaghetti Squash?
To freeze cooked spaghetti squash you will have to follow the following steps:
Make sure the squash is 100% cooled to room temperature. If you're doing this in the summer or your home is warm, toss the squash in the fridge. This will prevent the squash from getting mushy in the freezer.
Add the cooked squash to freezer bags (or another vessel that allows you to remove excess air).
If all the air has been removed you can expect it to last 6 months in the freezer.
I recommend reheating the squash in a skillet to help remove any extra moisture that may have been left during freezing.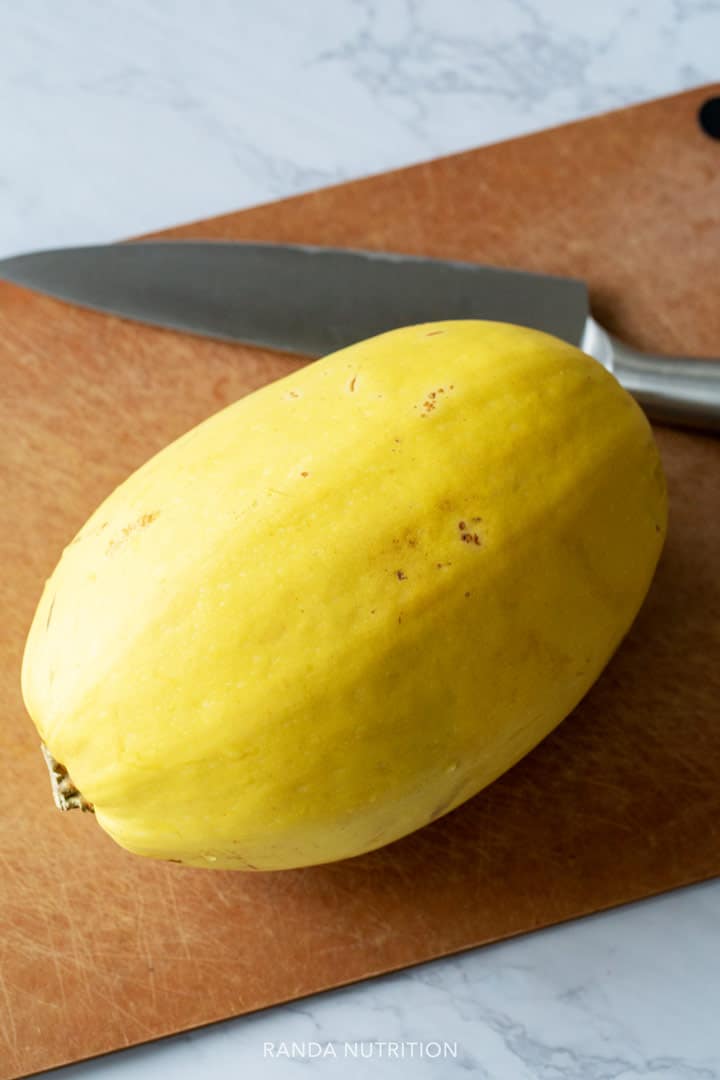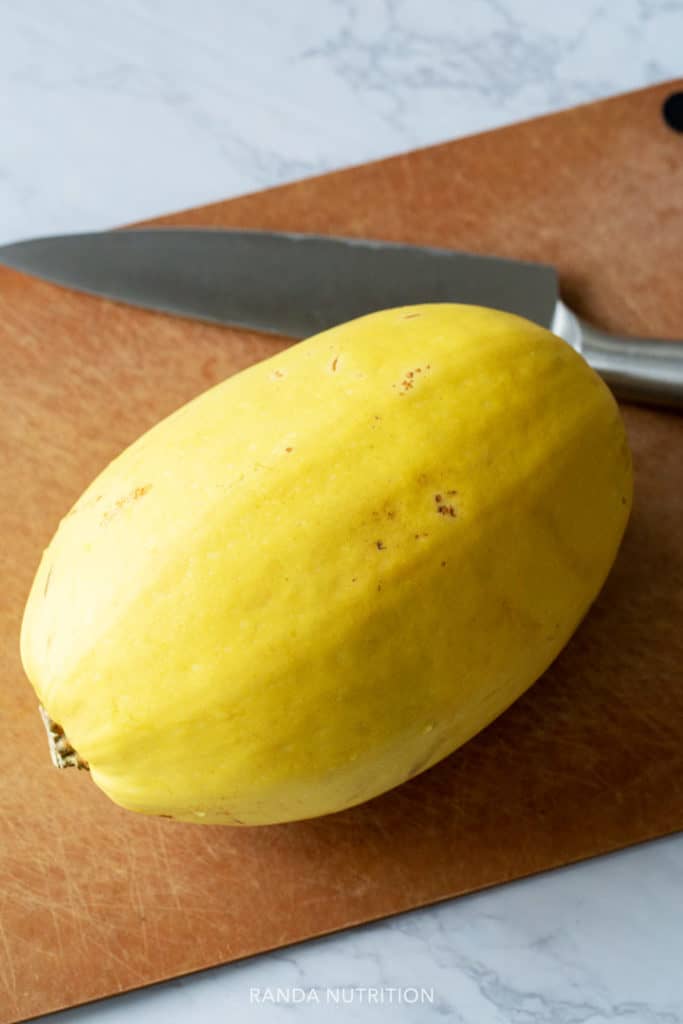 How Many Calories? Is Spaghetti Squash Low Carb?
Spaghetti squash has significantly fewer calories and carbs than traditional pasta, which makes it a great low carb option for family favorites like spaghetti.
The below information is for 1 cup (143g) of spaghetti squash source:
Calories in Spaghetti Squash: 42
Carbohydrates: 10g
Protein: 1g
Fat: 0.4
Fiber: 2g
Sugar: 4g
There you have it. There is your crash course in how to cook a spaghetti squash.
Let me know in the comments, your favorite way (or if you have another way not listed).
Don't forget to share this with your friends via Facebook or Pinterest and if you make it, tag me and use #randanutrition on Instagram.