Oh my gosh. This quick marinara sauce recipe is so freaking good! I've made it three times this month alone and I could easily make it every week. It's super easy, as you drop everything in the blender and mix it together and it goes well on everything.
You are going to love how easy this recipe is and how you can make a fast marinara sauce in no time.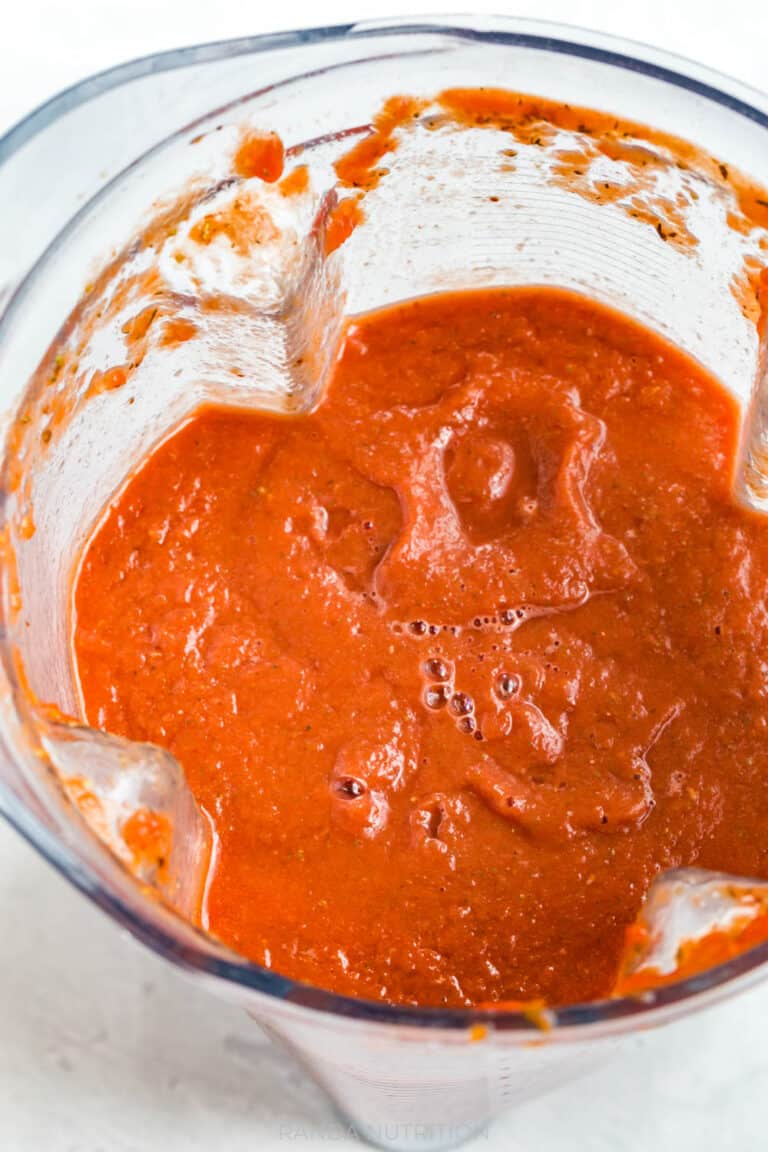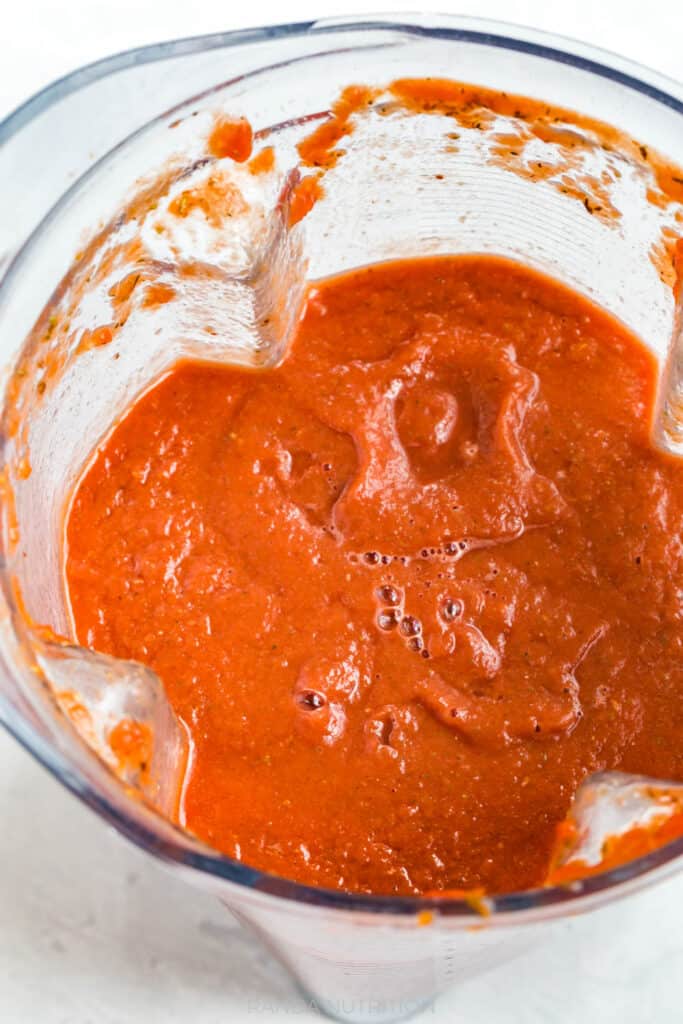 Disclosure: This post contains affiliate links for your convenience. As an Amazon Associate, I earn from qualifying purchases.
Quick Marinara Sauce Recipe
There is something that comforts my soul when I cook a pot of tomato sauce on the stove all day, but let's face it – I just don't have the time to watch a pot simmer all day (and I'm guessing neither do you).
Instead make a blender marinara sauce by chucking all the ingredients in the blender, whipping it up and heating it over the stove to toss over your pasta.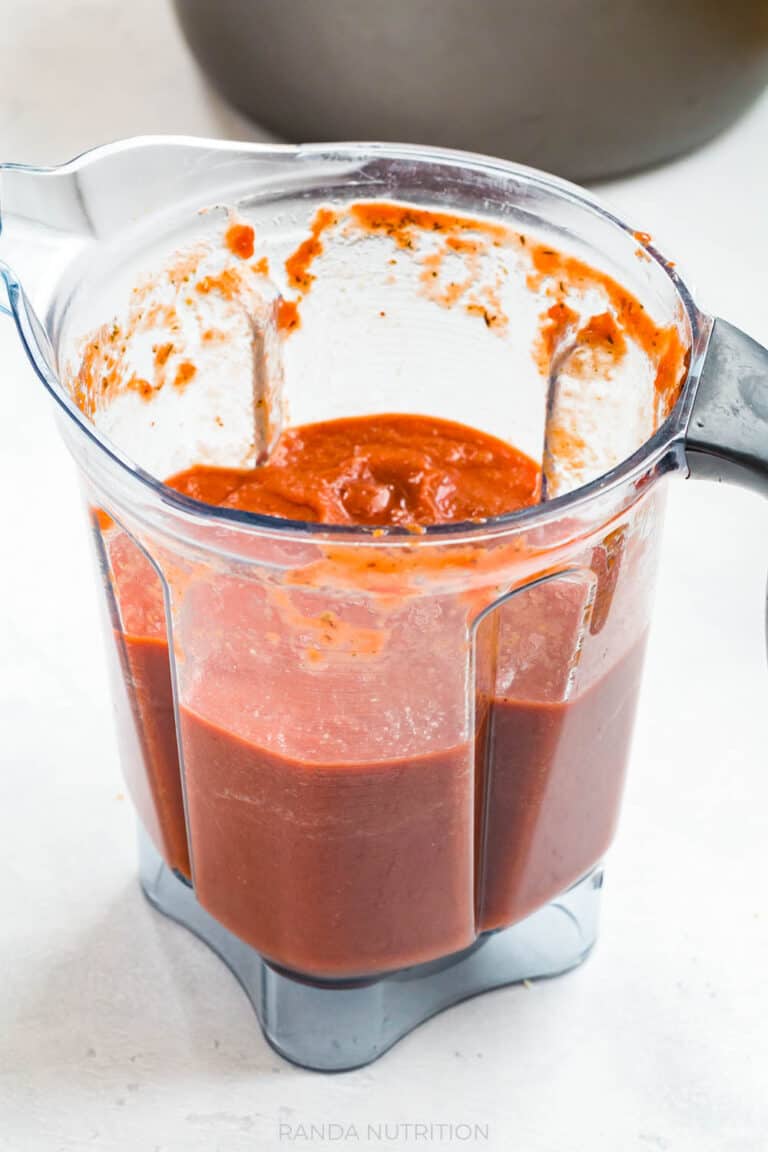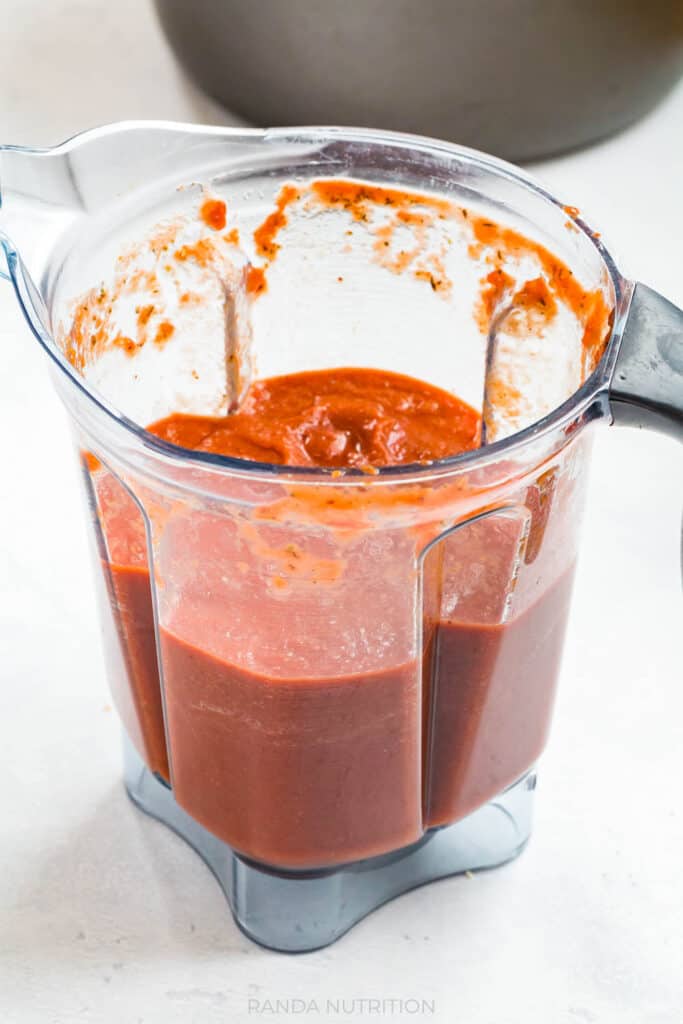 Healthy Tomato Sauce Uses
This recipe has no added sugar and the flavors are so powerful (funny how keeping it simple does that). Here are some uses you could try:
I often pour this sauce over meatballs in the Instant Pot and set it for 8 minutes and it's PERFECT.
Use it as a meatless spaghetti sauce for a quick weeknight meal.
Serve it as a dip for pizza bread and air fried mozzarella sticks.
Top it on chicken breasts, broccoli, cover with cheese and bake.
Or serve it as a ravioli sauce (oh, this would be amazing).
It's truly the best marinara sauce I have ever had.
Ingredients Needed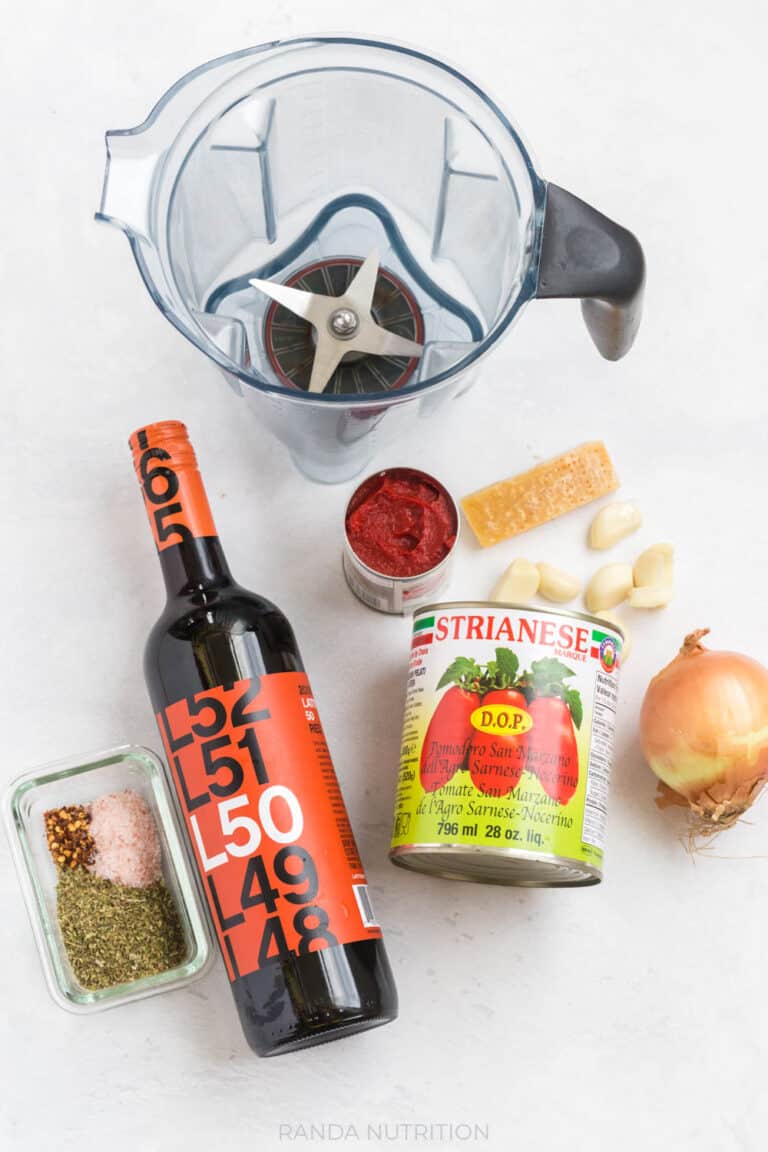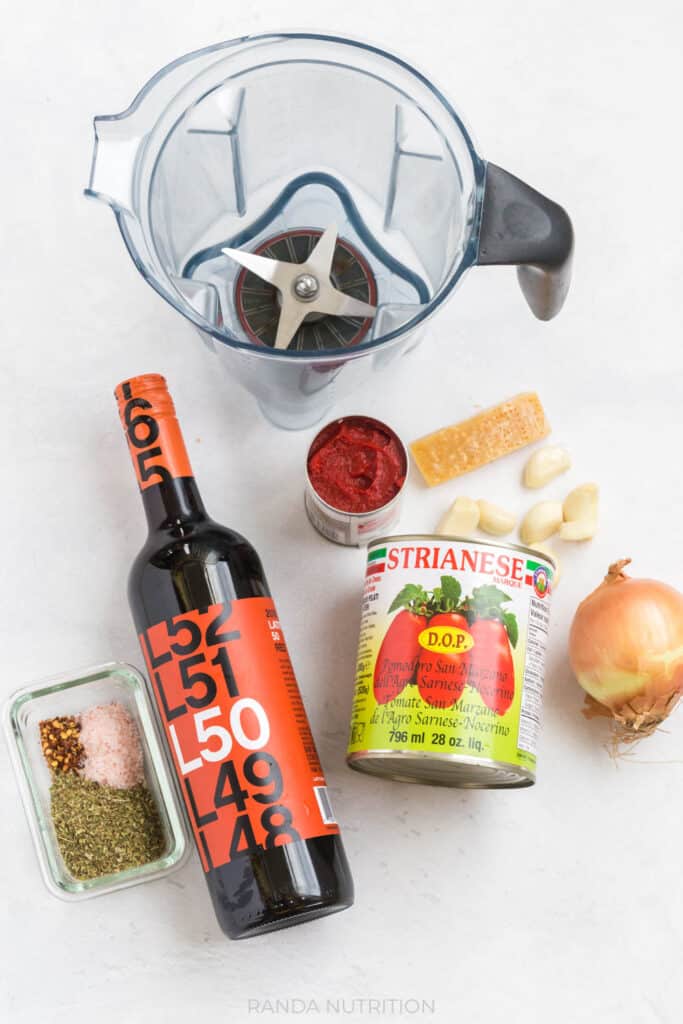 Like most quick marinara sauce recipes, the ingredients are simple. To bring it up a notch, I did add some red wine and woo mama, it's tasty.
1 28oz can san marzano tomatoes (these are sweeter, if you can't find any at your local store try Italian tomatoes – they're peeled most of the time).
6oz can of tomato paste
1 small onion
6 cloves of garlic (the bigger, the better).
2 tablespoons Italian seasoning
1 teaspoon sea salt
1/2 cup red wine (I used the Latitude 50 from Gray Monk, a local winery (and one of my favorites) here in the Okanagan. Cook with a quality you would drink).
1/4 tsp red pepper flakes
The rind from a wedge of parmesan cheese (trust me, you'll never cook without one after this). Don't skip this!
2-3 tablespoons of fresh basil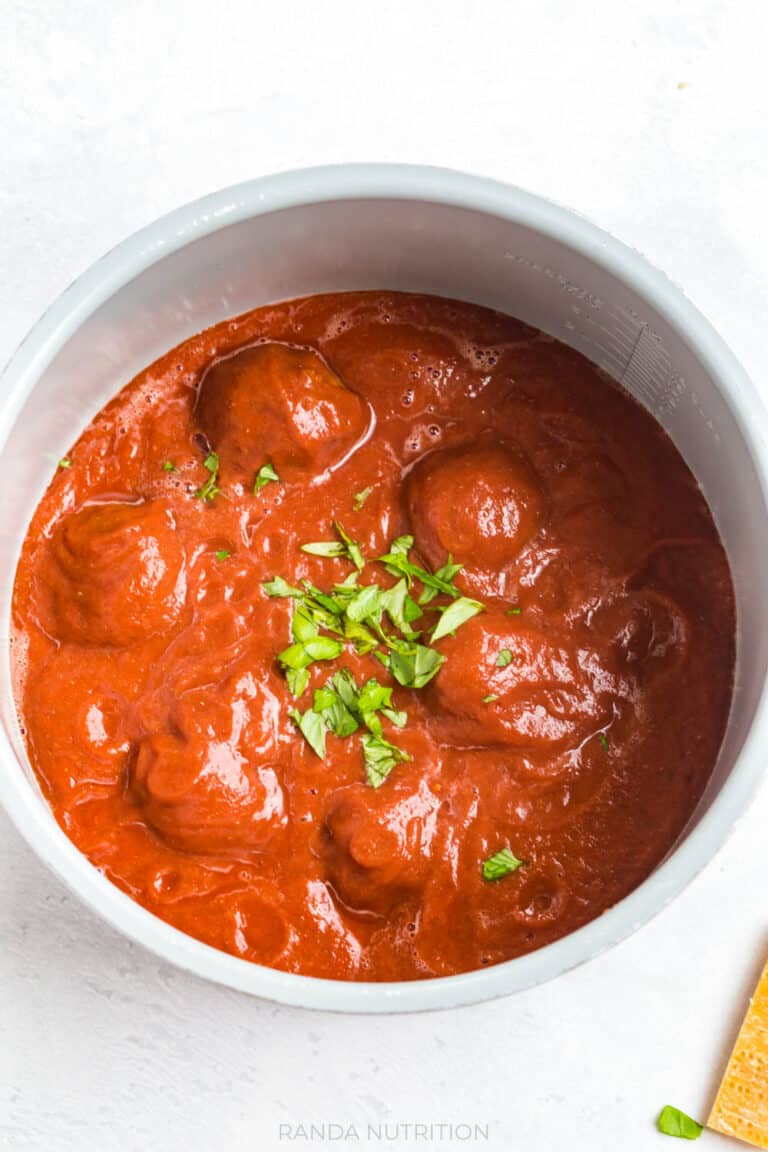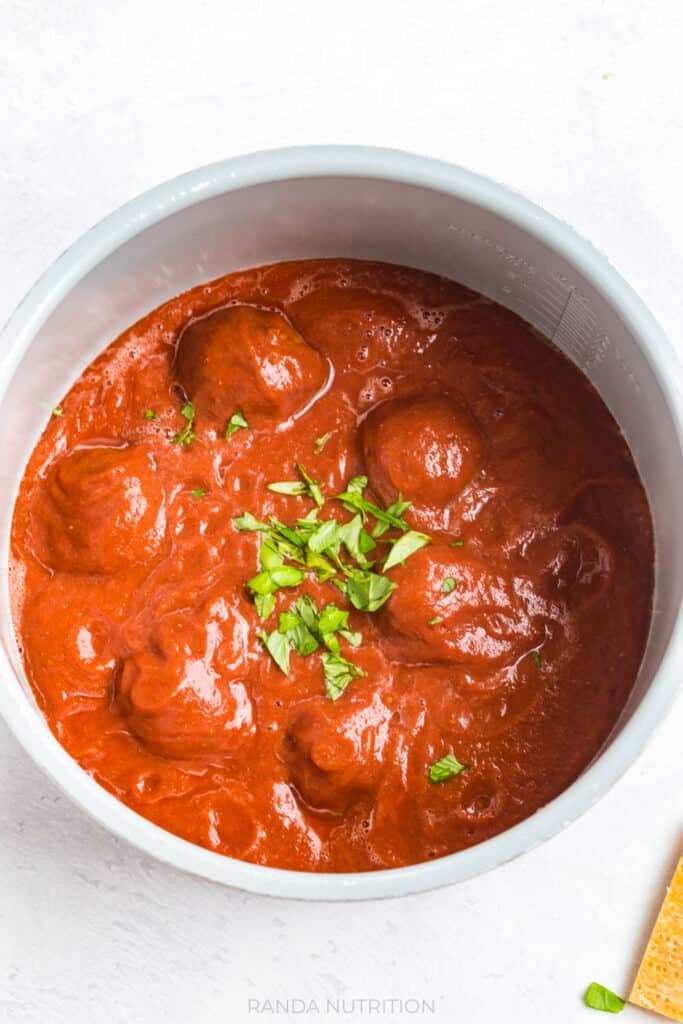 Common Questions About this Quick Marinara Sauce Recipe
Is marinara healthy?
Yes, you just have to check the ingredients for no added sugars on the jarred variety or make it yourself (like this recipe). Marinara is made from vegetables, depending on how much you have it can count as a serving of vegetables. It's loaded with antioxidants, vitamin C, and lycopene (which has been linked to heart health).
Does marinara sauce from scratch taste better?
1000% times better. Not only does it taste amazing but when you heat up this healthy marinara sauce recipe, your kitchen (and whole house) smells amazing. My husband walked in, smelled what I was cooking and immediately left for garlic bread to accompany dinner. It feels like so much effort went into it, but it's so easy.
Do I blend the cheese rind too?
No, leave the cheese rind and fresh basil out to simmer with the sauce as it heats up.
How long do I simmer the sauce?
Like all sauces, the longer the better (especially with the cheese rind) but if you're in a hurry just heat it up over the stove for 5-10 minutes.
Is this the same as san marzano sauce?
Yes, or at least to my knowledge it is. If you know any different, please let me know in the comments.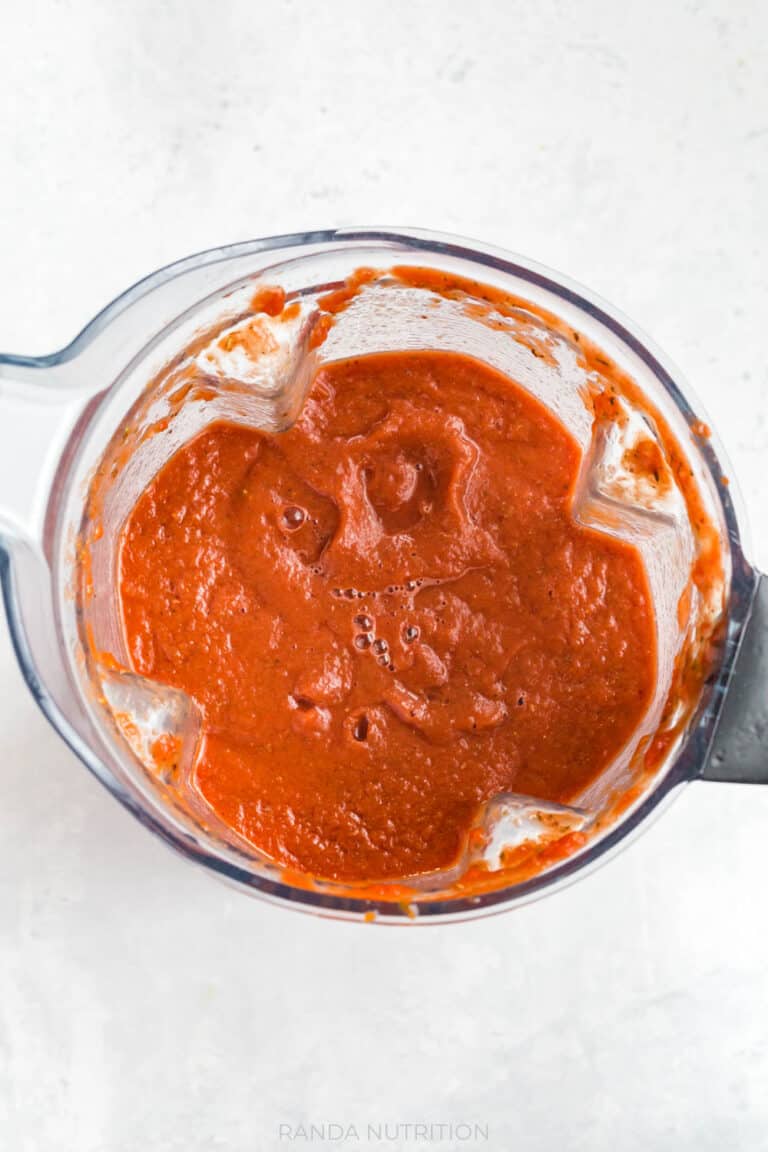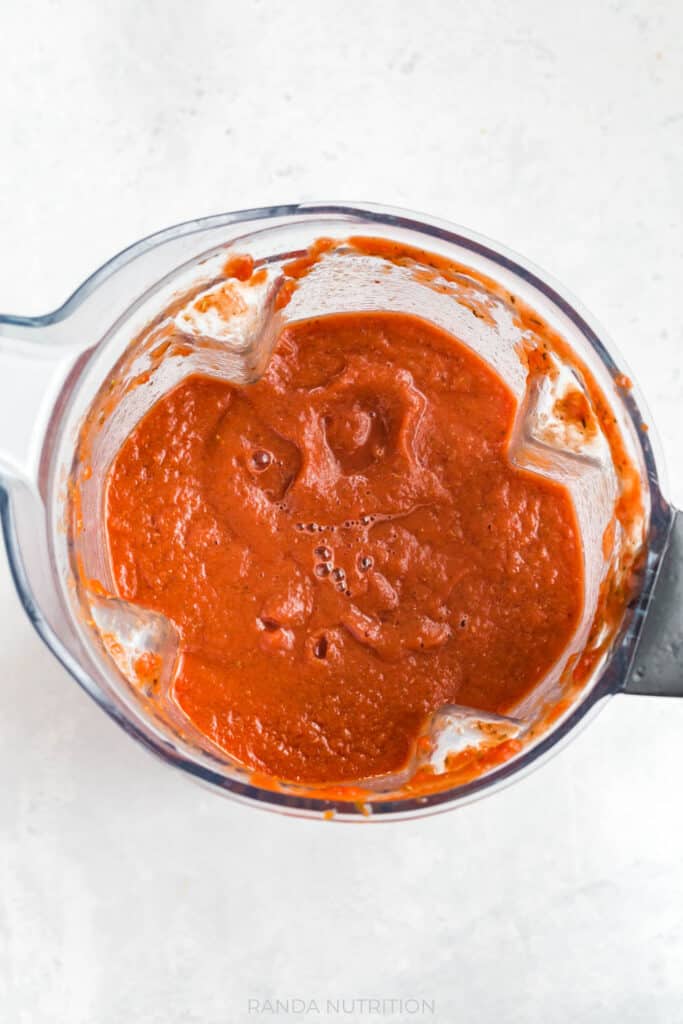 Healthy Spaghetti Sauce
So how do you make healthy marinara sauce from scratch to add to your spaghetti, lasagna, and other pasta?
Get your blender out, because I'm about to share with you the easiest way ever (and you'll never do it another way again).
Serve this with:
Quick Marinara Sauce Recipe
This healthy and quick marinara sauce recipe just may be the best marinara sauce ever! Throw it in a blender, heat, and serve. It's that easy!
Ingredients
28

oz

san marzano tomatoes

with juice

1

small

onion

halved

6

cloves

garlic

peeled

6

oz

tomato paste

1/2

cup

red wine

1

teaspoon

sea salt

1/4

teaspoon

red pepper flakes

2

tablespoons

italian seasoning

or spice blend

1

parmesan cheese rind

the rind off the wedge

2-3

tablespoons

fresh basil

chopped
Instructions
Add all of the ingredients except for the cheese rind and the fresh basil to a blender. Blend until smooth.

Pour the sauce into a saucepan. Add the cheese rind and basil and heat over medium heat for at least ten minutes. If you're in a rush, serve. If you're not, turn the stove to a simmer and let it do it's thing for 30-40 minutes.
Instant Pot Instructions
After blending pour it into the cooking pot, seal and cook on high pressure for 8 minutes. Let it vent naturally for 10 minutes and then release the valve.
Slow Cooker Instructions
Add the sauce to the slow cooker and cook on high for 2-4 hours and low for 6-8 hours.
Nutrition
Serving:
1
cup
|
Calories:
116
kcal
|
Carbohydrates:
23
g
|
Protein:
5
g
|
Fat:
1
g
|
Saturated Fat:
1
g
|
Polyunsaturated Fat:
1
g
|
Monounsaturated Fat:
1
g
|
Sodium:
948
mg
|
Potassium:
905
mg
|
Fiber:
6
g
|
Sugar:
12
g
|
Vitamin A:
967
IU
|
Vitamin C:
24
mg
|
Calcium:
112
mg
|
Iron:
4
mg
The nutrition information is calculated using a third party resource. The accuracy varies on the brands used, weight, portions, etc. This resource should be used as a guide. If you want more accurate information, weigh in grams and log in MFP.