I'm always looking for more ways to add more protein to my diet, and let's face it: as a busy working mom, I need as many convenient and easy foods to help me reach my goals as possible. So let's chat about Built Bars, a social media favorite. Are they worth the hype? How is the texture? What flavors should you get? Here's my Built Bar review.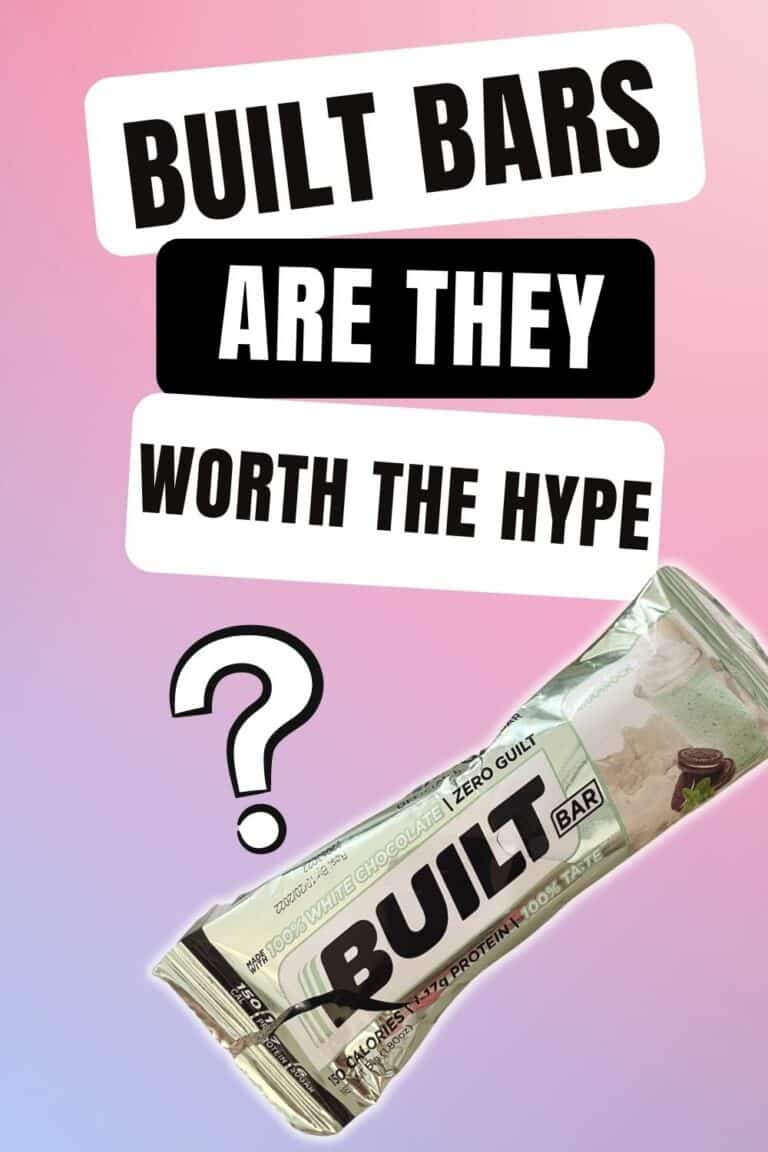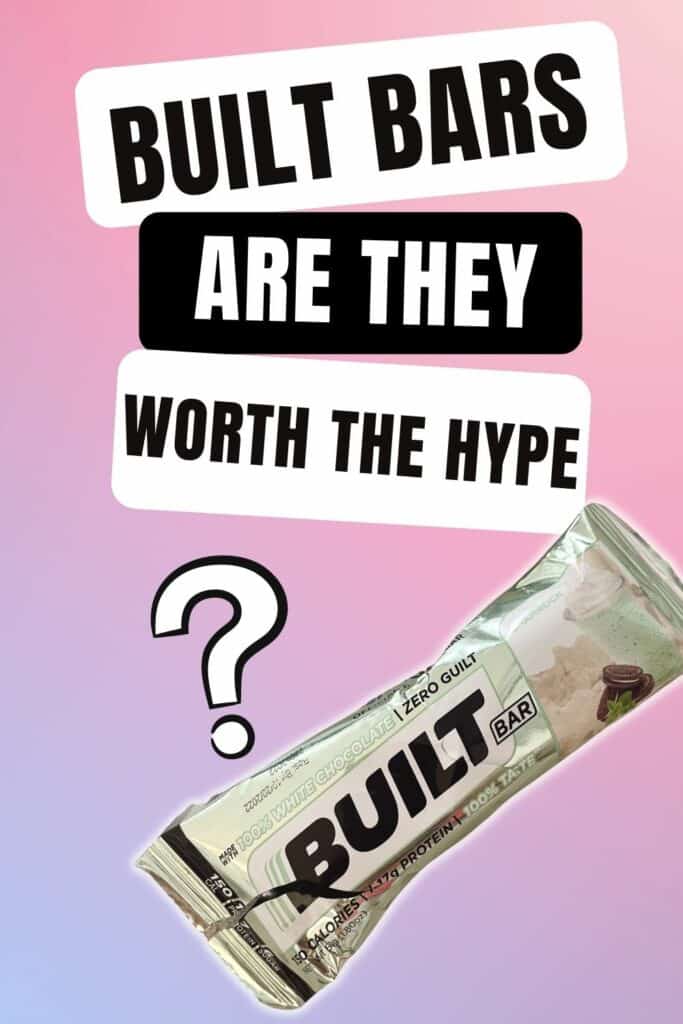 Disclosure: I am an affiliate for Built Bar, which means I earn a small commission on every sale at no extra cost to you.
Built Bar Review
I've been purchasing Built protein bars for over two years. Some flavors are delicious, some are not. Since I've been enjoying them for so long, I feel confident to go through the pros and cons.
TL;DR: At the end of the day I recommend them, but make sure you order your style of flavor (I really like peanut butter brownie).
DISCOUNT CODE:
SAVE 10% on BUILT BARS
Variety of Bars ( Built Bar Flavors)
Coconut Almond
Peanut Butter Brownie
Salted Caramel
Raspberry
Cookies n' Cream
Coconut
Double Chocolate
Mint Brownie
German Chocolate Cake
Cherry Barcia
Lemon Almond Cheesecake
Apple Almond Crisp
Orange Chocolate Cream
You can also buy a mixed box to try a variety or build your own box.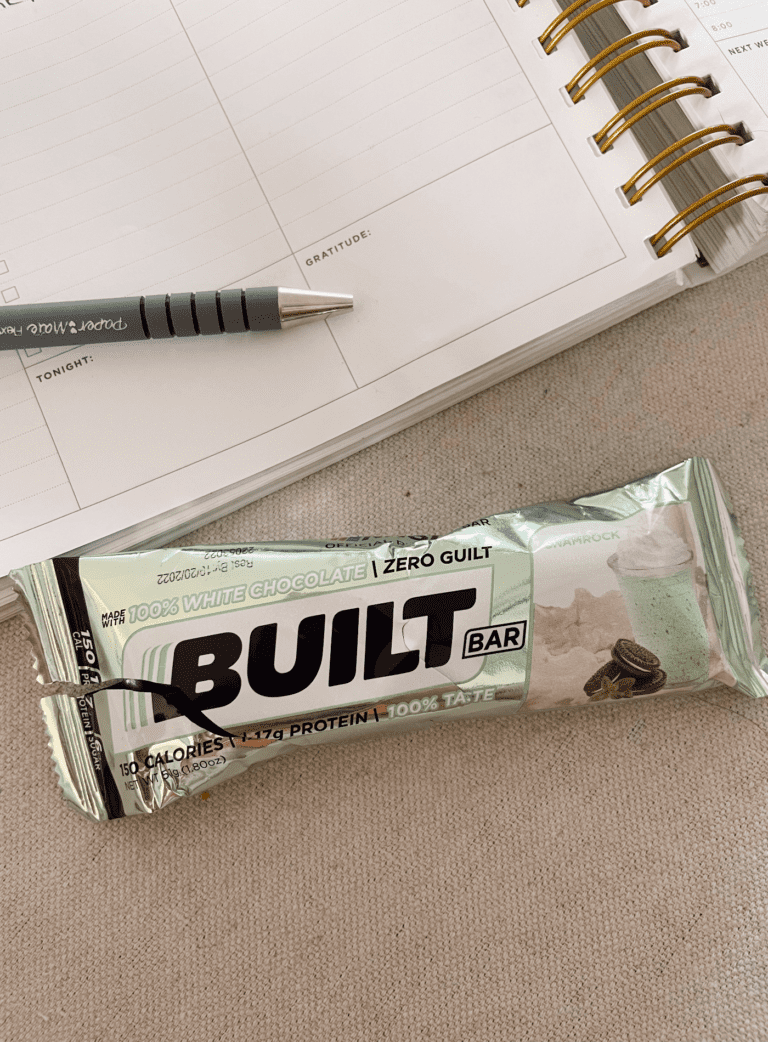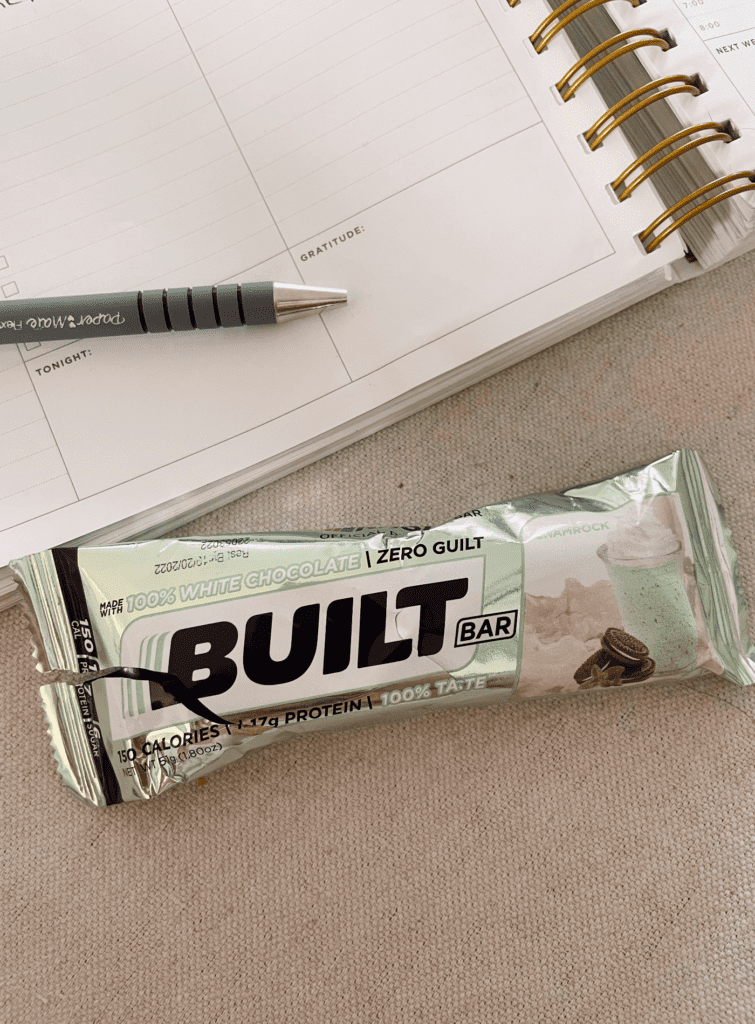 Limited Editions
Built releases limited editions throughout the years there are always new flavors being announced. Here are some that are repeaters:
Blueberry Muffin
Raspberry Cheesecake
White Chocolate Raspberry Cheesecake
Caramel Brownie
Coconut Brownie (my personal favorite)
Candy Cane (this was released one Christmas and I went nuts for it)
Shamrock
Toffee Almond
Banana Bread
With the limited editions Built also likes to switch up the chocolate from dark chocolate to white chocolate from time to time too. I'm always a fan of their white chocolate varieties.
Built Bites
Built bites are half a bar in a package. These are great for when you want a little snack paired with something else. I like to cut them up and put them in my oatmeal or overtop baked oats with Greek yogurt.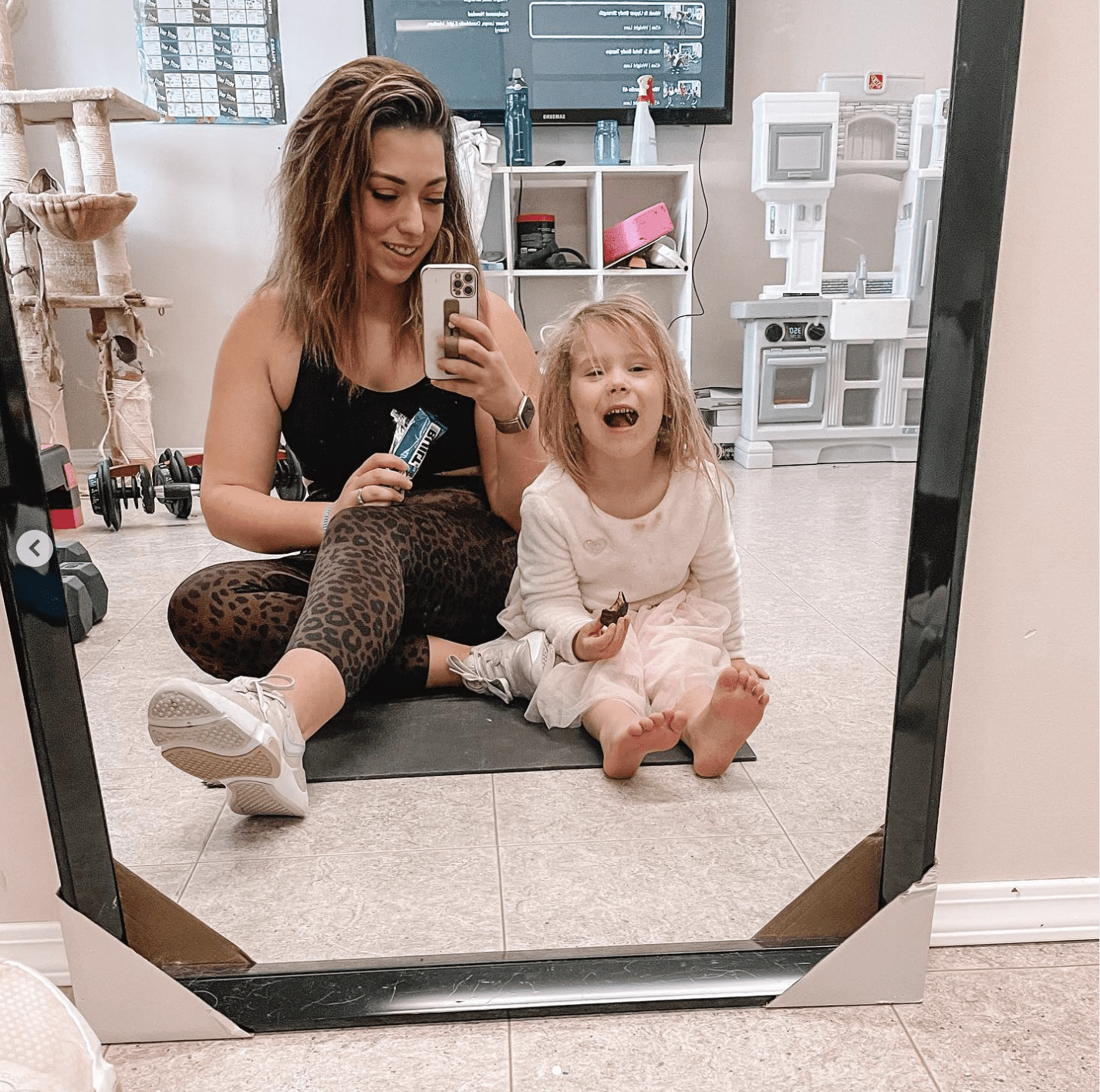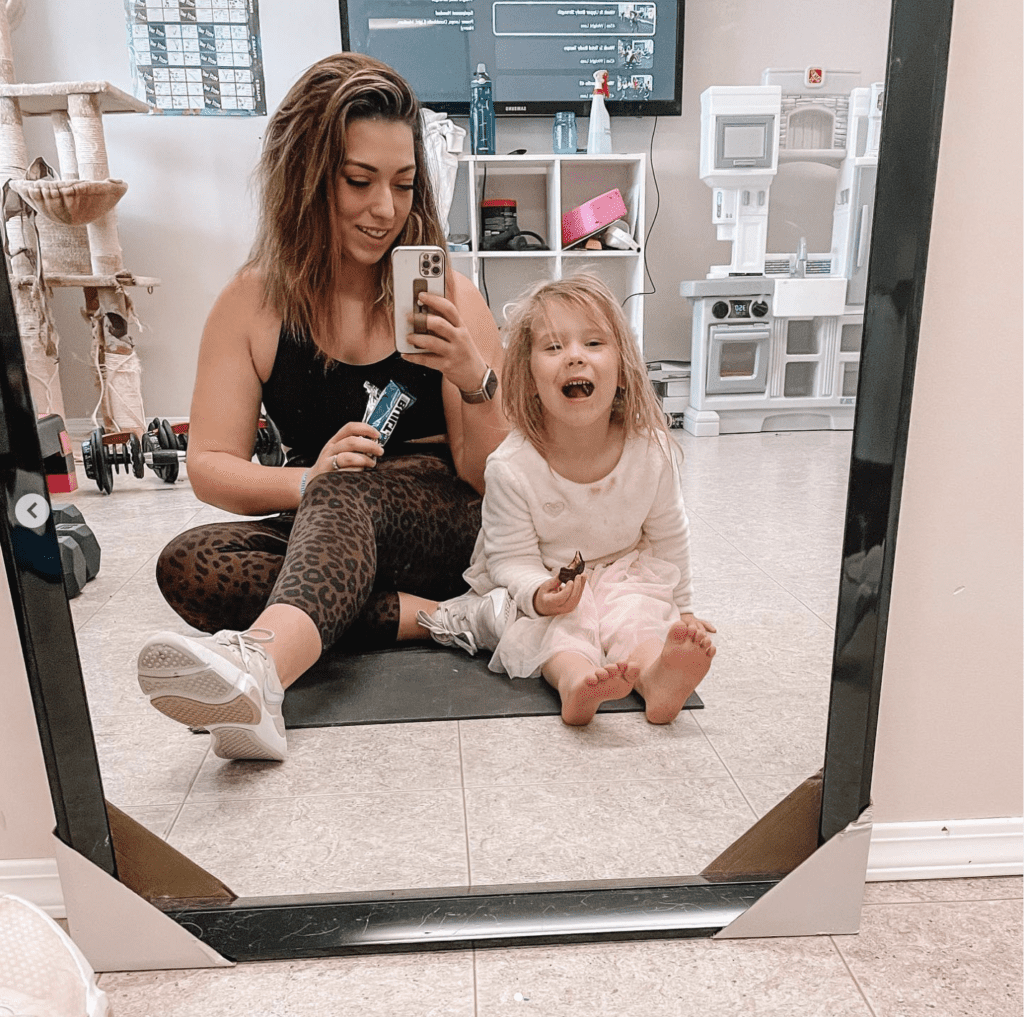 Taste
When it comes to protein bars, the taste (and texture) seems to be something that is comprised. Built Bars have created some delicious tasting snacks.
Each BuiltBar flavor has a different taste. Some that I (personally) love, some that are not for me.
Bars like the peanut butter brownie and coconut brownie taste like a candy bar and if you love dessert-style chocolate, then I recommend going for that. I'm also currently enjoying the Shamrock limited edition (cookies and cream with mint and a white chocolate coating).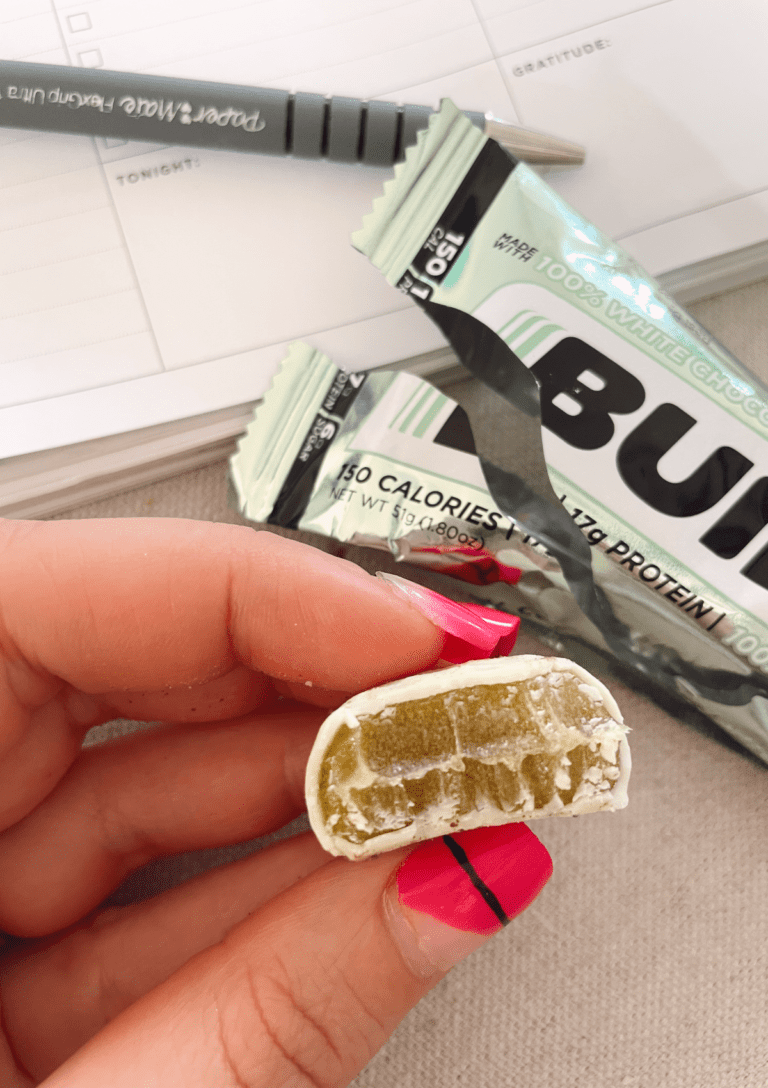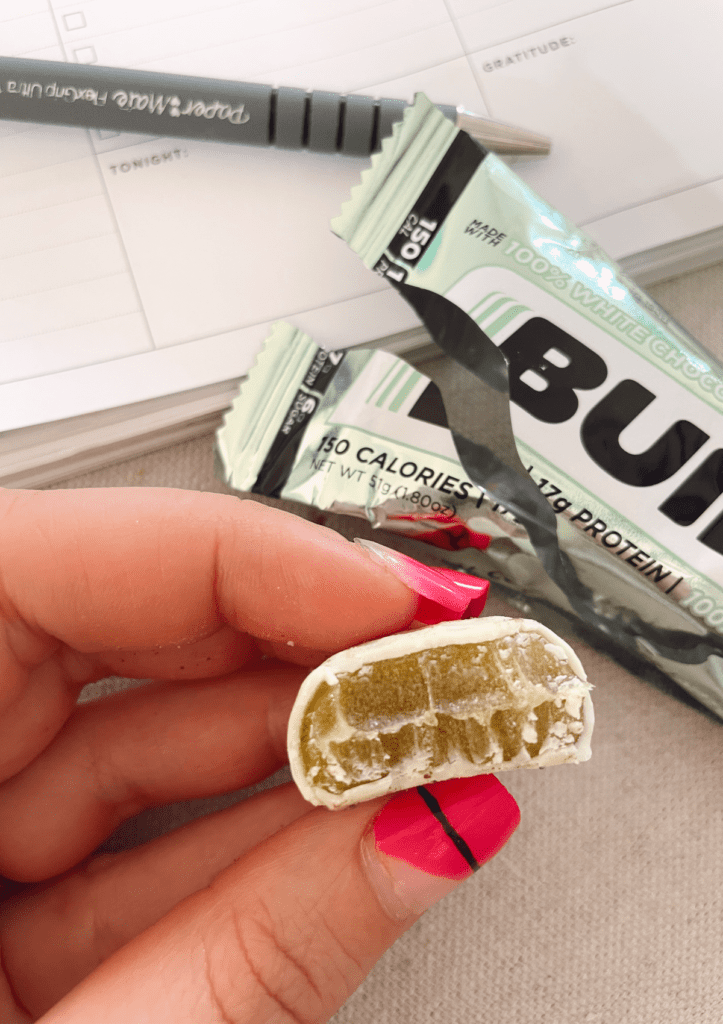 So what Built Bar tastes best?
That depends on your preferences. I'm not a fan of chocolate and fruit together, so the raspberry chocolate cheesecake is not my favorite (but my daughter loved it).
Built Bar Texture
This is where it gets tricky. People have different preferences when it comes to texture. For example, I also like Quest Bars (and the Kirkland version of them) but I have plenty of clients that say they taste like sand because of texture.
Built Bars are unlike any protein bar I've ever had.
They're chewy but soft chewy.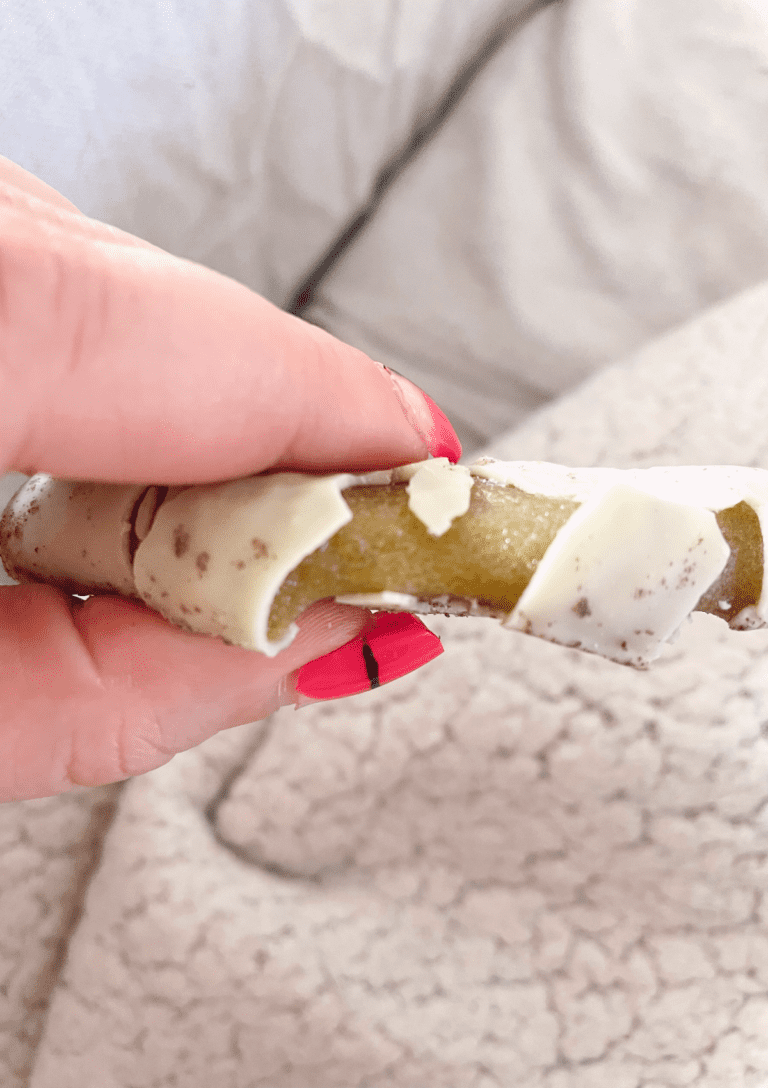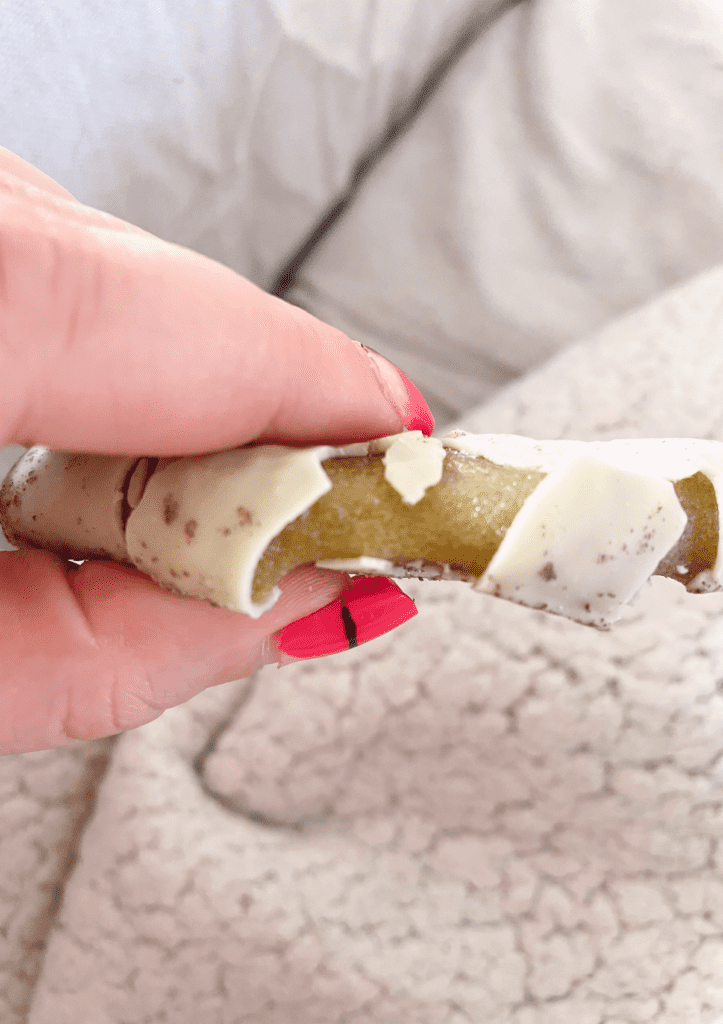 When I first tried them, it took me off guard at first as I was used to a firm texture. So I tossed the first few in the freezer to firm them up until I got used to it (this also prevented me from inhaling them too quick).
That being said, if you don't like chewy texture that stays in your mouth for a little longer than usual, they may not be for you.
Customer Service
I've been ordering Built Bars for over two years and I had to contact customer service a few months ago.
Unfortunately, I had a bar that must have been from a bad batch as the taste was not good. I had the flavor before, and it didn't taste that like. It was inedible. I contacted customer support and they send me another box of a variety of my choice.
Built Bar Return and Refund Policy.
The team at Built has a taste guarantee here's an excerpt directly from their website:
Built Bar Taste Guarantee
If you don't absolutely love the taste of our bars, simply contact us and request a full refund!

Taste Guarantee Restrictions and Limitations:

*Limited to one (1) line item (product) on first order only

*Must contact Built Bar within 14 days after delivery of first order

*Not applicable to free products

Built Bar Website
They do not allow returns, but they do as you contact them as they would like to make the situation right.
Built Bar Macros
New to macros? Here's how to get started with macros.
Do Built Bars have good macros?
I have to say, the macronutrients (carbs, protein, fats) are pretty decent.
Each bar is different (some are 130 calories, 150 calories, 180 calories, etc), but I'll share a few nutrition facts below.
At a minimum, there is 15g protein, but some varieties go up to 19 grams of protein.
I didn't include net carbs on the chart below as it's not something I follow or have my clients follow with their macro plan but you can find that information by subtracting the fiber from the carbohydrate total.
| | | | | | | |
| --- | --- | --- | --- | --- | --- | --- |
| | Calories | Carbohydrates | Protein | Fat | Fiber | Sugar |
| Cookies n' Cream | 130 | 18g | 17g | 2.5g | 6g | 4g |
| Cookie Dough Chunk | 150 | 18g | 15g | 3g | 6g | 6g |
| Coconut Almond | 180 | 19g | 18g | 7g | 7g | 5g |
| Peanut Butter Brownie | 180 | 21g | 19g | 3g | 7g | 5g |
| Built Puffs Ruby Chocolate | 150 | 13g | 17g | 3.5g | 0g | 9g |
| Built Puffs Churro | 140 | 14g | 17g | 2.5g | 0g | 6g |
| Built Puffs Coconut Marshmallow | 140 | 12g | 17g | 2.5g | 0g | 6g |
As you can see, macros vary depending on the flavor you buy.
Built Puffs
If you like marshmallow treats, then you'll love Built Puffs. They make me think of those Santa-shaped chocolate-covered marshmallow treats I would get in my stockings at Christmas.
I've tried them all (but the Banana as I'm not a banana fan) and they're not my favorite. The flavor just isn't there for me.
I do like the Ruby Chocolate, but I'm not sure I would order them again.
However, if you love those holiday-flavored chocolate treats, then try them.
Built Crave Bar
This bar is more like a candy bar that you would grab at the checkout line at the gas station. I tried the Caramel 'N Peanuts Built Crave bar and it was delicious.
I'm not typically a peanuts in a bar fan but this was something I would definitely order again and with 17grams of protein and 160 calories it's a great option for a late-night snack.
Built Boost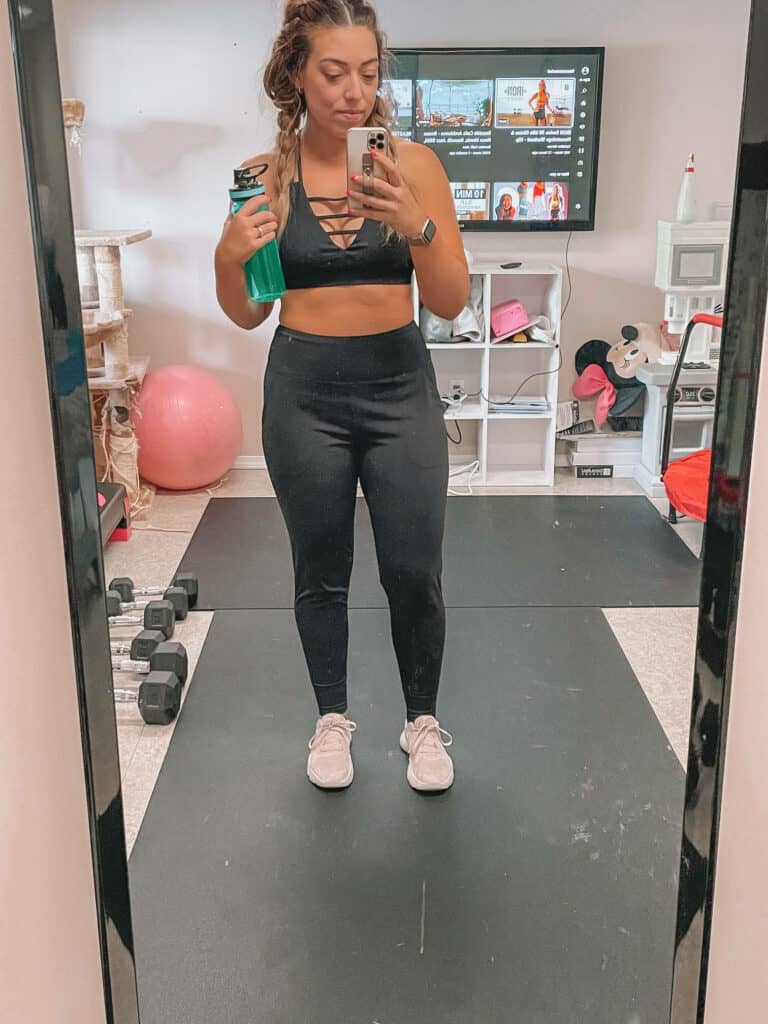 I like Built Bars and I recommend them to clients and my IG friends and send the odd email about them, but I LOVE Built Boosts.
They're a vitamin enhanced drink to flavor your water with no added calories. It encourages me to drink more water and it tastes like juice.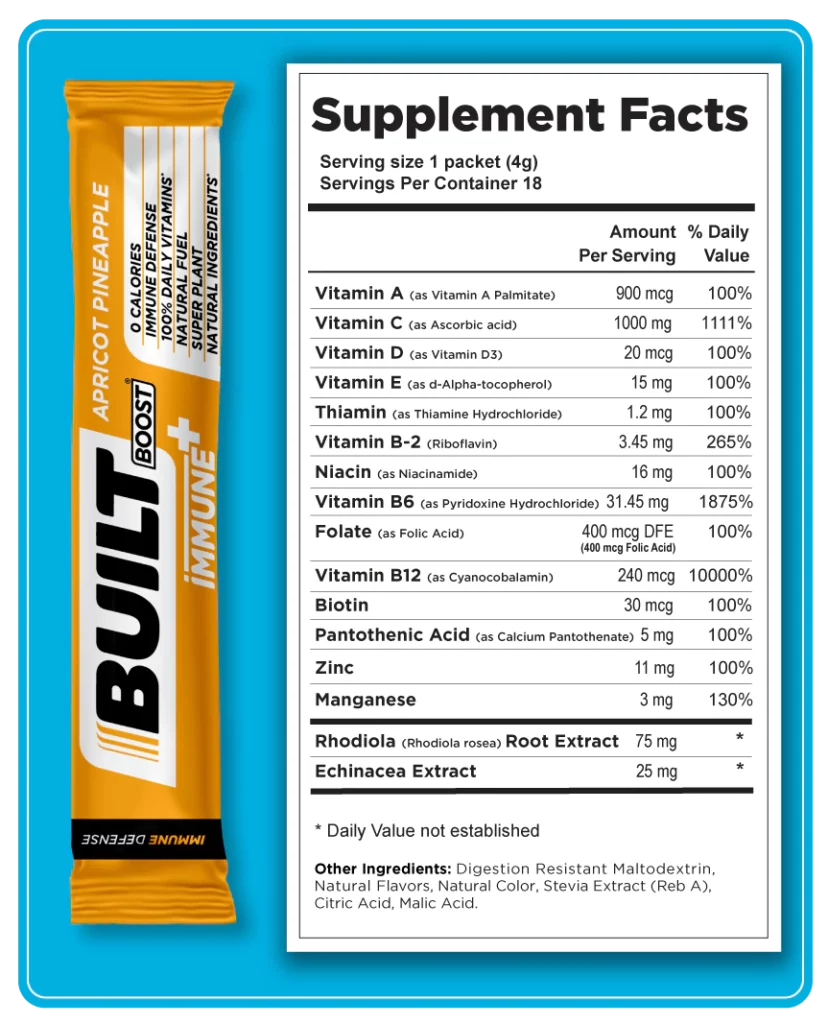 There are two varieties:
Original
Immune + (which has more Vitamin C, Zinc, and Echinacea)
Originals:
Tropical Twist: Coconut, Pineapple, and Banana
Root Beer Float (it tastes like flat root beer, I don't care for it): Vanilla, Caramel, and Elderberry
Cool Breeze: Peach and Black Cherry
Smooth Operator: Orange and Apricot
Cloud Nine: Grape, Blackberry, and Elderberry
Immune +:
Pomegranate Green Apple
Apricot Pineapple
Lemon Lime
In the originals, I like the Tropical Twist. In the Immune + I like the Apricot Pineapple.
Frequently Asked Questions
Are Built Bars gluten free?
Built Bars and Built Puffs are gluten free.
Are Built Bars nut free?
Not all bars are nut-free, you'll have to read the ingredients on the bars you're looking at.
What are the ingredients in Built Bars?
Each bar is different but you can find the following in the bars: protein blend (whey protein isolate, partially hydrolyzed whey protein isolate), cocoa butter, sugar, chocolate liquor, soy lecithin, vanilla, gelatin, glycerin, maltodextrin, erythritol, citric acid. Check each bar for specifics.
What are Built Bars sweetened with?
Built bars use erythritol as a sweetener and have sugar and sugar alcohols as well. I personally have a sensitive stomach with sugar alcohols and nonnutritive sweeteners but haven't had an issue with Built Bars.
Are Built Bars healthy?
Built bars are a delicious and great source of protein in a low-calorie snack. The term healthy is subjective, but in my subjectivity – yes, Built Bars can fit into your healthy lifestyle.
Where are Built Bars made?
Built Bars are made in American Fork, Utah. Although the company started in Mapleton. They're a US based company.
Is Built Broth any good?
Built broth is powered bone broth that you add hot water to. I personally, don't care for it. I've had better bone broth powders.
Where to buy Built Bars / can I buy Built Bars in stores?
I have seen local stores,like Supplement King, carry them in-store. So check your local store. I buy them from the Built Bar store as I like the convenience of them being delivered to my door.
Built Bar Coupon Code / Promo Code
If you use code RANDA you will save 10% off your order. This code can be stacked if they're having a sale too.
More High Protein Snacks
I love protein bars as a grab and go high protein snack for busy days or just days where I'm on the go. I usually have one in my purse at all times.
Another option: I will also grab one in the morning with my coffee, as I'm not a big breakfast eater so I tend to swap my breakfast and mid morning snack.
Here are more high protein snack ideas and recipes:
I hope this Built Bar review helped you. Are they for everyone? No. Do I feel they taste delicious? Yes, but it depends on your tastes.
DISCOUNT CODE:
SAVE 10% on BUILT BARS