Wondering what to serve with stuffed peppers? Today we're diving into one of my favorite meal prep lunches, and what to do if you're serving it for dinner as a main dish to make it a bigger meal for your family.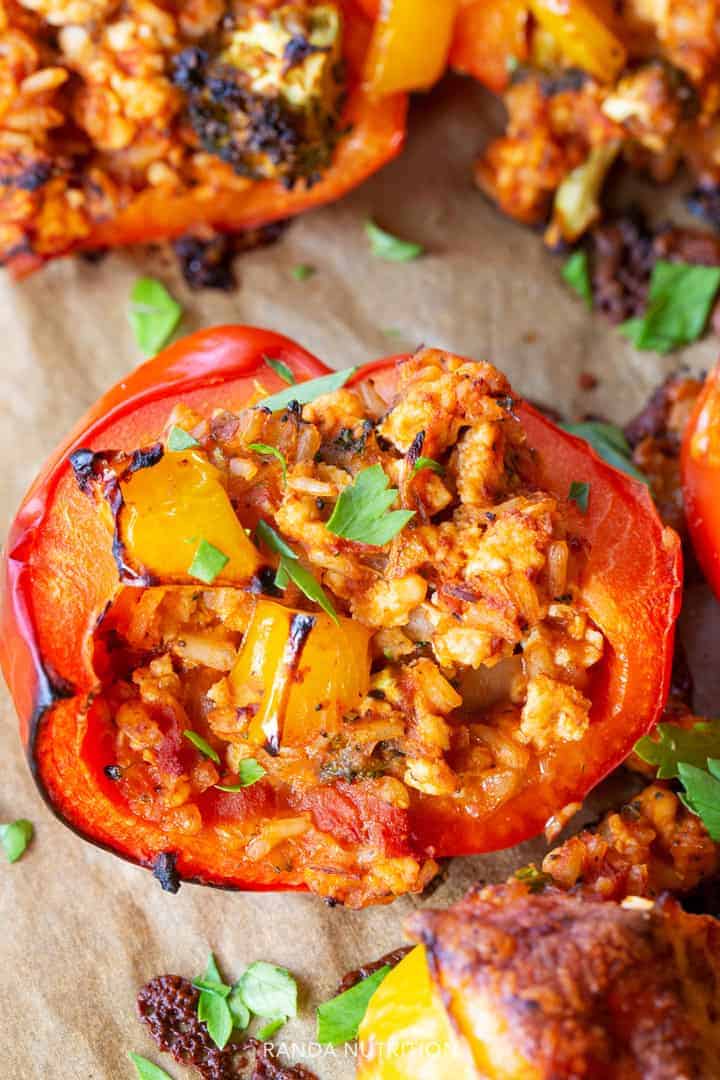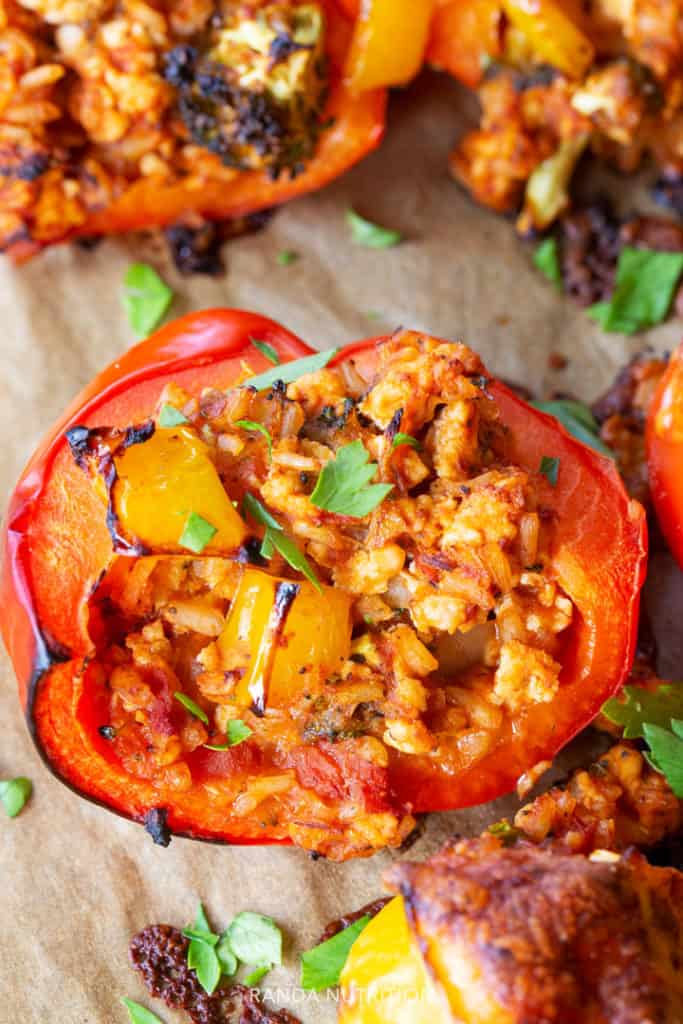 What to Serve with Stuffed Peppers
If you're looking for my family's favorite stuffed pepper recipe, that would be these ground chicken stuffed peppers. They're a complete meal in itself as they have rice, chicken, and vegetables all mixed in but if you want to sneak in a few extra sides or vegetables, the side dishes for stuffed peppers I'm sharing below will be perfect.
Sides for Stuffed Peppers
Regardless of if you're making stuffed peppers with ground beef, Italian sausage, chicken, ground turkey, or as a vegetarian option, these side dish ideas will level up dinner time.
Salad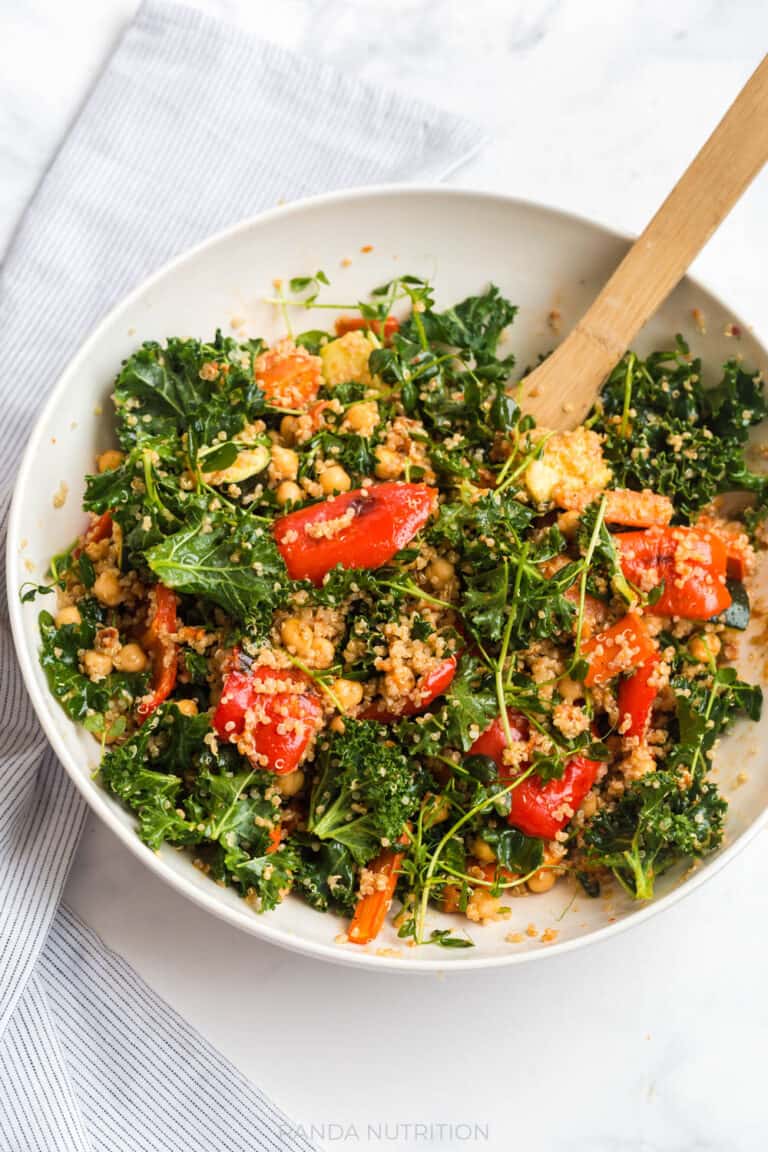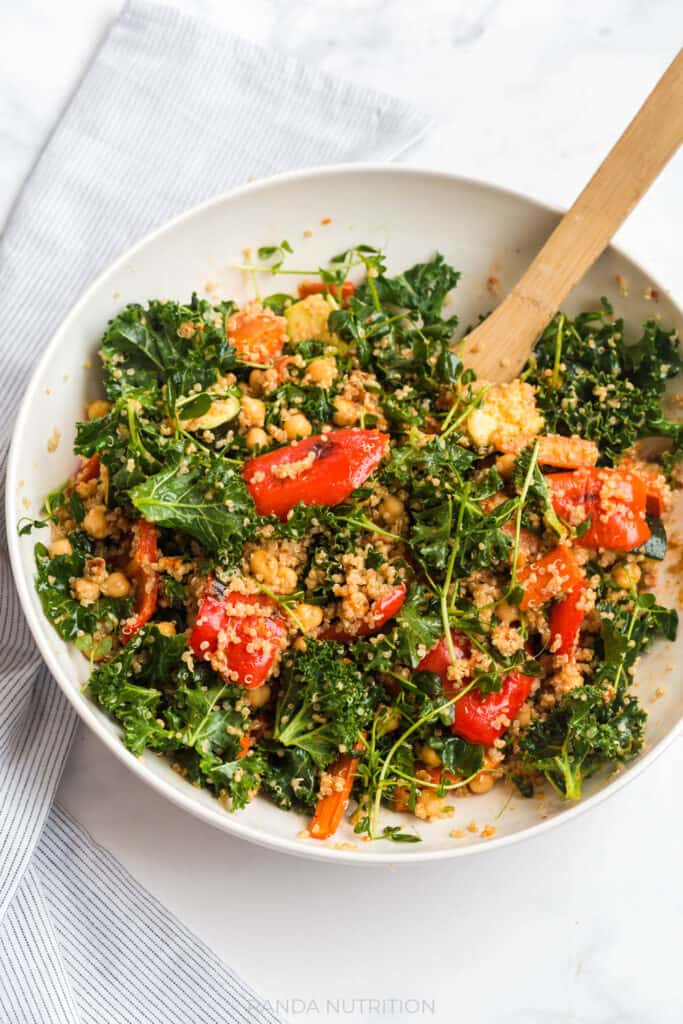 Whether it's a homemade salad or a quick and easy bagged salad from the grocery store, salads are my favorite side dish for stuffed peppers.
If you want something simple you could take dark greens (make kale or arugula salad), add some red onion, green peppers (or red bell peppers), and serve it with olive oil and lemon juice or red wine vinegar for a zesty salad that will go with most stuffed pepper recipes.
You could also make sauteed spinach as a side dish too, and it doesn't use many ingredients.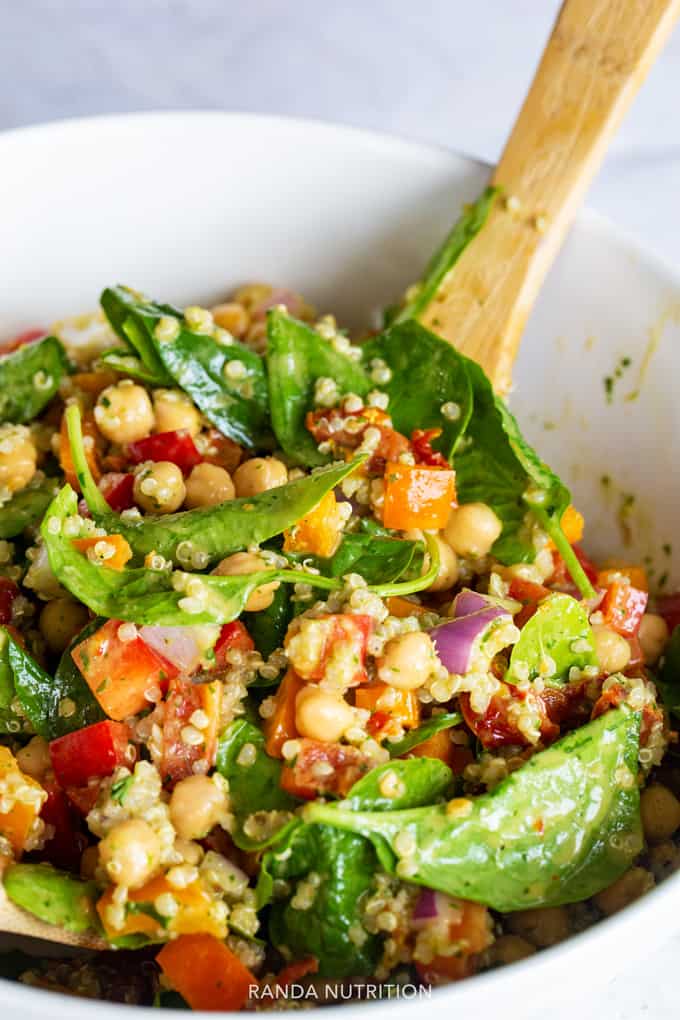 It doesn't have to be a leafy salad either. Greek salad is a tasty option (especially with a ton of feta cheese), as is a whole grain based salad like this Mexican Quinoa Salad or Mediterranean Quinoa Salad.
Bagged coleslaw or red cabbage slaw is another option that's easy to whip up quickly without the extra effort (I'm all about saving you time).
Rice or Cauliflower Rice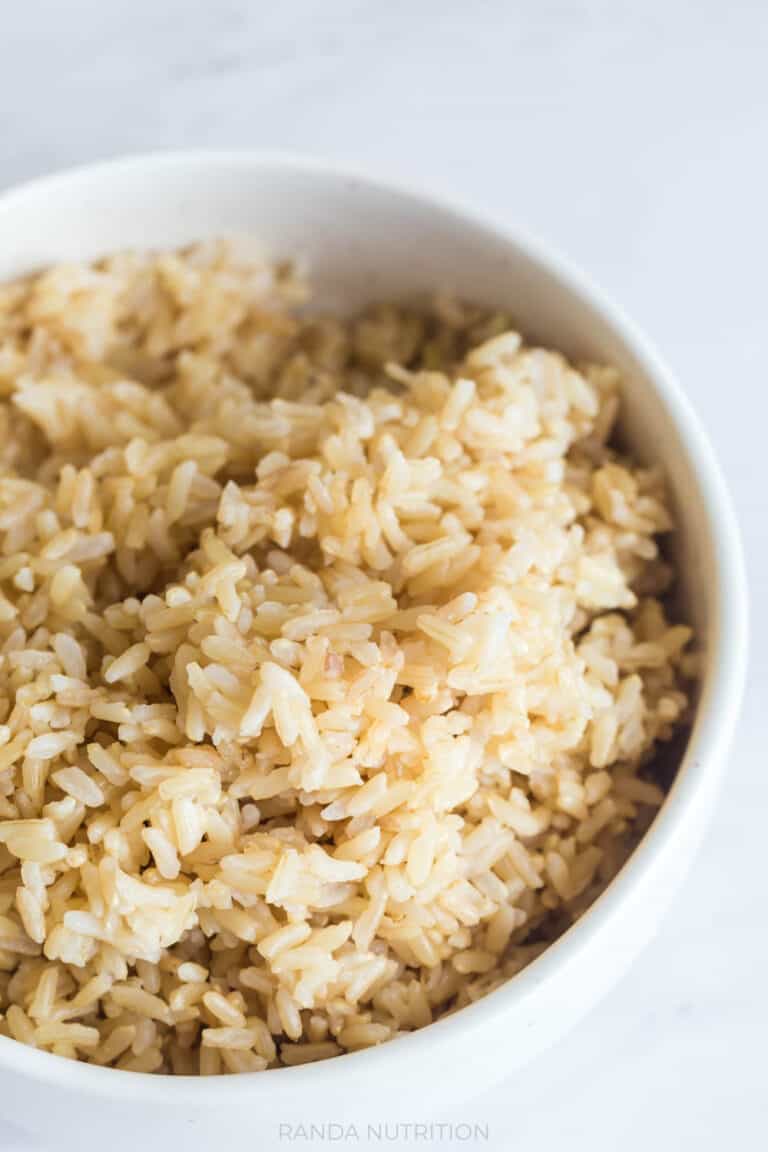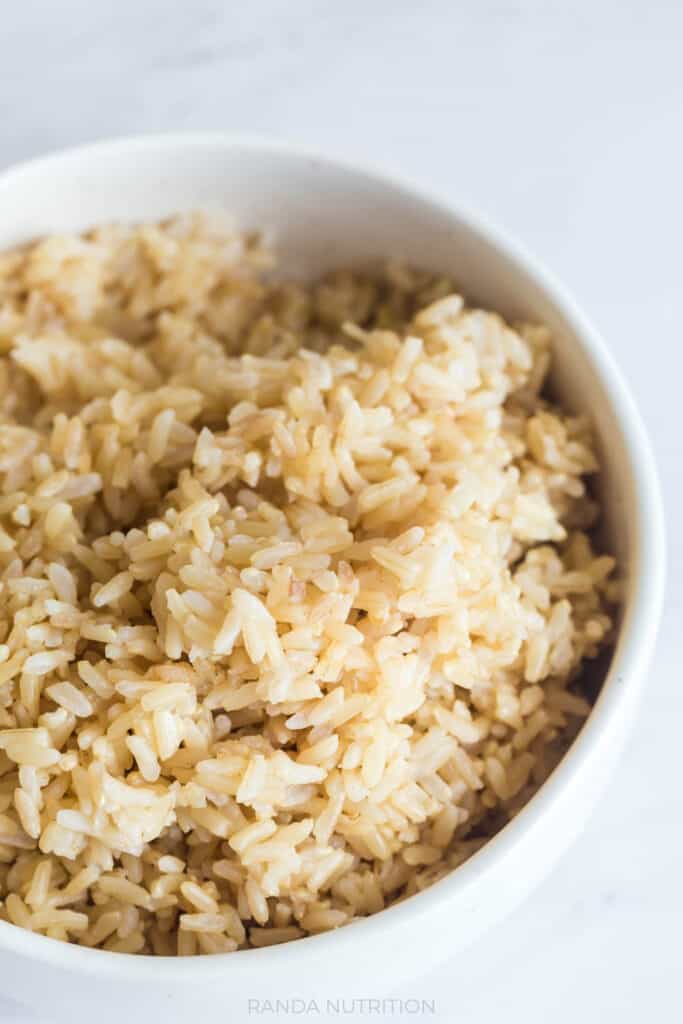 If you added rice to the stuffed pepper, why not sneak in extra vegetables by faking a rice side dish with cauliflower rice? You can flavor it however you want as the cauliflower is neutral and it's a delicious way to add more vegetables in.
If you didn't add rice or used cauliflower rice to stuff the peppers, serve it with a side of rice.
If you have an Instant Pot or Ninja Foodi, here's how to cook brown rice in a pressure cooker.
Quinoa
If you don't like rice, you can whip up a batch of quinoa.
Here's how to make quinoa:
Bring 2 parts water (or chicken brother) to 1 part quinoa to a boil.
Reduce heat to low, cover with a a lid and simmer for 15-20 minutes.
Remove lid, fluff with fork, then put the lid back on and let it sit for about 5 minutes.
You can flavor it to the stuffed peppers by replacing a cup of water with a cup of tomato sauce and adding whatever seasonings you like. I like to use Italian seasoning to give it an Italian flavor.
Top it with parmesan cheese and serve it with a side salad and you have a whole meal with plenty of healthy vegetables
Roasted Vegetables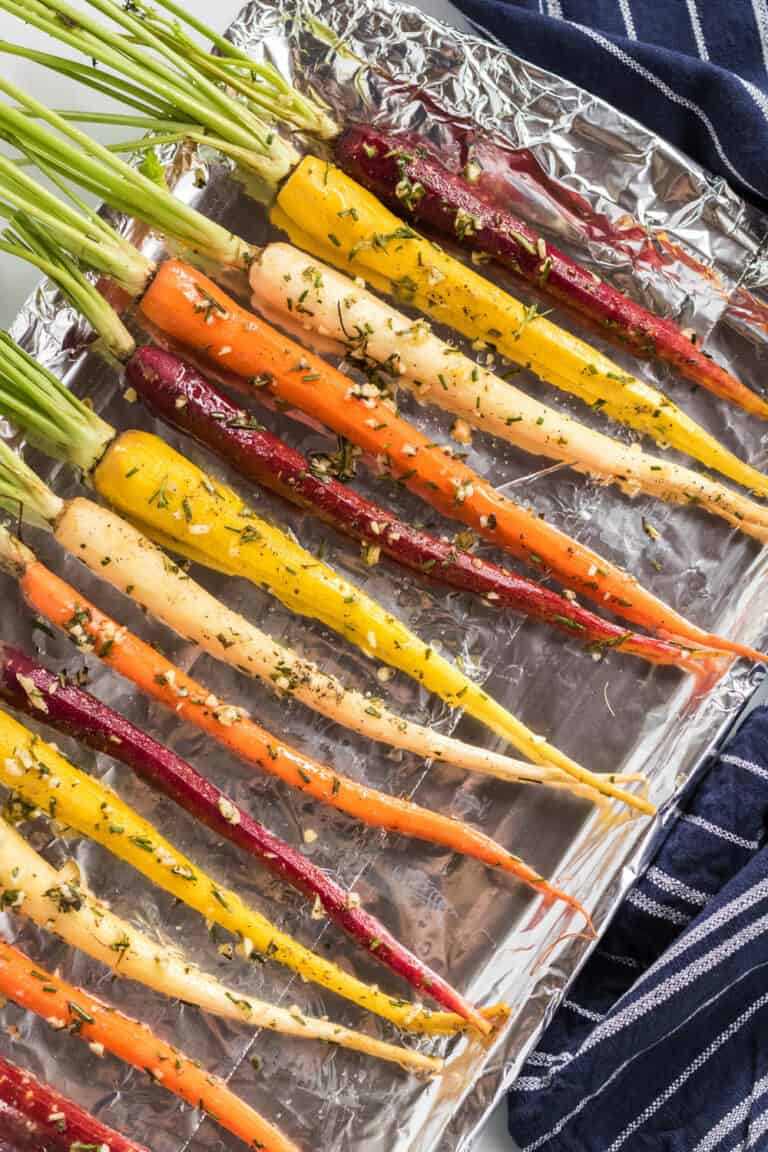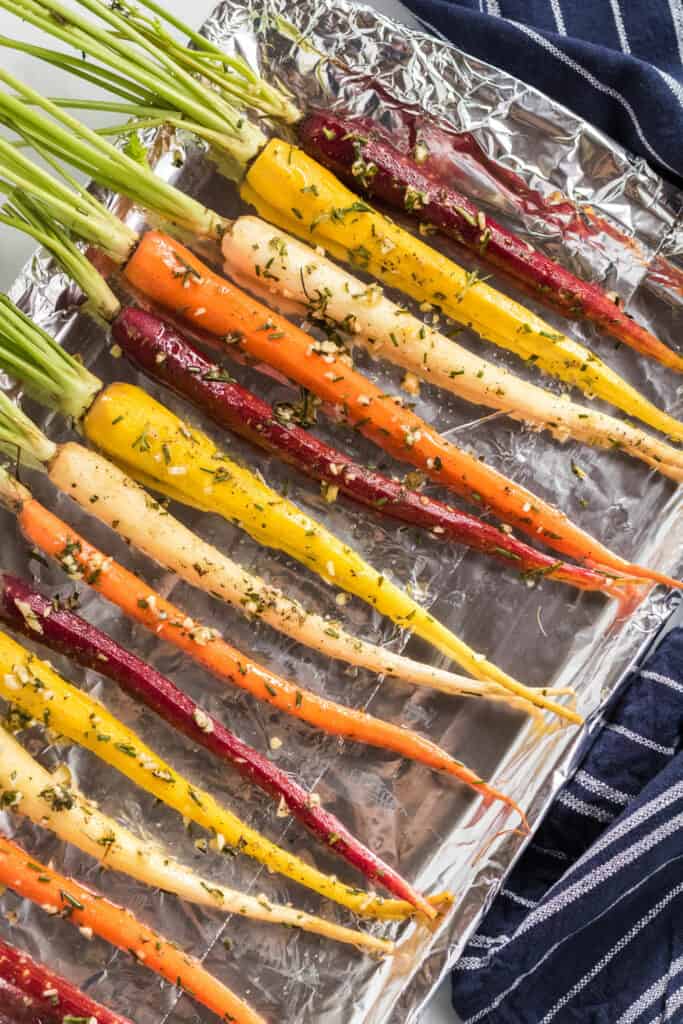 While your stuffed bell peppers are cooking in the oven, why not take out an extra sheet pan and add a few cups of vegetables?
Drizzle a little olive oil over them, some seasoning (salt, pepper, garlic powder), and roast until fork-tender.
Level it up by drizzling a little balsamic vinegar over top (this is especially good with beets, carrots, cauliflower, and/or broccoli).
If you want more peppers, you can also roast up green bell peppers, red peppers, and serve them with fresh salad as well.
Sauteed Green Beans
Green beans go with everything, they're a great side dish that are versatile.
I like to simmer in a little water for a few minutes, sauteed in butter or olive oil, and salt.
You can also try these green bean easy side dish recipes:
Raw Vegetables
Who says you have to cook anything at all?
I tell my clients all the time when in doubt, veggies and dip are an easy healthy side dish for any meal.
There are days when cooking a side dish on top of a meal seems daunting, so grab a premade veggie tray from the grocery store, toss it on the dinner table, and call it good.
Picky eaters? Try serving just the veggies they like (for my kids it's carrots or cucumbers) and a dip. It's the perfect side dish.
Pasta Salad
There's a good reason why pasta salads are a classic recipe as a side dish.
My favorite pasta salad as a side dish? Thai salad (with a soy sauce base). Whether it's store-bought or homemade, it just always tastes great no matter what you serve it with.
Sweet Potatoes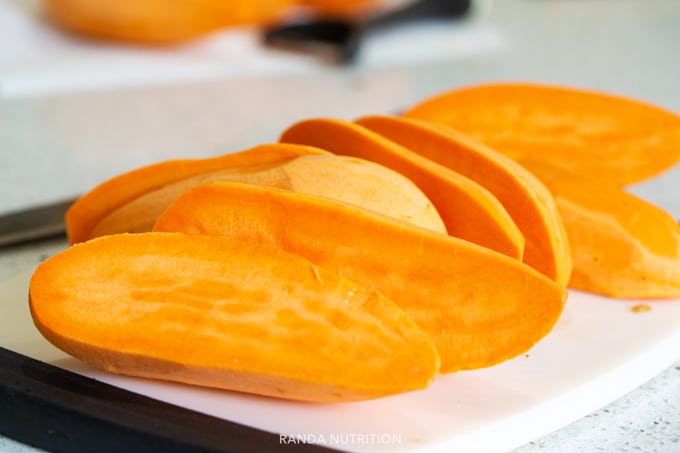 Whether you make sweet potato fries or roast sweet potatoes, they're a great option on what to serve with stuffed peppers.
At the beginning of the week, I like to cube and cook up sweet potatoes so during the week I can add them to a green salad for lunch or as a microwavable side dish. They're simple and one of the best side dishes.
Try this Roasted Sweet Potato Salad Recipe
Protein Source
If you made vegetarian stuffed peppers, serving them with a protein source is a great idea to keep you feeling full.
Vegetarian? try tofu (this is delicious in the air fryer) or maybe a black bean salad.
If you're not plant-based, a serving of grilled chicken or steak would be delicious.
Garlic Bread
Is there anything garlic bread doesn't go with? The answer is no.
Spaghetti, steak, and stuffed pepper recipes.
Garlic bread is a staple in my home. When it goes on sale, we buy a bunch and toss it in the freezer (or you could always make it yourself).
Leftovers
If you have leftovers from the night before (or something you prepped with meal prep) then that is one of the perfect sides dishes.
This reduces food waste, means less work for you, and is quick and easy.
Conclusion
Now that you have plenty of ideas of what to serve with stuffed peppers, just get started.
Not everything has to be a fancy, Pinterest-worthy dish. As long as food is on the table, and your family is fed – that's what matters. Let's take the pressure off ourselves as busy moms!
If you have another favorite side dish for stuffed peppers, please let me know in the comments and I'll add it to the list.