Spaghetti Squash Nests Recipe
Want to learn how to make spaghetti squash nests? If you're looking to add a new twist to your spaghetti squash recipes try these low carb spaghetti squash nests.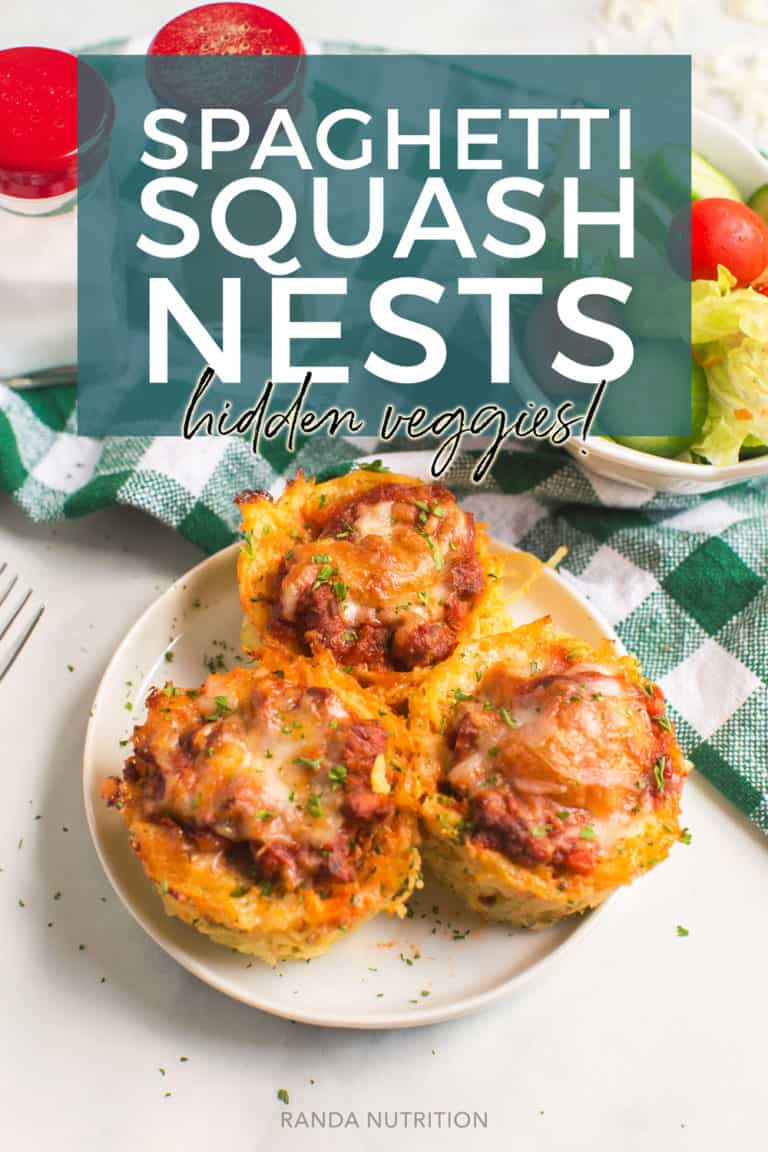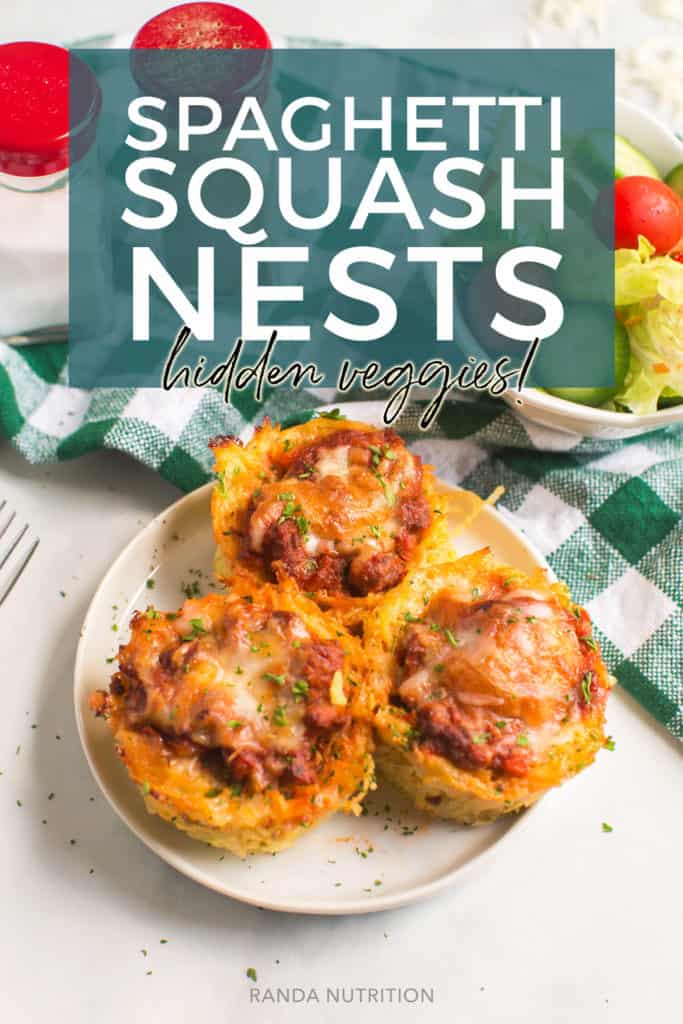 Disclosure: This post contains affiliate links for your convenience. As an Amazon Associate, I earn from qualifying purchases.
Spaghetti Squash Nests
It's not always easy to get in our daily allowance of vegetables everyday. This is where I tend to get creative and chop up veggies to add to sauce, sprinkle a little more on my salads, or even add them to smoothies.
I also like to replace pasta with vegetables like spaghetti squash or zucchini from time to time. Replacing pasta is easy because there is generally a sauce that goes with it, which causes most people to not even miss the pasta itself. For me, the sauce is always the star of the show.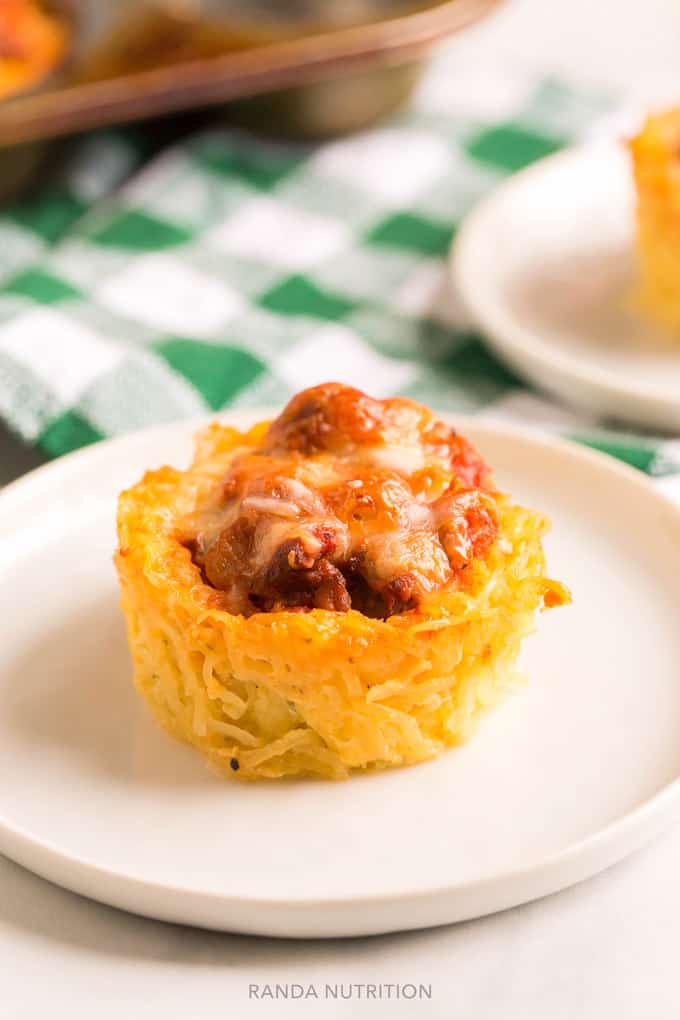 That's why I'm really excited about these spaghetti squash nests. They're so versatile that you'll find a variety of uses (I'll list some in the post below) but they're also great to hold your favorite spaghetti sauce (or if you're anything like me, drown in it). They're truly one of the best spaghetti squash recipes.
How to Cook Spaghetti Squash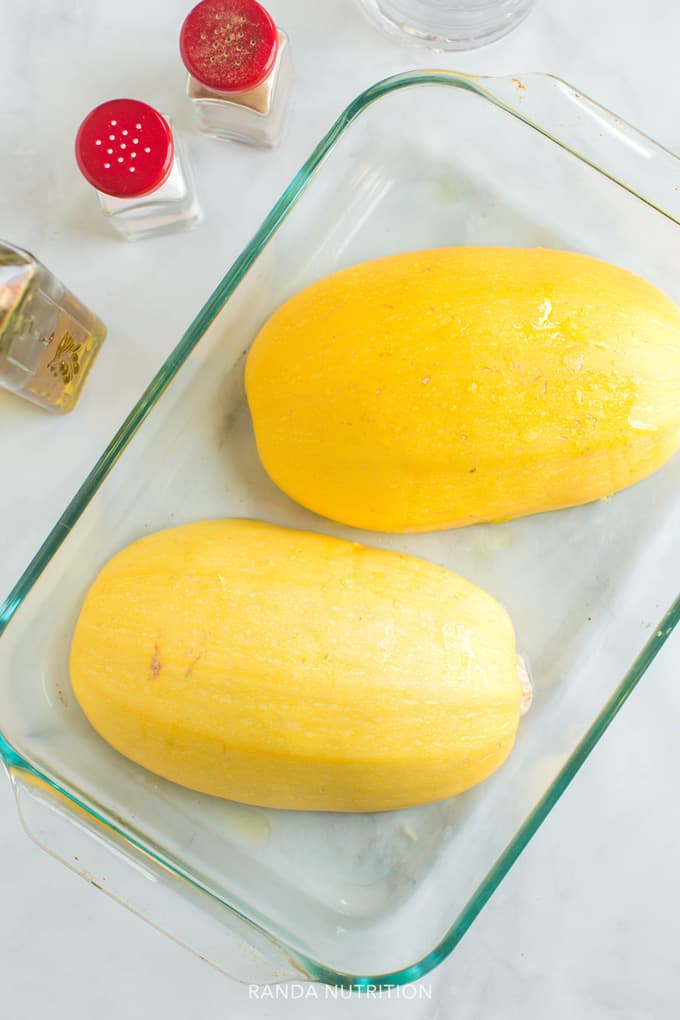 There are many ways to cook spaghetti squash but one of my favorite methods is the bake/steam method.
After slicing your spaghetti squash in half and scooping out the seeds place the squash in a 9×13 dish and pour 1 cup of water in the bottom.
By adding the water it will help steam the spaghetti squash.
Rub a little olive oil and sea salt and pepper with your hands over the inside of the squash.
Place the squash face "meat" sized down into the water.
Here are 5 Easy Ways to Cook Spaghetti Squash.
How Long Does it Take to Bake Spaghetti Squash
Bake in a preheated 400F oven for 35-45 minutes.
You'll know it's ready when you can pierce through the skin with a knife or a fork.
How to Make Spaghetti Squash Noodles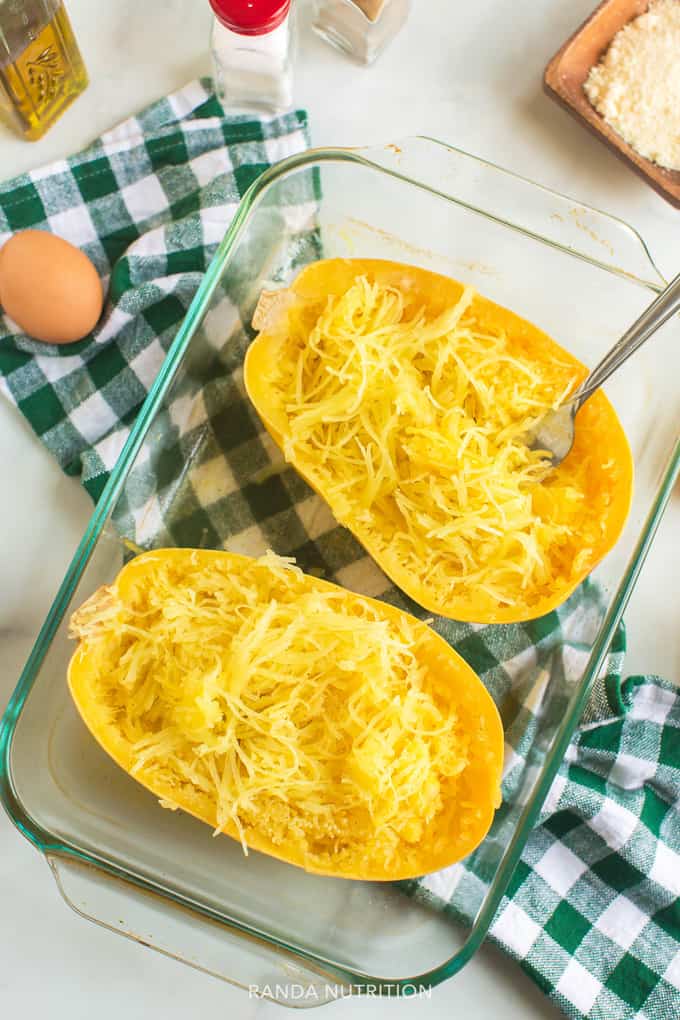 Once cooked spaghetti squash has a short noodle like texture (it makes me think of the old school Lipton chicken noodle soups).
To acheive this is super easy.
Once the squash has cooled to where you can safely handle it, hold the shell of the squash and take a fork and gentle shred the fork down.
You'll be able to scoop out the whole squash easily to where you only have the rind left to discard.
What to Add in Spaghetti Squash Nests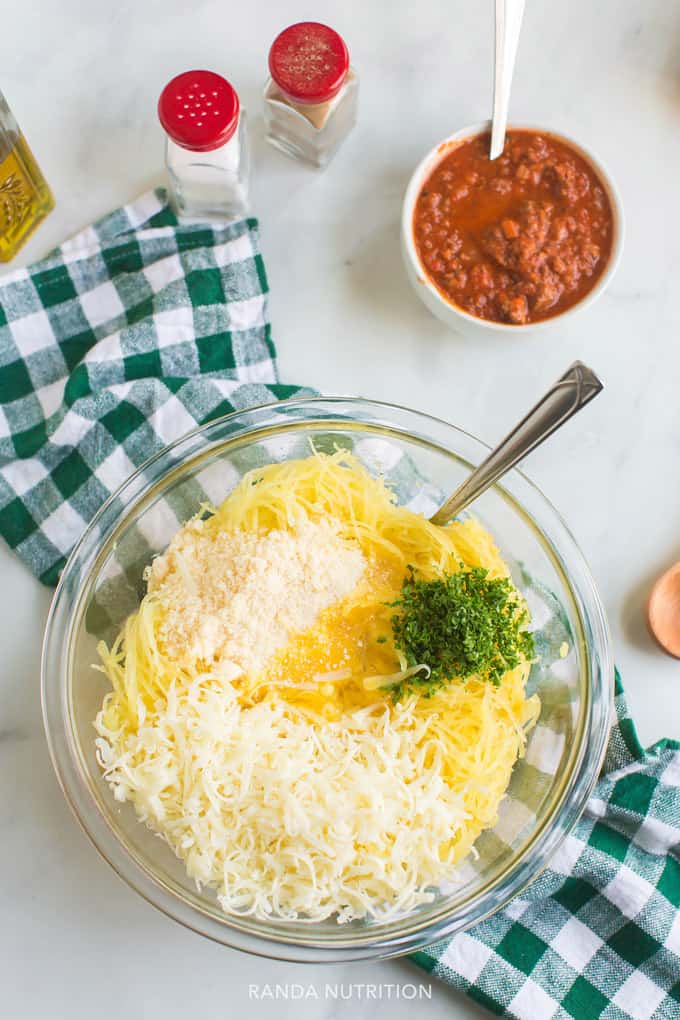 There are so many options on what to use as a filling for spaghetti squash nests. I used this one as a holder for spaghetti sauce.
Here's some ideas:
Pizza toppings: pepperoni, green pepper, marinara, cheese, etc.
Eggs, either fried eggs or you can bake them in a low carb egg cup idea.
Chicken and pesto topped with more parmesan and mozzarella.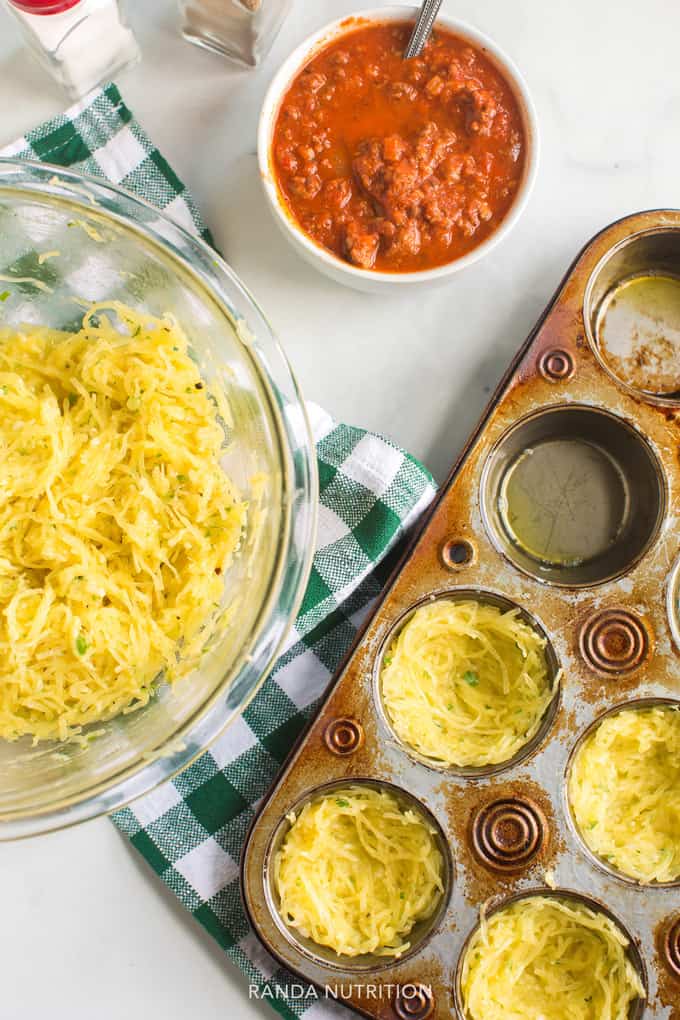 Are Spaghetti Squash Nests Low Carb?
Yes, spaghetti squash nests are a great low carb option. They're also a great way to add in extra veggies (or sneak a few more in if you have picky eaters).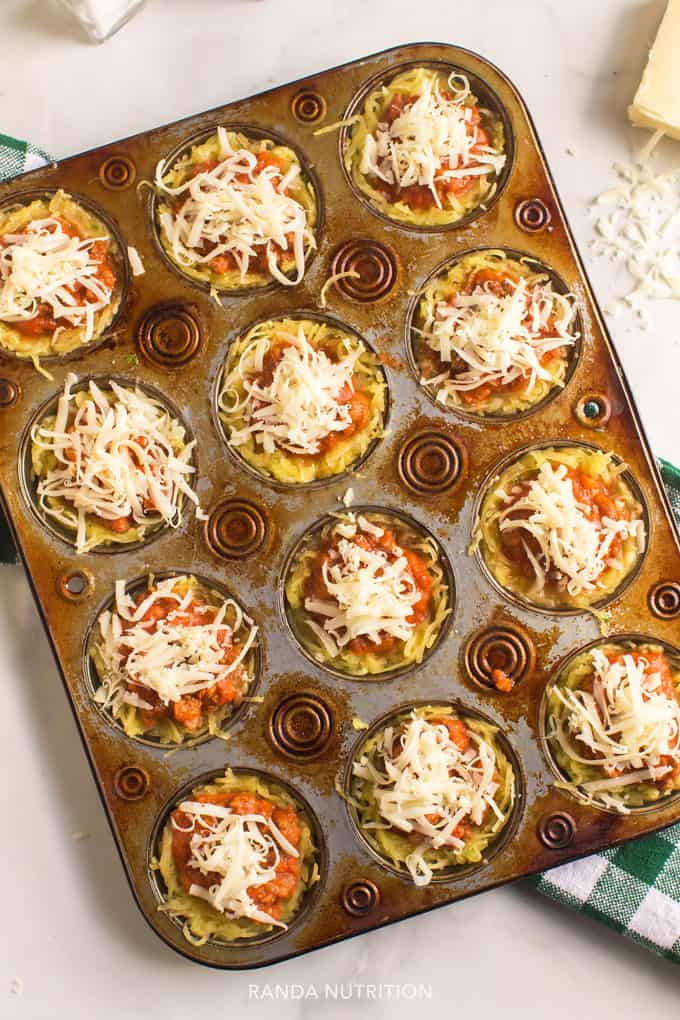 Supplies Needed
Thankfully for this recipe there are no special small appliances or gadgets needed. They're so simple that you can make them with a few simple kitchen tools.
You will need:
How to Make Squash Nests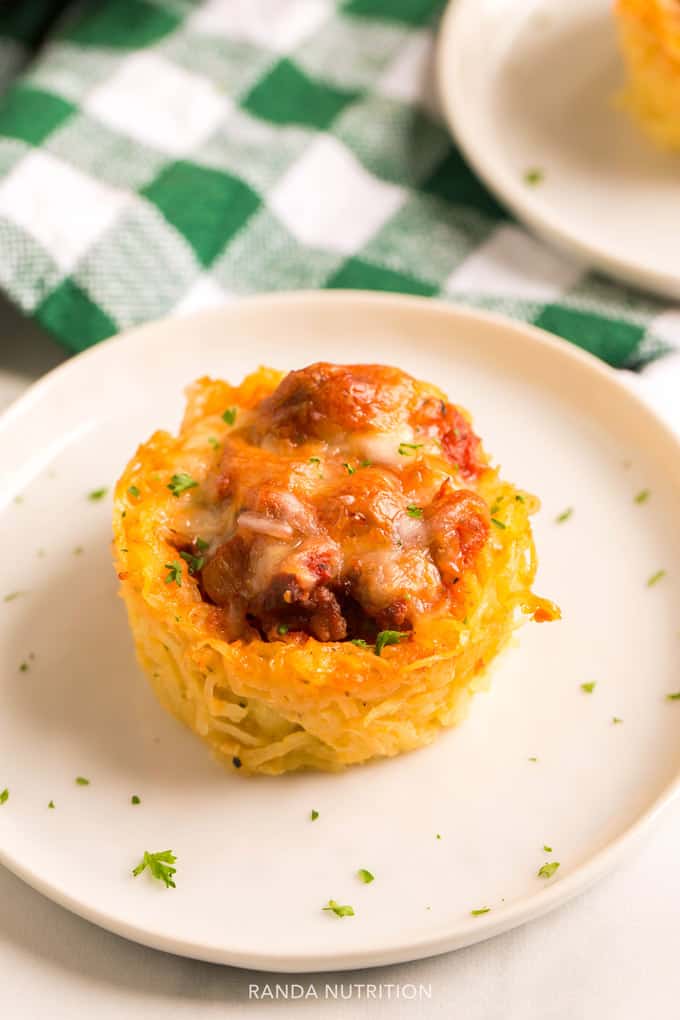 I love the idea of these little spaghetti squash nests for a family dinner.
They're playful enough where your picky eater just may attempt a bite or two (and who knows, maybe they'll request this over and over again – I mean there is always hope).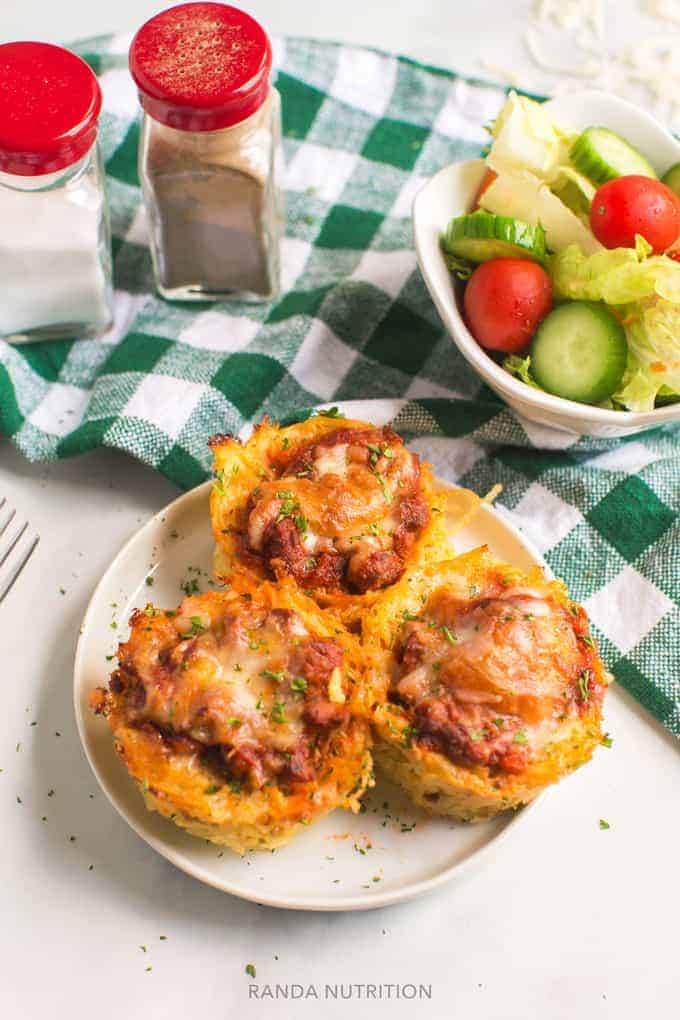 More hidden veggie recipes here on Randa Nutrition:
If you have a picky eater like I do, here are a few recipes that use hidden vegetables to help give us parents a little piece of mind.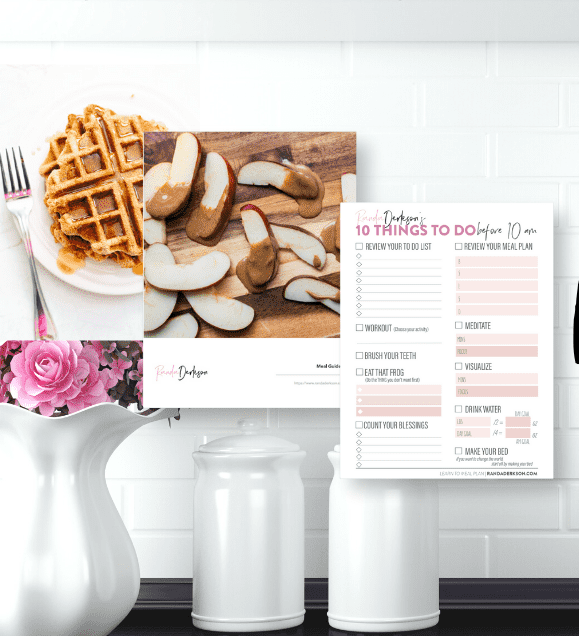 Get Access Free
Exclusive Nutrition and Healthy Living Library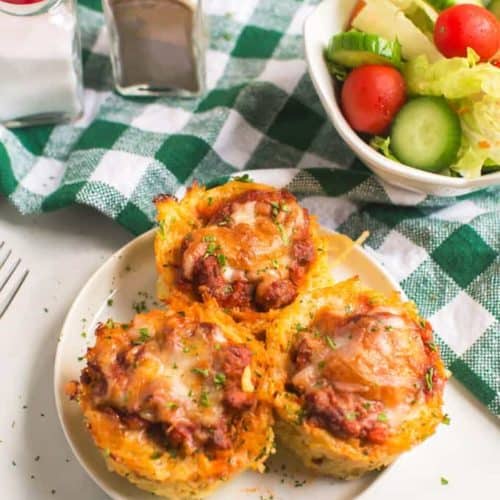 If you're looking to add a new twist to your spaghetti squash recipes try these low carb spaghetti squash nests. Top with spaghetti sauce, meatballs, pesto, or even an egg! They're versatile and delicious!
Ingredients
1

medium spaghetti squash

1

cup

water

1/4

cup

grated Parmesan cheese

1/2

cup

shredded mozzarella cheese plus more for topping

1

egg

salt and pepper to taste

1

tablespoon

fresh parsley

finely chopped (optional: additional for garnish)

1

cup

spaghetti sauce

meat sauce, or meatball and sauce
Instructions
Preheat oven to 400 degrees.

Carefully cut your spaghetti squash lengthwise. They are a very firm vegetable and this is the hardest part of this recipe. Then scoop out the seeds and discard.

Place your squash in a 9×13 dish and pour 1 cup of water in the bottom. This will help steam your spaghetti squash. Drizzle olive oil over the inside of your squash and season with salt and pepper. Then flip them over so the inside is face down in the water. Place in the oven for 35-45 minutes. Until your fork goes through the skin easily.

Remove from the oven and carefully flip them back over. Using a fork, scrape your spaghetti squash lengthwise pulling the squash down, giving you the spaghetti like noodles. Continue until you have pulled all the squash away from the skin. Next, line a bowl with a tea towel or heavy duty paper towel and transfer the squash to the bowl. Pat the squash with the towel to soak up any additional moisture. Remove the towel.

Add your parmesan cheese, mozzarella, egg, and parsley to the spaghetti squash and combine well. Season with salt and pepper.

Spray a regular size muffin tin with nonstick cooking spray. Using a spoon and your fingers, fill the muffin tin with your squash and create a little nest that has an indention in the middle. Then take a heaping TBSP of the sauce of your choice and fill the middle of the nest (or spoon in some sauce and place a meatball in the middle. Then sprinkle more mozzarella on top. Bake at 350 for 30-35 minutes. Garnish with more parsley if desired.
Notes
The serving size for this recipe is 4 nests. Calorie and macronutrient information includes nests and spaghetti sauce. It does not include a meatball or any other topping you may add.
Nutrition
Serving:
1
nest
Calories:
58
kcal
Carbohydrates:
7
g
Protein:
3
g
Fat:
2
g
Saturated Fat:
1
g
Cholesterol:
19
mg
Sodium:
188
mg
Potassium:
163
mg
Fiber:
2
g
Sugar:
3
g
Vitamin A:
282
IU
Vitamin C:
4
mg
Calcium:
70
mg
Iron:
1
mg