65 Healthy Instant Pot Meal Prep Recipes
Meal prepping is a fantastic way to save time and stay on track with your weekly meal plan. However, it can seem daunting, especially when you are just starting out. If you have been interested in meal prepping, you have come to the right place. These Instant Pot Meal Prep Recipes are sure to give you some great ideas, allowing you to meal prep in what seems like no time with your pressure cooker.
I am a huge advocate for meal planning and meal prepping.
Dedicating some time to plan ahead has always made mealtimes easier in my household. Planning ahead with the Dinner Done Daily Vault has taken the guesswork out of weekly meals for us, making sure that we can eat healthier, without standing at the fridge wondering what to make each night.
Meal prepping is great for those busy evenings when we have been working all day and have been busy with school and extracurriculars are well. It frees up time, in the long run, to enjoy my family more.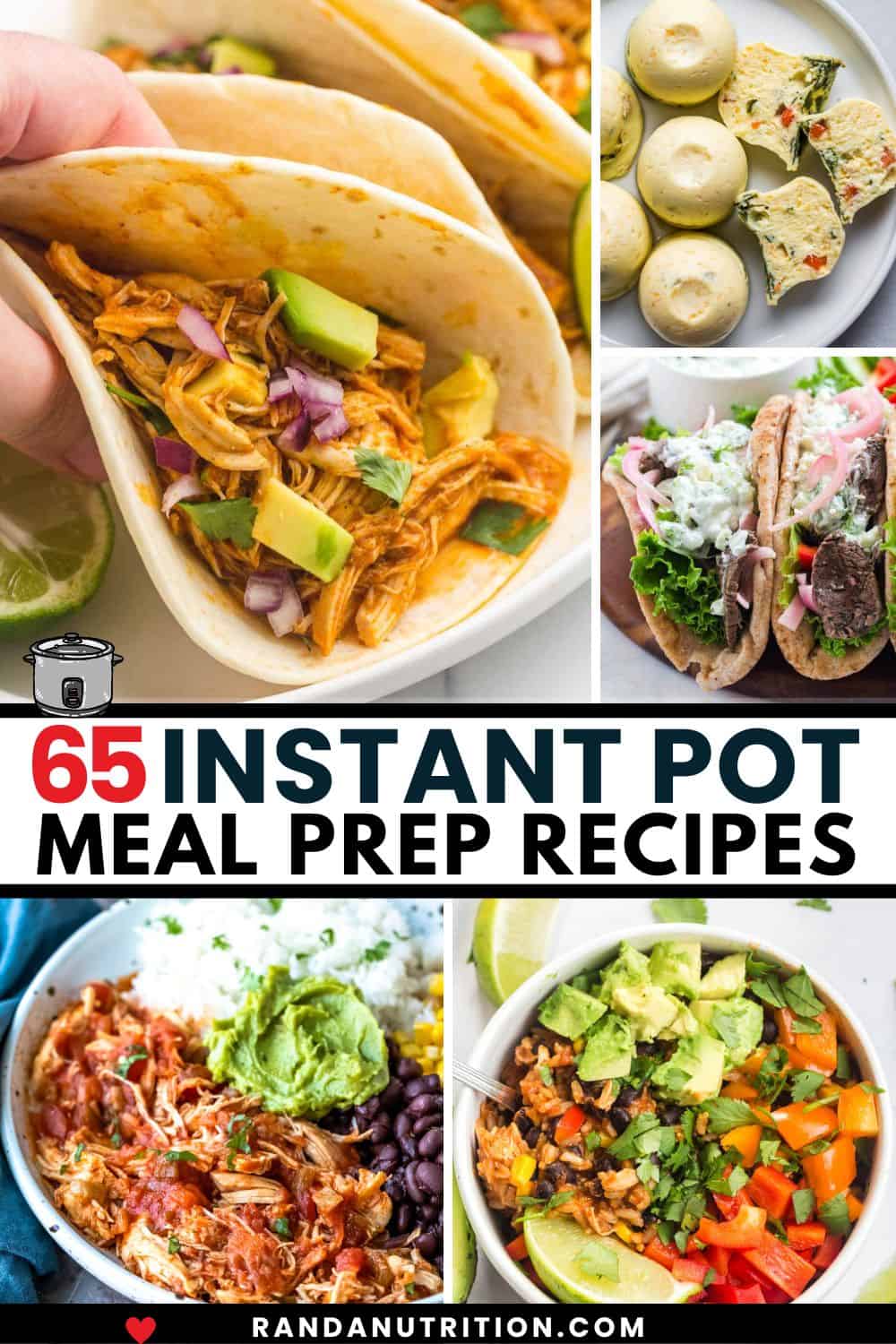 Disclosure: This post contains affiliate links for your convenience. As an Amazon Associate, I earn from qualifying purchases.
Updated March 17, 2023, originally posted May 18, 2021.
Are Instant Pots good for meal prep?
Absolutely, not only do pressure cookers save your time while meal prepping, but they also create fewer dishes and stress during your prep.
You could have chicken for the week in the oven and a soup, tacos, stir fry, or even just your rice for the week going in the Instant Pot or Ninja Foodi.
Or if you have a bunch of beans, you could cook black beans in the Instant Pot as well!
Not everything has to be a recipe!
You could also batch-cook ingredients. Think along the lines of sweet potatoes for your bowls, veggies for your salads, or sauce for your pasta.
I've even had clients make their own yogurt using their Instant Pot. Seriously, what does this kitchen appliance not do?
There are so many healthy meal prep ideas you can use with a pressure cooker.
Meal Prep Recipes for Instant Pot or Pressure Cooker
Using a pressure cooker like the Ninja Foodi or an Instant Pot will help you to meal prep much faster.
Not only will you be saving time, but you will find that the recipes usually have simple ingredients to follow but they do not lack flavor.
I have compiled a list of great Meal Prep Recipes for you Your Instant Pot or Pressure cooker that can help to save you from weeknight dinner debacles.
Note: all pressure cooker/ Instant Pot recipes on Randa Nutrition are actually made in the Ninja Foodi but the settings are similar.
Instant Pot Alternatives
Instant Pot vs Ninja Foodi: Which One Is The Best?
If you don't have (or don't want) an Instant Pot. Here are some alternatives.
Instant Pot Meal Prep Recipes Using Chicken
We love to use our pressure cooker to make delicious Instant Pot chicken recipes. There are so many different chicken dishes that can be brought together quickly in your Instant pot or Ninja Foodi that will not only please your family but save you mass amounts of time.
These recipes include:
Chicken breasts
Whole chickens
Ground chicken
Chicken thighs
Whether you are meal prepping lunches or dinners, there is something on this list for everyone.
Check out these healthy Instant Pot recipes.
Beef Instant Pot Meal Prep Recipes
Beef can make for a hearty meal whether it is lunch or dinner.
There are so many different beef recipes that you can make using your pressure cooker, making it simple to stick to your meal plan. These recipes using beef are perfect for meal prepping and will save you time and money in the kitchen.
Vegan Instant Pot Meal Prep Recipes
If you are looking for Vegan Instant Pot Meal Prep Recipes, look no further.
There are several different options that can be used for Meal planning with your Instant Pot, especially if you follow a vegan diet.
Whether you make a stew, a curry dish, or even chili, or just want to find a recipe for your vegetables (like corn on the cob) and side dishes, there are a ton of options,
Other Pressure Cooker Prep Recipes
There are a wide variety of meal prep recipes to choose from. Whether you decide to meal prep for breakfast, lunch or dinner, you will find several fantastic options sure to take the fuss out of your meal prep.
There are so many different Instant Pot Meal Prep recipes that you can find out there. It is always a good idea to add some flair and finesse to your meal prep to avoid boredom. Get creative and switch your meal planning up once in a while with these fantastic recipes.
Happy Meal Prepping!