This high protein healthy crab cake recipe is not only delicious but easy too. Ready in 20 minutes, serve them as appetizers at your next party or tasty dinner with a side salad and rice.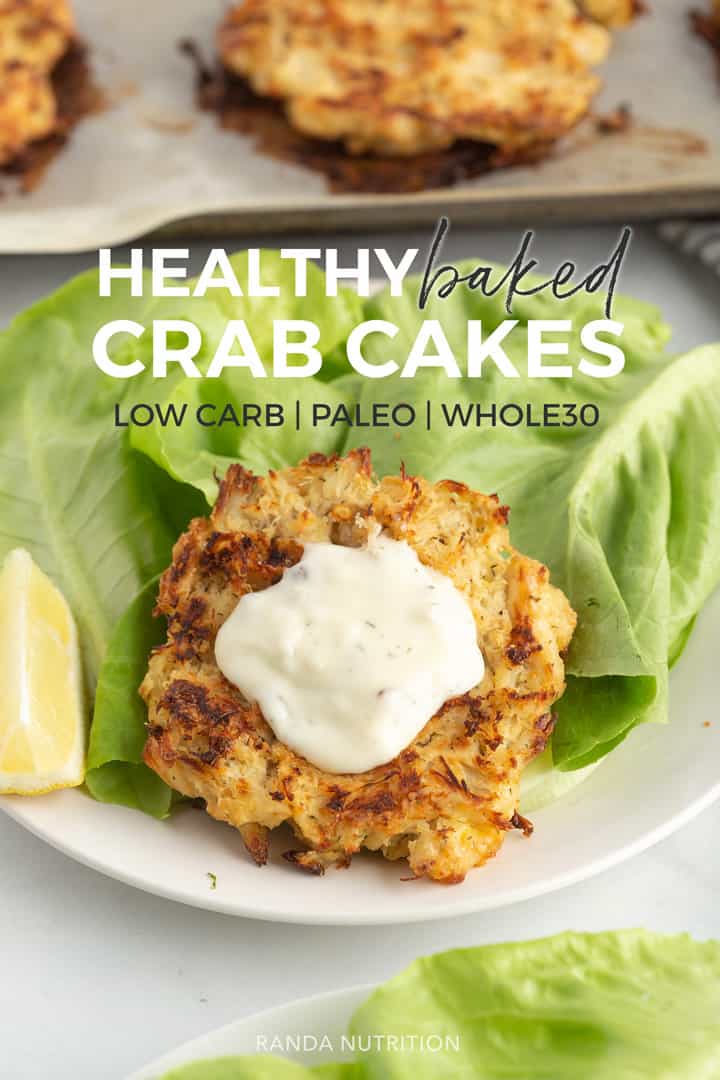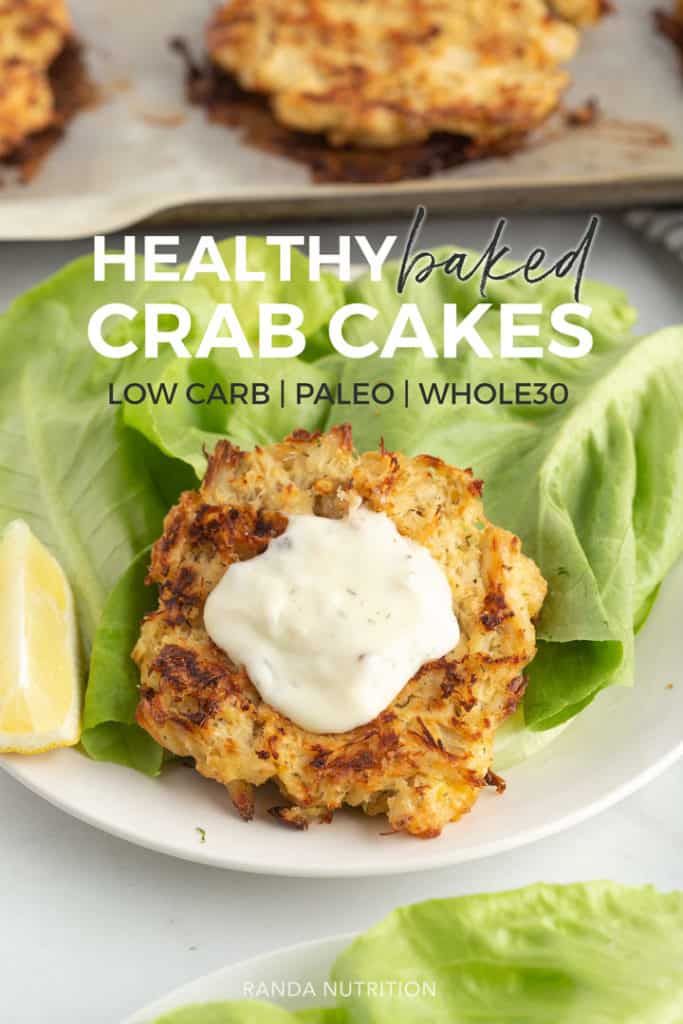 Disclosure: This post contains affiliate links for your convenience. As an Amazon Associate, I earn from qualifying purchases.
Baked Crab Cakes
Have you ever had crab cakes baked? In all honesty, I have only had them twice in my life and both times they were fried.
I was not a fan. I knew I had to be missing something because so many people rave about this classic dish.
Turns out, all I needed was to try them fresh out of the oven with some lemon, sauce, and lettuce.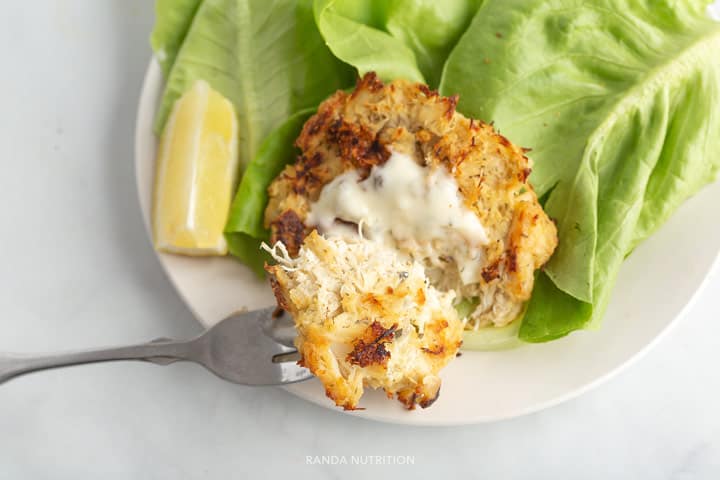 What ingredients will I need to make this recipe?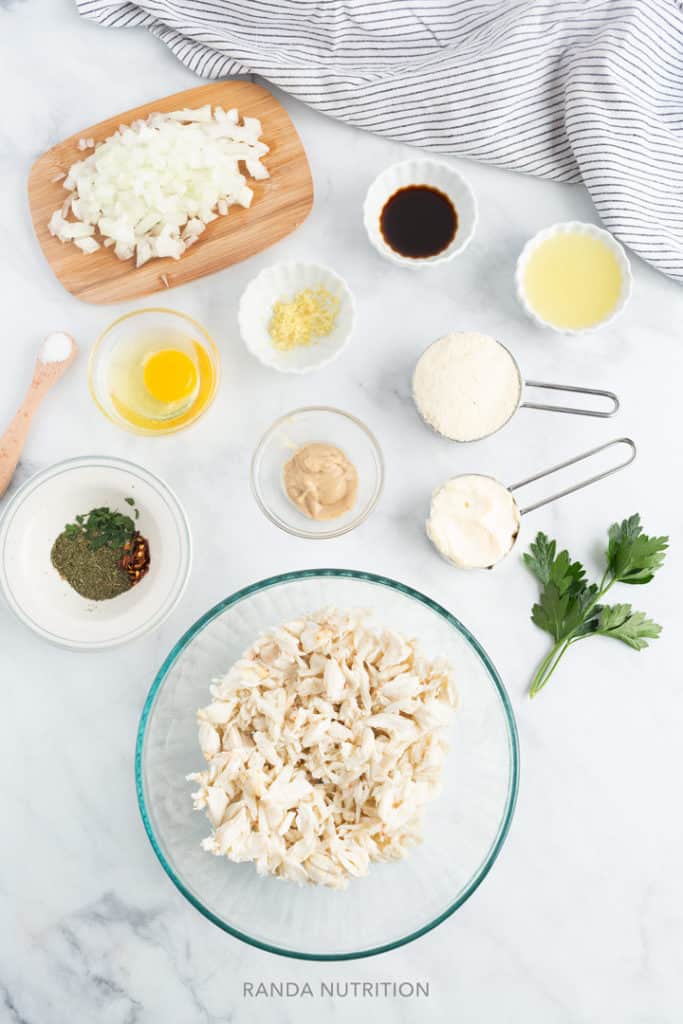 To make this low carb crab cakes recipe you'll need the following ingredients:
Jumbo lump crabmeat (this is usually in a can in the seafood department of your local grocery store)
Red pepper flakes
Onion
Egg
Dill (fresh is best)
Dijon mustard
Worcestershire sauce
Parsley
Salt
Lemons (you'll need two for these paleo crab cakes, one for the zest and two for the juice)
Are crab cakes healthy?
If you follow me on Instagram, you know I don't feel that there are any good or bad foods. However, if certain foods make you FEEL bad then that's when you should avoid them.
These healthy crab cakes are a great fit because they're baked in the oven, don't use bread crumbs (for those who have wheat sensitivities), and won't weigh you down as traditional recipes do.
Make it gluten free
This recipe is gluten free as it uses almond flour.
However, if you're using an old family recipe and you want to make it a gluten free recipe for crab cakes, all you have to do is substitute the breadcrumbs for your favorite gluten-free breadcrumbs.
The same thing goes for other recipes that are similar, like paleo salmon cakes.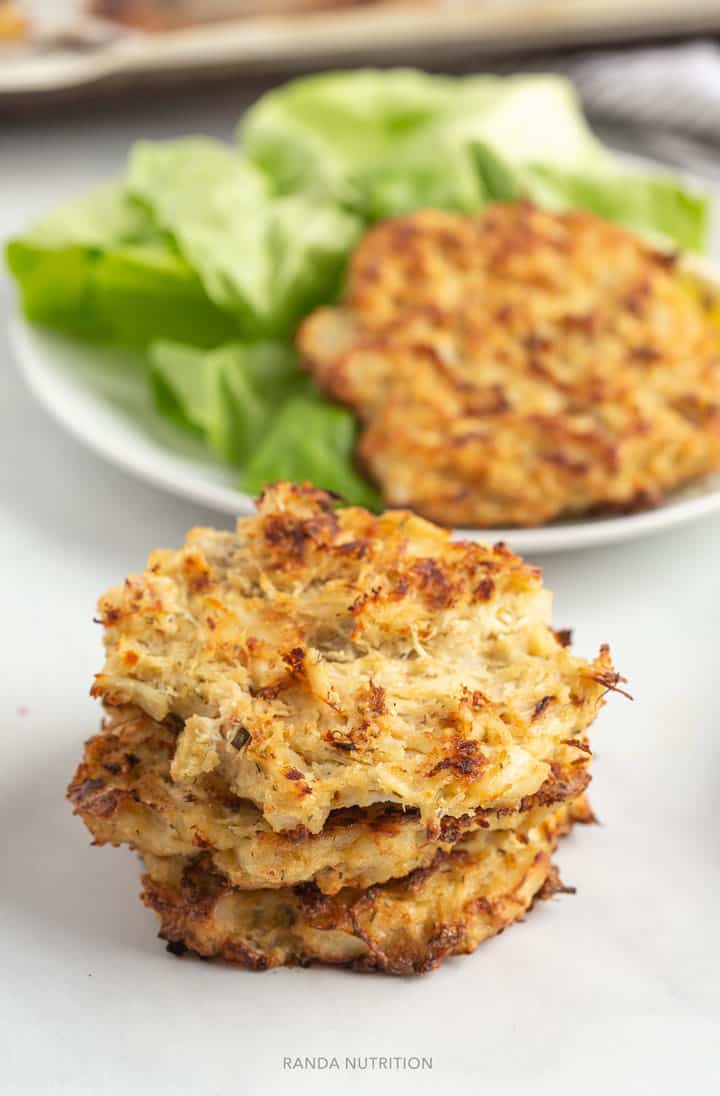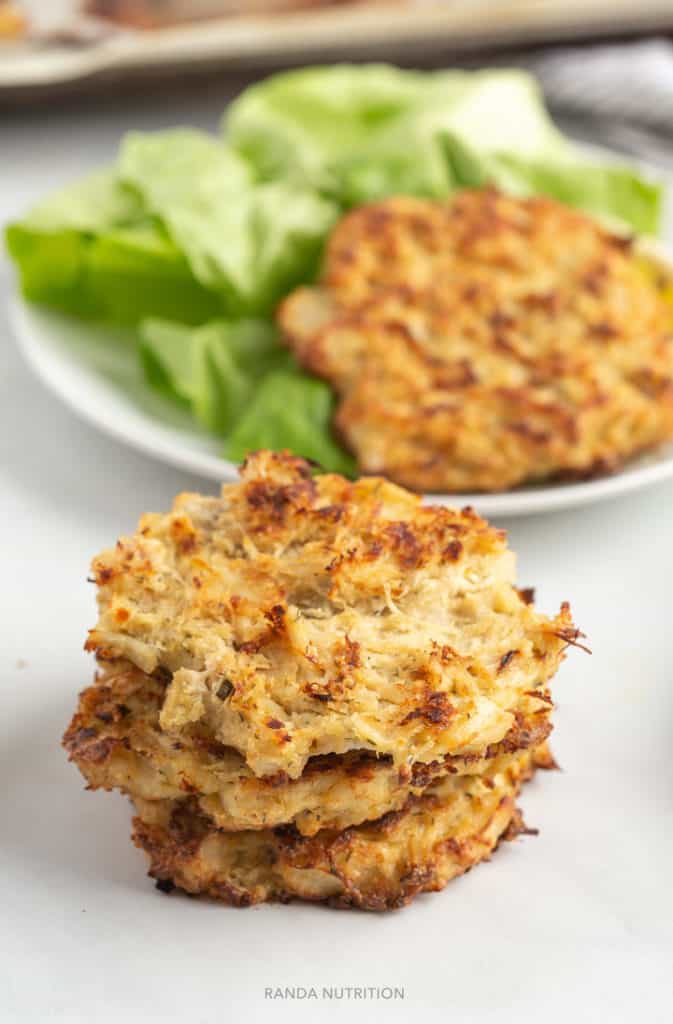 How do I make it Whole30?
Yes, you can have Whole30 crab cakes. It's easy to make a simple adjustment to the recipe:
Change the mayonnaise to a homemade mayo or a Whole30 approved store bought mayonnaise (like Primal Kitchen or Chosen Foods). These rules also apply to consider it paleo.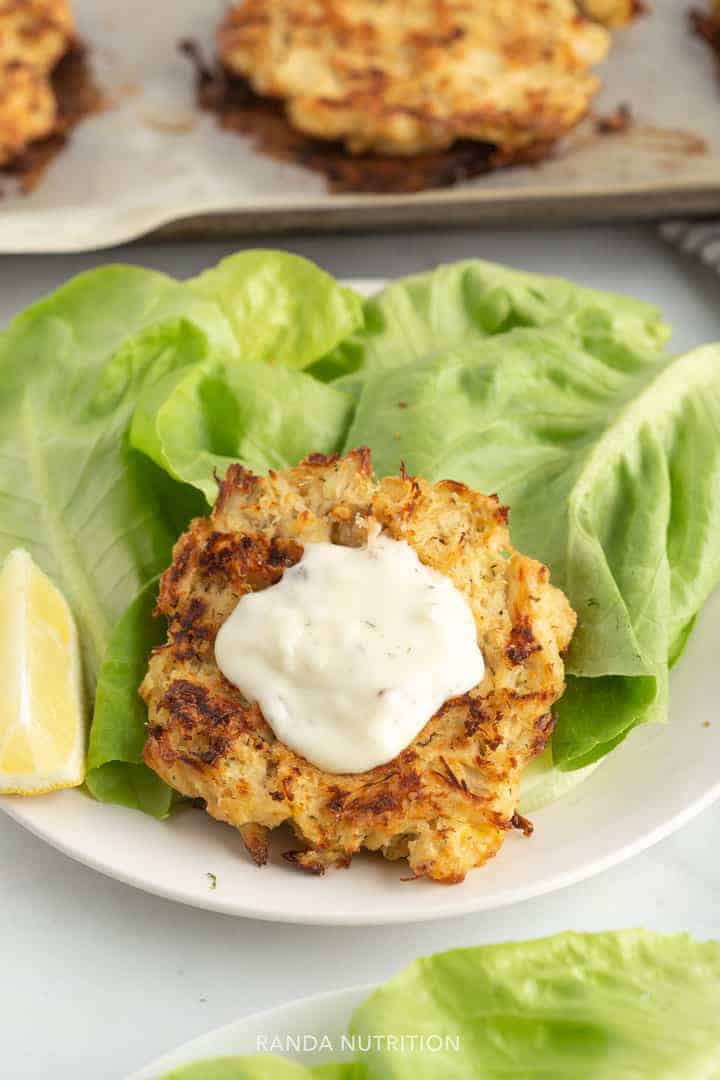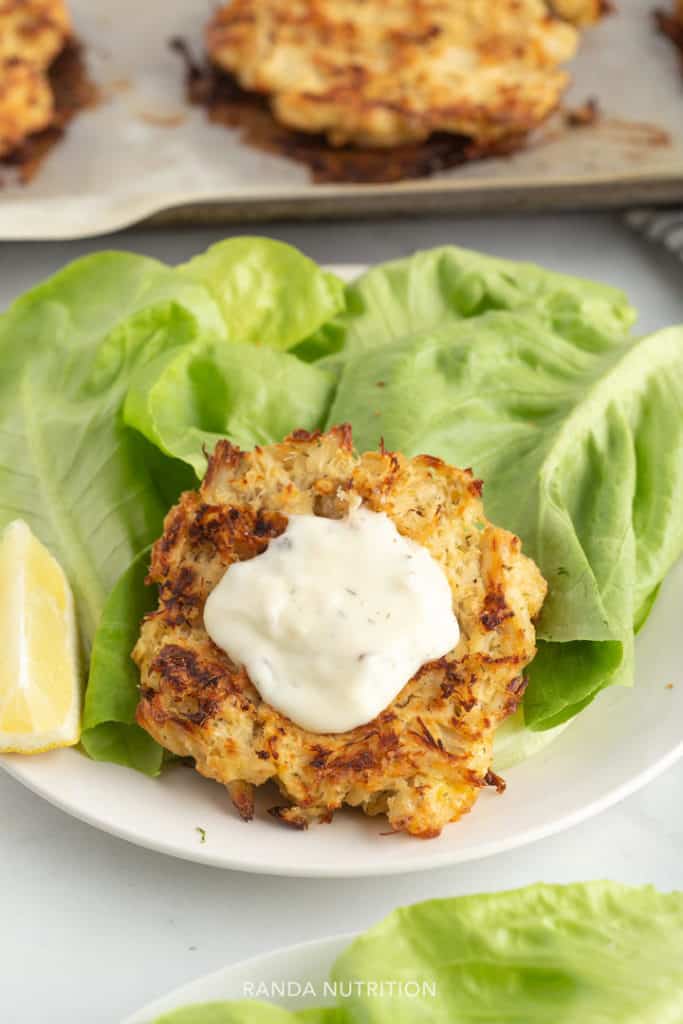 What to serve with crab cakes
Since this is an easy crab cake recipe, you'll want a simple side dish to go with it. Here are some ideas:
Coleslaw
Bibb lettuce for lettuce wraps
Simple roasted vegetables
Garden salad
Rice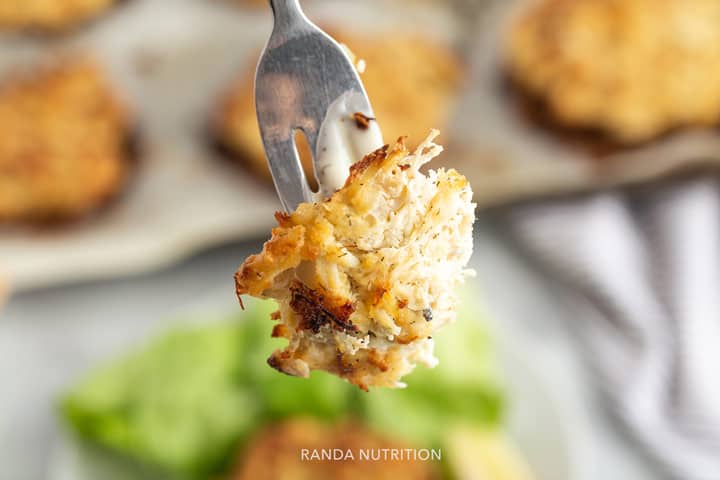 What sauce to serve
If you're looking for a tasty sauce for crab cakes, here are a few options:
Cocktail sauce (my personal favorite)
Tartar sauce
Romesco Sauce (this is my favorite sauce to put on everything).
Remoulade Sauce
A squeeze of lemon juice from fresh lemon wedges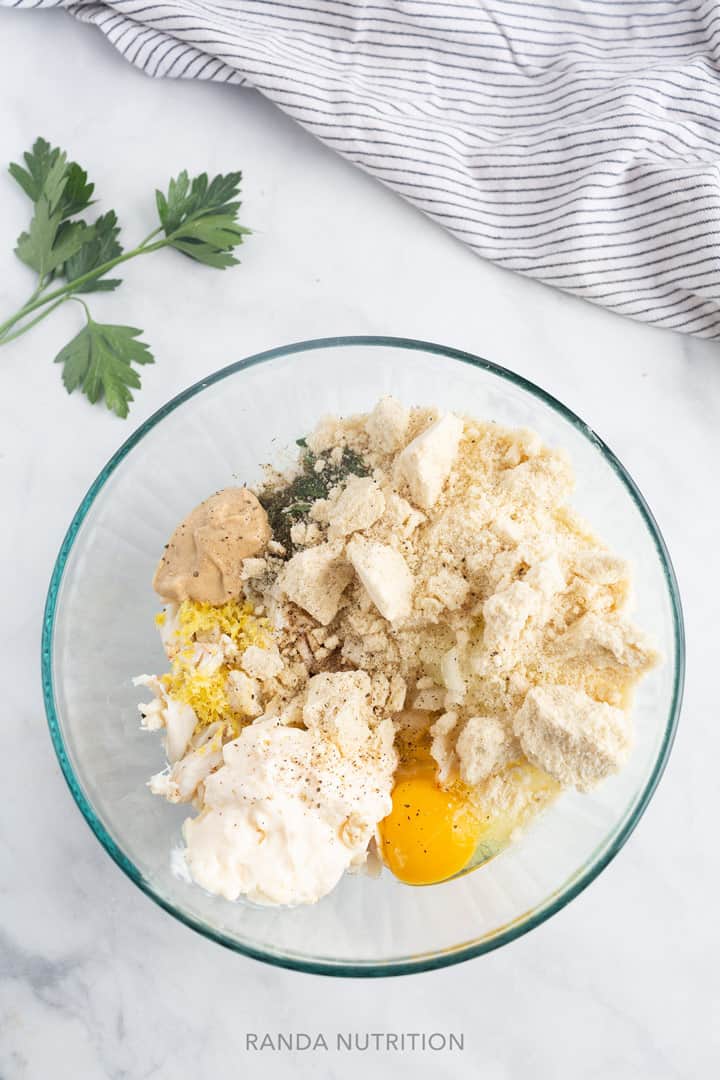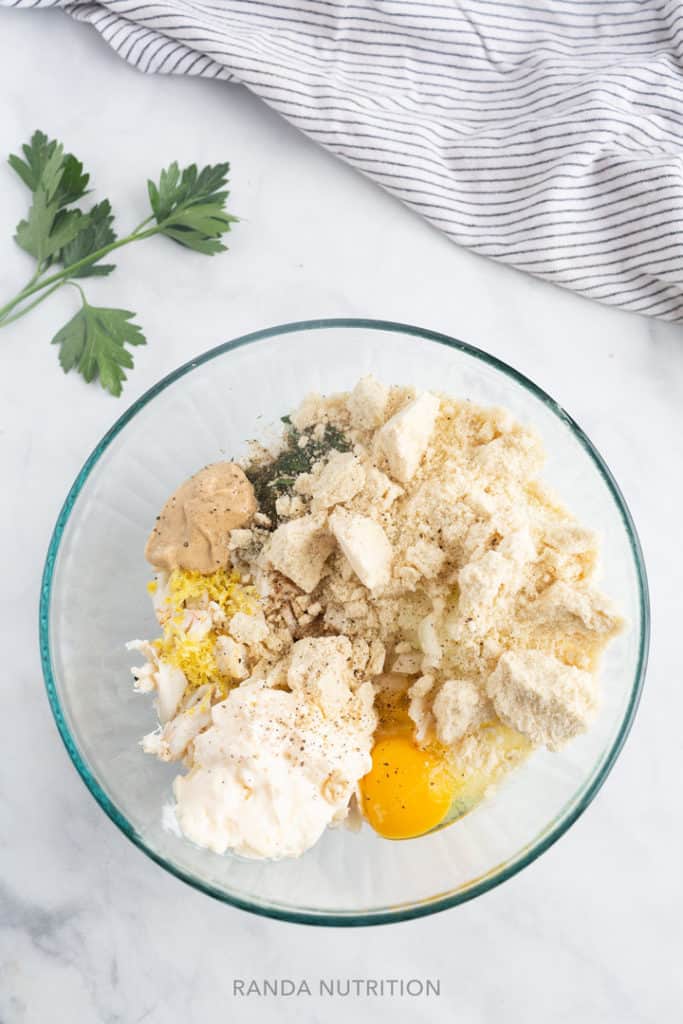 F.A.Q's
When I mix the ingredients they seem really wet is this okay?
Yes, you want the ingredients to be wet for this recipe. Since we are using almond flour, it is better to have wet ingredients as the almond flour will absorb most of the moisture during the baking process and you do not want dry crab cakes.
Why do I put olive oil or cooking spray on top of the parchment paper?
I have found the hard way that these will stick if you do not grease your parchment. Plus the olive oil gives it extra flavor so it is a win win.
How to store crab cakes?
If there are any left put them into an airtight container in the fridge for up to 2 days.
Can I make these thicker?
You can but you will need to adjust your cooking time.
Can I make crab cakes ahead of time?
I would not recommend making these ahead of time.
How long to bake crab cakes?
If you're baking the crab cakes at 400F, bake them for 20 minutes, flip halfway.
Are crab cakes keto?
This recipe is, thanks to the high protein content of the crab and the low carb count of the almond flour. Traditional crab cakes will be higher in carbohydrates.
Can I use greek yogurt instead of mayo?
Yes, the wonderful thing about recipes is that you're free to experiment. It will give it a different taste, so try it and adjust. You could even do a mix of half mayonnaise and half greek yogurt. Do what you can to make this healthy crab cake recipe work for you.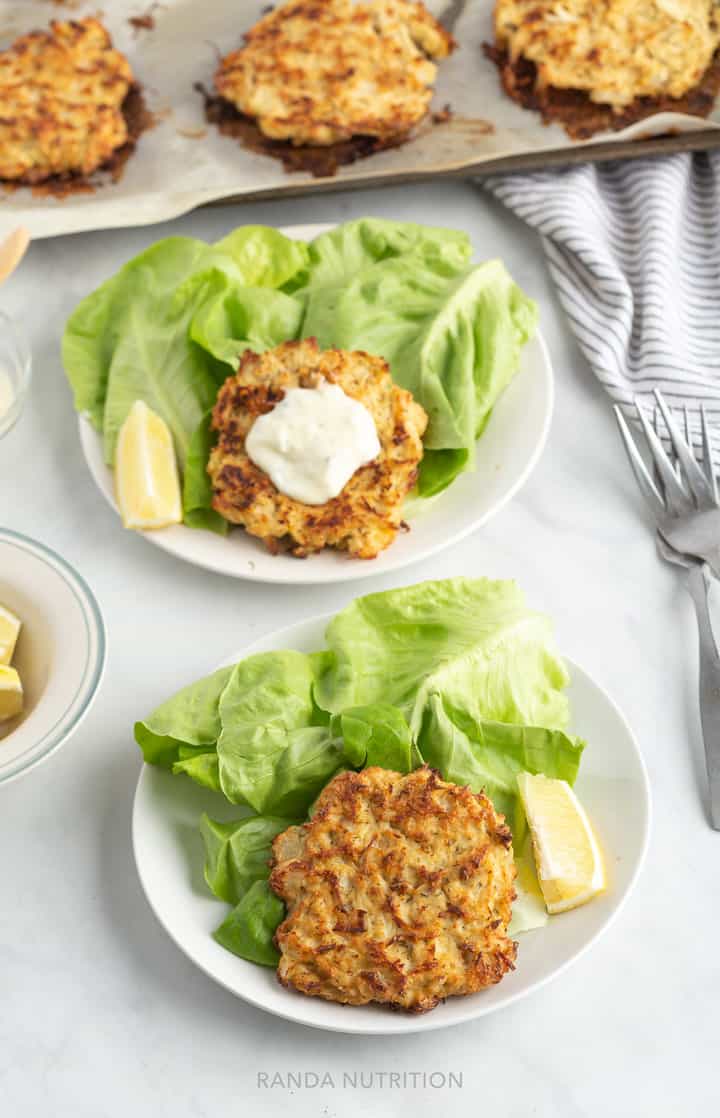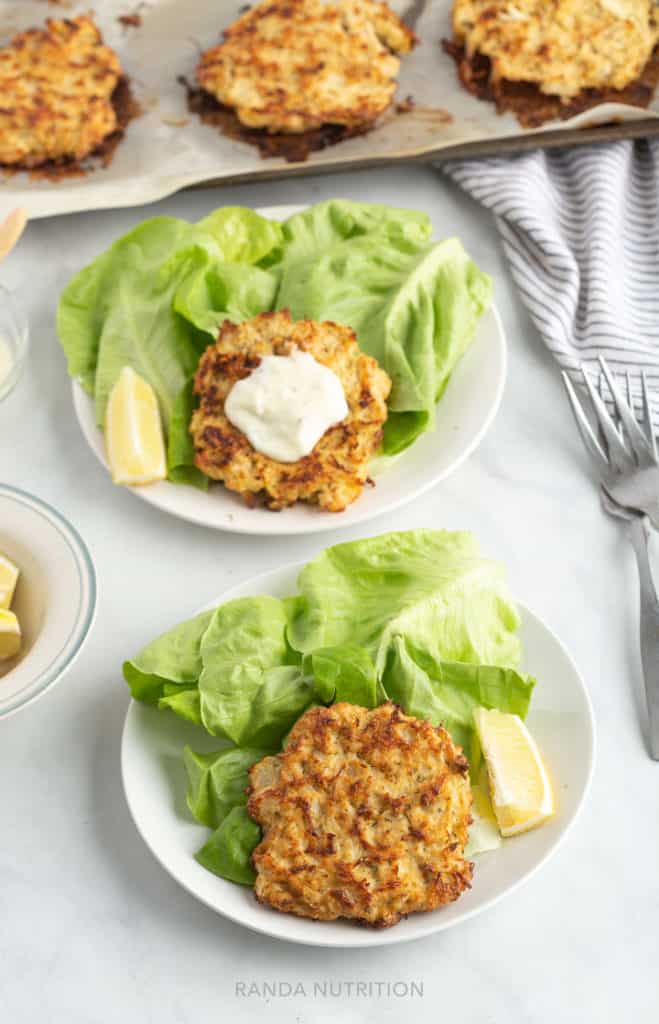 How to Make a Healthy Crab Cake Recipe
This recipe for oven baked crab cakes is a keeper. What I love most about this recipe is that it's so simple.
All you have to do is add all your ingredients to a bowl, mix, shape into patties, and bake.
That's it!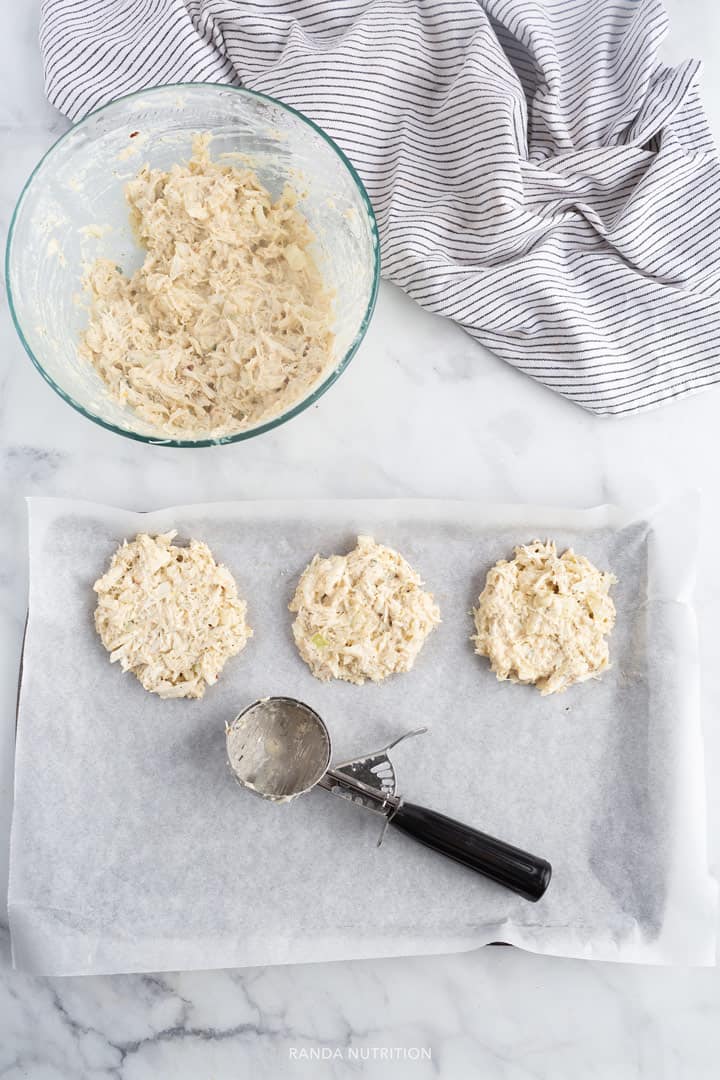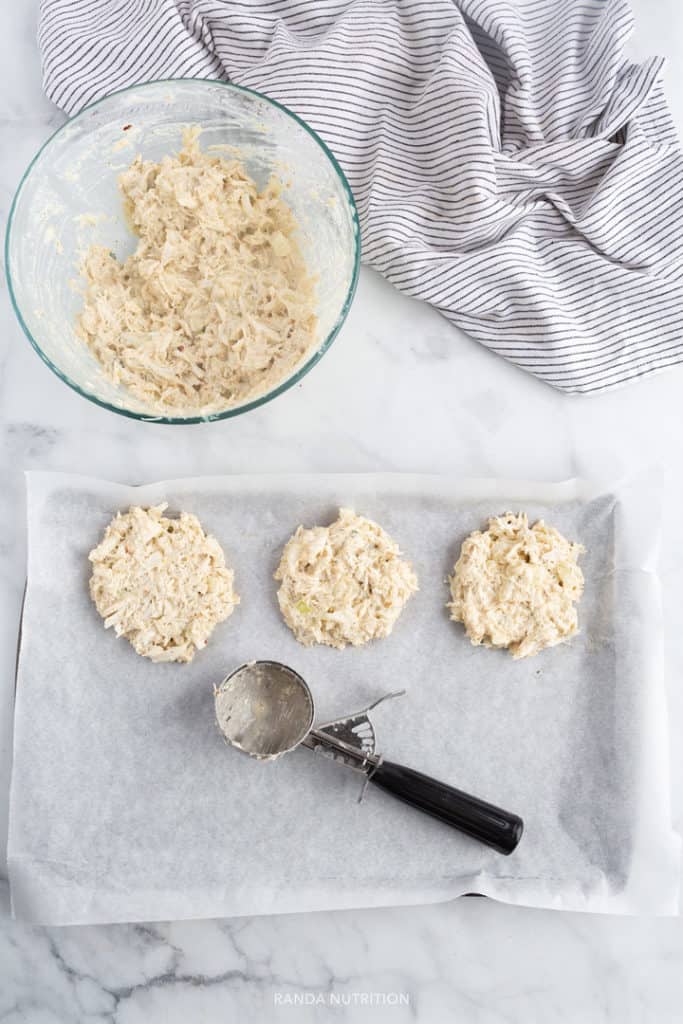 Tip: Use an ice cream scoop to dish out the crab mix for even distribution.
Baked Crab Cakes Recipe
These gluten free healthy oven baked crab cakes are so easy! Not only are they low carb but they're also paleo and Whole30 recipes as well. Whether you make them as appetizers or as a healthy dinner recipe, you're going to love them.
Instructions
Place a sheet of parchment paper onto your baking sheet and preheat oven to 400F degrees.

Spray your parchment with a non-stick spray or place olive oil underneath where each crab cake will be placed. (This step is very important, the crab cakes might stick to the parchment paper during the baking process if you don't grease it.)

Drain your crab meat and put into a large bowl.

Add in all of your ingredients at once. Take fresh ground pepper and do 3 turns onto the top of your ingredients.

Fold all the ingredients together.

Take a medium sized ice cream scoop and place each scoop about an inch apart onto your pan.

Take the back of your scoop and flatten the cakes to 1/4" thickness.

Place in the oven. After 10 minutes gently flip your crab cakes over and cook for another 10 minutes or until golden brown.

Serve over a bed of greens and with tartar sauce and garnish with a lemon wedge.
Nutrition
Serving:
1
cake
|
Calories:
218
kcal
|
Carbohydrates:
5
g
|
Protein:
17
g
|
Fat:
14
g
|
Saturated Fat:
2
g
|
Cholesterol:
59
mg
|
Sodium:
758
mg
|
Potassium:
214
mg
|
Fiber:
1
g
|
Sugar:
1
g
|
Vitamin A:
157
IU
|
Vitamin C:
7
mg
|
Calcium:
65
mg
|
Iron:
1
mg
The nutrition information is calculated using a third party resource. The accuracy varies on the brands used, weight, portions, etc. This resource should be used as a guide. If you want more accurate information, weigh in grams and log in MFP.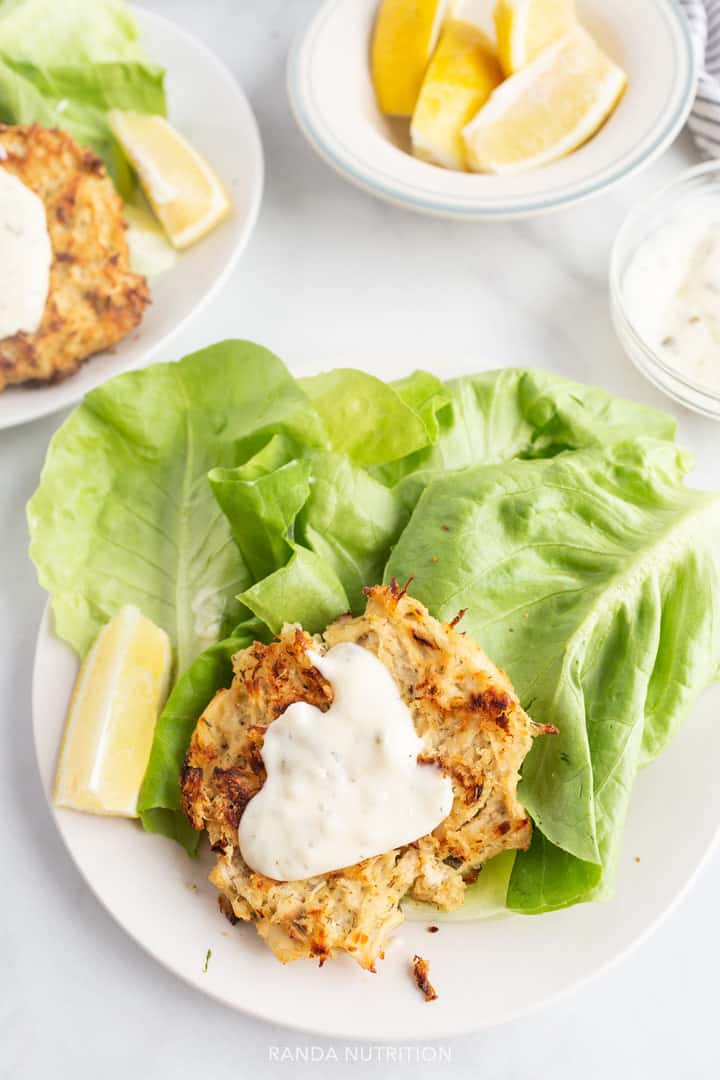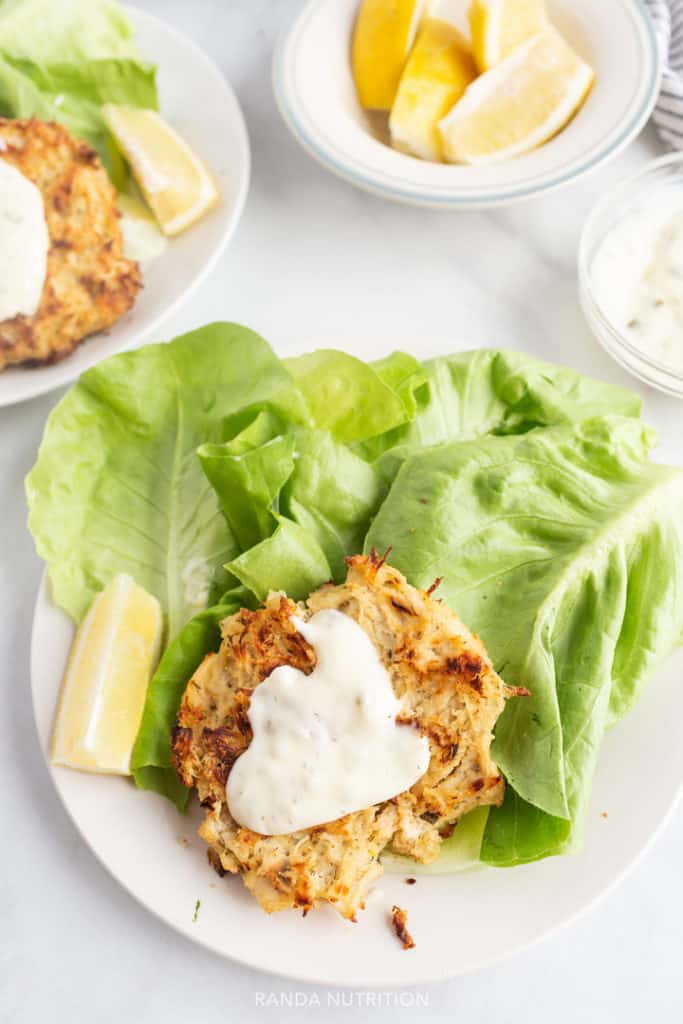 This post was originally published on September 10, 2020. It has been updated since.