Easy Banh Mi Burger Recipe (Pork Burgers, Pickled Veggies & Spicy Mayo)
If you're looking for different burger recipes to bring to your next BBQ, you gotta try this ground pork Banh Mi burger.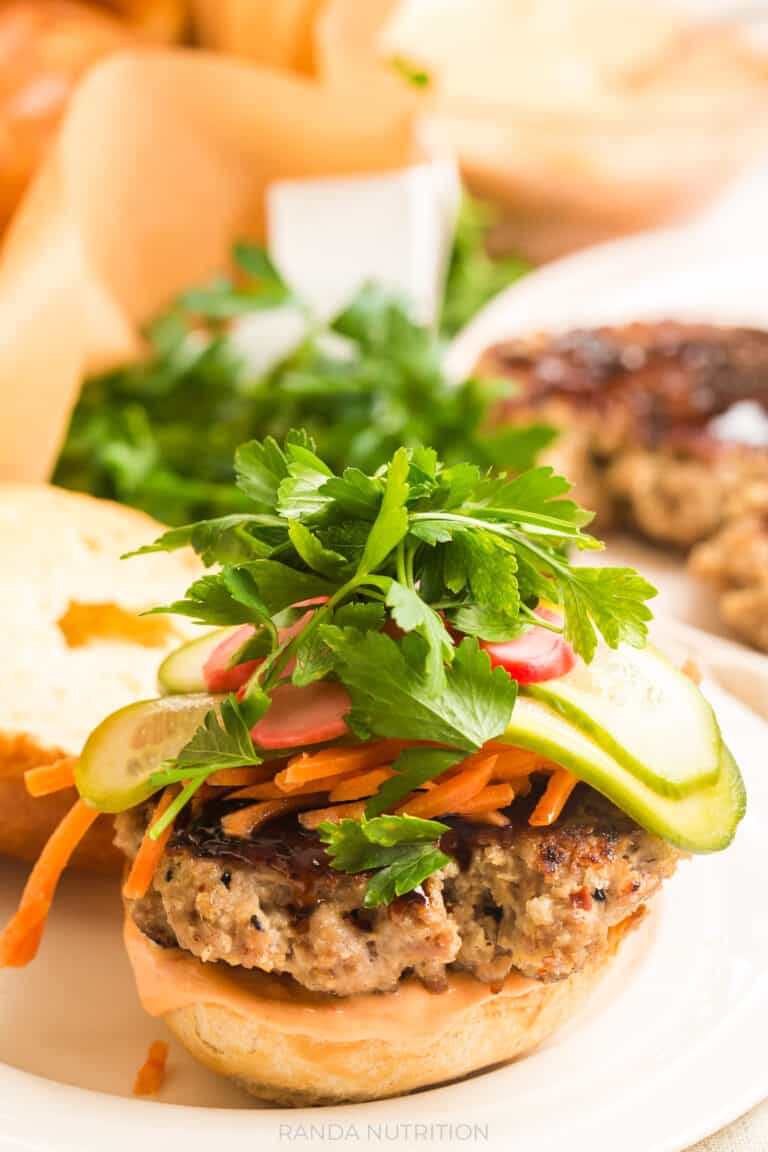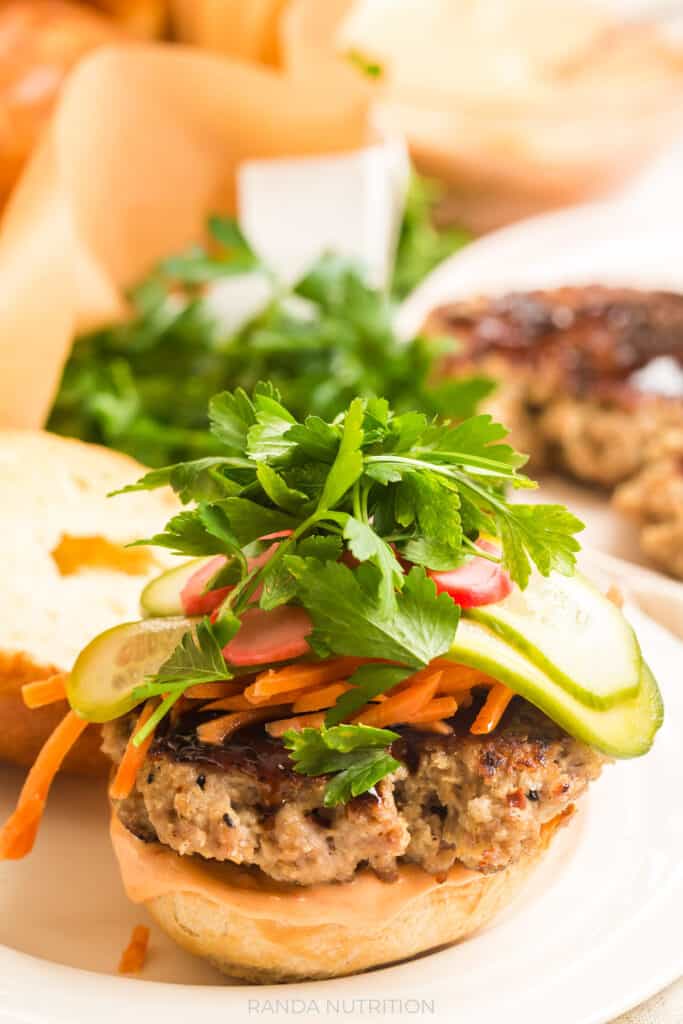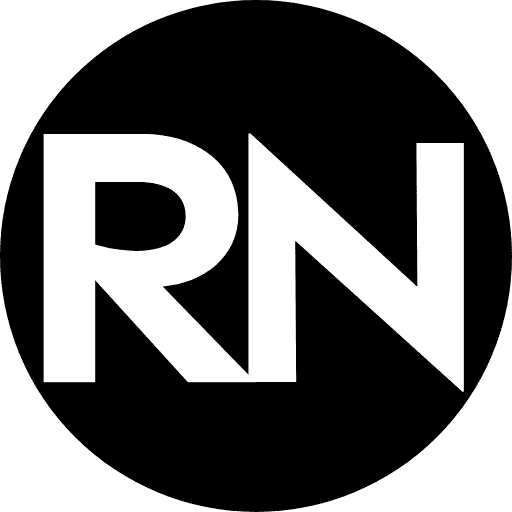 Save This Recipe!
Enter your email below & I'll send it straight to your inbox. Plus you'll get great new recipes every week!

Banh Mi Burger
I made this Banh Mi burger with ground pork because the fat content in the pork keeps the meat juice and full of flavor. If you are looking for something that's leaner, try making this with ground chicken or ground turkey.
The best part? Most grocery stores carry these ingredients so you don't have to worry about making all sorts of stops to international and specialty markets.
What is Banh Mi?
Banh Mi is a Vietnamese sandwich served on a baguette (or sub bun) that usually has pork, pickled vegetables, and a ton of flavor.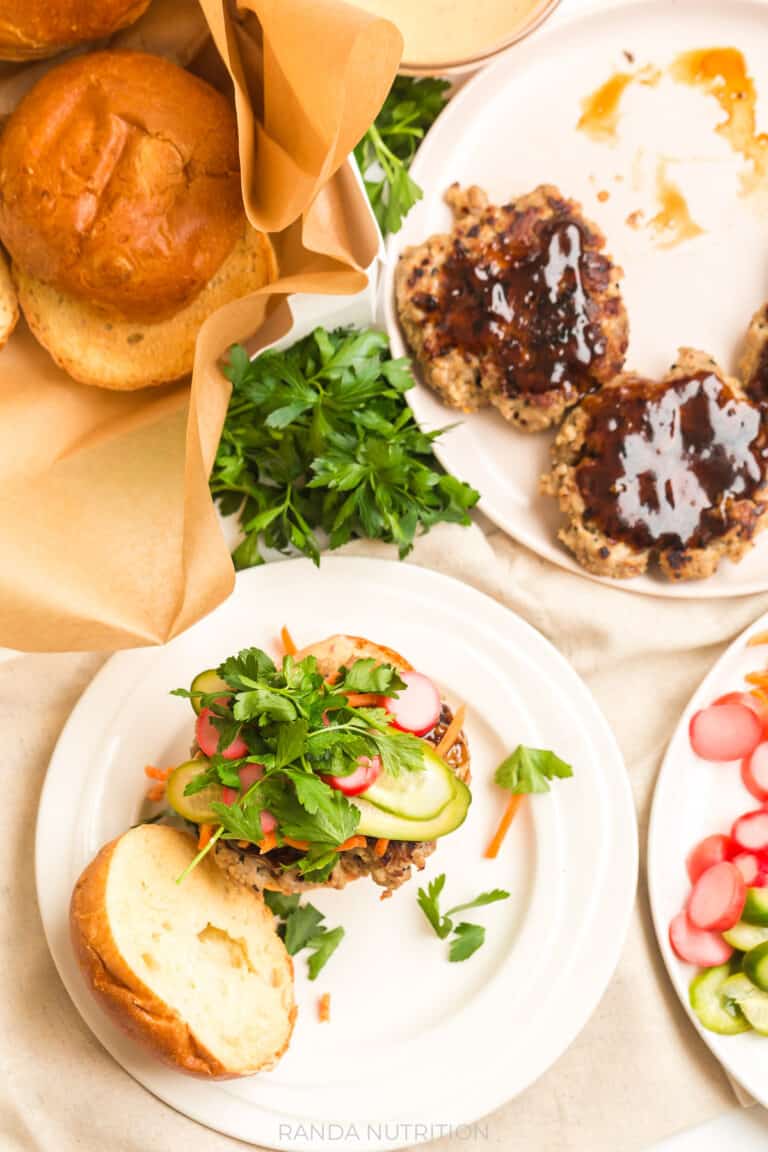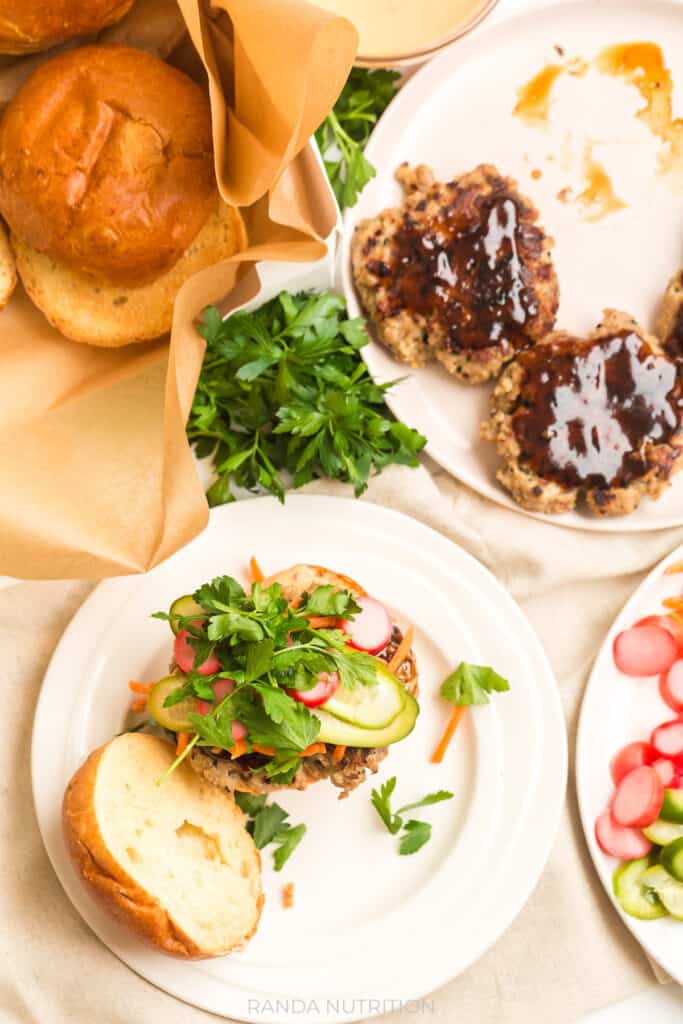 Inspiration
The first time I had a Banh Mi inspired dish was actually at Legoland in San Diego. They had this sandwich that was out of this world. Ever since then, whenever I see Bahn Mi in the title, I'm all in. (By the way it was the Bánh Mì Vietnamese sandwich at the Ninja kitchen.)
Yes, I was inspired by a trip to Legoland back in 2017. This has been on my list of things to make back when I had a whole different blog but it was always pushed to the back burner.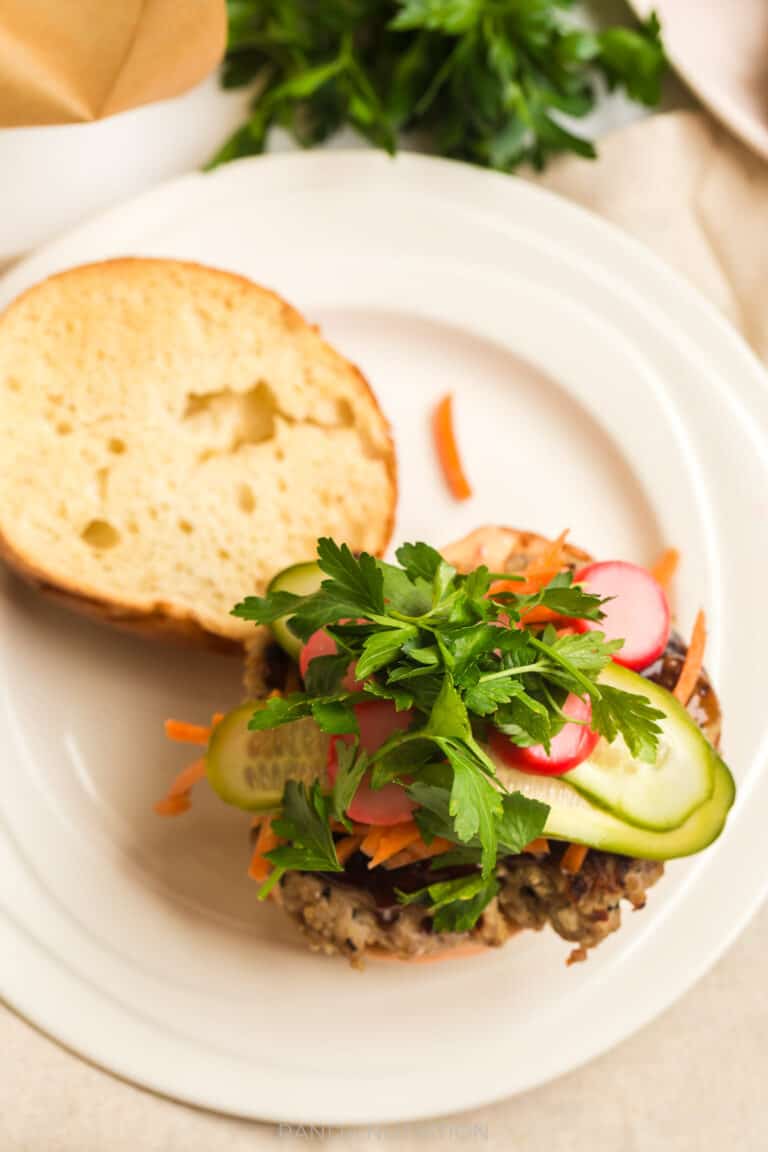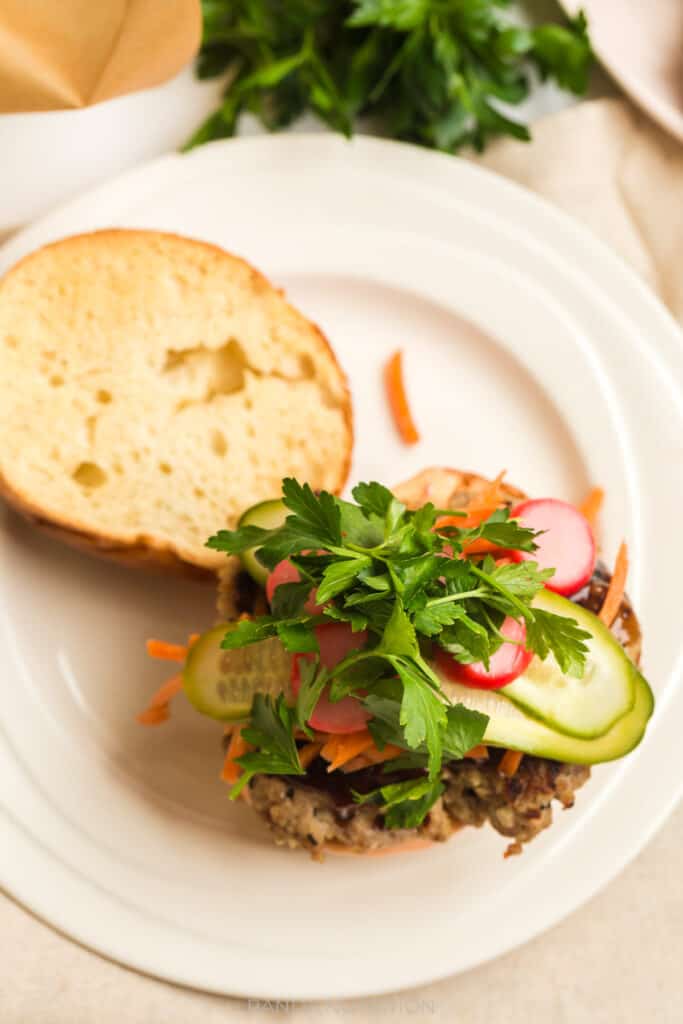 Then a year or two ago I found a pork Banh Mi burger recipe in my Chef's Plate subscription. I saved the recipe and used it as inspiration for today. To change it up, I altered the ingredients and swapped the hard-to-find ingredients that the average jo like me doesn't have access to and made a delicious burger that works for my family.
I also saw that most meal delivery services (like Hello Fresh and Blue Apron) offered this recipe as one of their creative burger recipes as well.
Banh Mi Ingredients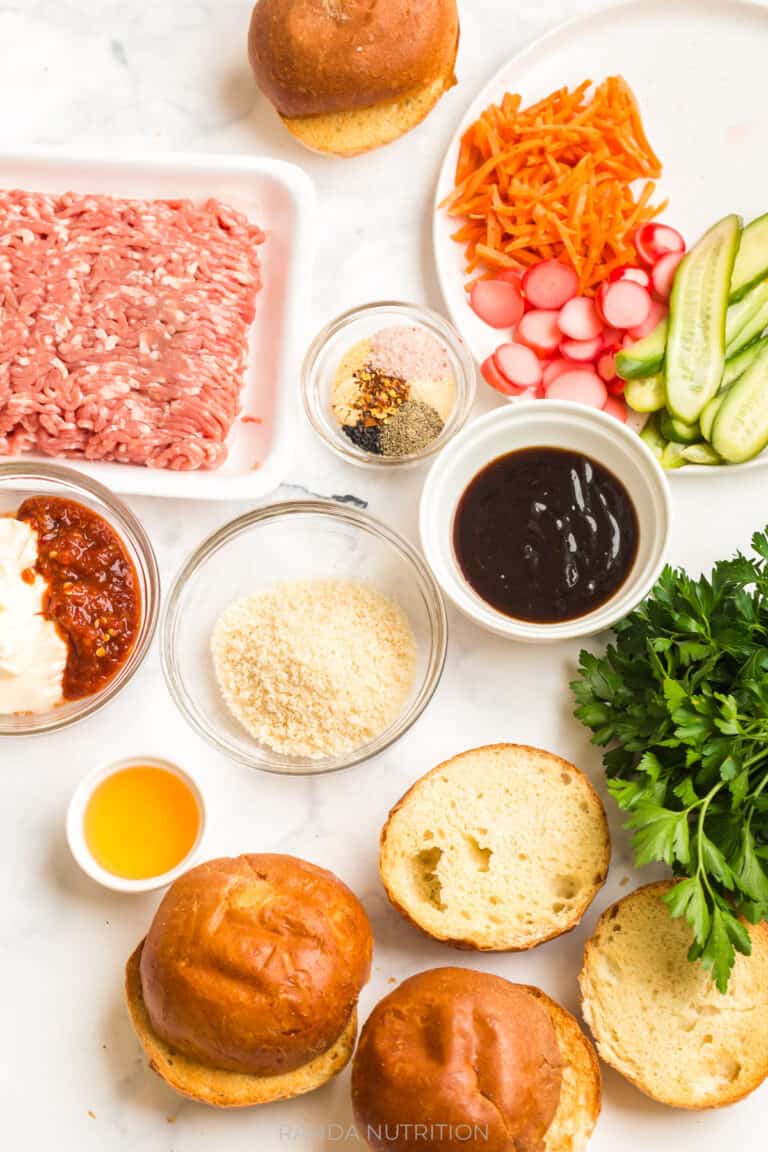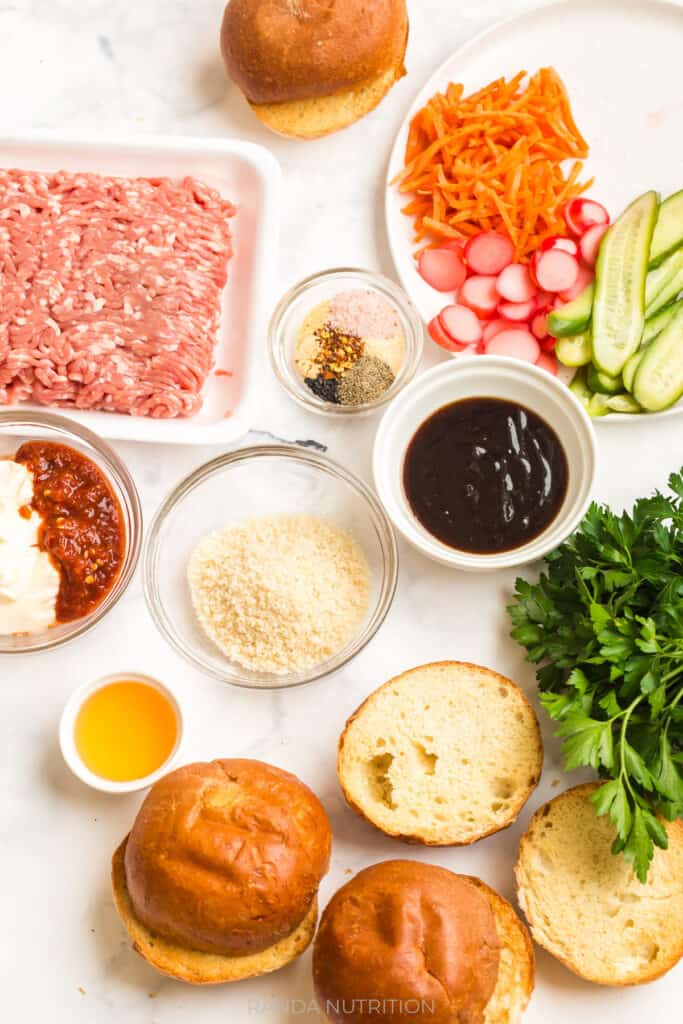 To make this incredible Vietnamese burger recipe, you'll need the following:
Buns, I used brioche but pretzel would be nice too
Ground pork (you can also use ground turkey or chicken for a leaner option)
Onion powder
Garlic powder
Salt and pepper
Ground ginger
Panko
Rice vinegar (seasoned)
White vinegar
Sugar
Red Pepper flakes
Carrots (I bought matchstick, or you can slice them yourself)
Mini cucumbers
Radishes or daikon
Cilantro
Red chile peppers
Hoisin sauce
Mayonnaise (I used 1/2 fat)
Traditionally a daikon radish is used, but my store had none so I went with regular radishes instead. Use what you can.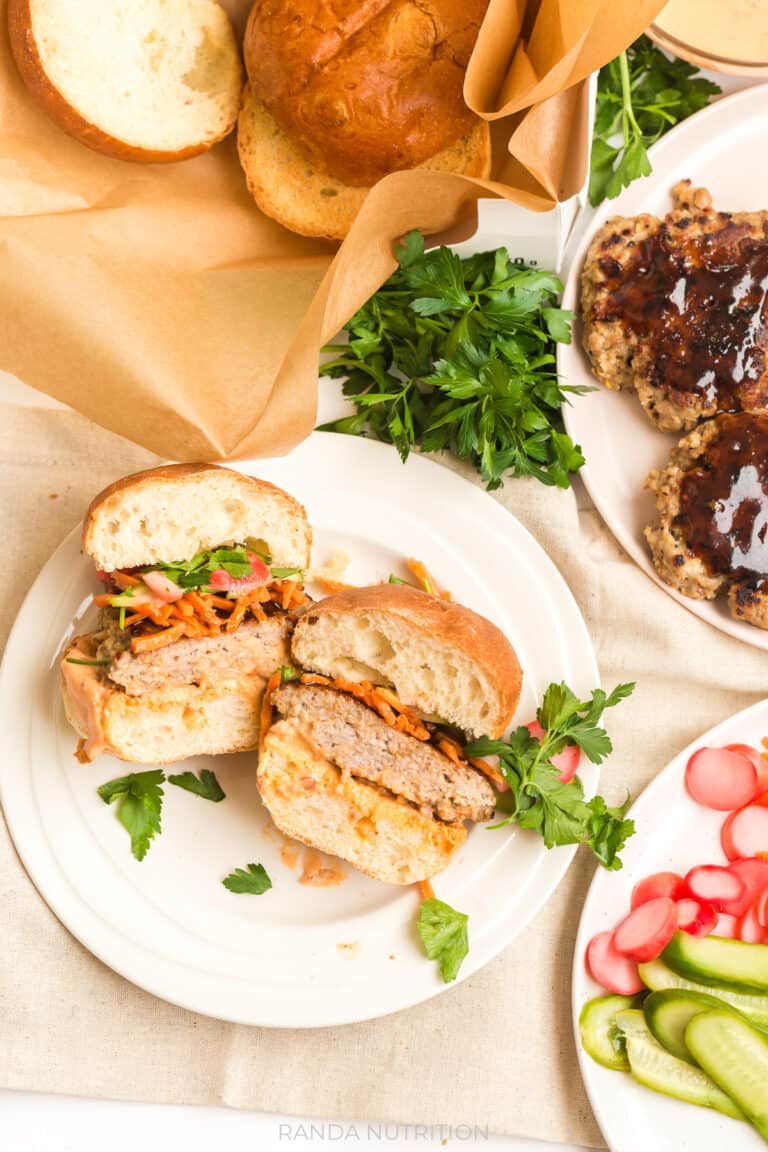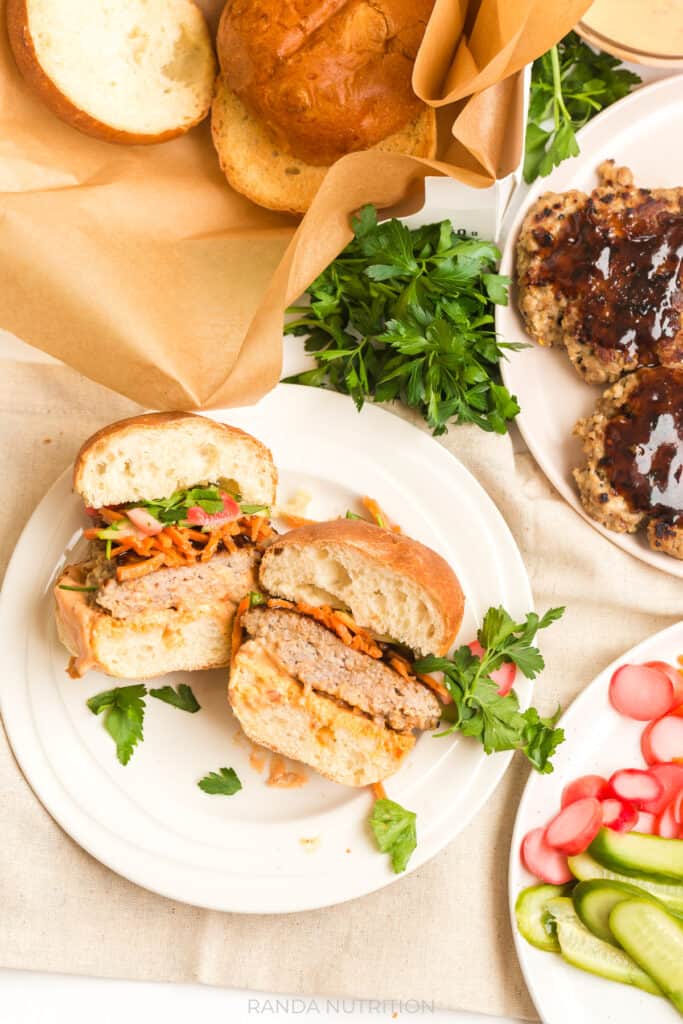 How to Make Pickled Vegetables
It's so easy to make quick pickled veggies. They add so much flavor to many dishes (I love to add them to salads, sandwiches, and of course burgers).
I already have these pickled vegetable recipes:
For this recipe, I did a quick pickle with cucumbers, radishes, and matchstick carrots.
All you need is equal parts water and vinegar, two teaspoons salt, one and a half teaspoons sugar, and seasonings (I use red pepper flakes), bring it to a boil, then pour over your vegetables.
Make sure the vegetables are in a glass jar and once it comes to room temperature, put a lid on it and pop it in the fridge. You'll have meal prepped pickled vegetables for the week!
Why Ground Pork?
I went with ground pork patties instead of chicken or turkey because with their juicy and lock in a lot of flavor. If you want a leaner option, then yes you can go with a leaner ground meat but you will be sacrificing a bit of flavor.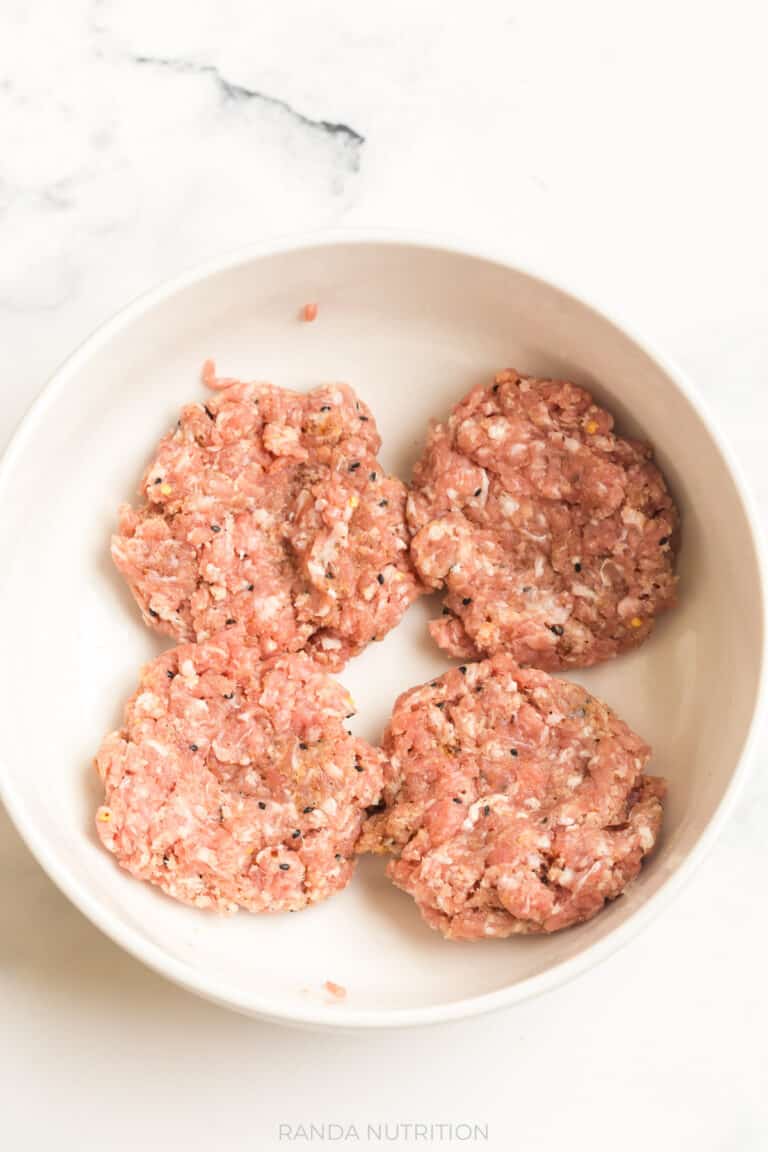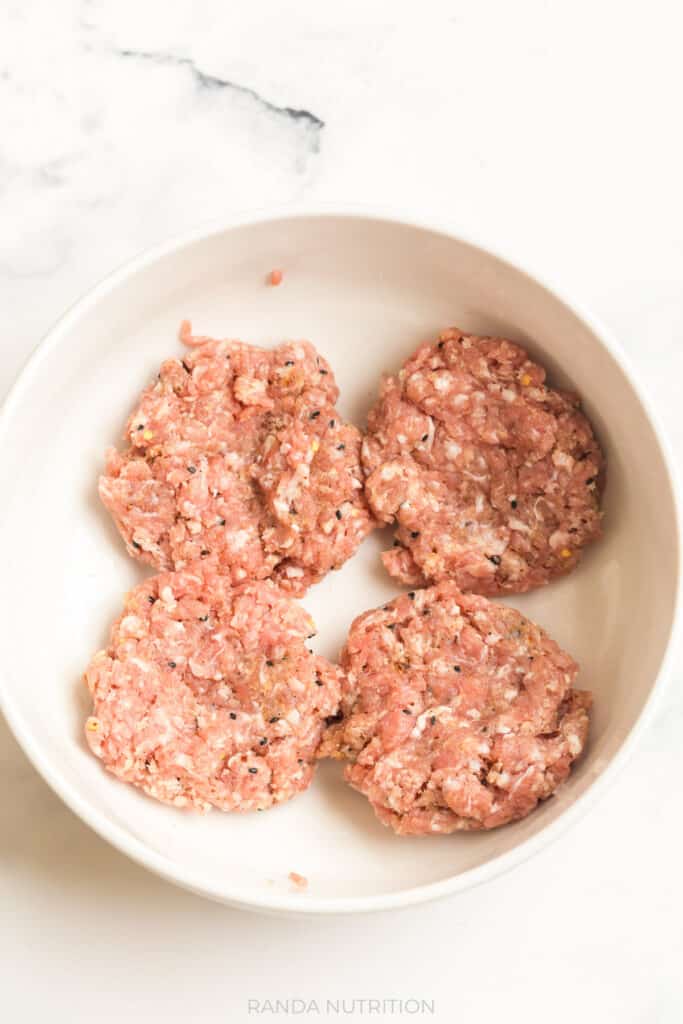 Ground pork burgers are not something to fear for your health goals, give it a try (or you can even try a 50/50 blend). It's still a great source of protein and a delicious option for a burger patty.
Ground beef would also work, it just wouldn't be as neutral.
Banh Mi Sauce Options (Hoisin and Spicy Mayo)
A sandwich, and gourmet burgers in general, are only as good as their sauce.
Spicy Mayo
There are a few options here. I intended to use Gochujang sauce to mix with the mayo in a small bowl, but bought the wrong sauce and used a chile paste instead (aka sambal oelek). For the recipe testing, I used two tablespoons with 1/2 cup mayo and it was very spicy. Delicious, but spicy. I immediately knew that the kids couldn't have it.
So I recommend adding 1-2 teaspoons at a time until you hit a heat that your whole family can enjoy.
You can also try it with Sriracha sauce too if you don't have access to the sauces listed above.
To give it a little extra flavor, I added seasoned rice wine vinegar to it as well.
Hoisin Mayo
If you don't do spice at all, why not make a sweet sauce?
I threw together hoisin sauce with mayo to make a sweeter alternative. I didn't measure, just poured the hoisin little by little until I liked the taste.
My kids loved the sauce and it went so well on the burgers.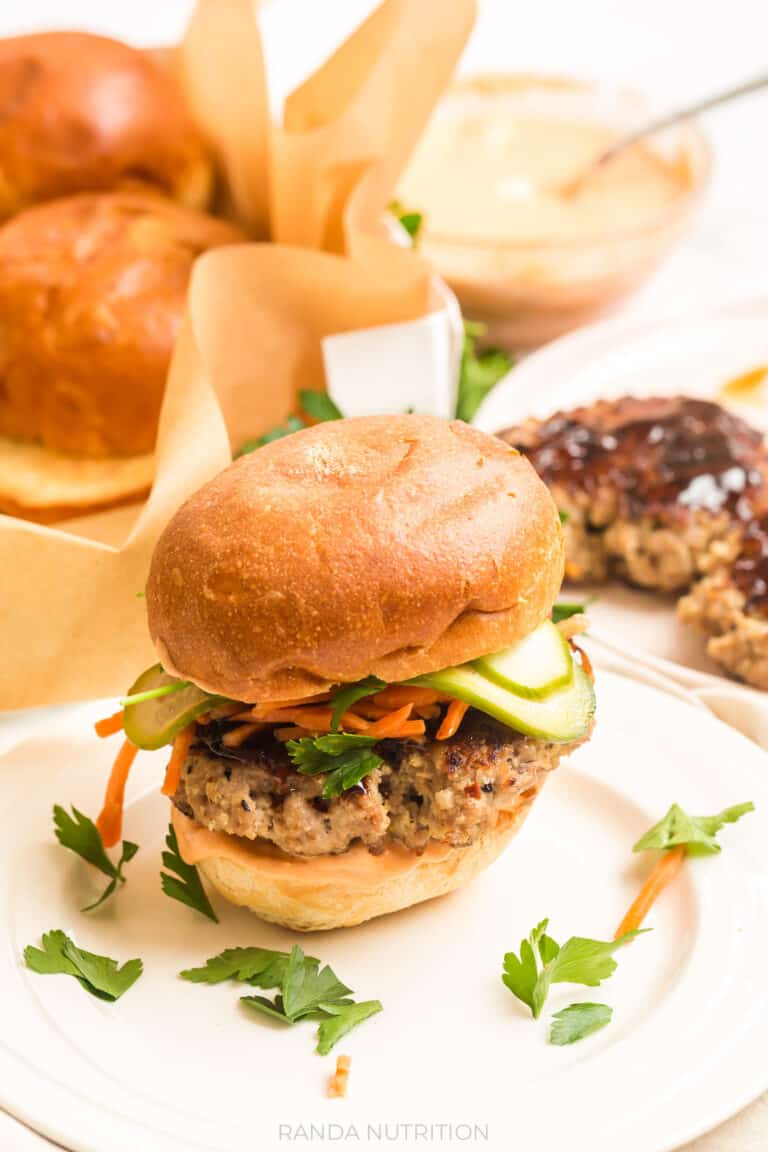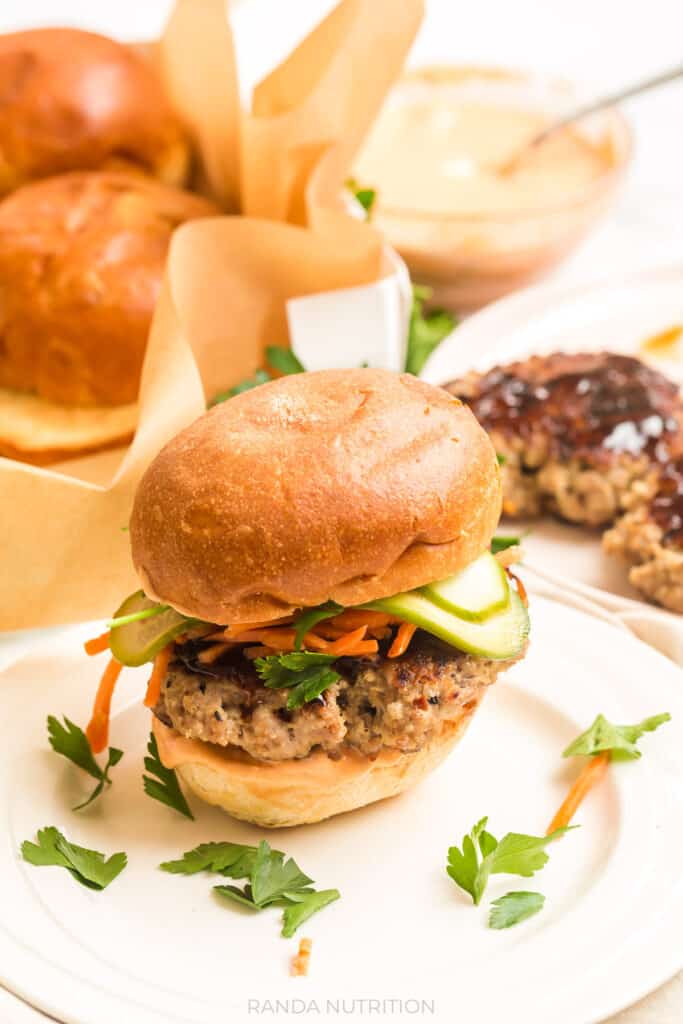 Common Questions
How do I make this recipe gluten free?
Switch the Panko breadcrumbs to gluten free Panko and use a gluten free bun.
What burger buns should I use?
I used brioche buns from the bakery section of my grocery store. If you don't have that option, pretzel buns are a family favorite, or just use what you can find.
How do you make spicy mayo?
Simply add mayo and whatever hot sauce and mix. In this recipe, I meant to use Gochujang sauce, but I bought chile paste (sambal oelek) instead and went with it. You could also use sriracha sauce, to make sriracha mayo, if you don't have access to Gouchujang or the paste.
Can I make this less spicy?
Yes, you have two options. You can either start small with the chile paste or gochujang when you add it to your mayonnaise. Add 1-2 teaspoons at a time until you hit a heat you're comfortable with. Another option is to skip the spicy mayo and whip up a hoisin mayo instead. I tested this out by adding hoisin sauce to mayo until it tasted good, I didn't bother measuring. Just measure with your heart.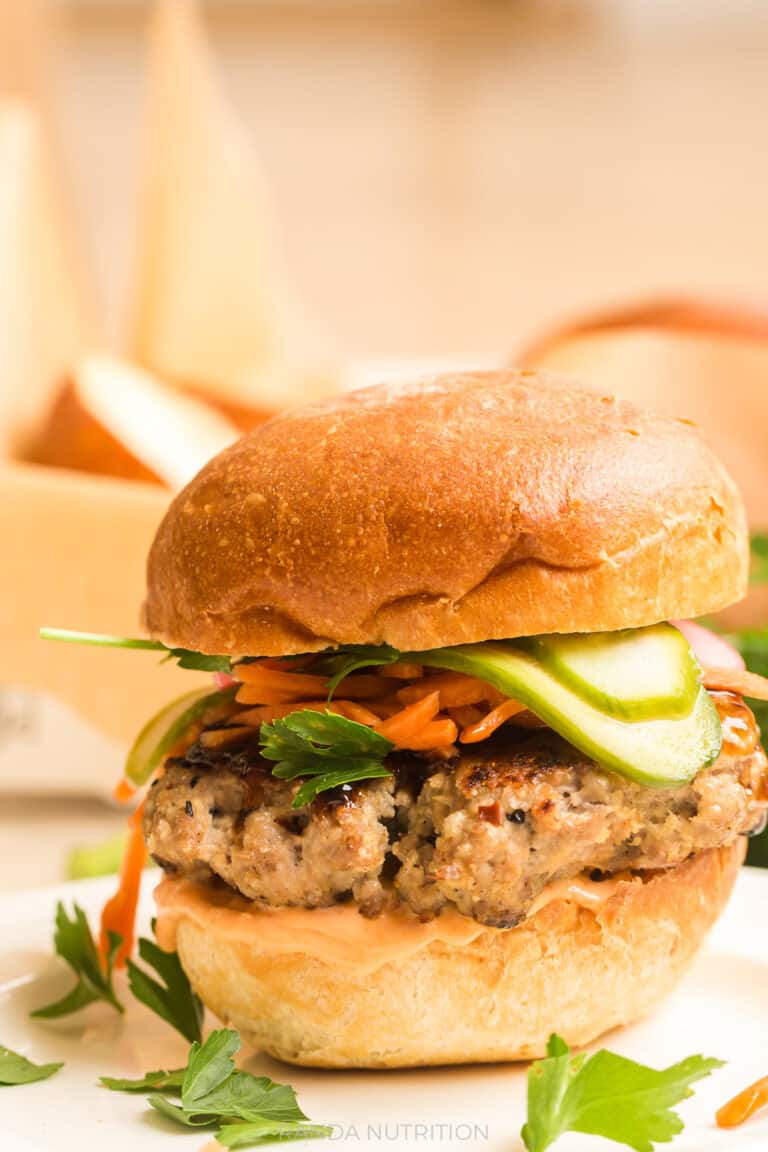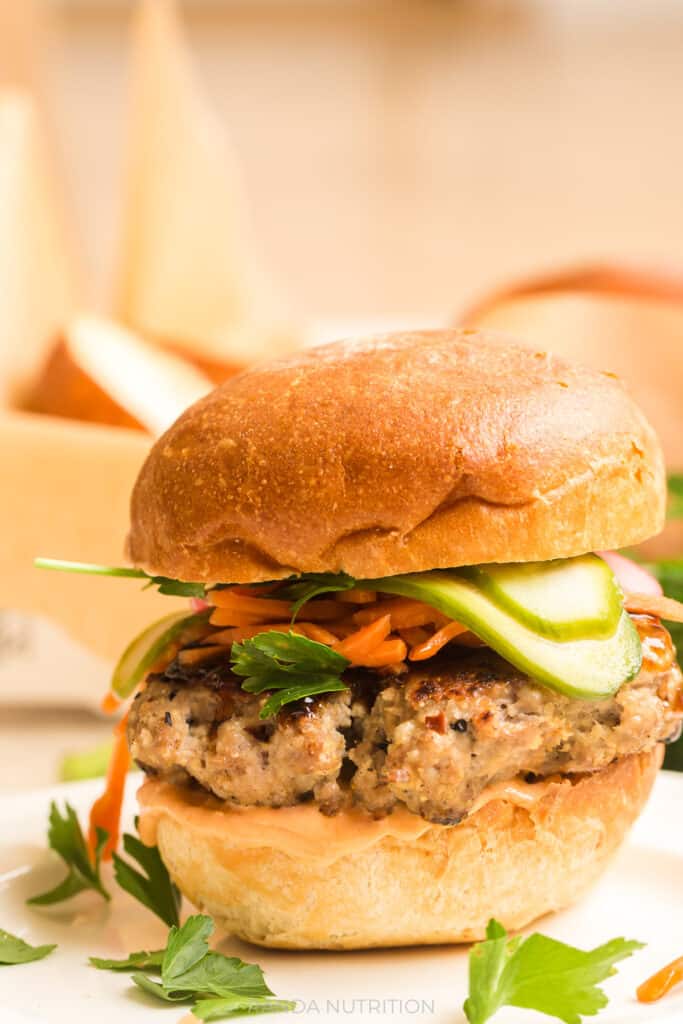 How to Make Banh Mi Burgers
If you love burgers with Asian flavors, add this to your list of must-make fun burger recipes.
I cooked these in a frying pan, but you can grill them on the bbq if you like. Just watch that they don't dry out by using a food thermometer (165F means they're done).
Enjoy this recipe, my family and I loved every single bite.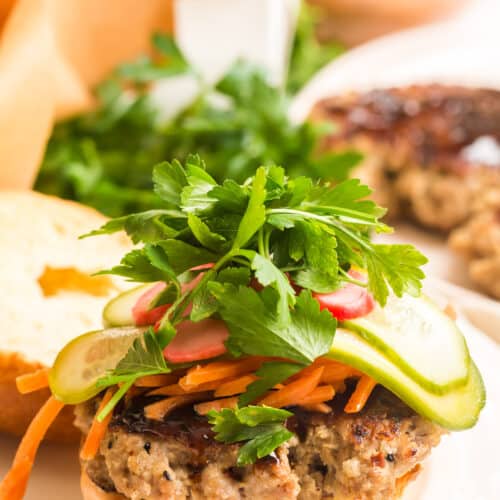 Burger recipes don't get better than this! Vietnamese flavors bring life into this pork banh mi burger with pickled veggies and spicy mayo.
Ingredients
Pickled Vegetables (prep these first)
1

cup

sliced cucumber

ribbon cut or thing slices lengthwise

1/2

cup

matchstick carrots

you can buy these pre cut to make it easier

1/3 – 1/2

cup

sliced radish

1 1/2

cup

water

1 1/2

cup

vinegar

2

teaspoons

salt

1 1/2

teaspoon

sugar

1/4

teaspoon

red pepper flakes
Assembly
1/2

cup

chopped cilantro

4

brioche buns

toasted
Instructions
Pickled Veggies
In a sauce pan bring the vinegar, water, salt, sugar, and red pepper flakes to a boil.

While the brine is coming to a boil, prep the veggies and put in mason jars or glass meal prep containerss. I prefer to do them seperately. Pour the brine over and let them come down to room temperature.

Put on a lid, and refrigerate. Let them soak fo at least 30 minutes (better if they're cooler).
Make the Burger Patties
In a medium mixing bowl add all the burger ingredientes (except the hoisin sauce) and mix together with your hands. Form into 4 patties.

Heat a large skillet over medium heat and drizzle oil so the patties won't stick. Cook the patties for 4-6 minutes each side (flipping often) until cooked, at 165F.

Spread a tablespoon of hoisin sauce over each patty.
Spicy Mayo or Hoisin Mayo
Mix the mayo ingredientes together (hoisin mayo is in the notes).
Assembly
Toast the buns (optional) and lay out them out. Put the spicy mayo at the bottom, top with a patty, then add the pickled vegetables and cilantro. Add the top of the bun and enjoy.
Notes
Spicy Mayo
Start small with the chile paste when you add it to your mayonnaise. Add 1-2 teaspoons at a time until you hit a heat you're comfortable with.
Not a fan of spicy? Whip up a hoisin mayo instead. I tested this out by adding hoisin sauce to mayo until it tasted good, I didn't bother measuring. Just measure with your heart.
Or maybe do a half and half. I did this and it's delicious.
Nutrition info:
I used half fat mayo and it is reflected in the nutritional information. 
I also allocated for a little over a tablespoon on the bun.
Nutrition
Serving:
1
burger
Calories:
598
kcal
Carbohydrates:
44
g
Protein:
29
g
Fat:
33
g
Saturated Fat:
10
g
Polyunsaturated Fat:
7
g
Monounsaturated Fat:
12
g
Trans Fat:
1
g
Cholesterol:
87
mg
Sodium:
2244
mg
Potassium:
564
mg
Fiber:
3
g
Sugar:
15
g
Vitamin A:
2878
IU
Vitamin C:
7
mg
Calcium:
214
mg
Iron:
4
mg