This Strawberry Cheesecake Overnight Oats Recipe makes a delicious, quick breakfast for meal prep. They're high in protein, gluten-free and AMAZING. Plus, it's dessert for breakfast – yes, please!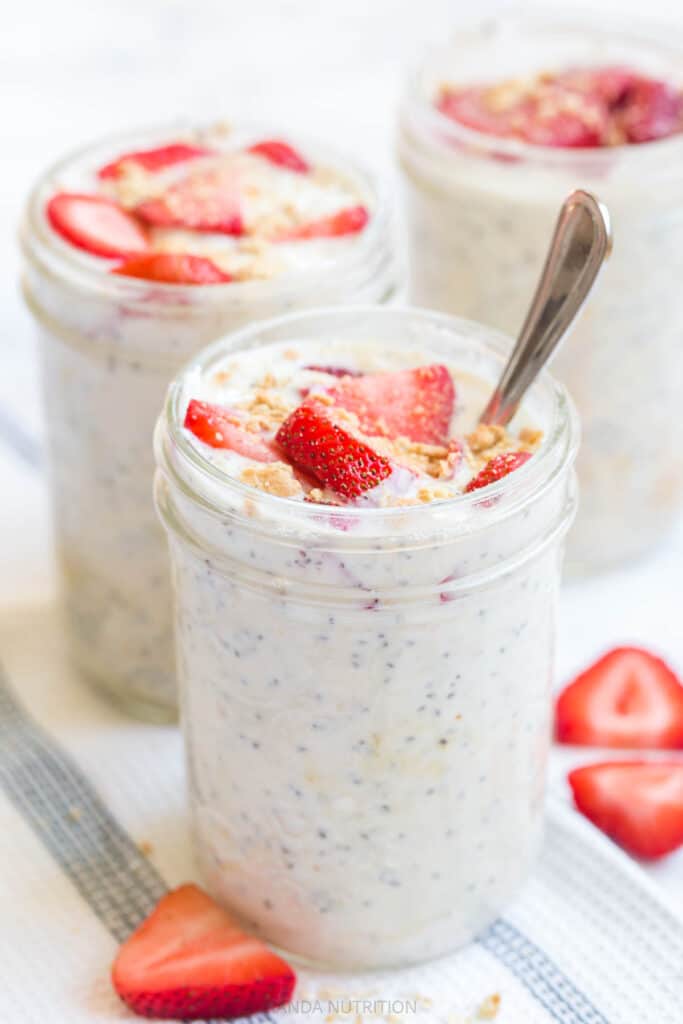 Disclosure: This post contains affiliate links for your convenience. As an Amazon Associate, I earn from qualifying purchases.
Protein Strawberry Cheesecake Overnight Oats
My clients and nutrition bootcamp members always get a macro-friendly recipe book, and this cheesecake protein overnight oats is one of the most popular recipes from it.
I've been teasing at it on TikTok, but I finally have an hour or two to get out on the blog.
This is the breakfast that I make again and again for myself and my daughter because it's so easy.
Cheesecake Protein Overnight Oats Ingredients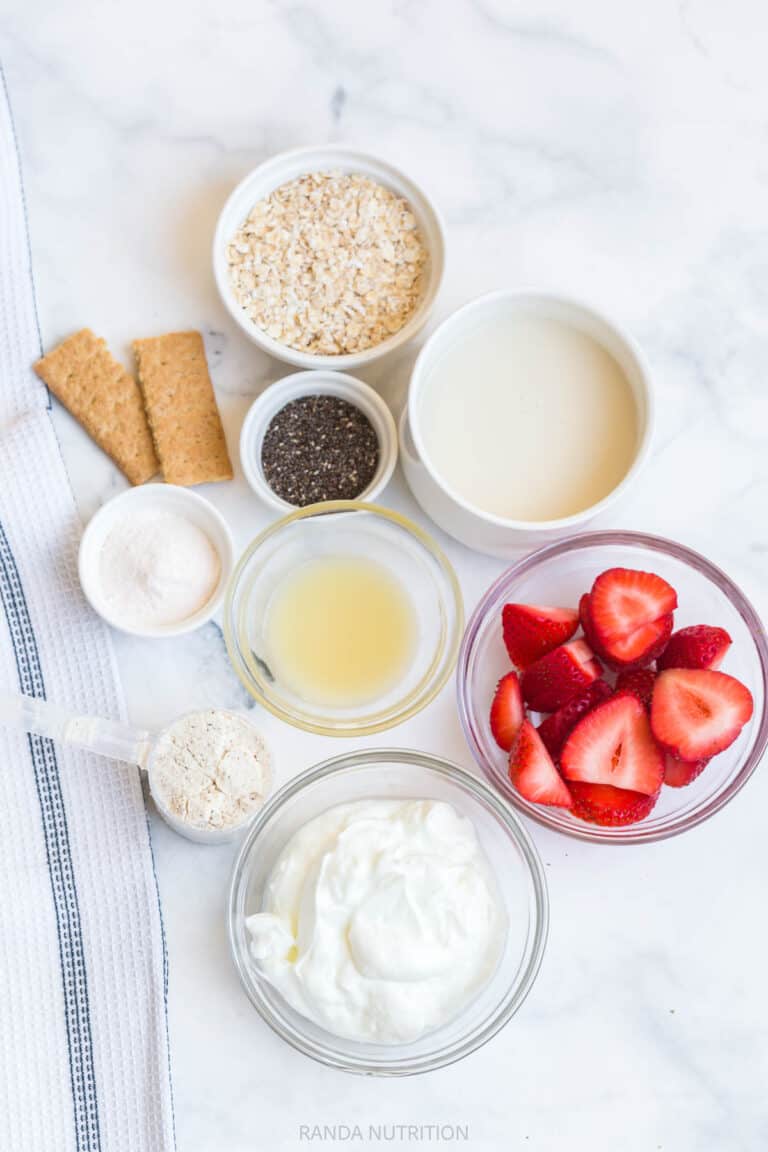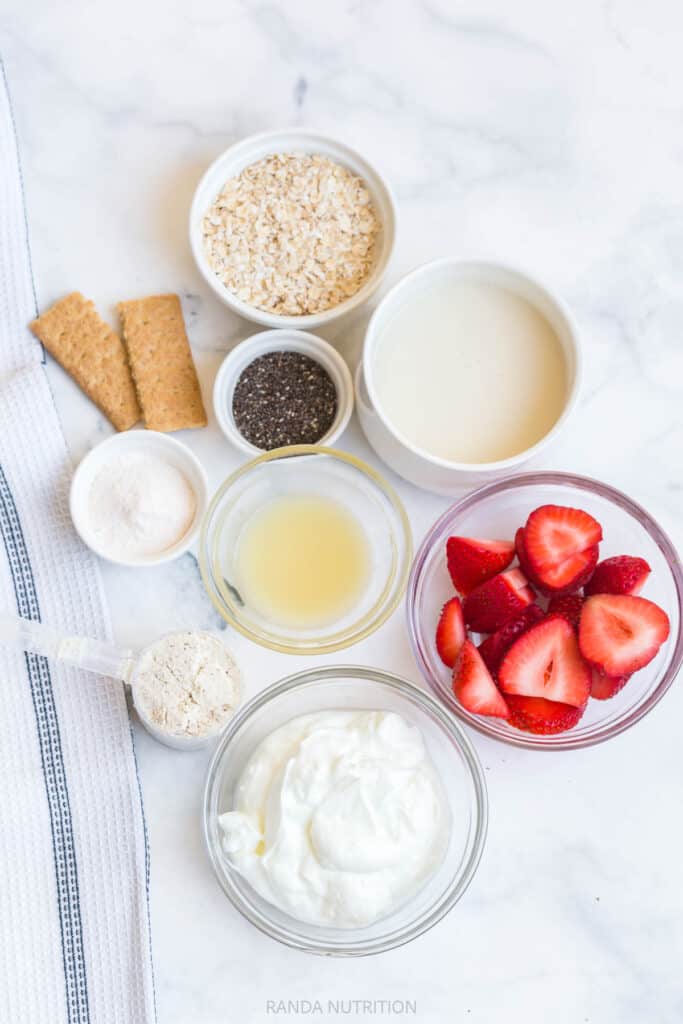 Oats. Quick oats and rolled oats both work fine. Also, rolled oats can also be old fashioned or large flake oats as well.
Chia seeds. I love chia seeds, they're truly a powder house of nutrition. They add protein and fiber to your meals. The Health Benefits of Chia Seeds.
Vanilla protein powder. Each brand will alter the macros. I like to use ones that are low in carbs (2-3g) and 20-24 grams in protein. I have also used a sugar cookie flavor, that is as delicious as you would imagine.
Sugar free Jello Cheesecake Pudding Mix. If you're in Canada, read the FAQ below as I have some solutions for you.
Milk of choice. I have made this with non-dairy milks like unsweetened almond milk, cashew milk, etc. Or you can use a dairy milk. Tip: if you use Fairlife milk, it's ultrafiltered and double in protein.
0% plain greek yogurt
Lemon juice. I buy the Santa Cruz lemon juice in a jar or use fresh. The concentrated variety doesn't taste as good.
Frozen strawberries. Fresh strawberries work too, but frozen adds more flavor as the liquid melts, the juices mix in).
Optional: graham crackers for the topping. I used half of one for the photos. Another delicious topping would be a little sugar free strawberry jam.
Ask you can see, I don't use cream cheese in the recipe. What? A cheesecake inspired recipe without cream cheese? Yup. I have tried it with and without, and I personally don't notice the difference, so I ditched it.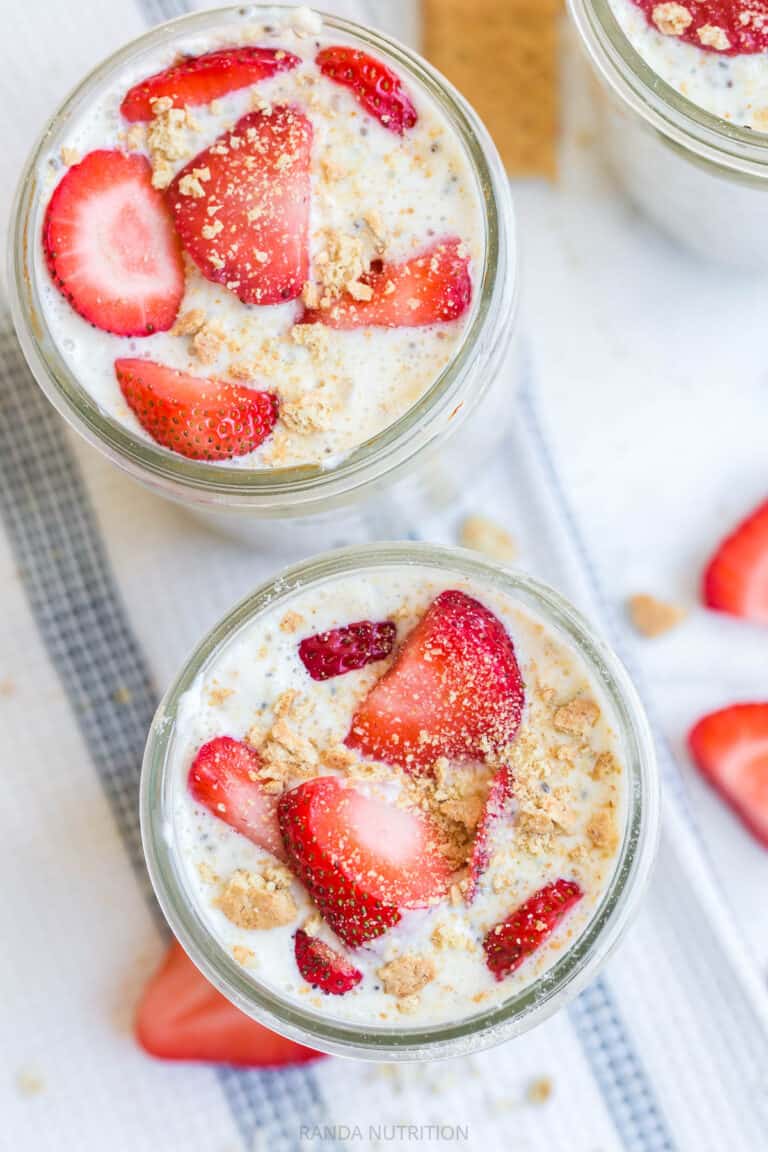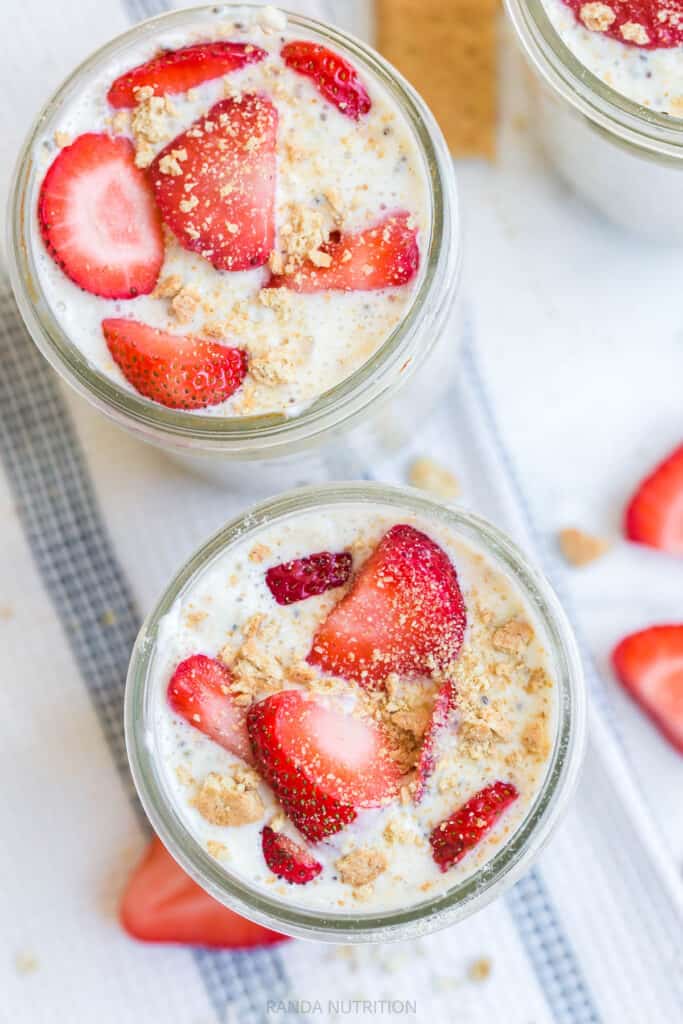 Strawberry Cheesecake Overnight Oats Macros and Nutritional Info
As I stated in the ingredients, if you use a different brand the macros will change a little (different protein powders have different amounts of carbohydrates, proteins, calories, etc).
392 calories
43 grams of protein
36g of carbs
9g of fat
8g of fiber
As you can see, between the high protein and high fiber you'll be full for hours after this meal prep breakfast idea.
How to Make Strawberry Cheesecake Overnight Oats
It's so easy to make this healthy breakfast option. I love that it takes only a few minutes to make a week's worth of breakfast (just x4 or x5 the recipe, or use the recipe for each serving).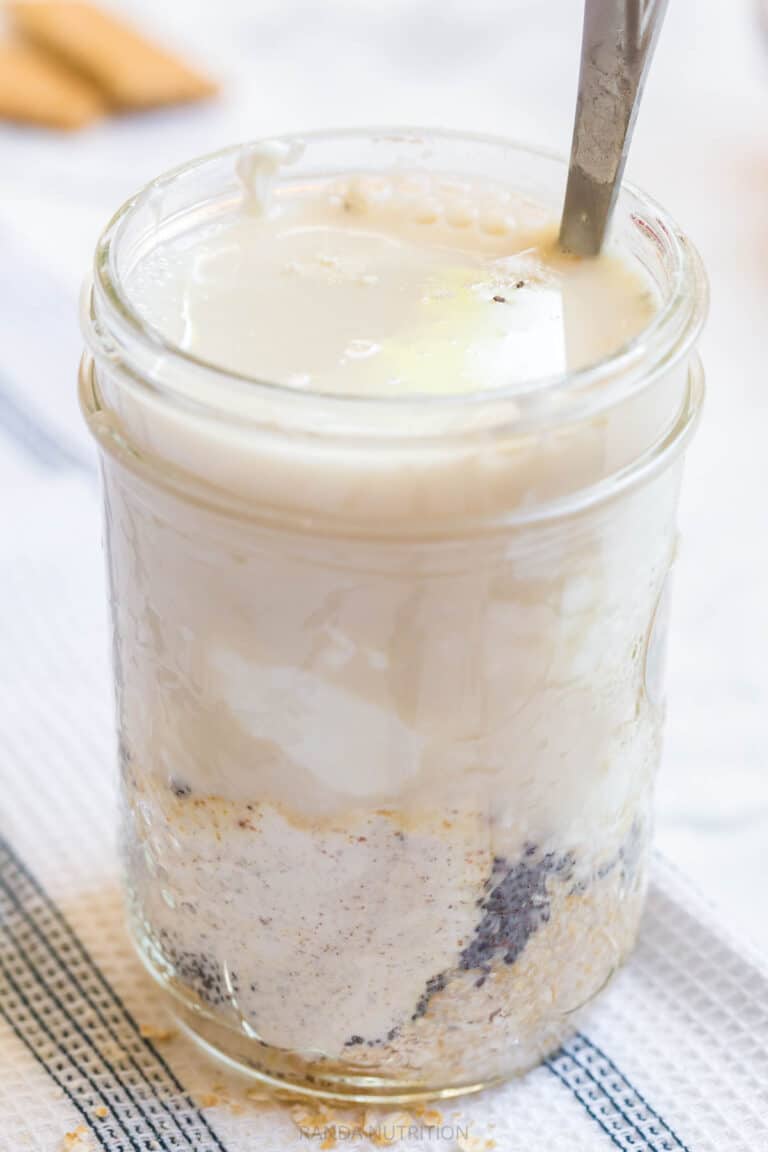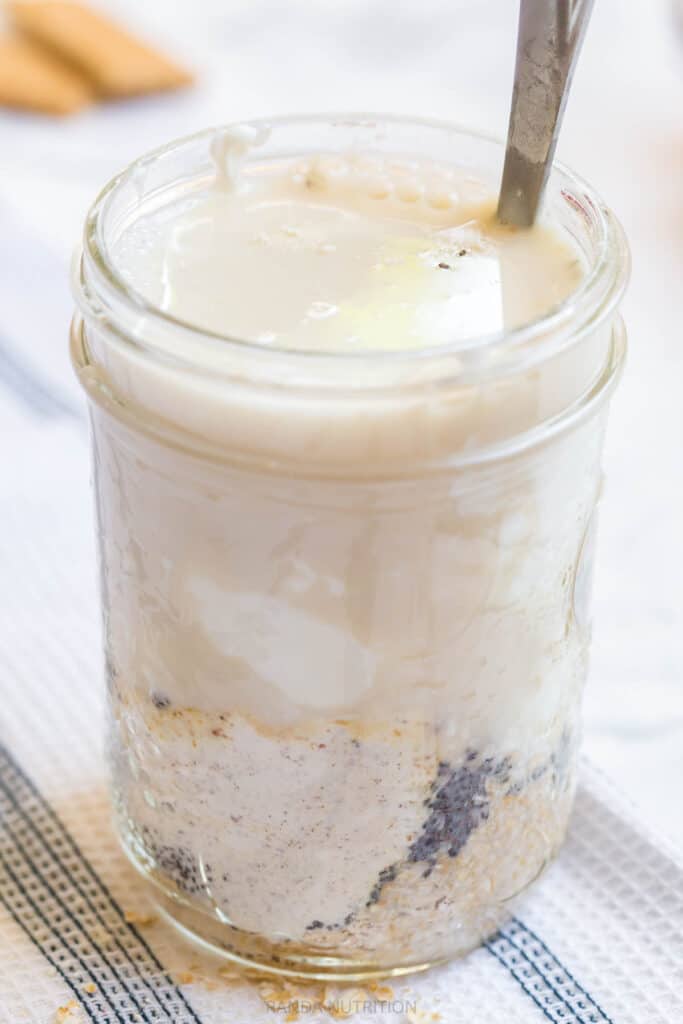 Simply add all the ingredients to a mason jar, Tupperware container, etc, and stir. Make sure you scrape the sides as the protein powder and chia seeds can collect there.
Put on a lid and refrigerate overnight.
That's it!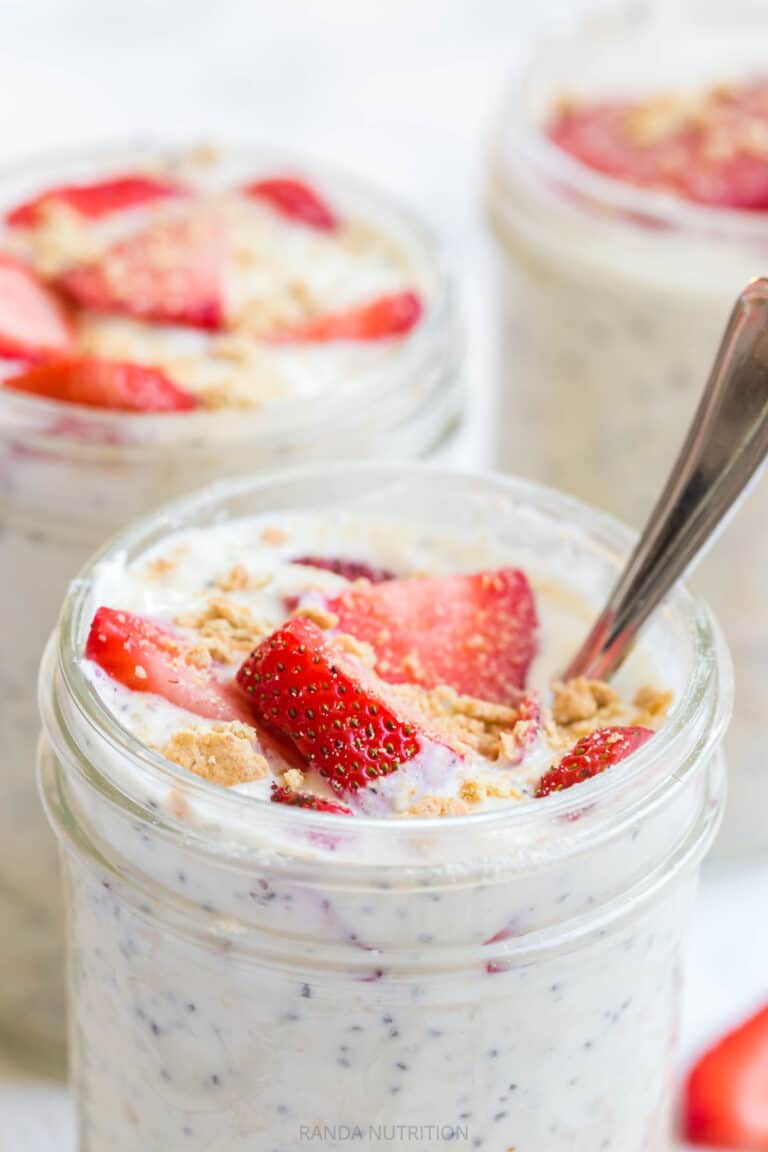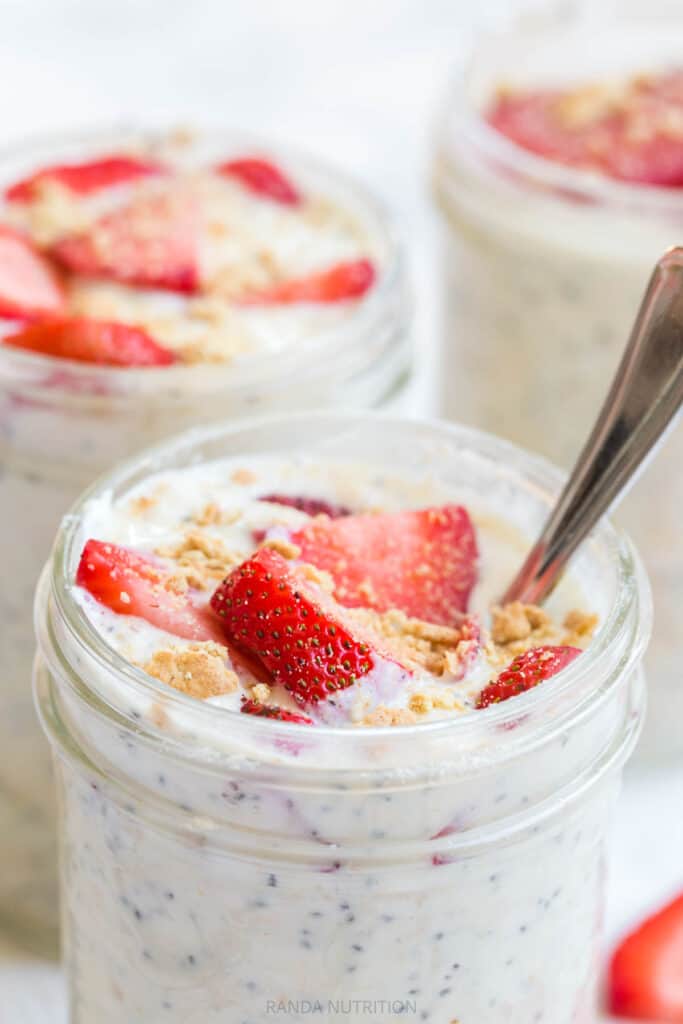 FAQ
I can't find Jello sugar free cheesecake pudding mix in Canada. What can I use?
Unfortunately, it's unavailable in Canada. I have a few solutions:

1. Buy it off Amazon. The con is it's insanely expensive.
2. Add it to your cart for your next US trip. If you head to the U.S, this is the best option. I ordered mine from Amazon US and had a case delivered to my hotel at Disneyland.
3. Use sugar-free vanilla pudding mix instead. The pudding mix made as a pudding itself tastes like vanilla pudding, not cheesecake (in my opinion). The taste happens when I mix it with the greek yogurt, but even that is fairly subtle and I feel that vanilla pudding mix would be just as delicious (just a tiny bit different).
How long can overnight oats stay in the fridge?
4-5 days. I typically make 4 at a time so I have most of the week ready to go.
What protein powder should I use for a high protein overnight oats?
I have been trying out Legion protein powders and they're really good, not as sweet but good.
I have also used Bowmar Nutrition, Quest Protein Powders, and they have given me good results.
Can I use plant based protein powder in overnight oats?
Yes, you can. Depending on the brand you use, the texture may be a little gritty. I like Nuzest for plant based protein. Use Nuzest promo code RANDA20 to save some money!
Can I add different fruit?
Absolutely! I've used cherries, raspberries, blueberries, or whatever berries I have in the fridge etc to customize the flavor of the cheesecake overnight oats.
What can I store overnight oats in?
I feel the best container for overnight oats is mason jars. They don't take up much room in your fridge and they're easy to clean. You could use a standard bowl or mixing bowl as well.
Can I eat overnight oats hot?
You totally can. In fact, I prefer to warm my oats in the microwave myself except for these cheesecake oats. Since I associate these oats as cheesecake, I find these ones are best served cold, but you do you.
How can I make this sweeter?
If you want a little more sweetness (some protein powders are not sweet so you may need to add it yourself) you can try monk fruit sweetener (for a zero calorie option) or a little honey or maple syrup. That being said, the latter options will add calories and change the macros.
More healthy overnight oats recipes
In addition to these strawberry overnight oats, I have a few other recipes (including a free ebook you can download too).
Strawberry Cheesecake Overnight Oats
This Strawberry Cheesecake Overnight Oats Recipe makes a delicious, quick breakfast for meal prep. They're high in protein, gluten-free and AMAZING.
Instructions
Add all of the ingredients into a large mason jar. Stir together.

Put on a lid and refrigerate over night.
Notes
Sugar free cheesecake Jello pudding mix is not available for Canadians. You can use regular vanilla. This adds some flavor and thickens it up to almost a pudding consistency.
Add 1-2 tablespoons of whipped cream or coco whip if desired.
Macros will change dependant on measurements and brand of protein powder used.
Nutrition
Serving:
1
serving
|
Calories:
392
kcal
|
Carbohydrates:
36
g
|
Protein:
43
g
|
Fat:
9
g
|
Saturated Fat:
1
g
|
Polyunsaturated Fat:
5
g
|
Monounsaturated Fat:
2
g
|
Trans Fat:
0.03
g
|
Cholesterol:
7
mg
|
Sodium:
765
mg
|
Potassium:
821
mg
|
Fiber:
8
g
|
Sugar:
7
g
|
Vitamin A:
17
IU
|
Vitamin C:
27
mg
|
Calcium:
491
mg
|
Iron:
2
mg