If you're looking for a new way to make chicken or beef bone broth. I have a simple tutorial on how to make bone broth in the Ninja Foodi.
Don't have a Ninja Foodi? Don't worry, I got you. I have instructions for the Instant Pot, slow cooker, and stovetop in the notes.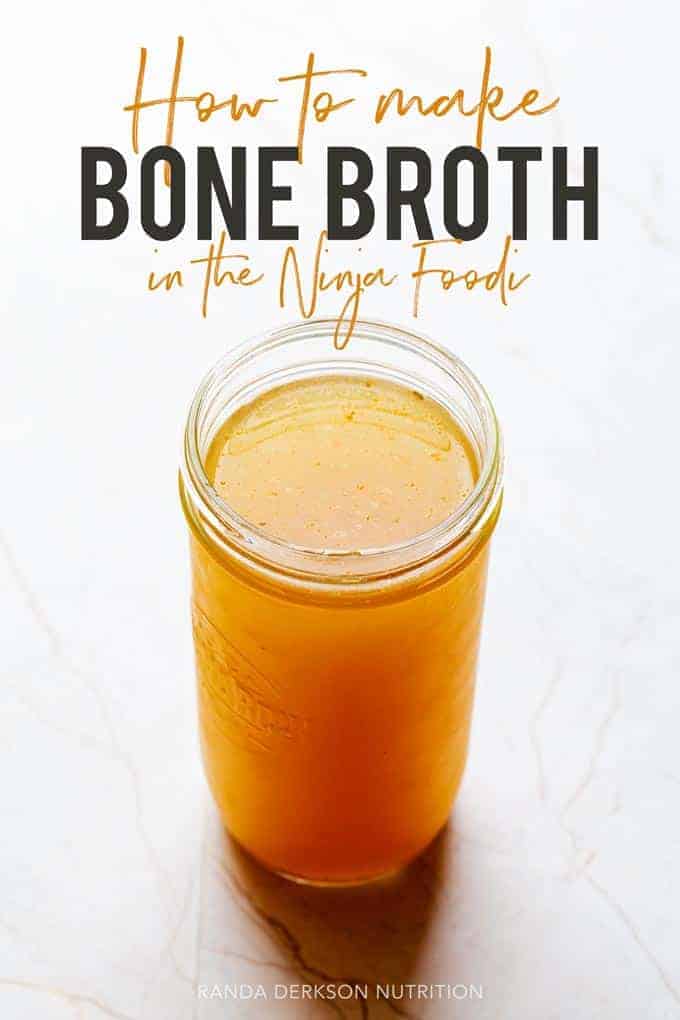 Bone broth in the Ninja Foodi
Disclosure: This post contains affiliate links for your convenience. As an Amazon Associate, I earn from qualifying purchases.
I recently bought a Ninja Foodi (thanks Amazon Prime Day!) and I have been spending all week making delicious (and super easy) meals in it.
Yesterday I made an easy Southwestern Roast Chicken (recipe on The Bewitchin' Kitchen) and today I took the leftovers and made a nourishing bone broth in the Ninja Foodi.
Tomorrow I'm making a Chicken Zoodle Soup (I'll link it when it goes live next week).
I love that one chicken can create so many healthy meals.
What are the benefits of bone broth?
Aside from the minerals and amino acids (albeit a small amount) found in bone broth, one of the biggest benefits of bone broth is collagen.
Some of the benefits your body may experience with regularly consuming bone broth are:
Increased gut health and digestion
Muscle repair
A strong immune system (there is something about chicken soup when you're sick and this is why, well that and the fact that it's an easy way to get in fluids and to help with stuffed nasal passages)
The glucosamine helps with inflammation in joints.
The collagen and minerals also help with beautiful hair, skin, and strong nails.
As you can see there are multiple benefits. One batch isn't going to make a world of difference, except for the help with a stuffed nose (see the link to the study above).
If all else fails, you don't even have to do it for the nutritional benefits. You should make bone broth because it tastes so darn good!
Vegetable Scraps in Broth
To save on food waste in my kitchen, I have a secret.
Whenever I meal prep on Sundays, I save my vegetable peels and scraps.
While I peel carrots, chop celery, leak leaves, the first layer of onions, snap asparagus, etc. The pieces of the vegetables that I would have thrown away go in a resealable bag and into the freezer.
By doing this, I save on food waste and I use the scraps for broths and stocks.
Adding the vegetable scraps and peels mean more minerals and micronutrients to my soup bases.
Let's not forget to mention it makes a more flavourful broth.
What can I make bone broth out of?
In this particular recipe, I use a rotisserie chicken carcass (skin, bones, etc) but you could also go to your local butcher and buy bones. Just ask for some soup bones.
To make a rich beef broth, you can buy bones and roast them then do the same as I'm doing with the chicken. It's that easy.
Can I Freeze Bone Broth?
Absolutely! What I like to do is freeze homemade broths so I can easily throw it in a soup when I'm in a hurry.
How to store bone broth in the freezer
Here is how you can store bone broth in the following ways:
How to Make Bone Broth in The Ninja Foodi
Hot tip: Add vinegar to the liquids before you cook it (apple cider vinegar, white vinegar, etc). This draws out more minerals from the bones.
If you're using a rotisserie chicken and looking for more leftover ideas. Here are 13 healthy recipes using rotisserie chicken leftovers.
Also, try this delicious and healthy Chicken Zoodle Soup.
Ninja Foodi Bone Broth
If you're looking for a new way to make chicken or beef bone broth. I have a simple tutorial on how to make bone broth in the Ninja Foodi.
Total Time
1
hour
5
minutes
Ingredients
1

chicken carcass

bones, skin, etc

2-3

cups

vegetable scraps

carrot peels, leeks, onions, celery ends, etc

1

tbsp

apple cider vinegar

water
Instructions
Add all of the ingredients to the Ninja Foodi. Add enough water to cover the chicken and vegetables.

Put on the lid, seal it and pressure cook on high for 60 minutes. Let the pressure release naturally.

Open the lid and let it cool.

Strain the liquid into a bowl (and don't forget to pick the chicken for meat for soup).
Optional
Skim the fat: if you want to skim the fat let the soup cool (speed it up by throwing it in the fridge) and skim the fat that solidifies.
Notes
Bone Broth in the slow cooker:
Do the exact same thing as the Ninja Foodi but cook for 24 hours on slow.
Bone Broth in the Instant Pot:
Do the exact same thing as the Ninja Foodi (cook on pressure for about 60 minutes).
Bone Broth on the stove top:
Follow the same instructions as the slow cooker, you may have to add more water over time.
Nutrition
Serving:
1
g
|
Calories:
33
kcal
|
Carbohydrates:
1
g
|
Protein:
8
g
|
Sodium:
89
mg
|
Sugar:
1
g
Tried this recipe and love it? Share a photo on IG
Tag me at @RandaDerkson