If you need a quick guide to cooking oils, I got you!
Many grocery stores have expanded their offerings of cooking oils, making it sometimes confusing to know which ones to choose. If you are looking for the healthiest type of cooking oil, it can be extremely bewildering, especially as you stand there faced with so many different choices.
There is no need to fret though. Choosing the right cooking oil doesn't have to send you into a tizzy. Just do your reasearch to make sure you find out the best choice for your health and your cooking applications.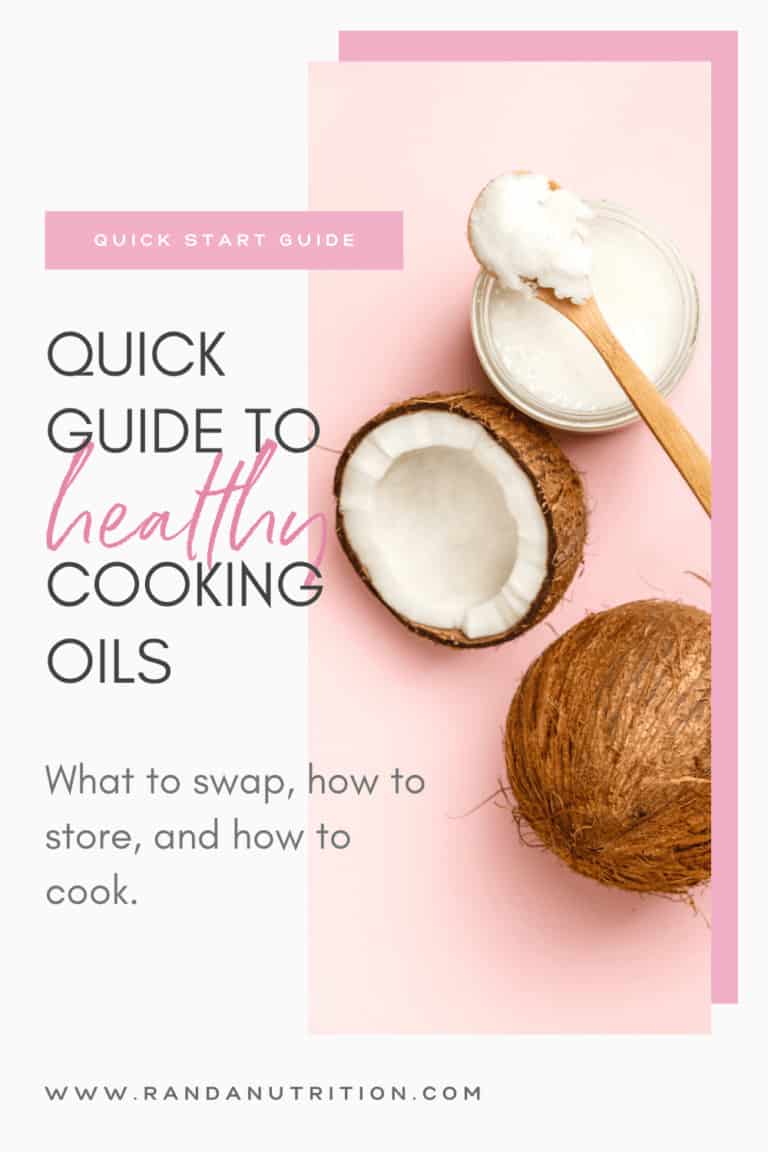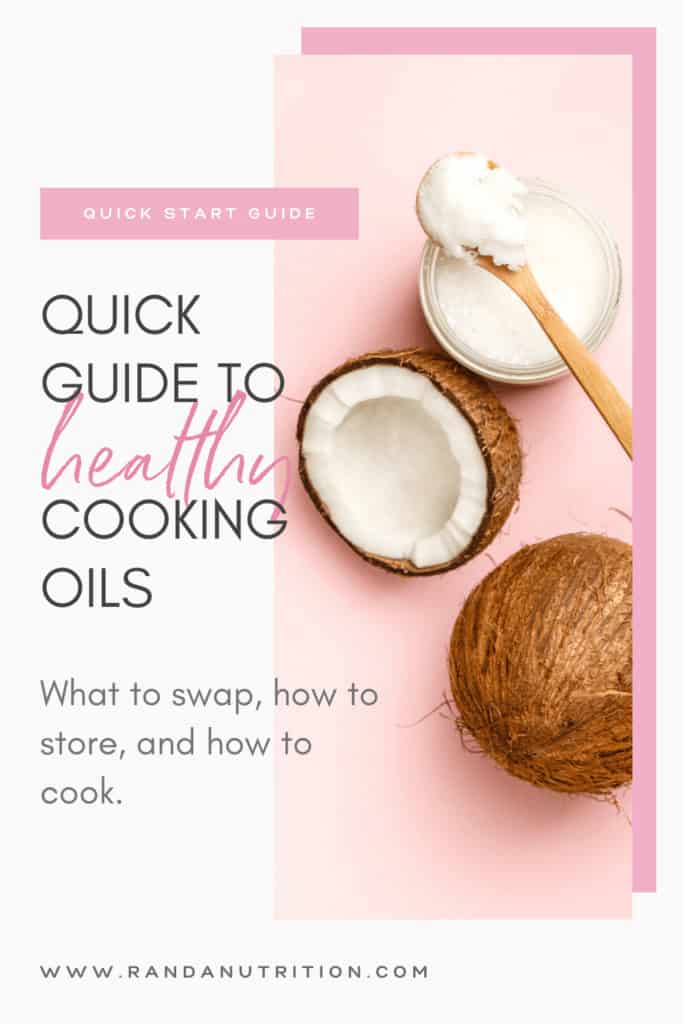 What Cooking Oils are Healthy?
This is a question I'm always asked. So put together this cooking oil guide to help you out and make it easy.
Don't forget to download the printable cheat sheet to print off and stick it to the inside of your oil kitchen cabinet.
Cooking Oils to Avoid
When it comes to choosing the right cooking oil for you, there are some you should absolutely avoid. Especially if you are trying to be healthy.
To make it easy for you, there are two main cooking oils to avoid and substitute: vegetable and canola oil.
Vegetable and Seed Oils
At some point, we were all told to use vegetable and seed oils in place of butter but in reality that isn't the solution. This is because butter and other naturally occurring fats are actually far better for you than their highly processed counterparts.
One of the most obvious issues with vegetable oils is that they are not natural and highly processed in order to be brought into your kitchen. Making them an unnatural product to put into your body.
The most pressing issue with vegetable and seed oils is that they are far too rich in Omega-6 fatty acids. Avoid cooking with these oils and consuming them at all whenever possible.
Not only are they highly processed and too high in omega-6 fatty acids, vegetable and seed oils have also been linked to several diseases like cancer and heart disease.
Oils to Avoid:
Corn oil
Soybean oil
Canola oil
"Vegetable" oil
Sunflower oil
Rapeseed oil
Cottonseed oil
Safflower oil
Grapeseed oil
Rice bran oil
Is sesame oil healthy?
Sesame oil is technically a seed oil but you'll see it's an oil I cook with often. It has a ton of flavor for marinades, dressings, and stir fries.
Sesame oil does have omega 3 and omega 6's, so it does provide some healthy benefits. Most recipes you use a little bit as the flavor is powerful. So I say go for it.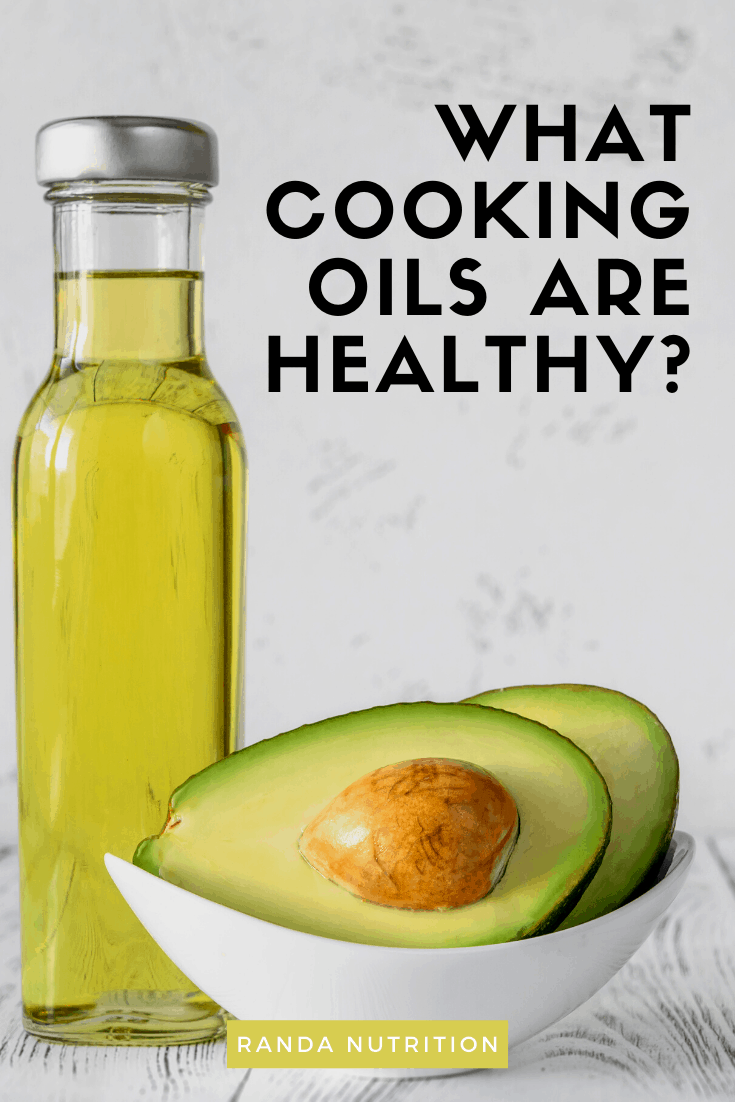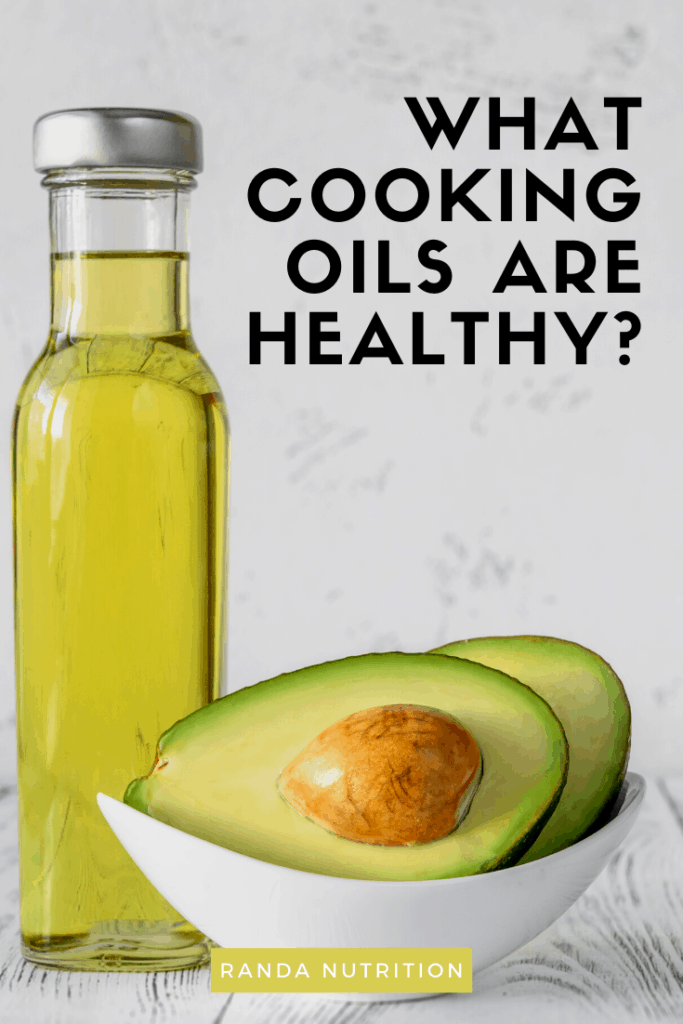 What to Use Instead of Canola Oil and/or Vegetable Oil?
Canola oil is in so many recipes: cakes, breads, cooking.
I replace it with avocado oil. Avocado oil can be used with high heat (unlike olive oil) so it's great for stir fries, baking, and grilling.
Olive oil is another option, but don't cook higher than medium heat with it.
Healthy Cooking Oils – How to Use and Store Them
Coconut Oil
If you are looking to cook something at high heat, coconut is a great substitution for vegetable and seed oils. Over 90% of the saturated fats in coconut oil are saturated which makes it very heat resistant.
How to Store Coconut Oil
Coconut oil can be stored at room tempurature as it is a semi-solid oil. It can last several months without going bad.
The Benefits of Coconut Oil
Coconut oil is rich in a fatty acid called Lauric Acid, which can improve cholesterol levels. Not only that though it can also help to kill bacteria and other harmful pathogens.
The fats that coconut oil contain can also to help give your metabolism a much needed slight boost and help to keep you feeling fuller longer.
Olive Oil
Olive oil is a great alternative to unhealthy seed and vegetable oils. It can be fairly heat resistant and has many different benefits.
How to Store Olive Oil
When storing your olive oil make sure it is placed in a dark, dry and cool place. This will keep it from spoiling.
The Benefits of Olive Oil
Some studies show that Olive Oil can actually have a positive effect on the biomarkers of health. It can raise the good cholesterol also known as HDL and lower the LDL cholesterol in your bloodstream.
When choosing an Olive Oil make sure that you opt for a high-quality Extra Virgin type. It will have more antioxidants and nutrients than the refined types and it tastes better.
Avocado Oil
Avocado oil is very similar to Olive Oil mentioned above. It is a great subsitition for vegetable or seed oils and can be used in the same applications.
How to Store Avocado Oil
Once you have opened your bottol of Avocado oil, it will remain fresh for about six months. Label it from the date it was opened and store it in a cool,dark, dry place.
The Benefits of Avocado Oil
Avocado oil has a wide variety of health benefits. Many of which are the same that can be reaped from using Olive Oil. It can help to lower LDL Cholesterol and contains an antioxidant that can help to improve eye health.
Flaxseed Oil
Flaxseed oil is great for your health but not recommended for cooking with. This is because it contains a large number of polyunsaturated fats. You may use flaxseed oil to supplement with Omega-3 fats.
How to Store Flaxseed Oil
Flaxseed oil can easily be ruined by light, heat and air. Store your flaxseed oil in the refrigerator. While it may last a couple of months depending on its handling, it is a good idea to purchase smaller bottles so they can be used within a shorter time frame.
Benefits of Flaxseed Oil
Flaxseed oil boasts many benefits. It can help to lower cholesterol levels and can actually play a role in decreasing LDL cholesterol.
Nut Oils and Peanut Oil
There are many nut oils available to choose from and some of them have an amazing flavor profile. While they taste good, they are high in polyunsaturated fats, making them an unlikely choice for cooking. While they can be used as parts of recipes, it is important that you do not fry or cook on high heat with nut oils.
It is a good idea to keep in mind that while peanuts aren't technically considered nuts as they are legumes, the same as above applies as its composition is quite similar to that of nut oils.
Macadamia oil is great though when it is used for low to medium heat cooking applications, so that can also be considered.
How to Store Nut and Peanut Oils
Nut and peanut oils should be kep in the refrigerator to keep from spoiling.
Benefits of Nut and Seed Oils
Nut and seed oils have similar benefits to the other healthy oils listed above. Not only can they have a positive effect on cholesterol, but they can also help to protect against free radicals.
There are many oils that can be used in place of unhealthy vegetable and seed oils. Make sure that you do your research, store them correctly and use them in the proper culinary applications.
In no time you will be reaping the benefits thanks to this guide to cooking oils!
Happy Cooking!
More nutrition resources like this: