What You Need When Planning a Trip to Disney World
Planning a trip to Disney World may seem like a daunting task, but with the right planning and preparation, you can make your vacation an unforgettable experience. In this blog post, we're going to go over what steps you need to plan a magical trip to Walt Disney World.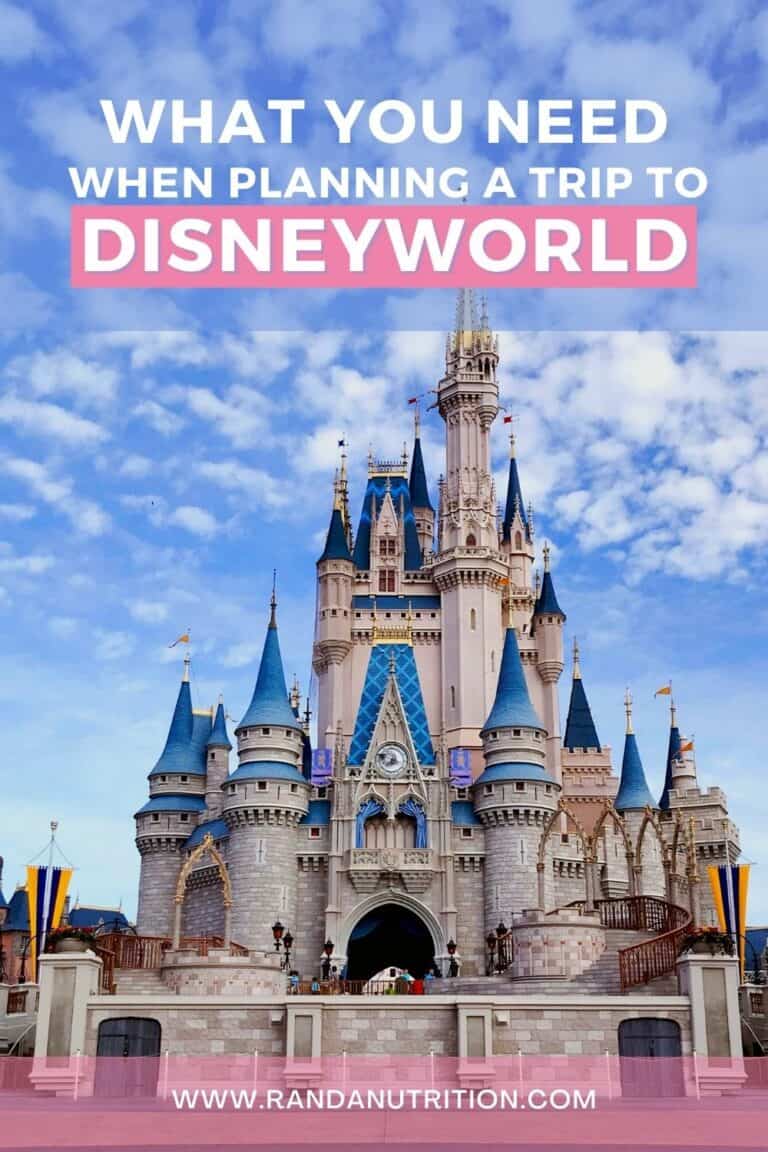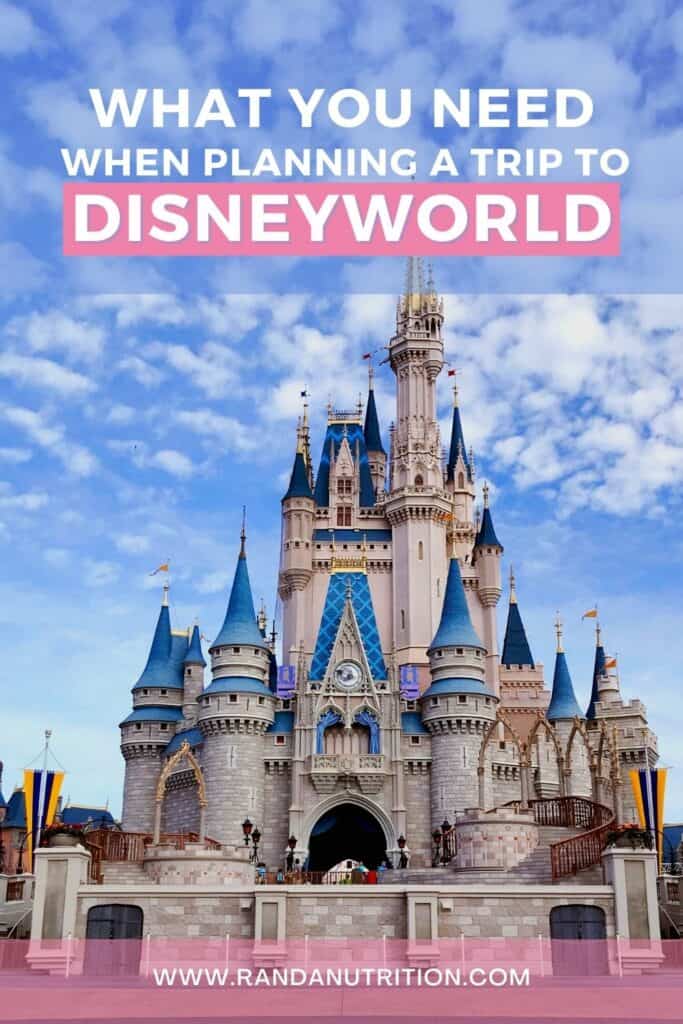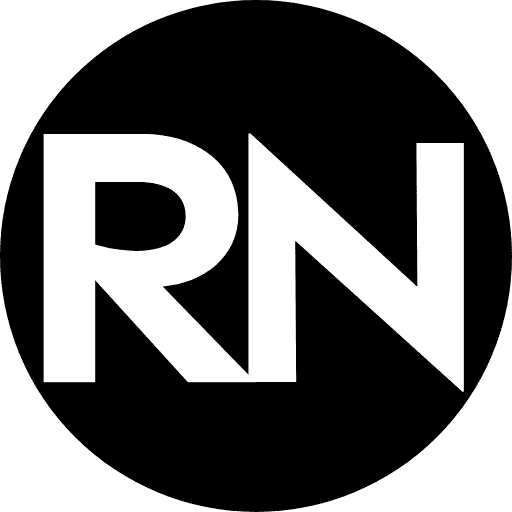 Save This Recipe!
Enter your email below & I'll send it straight to your inbox. Plus you'll get great new recipes every week!

Planning a trip to Disney World
Depending on the level of detail you like to get into with your vacations, Disney World planning can be stressful or it can be just as relaxing as you want it to be. The first step to any trip planning is to figure out your planning style. Are you a spreadsheet maker or do you prefer to make the plans and move on?
Regardless if you want to be as in-depth as spreadsheets, I do recommend you have somewhere to record what you've booked vs not. There is a lot of planning that goes into Walt Disney World vacations, even with the new Genie+ service (which levels the playing field for booking your Lightning Lane "Fastpasses"). It's still recommended you book out your dining.
Whether it's on your notes app on your iPhone or a Google doc. Write it down (even if you have it on your Disney app), sometimes technology makes mistakes.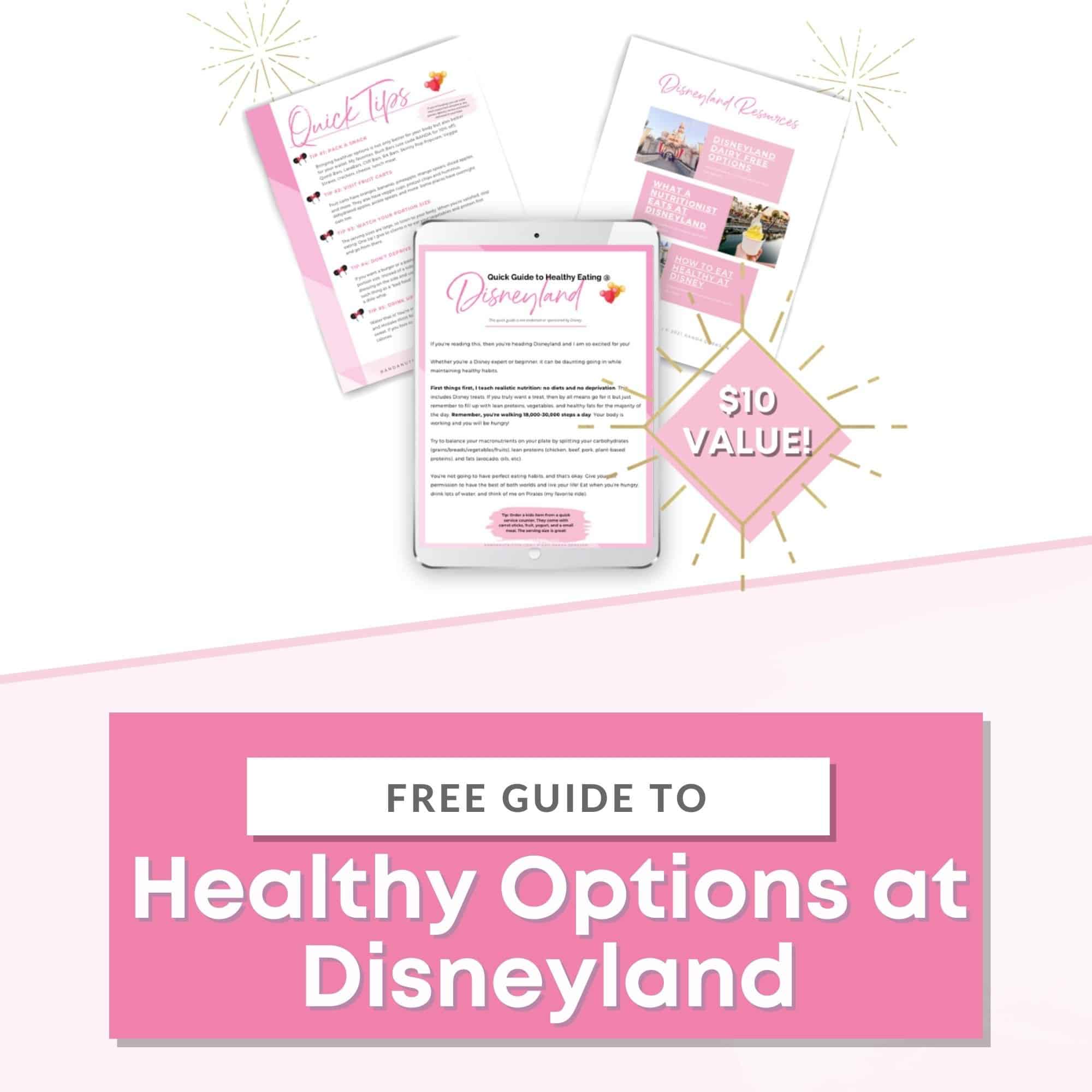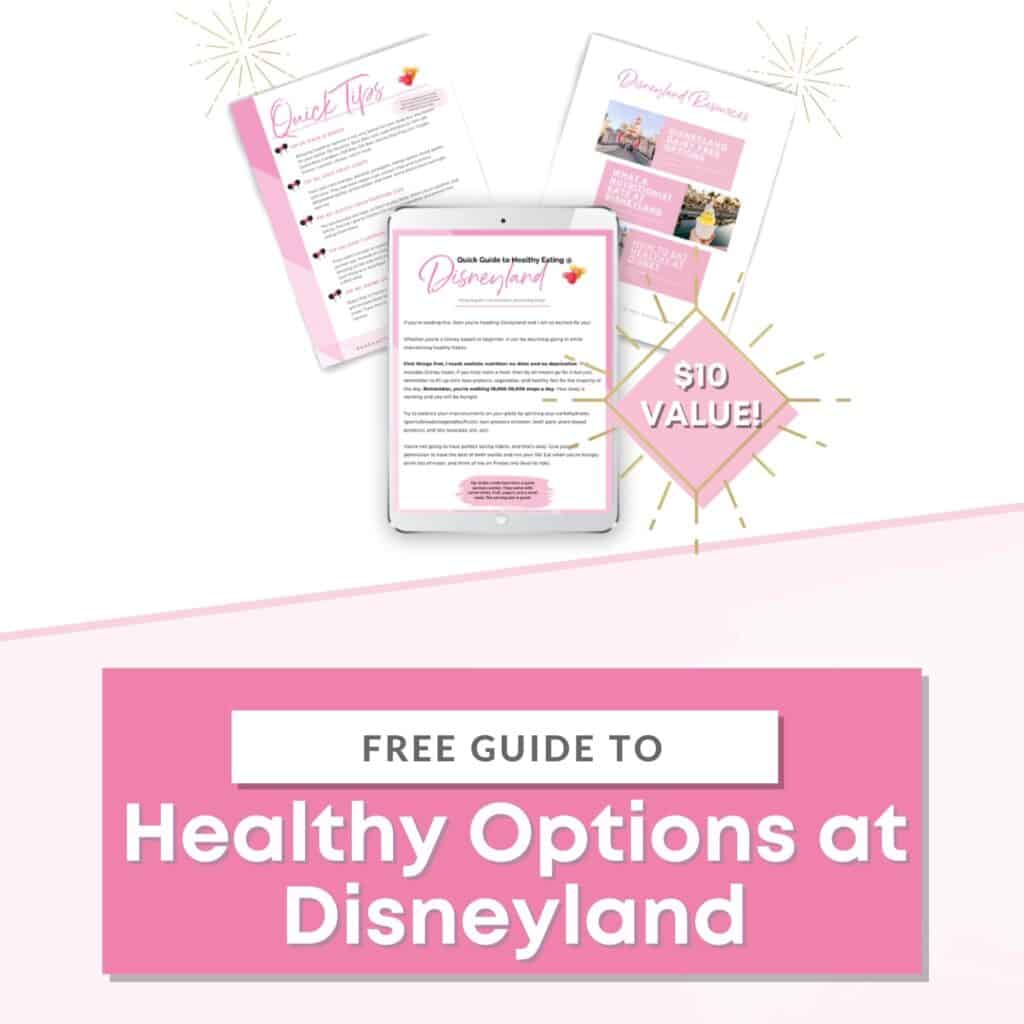 Eat Healthier at Disneyland
Download the free guide to navigate Disneyland food options with ease.
Don't forget to grab you healthy eating guide by clicking the image above. Yes, it's based on Disneyland but the messaging is the same for Disneyworld.
Disney World planning details
Type A planners, go ahead and pull up your spreadsheet and start making columns, this is going to be fun!
Step one: The first thing to plan is your vacation dates. Depending on your travel party's ages and obligations as far as school and jobs, finding dates that work for everyone can sometimes be the hardest part of planning.
Step two: Second, figure out how you're going to get to Orlando. Will you fly or drive? Rent a car from MCO, hop in an Uber, or use Disney's Magical Express (which is going away at the end of 2021)?
Step three: Next you will want to book accommodations for where you are going to stay while at Disney World. You have many options from hotels on-site or nearby, cabins, villas, or even campsites in the wilderness of Florida.
Other options are Good Neighbor Hotels, Air BNBs, or condo rentals elsewhere. We stayed at Lake Beuna Vista years ago and had a great time there.
Step four: Once those necessities are taken care of, it's time for park tickets! There are many places to purchase your Disney park passes including Maple Leaf Tickets and Undercover Tourist. You can also buy them straight from Disney.
Step five: Reserve your park days after you download the My Disney Experience app or online.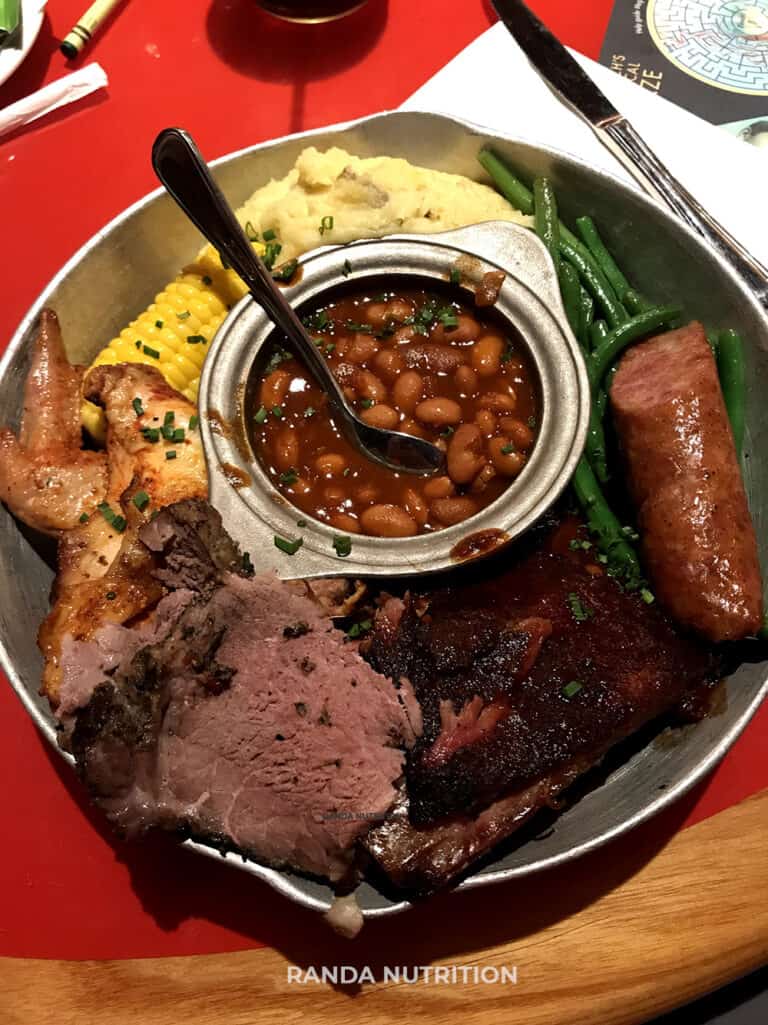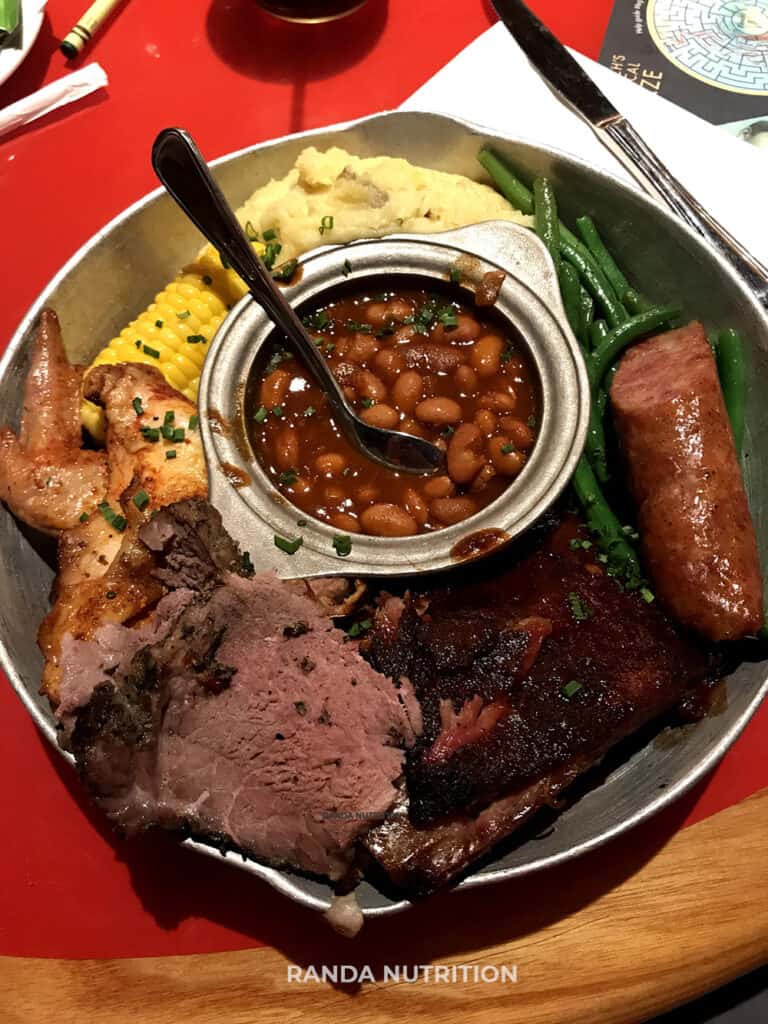 Step six: Plan your meals. If you're interested in slowing down and enjoying a sit-down meal, it's important to make reservations as soon as they open. To find the current rules for making advanced dining reservations, check the Disney World website. I highly recommend booking reservations, especially at popular restaurants like Ohana.
You can also find all of the menus and counter service options on the website. If you have picky eaters, looking over the menu options is a smart choice before you leave home so you can plan which locations to visit.
I also have many healthy eating options at Disney blog posts available for you to review too:
Disneyland's Dairy-Free Options (focused on Disneyland, but there are a lot of crossovers here)
Healthy Options at Animal Kingdom
Healthy Food Options at Hollywood Studios
Magic Kingdom Healthy Options (coming soon)
Step seven: This step is a fun one… At this point, I like to plan a Disney night to watch something fun about the Disney Parks on Disney Plus and talk to each person about which rides and attractions are must-dos for them. You can also look on YouTube. DisneyFoodBlog is an awesome channel, the same goes with The Tim Tracker.
Don't let planning your trip of a lifetime stress you out. There is nothing like Disney World Vacation Planning.
Just take each step and work on each one as time permits. Once your major steps are planned and deposits are made, you can hold off on meal planning and deciding which shows and rides to do until a few months out.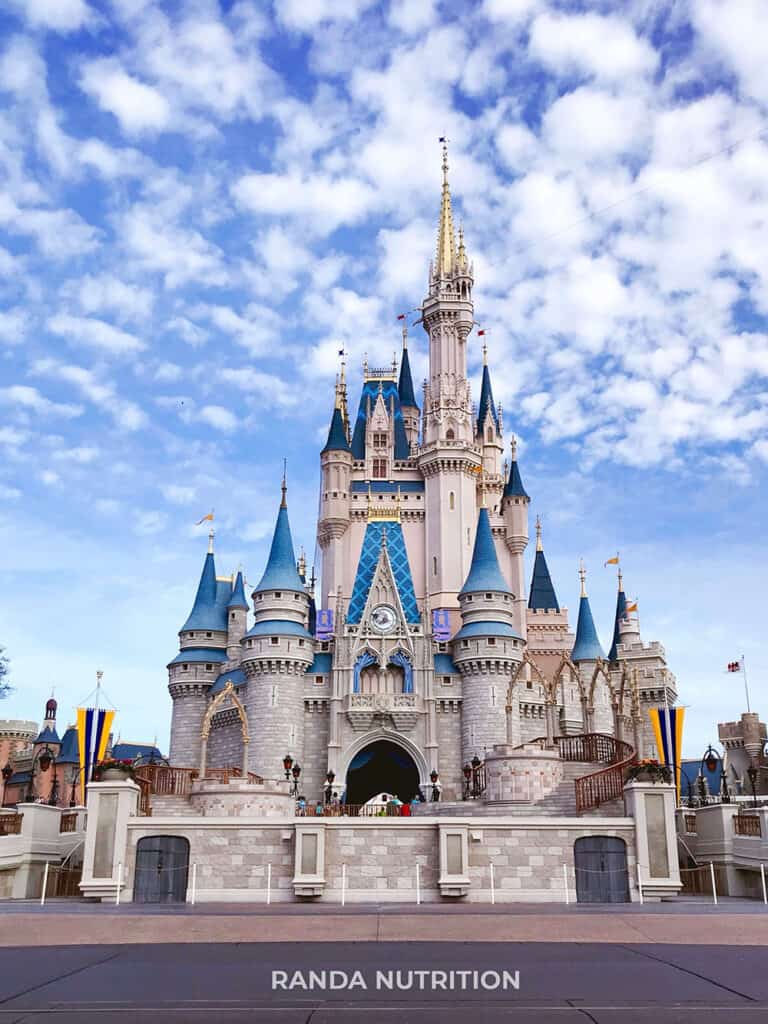 Hire a Disney World Vacation Planner
If planning a Disney World Vacation is too much for you, you can hire it out to a Disney World Trip Planner.
These services are free and you're supporting a small business, which is a win win for everyone. I personally haven't done this but have heard great things about:
You can make the process as fun as you want to build excitement with the family. A few fun ideas are to print out color sheets, make a fun Disney craft, and make a Disney themed meal! Going on a Disney vacation is an exciting time!
With these 7 Disney World trip planning tips, we hope that your upcoming visit will be everything that you've dreamed about. Happy planning!