If you're looking for an anti-inflammatory smoothie recipe that uses everyday ingredients and tastes delicious, then you're in luck! This healthy green smoothie recipe's packed with fresh and frozen fruit, leafy greens, filling seeds, and immune-boosting ingredients like turmeric and coconut oil.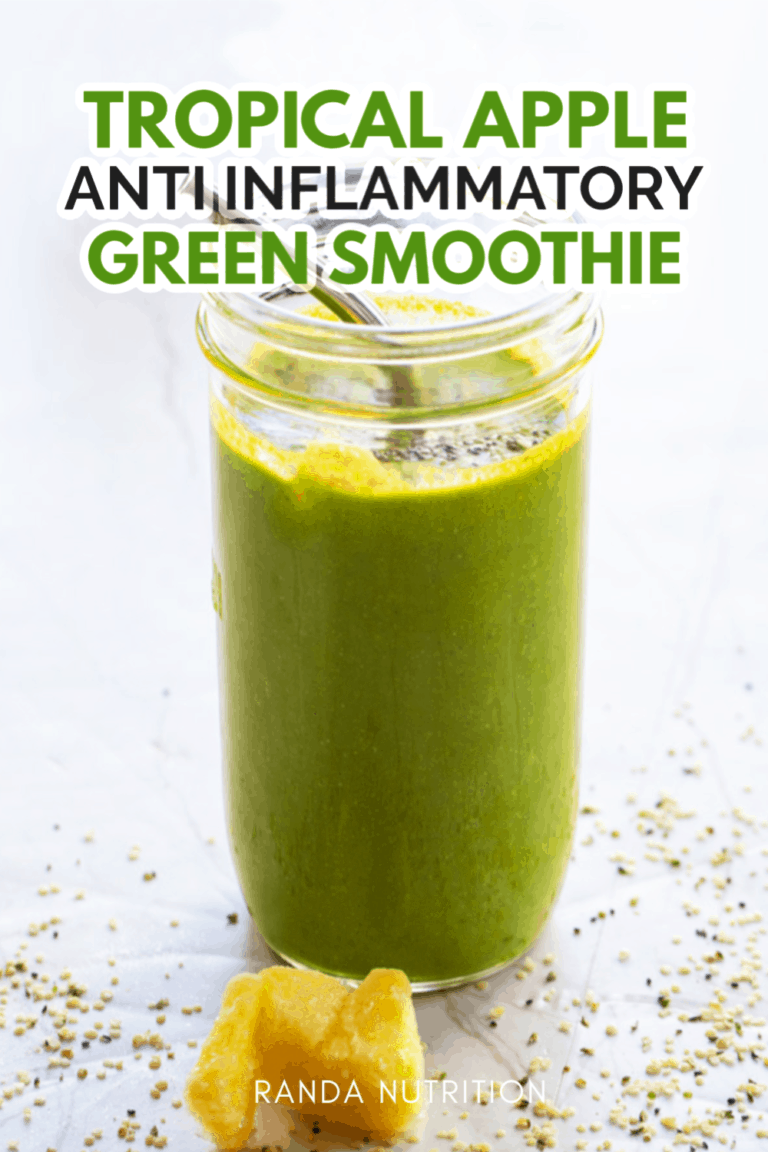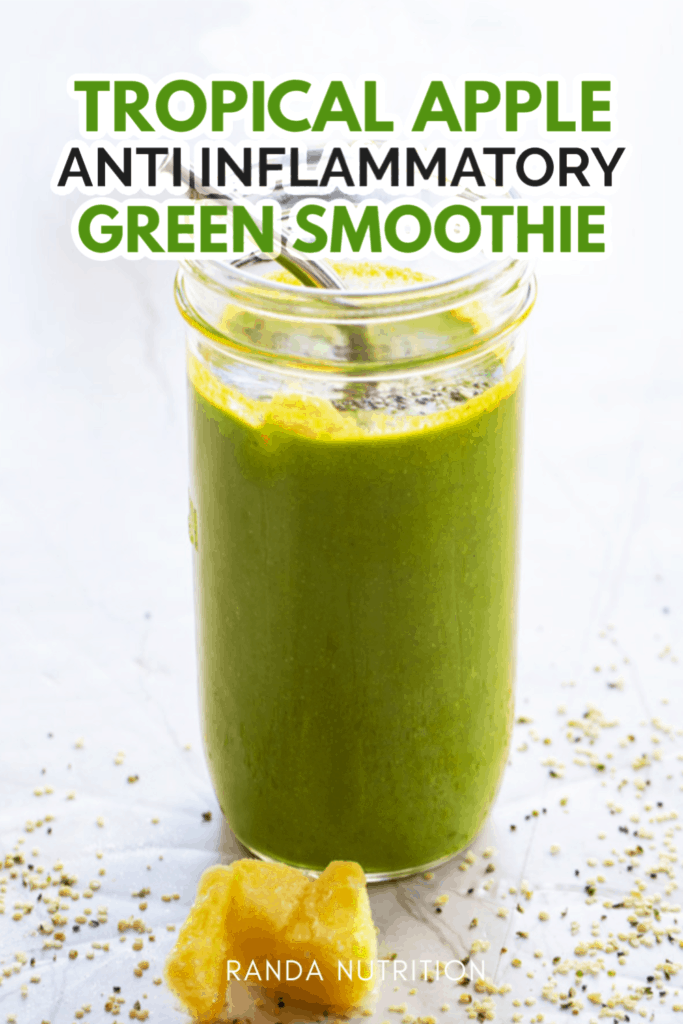 Disclosure: This post contains affiliate links for your convenience. As an Amazon Associate, I earn from qualifying purchases.
Updated from the original posting in April 2020.
Why You'll Love This Recipe
When I was in the Culinary Nutrition Program, I had an assignment to develop recipes and a meal plan for a specific condition. I decided to focus on chronic urticaria (aka chronic hives), as it's something that I live with and wanted to know more about.
At the end of my assignment, I created a 5-day healing meal plan that is full of anti-inflammatory recipes to help minimize and soothe chronic hives.
I knew I wanted to add a simple smoothie that was full of powerful ingredients, and that's how this anti inflammatory green smoothie was born!
Not only does it help soothe inflammatory issues like chronic hives, but it's absolutely delicious, super filling, and leaves you feeling energized. I also love that this anti-inflammatory smoothie recipe is a way to sneak in some extra veggies. In fact, it's one of my secrets to eating more vegetables!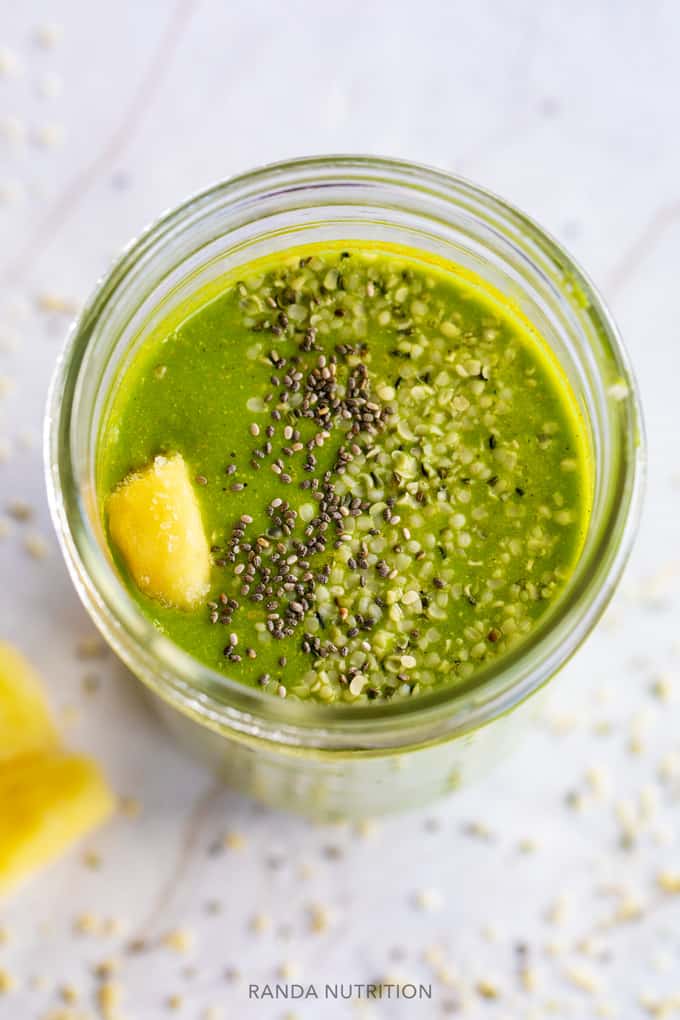 Watch and Learn
Are you more of a visual learner? Then check out this video tutorial! It shows how to make this healthy green smoothie step by step.
And make sure you subscribe to my YouTube Channel to stay up to date and to cook along with me!
What Are Anti-Inflammatory Foods?
There are many anti inflammatory foods that you can add to your diet to ease the symptoms of inflammatory conditions. Here are some of my favorites:
Dark leafy greens like kale, spinach, collard greens, and Swiss chard
Fruits like berries, cherries, red grapes, pineapples, and avocados
Coconut oil, avocado oil, and olive oil
Broccoli
Cauliflower
Nuts like almonds, walnuts, pistachios, and cashews (raw is preferable)
Spices like turmeric and cinnamon
Dark chocolate (in moderation; 80%+)
Water and unsweetened green tea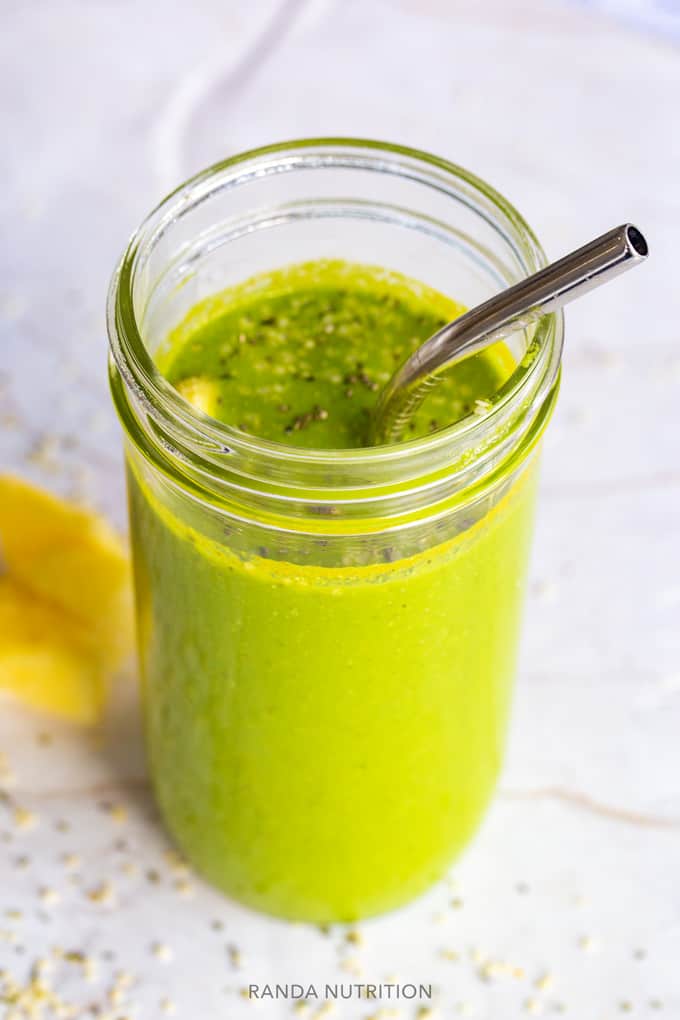 Ingredients
Apple
Pineapple (fresh or frozen)
Spinach (a great source of iron with cancer-fighting properties)
Hemp seeds (They're high in protein and high in Omega3, which can work as an anti-inflammatory and has numerous other health benefits.)
Chia seeds (a great source of Omega 3 and fiber)
Turmeric (This spice is naturally anti-inflammatory, stabilizes mast cells, and prevents histamine release.)
Coconut oil (low histamine and antimicrobial)
Equipment
This recipe doesn't require a super-charged high-motor blender because the only "tough" ingredient is the frozen pineapple. That being said, you do want a fast blender to help the spinach turn to liquid and to make sure everything is completely incorporated.
I have a Vitamix 7500. I love it, but they're not the cheapest things out there. A Ninja Blender would work great for a lower-cost option.
If you don't have a blender, then a food processor would also work!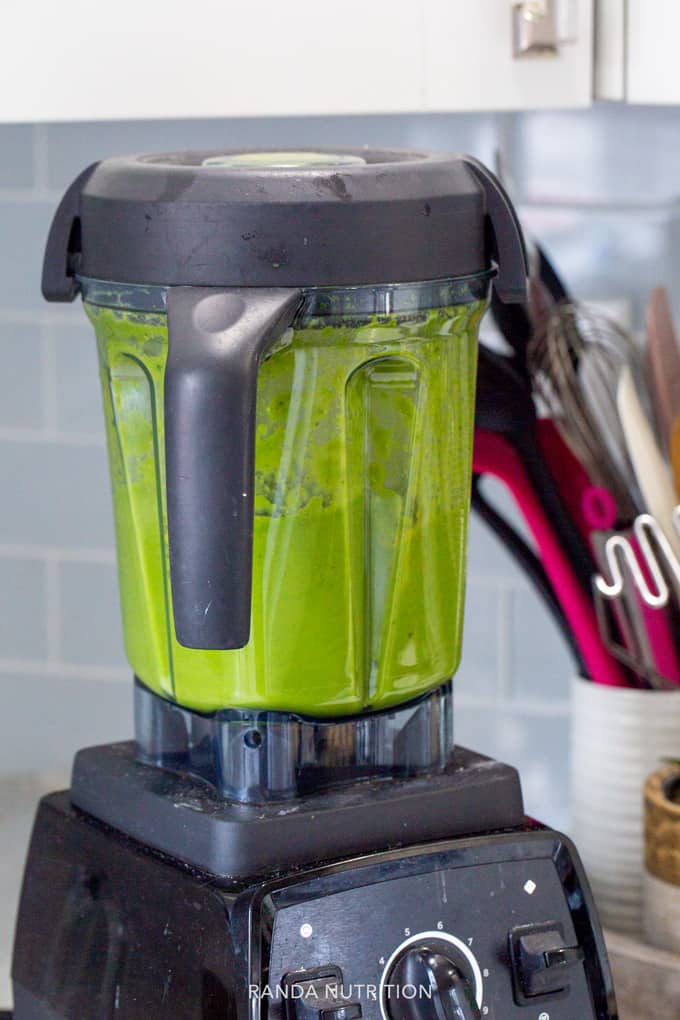 How To Make It
This healthy green smoothie recipe is so incredible simple to make!
First, add the almond milk and spinach to a high-speed blender and blend for a minute or two until it's completely liquified. I find that if you blend the spinach and liquid before you add the rest, you won't find pieces of spinach in your smoothie.
Add the rest of the ingredients, and blend until smooth.
Pour into your preferred glass, and enjoy!
Tips and Variations
If time allows, consider dividing portions of these green smoothie ingredients into individual baggies and freezing them ahead of time. This not only makes the process easier because you can just dump and blend them, but freezing everything means your smoothie will be colder when you drink it.
Add or swap more fruits and veggies! I used apples, pineapples, and spinach, but you could also use other anti-inflammatory and immune-boosting ingredients like blueberries, strawberries, raspberries, mangoes, kiwis, bananas, kale, arugula, and parsley.

Add some fresh ginger and garlic for more spice, flavor, and health benefits!

If you're out of chia and hemp seeds, you could use any seeds or nuts to make this green smoothie recipe more filling. Almonds, pepitas, and flax seeds are great options!
Or throw in your favorite protein powder!
Storage and Freezing Instructions
Store this prepared anti-inflammatory smoothie in your fridge in a sealed container for up to 3 days. It's great for meal-prepping ahead of a busy week! Just make sure to give it a good shake before drinking, as the ingredients will likely separate.
Make a big batch of this green smoothie recipe and then freeze the leftovers to blend later as desired. I like to freeze it in an ice cube tray and then put those cubes in a large, freezer-safe plastic bag. Store for up to 6 months.
Frequently Asked Questions
Is this green smoothie recipe sweet?
If you're used to super sweet smoothies, this may be a little bit of a change for you. You can add another 1/2 cup of frozen pineapple or add honey or maple syrup (one teaspoon at a time).
What kind of almond milk should I use?
I use unsweetened original almond milk. I typically buy the Silk or Kirkland Organic brand. Or here's how to make almond milk at home.
Can I use a different kind of milk?
Yes! Of course! You can try cashew milk, coconut milk (not canned), soy, etc. Just ensure that it's unsweetened.
Is this anti-inflammatory smoothie recipe high in fiber?
Thanks to the fruits and vegetables (and chia) one serving has 10g of fiber! That's HUGE (most women require 25g a day).
How do I blend the spinach so that it's smooth?
One of my biggest tips is to blend your liquid and your spinach together FIRST before you add the rest of the ingredients. This prevents chunks of spinach leaves floating around.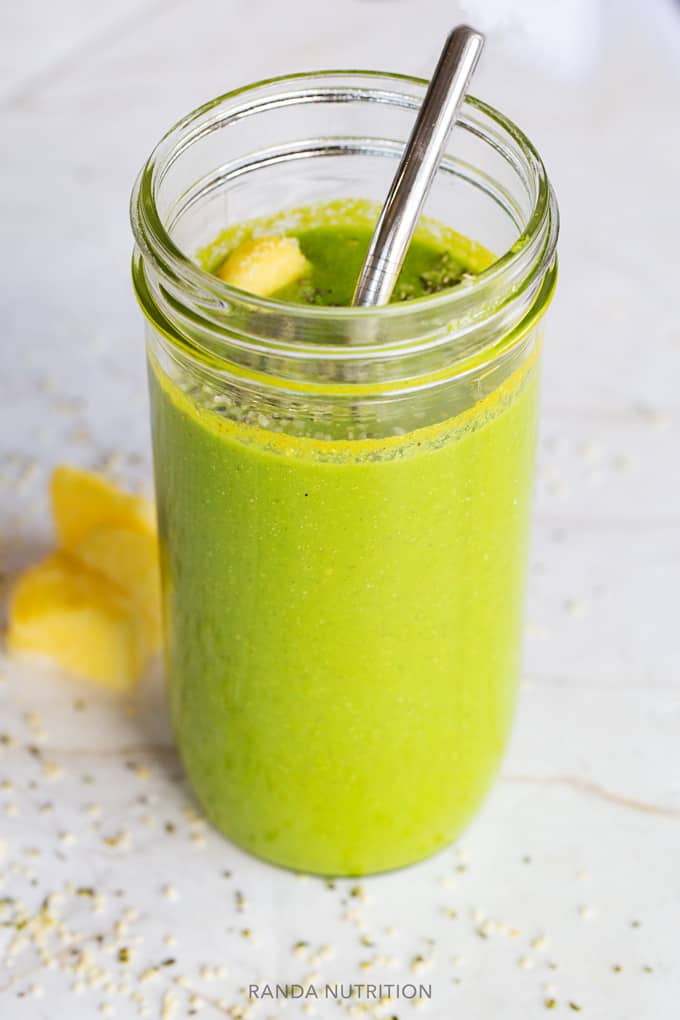 More Anti-Inflammatory Recipes
Don't forget to check out these spinach smoothie recipes for more ways to sneak in veggies.
Don't forget, if you're looking to establish healthy habits (like adding more vegetables to your diet in fun and tasty ways) be sure to secure a spot in the 30 Days to a Healthy Habits Challenge.
Anti Inflammatory Green Smoothie
If you're looking for an anti inflammatory green smoothie recipe that uses healthy, everyday ingredients and tastes good, this is it. This is a great breakfast or snack if you're following an anti inflammatory diet and that requires low histaime ingredients.
Ingredients
1 1/2

cups

almond milk

2

cups

spinach

1

granny smith apple

cored and sliced

1/2

cup

pineapple

frozen

1

tbsp

hemp seeds

1

tsp

chia seeds

1/2

tsp

turmeric

1

tsp

coconut oil

1/8

tsp

pepper
Instructions
Add the almond milk and spinach to a high-speed blender and blend. I find that if you blend the spinach and liquid before you add the rest, you won't find pieces of spinach in your smoothie.

Add the rest of the ingredients and blend until smooth.
Notes
Not sweet enough? Try a little honey or maple syrup a teaspoon at a time until you reach your desired sweetness.
Nutrition
Serving:
1
serving
|
Calories:
347
kcal
|
Carbohydrates:
43
g
|
Protein:
11
g
|
Fat:
17
g
|
Saturated Fat:
4
g
|
Sodium:
539
mg
|
Potassium:
619
mg
|
Fiber:
10
g
|
Sugar:
28
g
|
Vitamin A:
5802
IU
|
Vitamin C:
65
mg
|
Calcium:
577
mg
|
Iron:
5
mg
The nutrition information is calculated using a third party resource. The accuracy varies on the brands used, weight, portions, etc. This resource should be used as a guide. If you want more accurate information, weigh in grams and log in MFP.