This nutrient-dense pineapple green smoothie recipe is a favorite power smoothie in our home. It's made with simple ingredients that have a ton of benefits.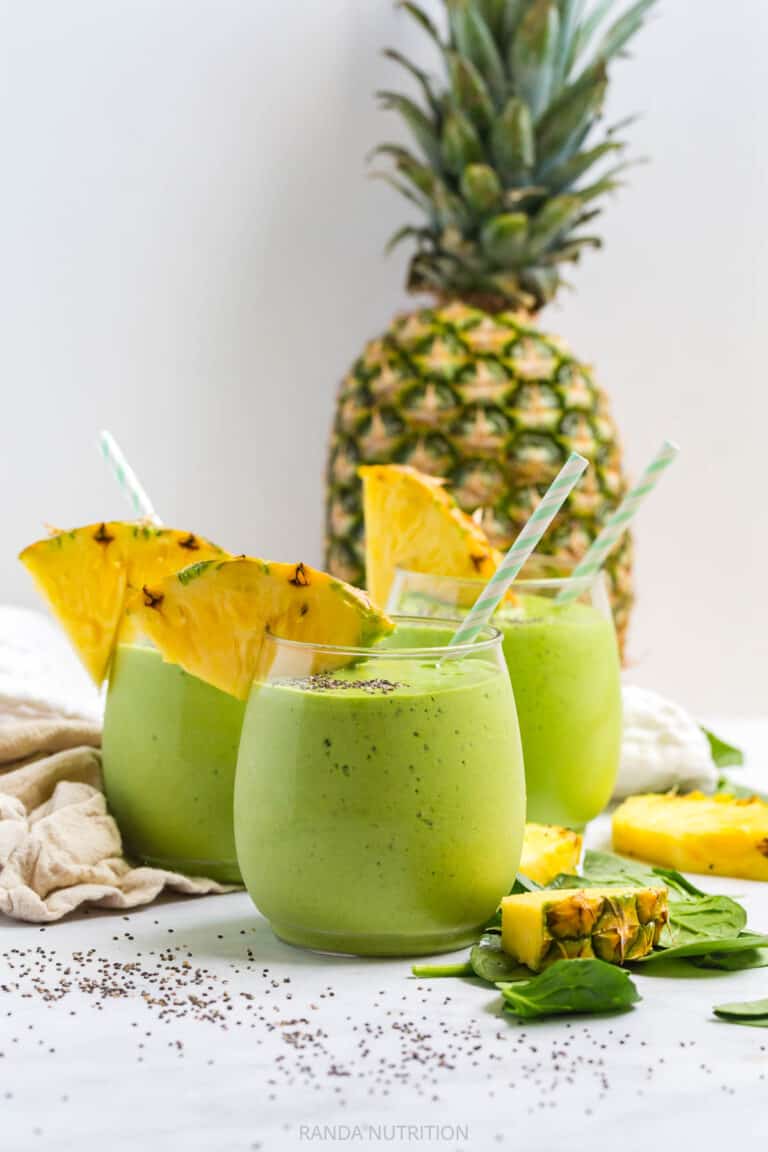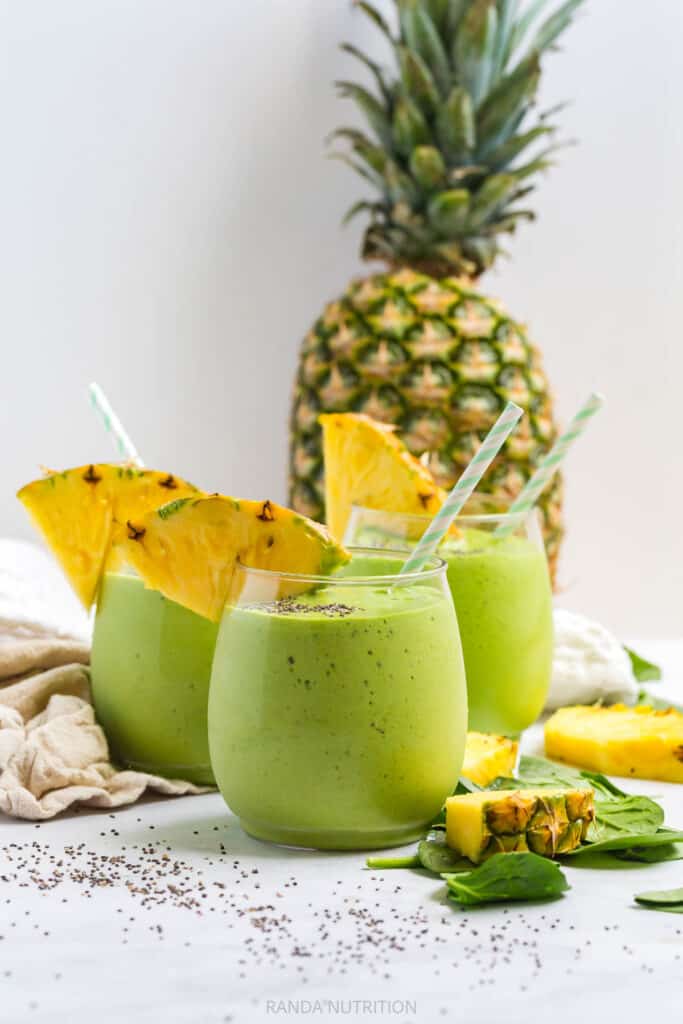 This delicious tropical green smoothie recipe has been sponsored by the Dairy Processors Association of Canada.
Health Benefits of Green Smoothies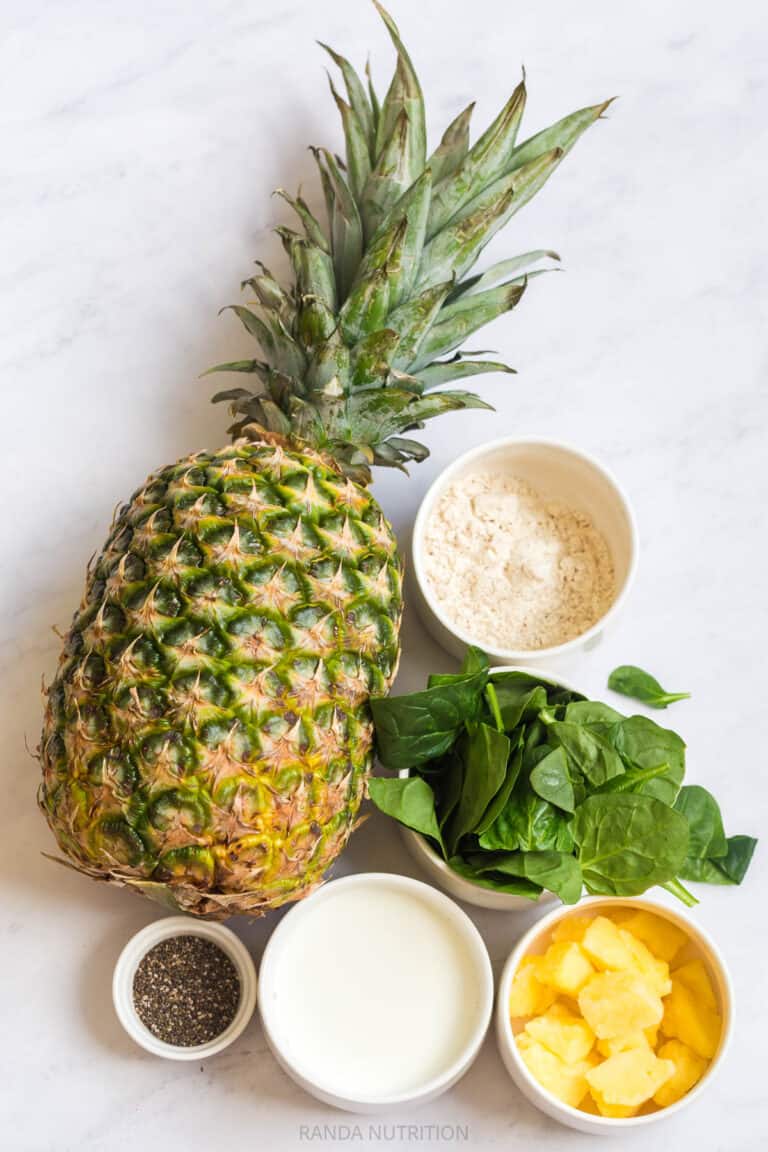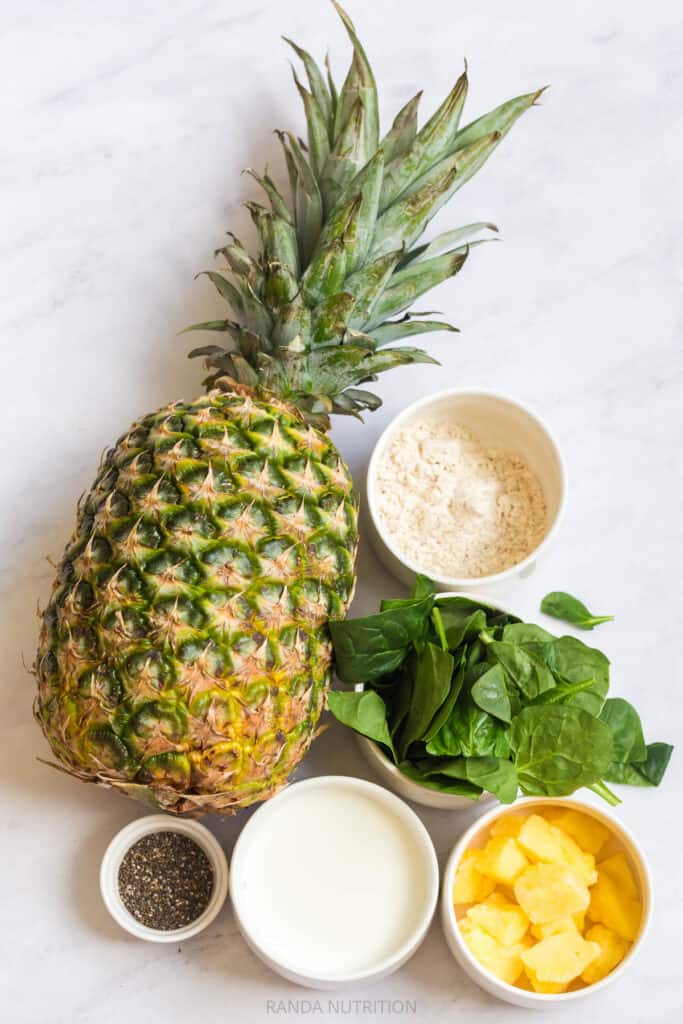 There are a ton of health benefits to the ingredients of this high protein green smoothie recipe. I have it some of the key features listed below:
Milk. As we learned in school, dairy milk provides important micronutrients (aka vitamins in minerals) like calcium, magnesium, phosphorus, vitamin D, and vitamin A. Milk is also a great source of protein (1 cup of milk is roughly 8g (I buy ultra-filtered milk that has 14g of protein).
Baby Spinach. This healthy leafy green provides fiber (helps with digestion), vitamins A, C, and K, plus minerals like iron, folate, and calcium.
Whey protein powder. Whey protein is a great way to supplement protein to your diet. If you have high protein goals, protein powders make it easier to reach it. Depending on the brand, one scoop has roughly 20-24 grams of protein, which is beneficial to your muscles, skin, and hair, but dairy-based protein is also found to reduce hunger until your next meal (source).
Pineapple. This delicious fruit has bromelain which is an enzyme that helps with the breakdown of protein and has an antiinflammatory benefit (source). Pineapple is rich in vitamin c (this helps with iron absorption, immune health, and collagen synthesis), it's also loaded in antioxidants, provides a source of fiber, and makes you feel like you're on a tropical vacation. I used frozen pineapple chunks to make it thick and give it a creamy texture.
Chia seeds. I love chia seeds! A small serving packs protein, fiber, and some healthy fats (including Omega 3 fatty acids). All of these help with blood sugar stabilization and digestive health benefits.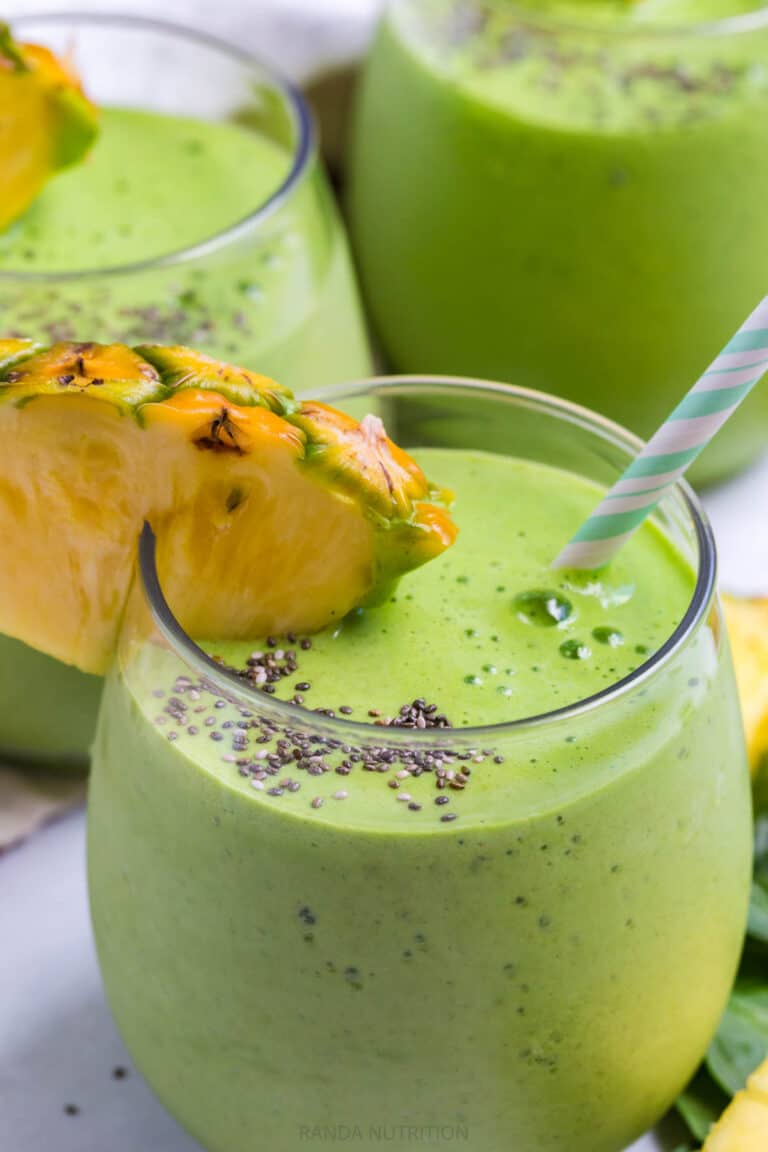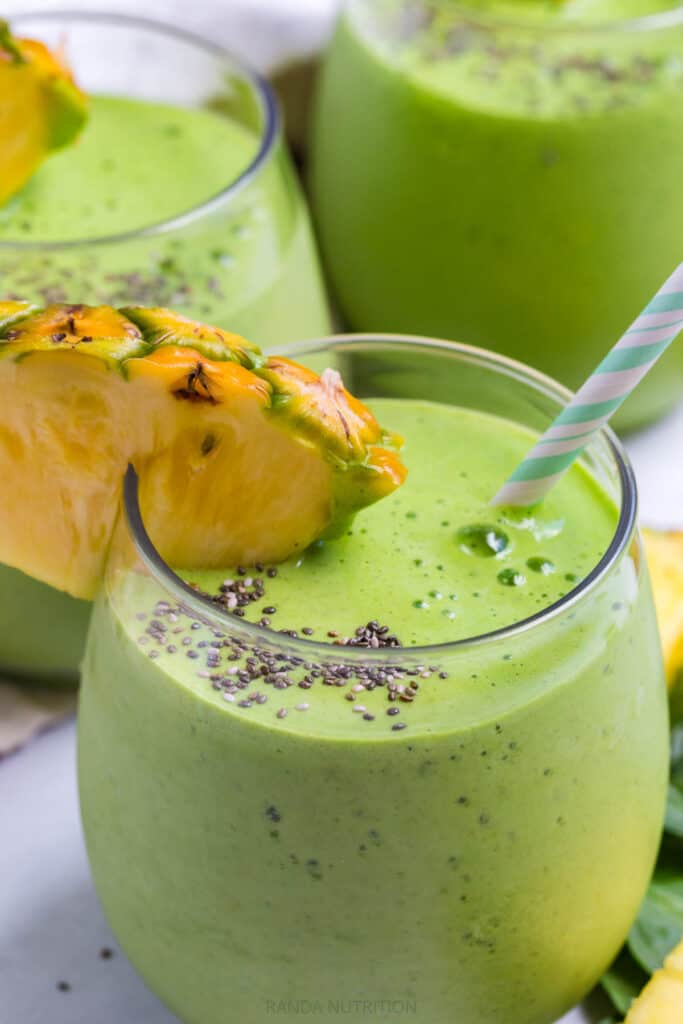 How much protein is in a green smoothie?
That depends on what you add as ingredients. Every recipe is different. My recipe for pineapple spinach smoothie is packed with protein thanks to the milk, protein powder, chia, and even the spinach provides a tiny boost too!
This recipe has 35 grams of protein, if you use ultra-filtered milk this recipe will have 41 grams of protein.
What milk to use in a green smoothie?
As always, my recipes are easily adjustable to suit your dietary needs. In this recipe, I used 1% milk.
Did you know that many Canadians don't get enough magnesium, on top of calcium, vitamin A, and vitamin D? Simply by adding more dairy products to your day (like the milk and whey protein) you can easily add these nutrients to your day.
It's truly a power smoothie with simple ingredients that pack a ton of nutritional benefits. You can enjoy it as a breakfast smoothie, a post-workout shake, or a simple dinner when you're tired. You're going to love it!
Looking for more protein with some gut health benefits? Add 1/4 cup of kefir. Did you know that 3/4 cup of kefir has only 90-100 calories and an extra 7g of protein? In addition to the added protein and delicious yogurt taste it adds to your smoothies, kefir is an excellent probiotic (source). You can find it near the yogurt, look for plain (not the flavored variety).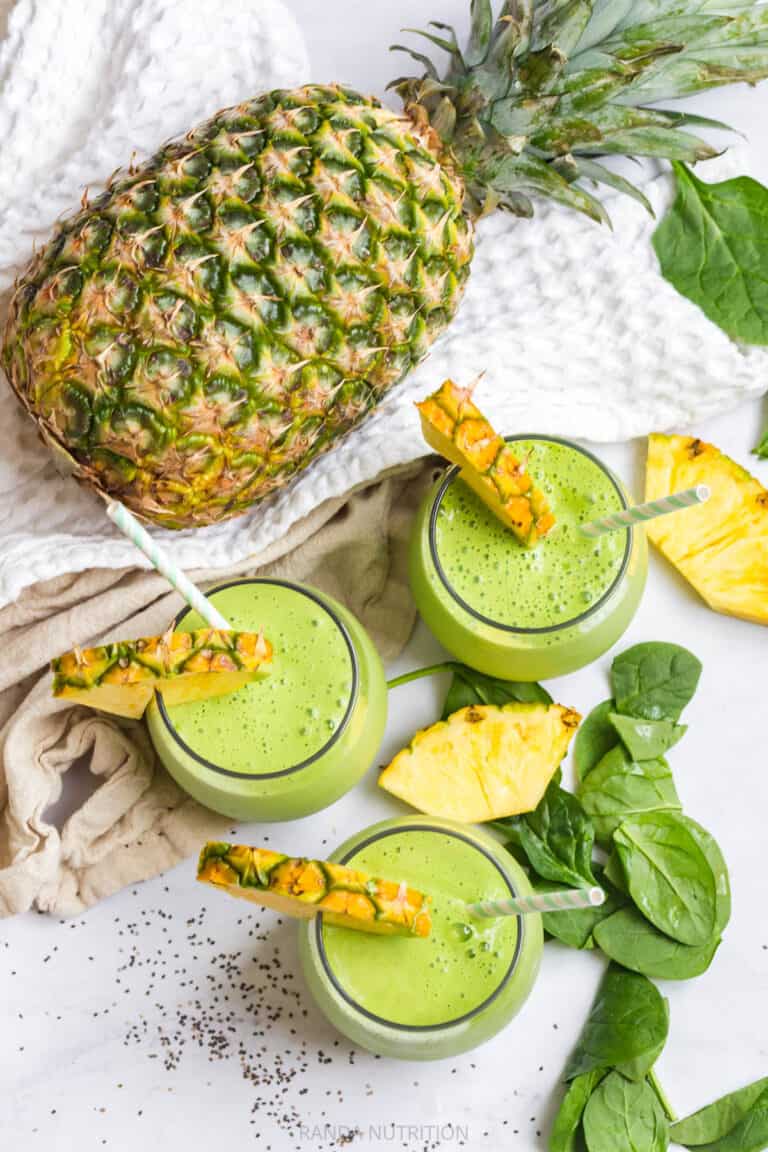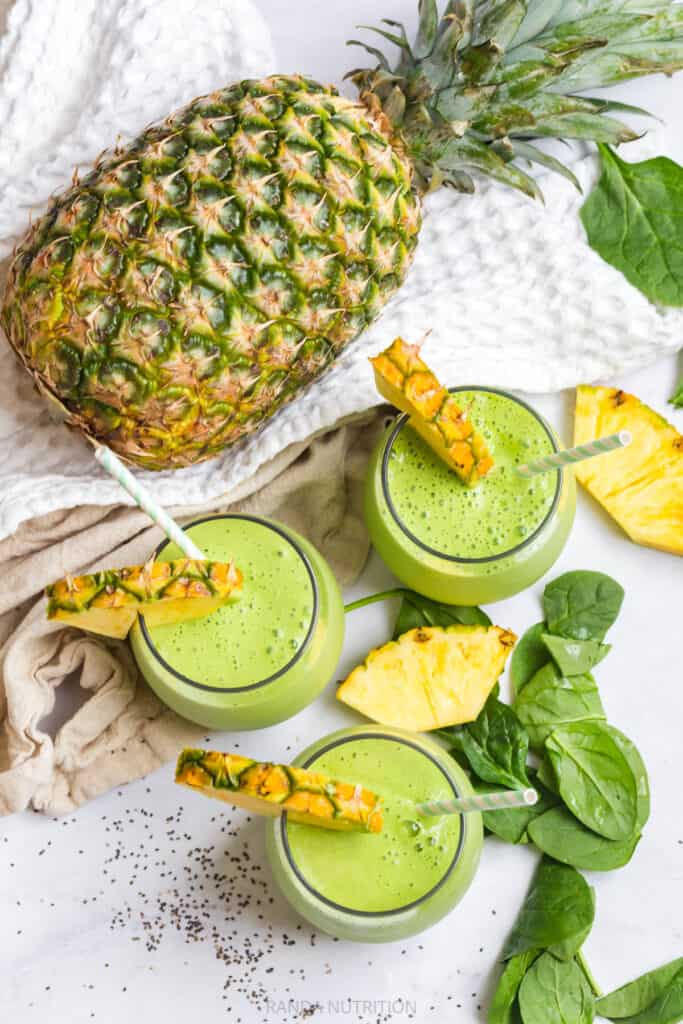 How to Make a Pineapple Green Smoothie
As a busy mom, effortless meals are always appreciated, which is why I love how easy it is to make this protein packed green smoothie. I used simple pantry staples and easily accessible ingredients that you can find at your grocery store.
Enjoy!
Tips for Blending Spinach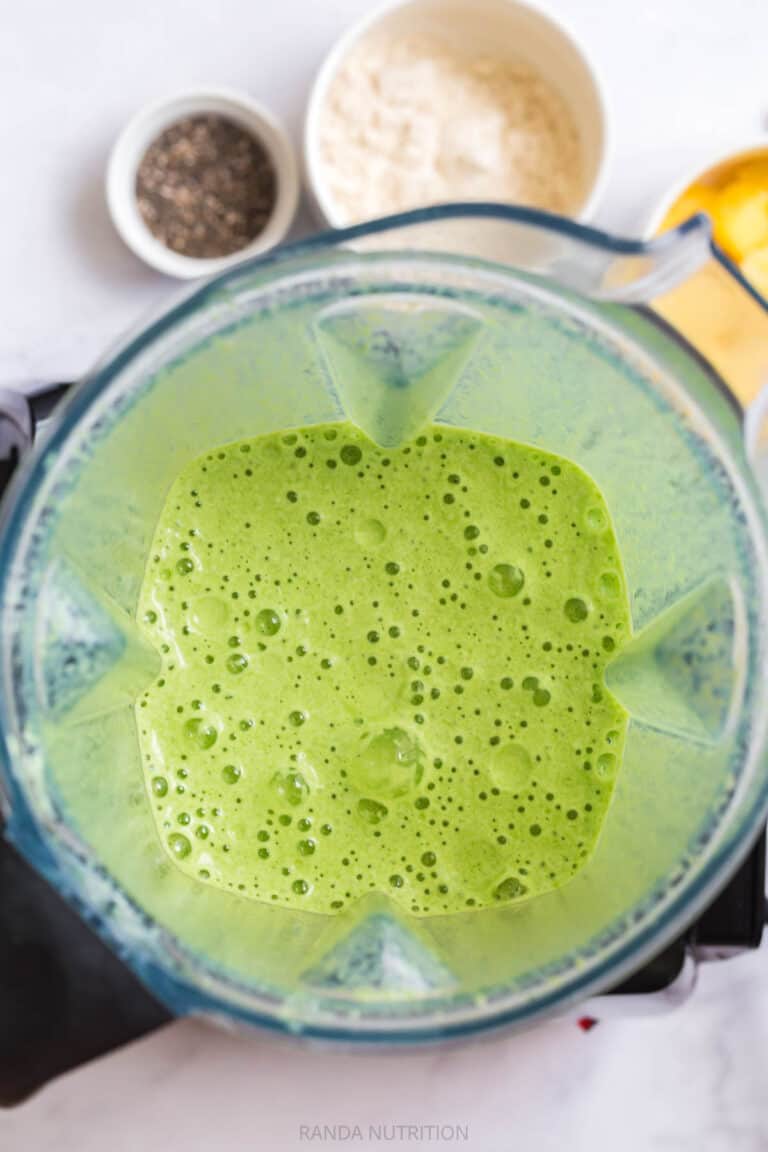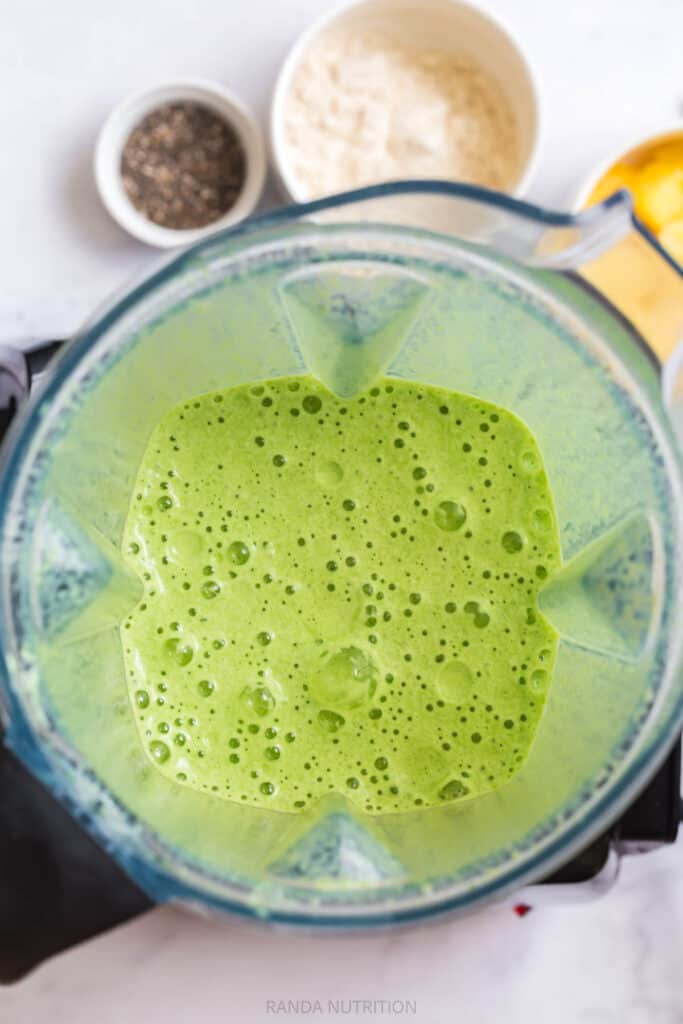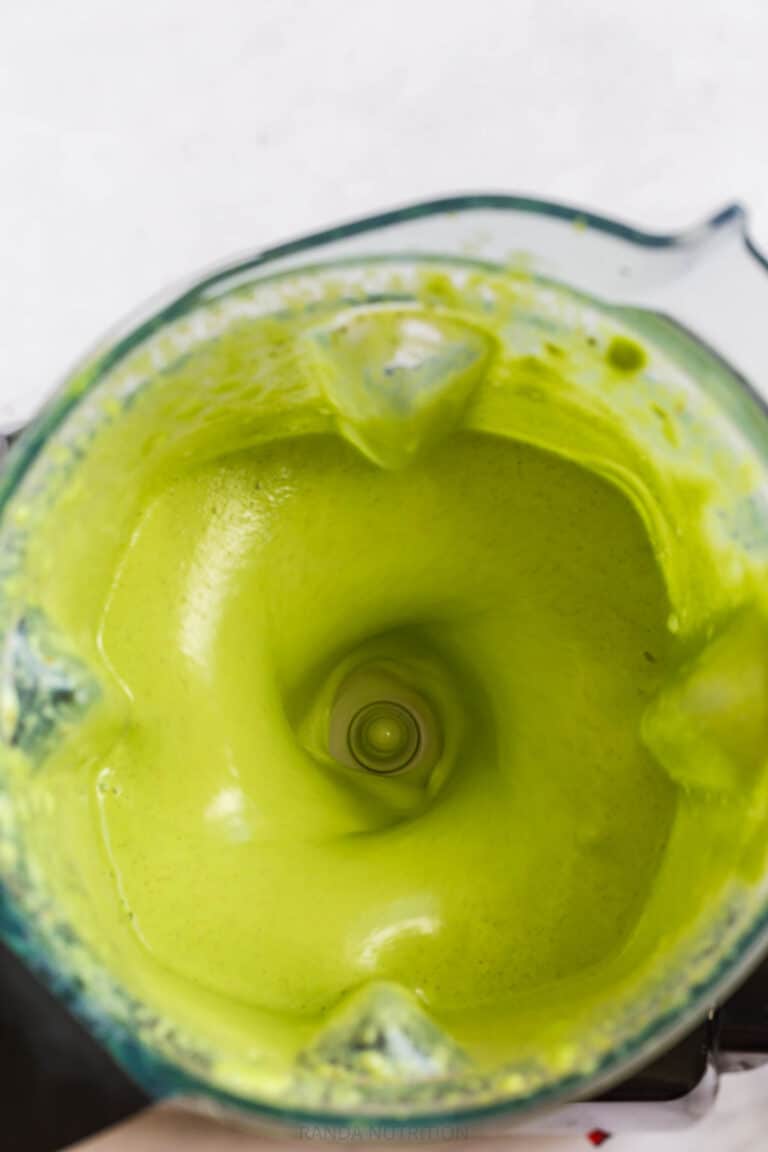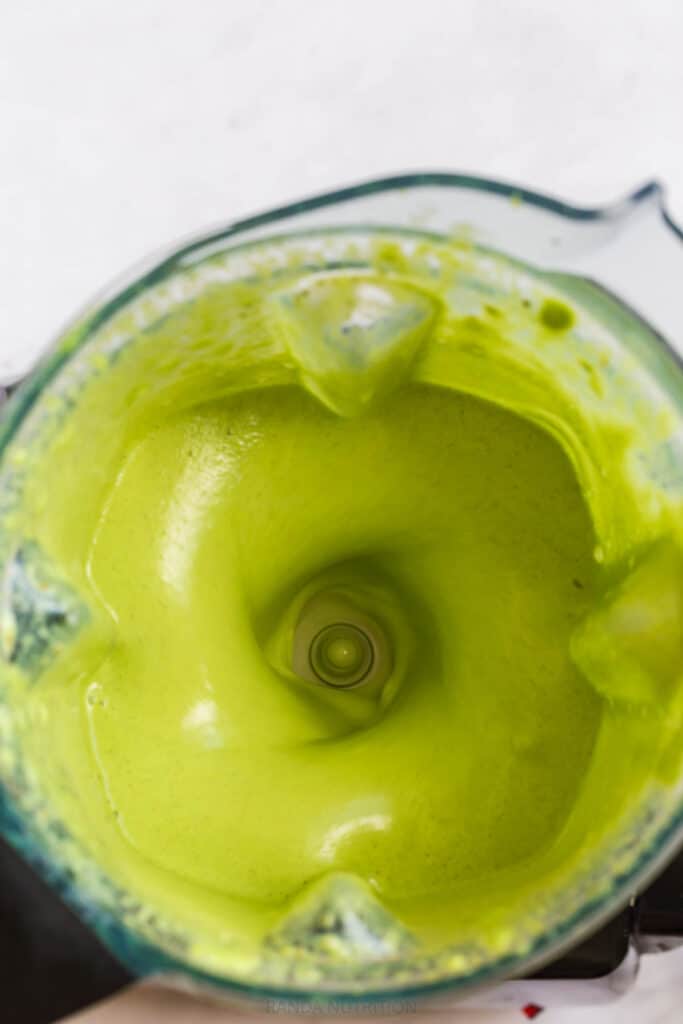 When it comes to blending spinach for a smoothie, blend it with your liquid (milk) first. This liquified the spinach leaves so you don't have bits of spinach all over the place (that inevitably end up in your teeth). I share more about it here on this Instagram Reel.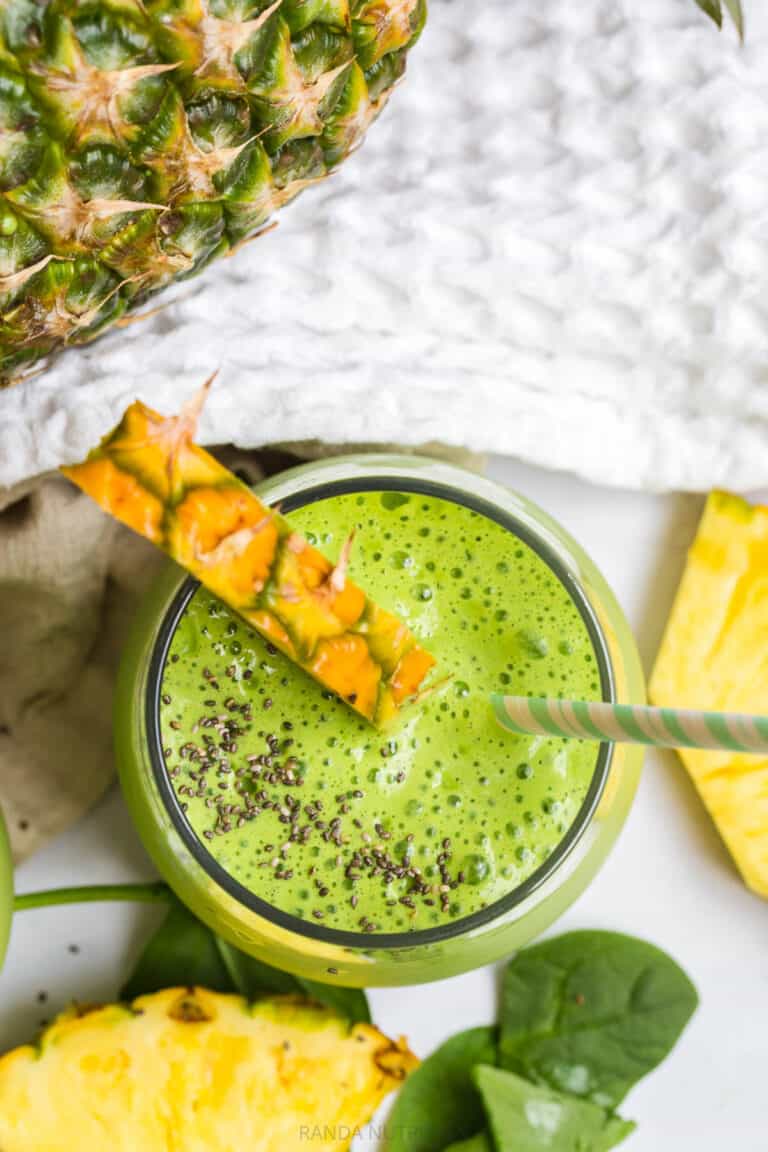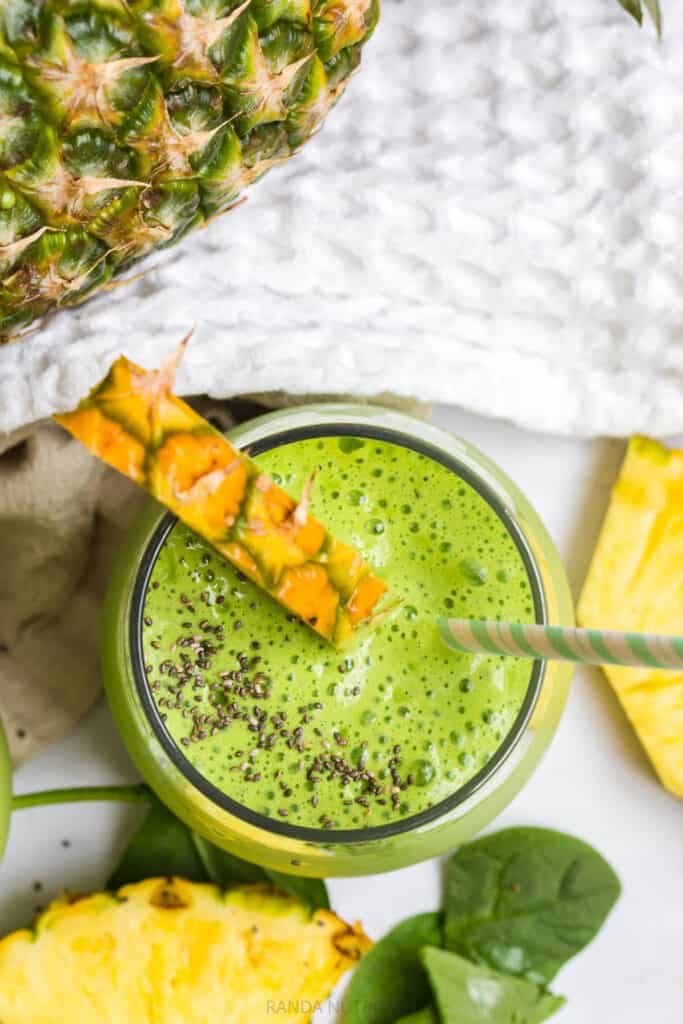 Sweetening Your Smoothie
If you taste the smoothie and it's not as sweet as you prefer (it's a fruit smoothie, but not overpowering with sweetness) adjust it how you would like.
You can add:
More pineapple (if you want it thicker, this is another option too)
Monkfruit sweetener
Honey
Maple syrup
More smoothie recipes
Pineapple Green Smoothie
This pineapple green smoothie is a quick and easy way to get more protein into your diet. It's a delicious post workout meal with a tropical twist.
Ingredients
1

cup

1% milk

I used ultra filtered to double the protein (14g instead of 8)

1

cup

spinach

1

scoop

vanilla protein powder

3/4

cup

frozen pineapple

1

tablespoon

chia seeds
Instructions
In a high speed blender, add the milk and spinach. Blend until smooth (this prevents pieces of spinach sticking around).

Add the rest of the ingredients and blend until smooth. Pour into a glass and enjoy.
Notes
Nutritional info is based on the brand of protein powder. Every brand will change the information slightly.
Sweetening Your Smoothie
If you taste the smoothie and it's not as sweet as you prefer (it's a fruit smoothie, but not overpowering with sweetness) adjust it how you would like.
You can add:
More pineapple (if you want it thicker, this is another option too)
Monkfruit sweetener
Honey
Maple syrup
Nutrition
Serving:
1
serving
|
Calories:
339
kcal
|
Carbohydrates:
37
g
|
Protein:
35
g
|
Fat:
7
g
|
Saturated Fat:
2
g
|
Polyunsaturated Fat:
3
g
|
Monounsaturated Fat:
1
g
|
Trans Fat:
1
g
|
Cholesterol:
27
mg
|
Sodium:
259
mg
|
Potassium:
816
mg
|
Fiber:
7
g
|
Sugar:
25
g
|
Vitamin A:
3354
IU
|
Vitamin C:
68
mg
|
Calcium:
719
mg
|
Iron:
2
mg