16 Quick & Healthy Picnic Snacks
Summer is finally here which means more time outside at the park, beach, or on hikes. Here are some healthy picnic snacks to pack up for your outing.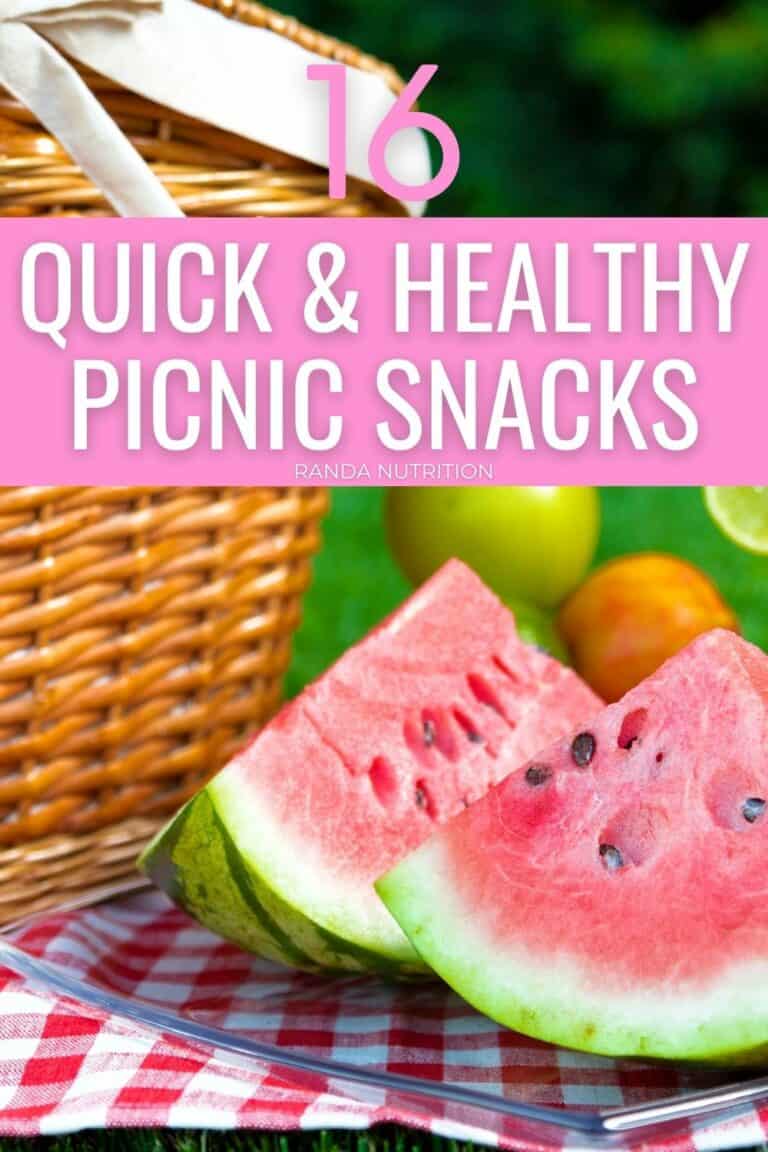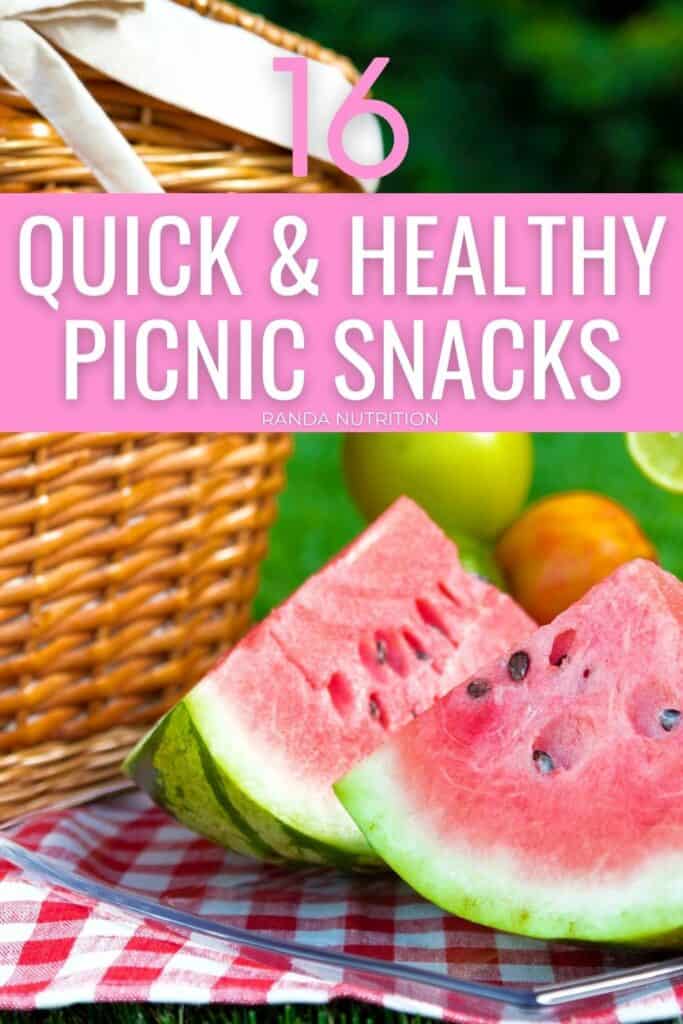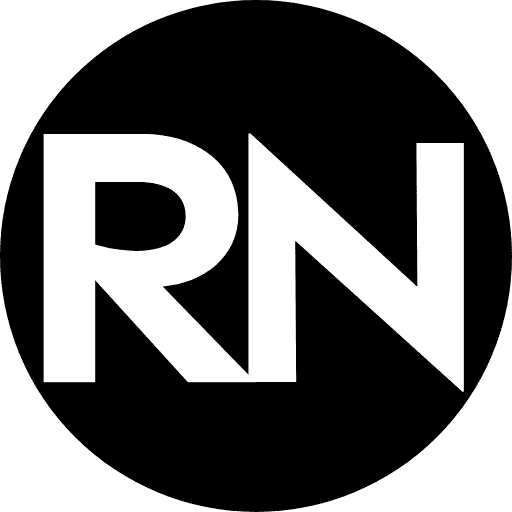 Save This Recipe!
Enter your email below & I'll send it straight to your inbox. Plus you'll get great new recipes every week!

Disclosure: This post contains affiliate links for your convenience. As an Amazon Associate, I earn from qualifying purchases.
Healthy Picnic Snacks for the Beach or Park
The healthy picnic ideas that I've curated are simple and easy. I didn't want anything elaborate with a ton of ingredients, but more grab-and-go options.
Going on a hike? Check out these 40+ Healthy Hiking Snacks.
I recommend getting an insulated picnic basket if you have items that need to be cool (mayonnaise, eggs, dips, meat). A cooler is another option too (it's just a little cumbersome to carry when you have your hands full with beach supplies).
Sandwiches
Let's start with a tried and true picnic favorite, one of the classics: sandwiches.
Sandwiches can be a nutrient-dense option for a healthy picnic snack or lunch. Start with your bread, a sprouted bread or a whole wheat/grain option offers a ton of nutritional value. I like Dave's Killer Bread, Alive and Rise, Country Harvest, etc. Also, depending on the bread, some of these have 10g of protein and 6g of fiber per serving!
Top the sandwich with a high protein option like turkey, some spinach/sprouts/insert whatever veggie you like, and top with a little mayo (or avocado), mustard, etc. Serve it with a side of baby carrots. Or, you can go PB&J (my kids are obsessed with peanut butter and jam right now).
Fruit
Bringing fruit is an easy option, whether it's a single fruit or throwing together a fruit salad for the crew (pineapple and strawberries are my personal favorite). You can cut up fruit, put it in a bowl with a lid and go.
Tip: If you're bringing sliced apples, soak it in lemon juice first to prevent the flesh from browning (which prevents future toddler meltdowns).
Or you can opt for "portable fruit" like a banana, apple, cherries, cherry tomatoes, or an orange (the peels make it less messy and it takes less effort).
Tip: if you're bringing watermelon make sure you have lots of napkins and Wet Wipes with you.
Veggies
After fruit, comes vegetables.
Toss a few handfuls of baby carrots into a container with sliced pepper, cucumber, and whatever vegetables you have on hand.
Another option is to swing by the grocery store before you head out and grab a small veggie tray.
Tip: I like to bring hummus as a dip as it provides a little extra protein and fat and helps me feel fuller for longer.
Muffins
Muffins are a great option for when you're on the go, and everyone loves there.
Check out these healthy blueberry muffins and check out the rest of my healthy muffin recipes.
Cheese and Crackers
Every time I head to the beach with friends, cheese and crackers are always a hit. It's one of our favorite healthy picnic foods.
No need to make it fancy, grab one of each or pick and choose:
a box of whole grain crackers (or gluten-free if you need it)
low salt tortilla chips are always a hit too (don't forget the guacamole and salsa)
pita bread (I like the mini ones)
turkey pepperoni
your favorite cheese, cut up (or cheese strings to make it even easier)
pickles
dip (I like hummus or a yogurt based dip like dill or this tzatziki recipe)
Protein Bars
I always have a protein bar in my purse to ensure I don't get hangry while I'm out and about.
If I'm only spending an hour or two at the beach, a protein bar is more than enough for a quick snack for me.
Grab your favorite bar (mine are the chocolate coconut granola bars from Built Bar – save with code RANDA).
Healthy Picnic Refreshments
Please, stay hydrated while you spend time outdoors. This goes for any time of the year, but especially during summer picnics.
Make sure you bring a reusable water bottle (this one reminds you when you need to take a drink, I love it) and drink up!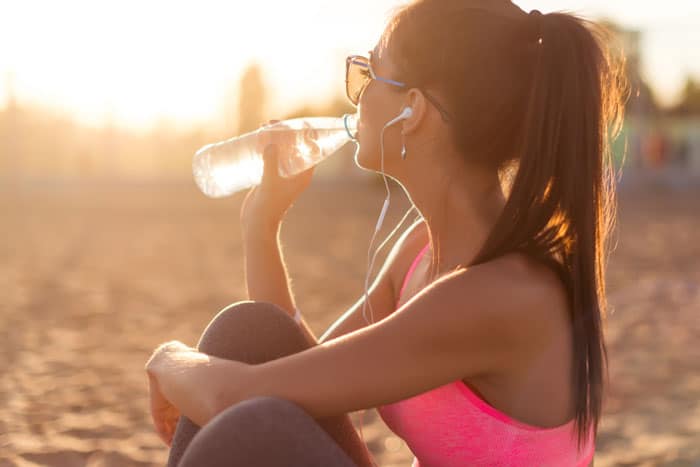 Other low-calorie ways to stay hydrated (other than water):
unsweetened iced tea (homemade or you can go to Starbucks for an unsweetened version)
sparkling water
flavor your water with frozen fruit and herbs (I suggest pineapple, strawberries, and mint – it's so good).
Healthy Fast Food Picnic Options
Sometimes it's fun to hit up a drive-thru or head to a counter service option and take it to the park with the kids. Here are some of my favorites for healthy picnic snacks: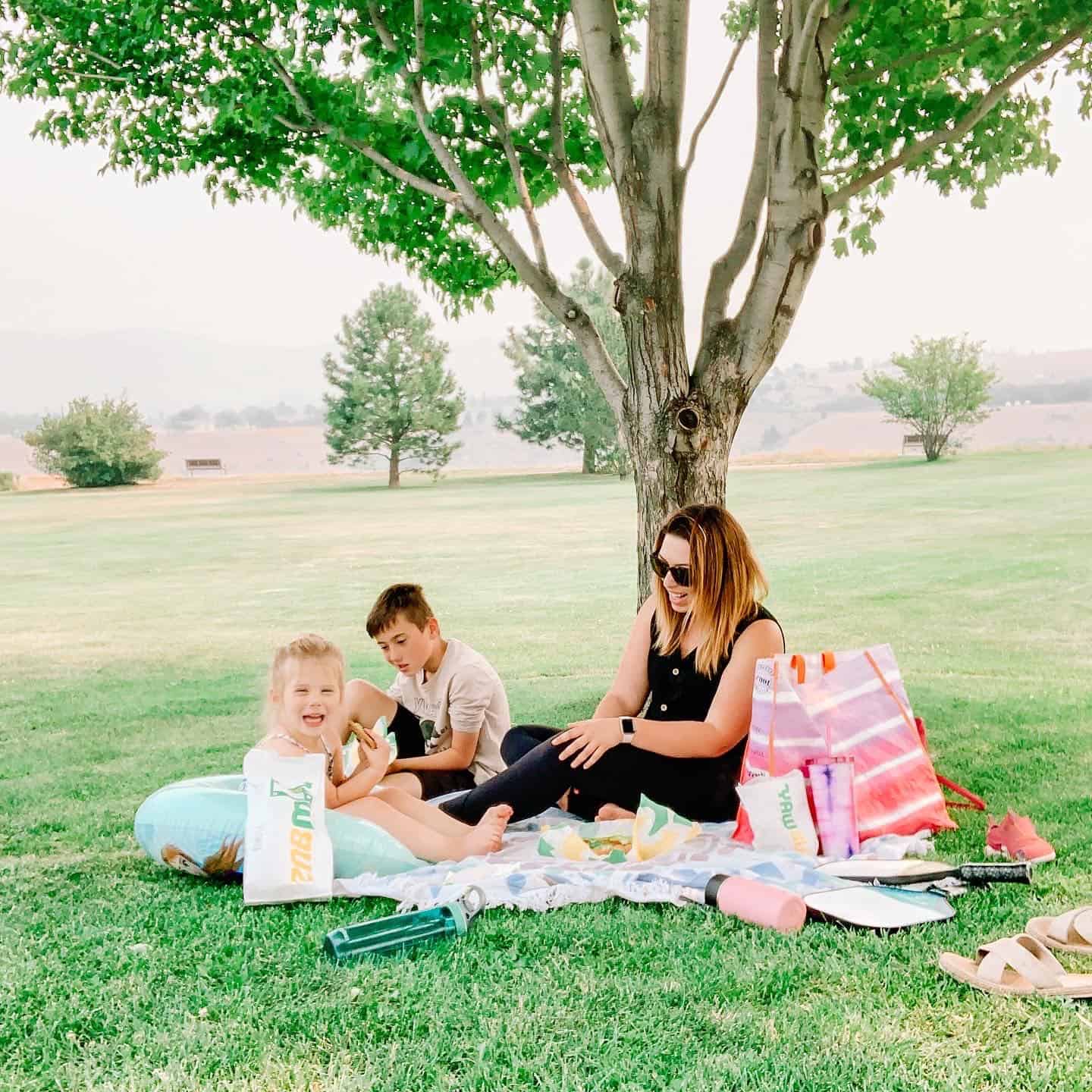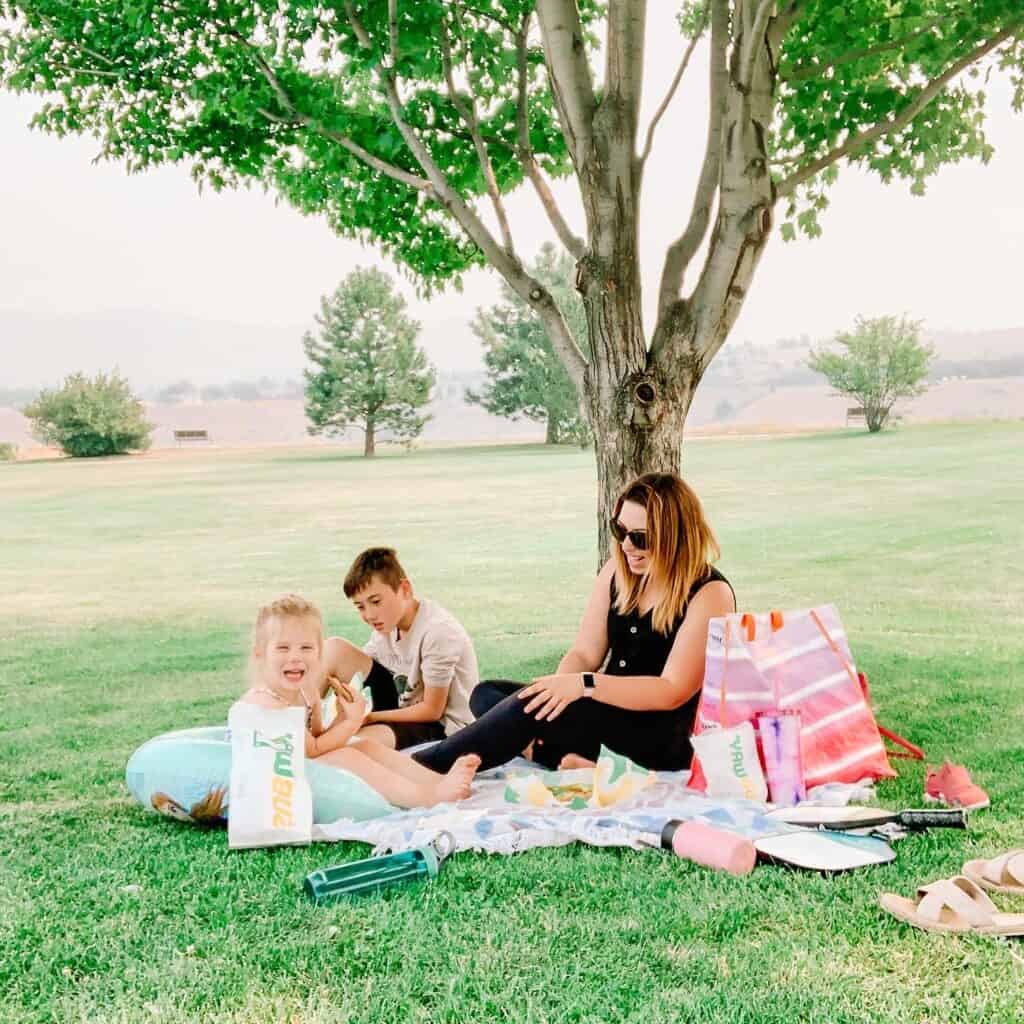 Subway: grab a 6″ sub (if you want high protein ideas, check out these 10 Macro Friendly Subway Options), a salad, and some water.
Freshii: order your favorite salad bowl, tacos, or wrap. My personal favorite is the Oaxaca bowl.
Chipotle or any other grab and go fast-casual restaurant: since build it yourself options are already listed I thought I would make a catch-all so I don't list them all. Aim for a veggie heavy base and top with protein. Think a base of lettuce greens, accessory veggies (like peppers, tomatoes, etc), a startchy carb (like sweet potato, rice, quinoa), a protein, a healthy fat (cheese or avocado), and a little bit of sauce (don't smother it).
Burger joint: If you want a burger, get a burger! I recommend grabbing a burger and ordering a side salad with it (dressing on the side). That way you won't feel too weighed down from the grease in the fries to play with the kids and enjoy the sunshine.
I hope you liked these simple picnic food ideas, make sure you share your favorite go tos in the comments.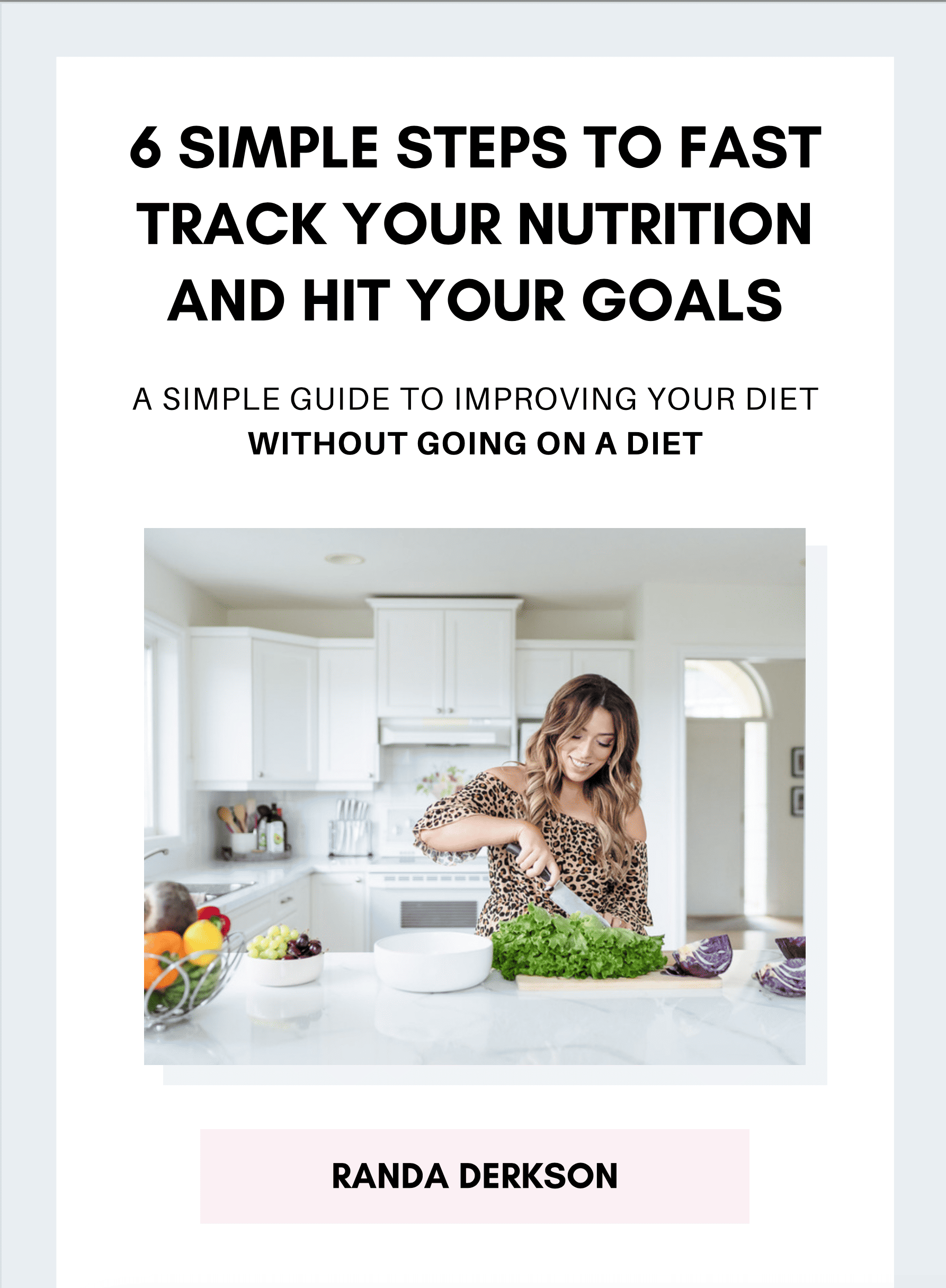 Grab your Free copy
Fast Track Your Nutrition with Macros
Learn the simple steps to improve your diet without diets and deprivation.