This healthy carrot cake oatmeal recipe is one of my favorite breakfasts – ever. I make it at least once a month, it's comfort food for breakfast with a dessert twist.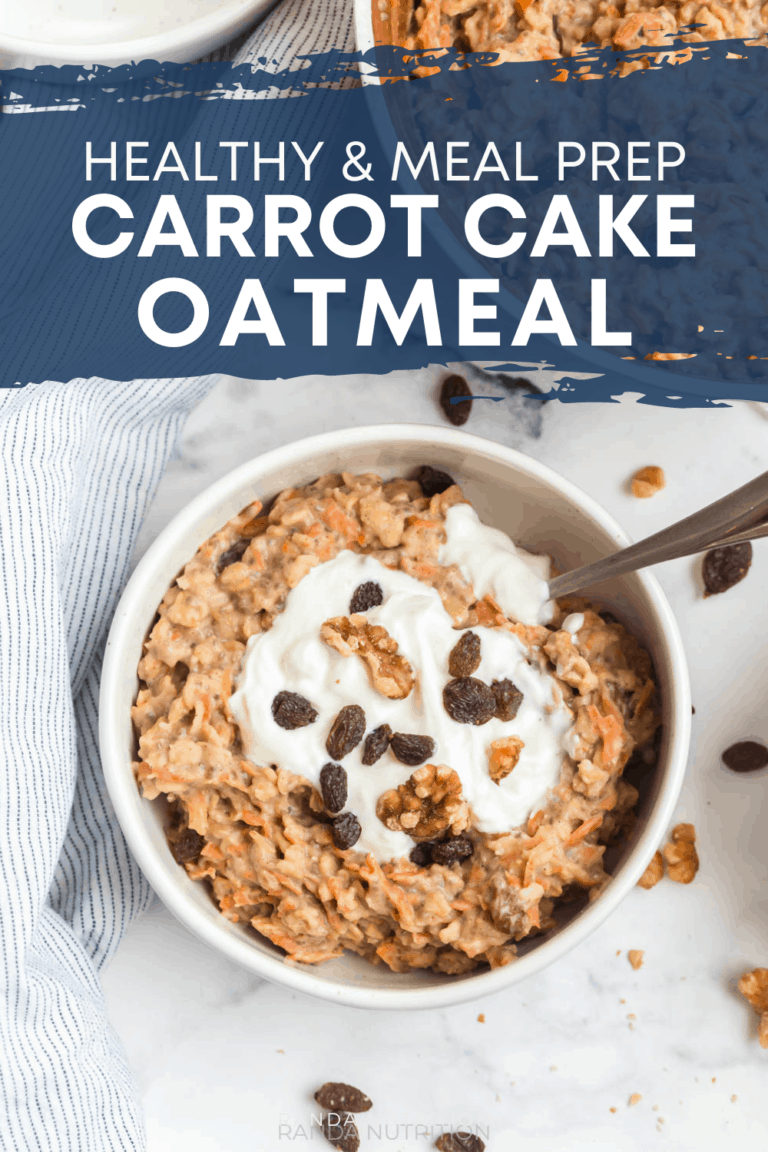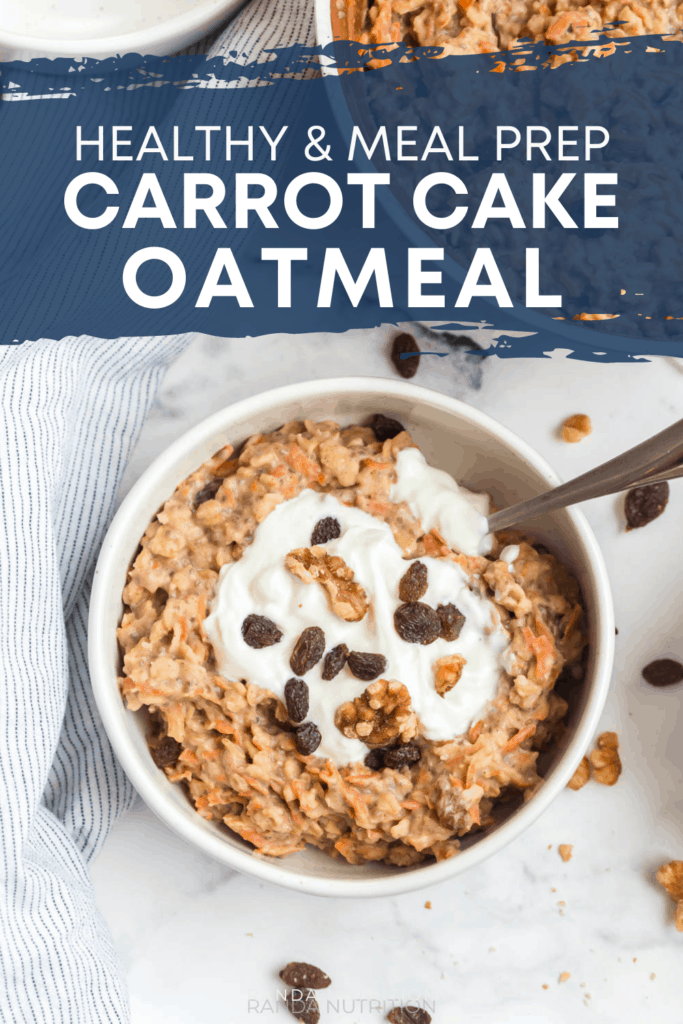 Disclosure: This post contains affiliate links for your convenience. As an Amazon Associate, I earn from qualifying purchases.
Carrot Cake Oatmeal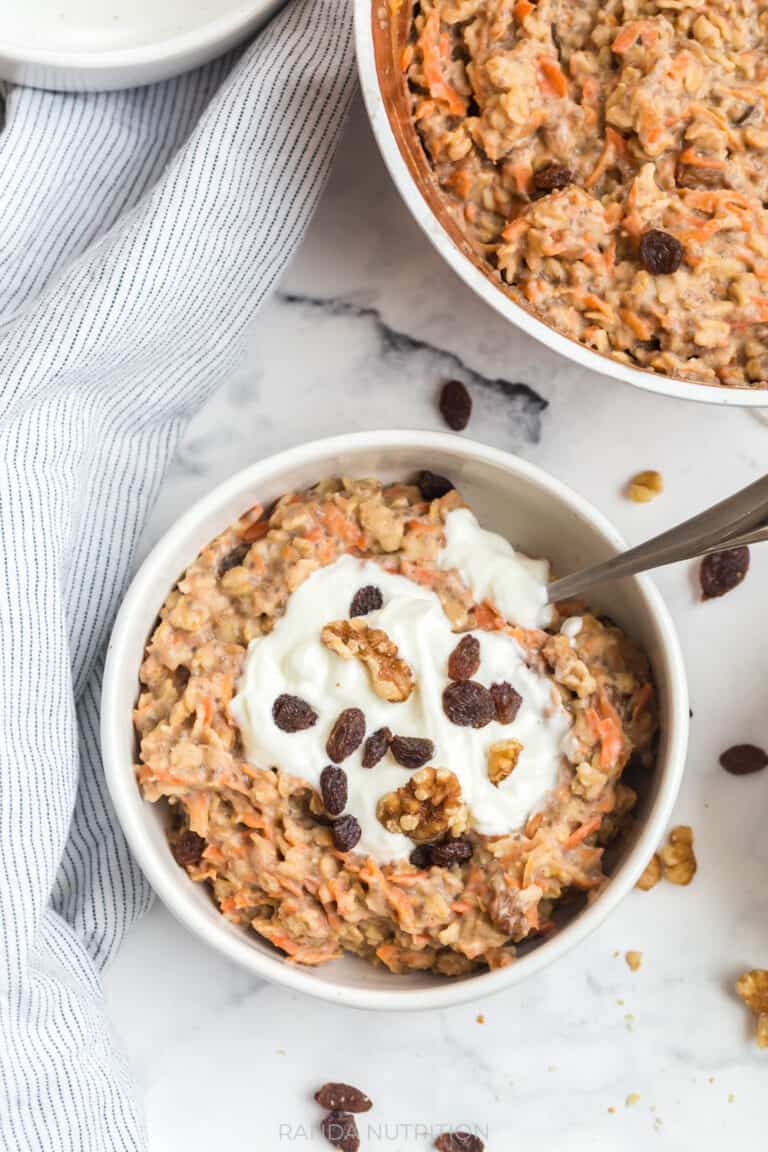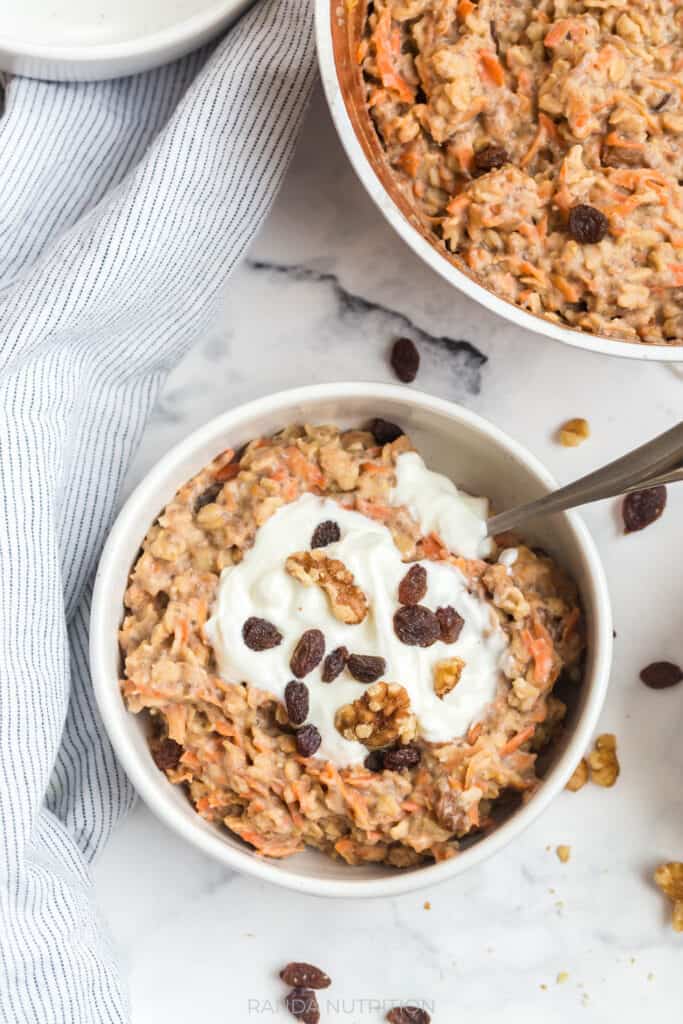 This recipe was adapted from my carrot cake overnight oats that are found in my Real Food Real Life Nutrition Guide. I wrote the nutrition guide to be a blueprint to long-lasting health and nutrition consistency (plus it includes a sample meal plan and over 60 recipes).
Ingredients Needed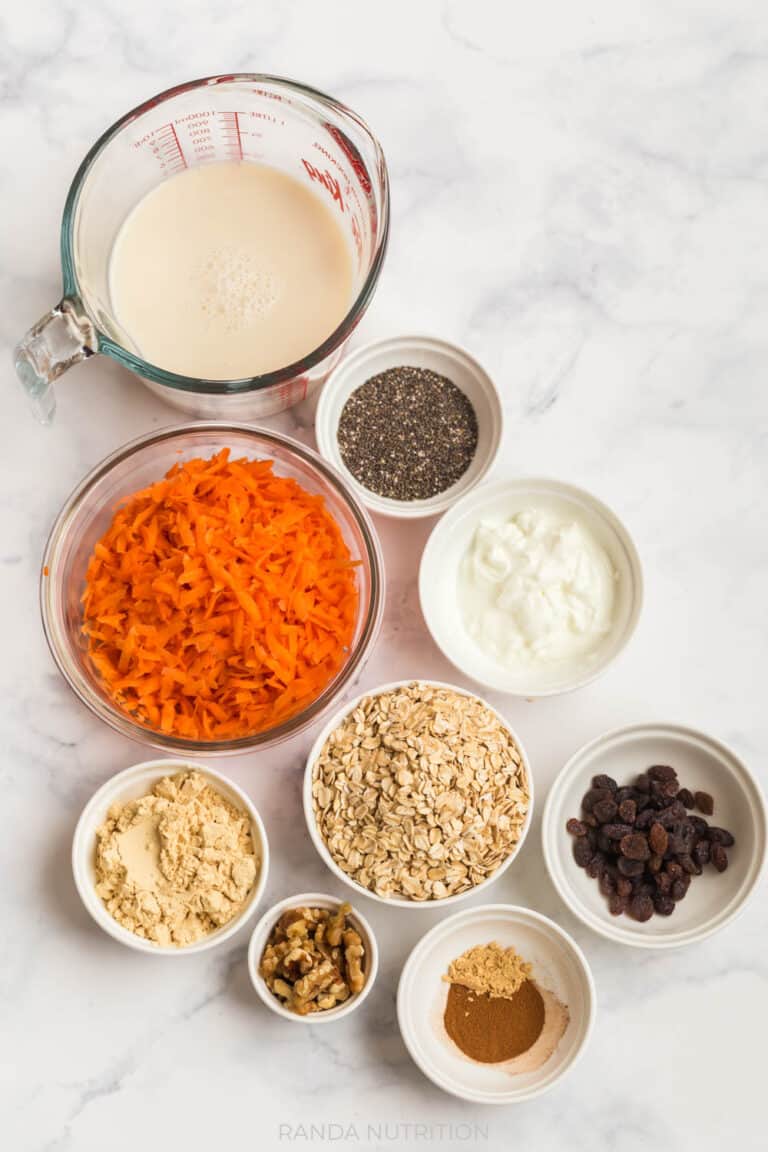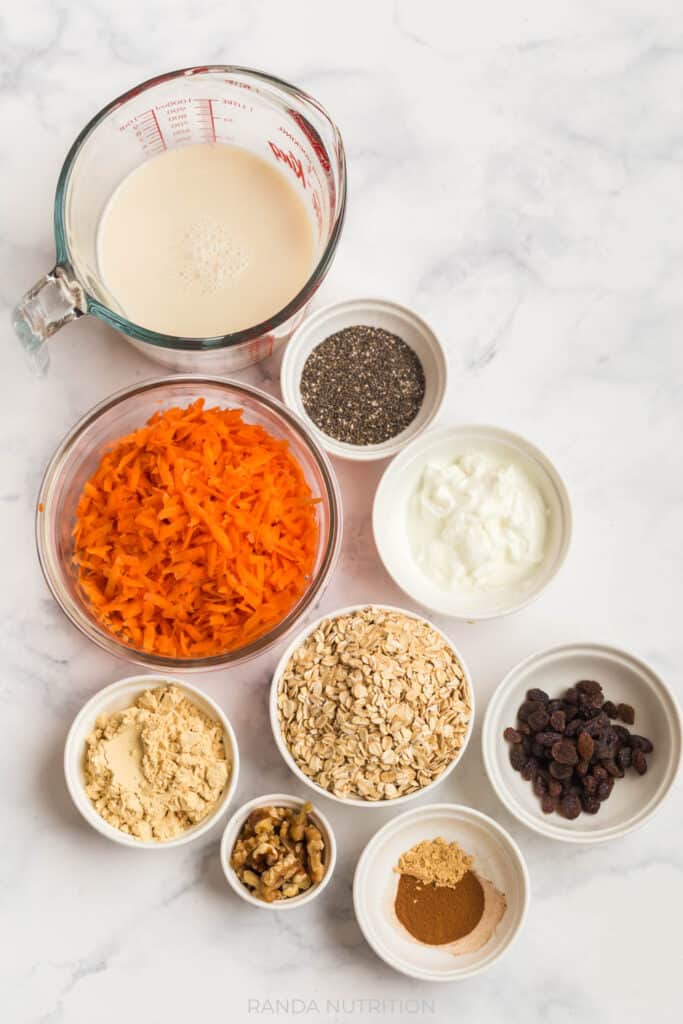 rolled oats (also known as old fashioned oats or large flaked oats)
vanilla protein powder (I used this one) I've also tried their vanilla chai in this recipe and it's also delicious!
2 carrots
chia seeds
cinnamon
ginger powder
unsweetened almond milk (or any milk you use)
sweetener of choice (either maple syrup or monk fruit sweetener)
Greek yogurt or coconut whip for topping
walnuts
raisins
As always, if you don't like raisins, you can leave them out and make this recipe your own. I personally love raisins and am that annoying person that thinks they're nature's candy.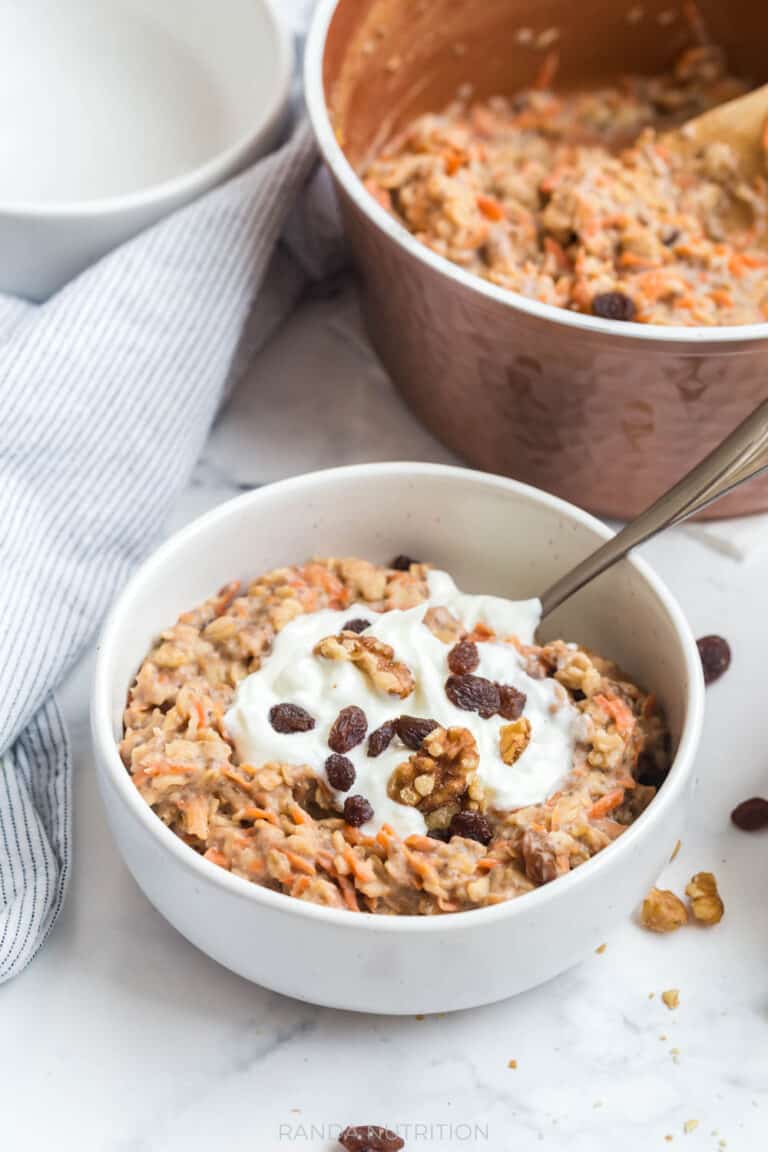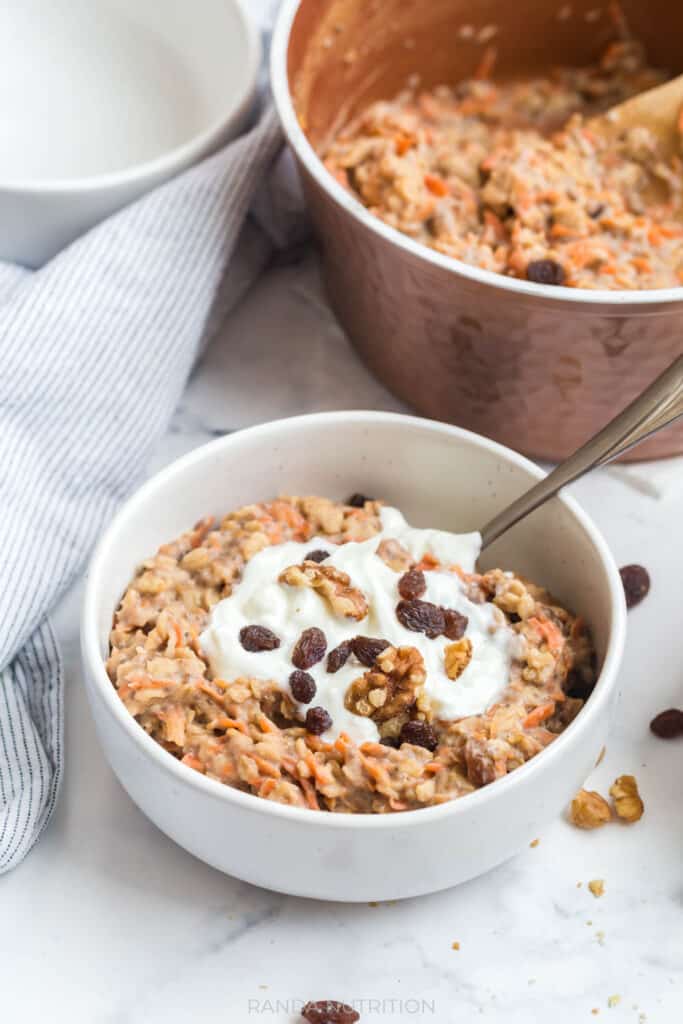 In the nutrition guide's overnight oats version I use maple syrup as the sweetener and found it to be delicious, sweet enough, and flavourful.
I tried monkfruit sweetener for this version and although it wasn't as sweet as I would usually like, it was still tasty.
The choice is yours on the sweetener.
Do I have to use protein powder in oatmeal?
Absolutely not, you don't have to add anything you don't like.
I add in protein powder for a boost of protein but you can do this with adding more greek or skyr yogurt at the end.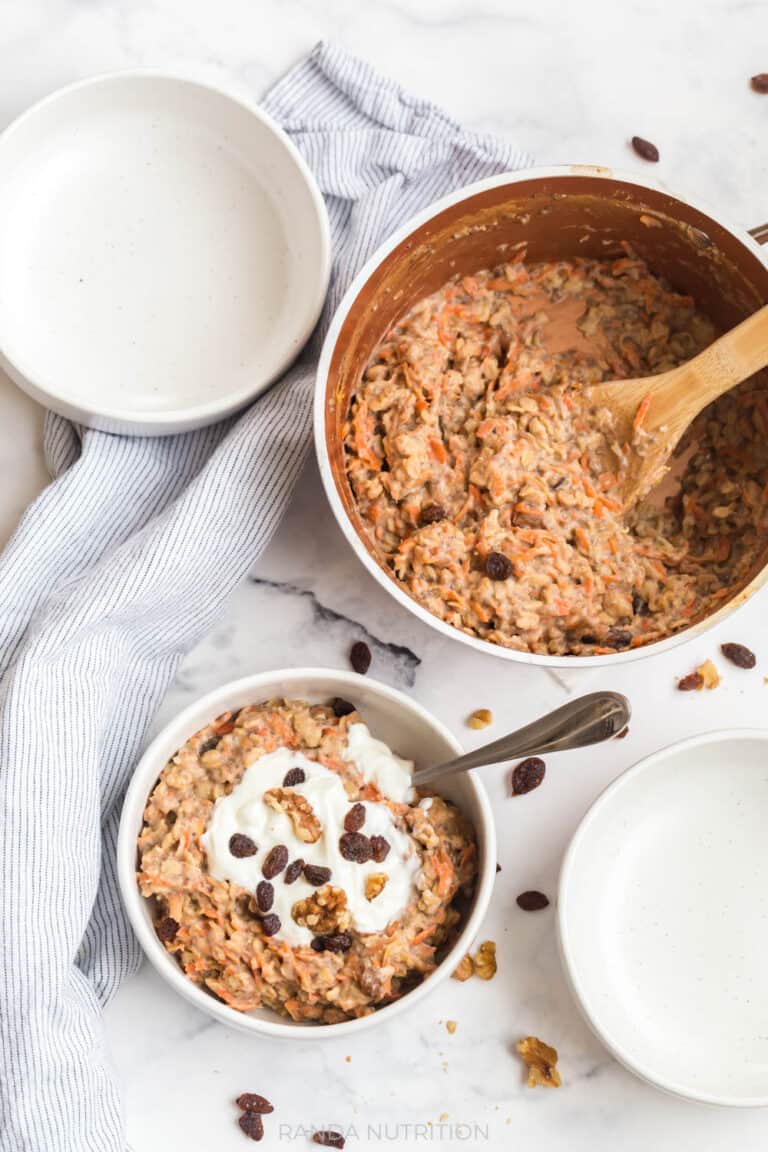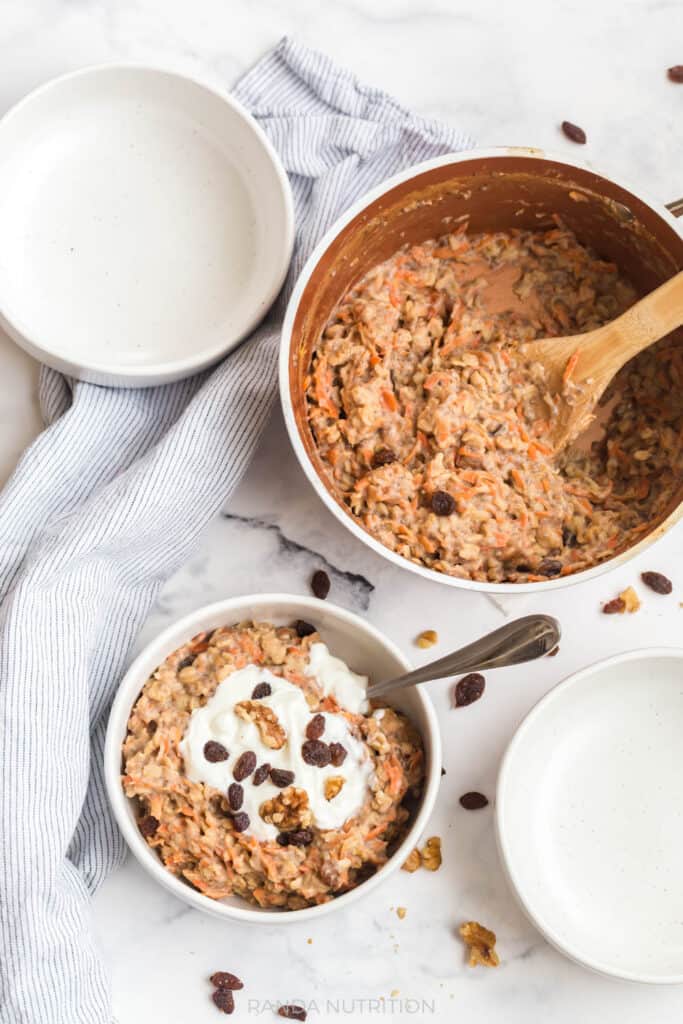 How to Meal Prep This Breakfast
This recipe is one of my favorites because I typically cook it just for (unless my toddler sees it – she loves this recipe) and I only have to cook it once and it's good for four breakfasts.
I like to store it in a large glass meal prep container, then scoop a little out every morning.
Then I like to top it with greek yogurt for some added protein. If you have a sweet tooth and like a dessert style, try it with Coco Whip.
Is it okay to eat oatmeal every day?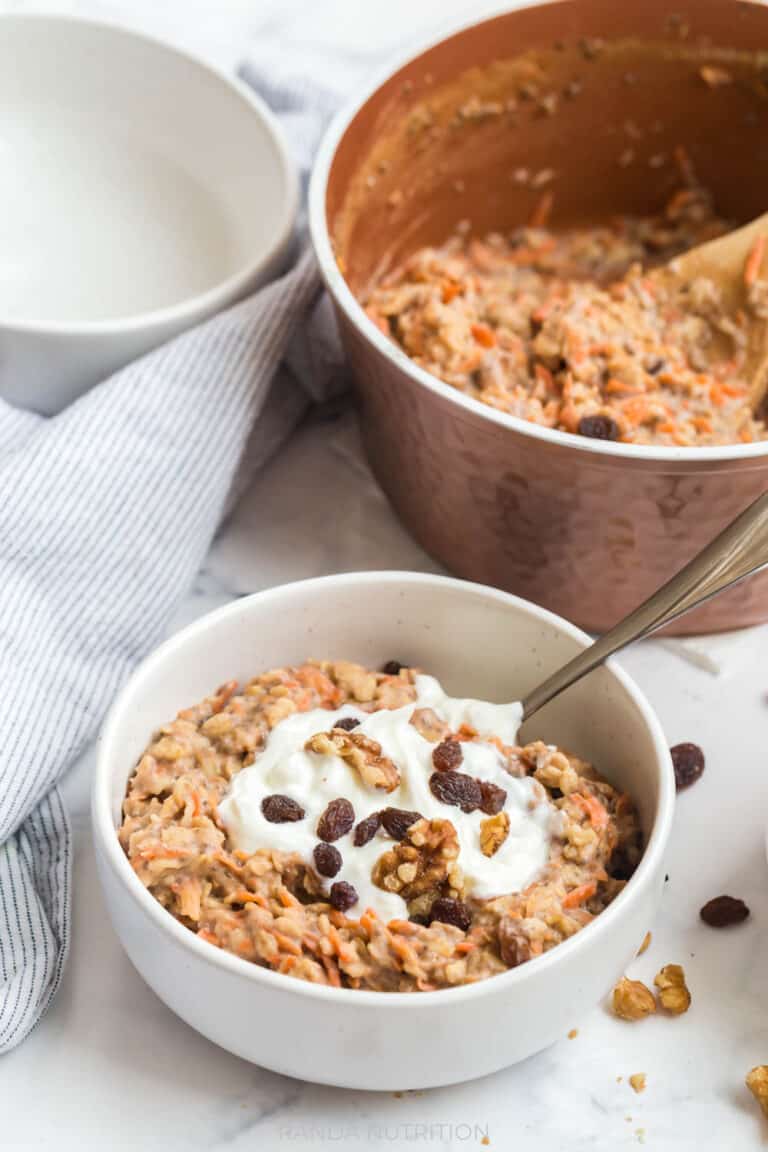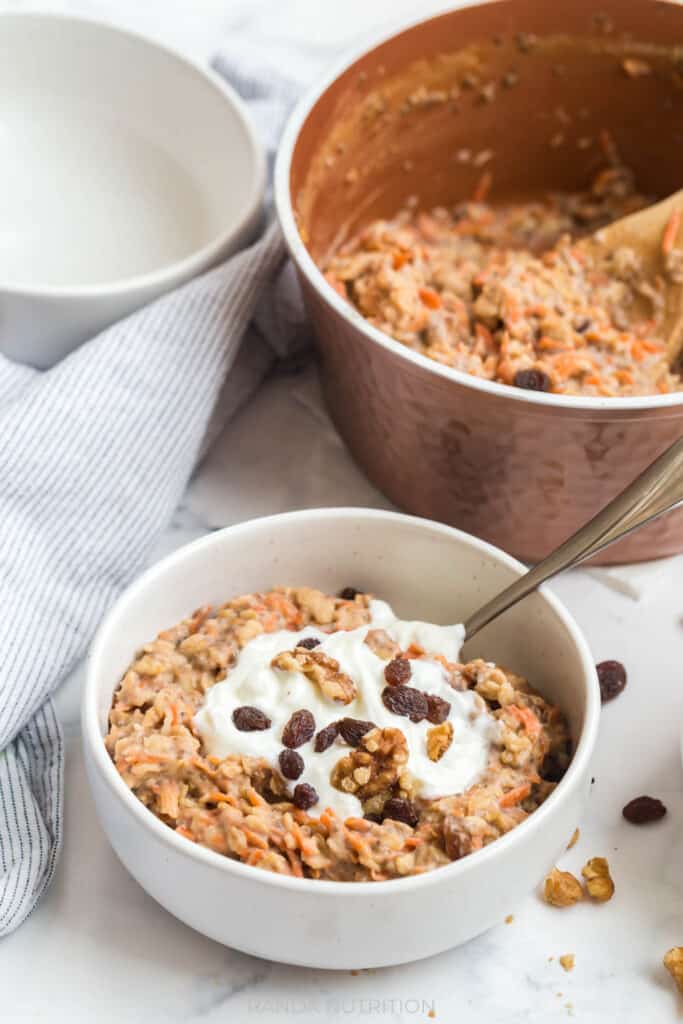 Yes, it's totally okay. As long as you don't react to oats or they don't give you any GI upset then you're good. If you're celiac, just make sure that the oats you buy are certified gluten-free.
There is too much fear over carbohydrates in today's diet culture and I want to change that. Oats give you fiber which helps keep you full, fueled, and helps prevent a drop in your blood sugar. What that means is that it helps stabilizes our blood sugars when prevents crashes. When you the oats with yogurt, protein powder, or another source of protein and healthy fat that just furthers these awesome health benefits.
How to Cook Oatmeal
It's easy to cook oats on the stove. you can't mess them up.
If you read the back of the bag, it typically tells you to bring your liquid (milk or water) to a boil and to add the oats and cook until liquid is absorbed.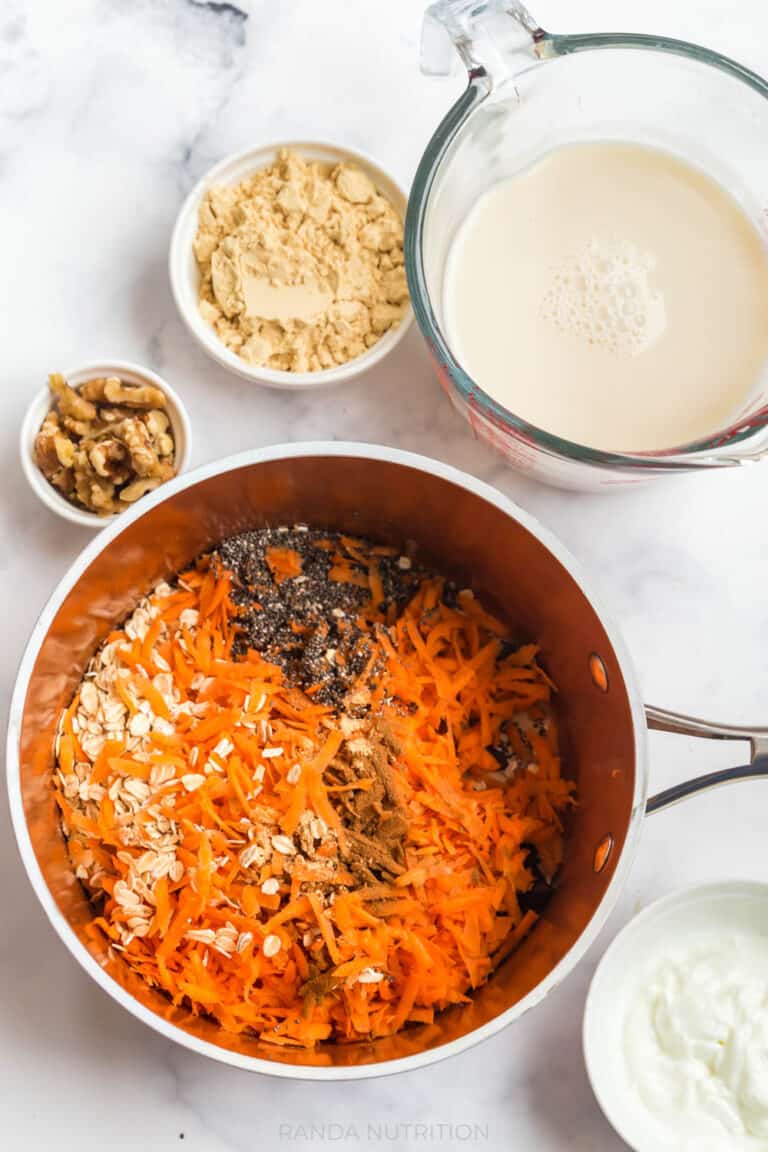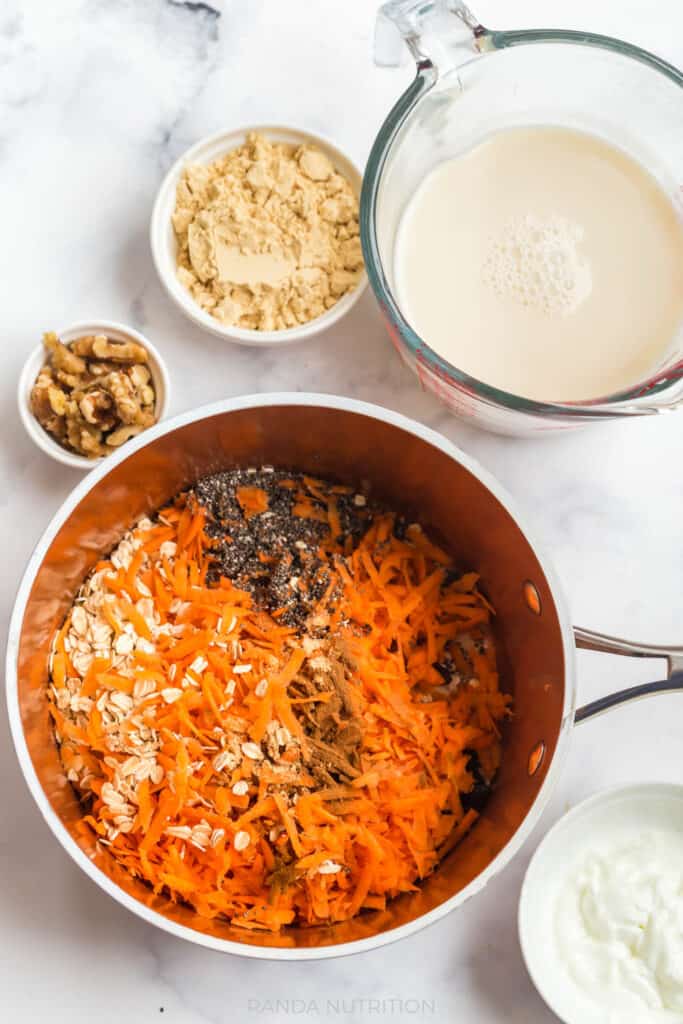 I add all my ingredients together at once and cook until the oats are done. Sometimes I have to add more liquid but it always turns out.
As I said, you don't need to know how to cook oatmeal on the stove because it's so easy you cannot mess it up.
How to Make Carrot Cake Oats
To make the carrot cake oatmeal I add everything to a pot (except for the protein powder and yogurt) and simmered it until the oats were cooked.
Feel free to add more liquid if you feel that you need it.
Then stir in the finishing ingredients (protein and yogurt) and you're done!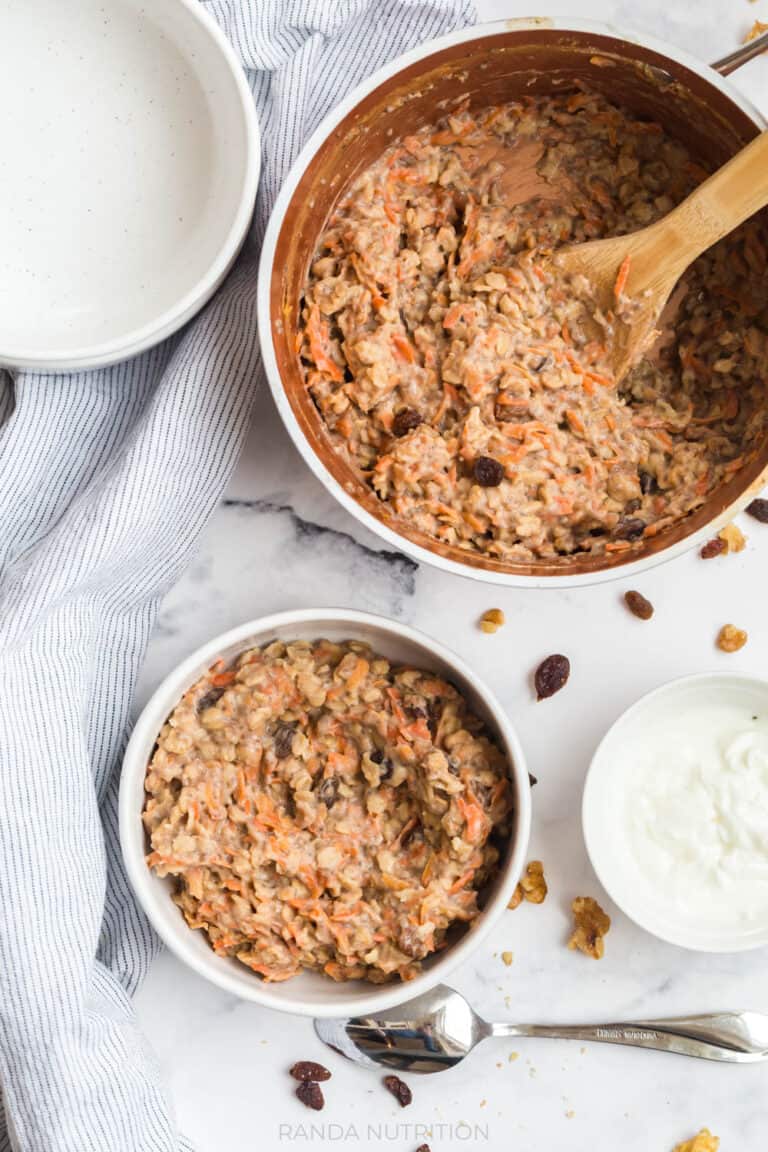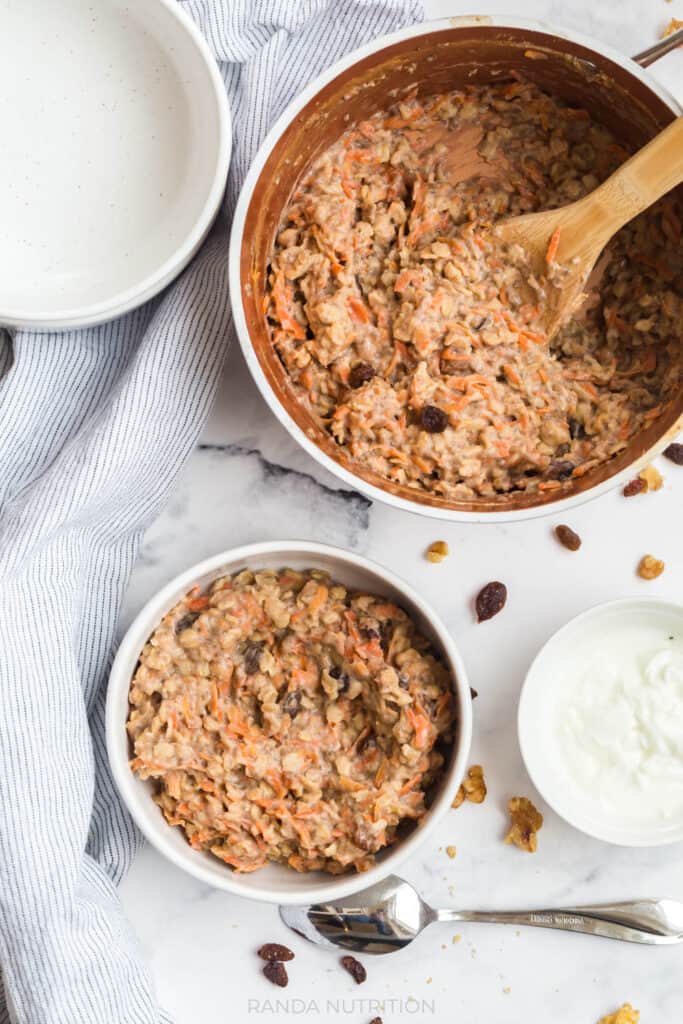 Healthy breakfast recipes I think you'll like
Be sure to check out the healthy breakfasts category here on Randa Nutrition as well.
Carrot Cake Oatmeal
This delicious and healthy carrot cake oatmeal recipe is an easy meal prep breakfast that will keep you full thanks to the high fiber content and the added protein.
Instructions
Add all of the ingredients except for the protein powder, walnuts, and yogurt to a medium sized saucepan and bring to a boil over medium heat.

Simmer until oats are cooked (about 8-10 minutes), adding more liquid if necessary.

Bring off the burner and stir in the protein powder and greek yogurt (or you can add two tablespoons of the greek yogurt to each bowl). Top with walnuts
Nutrition
Serving:
1
serving
|
Calories:
232
kcal
|
Carbohydrates:
30
g
|
Protein:
13
g
|
Fat:
8
g
|
Saturated Fat:
1
g
|
Trans Fat:
1
g
|
Cholesterol:
17
mg
|
Sodium:
298
mg
|
Potassium:
349
mg
|
Fiber:
6
g
|
Sugar:
3
g
|
Vitamin A:
5101
IU
|
Vitamin C:
2
mg
|
Calcium:
357
mg
|
Iron:
2
mg