Healthy Carrot Cake Muffins Recipe (Gluten Free)
You are going to love these gluten free carrot cake muffins. Not only are the easy to whip up (I used a blender) but they're also toddler approved, which is a huge win in my house. These carrot muffins are perfect for a quick snack at home or on the go.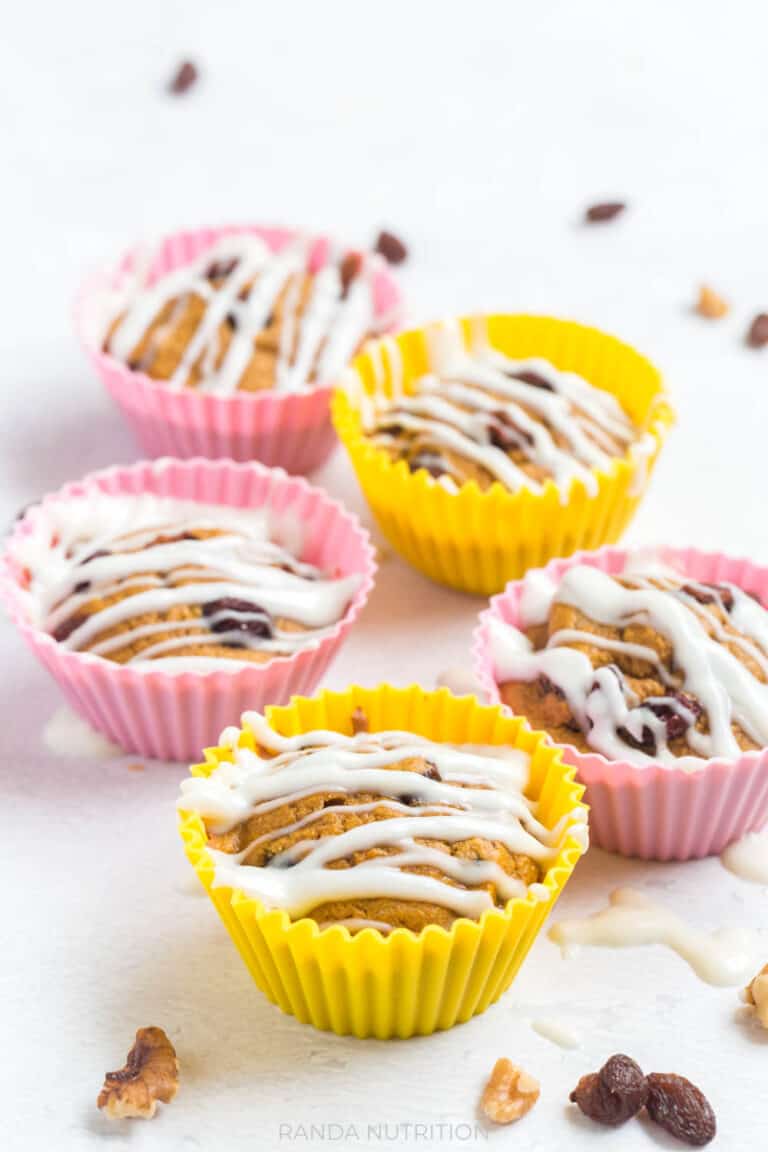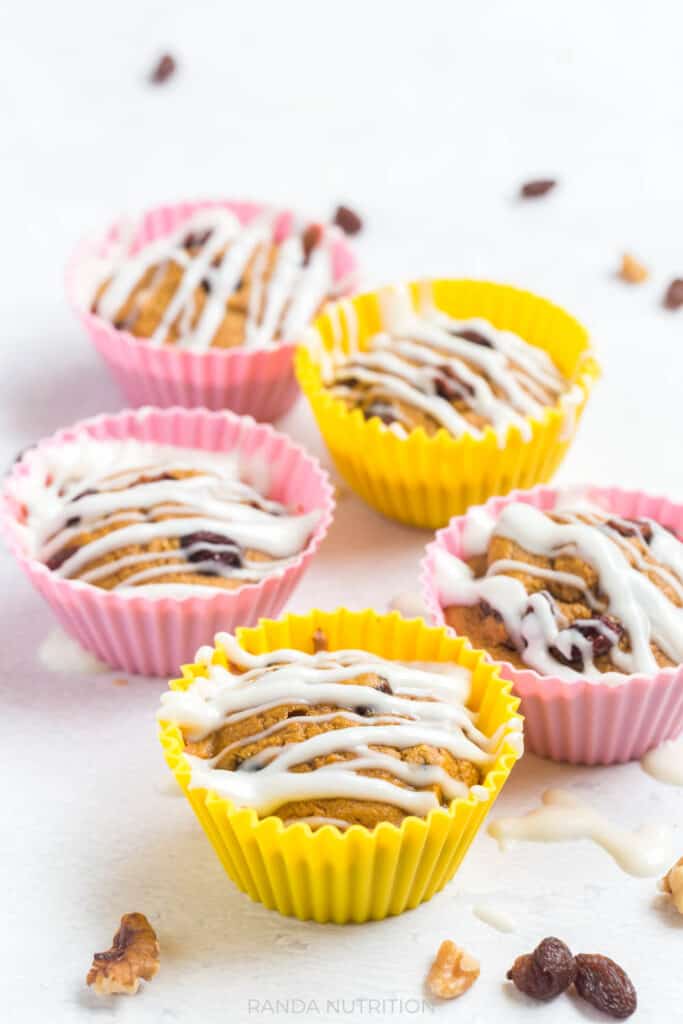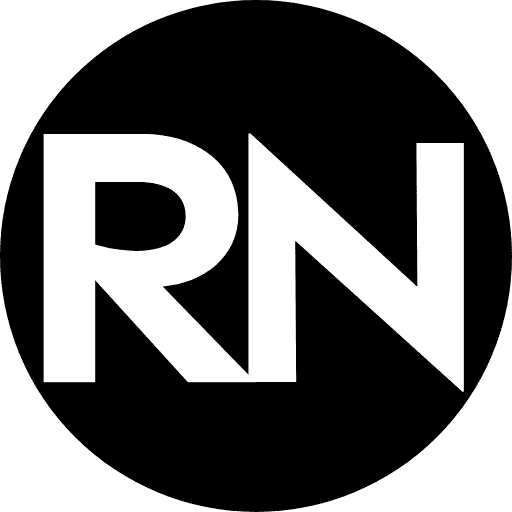 Save This Recipe!
Enter your email below & I'll send it straight to your inbox. Plus you'll get great new recipes every week!

Disclosure: This post contains affiliate links for your convenience. As an Amazon Associate, I earn from qualifying purchases.
Carrot Cake Muffins
A while back I posted on Instagram asking if you would rather carrot cake oatmeal or healthy carrot cake muffins. The request for healthy carrot muffins won by a landslide.
It took me a bit to develop them, but they're finally here, and they're delicious.
Using a Blender to Make Muffins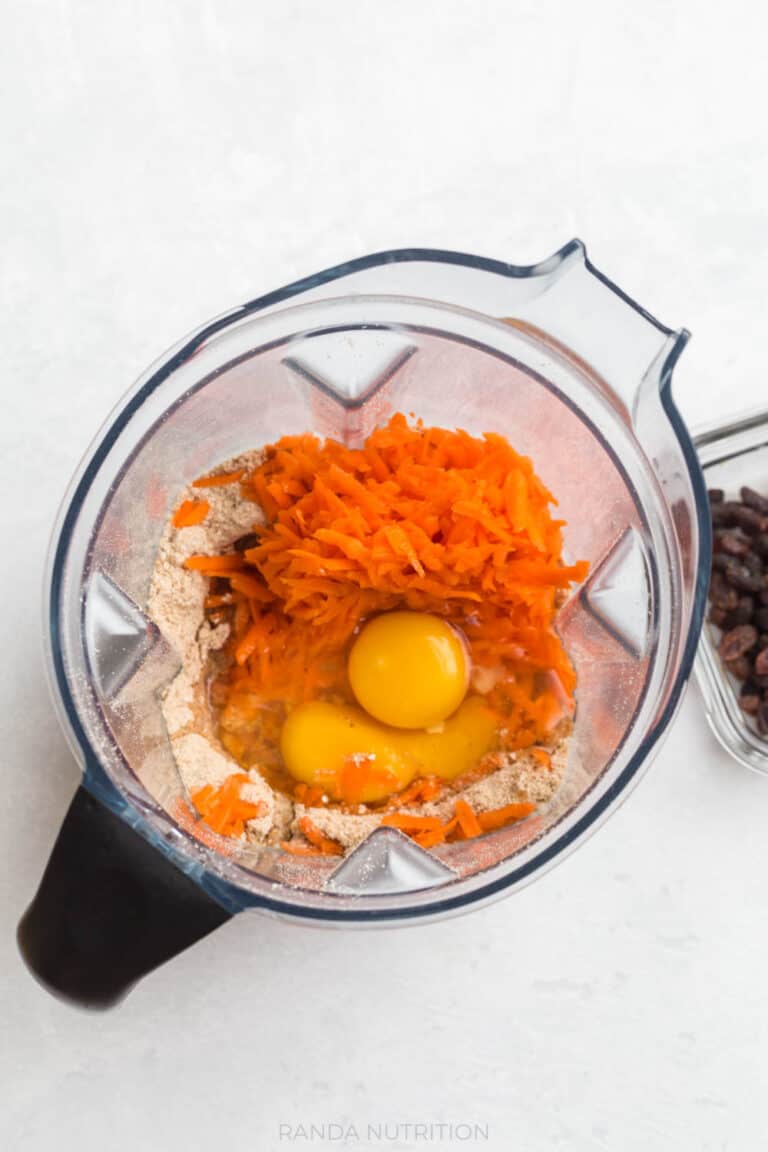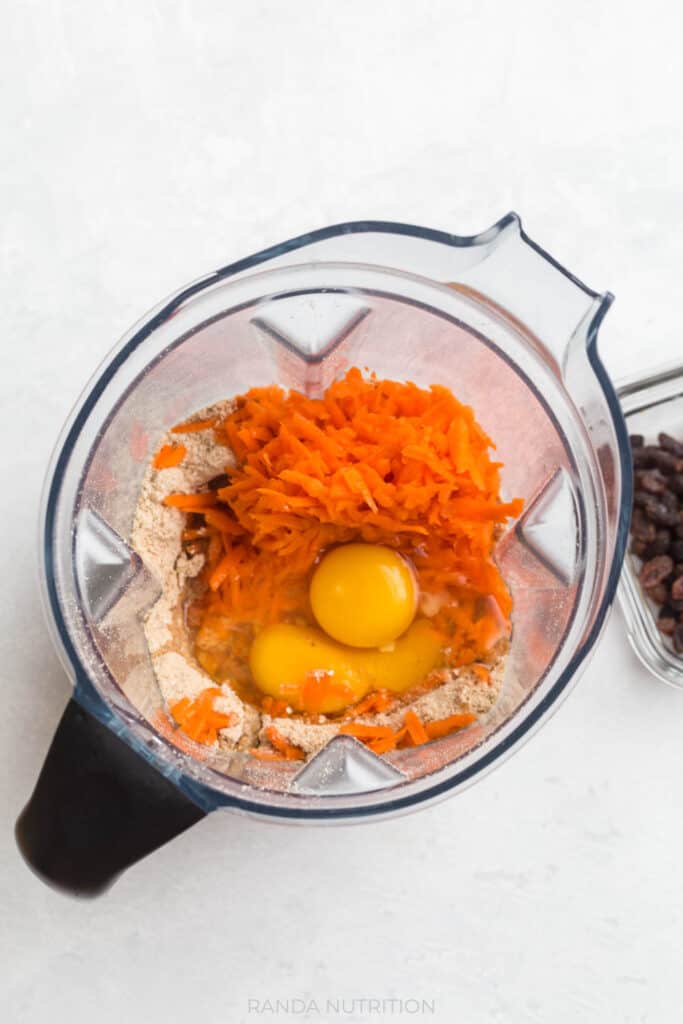 I like to keep things as easy as possible with recipes. I don't like to dirty a million dishes for one meal, which is why I use my blender a lot.
Blender muffins are my favorite because they're so easy. One dish to wash and it does all the work for you.
I originally wanted shredded carrots for texture for the dish, but blending them works too. (Plus it hides the vegetables from picky eaters.)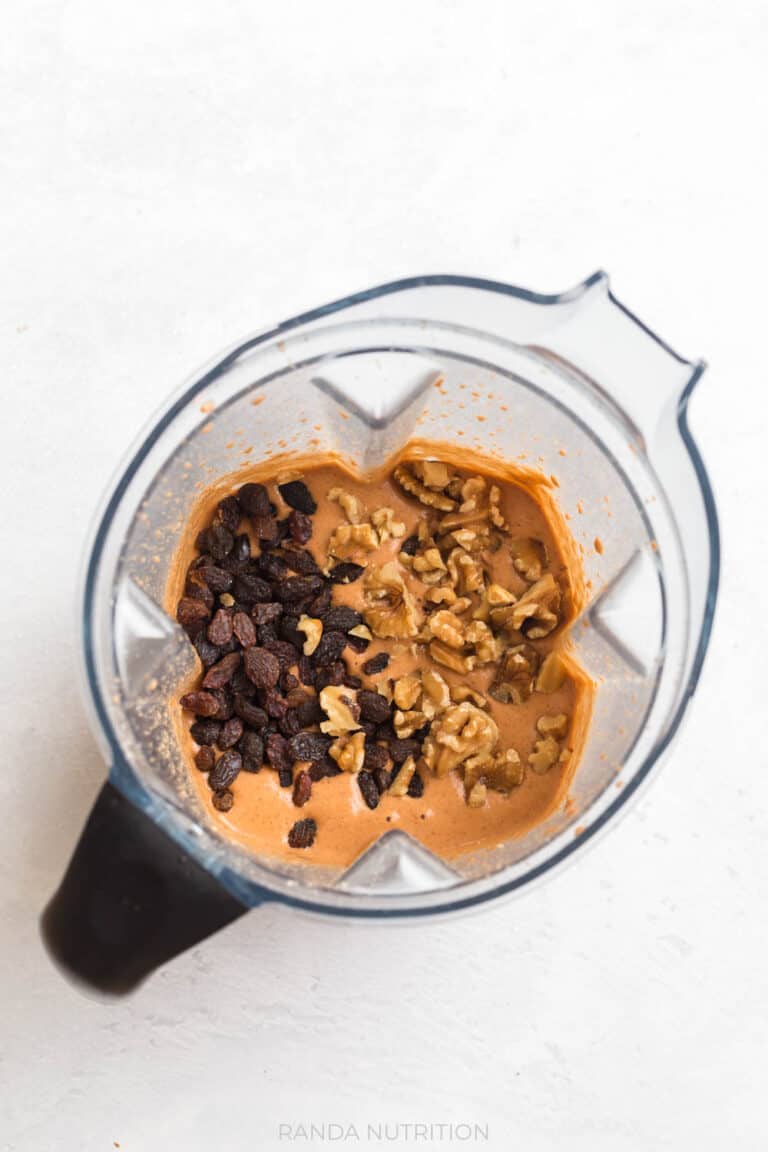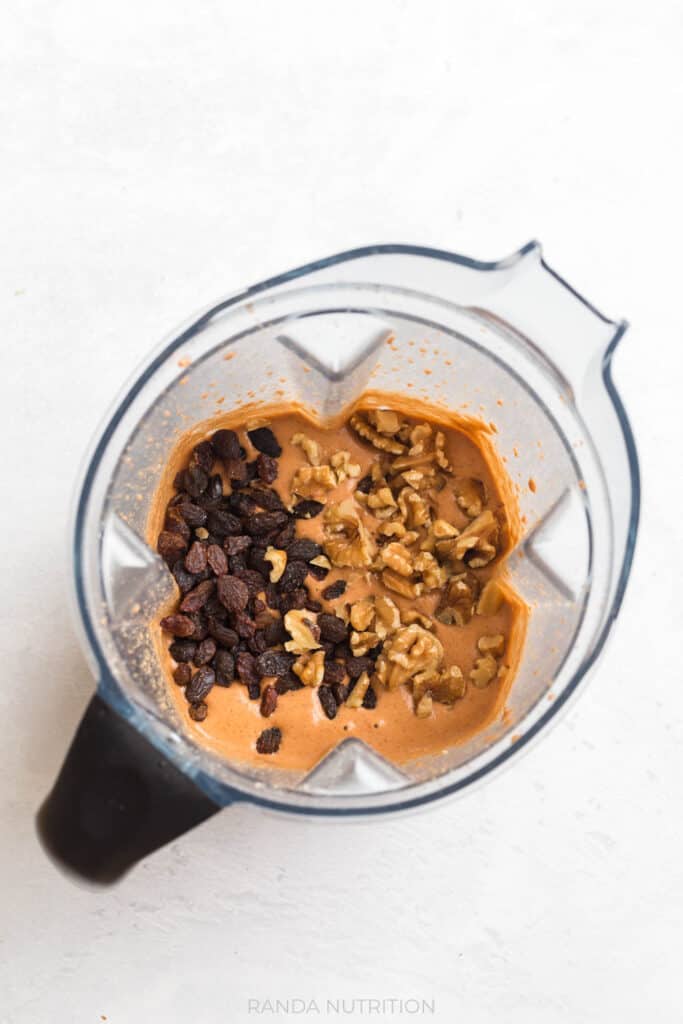 If you want shredded carrots to be visible, just add them after you're done blending with the raisins and walnuts.
Easy Carrot Cake Muffins Ingredients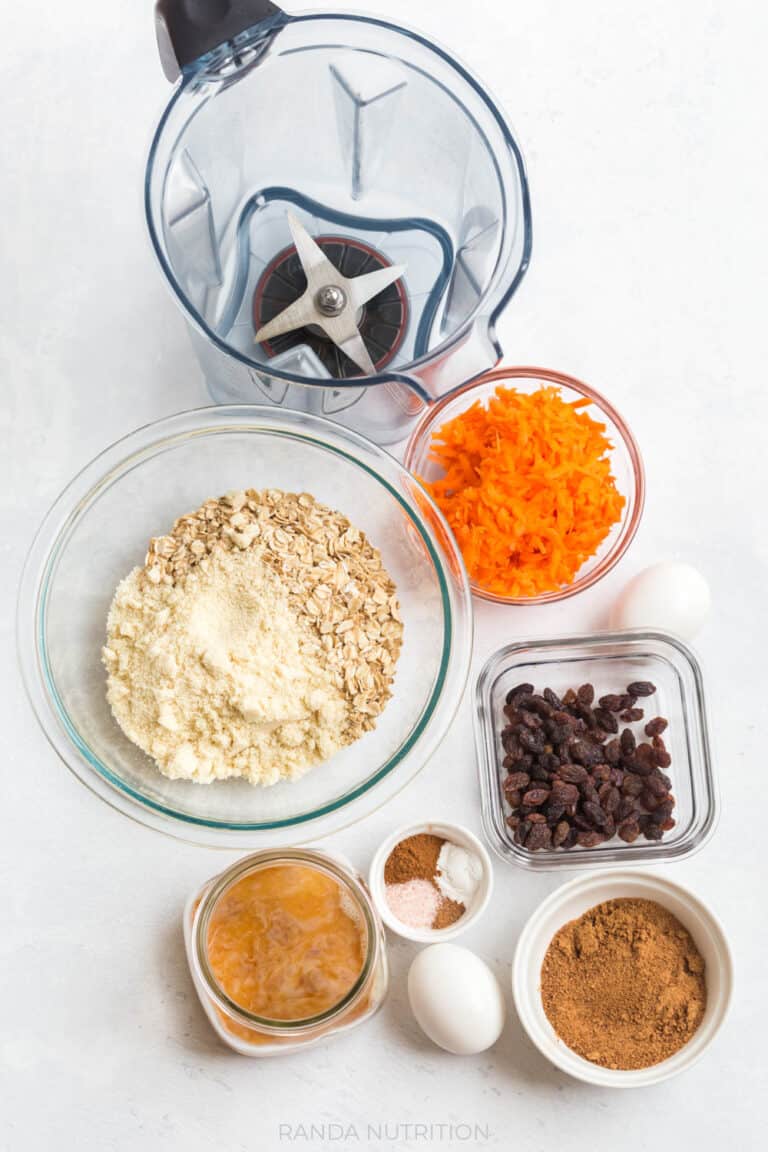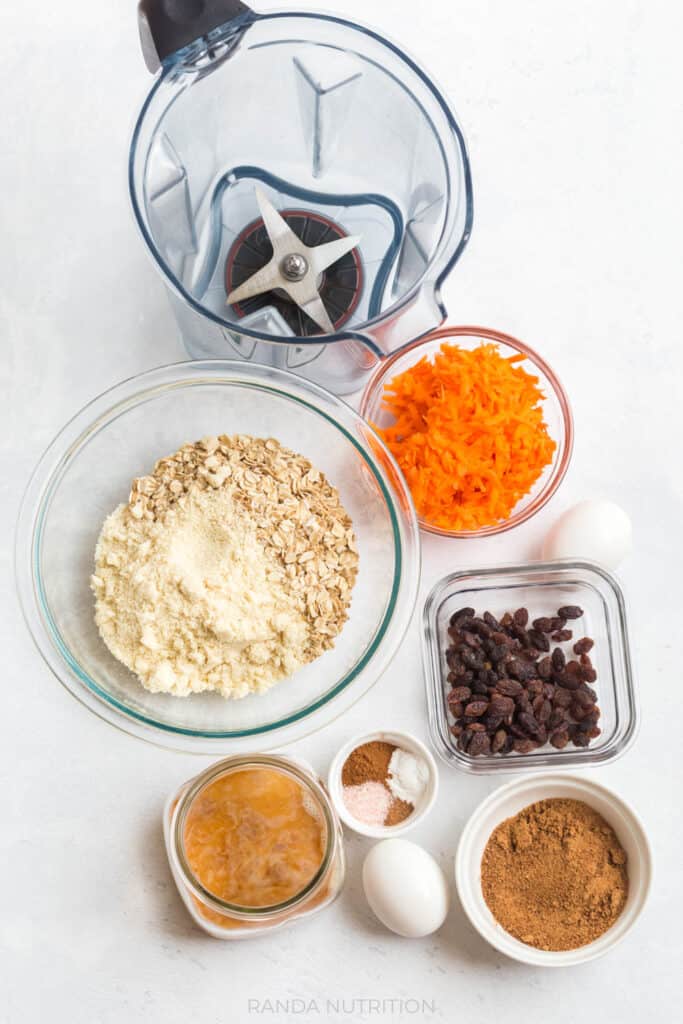 For just the muffins, here are the ingredients you need:
baking powder
carrots
eggs
unsweetened almond milk
raisins
walnuts 
Greek Yogurt "Cream Cheese" Drizzle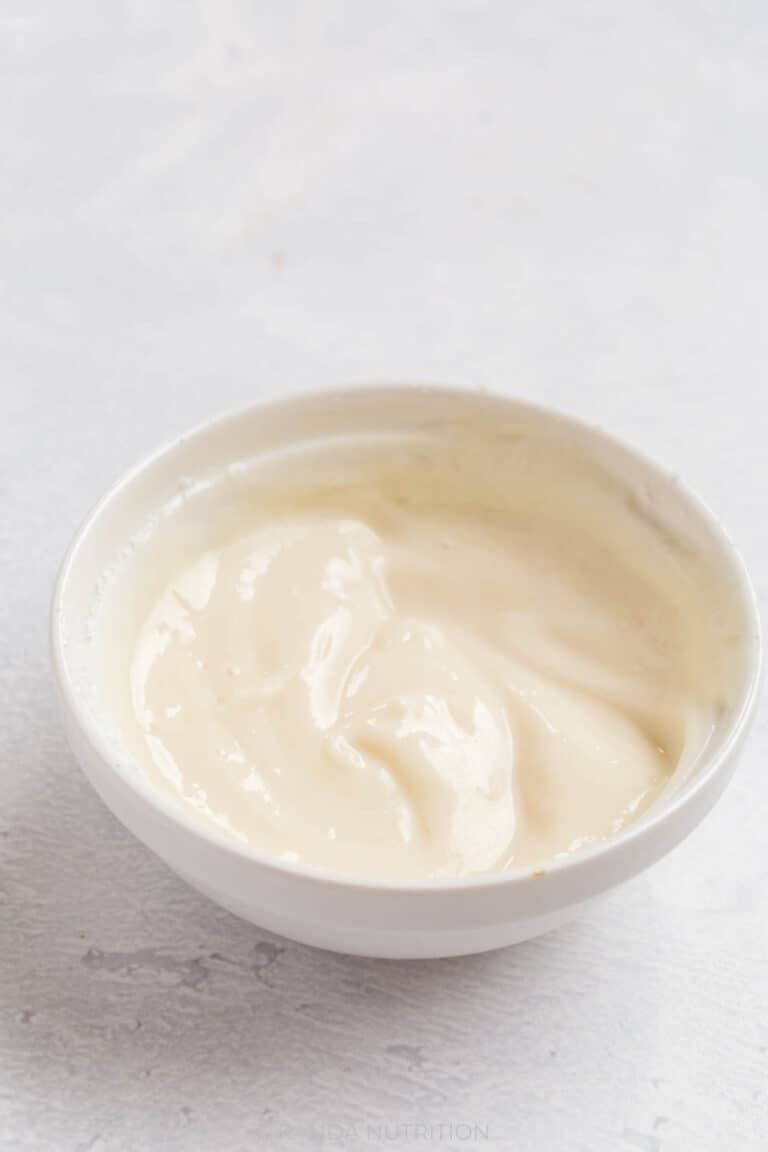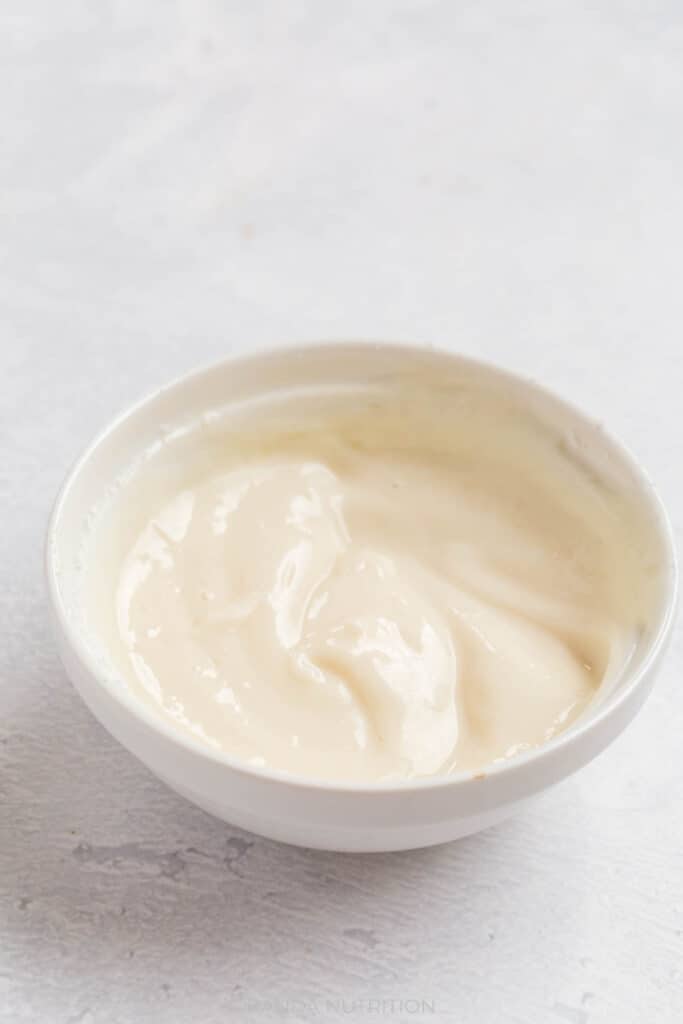 To take these over the top, I added a cream cheese frosting that was made out of greek yogurt.
Here's what you need to make it:
0% plain greek yogurt
powdered sugar
Simply mix it in a small bowl and you can spread it over the healthy carrot muffin or drizzle it.
To drizzle, I added them to a Ziploc back, cut the end off the corner and drizzled over the muffins.
It was delicious.
Common Questions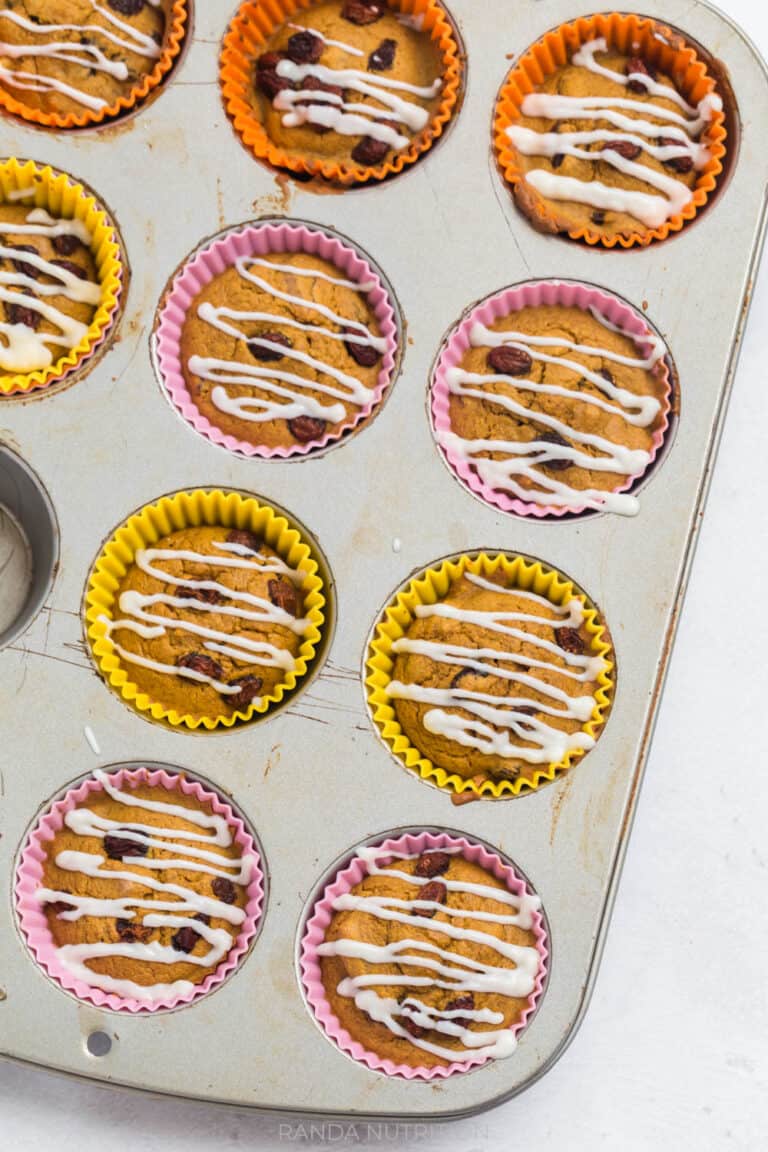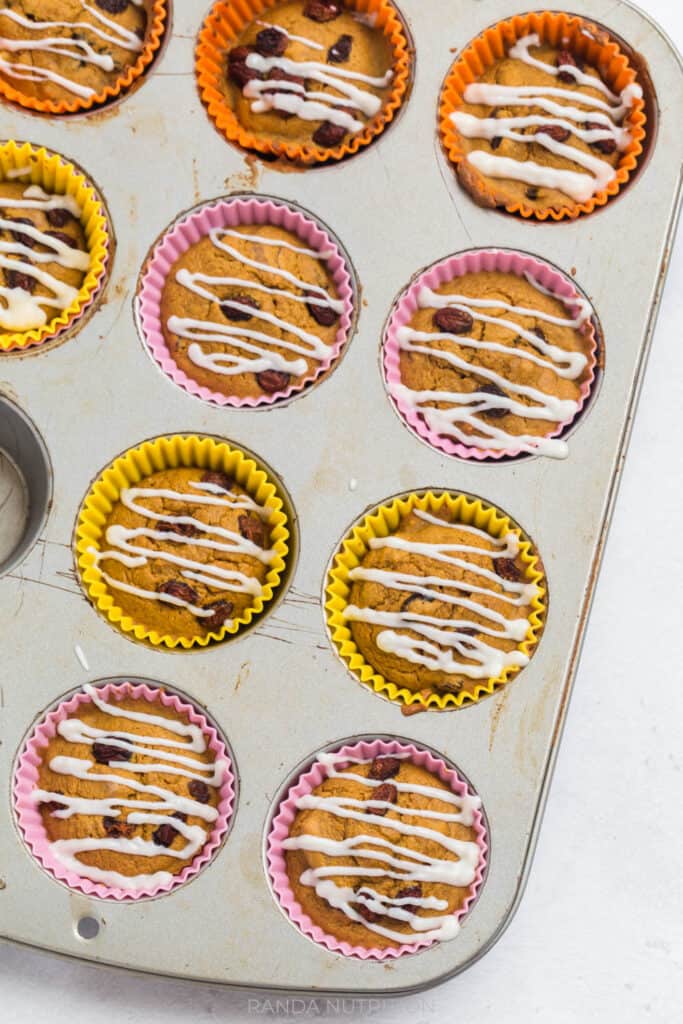 How many calories are in a carrot cake muffin?
I can only speak to this recipe. There are only 143 calories per muffin. Obviously, this is varied a little bit. But it's still a low calorie snack.
Can I make gluten carrot muffins with only oats?
I added the almond flour to give it some fluff, but if you are a nut-free family (or can't send it to your kid's school because it's a nut-free school) you can use just oats. However, it will be denser. You could also try to swap it with regular AP or whole wheat flour.
I don't like raisins/walnuts, do I have to add them?
Not at all. Make this recipe your own. The raisins to add some extra sweetness and flavor but I get it, not everyone likes raisins (50% of you said you don't on my last IG poll!).
Can I blend raisins/walnuts into muffins to hide them from my picky eater?
I don't see why not. I personally haven't tried it, so if you do this let me know how it goes in the comments.
How do I make eggless carrot muffins?
If you have an allergy to eggs you can replace them with a flax egg. For every egg added, combine 1 tablespoons of ground flax with 3 tablespoons of water and let it sit for at least 15 minutes.
How do I make vegan carrot cake muffins?
To make vegan carrot muffins, just skip the greek yogurt drizzle or replace the greek yogurt with coconut or almond cultured yogurt (Silk makes a good one). You would also replace the eggs with flax eggs.
Can I leave these on the counter or do they need to be in the fridge?
Because of the greek yogurt drizzle, I recommend storing these in the fridge. I put them in a Ziploc bag and lay flat.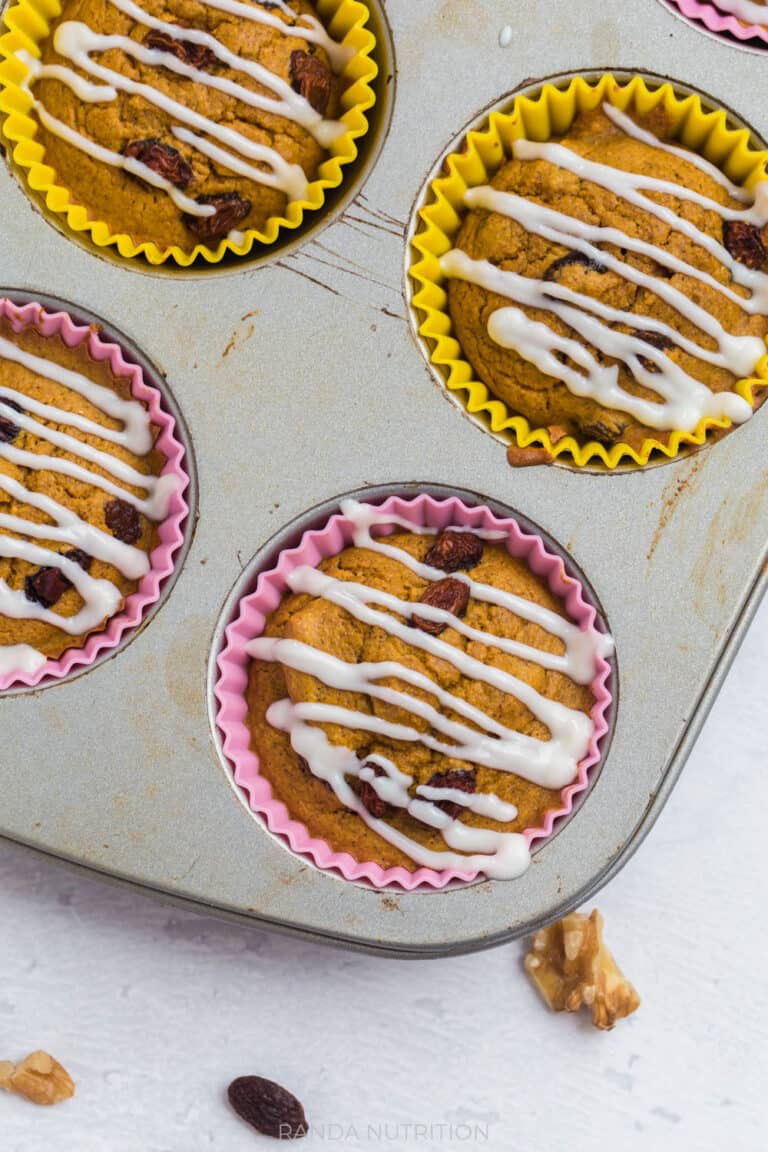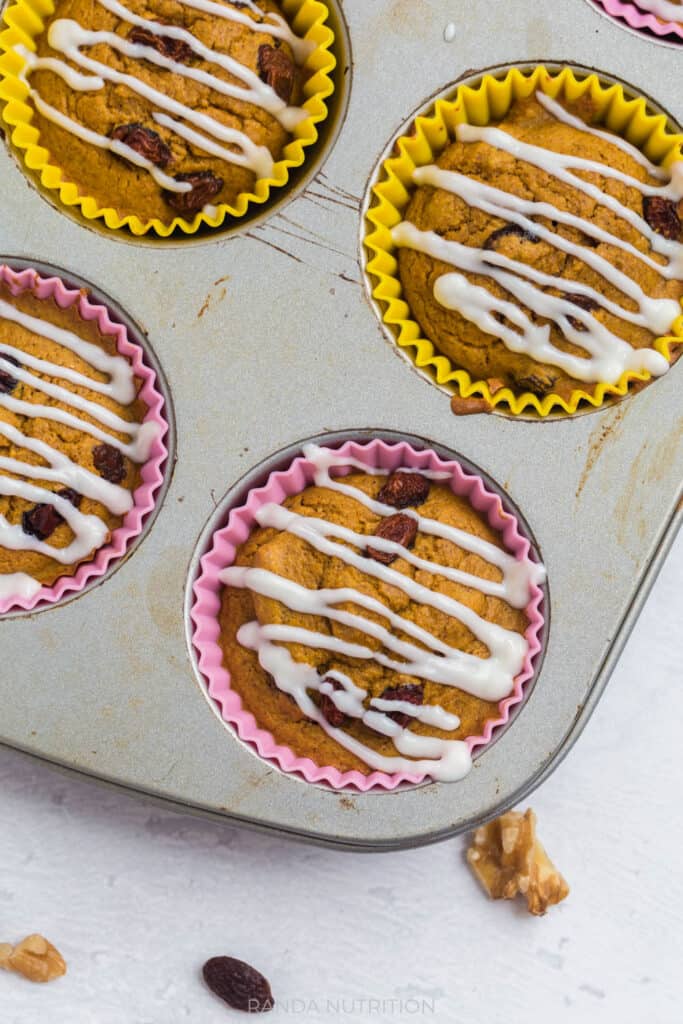 How to Make Carrot Cake Muffins
Whether you're making them for carrot breakfast muffins or are just looking for moist carrot cake muffins, you're going to love this recipe (and how easy it is).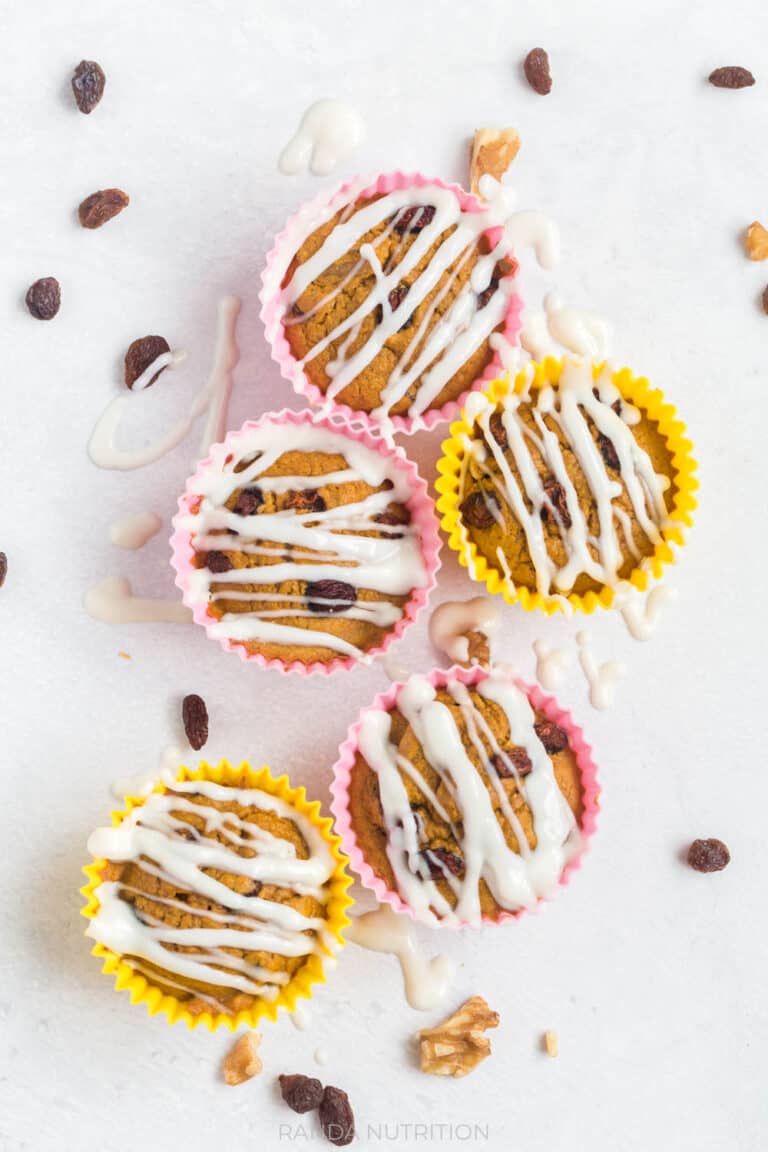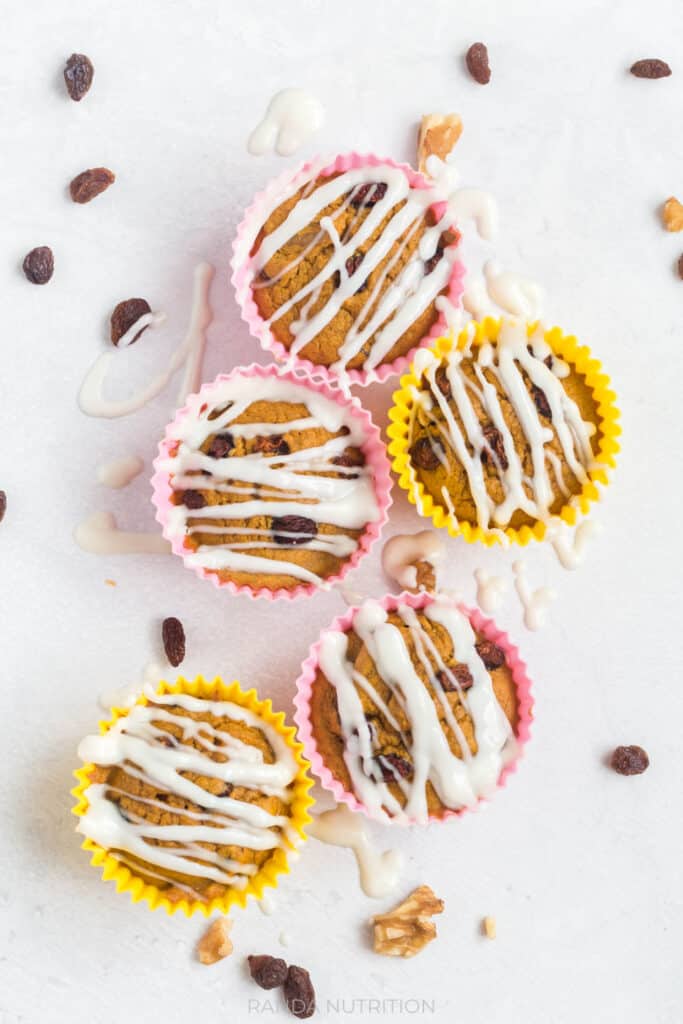 Seriously, you're tossing ingredients in a blender and then stirring in raisins and walnuts. Pour and bake.
It can't get easier then that!
Healthy muffin recipes from Randa Nutrition: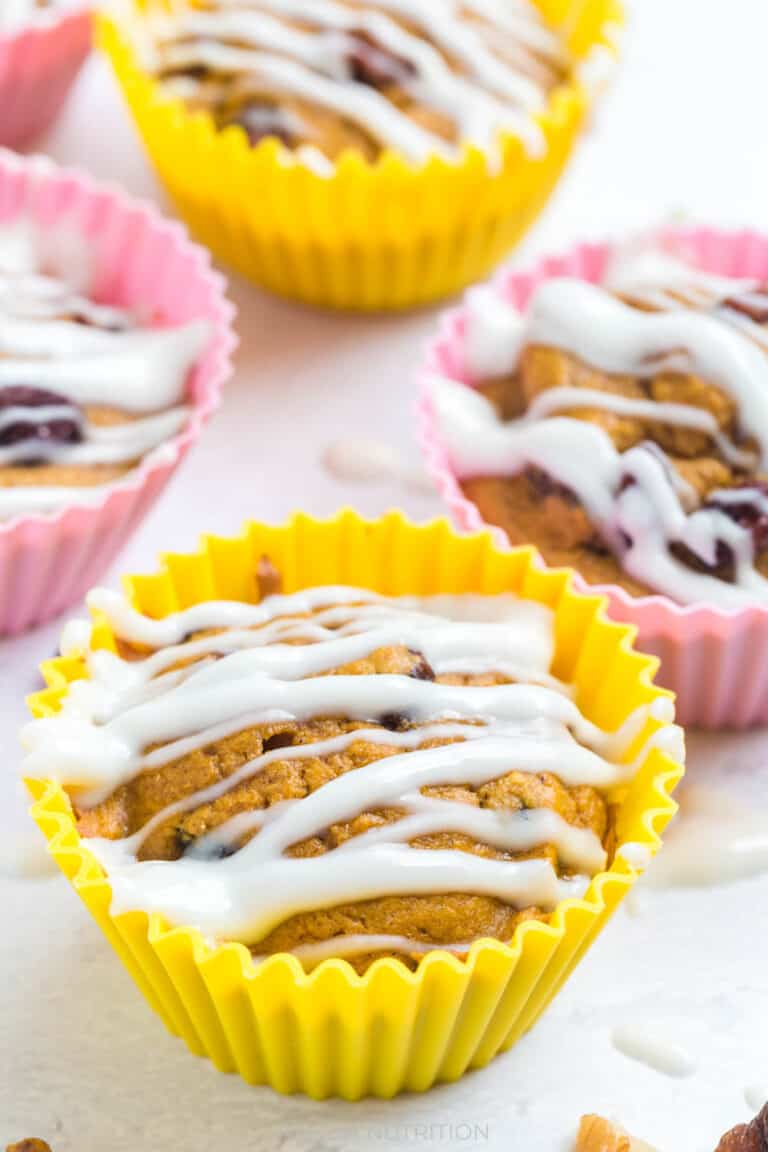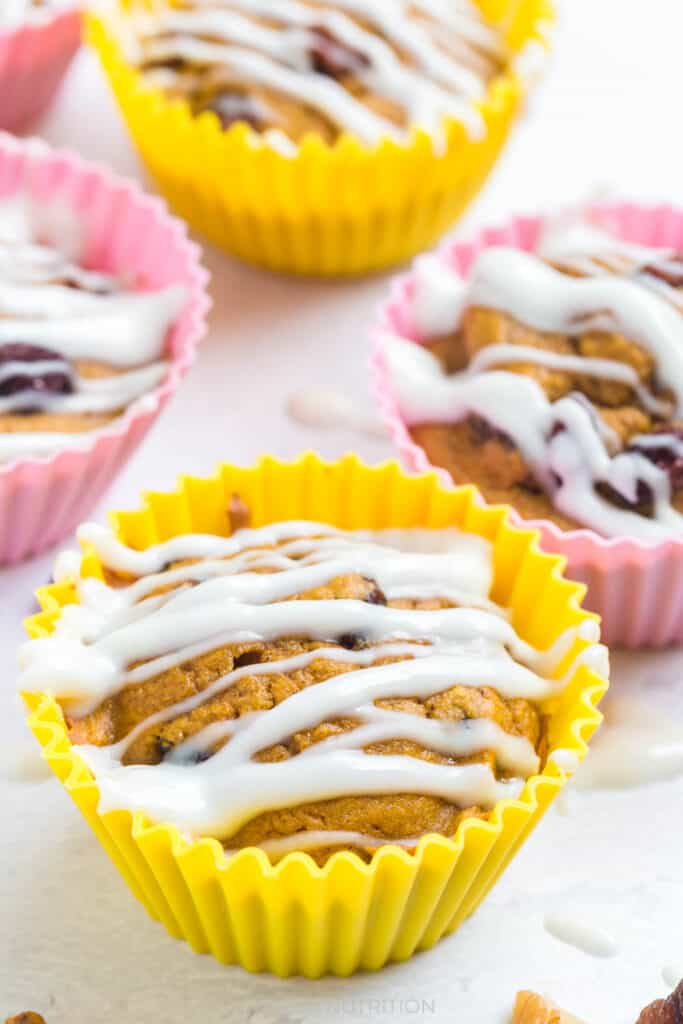 Here's how to make these super easy carrot muffins:
Healthy Carrot Cake Muffins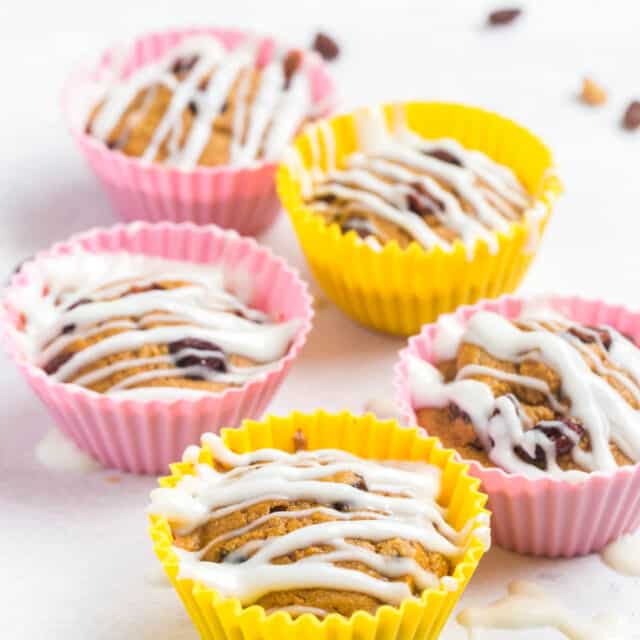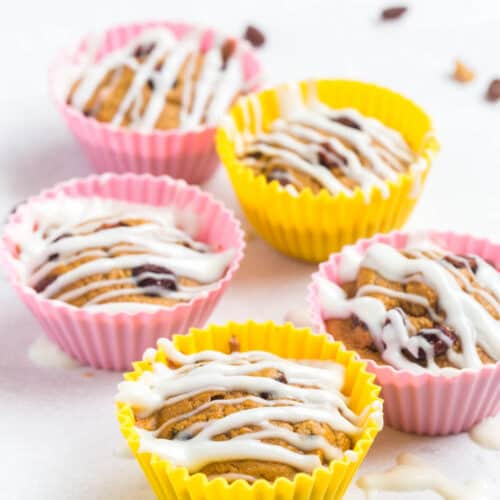 These gluten free healthy carrot cake muffins are made in the blender (so they're crazy easy) and taste amazing! Picky eaters love them!
Ingredients
Greek Yogurt Cream Cheese Drizzle
Instructions
Preheat oven to 350F. Line the muffin tin with 10 silicone liners.

Add the dry ingredients to a blender and mix until oats are a powder.

Add the carrots, eggs, almond milk, and vanilla and blend until combined (you may need to scrape the sides and bottom).

Remove the blender from the base and add the raisins and walnuts. Fold in with a spatula.

Pour the batter among the muffin tin, there will only be enough for ten.

Bake for 25 minutes or until toothpick comes out clear.
For the Greek Yogurt Drizzle
Mix all the ingredients in a small bowl. Pour it into a resealable bag and cut a small part of the corner off and drizzle over the muffins.
Nutrition
Serving:
1
muffin
Calories:
143
kcal
Carbohydrates:
20
g
Protein:
5
g
Fat:
6
g
Saturated Fat:
1
g
Polyunsaturated Fat:
1
g
Monounsaturated Fat:
1
g
Trans Fat:
0
g
Cholesterol:
37
mg
Sodium:
154
mg
Potassium:
182
mg
Fiber:
2
g
Sugar:
8
g
Vitamin A:
2187
IU
Vitamin C:
1
mg
Calcium:
63
mg
Iron:
1
mg