This healthy chicken jambalaya made with cauliflower rice is loaded with vegetables throughout the dish. I love adding cauliflower rice because it's a hidden veggie, you really don't see it or taste it but you still get all the health benefits.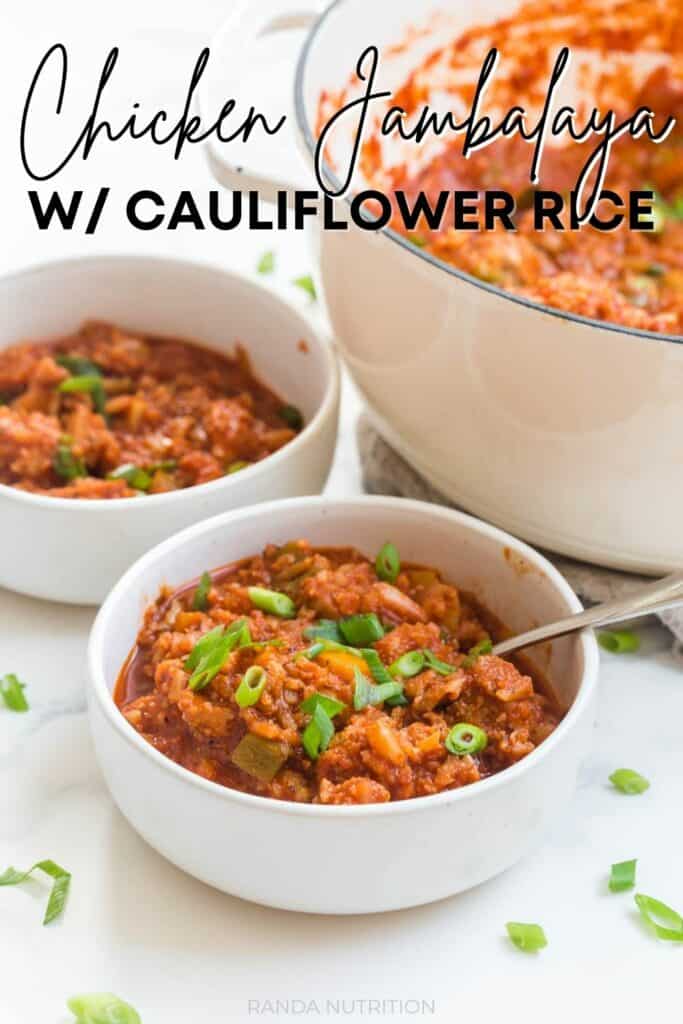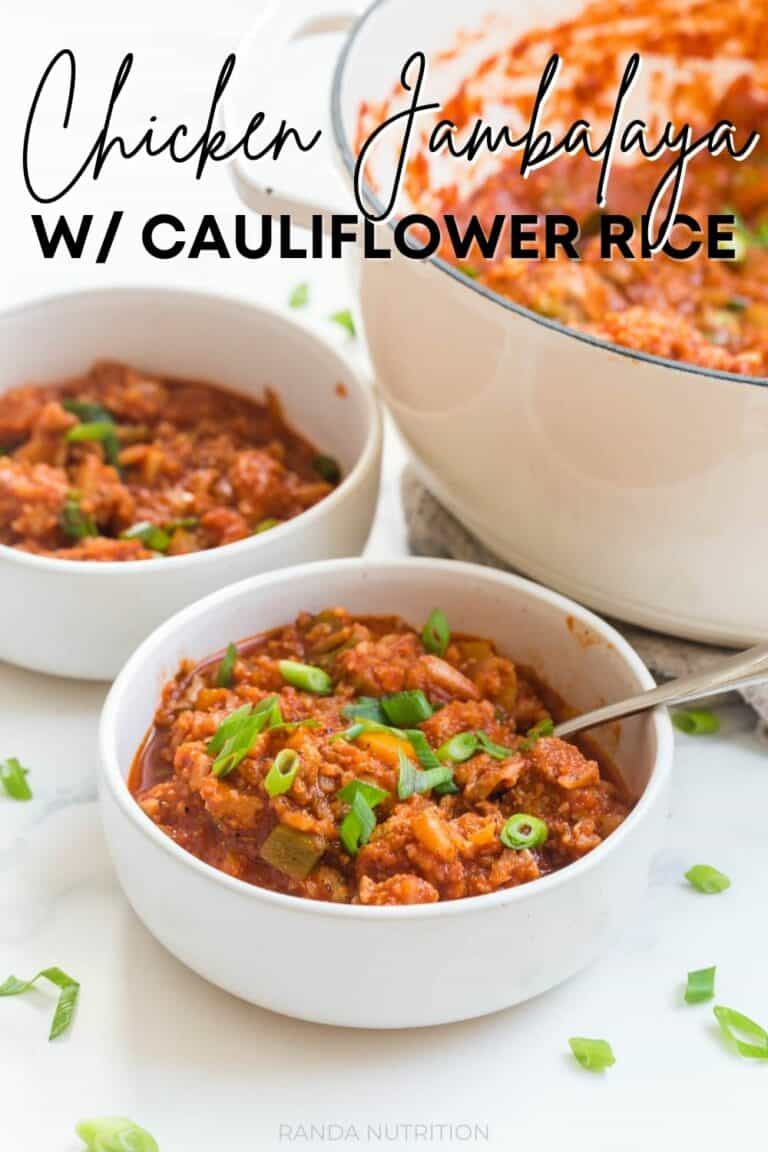 Disclosure: This post contains affiliate links for your convenience. As an Amazon Associate, I earn from qualifying purchases.
Chicken Jambalaya with Cauliflower Rice
There is something that's pure comfort with chicken and sausage jambalaya. It's one of my favorite cold weather meals because not only do you get the heat from the fact that's it like a soup, but you also get the mild heat from the cajun spices.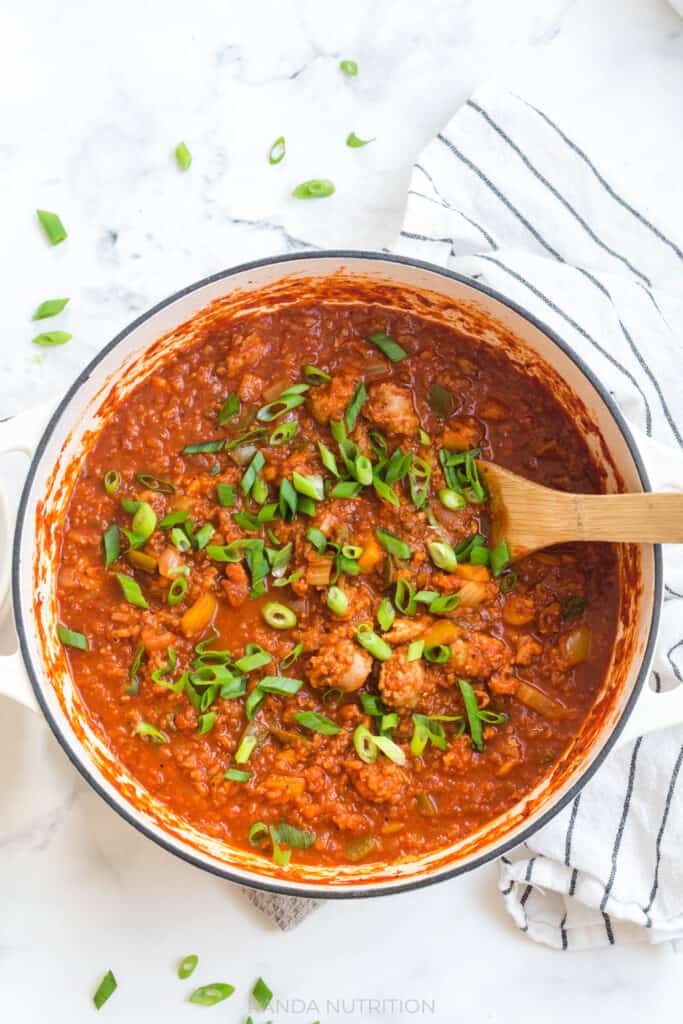 Jambalaya Ingredient Swaps and Recipe Variations
I have a few different options for you to make this cajun chicken jambalaya lighter, heartier, or just different.
Swap the hot italian sausage for turkey or chicken italian sausage if you want to lighten it up a bit.
Use traditional rice if you want to make it heartier, add it in addition to the cauliflower (we love hidden vegetables).
Andouille sausage is what's traditinally used in jambalaya, but if your local grocery store doesn't carry it (like mine) use hot italian or even chorizo. Use what you can. If you do have andouille available, use it.
Can I add rice still?
Absolutely, as I stated in the above variations section, you can totally add rice. Sure, this is a low carb jambalaya recipe but if you love rice, add it! Make this recipe work for you and your family.
What rice goes with jambalaya?
You want to make it with long grain rice (short grain goes mushy, while the long grain holds it's shape and texture).
So you want to opt for long-grain brown rice, basmati, or even jasmine rice when cooking rice with chicken jambalaya.
Since this recipe doesn't cook for a terribly long time, you can add the rice when you add the crushed tomatoes. Check on it as you cook it. You may have to use more chicken broth. I would add 1/2 – 1 cup.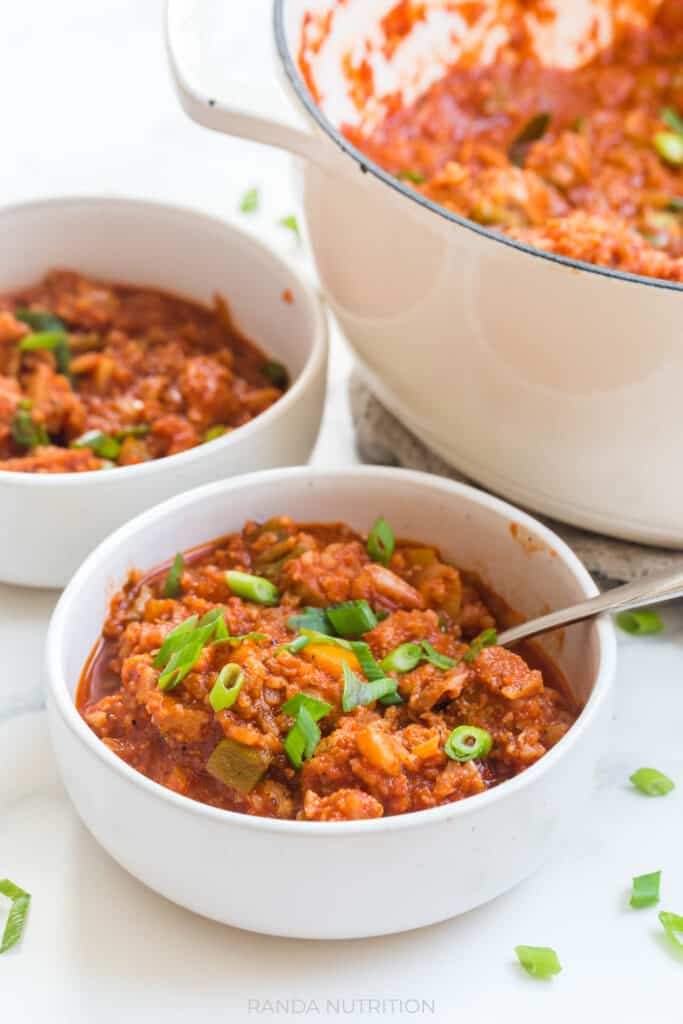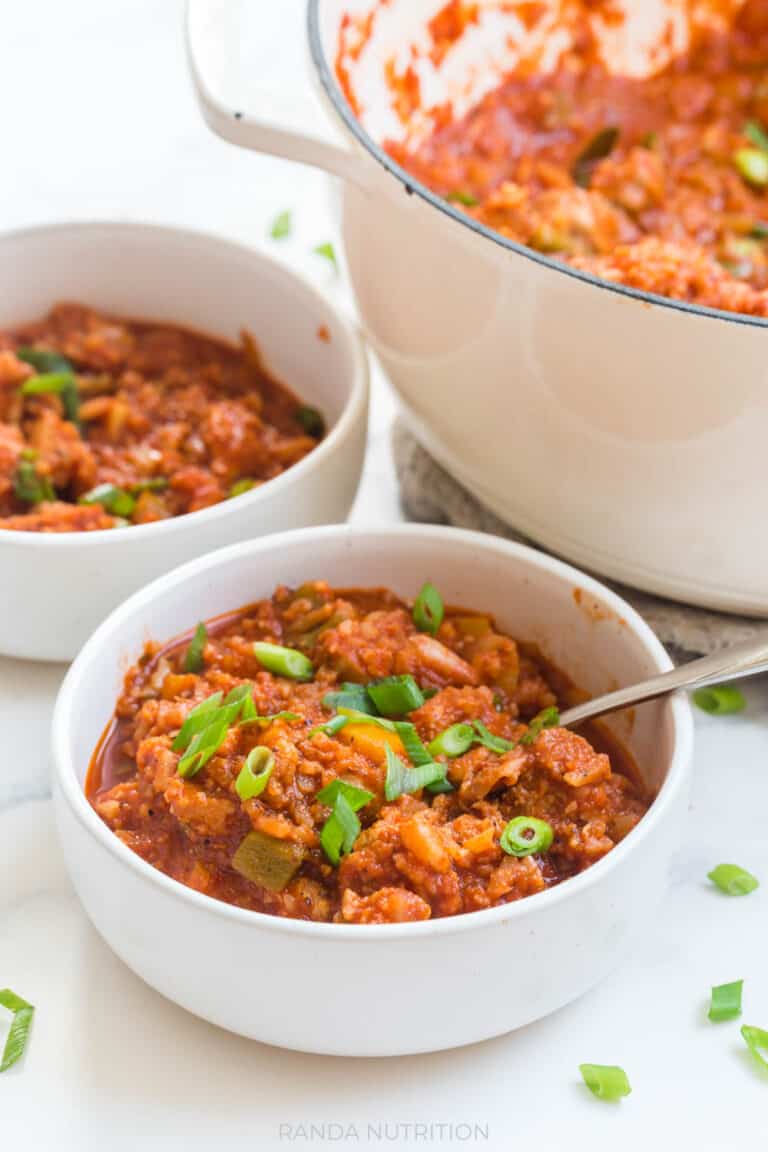 How to Prevent Chicken Jambalaya from Tasting Fishy
We're not fish lovers in my family. I enjoy the odd piece of seafood (shrimp, scallops, crab) but I'm pretty careful when I add them to stir fries and meals like jambalaya.
My husband personally felt like this recipe was a little too shrimpy, so if you're like him – leave it out.
I added pre-cooked frozen shrimp, and I feel that if I thawed and rinsed the shrimp, plus patted it dry first it would have had less of a shrimpy taste (as my husband stated).
I also ready that if you soak fish or seafood in milk for 20 minutes, it takes away the fishy taste. I have no idea how true that is but thought I would share it.
Is Jambalaya Healthy?
Ingredients-wise, yes. You have a ton of vegetables, a ton of protein, and a ton of nutritional value.
Where you may get tripped up is serving sizes. Even healthy options can do you a disservice if you eat too much of it. So fit it in with your day.
Meal Prep it
I measured out the dish cup by cup, and there is a total of 10 cups in this recipe. So you can add a cup or two (or whatever you want) to a glass meal prep container and store in the fridge for a serving for lunch/dinner throughout the week.
This recipe also freezes well. So if you have any extra, put it in the freezer to save for a rainy (or busy) day.
How to Make Chicken and Sausage Jambalaya
You know me, if there are too many steps aside from tossing ingredients in a pot – I'm probably not going to make it. I like to do things as simple and easy as possible.
This cauliflower rice chicken jambalaya is just that – easy.
You could easily throw everything in the pressure cooker too and wing it, but I haven't tried it myself yet so don't come at me if you don't like the results (ha).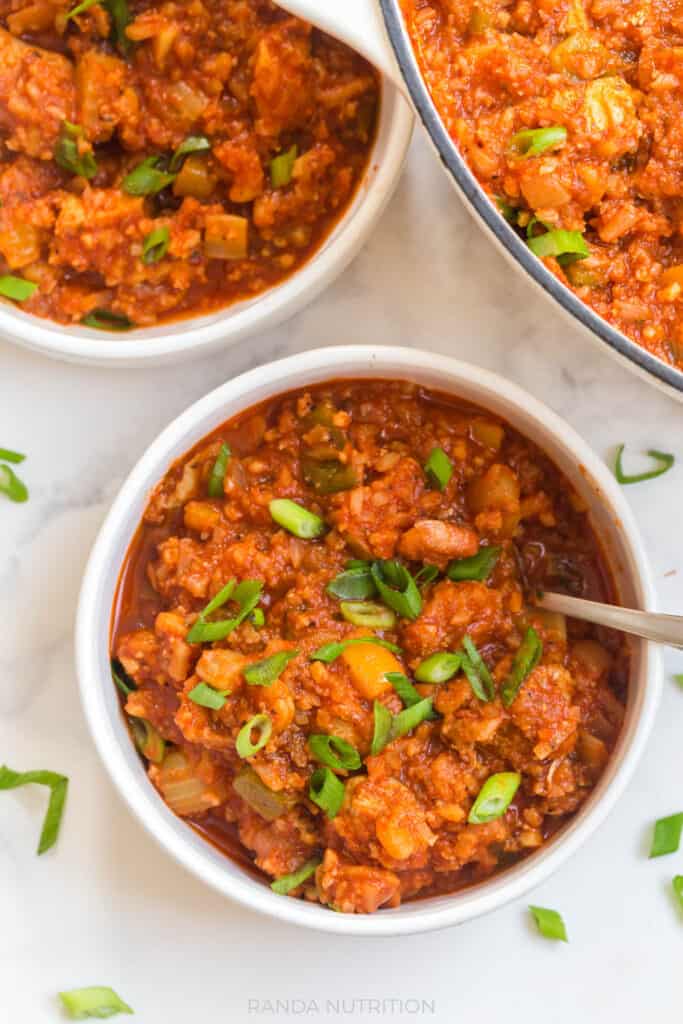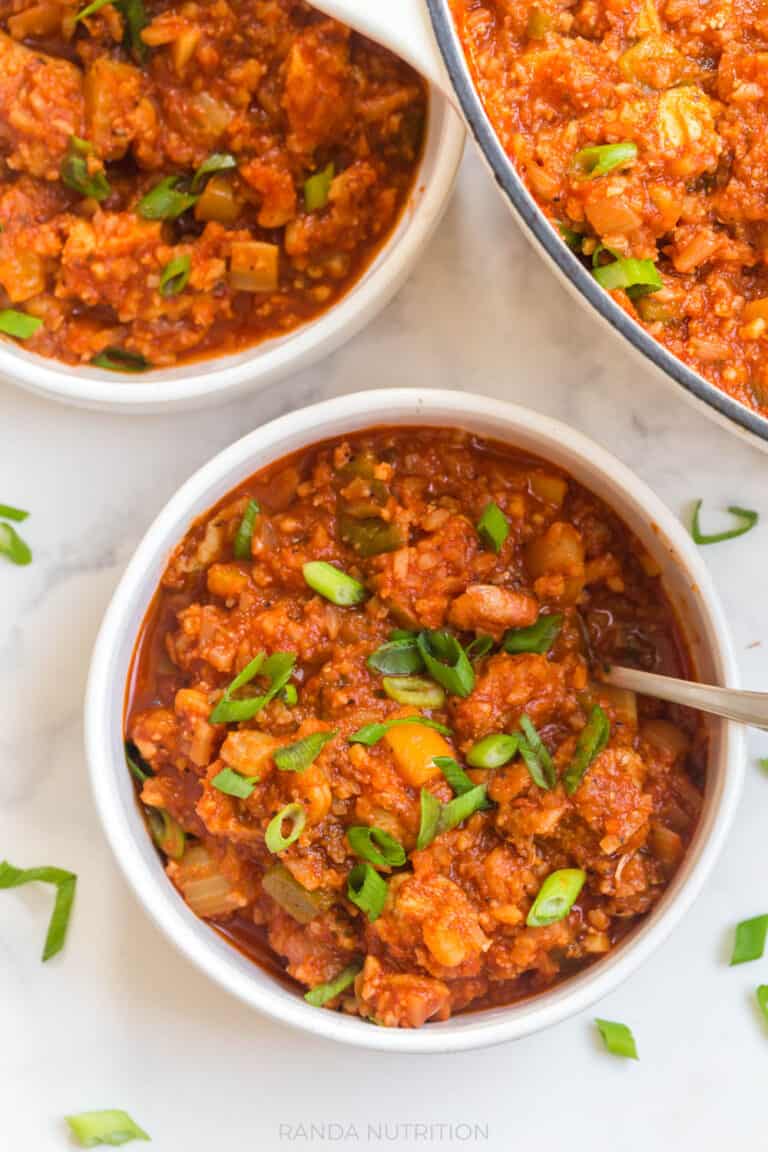 More Healthy One Pot Recipes
Healthy Jambalaya with Cauliflower Rice
You are going to love this healthy chicken and sausage jambalaya. It's loaded with vegetables, including cauliflower rice. It's a lower carb option then traditional rice, but you can add it in if you want. It's a high protein dish with chicken breast, hot italian sausage, and shrimp and it's a great dish to divide up for meal prep!
Ingredients
1

lb

chicken breast

diced

4

links

hot italian sausage (or andouille if available)

diced

1

tablespoons

avocado oil

1

onion

diced

1

green pepper

diced

1

yellow or orange pepper

diced

3

celery stalks

diced

3

garlic cloves

minced

3

tablespoons

cajun seasoning

1

tablespoon

oregano

1 1/2

cups

frozen cooked shrimp

1 1/2-2 cups

28

oz

crushed tomatoes

796ml

2

cups

chicken broth

4

cups

frozen cauliflower rice

1

bay leaf

salt and pepper to taste
Instructions
In a large stock pot or dutch oven, heat oil over medium heat. Once hot add the chicken and sausage. Brown the sausage good here. Once it's cooked, the meat aside.

There should be some oil left in the pan, if not add more. Add the onions, peppers, celery and saute until onion is translucent and peppers are soft. Add the garlic and saute for another 3-4 minutes. The onion should be at the beginning stages of browning.

Add the chicken and sausage back, plus the shrimp. Sprinkle the cajun seasoning and oregano over. Season with salt and pepper.

Pour in the crushed tomatoes, chicken broth, caulflower, and top with a bay leaf. Bring to a boil over medium heat, reduce it a little bit and cover. Let simmer for 20 minutes.

At the 20 minute mark, remove the cover. Turn heat to low (a slow simmer) and keep an eye on it for another 15 minutes.

Taste and adjust seasonings to your liking. Serve.
Notes
It's not easy to find andouille sausage (which is what is usually used in jambalaya) if you're out of options try hot or mild Italian or even chorizo.
Nutrition
Serving:
1
cup
|
Calories:
260
kcal
|
Carbohydrates:
14
g
|
Protein:
25
g
|
Fat:
13
g
|
Saturated Fat:
4
g
|
Polyunsaturated Fat:
2
g
|
Monounsaturated Fat:
6
g
|
Trans Fat:
1
g
|
Cholesterol:
109
mg
|
Sodium:
613
mg
|
Potassium:
922
mg
|
Fiber:
4
g
|
Sugar:
6
g
|
Vitamin A:
1302
IU
|
Vitamin C:
75
mg
|
Calcium:
94
mg
|
Iron:
3
mg