Instant Pot vs Ninja Foodi: Which One Is The Best?
Whenever I share one of my pressure cooker recipes on Instagram, I always get a message in regards to the Instant Pot vs Ninja Foodi and what one is better. So today, I'm diving into it and sharing my opinion on what works for the busy working mom, who needs dinner to be quick and easy.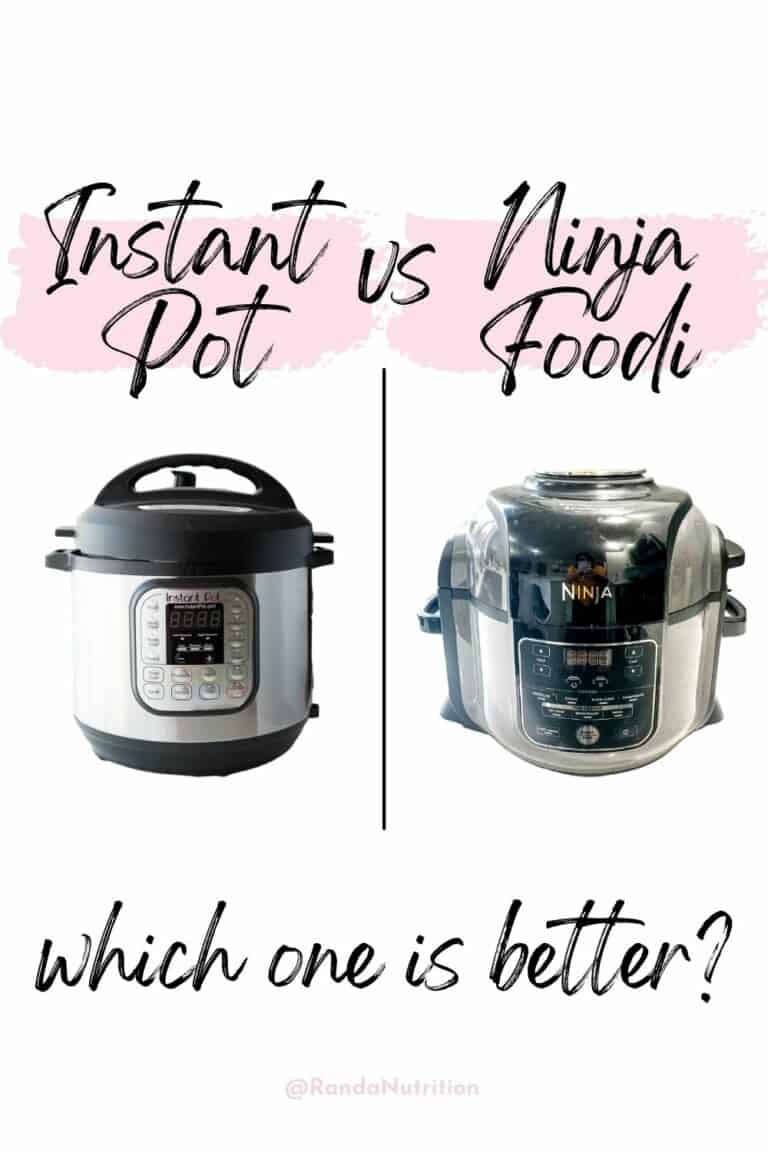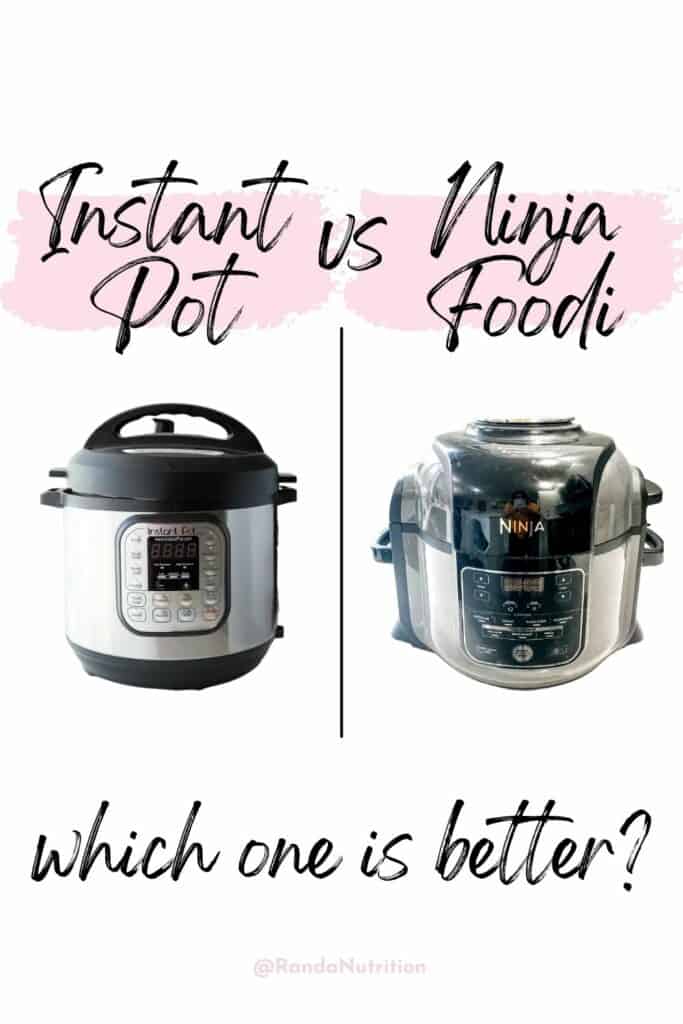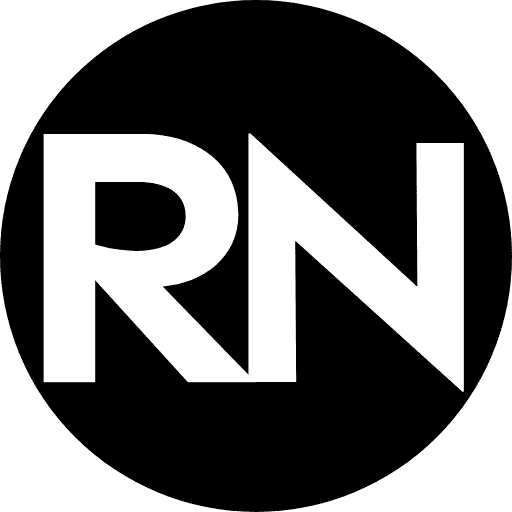 Save This Recipe!
Enter your email below & I'll send it straight to your inbox. Plus you'll get great new recipes every week!

Disclosure: This post contains affiliate links for your convenience. As an Amazon Associate, I earn from qualifying purchases.
Instant Pot vs Ninja Foodi: Which One is Better for Working Moms
I'm basing my opinion on this blog post on my experience as a busy working mom.
I work from home, but you guys, I still forget to throw things in the oven, slow cooker, Foodi. Or I get so busy behind the computer that all of a sudden I check the time and it's 4 pm and I have to get dinner ready – fast.
So with all that in mind, I'm sharing what has worked for me with both of these pressure cookers.
I'll be chatting about the pros, cons, and all the settings on both devices. What works best, what doesn't.
I purchased both of these at some point during the years, and this was not sponsored.
So let's dive into the Instant Pot vs Ninja Foodi debate, shall we?
Instant Pot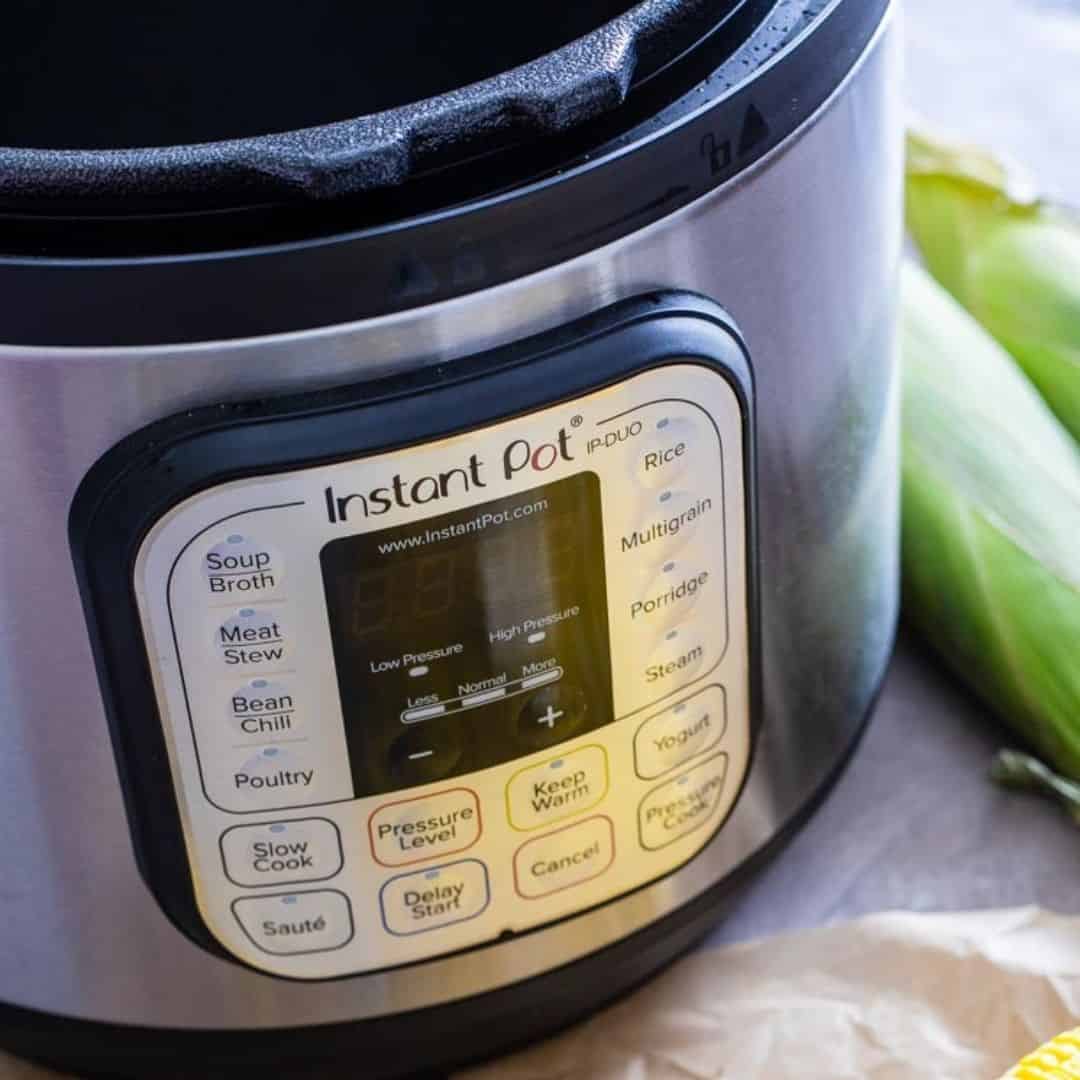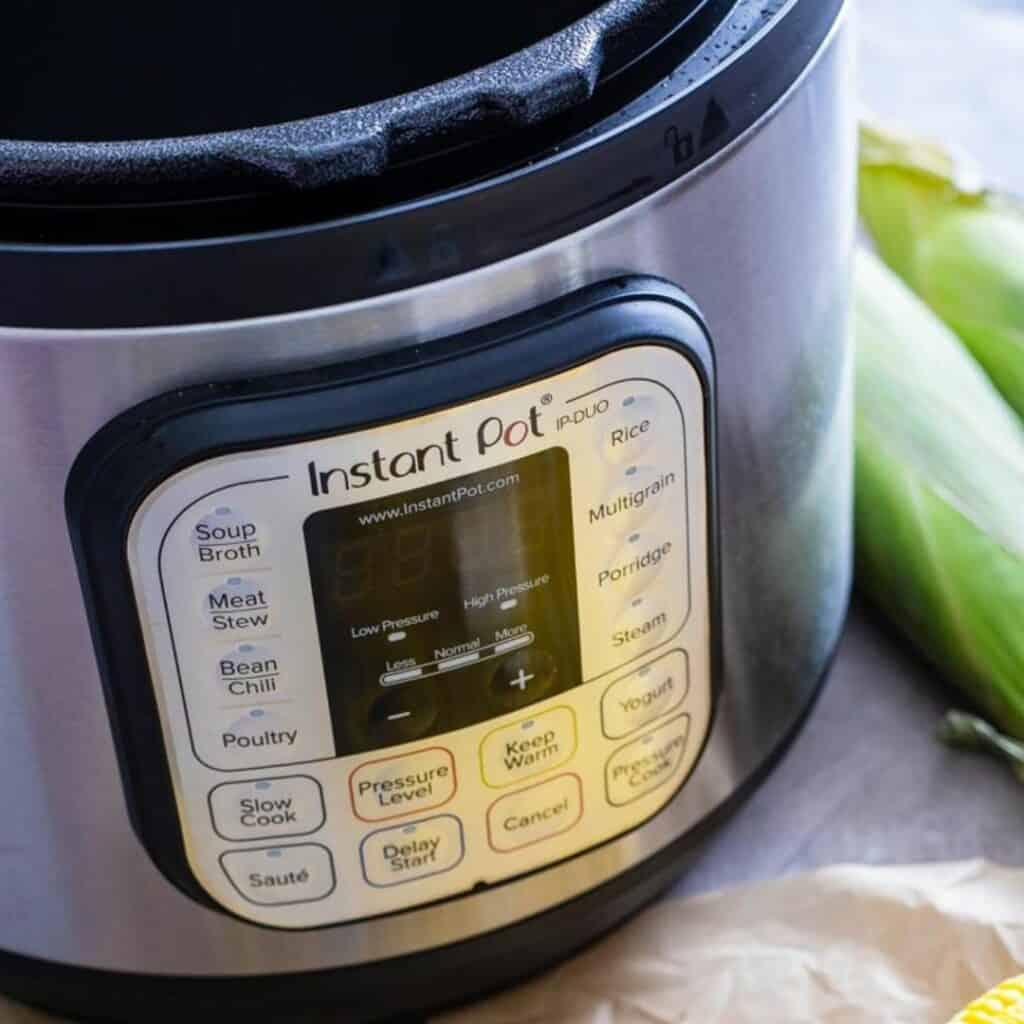 I bought the Instant Pot right away when I heard about it. It was before the peak of its popularity hit because I saw the potential.
Instant Pot Pros:
There are tons of Instant Pot recipes all over the internet, so finding quick meal ideas is easy.
It's less bulky then the Ninja Foodi.
The Instant Pot costs less money, there are different models so you can tailor your needs and not pay for the extra features you won't use.
There are a ton of models to choose from, and they even have one that you can use to can.
Instant Pot Cons:
It's one more small appliance to take up room in your cabinet.
The slow cooker mode is awful, it doesn't work well at all (at least on the model I had). I had a roast slow cooking all day, and it was still raw at dinner. After a Google search and talking to an Instant Pot blogger, turns out it was a common issue. However, If this has improved, please let me know in the comments.
Doesn't have a built in air fryer, but you can buy the Instant Pot Air Fryer lid for an additional $90.
There is a lot to choose from, and it can get confusing.
Instant Pot Models Available
Canadians and U.K residents, if you click on it it will head to Amazon Canada/UK.
Keep up to date with the latest releases and compare all models on the Instant Pot Amazon store.
Ninja Foodi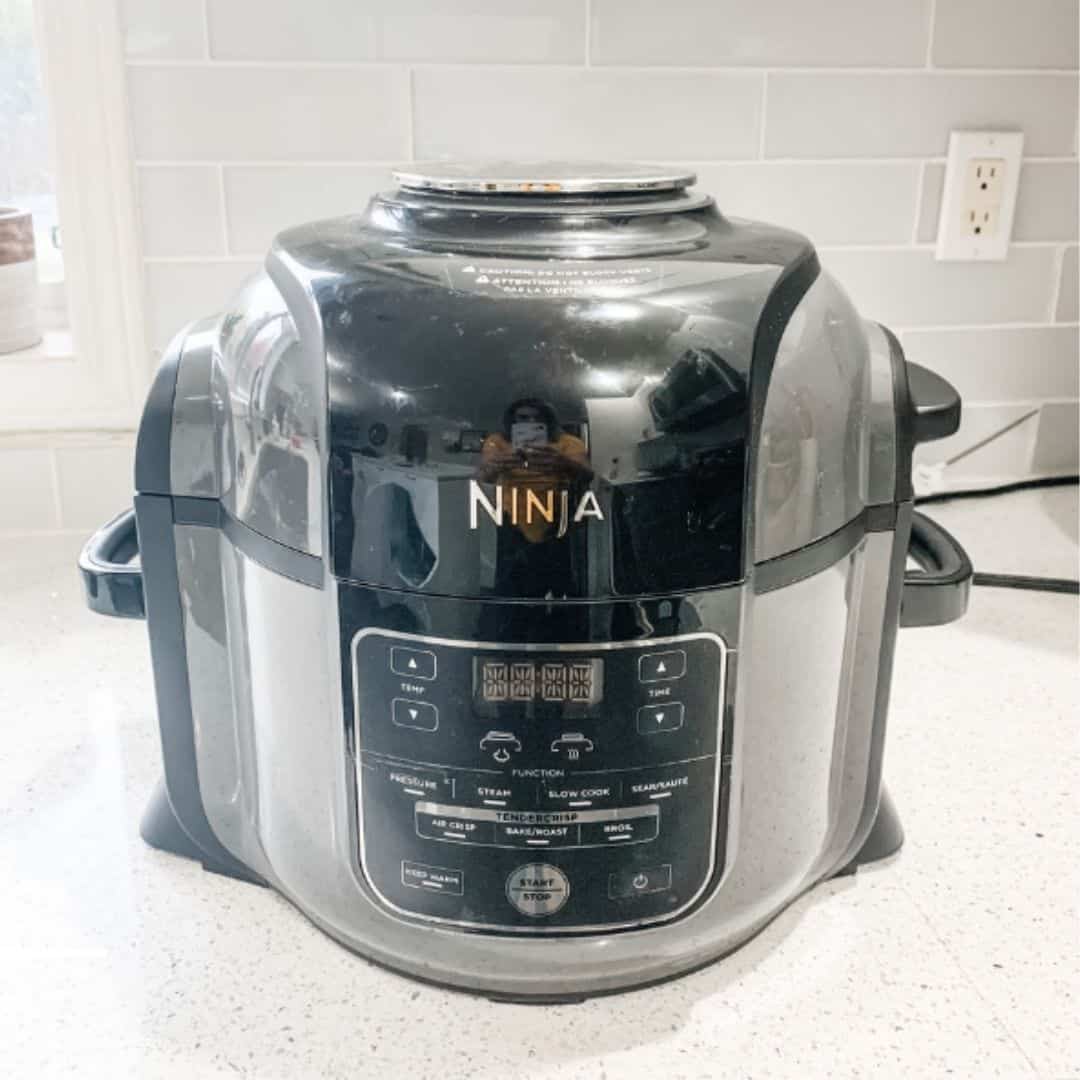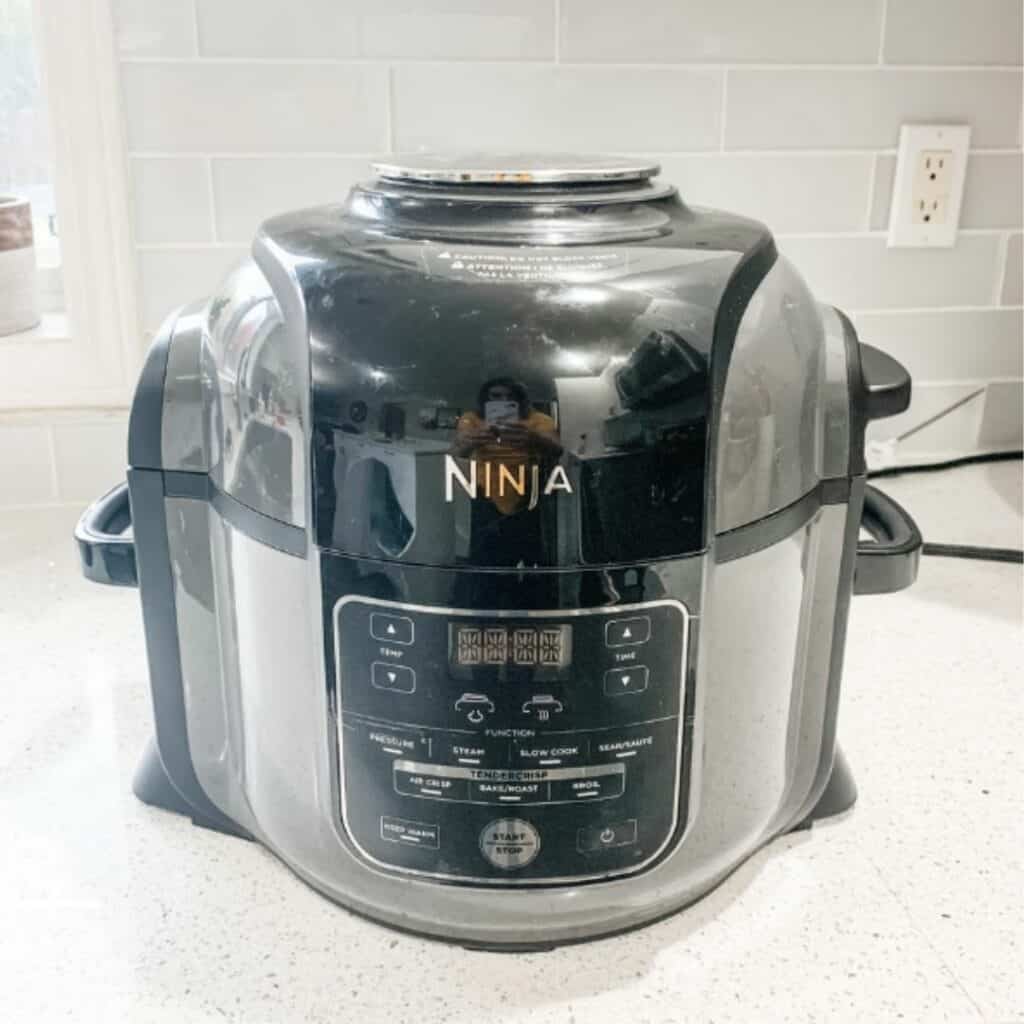 The first thing I realized when I opened the box of the Ninja Foodi was, "oh wow, this is big".
I still have the older model, and it works well. The newer models have even more features like a dehydrator and even more cooking space.
I also find that the newer model of the Ninja Foodi Deluxe has a more user-friendly interface. You simply turn the dial to select what you want. It also has almost 20,000 reviews with an average of 5 stars.
Ninja Foodi Pros:
It replaces so many small appliances. I sold my slow cooker, rice cooker, and air friers.
All the functions work well.
You can use both functions with one recipe. A great example is how you can pressure cooker a roast chicken, and then air fry it so the skin crisps up. Like I did with this Ninja Foodi Pesto Whole Roast Chicken Recipe.
You cook more with the air frier (bigger batches) then with the Instant Pot.
Ninja Foodi Cons:
Takes up a lot of countertop and cabinet space, especially with the pressure cooking lid.
Not all models come with the dehydrator, so if it's an important feature for you – pay attention to what model you get. This model comes with the dehydrator.
It costs more then the original Instant Pot.
Ninja Foodi Models Available
Canadians and U.K residents, if you click on it it will head to Amazon Canada.
For all of the models, visit the Amazon Ninja Foodi Store.
Ninja Foodi vs Instant Pot Features Comparison Chart
The Winner: Ninja Foodi
When it comes to the Ninja Foodi vs Instant Pot, I prefer the Ninja Foodi. In fact, whenever someone asks me what they should buy, my answer has been the Ninja Foodi hands down for the past 3 years.
I even sold my Instant Pot.
Yes, it's bulkier but to me, that's the only deterrent. I haven't had an issue in the 3 years I've owned it and I can easily use all the Instant Pot recipes in the Ninja Foodi. What's awesome is I don't find I have to convert anything to make it complicated. I feel it's the best pressure cooker to buy for busy working moms.
See also: 13 Ninja Foodi Accessories
If I had to buy a new one, I would go with the Ninja Foodi Pro, because it seems to do it all.
That being said, if you're brand loyal to Instant Pot – the newer options of the Instant Pot Max (buy this one if you like the can) or the Instant Pot Duo Crisp has the same options.
Instant Pot and Ninja Foodi Recipes
Whether you're looking for meal prep recipes, healthy Instant Pot recipes, or more how-tos with the Ninja Foodi. Here are some recipes you'll love.
If you already have one, tell me are you team Instant Pot or team Ninja Foodi, and why? I'd love to hear your opinions in the comments and it could help someone reading this.