Looking for a healthy meal for your busy week? These high protein buffalo chicken stuffed zucchini boats are easy to make and have no mayo. They're filling, tasty, and ready in 30 minutes.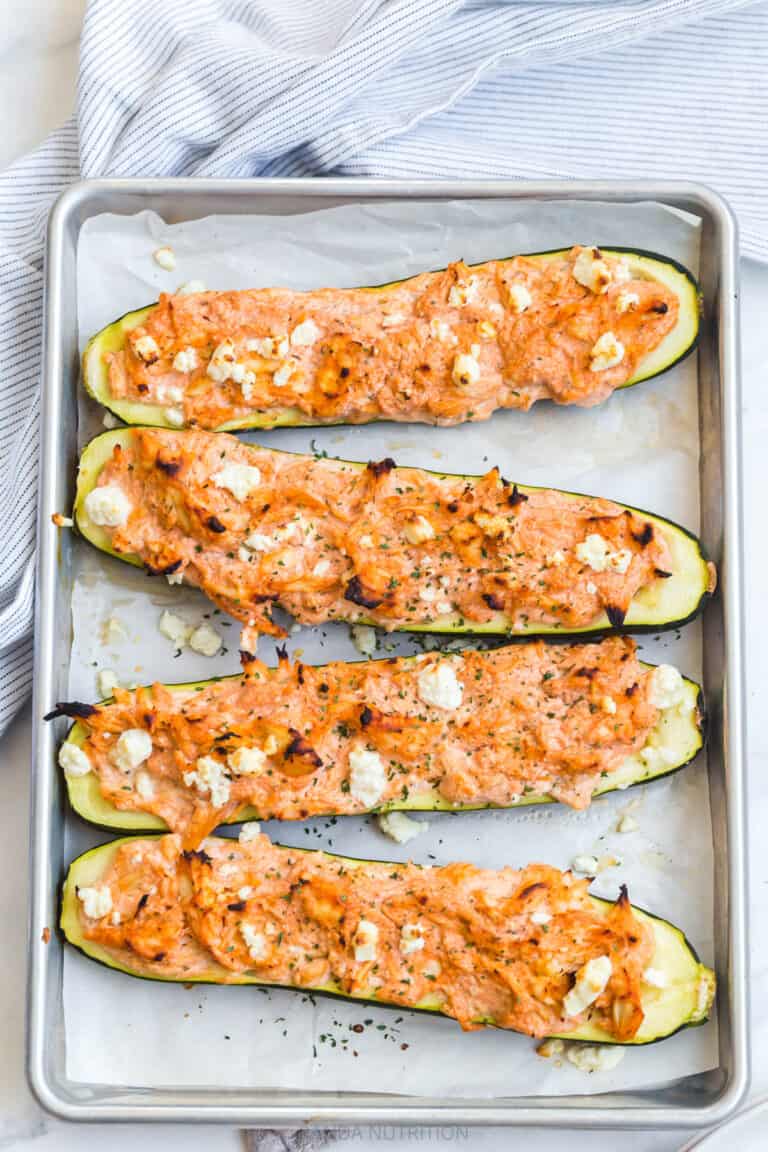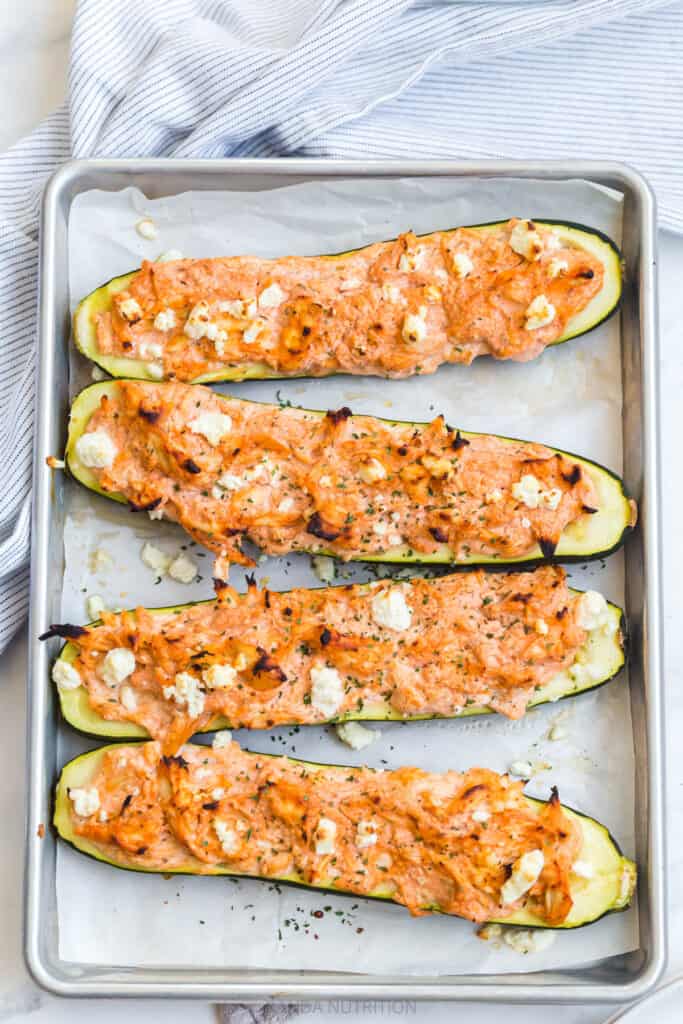 Disclosure: This post contains affiliate links for your convenience. As an Amazon Associate, I earn from qualifying purchases.
Buffalo Chicken Stuffed Zucchini Boats
My friend Becca makes a delicious cauliflower buffalo chicken dip and I've always loved her recipe because she increased the protein intake by swapping out mayo for plain Greek yogurt and blended cottage cheese.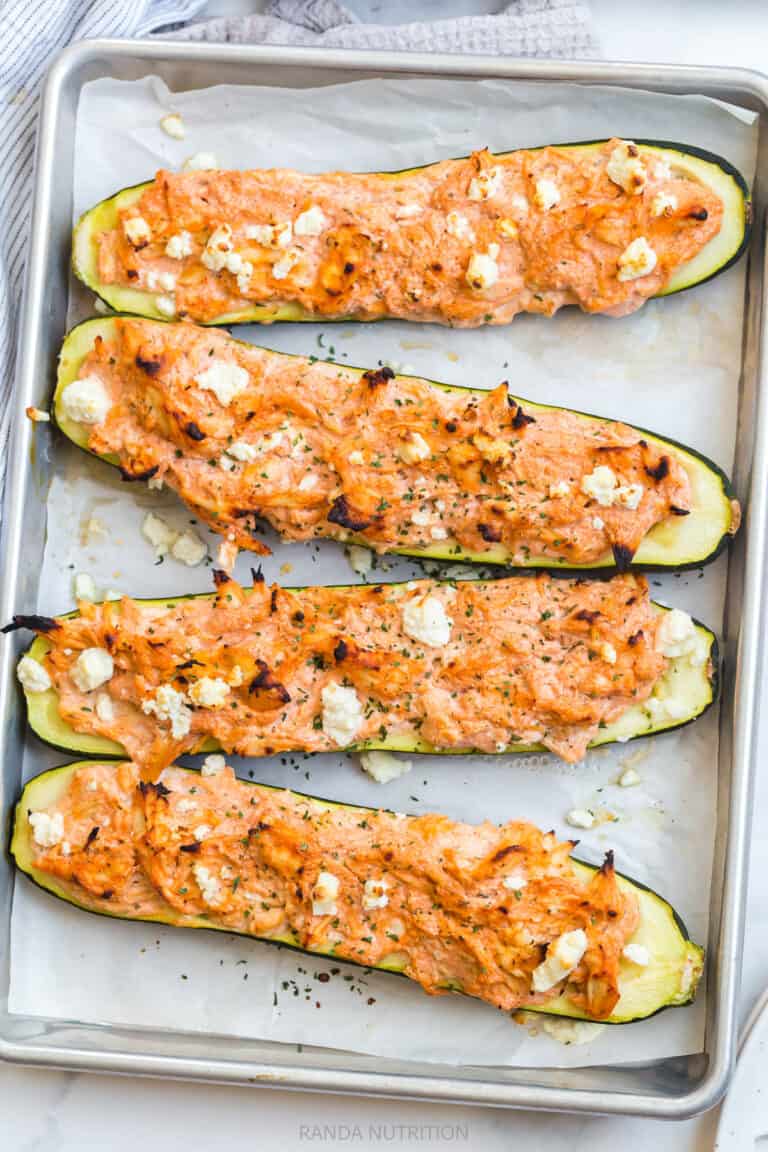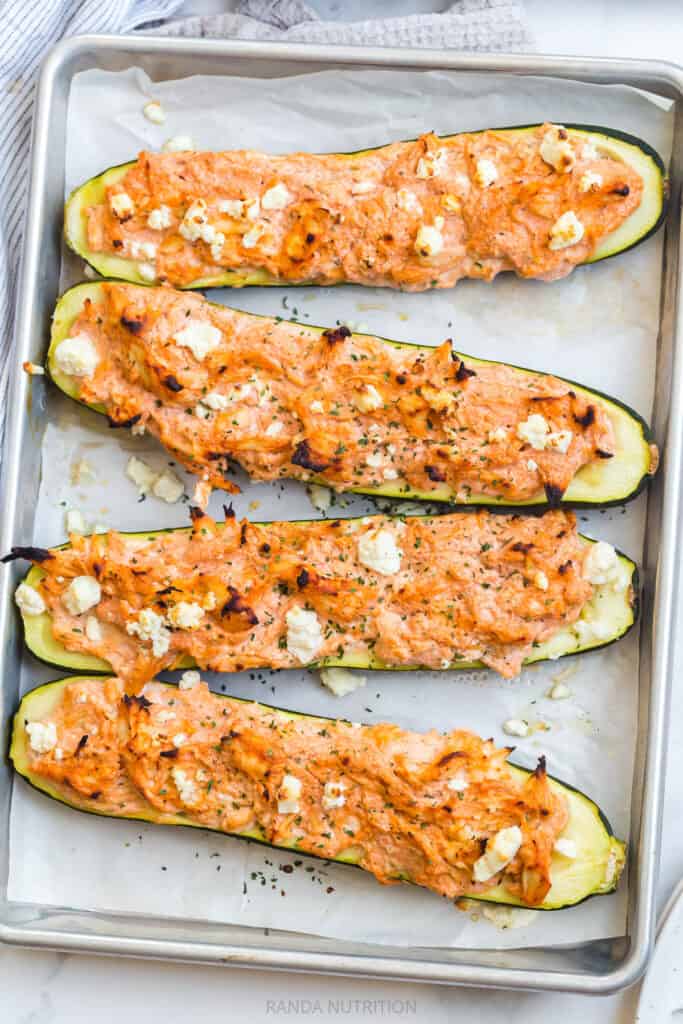 These stuffed zucchini boats are inspired by her recipe and a tiny tweak to ensure that this meal is a high protein, filling recipe.
Ingredients Needed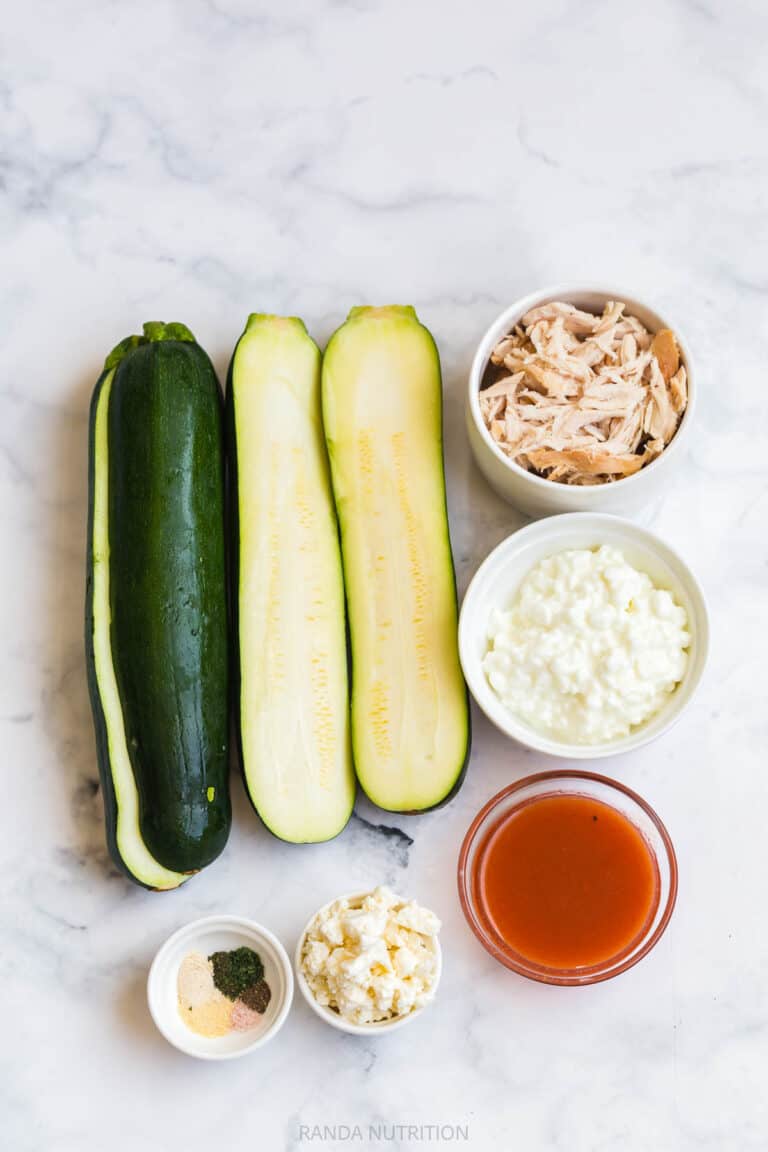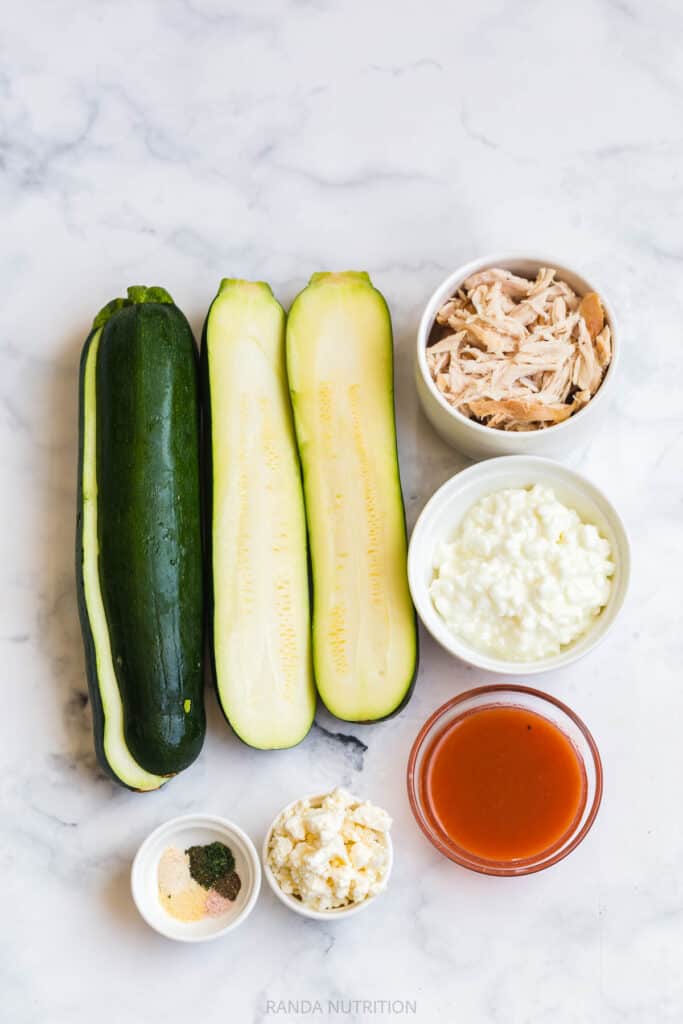 Here's what you need to make these spicy chicken stuffed zucchinis:
Zucchini. I used large zucchini and sliced them in half. You want them to be meaty or else you'll have to cook them for a shorter time.

Cooked shredded chicken. You can cook up some chicken breasts ahead of time or do what I did: grab a rotisserie chicken from the deli section of the grocery store and pull it apart.

1% cottage cheese. This is low fat cottage cheese. If you're not a cottage cheese fan give this a chance. It's totally different once blended and makes for a creamy base for the buffalo chicken is a great substitute for mayonnaise.

Franks Red Hot Sauce. I used the original kind, do not use the Buffalo sauce variety, it doesn't taste as good.

Dried dill. I used the following herbs and spices because they're commonly found in ranch dressing.

Dried Parsley.

Salt.

Light feta cheese. This may also be known as reduced-fat feta cheese in your grocery store.
Nutrition Information
In addition to measuring everything out, I also weighed the ingredients for the buffalo chicken zucchini boats to ensure I had everything just right for the nutritional information.
I added weights in the notes beside each ingredient in the recipe card.
For 1 of the low carb stuffed zucchinis (1/4 of the recipe):
149 calories
8g carbohydrates
20g protein
5g fat
2g fiber
6g sugar
How to Make Buffalo Chicken Stuffed Zucchini Boats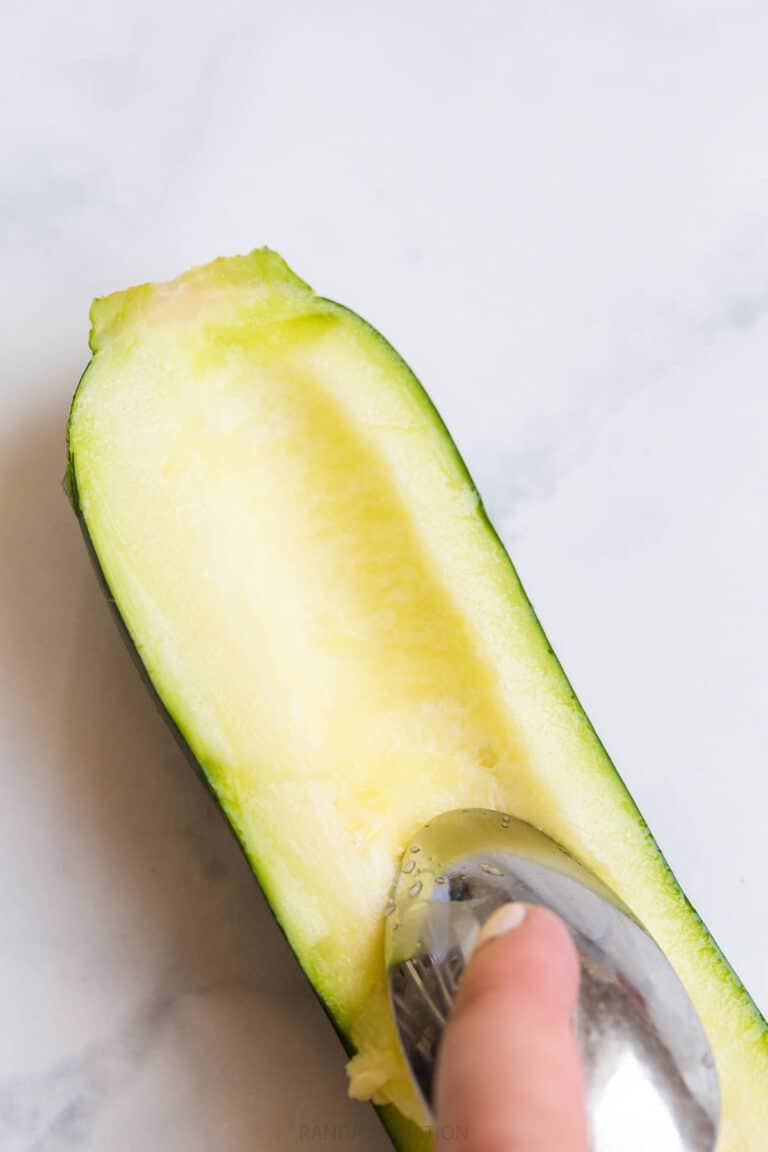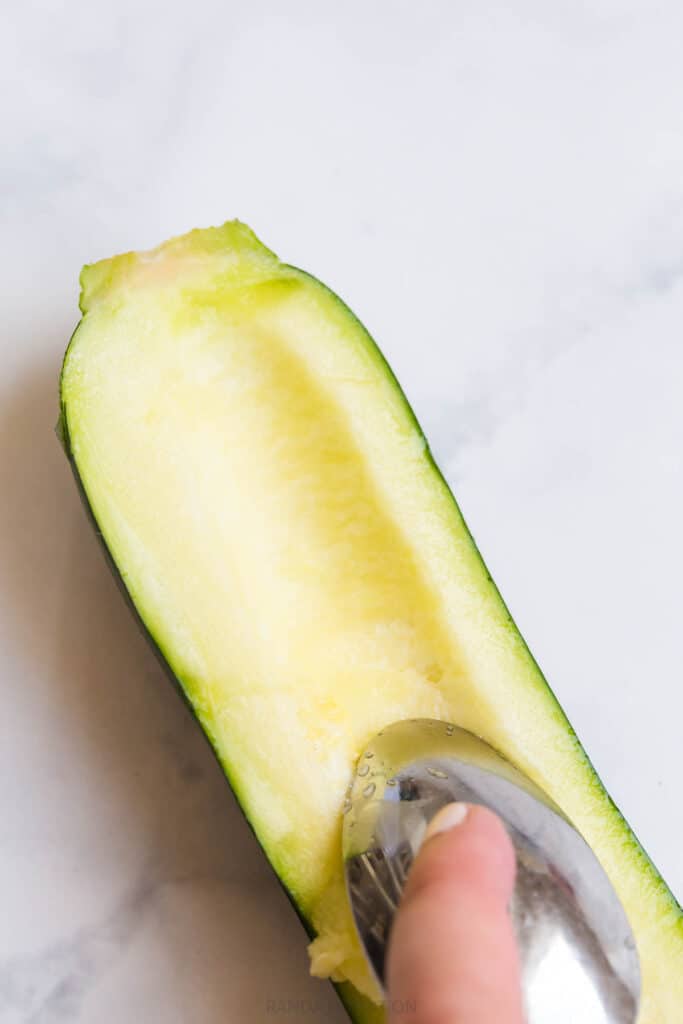 First, scoop out the insides of the zucchini by using a spoon (it comes out easily). Make sure you leave enough "meat" so the zucchini stay stays intact after being in the oven.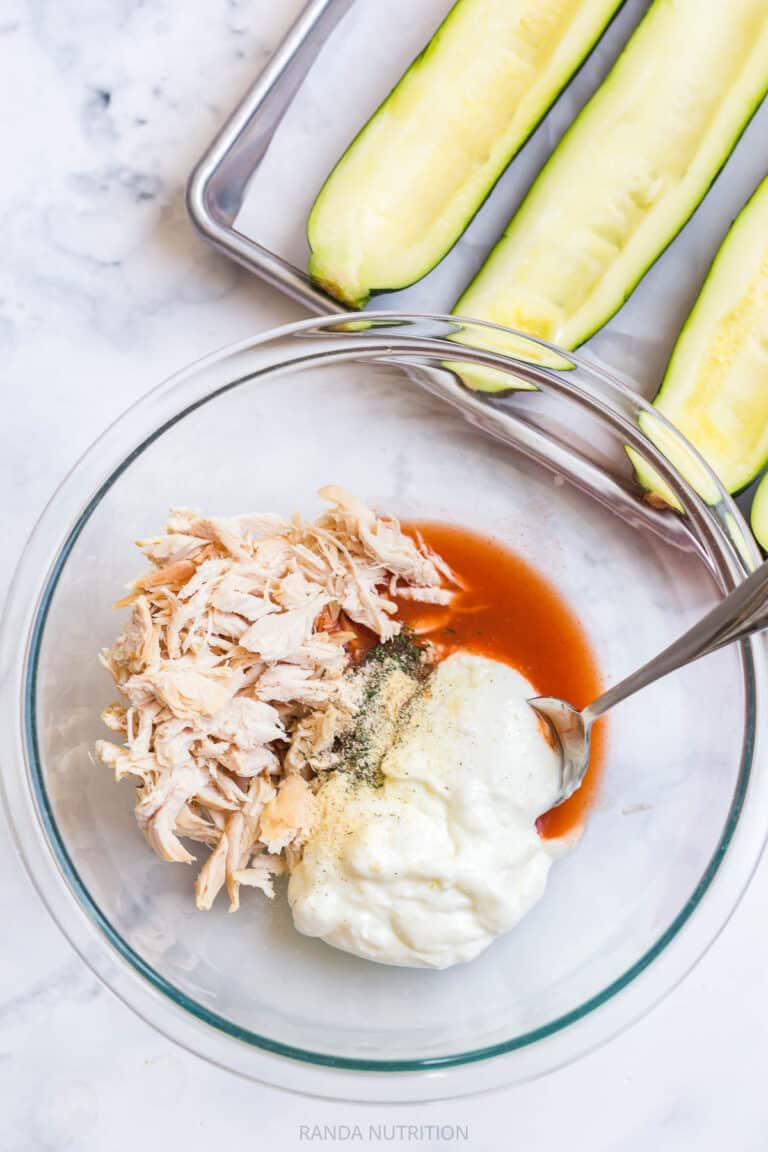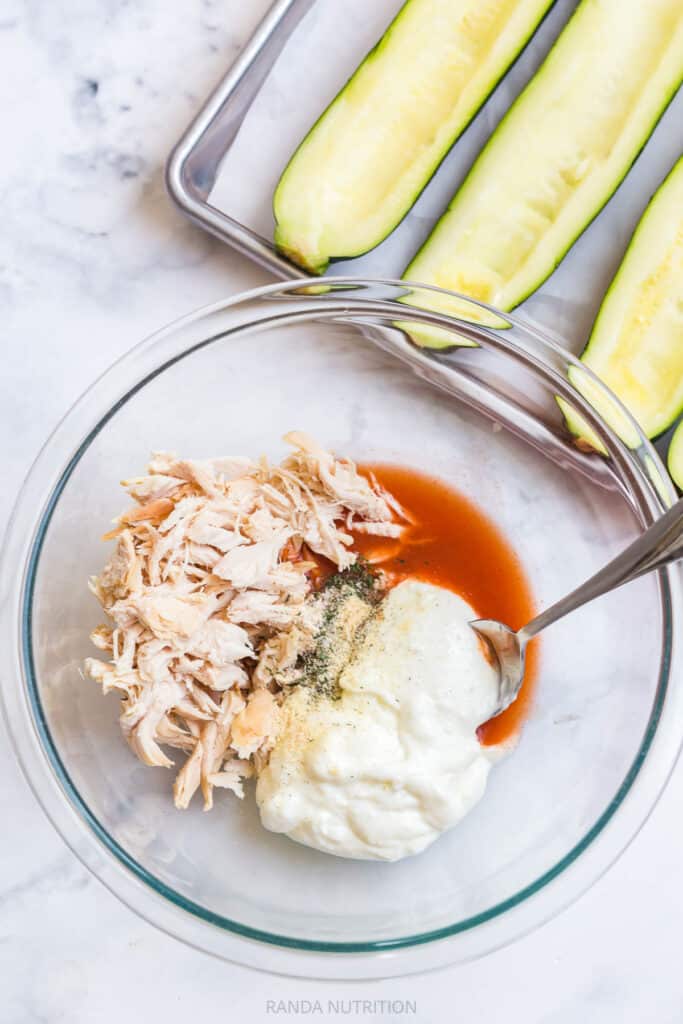 Blend cottage cheese in a blender until it's smooth and add it to a bowl with chicken, Franks hot sauce, plus the herbs and spices. Stir together until it's combined.
Note: Blending the cottage cheese gives the base of the filling a creamy taste and is higher in protein and lower in calories versus cream cheese and/or mayo.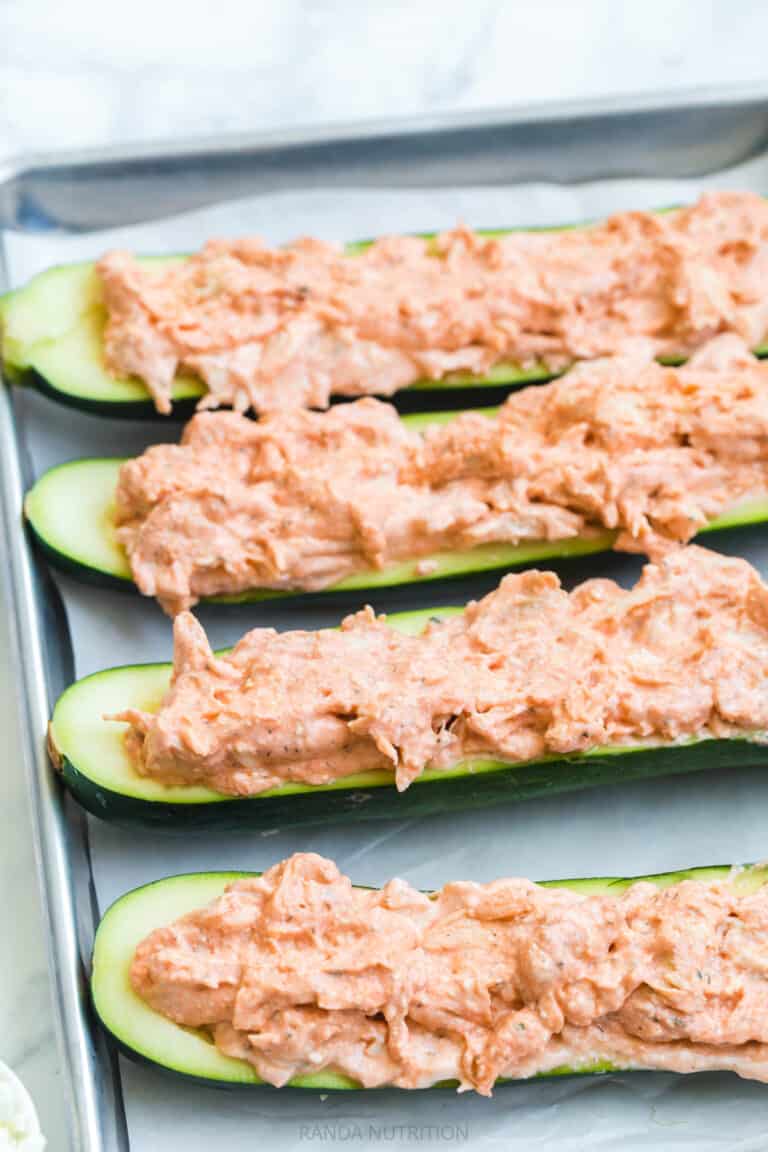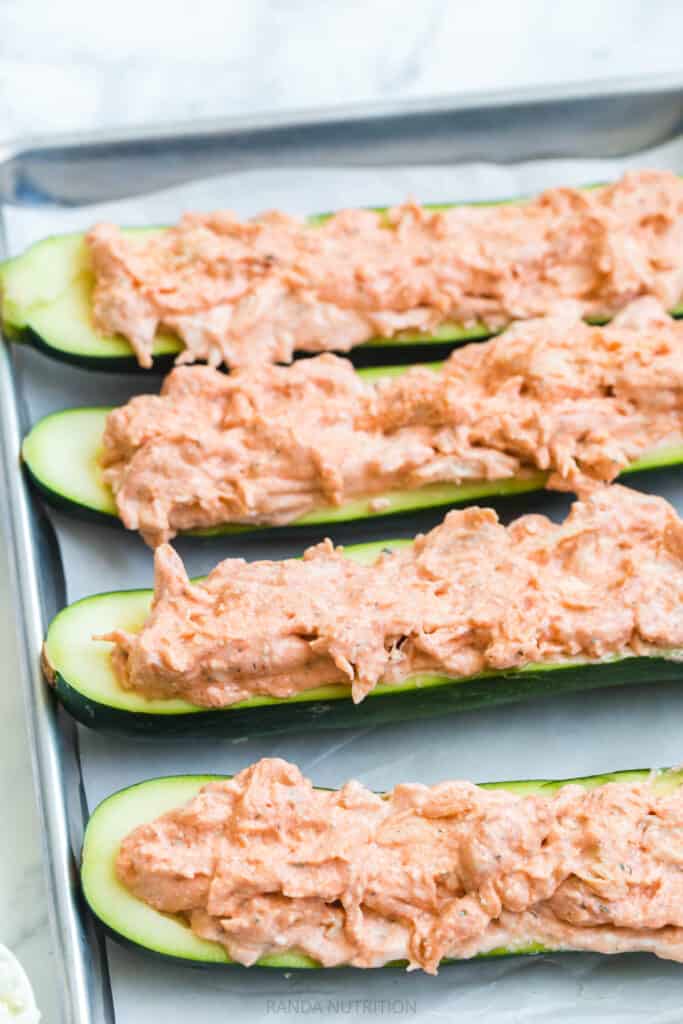 Spoon the mixture into the zucchini and bake at 400F for 20 minutes. Then sprinkle feta cheese over top and bake for another 5-10 minutes (the timing will depend based on how big the zucchini is).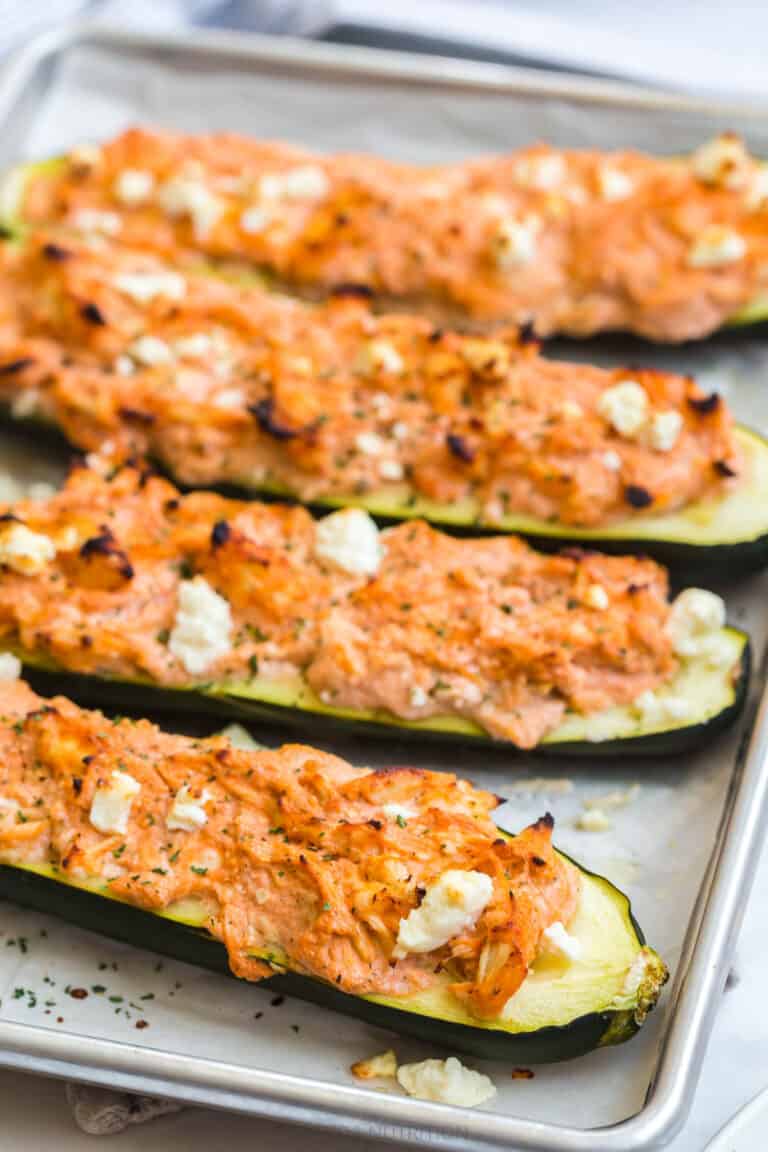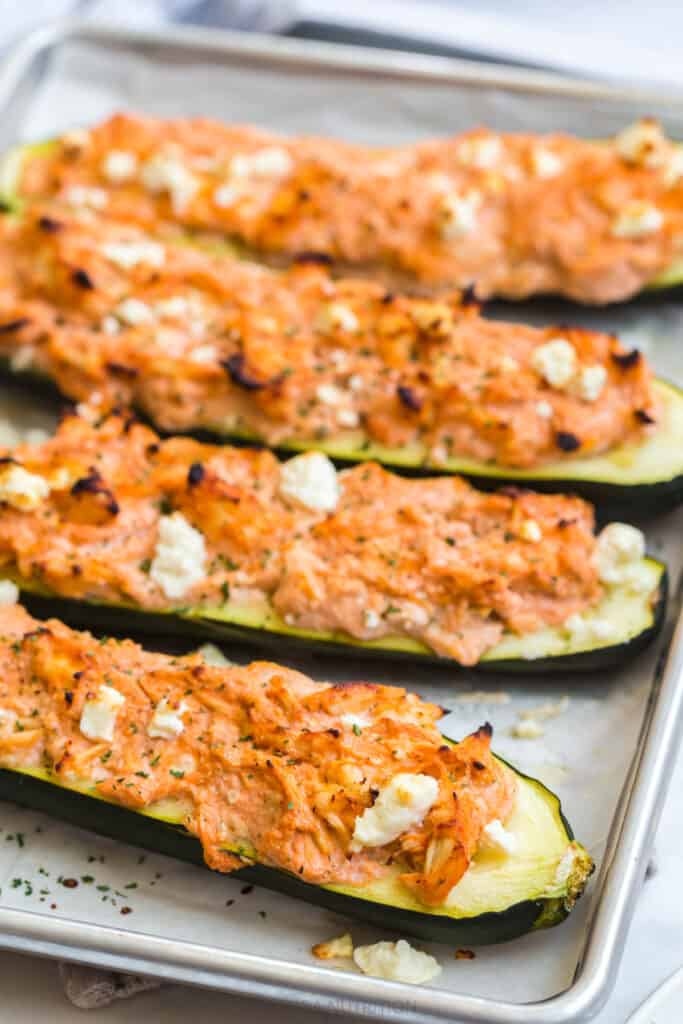 Similar Recipes You'll Love
Buffalo Chicken Stuffed Zucchini Boats
This high protein buffalo chicken stuffed zucchini boats recipe is a super easy low carb and low calorie dinner idea. Simple ingredients with a spicy twist.
Ingredients
2

large

zucchini

795 grams

1

cup

shredded cooked chicken

230 grams

1

cup

1% cottage cheese

264 grams

1/2

cup

Franks Red Hot Sauce

127 mls

3/4

teaspoon

dried dill

1/2

teaspoon

garlic powder

1/2

teaspoon

onion powder

1/2

teaspoon

parsley

1/8

teaspoon

salt

1/8

teaspoon

pepper

1/4

cup

light feta cheese

57 grams
Instructions
Cut each zucchini in half lengthwise and scoop the center out with a spoon.

Blend the cottage cheese until smooth.

In a bowl add the cooked chicken, the blended cottage cheese, Franks, and the seasonings. Mix together.

Spoon the filling mixture into the zucchini and bake for 20 minutes. Add the feta cheese and bake for an additional 10 minutes. Check on it as the bake time will depend on the size of the zucchini (you don't want to over cook it and have it mushy).
Nutrition
Serving:
1
zucchini
|
Calories:
149
kcal
|
Carbohydrates:
8
g
|
Protein:
20
g
|
Fat:
5
g
|
Saturated Fat:
2
g
|
Polyunsaturated Fat:
1
g
|
Monounsaturated Fat:
1
g
|
Cholesterol:
34
mg
|
Sodium:
1346
mg
|
Potassium:
564
mg
|
Fiber:
2
g
|
Sugar:
6
g
|
Vitamin A:
373
IU
|
Vitamin C:
29
mg
|
Calcium:
69
mg
|
Iron:
1
mg
The nutrition information is calculated using a third party resource. The accuracy varies on the brands used, weight, portions, etc. This resource should be used as a guide. If you want more accurate information, weigh in grams and log in MFP.